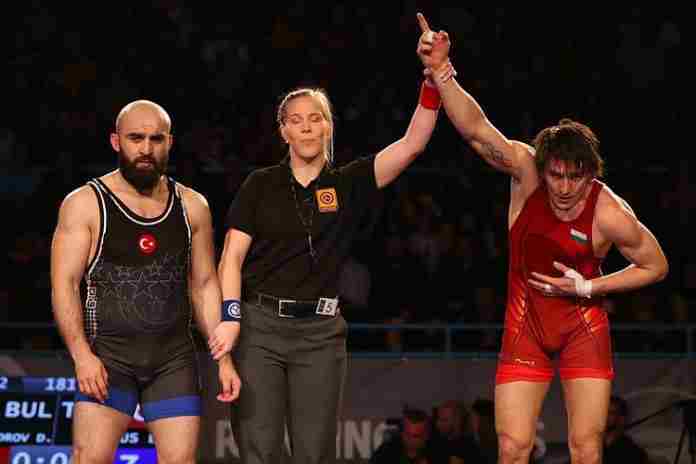 Competing in front of home fans is always a treat and Croatia's Bozo Starcevic was the hero of the annual Zagreb Open tournament in Greco-Roman wrestling, one of the United World Wrestling's designated ranking tournaments.
Starcevic had won four Zagreb Open titles in a row, but in his 77 kg class, he had to overcome 2012 Olympic 66 kg champ and 2013 74 winner Hyeon-Woo Kim of Korea in the quarterfinals. Starcevic dominated the match, winning 8-2 and moving on to defeat Russia's Rafael Iunusov, 501, to reach the final against Turkey's Yunus Basar. A tight, tactical match resulted in a 2-1 victory for Starcevic as Basar was penalized in the second period for passivity.
It was Starcevic's fifth straight win in his home tournament.
Perhaps most remarkable match of the entire program came in the final of the 82 kg class, as Turkey's 2018 World Championships silver medalist, Emrah Kus, took a 7-0 lead after the first period. But Bulgaria's Daniel Aleksandov was not deterred and routed Kus, 8-0, in the second period to steal the match and the title, 8-7!
The U.S. claimed two medals, the first from Xavier Johnson in the 63 kg class, where he lost to Uzbek Islomjon Bakhramov, 10-2 in the final. Veteran G'Angelo Hancock won a bronze medal in the 97 kg class.
Turkey won the team title with 132 points, with one win and three silver medals, ahead of Uzbekistan (101) and Croatia (91). The U.S. was eighth with 51 points. Summaries:
UWW Greco-Roman Ranking Tournament/Zagreb Open
Zagreb (CRO) ~ 8-10 February 2019
(Full results here)
55 kg: 1. Poya Soulat Dad Marz (IRI); 2. Ekrem Ozturk (TUR); 3. Alexandru Vasile Botez (ROU) and Dogus Ayazci (TUR). (Round-robin; no medal matches)
60 kg: 1. Kerem Kamal (TUR); 2. Milad Ali Rezanezhad (IRI); 3. Erik Torba (HUN) and Ivan Lizatovic (CRO). Third: Torba d. Virguil Munteanu (ROU), 3-3 (criteria); Lizatovic d. Seunghak Kim (KOR), 4-3. Final: Kamal d. Rezanezhad, 9-3.
63 kg: 1. Islomjon Bakhramov (UZB); 2. Xavier Johnson (USA); 3. Dawid Ersetic (POL) and Firuz Tukhtaev (UZB). Third: Ersetic d. Irakli Dzimistarishvili (GEO), by tech. fall (12-0); Tukhtaev d. Travis Rice (USA) , 9-0. Final: Bakhramov d. Johnson, 10-2.
67 kg: 1. Elmurat Tasmuradov (UZB); 2. Mihai Radu Mihut (ROU); 3. Enes Basar (TUR) and Ignazio Sanfilippo (ITA). Third: Basar d. Morten Thoresen (NOR), 9-0; Sanfilippo d. Danijel Janecic (CRO) , 4-0. Final: Tasmuradov d. Mihut, 4-1.
72 kg: 1. Robert Fritsch (HUN); 2. Ramaz Zoidze (GEO); 3. Aik Mnatsakanian (BUL) and Mateusz Bernatek (POL). Third: Mnatsakanian d. Cengiz Arslan (TUR), 3-1; Bernatek d. Mate Nemes (SRB), 3-1. Final: Fritsch d. Zoidze, 0-0 (criteria).
77 kg: 1. Bozo Starcevic (CRO); 2. Yunus Emre Basar (TUR); 3. Mohammad Aziz Naghousi (IRI) and Hyeon-Woo Kim (KOR) Third: Naghousi d. Ilie Cojocari (ROU), 5-4; Kim d. Rafael Iunusov (RUS), tech. fall (10-0). Final: Starcevic d. Basar, 2-1.
82 kg: 1. Daniel Aleksandrov (BUL); 2. Emrah Kus (TUR); 3. Burhan Akbudak (TUR) and Karlo Kodric (CRO). Third: Akbydak d. Jalgasbay Berdimuratov (UZB), 2-1; Kodric d. Aivengo Rikadze (GEO), 0-0 (criteria). Final: Aleksandrov d. Kus, 8-7.
87 kg: 1. Viktor Lorincz (HUN); 2. Kristoffer Berg (SWE); 3. Tadeusz Michalik (POL) and Arkadiusz Kulynycz (POL). Third: Michalik d. Yoan Dimitrov (BUL), 6-3; Kulynycz d. Erik Szilvassy (HUN), 4-3. Final: Lorincz d. Berg, 3-1.
97 kg: 1. Ilia Borisov (RUS); 2. Kiril Milov (BUL); 3. Jahongir Turdiev (UZB) and G'Angelo Hancock (USA). Third: Turdiev d. Zsolt Toeroek (HUN), tech. fall (11-0); Hancock d. Adam Varga (HUN), 4-1. Final: Borisov d. Milov, 9-0.
130 kg: 1. Oskar Marvik (NOR); 2. Muminjon Abdullaev (UZB); 3. Yasmani Acosta (CHI) and Miloslav Metrodiev (BUL). Third: Acosta d. Osman Yildirim (TUR), 5-1; Metodiev d. Marko Koscevic (CRO) , 5-1. Final: Marvik d. Abdullaev, 1-0.