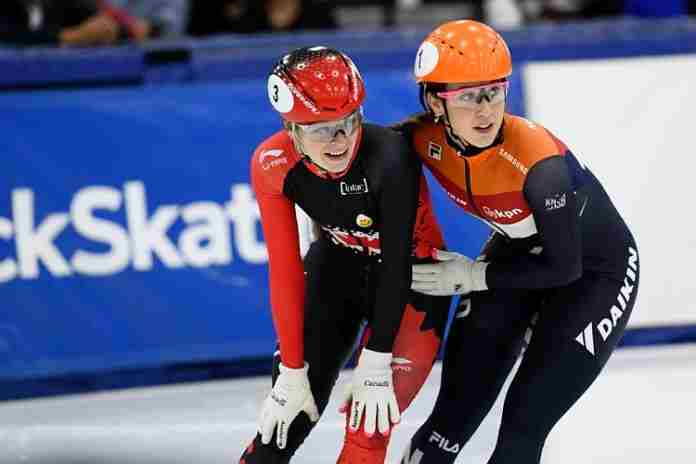 The FIS Alpine World Cup is on hiatus for a little while longer, but there is other winter-sport action this week:
● CURLING ● Eight Olympic and World Champions entered in Grand Slam Tour Challenge
The second of the six stages of the annual Pinty's Grand Slam of Curling is in Nova Scotia this week for the Tour Challenge at the Pictou County Wellness Centre, with a top-flight field for both men and women. The top entries include multiple World and Olympic champs:
Men:
● Niklas Edin (SWE) ~ 2013-15-18-19 World Champion
● John Shuster (USA) ~ 2018 Olympic Champion
● Brad Gushue (CAN) ~ 2017 World Champion
● Kevin Koe (CAN) ~ 2016 World Champion
● Brad Jacobs (CAN) ~ 2014 Olympic Champion
● Peter de Cruz (SUI) ~ 2014-17-19 Worlds bronze medalist
● Bruce Mouat (SCO) ~ 2018 Worlds bronze medalist
Women:
● Silvana Tirinzoni (SUI) ~ 2019 World Champion
● Jennifer Jones (CAN) ~ 2018 World Champion; 2014 Olympic Champion
● Rachel Homan (CAN) ~ 2017 World Champion
● Anna Hasselborg (SWE) ~ 2018-19 Worlds silver medalist, 2018 Olympic Champion
● Satsuki Fujiwara (JPN) ~ 2018 Olympic bronze medalist
Even with all of these medal winners, the first Grand Slam tournament of the season went to first-time winners Matt Dunstone (CAN) and Tracy Fleury (CAN), who defeated Gushue and Japan's Sayaka Yoshimura in the finals. Look for results here.
● SHORT TRACK ● World-record setter Boutin headlines Montreal Short Track meet
Canada's triple Olympic medal winner Kim Boutin not only scored two wins at the ISU Short Track World Cup opener last week in Utah, but scorched the world record in the 500 m, so she'll be the expected star of this week's Short Track World Cup stop at the Arena Maurice Richard in Montreal, Quebec.
Boutin won the second 500 m race in 42.336, but she became the first skater to dip under 42 seconds with her 41.936 win in the quarterfinals, eclipsing the mark of 42.335 by Elise Christie (GBR) from 2016.
Boutin also won the 1,500 m, defeating favored Suzanne Schulting of the Netherlands. Schulting came back to win the 1,000 m and the two are expected to gave off again. Last week's individual winners:
● Men: 500 m I: Dae Heon Hwang (KOR), 39.729; 500 m II: Dajing Wu (CHN), 39.702. 1,000 m: Hwang (KOR), 1:23.948. 1,500 m: Semen Elistratov (RUS), 2:16.025.
● Women: 500 m I: Martina Valcepina (ITA), 42.603. 500 m II: Kim Boutin (CAN), 42.336. 1,000 m: Suzanne Schulting (NED), 1:28.517. 1,500 m: Boutin (CAN), 2:22.061.
Look for results here.