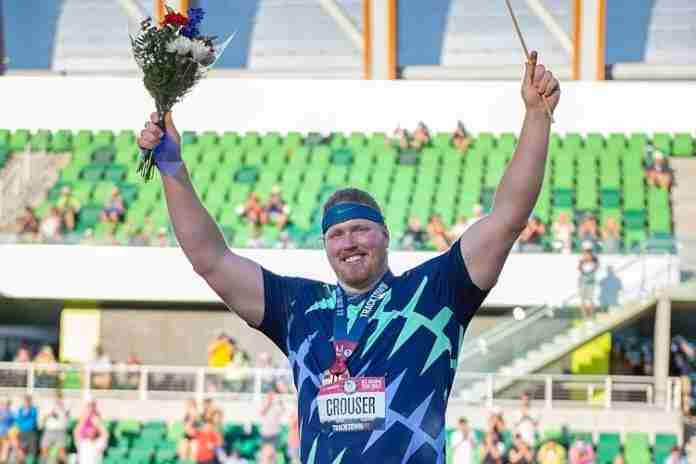 ★ The Sports Examiner: Surveying, monitoring and explaining the key competitive, economic and political forces shaping elite sport and the Olympic Movement. This site is free to view, with donations gratefully accepted to support our operating costs.
Comments? Click here. ★
★ Get The Sports Examiner's session-by-session Worlds e-mails; sign up here! ★
≡ WORLD ATHLETICS CHAMPIONSHIPS ≡
Session 6 ~ Sunday, 17 July 2022
An emotional night of finals saw wins for the home team in the men's shot, women's vault and men's 110 m hurdles, and a historic Jamaican sweep in the women's 100 m, with Shelly-Ann Fraser-Pryce winning an astonishing fifth World Championships gold at the 2022 World Athletics Championships.
It was an astonishing night for U.S. fans at Hayward Field in Eugene, as the U.S. won seven medals and qualified a bunch of athletes for future finals. The crowd was loud and the scene was electric:
● Men/110 m Hurdles ● Defending World Champion Grant Holloway (USA) blew out of the blocks in semi one and went unchallenged to win in 13.01 (wind: -0.6 m/s), with Britain's Josh Zeller second in 13.31. Semi two was another blow-out, this time for NCAA champ Trey Cunningham of the U.S., finishing all alone in 13.07 (+0.3), ahead of Spain's Asier Martinez (13.26). Olympic champ Hansle Parchment (JAM) got control of the third semi in mid-race and won in 13.02w (+2.5), with American Devon Allen at 13.09w.
Parchment was hurt during warm-ups for the final and had to withdraw, with the Americans arrayed in lanes 3 (Allen), 4 (Holloway) and 6 (Cunningham). Then, Allen was called for a false start, just 1/1000th faster than the allowed 1/10th of a second, leaving only six to run.
Off the gun, Holloway reacted slowly, but got to the lead quickly and was never headed, in 13.03 (+1.2). Cunningham was strong in the middle of the race, then held off Martinez, 1308-13.17 for the silver. Poland's Damian Czykier was fourth in 13.32.
● Women/100 m ● The semis were tense, starting with St. Lucia's (and NCAA champ for Texas) Julien Alfred being disqualified for a false start in semi one. On the re-start, Jamaica's Shericka Jackson had the lead in mid-race, but Dina Asher-Smith (GBR) led at 90 m, but Jackson surged again in the final 10 m to win in 10.84 vs. 10.89 (-0.2), with TeeTee Terry of the U.S. third in 11.04. Jamaican star Elaine Thompson-Herah was challenged by Marie-Josee Ta Lou (CIV) right to the tape, but won 10.82-10.87 (-0.2), with American Melissa Jefferson getting third with a lunge at the line in 10.92. Former USC sprinter Tynia Gaither (BAH) suffered a false start in semi three; four-time champion Shelly-Ann Fraser-Pryce started well and zipped through in 10.93, with American Aleia Hobbs charged from fourth to second in 10.95. Jefferson advanced to the final, but Terry did not.
In the final, it was Fraser-Pryce got out with Asher-Smith, but the Jamaican was unmatched in the middle of the race, storming to a fifth Worlds gold in 10.67 (+0.8), ahead of teammates Jackson (lifetime best 10.73) and Thompson-Herah (10.81), with Jackson getting and staying ahead by mid-race. Asher-Smith was fourth in 10.83, equaling her lifetime best; Hobbs ran 10.92 for sixth and Jefferson was eighth in 11.03.
Jamaica celebrated a sweep, just as in Tokyo, but with Fraser-Pryce winning instead of Thompson-Herah.
● Women/Pole Vault ● The real jumping started at 4.60 m (15-1), with eight clearing, and then only Sandi Morris (USA), Nina Kennedy (AUS) and Tina Sutej (SLO) clearing 4.70 m (15-5) on their first try. Olympic champ Katie Nageotte of the U.S. cleared on her second try, and Rio 2016 gold medalist Katerina Stefanidi (GRE) made on her third. Those five moved to 4.80 m (15-9) with Morris and Kennedy clearing on their first try and Nageotte on the second.
But Nageotte got a world-leading, first-try clearance at 4.85 m (15-11), but then Kennedy missed twice, but Morris cleared on her second try. Stefanidi missed twice and after an earlier miss, was eliminated. So the medalists were set and Kennedy passed to 4.90 m (16-0 3/4).
Nageotte missed, then Kennedy had her third try (but first at 4.90) and missed, clinching the bronze. Morris missed twice, Nageotte missed all three and on her final try, Morris fell short and the U.S. 1-2 had Nageotte adding a world title to her Olympic gold and Morris won a third straight Worlds silver after 2017 and 2019.
The third American, NCAA champ Gabriela Leon cleared 4.30 m (14-1 1/4) and finished 12th.
● Men/Shot Put ● World-record holder Ryan Crouser was fifth in the order in the first round and methodically reached 22.21 m (72-10 1/2) to take the lead, but only for a few minutes as defending champ Joe Kovacs (USA) reached 22.63 m (74-3) to take over. Then the no. 3 American, Josh Awotunde, shoved Crouser into third with a lifetime best of 22.24 m (72-11 3/4) to move into second place!
What would Crouser do? Into the lead at 22.71 m (74-6 1/4), with the order maintained into the fifth round. Then New Zealand's Tom Walsh, the 2017 champion, moved into fourth at 22.08 m (72-5 1/4) and started a chain reaction. Awotunde got another lifetime best at 22.29 m (73-1 3/4), then Kovacs took the lead at 22.89 m (75-1 3/4)!
Crouser was game and exploded with another huge throw, measured at 22.94 m (75-3 1/4)!
In the final round, Kovacs managed 22.42 m (73-6 3/4), leaving Crouser with the Worlds gold, his first after his silver in Doha in 2019. Awotunde's third place completed the American sweep; the fourth American, Tripp Piperi, was eighth at 20.93 m (68-8).
● Men/Discus qualifying ● In Group A, Slovenian star Kristjian Ceh got his auto-qualifier on his first throw at 68.23 m (223-10) and Simon Pettersson got it on his second (68.11 m/223-5), as did Lithuania's Mykolas Alekna (68.91 m/226-1) and Matthew Denny of Australia (66.98 m/219-9).
In Group B, 2017 World Champion Andrius Gudzius (LTU) qualified at 66.60 m (218-6) and Lukas Weisshaidinger (AUT) reached 66.51 m (218-2).
Olympic champ Daniel Stahl (SWE) didn't make the auto-qualifier, but advanced at 65.95 (216-4). American Sam Mattis reached 65.59 m (215-2) and qualified eighth; the other Americans did not advance: Andrew Evans in 18th (62.20 m/204-1) and Brian Williams in 28th (58.25 m/191-1).
● Men/400 m Hurdles semis ● Olympic silver medalist Rai Benjamin moved strongly on the second turn and led into the straight, loafing on the run-in but winning in 48.44, with Jaheel Hyde (JAM: 49.09) second. Brazil's Alison Dos Santos cruised through the second semi in 47.85, with Trevor Bassitt of the U.S. a solid second in 48.17. In semi three, Norway's world-record holder Karsten Warholm ran hard for eight hurdles and cruised home in 48.00, with France's Wilfried Happio second with a lifetime best of 48.14 and American Khallifah Rosser qualifying for the final in third in 48.34.
● Men/1,500 m semis ● All three Tokyo medalists – Jakob Ingebrigtsen (NOR), Tim Cheruiyot (KEN) and Britain's Josh Kerr – were in semi one and Ingebrigtsen had the lead at the bell, running with World Indoor Champion Samuel Tefera (ETH). Cheruiyot came up to challenge for the lead on the final turn, and he and Ingebrigtsen led into the straight and then Kerr surged to take the win in 3:36.92, with Mario Garcia (ESP: 3:37.01) also flying to the line and Ingebrigtsen and Cheruiyot in 3-4 (3:37.02-3:37.04). American Johnny Gregorek finished eighth in 3:37.35.
Semi two saw Stewart McSweyn (AUS) taking it out, with world leader Abel Kipsang following closely and they led at the bell. Britain's Jake Wightman fought his way into second with 200 m left and Kipsang took the lead. Spain's Mohamed Katir charged past McSweyn and ended up second, edging Wightman, with Kipsang winning, 3:33.68-3:34.45-3:34.48. McSweyn qualified in fifth in 3:35.07; American Josh Thompson was seventh in 3:35.55, but qualified for the final on time.
● Women/Heptathlon ● Things heated up in the shot, where world leader Anouk Vetter (NED) got a lifetime best of 16.25 m (53-3 3/4), but with Belgium's twice Olympic champ Nafi Thiam got a season's best of 15.03 m (49-3 3/4). American Anna Hall got a lifetime best of 13.67 m (44-10 1/4). After three events, Thiam had 3,127 points to 3,003 for Vetter.
In the 200 m, Hall dominated with a win in 23.08, a lifetime best, moving her to third overall at 3,991. Thiam is the leader at 4,071 and Vetter stands second at 4,010. Defending champion Katarina Johnson-Thompson (GBR) stands sixth at 3,798.
The meet continues Monday at 6:15 a.m. with the women's marathon.
¶
You can receive our exclusive TSX Report by e-mail by clicking here. You can also refer a friend by clicking here, and can donate here to keep this site going.
For our updated, 620-event International Sports Calendar for 2022 and beyond, by date and by sport, click here!