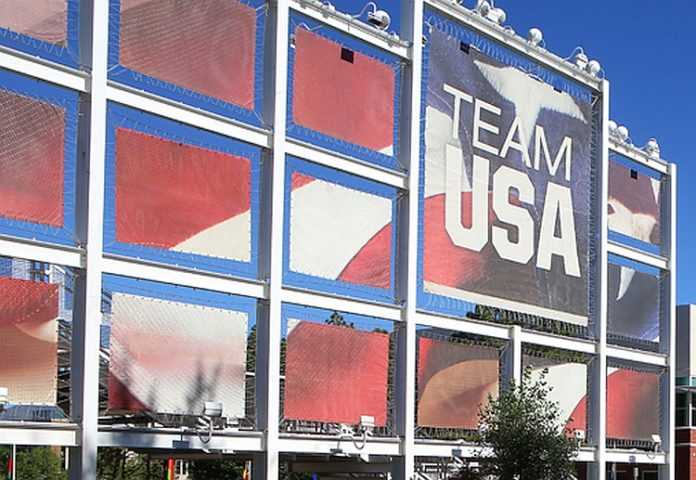 ★ The Sports Examiner: Chronicling the key competitive, economic and political forces shaping elite sport and the Olympic Movement.★
★ To get The Sports Examiner by e-mail: sign up here! ★
≡ THE 5-RING CIRCUS ≡
1. USOPC formally endorses advanced SLC-Utah Winter Games bid
2. Sykes highlights $500 million fund-raising campaign
3. Kuss retains lead, barely, as La Vuela closes
4. Putin, Pozdnyakov continue slamming IOC, IFs
5. Modest interest in FIBA World Cup on U.S. television
● The U.S. Olympic & Paralympic Committee formally endorsed the Salt Lake City-Utah bid for the Olympic Winter Games, with the bid itself extremely advanced, essentially to the point of being ready for selection after an International Olympic Committee review.
● Gene Sykes, the USOPC Chair, told the U.S. Olympic & Paralympic Assembly that a fund-raising project of $500 million is being undertaken by the U.S. Olympic & Paralympic Foundation.
● American Sepp Kuss maintained his lead in the Vuelta a Espana expanding his lead on Thursday to 17 seconds over Tour de France winner Jonas Vingegaard (DEN). Three stages remain, with two flat stages on Friday and Sunday, but a hilly, challenging course on Saturday.
● Russia's Vladimir Putin and Russian Olympic Committee head Stanislav Pozdnyakov continued to slam the IOC and all sanctions against Russian athletes. Putin repeated his threat to create an alternate system to the Olympic Movement, and Pozdnyakov indicated that Russian athletes will make own choice about whether to go to Paris in 2024 if allowed.
● Very U.S. modest television audiences for the FIBA World Cup games televised on cable, shown at an early-morning slot. The U.S. men's soccer team's game against Uzbekistan last Saturday had more viewers on Spanish-language television than in English. The Fifth Avenue Mile did well, however, on NBC on Sunday morning.
● World Championships: Weightlifting (China's Liao ups own world record in women's 71 kg class) ●
● Panorama: Paris 2024 (French prosecutor sees any misconduct over contracts as not serious) = Winter Games 2030 (France moving quickly, hopes for possible targeted dialogue in December!) = Pan American Games (Santiago 2023 village completed and dedicated) = IOC (Coventry re-appointed as Zimbabwe sports minister) = Athletics (UCLA star Seaman passes at 88) = Boxing (World Boxing adds four more member federations) = Fencing (USA Fencing elects Lee as new chair) = Football (3: U.S. men beat Oman, 4-0; U.S. Soccer announces 2026 expansion plans; Spanish women's players to return to league play) = Tennis (Halep hit for doping and suspended four years) = Weightlifting (IWF Congress adopts strategic plan and constitutional amendments) ●
1.
USOPC formally endorses advanced SLC-Utah Winter Games bid
The U.S. Olympic & Paralympic Committee's Board of Directors extended its support of the Salt Lake City-Utah Committee for the Olympic Games' bid for a return of the Olympic Winter Games on Thursday. USOPC Chair Gene Sykes told reporters during a mid-day call:
"The Board was pleased to hear from [the Salt-Lake City-Utah Committee for the Games], and give our firm endorsement of the candidature file that will be shared with the IOC once the Utah project is invited into targeted dialogue with the [International Olympic Committee].
"And we don't know when that will happen precisely, or the exact process for when a host decision will be made, but our hope is that the work of the Utah team, and their incredibly detailed and thoughtful plan, with great public support will be rewarded by the IOC in short order.
"After this discussion by our Board, and on a motion duly made and seconded, the Board resolved that it fully endorses and supports the Salt Lake City-Utah committee's bid intentions to offer to the IOC a formal, preferred-host submission, and specifically supports my signing and delivering the letter of support included in the advanced materials that we had for our meeting.
"So that letter has now gone off to the IOC."
Fraser Bullock, the chief executive of the SLC-Utah Committee explained that significant steps have been taken that will further invite the IOC to award them the preferred 2034 Games:
"We are very grateful to the Board of the USOPC for its partnership, and now, this endorsement of our bid. We have completed a significant amount of work on our bid, and with this endorsement, we are ready for targeted dialogue, if we are so fortunate to receive that invitation.
"This is a significant milestone for us.
"We have a fantastic bid to offer the Olympic and Paralympic communities. We have incredible venues, all in place. We have 100% of the government guarantees all competed at the Federal, state and local levels. I will note that we just completed all of our 10 Federal guarantees about two weeks ago.
"This was another big milestone for us. Most importantly, we have strong community support, including 82% from the public, and 100% from our political leadership."
The USOPC Board meeting was in Los Angeles, during the 2023 USOPC Assembly, a meeting of the entire U.S. Olympic Movement, including the National Governing Bodies and allied organizations.
Observed: The Salt Lake City-Utah bid has taken some significant steps that will very much impress the IOC. What has essentially happened is that the Utah bid team has gone ahead and completed most of the work that would take place after a designation for targeted dialogue.
Obtaining the required guarantees, especially from the U.S. government in our time of turmoil, is a remarkable achievement that is normally excruciatingly difficult. Bullock acknowledged the significant help of U.S. Senator Mitt Romney (R-Utah), the chief executive of the 2002 Winter Games in Salt Lake City, in advancing the process.
What the bid package, as described, does is tell the IOC that it is not just ready for "targeted dialogue" but has advanced to the point where Salt Lake City can be selected – after the IOC's own review, of course – as the host for 2034. Very, very impressive.
Not directly related to the bid, but further validation of the continuing importance of Utah within the U.S. is the announcement by the U.S. Biathlon Association that it will move its headquarters from Maine to Midway, Utah, site of the Solider Hollow venue that was used for the sport in 2002 and is proposed again for 2034. It will be the fourth U.S. National Governing Body in the state, also including U.S. Ski & Snowboard, US Speedskating and USA Climbing.
2.
Sykes highlights $500 million fund-raising campaign
The U.S. Olympic & Paralympic Committee is likely the largest National Olympic Committee in the world in terms of assets and continually produces the largest and most successful Olympic teams in the world.
But as years of reports have shown and testimony at the 6 September public hearing of the Commission on the State of the U.S. Olympics and Paralympics confirmed, it's still not enough. Not even close.
The USOPC is more than aware of this, and during Thursday's opening remarks to the USOPC Assembly, Board Chair Sykes spoke of a renewed commitment to obtain wider support:
"The USOPC must work together with the NGBs to produce champions on the playing fields who are also champions in life. We have a duty of care for every athlete that goes far beyond wins, losses, statistics, and records.
"Both the challenges and the opportunities are unprecedented. So many of the longstanding foundations of our Movement are fundamentally shifting. We need to reinvent our business models, redefine our paths to success, and rekindle the unique appeal of our Movement with a new generation of fans.
"Technology and imagination have created higher expectations. Technology makes virtual and live closer than ever. Experiences are more personal, more intense, and more active. Passive consumption no longer works. The Olympic and Paralympic experience should be more valuable. In order to take advantage of this, we need to make all parts of the US Olympic and Paralympic movement financially stronger and better at engaging with the American public – across the country and in all communities.
"The Olympic & Paralympic Foundation provides a tremendous opportunity to establish stronger financial support. The Foundation, founded fifteen years ago, has grown tremendously under the initial guidance of founding Chair Gordy Crawford and President Christine Walshe. The Foundation has embarked on a $500 million campaign which is aimed at enhancing the resources the USOPC provides to athletes, in their health and wellness, their performance, and their transition after competition into leaders in American society. The Foundation's new Chair, Geoff Yang, together with Christine and her team, make the Foundation as meaningful for the USOPC as the highly successful development efforts of our country's most effective colleges and universities."
Yang was elected as Chair in June, and comes from the private-equity sector as founding partner and managing director of Redpoint Ventures, with extensive experience in the consumer media, Internet and infrastructure worlds.
3.
Kuss retains lead, barely, as La Vuelta closes
The first true opportunity for an American rider to win one of cycling's Grand Tour in 10 years is hanging in the balance this weekend as the finale of the 78th La Vuelta a Espana comes on Sunday.
The U.S.'s Sepp Kuss, who turned 29 on Wednesday (13th), is hanging onto a tight, 13-second lead going into the final three stages of the race. He has had a wild week, with two brutal stages on Tuesday and Wednesday that shrunk his lead of 1:37 over Jumbo-Visma teammate (and two-time winner Primoz Roglic of Slovenia).
On Tuesday's 16th stage, a flat, 120.1 km course with a nasty uphill finish from 106 m to 528 m in the final 5,000 m, Tour de France champ Jonas Vingegaard – also a Jumbo-Visma rider – attacked with 4 km left and won in 2:38:23, 43 seconds ahead of runner-up Finn Fisher-Black (NZL) with Kuss in 10th and 1:05 back. That moved Vingegaard into second, just 29 seconds back.
A sterner test came Wednesday in a misery-inducing, 124.4 km triple climb in the back half of the course, with another uphill finish to the 1,555 m Altu de l'Angliru, gaining more than 1,200 m of altitude in the final 11 km. This was a leader's match race, with Kuss, Roglic and Vingegaard dueling up the final climb, until Kuss fell back a bit with 1,000 m left and Roglic and Vingegaard powered to a 1-2 finish in 3:15:56 for both, with Kuss third, 19 seconds behind.
Adding in the timing bonuses for the top three, Kuss's lead was reduced to just eight seconds over Vingegaard and 1:08 over Roglic. Not his happiest birthday, but still in the red leader's jersey.
Then came Thursday's test, a third-straight triple climb and third-straight uphill finish, this time to La Cruz de Linares at just 840 m, but with a steep approach from 120 m to 840 m in the final 8 km.
This time it was defending champ Remco Evenepoel (BEL), one of the pre-race favorites who had fallen back earlier, who attacked with 29 km left and won in 4:47:37, a stunning 4:44 ahead of Damiano Caruso (ITA) in second. Almost five minutes behind them was the duel between Kuss and Vingegaard, with Kuss winning this battle in 10th place with Roglic (+9:29), but ahead of Vingegaard in 13th (+9:38).
That increased Kuss's overall lead to 0:17 over Vingegaard and still 1:08 over Roglic with three stages left.
Stages 19 and 21 are fairly flat and not expected to change the standings. That leaves Saturday's 20th stage, a 207.8 km test starting at 904 m altitude with a dozen smaller climbs, topping out at 1,404 m twice. Lots of chances for attacks by Vingegaard.
No American has won a Grand Tour since Chris Horner took La Vuelta in 2013.
4.
Putin, Pozdnyakov continue slamming IOC, IFs
Continuing the drumbeat of criticism of anyone who sanctions Russian athletes anywhere in response to the February 2022 invasion of Ukraine, Russian President Vladimir Putin and Russian Olympic Committee head Stanislav Pozdnyakov spoke up again this week.
On Tuesday, Putin told the Eastern Economic Forum in Vladivostok:
"I believe that the present-day leadership of International Federations and of the International Olympic Committee, are perverting the original idea of Pierre de Coubertin.
"Sports must go beyond politics. It must unite, not divide people.
"But what happened over the past decade? The Olympic Movement has been caught in the trap of financial interests. We have witnessed the unacceptable commercialization of global sports and the International Olympic Movement.
"After all, it's not just about setting records. It's about uniting people and the global Olympic Movement has lost this function. This is very regrettable for the Olympic Movement itself, because alternative movements will start emerging one way or another and nothing can be done about this since it's an unbiased process."
Putin also reinforced, rather bluntly, the importance of sport as propaganda in Russia:
"I do not know if it's suitable to put it this way, but some people say that sports at the international level is a sublimation of war. There is something to this."
On Thursday, Pozdnyakov ripped the continuing lack of a decision from the IOC about whether Russian athletes will be able to compete in Paris in 2024 and under what conditions:
"Double standards from our colleagues in Lausanne also form our perception of the International Olympic Movement.
"It is on a path to degradation. The lack of clear rules leads to chaos. …
"The current recommendations are prohibitive and will not allow a large number of athletes to take part in the Olympic Games. We bring this to the attention of our colleagues from Lausanne on a regular basis. For our athletes to participate, it is necessary to cancel the notorious recommendations, which, as one of our Ukrainian colleagues said, were prepared in Ukraine and came to Lausanne directly from Kiev. We do not agree with them. And we will fight against it with all integrity.
"It is necessary to return to the roots that were laid by the founder of the Olympic movement, who dreamed of making the imperfect world a better place through sport. This is what we are calling on our colleagues from Lausanne and the international sports federations to do."
He also commented about a possible boycott by Russian athletes:
"We live in a civilized, democratic country. Everyone is entitled to possess freedom to the extent that he or she deems necessary. A boycott is out of the question as we are not invited [to Paris 2024] and, so, there is nothing to boycott.
"This is a personal choice as we are talking about mature athletes capable of making their own decisions and bearing personal responsibility. I'm sure that the Russian Olympic community has the sufficient level of maturity."
Pozdnyakov explained that athletes who have missed out on international competitions will receive some money from the government:
"Although the ROC is a public organization, it is ready to make up for the losses that our athletes inevitably incur. I have instructed that a document be drafted that will stipulate financial payments to Russian Olympic team members.
"This includes athletes who competed in the Olympics, continue to compete, or are preparing for the Olympics, but were deprived of the right to participate in international tournaments. It will also include those who, on moral grounds, have declined to sign documents [condemning the Ukraine invasion] and have not taken part in such actions.
"Our range of available tools has contracted, [but] we have found the internal means to support our athletes. Payments will be allocated starting early next year for athletes competing in summer sports."
"One-time payments will stand at 500,000 rubles [about $5,200], 350,000 rubles [$3,640] and 250,000 rubles [$2,600] for athletic achievements, while 150,000 rubles [$1,560] will be paid to all athletes on the Olympic team who continue to train and participate in tournaments."
5.
Modest interest in FIBA World Cup on U.S. television
Audience data is in for last week's shows, with small viewership of the FIBA World Cup from the Philippines for the U.S. games that were played in the early morning, U.S. time, and a really low number for the championship final between Serbia and Germany:
● 05 Sep. (Tue.): 145,000 for USA-Italy on ESPN2 (8:30 a.m. Eastern)
● 08 Sep. (Fri.): 241,000 for USA-Germany on ESPN2 (8:30 a.m. Eastern)
● 10 Sep. (Sun.): 116,000 for Germany-Serbia on ESPN2 (8:30 a.m. Eastern)
The U.S.-Italy game was a championship quarterfinal, and the Germany game was a semifinal. The U.S.-Canada bronze-medal game was only available online.
The U.S. men's national soccer team was back in action, with a friendly against Uzbekistan, which drew more interest from Spanish-language viewers than English-language, on a day dominated by college football:
● 09 Sep. (Sat.): 323,000 for USA-Uzbekistan on TNT (5:30 p.m. Eastern)
● 09 Sep. (Sat.): 410,000 for USA-Uzbekistan on Telemundo (5:00 p.m. Eastern)
There was also the Fifth Avenue Mile on NBC, with the show not even starting until a lightning watch had passed. Competing against the NFL pre-game shows on CBS and Fox, the road mile actually did quite respectably:
● 10 Sep. (Sun.): 513,000 for the Fifth Avenue Mile on NBC at 12:10 p.m. ET
The Diamond League Memorial Van Damme replay on CNBC on Saturday drew less than the 150,000 floor reported by Nielsen in their main report and, based on an all-programs Saturday report, may have been less than 50,000.
NBC's "Chasing Gold: Paris 2024″ promo show on Saturday (9th) drew 373,000 at 2 p.m. Eastern.
NBC will have live coverage this weekend of the Prefontaine Classic, which also serves as the Diamond League Final for 2023.
≡ WORLD CHAMPIONSHIPS ≡
● Weightlifting ● China and Egypt were the big winners as the 2023 World Weightlifting Championships head toward the close this weekend in Riyadh (KSA).
In the men's 96 kg class, Egypt's 2022 African Champion Karim Abokahia was the dominant force, placing second in Snatch (174 kg), winning the Clean & Jerk (213 kg) and the overall total at 387 kg. That was just enough to beat Korea's Jong-beom Won (384 kg), with Iraqi Qasim Al-Lami – the Snatch winner – third at 379 kg.
At 102 kg, the 2022 bronze medalist, China's Huanhua Liu moved up, winning the Clean & Jerk at 224 kg, seven more than anyone else and vaulting him from fourth in the Snatch to the gold medal at 404 kg. Korea scored the silver with Yeon-hak Jang (399 kg) and Belarus lifter Yauheni Tsikhantsou – competing as a "neutral" – won bronze at 394 kg. American Ryan Sester, competing in the B group, missed all three of his Snatch attempts and did not go further.
The women's 71 kg class was a showcase for China's Guifang Liao, who won the Asian Championships in May and set a world record for the combined total of 268 kg. That didn't last.
Fourth at the 2022 Worlds, Liao opened with a win in the Snatch at 120 kg, then powered up a world-record Clean & Jerk of 153 kg for another world-record total of 273 kg! Behind her was a battle between 2022 bronze winner Angie Palacios (ECU) and American Olivia Reeves. Palacios was second in the Snatch at 117 kg and third in the C&J, enough to total 255 kg and win silver.
Reeves was third in the Snatch at 111 kg, but was second in the C&J at 142 kg and that got her the bronze at 253 kg, her first senior-level Worlds medal. She was the 2021 World Junior Champion in this class, and set junior world marks on the C&J and total. Fellow American Kate Vibert, the 2019 World Champion, finished fifth overall at 244 kg.
The women's 76 kg was a sweep for Egypt's defending champ Sara Samir Ahmed, who won the Snatch with her only lift of 108 kg, then took the Clean & Jerk at 138 kg – again, one lift – and won with the combined total of 246 kg. All the more impressive due to discomfort from a recent back injury!
Colombia's Hellen Escobar was fourth in 2022, but was third in the Snatch (106 kg) and second in the C&J (136 kg) to earn silver at 242 kg, ahead of Bella Paredes (ECU), who also won her first Worlds medal with 105-135-240 total. American Meredith Alwine lifted 103 kg in the Snatch on her final attempt, missed her first C&J try at 134 kg, and retired. The championships continue through Sunday.
≡ PANORAMA ≡
● Olympic Games 2024: Paris ● The head of the French financial prosecutor's office said Wednesday that the search of the Paris 2024 offices and elsewhere over contract favoritism did not uncover "serious" wrongdoing.
"It's about favoritism, of illegal interest-taking," said Jean-Francois Bohnert in a radio interview. "It's about the way certain contracts have been distributed, the arrangements … But I don't see any elements, at least not at this stage, that would lead the investigation towards the most serious cases of corruption or influence peddling."
He explained further, "It's not up to us to come and disrupt that order. And that's why we started early enough. The searches that took place were carried out more than a year before the start of the Games."
● Olympic Winter Games 2030 ● The French candidature for the 2030 Olympic Winter Games is progressing rapidly, with a 15 October target to present the master plan and confirm a €1.5 billion budget (about $1.596 billion U.S.), then an early November meeting with the IOC's Future Host Commission for the Olympic Winter Games.
If all goes well, why not shoot for a "targeted dialogue" nod from the Winter Future Host Commission at the 1 December 2023 IOC Executive Board meeting? The joint bid by the regions Auvergne Rhone-Alpes and Provence Alpes-Cote d'Azur includes some of the sites used for the 1992 Winter Games in Albertville.
● Pan American Games 2023: Santiago ● An important milestone for the organizing committee as the Pan American Village was officially opened on Thursday, in a ribbon-cutting ceremony featuring Chilean President Gabriel Boric Font. The complex includes 17 buildings and 1,355 apartments that will be used for local residents following the Games.
● International Olympic Committee ● Kirsty Coventry, 39, the seven-time Olympic medal winner in swimming in 2004-08, was re-appointed as the Minister of Youth, Sports, Arts and Recreation by re-elected President Emmerson Mnangagwa, a post she has held since September 2018.
Said Mnangagwa, "The fact that I've reappointed her means I'm satisfied."
Zimbabwe continues to be suspended by FIFA over governmental interference with the national federation and the conditions of stadiums in the country has been reported as poor, preventing international matches from being played there.
Coventry has been eyed as a possible successor to Thomas Bach (GER) as IOC President in 2025, and she has a high profile as the head of the Coordination Commissions for the Dakar 2026 Youth Olympic Games and the Brisbane 2032 Olympic Games.
● International Federations ● The final dissolution of the Global Association of International Sports Federations (GAISF) was approved on Thursday. The SportAccord organization will revise its rules in November and integrate the umbrella bodies for Olympic and Winter federations (ASOIF, AIOWF), IOC-recognized federation (ARISF) and independent federations (AIMS).
● Athletics ● Sad news of the passing of UCLA great and Rafer Johnson teammate Bob Seaman, 88, on Monday (11th), after a long battle with Parkinson's Disease.
Seaman was an All-American in the mile (3rd: 1955) and 1,500 m (4th: 1956) for coach Ducky Drake, as the Bruins won the school's first NCAA title in track & field in '56. The UCLA record-holder in the mile at 4:01.4 from 1956 (later broken), he eventually finished with a lifetime best of 3:58.0, ranking no. 6 in the world for 1962.
Beyond his running career, Seaman became a fixture as a track & field official in Southern California, acknowledged as an expert in the field events. Working as a member of the Southern Pacific Association of the AAU and later, The Athletics Congress and USA Track & Field, Seaman was a tireless organizer, and part of the team which brought (and staged) the AAU National Championships at UCLA in 1976-77-78 and to Mt. San Antonio College in 1979-80-81.
He is survived by his wife, Simie.
● Boxing ● World Boxing continues to grow:
"The National Federations for boxing in Denmark, Mongolia, Panama and French Polynesia have been confirmed as the latest four members of World Boxing, the new international federation established to keep boxing at the heart of the Olympic movement and support the growth and development of the sport at local, regional, national and international levels.
"The addition of four more countries means World Boxing now has 16 members."
More applications are being scrutinized and new members are expected to be announced soon.
● Fencing ● USA Fencing took another step to mending an internal rift from 2021, as 2004 Olympian Ivan Lee, 42, was elected as the federation's Board Chair on 8 September.
Lee won four career World Championships medals, including a gold in Team Sabre from 2001, an individual silver from 2001 and bronzes in 1998 and 2000, and has continued in the sport as a veteran fencer and a coach.
He joined the USA Fencing Board in 2022 as an appointed Vice Chair and was elected as an At-Large Director this past June. His selection for a two-year term as Chair follows the tumult from the 2021 removal of Board member Peter Burchard, who was the elected President, but removed without notice by the Board with Treasurer David Arias installed as President and then the re-defined position of Chair.
Close observers have commended Burchard – who has continued as a Board member – for working toward positive change in the federation irrespective of his personal situation. Arias was replaced as Treasurer this month by the promotion of Deputy Treasurer Emily Bian. Both Arias and Burchard were eligible to be elected as Chair, but the selection ended up being Lee.
The future of the federation will also be shaped in 2024, with terms of 13 of 16 Board members concluding; Lee will continue as Chair to 2025 and his Board position continues to 2026.
● Football ● The U.S. men's team shut down Oman on Tuesday in a second straight friendly, this time by 4-0 in St. Paul, Minnesota before 13,665 at Allianz Field.
The Americans controlled the match, with 60% of possession and 19 shots to seven, taking the lead in the 13th minute on a shot by defender Sergino Dest that was saved by Oman keeper Ibrahim Al Mukhaini, but striker Folarin Balogun scored in the rebound.
That was the only score until the 60th minute, when substitute forward Brenden Aaronson was fouled, leading to a free kick. Aaronson took the shot right at goal, got the ball through the defensive wall and the ball rolled into the middle of the net as Al Mukhaini dived to the right, for the 2-0 edge.
Substitute striker Ricardo Pepi increased the lead to 3-0 in the 79th with a right-footed shot off a cross from sun defender DeJuan Jones that found the left side of the net. Oman suffered an own goal in the 81st by defender Khalid Al-Braiki, trying to clear a cross, but sending it into his own net instead.
Next up is a friendly with Germany on 14 October in East Hartford, Connecticut.
¶
U.S. Soccer posted a letter from President Cindy Parlow Cone and chief executive JT Batson about the federation's plans to take advantage of the opportunities offered by the 2026 FIFA World Cup.
While the fully-detailed plan will be completed in 2024, the outline is available now:
"The strategy is built around five incredibly ambitious key pillars that will be imperative to our success moving forward:
"1. Grow the game.
"2. Foster the best playing environments.
"3. Develop winning teams.
"4. Grow the soccer economy to fuel reinvestment.
"5. Create a world-class organization."
More detail will be available over time; the common element in all of the ambitions is money, with the 2026 World Cup a multiplier for interest at all levels of the game.
It's worth noting that the development and staging of the FIFA World Cup 2026 will be done by FIFA itself, not by a separate organizing committee. However, U.S. Soccer, as one of the host federations, will have its profile substantially raised by the tournament coming back to the U.S. for the first time since the highly-impacted 1994 event.
¶
The strike by Spanish women's players over low wages was canceled on Thursday as a deal was reached with the clubs in Liga F to increase minimum salaries from €16,000 ($17,031 U.S.) to €21,000 ($22,353) this season and to €23,500 ($25,015)by 2025. '
The first week of games was missed, but the season will now begin.
● Tennis ● Romanian star Simona Halep, 31, the 2018 French Open and 2019 Wimbledon winner, has been suspended by the International Tennis Integrity Agency for four years for doping violations:
"The first related to an Adverse Analytical Finding (AAF) for the prohibited substance roxadustat at the US Open in 2022, carried out through regular urine testing during competition. The second charge related to irregularities in Halep's Athlete Biological Passport (ABP). …
"On 11 September 2023, the tribunal confirmed that it had found the player had committed intentional Anti-Doping Rule Violations under Article 2 of the [Tennis Anti-Doping Program]."
Halep was provisionally suspended since October 2022 and her suspension is slated to continue through 6 October 2026. She has maintained that she did not knowing ingest any prohibited substance and indicated she will appeal.
● Weightlifting ● At the International Weightlifting Federation Congress in Riyadh (KSA), the new strategic plan for 2024-32 was adopted unanimously by the 114 delegates. Interim chief executive Pedro Adrega (POR) explained the four key "pillars" of the program:
"The first one is the most obvious one – Athletes. The second pillar is also quite straightforward – Events. The third pillar aims at keeping the IWF safe. And finally, the fourth pillar looks at reaching the best results beyond the IWF."
Given that weightlifting is still not confirmed as a sport on the Los Angeles 2028 program, Adrega added:
"[W]e must not be complacent. The competition is hard. Many new sports want to enter the Olympic club and we cannot rest on our laurels. We cannot take our position for granted. We need to fight – every day, in every action we plan and do. We need to strive for excellence, for great performances, as our athletes do all the time. Let's get inspired by them, by their devotion to the sport they love. We have now an additional, important tool to help us do things well."
The plan recognized the sport's positives – long history, easy to understand and appreciate and already in 195 countries, but also the glaring problems of rampant historical doping, a currently weak relationship with the IOC, static presentation and outreach and low revenues in view of enormous expenses in the anti-doping area. The major threats to the sport continue to be any slipback on doping and if the sport is not reinstated for LA28 and beyond.
A revision of the IWF Constitution was also adopted, by 85.2% of the delegates, aimed at modernizing the federation's operations.
¶
You can receive our exclusive TSX Report by e-mail by clicking here. You can also refer a friend by clicking here, and can donate here to keep this site going.
For our updated, 787-event International Sports Calendar (no. 3) for 2023 and beyond, by date and by sport, click here!