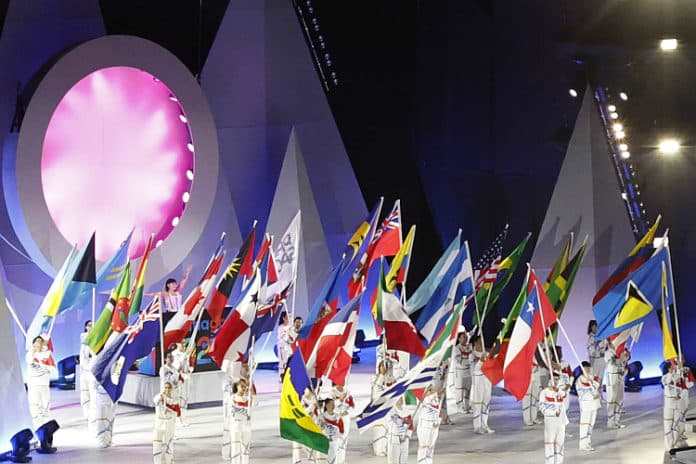 ★ The Sports Examiner: Chronicling the key competitive, economic and political forces shaping elite sport and the Olympic Movement.★
★ To get The Sports Examiner by e-mail: sign up here! ★
≡ THE 5-RING CIRCUS ≡
1. U.S. tops the table with 286 medals at Pan American Games
2. Tola gets course record, Obiri sprints to win at NYC Marathon
3. IOC reaches beyond TV to Brazilian streamer CazeTV for 2024
4. IOC says 2026 sliding venue will be outside Italy
5. WTA acknowledges player unrest over Cancun Finals
● The XIX Pan American Games concluded in Santiago, Chile, with the United States leading the medal table at 286 total and 124 golds all together. American entries won 34 golds over the final three days, with the men's water polo team winning its eighth straight Pan Am title and the women taking their sixth straight; the wins qualified both for the Paris 2024 Olympic Games.
● Ethiopia's Tamirat Tola shook off his last challenger after 30 km and raced to an impressive course record of 2:04:58 at the New York City Marathon on Sunday, while Kenya's Hellen Obiri out-dueled her frequent track foe, Ethiopia's Letsenbet Gidey in the final 300 m to win the women's race in 2:27:23, with Gidey at 2:27:29 and defending champ Sharon Lokedi of Kenya third in 2:27:33.
● The International Olympic Committee made a strike to go beyond broadcast television for the Paris 2024 Games, approving a deal by the Brazilian rights holder, Grupo Globo, to stream some events on the massively-popular CazeTV on YouTube, featuring online sensation Casimiro. It's a look into the future.
● The IOC told the Milan-Cortina 2026 Olympic Winter Games organizers that the bobsled, luge and skeleton events must be held outside the country for cost and sustainability reasons. After a new track could not be built in Cortina, the idea was floated to renovate the 2006 Turin track, which has been abandoned since 2012. The IOC's reply: no, and don't ask again.
● Multiple players criticized the playing conditions at the Women's Tennis Association final in Cancun (MEX), led by no. 1-ranked Aryna Sabalenka of Belarus, who wrote, "This not the level of organization we expect for the Finals." WTA chief Steve Simon said in a letter to the players that "It is not a perfect event."
● Panorama: International Olympic Committee (Paris thieves steal jewels from IOC member) = Athletics (3: Beadlescomb and Rodenfels win USATF 5 km titles; Jamaica's Levy fails doping test; AIU imposes two sanctions, but Jeruto cleared in hearing) = Badminton (U.S.'s Zhang wins at Hylo Open!) = Curling (Gushue, Gim take Pan Continental titles) = Cycling (Lavreysen, Bibic, Andrews, Archibald lead in Champions League) = Fencing (McDowald suspended by SafeSport) = Figure Skating (Siao Him Fa and Levito get first Grand Prix wins) = Football (3: Hayes to be hired as U.S. women's coach; UEFA to co-promote Ballon d'Or awards; Iranian club penalized for Soleimani statute in venue) = Short Track (Santos-Griswold sweeps Four Continents for first U.S. golds!) = Table Tennis (Lin and Wang take WTT Champions titles) ●
● Errata: Some readers of Friday's post saw a reference to former USATF staff member Jim Estes working for the U.S. Olympic Marathon Trials bid for Charlotte. Nope, it was Chattanooga, with the correction made on the site. Thanks to reader Karen Rosen for the sharp eyes! ●
1.
U.S. tops the table with 286 medals at Pan American Games
The XIX Pan American Games closed in Santiago, Chile on Sunday, with the U.S. once again leading the medal table with 286 in total, including 124 golds, 75 silvers and 87 bronzes.
The 2023 PAG finished with 40 events on Friday, 71 on Saturday and 24 on Sunday and the American squad won 79 medals across those 135 events, including 34 golds:
Friday, 3 November (10):
● Athletics: Isai Rodriguez, men's 10,000 m
● Fencing: Men's Team Foil
● Fencing: Women's Team Sabre
● Karate: Ariel Torres, men's Kata
● Karate: Sakura Kokumai, women's Kata
● Sailing: Ian Barrows and Hans Henken, men's 49er
● Sailing: Daniela Moroz, women's Kite
● Squash: Timothy Brownell and Olivia Clyne, Mixed Doubles
● Wrestling: Ildar Hafizov, men's Greco 60 kg
● Wrestling: Kamal Bey, men's Greco 77 kg
Saturday, 4 November (16):
● Archery: men's Team Recurve
● Archery: women's Team Recurve
● Archery: Olivia Dean and Alexis Ruiz, women's Team Compound
● Athletics: Matt Ludwig, men's vault
● Athletics: Curtis Thompson, men's javelin
● Athletics: Rachel McCoy, women's high jump
● Breaking: Grace "Sunny" Choi, women
● Gymnastics: Jessica Stevens, women's trampoline
● Gymnastics: Ruben Padilla and Aliaksei Shostak, men's synchro trampoline
● Gymnastics: Nicole Ahsinger and Jessica Stevens, women's synchro trampoline
● Rugby Sevens: Women
● Sailing: Erika Reineke, women's Laser Radial
● Sailing: Mixed Lightning
● Softball: Women
● Water Polo: Men
● Water Polo: Women
Sunday, 5 November (8):
● Archery: Jackson Mirich, men's Recurve
● Archery: Brady Ellison & Casey Kaufhold, Recurve Mixed Team
● Bowling: A.J. Johnson, men's Singles
● Cycling: Hannah Roberts, women's BMX Freestyle
● Karate: Thomas Scott, men's 75 kg
● Roller: Erin Jackson, women's 500 m
● Squash: Women's Team
● Table Tennis: Women's Team
The U.S. men's and women's water polo titles continued long Pan Am winning streaks, with the men taking their eighth gold in a row in a 17-7 win over Brazil in the final, as Hannes Daube and Alexander Bowen each scored five goals. The women blasted Canada, 20-11, in the final for a sixth straight PAG gold, with Rachel Fattal and Jenna Flynn each getting five goals. Both teams are now qualified for the Paris 2024 Olympic Games.
In track & field, the U.S. finished with 25 medals (8-5-12), just ahead of Brazil (23) and Cuba (18). Isai Rodriguez and Sam Chelanga went 1-2 in the men's 10,000 m in 28:17.84 and 29:01.21; Matt Ludwig won the vault at 5.55 m (18-2 1/2) and Curtis Thompson won his first international medal by winning the javelin at 79.65 m (261-4). Canada's Ethan Katzberg, the surprise World Champion in the hammer, won at 80.96 m (265-7), followed by Americans Daniel Haugh (77.82 m/255-4) and Rudy Winkler (76.65 m/251-5).
Rachel McCoy won the women's high jump for the U.S. at 1.87 m (6-1 1/2), but the normally powerful U.S. women did not win a single gold on the track and claimed only four medals in total (0-1-3). The men were shut out in the normally-strong sprints: 100-200-400 m and both relays.
The U.S. dominated the fencing competition, winning eight golds in 12 events and 11 medals overall, but Canada scored 12 medals in all (2-6-4). Nick Itkin (men's Foil), Lee Kiefer (women's Foil) and Magda Skarbonkiewicz (women's Sabre) won two golds each, in the individual and team events.
Brazil won the men's football tournament, with U-22 players that will be eligible for the Paris 2024 Games, by beating Chile in the final on penalties (4-2) after a 1-1 tie. Mexico won the women's final, 1-0 over Chile, with the U.S. U-19 squad placing third, beating Argentina by 2-0.
Brazil dominated rhythmic gymnastics, winning all eight events, with Barbara Domingos winning the All-Around, Ball and Ribbon, and Maria Alexandre taking the Clubs and Hoop golds. America Evita Griskenas won the All-Around silver and a bronze in all four apparatus finals.
In the overall medal table, the U.S.'s 286 was followed by an impressive 205 – an all-time record – for Brazil (66-73-66), then Canada with 164 (46-55-63), Mexico with 142 (52-38-52), and Colombia at 101 (29-38-34), its first time over the 100 mark.
Despite the 2023 Games being held in the very late fall, the U.S. had an excellent showing by historical standards. Discounting the 1959 and 1987 Pan Ams held in the U.S., the 2023 output compares favorably:
● 425 in 1995 (Mar de Plata/ARG)
● 352 in 1991 (Havana/CUB)
● 304 in 1999 (Winnipeg/CAN)
● 302 in 1983 (Caracas/VEN)
● 293 in 2019 (Lima/PER)
● 286 in 2023 (Santiago/CHI)
That's no. 6 all-time for Pan Ams outside the U.S. and well ahead of the medal totals in 2003-07-11-15. The U.S. Olympic & Paralympic Committee reported that 403 out of the 631 members of the U.S. team won at least one medal and 96 won multiple medals. By team, the swimmers led with 48 total medals, followed by track & field (25), gymnastics (23) and shooting (18).
The 2027 Pan American Games are scheduled to be held in Barranquilla, Colombia, but in the summer from 2-15 July.
2.
Tola gets course record, Obiri sprints to win at NYC Marathon
Very impressive racing by two of the favorites turned into noteworthy victories for Ethiopia's Tamirat Tola and Kenyan Hellen Obiri at the 2023 New York City Marathon on Sunday morning.
The men's race saw 18 running in the lead pack at the 10 km mark, but only five by the half, with Tola leading at 62:45 next to countryman Jemal Yimer, the 2018 African 10,000 m champ. By the 25 km mark, the race had broken up, with Tola and Yimer and 2021 New York winner Albert Korir (KEN) together, with a nine-second lead on the field.
Then came the race-breaker, a sensational 4:28 17th mile (27.4 km mark) that narrowed the race to Tola and Yimer and put Kenyan Geoffrey Mutai's 2:05:06 course record from 2011 in jeopardy.
Tola, 32, was only added to the field on 13 October, despite being the 2022 World Champion, with two good finishes in New York, in fourth in 2018 and 2019. He ran away from Yimer after 30 km and had a 33-second lead by the 35 km mark. From there, it was a question of time and Tola was steady, running a 15:17 from 35-40 km and finishing in a race record of 2:04:58 for a 4:36 per mile average.
Yimer faded badly to ninth and Korir moved back up to finish second in 2:06:57, followed by last year's runner-up, Shura Kitata (ETH: 2:07:11), Abdi Nageeye (NED: 2:10:21) and Belgian Koen Naert (2:10:25).
Futsum Zienasellassie was the top American in 10th (2:12:09), followed by Elkanah Kibet in 11th (2:12:23).
Tola has now run 17 career marathons and won his fourth, and made the podium eight times. He has been getting better and better: in his last seven races, he's won three times with two thirds.
The women's race was much more competitive, with 11 women in the lead pack by the half, and eight running together by the 35 km mark and five by 40 km. Then, defending champ Sharon Lokedi (KEN) made a push into the lead, followed closely by Obiri and Ethiopia's Letsenbet Gidey, the 2022 World 10,000 m champ.
Obiri and Gidey, old rivals on the track at 5,000 m and 10,000 m, dropped Lokedi as the race moved into Central Park and the two track stars battled it out, with Obiri's final sprint in the last 300 m the best, to win in 2:27:23 (5:38 per mile), with Gidey at 2:27:29 and Lokedi third in 2:27:33.
Kenyan Brigid Kosgei, the former world-record holder was fourth (2:27:45) and Mary Ngugi-Cooper (KEN) was fifth in 2:27:53. The top Americans included Kellyn Taylor, 37, eighth in 2:29:48 and Molly Huddle, 39, in ninth at 2:32:02.
Obiri's move to the roads is just spectacular, as she was sixth in New York in 2022, won Boston in April and now New York in November, finishing with a 4:52 mile! Obiri became the first to win the Boston-New York double since Norwegian star Ingrid Kristiansen in 1989, and won eight of her nine races this year, all but one on the roads.
3.
IOC reaches beyond TV to Brazilian streamer CazeTV for 2024
The International Olympic Committee has a long-term broadcast partner in Brazil in Grupo Globo, which has held exclusive rights from 2018, and now through the 2032 Olympic Games in a deal announced in 2015.
But SportBusiness reported last week indicate that the IOC is looking beyond broadcast as President Thomas Bach (GER) insists that the Olympic Games must be brought to the people, wherever they are:
"The channel of Brazilian influencer Casimiro, a joint venture with LiveMode, will stream 500 hours of live action from next year's Olympics. The agreement supplements existing linear free-to-air, pay-television and digital coverage on Globo."
CazeTV, by Casimiro Miguel, is a sensation in Brazil, and the agreement was developed in conjunction with the LiveMode Agency, which has brought CazeTV together with the 2022 FIFA World Cup – showing 22 games – and reaching an audience of 3.8 million on his YouTube Channel for the Brazil-Serbia group-stage match last November.
The CazeTV channel has also shown matches from the 2023 FIFA Women's World Cup and the 2023 World Judo Championships, among other events.
What is this about? Hunting for a specific, younger audience. Edgar Diniz of LiveMode explained the thinking behind the tie-up with CazeTV for the 2022 FIFA World Cup, primarily as a way to find added visibility in Brazil for the event. But there was no rights fee involved, as the World Cup rights already belonged to Globo (computer translation from the original Portuguese):
"There were people who even liked football less and who were there watching in a different way. Trying to compete with Globo in its game is practically impossible, so we offer a different, humorous alternative, with those people, almost watching the game with friends. We thought it was a complementary alternative. And looking at the audiences we see that it is a complement, obviously with incomparable numbers, the size of the Globo audience with the Casimiro audience, but it increases and provides a cool, fun alternative, which has no ambition, neither today nor tomorrow, to compete with Globo in any respect."
Diniz explained the model with CazeTV going forward:
"The vocation of CazéTV and the LiveMode project do not include entering into disputes over rights. This is an important point. We think that CazéTV is a distribution and monetization solution, which we present to clients whoever makes sense at that moment. I'll give an example.
"We just closed an agreement with the COB [Brazilian Olympic Committee] for competitions that do not have access to distribution, and we are going to work to bring a good audience to sports, which today have difficulty connecting with young people, and monetize through sponsors. In some cases, we pay a fixed amount for the rights. In many cases, we use a revenue sharing model. Go to the market, share the revenue, possibly with a minimum guarantee, because we are confident that we will monetize." (Emphasis added)
And Diniz made a prediction for the future about television rights and mega-events, which could very well be part of American television broadcasts of the Olympic Games in the future (meaning beyond 2032):
"I can't see a model with one player buying everything, because it's difficult to make economic sense, and I think that whoever will lead this process, the way it will be sold, will always be looking to maximize value. The tendency is to have this combination of two or three players sharing the products, and an accommodation will be sought to solve the fan's life [to find what is being shown where]."
4.
IOC says 2026 sliding venue will be outside Italy
Amid internal Italian political pressures to fund a renovation of the Cesana Pariol sliding track used for the 2006 Turin Olympic Winter Games instead of using a venue outside of the country, the International Olympic Committee has decided the issue.
The Associated Press reported a statement from the IOC that included:
● "The IOC has been very clear over the last years that no permanent venue should be built if there is not a clear and viable legacy plan."
● "The IOC has also already clarified that it believes that the current number of sliding centers is sufficient for the current number of athletes and competitions."
The statement further noted that the Cesana track was abandoned just six years after the Turin 2006 Winter Games and that given the limited time remaining, "only existing and already operating tracks must be considered."
Milan Cortina 2026's bid foresaw a new track to replace the historic Eugenio Monti track used for the 1956 Olympic Winter Games in Cortina d'Ampezzo. The IOC was against from the beginning, but the concept was insisted on by the Veneto region. However, projected costs ballooned to as much as €124 million (€1 = $1.07 U.S.), and with a budget of about €83.8 million, no construction company bid on the project.
The obvious choices for the 2026 Winter Games would be the existing tracks in Austria (Igls) or Switzerland (St. Moritz), but Italian politicians argued that spending money outside the country for the Games was wrong and that the Turin track could be used. However, the cost of getting that facility working again is estimated by the Piedmont Region at €33.8 million, with no plan for future use beyond 2026.
Milan Cortina 2026 chair Giovanni Milago (ITA) told the IOC Session in India last month that the government and the organizing committee had agreed that the sliding track venue would be outside of Italy, and the IOC is holding them to it.
5.
WTA acknowledges player unrest over Cancun Finals
Staging high-profile events is not easy, as the Women's Tennis Association found out this past week at the WTA Finals in Cancun (MEX).
The tournament site was only agreed to a couple of months before the tournament, after discussions about putting it in Saudi Arabia were never completed. The temporary court at the Estadio Paradisus, installed on a golf course, was only completed a few days prior to the start of the tournament. Belarus' Aryna Sabalenka, the world's no. 1-ranked player, reflected on Instagram what several other players have said, after a first-round win:
"I have to say though that I am very disappointed with the WTA and the experience so far at the WTA Finals. As I said in my press conference tonight, as a player I really feel disrespected by the WTA. I think most of us do. This is not the level of organization we expect for the Finals.
"To be honest, I don't feel safe moving on this court a lot of the time, the bounce is not consistent at all, and we weren't able to practice on this court until yesterday for the first time. It's just not acceptable to me with so much on the line and so much at stake."
At her pre-tournament interview, she also explained:
"Well, I'm not happy that we couldn't practice on the match court, meaning like on the stadium. I think this is not the level for the WTA Finals. We literally have one hour today, like 45 minutes, to try the stadium. This is something what I'm not happy with. I'm pretty sure the rest of the players also not happy."
Sabalenka also expressed some sympathy with the local organizers in her Instagram post:
"I definitely want to show my appreciation for the local tournament organizers, everyone that built the court at the last minute, and everyone that's working here at the event. I know it's not their fault and I want them to know, as well as all the Mexican fans, that I love them and appreciate them. I'm very happy to be in Mexico, I'm just upset with the WTA and this situation."
The WTA initially defended the set-up as meeting its performance standards, but a letter to the players from WTA chief executive Steve Simon to the players was leaked last week and included:
"First and foremost, it is clear that you are not happy with the decision to be here in Cancun. I understand that and you have been heard. As I have reflected to you, this is not where we expected to be and the decision for this location was based on a number of complicated factors.
"It is not a perfect event, we understand the conditions are a challenge and the WTA will of course accept responsibility for that. I am appreciative that you have reflected in the media your recognition of the significant support from Cancun and all of the people that are working so hard to put on this event."
Simon also referenced a long list of other issues the players have raised about Tour conditions, scheduling and player support, promising to work with them.
The weather has also been uncooperative, with the Sabalenka vs. second-ranked Iga Swiatek (POL) semifinal rained out, as well as the double semifinals, meaning the tournament will have to be concluded – barring other weather issues – on Monday.
American Jessica Pergula won her Singles semi against countrywoman Coco Gauff, 6-2, 6-1, on Saturday. Swiatek finished off her 6-3, 6-2 win over Sabalenka on Sunday and will face Pergula on Monday for the championship. The Doubles final will have Nicole Melichar-Martini (USA) and Ellen Perez (AUS), facing Sunday semifinal winners German Laura Siegemund and Vera Zvonareva (RUS), in Monday's final.
Nothing is easy, or as the locals in Cancun put it, nada es facil.
≡ PANORAMA ≡
● International Olympic Committee ● Agence France Presse reported Friday:
"French police have arrested three men for robbing the head of the Mongolian Olympic delegation during a visit to Paris, making off with a bag containing almost 600,000 euros worth of jewels in a drive-by heist."
The Mongolian official was not named, but the story added:
"France is preparing to host the Summer Olympics in 2024 and the member of the International Olympic Committee arrived in Paris to attend a security committee meeting ahead of the Games."
Mongolia has only one active IOC member, Battushig Batbold, 37, elected in 2020, who is the chair of multiple large companies in the country, including in telecommunications. He and his wife suffered a smash-and-grab robbery in the Landy Tunnel in Paris, with the loss of €570,000 in property (about $612,000 U.S.).
While three suspects have been arrested, the jewelry has not yet been recovered.
● Athletics ● Held a day before the New York City Marathon, the USATF 5 km Championships was also held in New York. The men's race almost blew up early, with the runners moving west on 42nd Street and a bus continuing into the intersection and stopping just a few feet away!
Once past that, the race finally broke up in Central Park with about 1,500 m to go with four men in the lead and then Morgan Beadlescomb and Ahmed Muhumed raced ahead in the final 400 m, with Beadlescomb – 13th at the U.S. nationals 5,000 m in July – winning his first national title (and $12,000) in 13:44. Muhumed held off late charges by Tai Dinger and Daniel Schaffer to maintain second, with all three timed in 13:47.
Two-time defending champion Weini Kelati went to the front right away in the women's race, and she, former American marathon record holder Keira D'Amato and Annie Rodenfels, 12th at the U.S. nationals 5,000 m in Eugene this year.
Inside of the final mile, in Central Park, Rodenfels pushed away from the others to win in 15:22. Behind her, Rachel Smith and Bethany Hasz moved up on D'Amato and Kelati and Smith claimed second in 15:26, with Hasz in 15:27, with D'Amato fourth in 15:28 and Kelati sixth in 15:30. It was also the first-ever national title for Rodenfels.
¶
Jamaican hurdler Ronald Levy, the Tokyo Olympic bronze medalist in the men's 110 m hurdles, was notified that he failed a doping test in October. He is waiting for the results of the B-sample test and wrote on Instagram, "I intend to defend my integrity during this process because I am certain I did not knowingly breach the rules."
¶
The Athletics Integrity Unit posted more doping sanctions. The first is against Kenyan Michael Kunyuga, 36, a 2:06:43 marathoner from 2020, for the use of the steroid Norandrosterone at the Riga Marathon in May 2022, with an eight-year ban from 1 August 2022 for usage and failing to cooperate with the inquiry.
Ethiopia's Zerfe Wondemagegn, 21, the Worlds fourth-placer in the men's Steeplechase this year, has been provisionally suspended for the use of the prohibited hormone Erythropoietin (EPO)
The AIU's ban on 2022 women's Steeple World Champion Norah Jeruto (KAZ) was overturned by a hearing panel. Her case revolved around abnormalities with readings in comparison to her Athlete Biological Passport in 2020 and 2021. The AIU alleged EPO usage and provisionally suspended her, but the hearing panel found that her readings could have been caused by Covid-19 issues and the poor treatment she received in Kenya. The AIU has not announced whether it will appeal the decision.
● Badminton ● A big win for American Beiwen Zhang at the BWF World Tour Hylo Open, in Saarbrucken (GER).
Second-seed Zhang defeated Dane Line Kjaersfeldt in the women's Singles final, 21-18, 16-21, 21-16, for her third career BWF World Tour title and second this year. It was the fourth World Tour final that Zhang has made this season – her best ever – and second victory, after the Australian Open in August.
This has been a good two weeks for Zhang, as she also won the Pan American Games title in Santiago on 25 October, then got on a plane to Saarbrucken!
China scored two wins in Doubles, with Yu Chen Liu and Xuan Yi Ou defeating Yang Lee and Chi-Lin Wang (TPE), 24-22, 21-13, and Shu Xian Zhang and Yu Zheng winning over second-seeds Apriyani Rahayu and Siti Ramadhanti (INA), when the Indonesians had to retire due to injury after winning the first set, 21-18.
Top-seeded Tien Chen Chou (TPE) won the men's Singles by 21-23, 21-17, 21-10 over Cheuk Yiu Lee (HKG), but Hong Kong got a win in the Mixed Doubles as Chun Man Tang and Ying Suet Tse came from behind to win over Rehan Kusharjanto and Lisa Lusumawati (INA), 15-21, 21-15, 21-14.
● Curling ● Re-matches were key to the second World Curling Pan Continental Championships, held in Kelowna, British Columbia (CAN), with all four medal matches between the same countries as in 2022!
The men's gold-medal final was again 2006 Olympic champ Brad Gushue's Canadian squad facing South Korea, after winning, 11-3 in 2022. Korea fielded an all-new team, skipped by Jong-duk Park, and had a 2-1 lead after four ends. But Gushue's squad scored one in the fifth and two each in the sixth and seventh to take a 6-2 lead and after a single point for Park in the eight, scored two more in the ninth and won, 8-3. Gushue was the only 2022 winner to also win in their 2023 re-runs.
The men's third-place re-match from 2022 had U.S. squad of Andrew Stopera, Korey Dropkin, Mark Fenner and Thomas Howell facing Japan and skip Riku Yanagisawa. Last year's bronze match was an 8-7 win for the U.S., but Yanagisawa got out in front quickly this time with two points reach in the first two ends.
The U.S. closed to 4-3 after four ends, but Japan got two more points in the fifth and seventh for an 8-4 lead and cruised in with a 9-6 win and the bronze medal.
The women's championship re-match saw Olympic silver winners Japan (Satsuki Fujiwara) and South Korea (Eun-ji Gim this time), with Fujiwara's rink winning last year. This match went back and forth, with Korea up 2-0 after one end, then tied, then up by 4-2 after three and down, 5-4, after four. But then Gim's squad turned up the pressure, scoring two in the fifth, three in the seventh and single points in the eighth and ninth and cruised to an 11-6 victory and the championship.
The women's bronze-medal re-match was between Canada's Kerri Einarson, a two-time Worlds bronze medalist, and American Tabitha Peterson, with Cory Thiesse, sister Tara Peterson and Becca Hamilton. The Americans scored first, with two points in the opening end, but the match was tied at the end of three. The U.S. got two out of the fourth and fifth, but Canada tied it in the sixth at 4-4. Two points in the eighth put the U.S. up, 6-4, but Einarson stole three points in the ninth for a 7-6 lead. Tabitha Peterson managed a point in the 10th to go to an extra end, and with the final shot, nudged the Canadian stone enough to score the decisive point for an 8-7 win and the bronze medal. Einarson had won, 7-5, last year.
● Cycling ● No changes at the top of the leaderboard after the third stage of the UCI Track Champions League, this time in Saint-Quentin-en-Yvelines (FRA), but – flash – Dutch star Harrie Lavreysen lost a race!
The Tokyo 2020 Sprint gold medalist, Lavreysen had won the Sprint and Keirin races in the Sprint group in each of the first two legs, but this time could not solve 2022 Worlds Sprint runner-up Matthew Richardson of Australia, who won the final in 9.775, with Lavreysen just 0.040 seconds behind.
But Lavreysen rebounded to win the Keirin with a final lap of 9.720, ahead of Pole Mateusz Rudyk (+0.10) and Richardson (+0.15) and now has a 117-93-83 series lead over Richardson and Rudyk with two stages remaining.
In the men's Endurance division, Canada's Dylan Bibic – the 2022 Worlds Scratch winner – was unstoppable, taking the Scratch and Elimination races for his fourth win in six League races so far. He beat Canadian teammate Mathias Guillemette and Belgian Tuur Dans in the Scratch, and Jules Hester (BEL) and Sebastian Mora (ESP) in the Elimination. Bibic's series lead is now 96-70 over Hesters, with Japan's Eiya Hashimoto third (69).
The women's Sprint leader, New Zealand's 2023 Worlds Keirin champ, Ellesse Andrews, won the Sprint from Canada's Kelsey Mitchell in 11.109 (Mitchell +0.71), but German Alessa Catriona-Propster won the Keirin this time in 10.855, with Nicky Degrendele (BEL) second (+0.169) and Andrews third (+0.362).
However, on the strength of winning four races out of six thus far, Andrews maintains a 105-96 edge on Catriona-Propster, with Emma Finucane (GBR: 63) a distant third.
Endurance leader Katie Archibald (GBR), the two-time Omnium world champ, was third in the Scratch this time, but won the Elimination race for the third straight time, beating Anita Stenberg (NOR) in Saint-Quentin to hold on to a 102-90 lead in the overall standings. Canada's Sarah van Dam won the Scratch race, ahead of teammate Maggie Coles-Lyster; Coles-Lyster is third in the overall standings at 82 points, one ahead of American Lily Williams.
The League will conclude for 2023 with two race days in London (GBR) next week.
● Fencing ● The U.S. Center for SafeSport has suspended Pan American Games gold medalist Curtis McDowald, amid unspecified allegations of misconduct.
The suspension began on Friday, a day after McDowald was a key contributor to the U.S.'s win in the men's Team Epee competition at the 2023 Pan American Games. According to USA Fencing:
"Once we became aware of the allegations, we immediately informed the U.S. Center for SafeSport, who exercised their ability to take jurisdictional control of the case and upheld our temporary measures.
"We take the safety and integrity of our sport seriously and will cooperate fully with the inquiry while maintaining the confidentiality of the involved parties. We also encourage anyone who has been harmed in sport to come forward, and we will support them to the fullest extent of our abilities."
McDowald has been disciplined before, including for an angry reaction and a red card at the Pan American Championships during the summer.
● Figure Skating ● The third of seven stages of the ISU Grand Prix, the Grand Prix de France in Angers saw a first title for American Isabeau Levito and a silver medal for men's star Ilia Malinin.
Levito, still just 16 and the 2023 U.S. champion, dominated the Short Program, scoring 71.83 to forge a five-point lead on Anastasiia Gubanova (GEO) and Hae-in Lee of Korea (66.30). She needed that edge as she had a stumble and finished third in the Free Skate (131.39), behind Japan's Rion Sumiyoshi (136.04) and Belgian Nina Pinzarrone (133.06). Added together, Levito scored 203.22 to edge Pinzarrone (198.80) and Sumiyoshi (197.76) with Lee fourth (190.96). Said Levito:
"I guess we'll call this screwing up the second half of my spin a dramatic finish. I'm just glad that I did the first half very nicely. I'm glad I got through this, and I will definitely be working on this a lot more once I get back to training."
The men's competition was a showdown between Skate America winner Malinin (18) of the U.S. and France's home favorite, European Champion Adam Siao Him Fa. Malinin led the Short Program at 101.58, with Siao Him Fa right behind at 101.07. Then the Frenchman won the Free Skate, 201.71 to 203.10 to take the win by 306.78 to 304.68, with Japan's Yuma Kagiyama third (273.14) and American Cam Pulkinen fifth (230.84).
The Canadian pair of Lia Pereira and Trennt Michaud won their first ISU Grand Prix gold in the Pairs, scoring 194.67 and winning both the Short Program and Free Skate over Italy's Sara Conti and Niccolo Macii (189.46). Americans Valentina Plazas and Maximiliano Fernandez finished fourth (168.20) and Ellie Kam and Danny O'Shea withdrew after the Short Program due to an injury.
Worlds silver medalists Charlene Guignard and Marco Fabbri (ITA) were clear winners in the Ice Dance, taking both segments and scoring 214.54 for their third career Grand Prix win, comfortably ahead of Canada's Laurence Fournier Beaudry and Nikolaj Soerensen (205.15). Americans Christina Carreira and Anthony Ponomarenko finished fourth (186.70) and Lorraine McNamara and Anton Spiridonov were ninth (164.25).
The show continues next week in Chongqing (CHN) with the Cup of China and then back to Europe for the Grand Prix of Espoo in Finland.
● Football ● Multiple reports confirmed that the U.S. Soccer Federation will hire Emma Hayes (GBR), the manager of the Chelsea women's team, as its next head coach of the Women's National Team.
Hayes, 47, managed the Chicago Red Stars of Women's Professional Soccer from 2008-10, was fired, after a 6-6-14 (W-L-T) record, then moved on to Chelsea in August 2012 and has compiled a 236-58-39 record, winning the Women's F.A. Cup five times and the F.A. Women's Super League six times. She was named as the FIFA "Best Football Coach" in 2021.
¶
UEFA and France's Groupe Amaury, owner of the all-sports newspaper L'Equipe, announced a co-promotion of the famed Ballon d'Or awards program beginning in 2024.
France Football, also owned by Groupe Amaury, originated the Ballon d'Or in 1956 and it has been the most prestigious football awards program worldwide. According to the announcement:
"Groupe Amaury remains the owner of the Ballon d'Or® brand and will continue to oversee the voting system, which will remain unchanged and independent. UEFA will contribute its football expertise, market the global commercial rights and organise the annual awards gala."
New awards will be added for men's and women's coach of the year.
¶
Another provocative political statement at a sporting event caused the cancellation of an Asian Football Confederation Champions League match between Saudi club Al-Ittihad and Iranian host club Sepahan on 2 October.
A statute of the Iranian commander Qasem Soleimani, killed in 2020 by a U.S. drone strike, was displayed at the Naghsh-e Jahan Stadium in Isfahan, angering the Saudis, who consider Soleimani to have been a terrorist leader on behalf of the Iranian government.
The Saudis refused to take the field with the statute standing and the home team refused a referee's directive to remove it. The AFC directed that the game be forfeited by Sepahan by a 3-0 score and fined the club $200,000, banned from playing any of its next three matches there and was instructed "to remove the relevant statue and banners" for all future AFC matches.
The club said it would appeal.
● Short Track ● After two legs of the ISU World Cup circuit in Montreal (CAN), action shifted to Laval in Quebec for the ISU Four Continents Championships, an event for the rest of the world outside of the European Championships. And American star Kristen Santos-Griswold was happy to keep skating in Canada.
After winning four individual medals (1-1-2) on the first two stops, she expanded her medal collection with a sensational performance, sweeping the three individual events, the first-ever individual wins for the U.S. at the Four Continents!
Her first gold came in the 1,500 m, winning in 2:26.191 over Canada's seven-time Worlds medal winner Courtney Sauralt (2:26.657). Then she won the 500 m, in 42.760, ahead of Korean Jiwon Park (44.192), with American Julie Letai in position for the bronze, but was disqualified.
On Sunday, Santos-Griswold completed her sweep with a 1:28.706 to 1:29.208 win over Sauralt for three golds in three races.
Santos-Griswold won a fourth medal – silver – in the Mixed Relay, with Andrew Heo, Marcus Howard and Letai in 2:40.243, behind Canada's 2:39.752. The U.S. star said a mental adjustment has helped her:
"I'm trying not to be so hard on myself sometimes, which is something I did in the past, and that I think is helping. I'm just doing one race at a time, one thing at a time, and that gets me out of my head. I feel pretty strong, and during the races I'm just staying calm throughout.
"When we practice, sometimes I used to think 'tomorrow we have a hard practice, so today I need to be not that tired.' I've tried to stop that. Now, I just give it my all."
Canada won two of the three men's individual events, with three-time Olympic medal winner Steven Dubois winning the 500 m in 40.149, ahead of teammate Jordan Pierre-Giles (40.183) and Heo of the U.S. (40.299). William Dandjinou took the 1,000 m in 1:28.338, ahead of Korea's 2023 World Champion Ji-won Park (1:28.664), with Dubois disqualified.
Park won the 1,500 m – where he is also the reigning World Champion – in 2:33.158, with Dubois second in 2:33.228.
● Table Tennis ● The third WTT Champions tournament of 2023 was in Frankfurt (GER), with Taiwan's Yun-ju Lin creating upset after upset to win an unexpected men's title.
Best known as a doubles star, with a Tokyo Olympic bronze medal, Lin, 22, sawed his way through two prior WTT Champions winners in the quarters and semis, defeating Japan's Tomokazu Harimoto (WTT Champions Europe 2021) by 3-1, and then China's Chuqin Wang, the 2023 Worlds runner-up, by 4-2. In the final, he faced China's 2016-20 Olympic champ, Long Ma, and won by 4-1 (7-11, 11-7, 13-11, 12-10, 12-10).
It was the first win by a Taiwanese player in the five WTT Champions tournaments held so far. Pretty impressive!
In the all-China women's final, Yidi Wang, the 2021 Worlds bronze winner, swept aside 2021 World Champion Manyu Wang, 4-0 (11-3, 13-11, 12-10, 13-11), after disposing of Tokyo Olympic silver winner Yingsha Sun, 4-2, in her semifinal.
¶
You can receive our exclusive TSX Report by e-mail by clicking here. You can also refer a friend by clicking here, and can donate here to keep this site going.
For our updated, 850-event International Sports Calendar (no. 4) for 2023 and beyond, by date and by sport, click here!