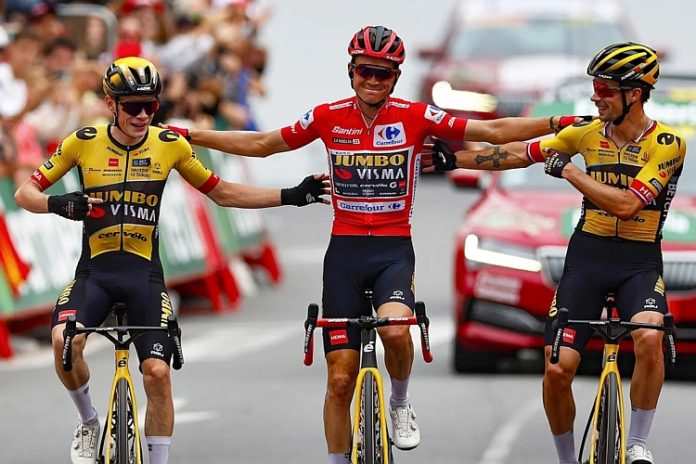 ★ The Sports Examiner: Chronicling the key competitive, economic and political forces shaping elite sport and the Olympic Movement.★
★ To get The Sports Examiner by e-mail: sign up here! ★
≡ THE 5-RING CIRCUS ≡
Kuss becomes first U.S. winner of Vuelta a Espana in 10 years

Court of Arbitration names Valieva case arbitrators

USOPC looking for ways to preserve collegiate sport

Nearly $113 million in Olympic Solidarity spending in 2022

Dick Fosbury fondly remembered by family and friends
● Sepp Kuss became the first American winner of one of cycling's Grand Tours in 10 years on Sunday, with a win at the 78th La Vuelta a Espana that finished in Madrid. He led an unheard-of 1-2-3 sweep by the Dutch Jumbo-Visma team, ahead of Tour de France winner Jonas Vingegaard of Denmark and Slovenian Primoz Roglic, winner of this year's Giro d'Italia.
● The Court of Arbitration for Sport announced the members of the panel that will hear the appeal of the Kamila Valieva doping case from 26-29 September in Lausanne, Switzerland. No timetable has been established for the issuance of a decision.
● The U.S. Olympic & Paralympic Committee's chief executive, Sarah Hirshland, said that the organization is concerned about the continuing chaos of conference realignment in college sports and looking to preserve the role of intercollegiate athletics not only for Olympic team purposes, but for the benefit of the thousands of students who participate annually.
● The International Olympic Committee's report on Olympic Solidarity programs for 2022 showed almost $113 million in spending, but also that most National Olympic Committees are small and underfunded.
● Nearly 50 family, friends and admirers of 1968 Olympic high jump champion Dick Fosbury, who revolutionized the event with the "Fosbury Flop," gathered in Los Angeles for a celebration of his life and his contribution to sport, politics and the Olympic Movement. Some of it was hilarious.
● World Championships: Rugby (World Cup underway in France, with some issues) = Weightlifting (China finishes as top medal winner again) = Wrestling (U.S. claims three men's Freestyle golds!) ●
● Panorama: Athletics (3: Saina wins in Sydney; Class of 2023 inducted into Collegiate Hall of Fame; World Ath removes 2024 X-C Champs from Croatia) = Badminton (Indonesia wins two at Hong Kong Open) = Basketball (2: U.S. men regain no. 1 world ranking; Canada wins FIBA 3×3 Women's Series) = Boxing (2: Roberts named IBA chief exec; Oceania confederation claims Polynesian federation belongs to IBA) = Cycling (Vollering takes Tour de Romandie for seventh win in 2023) = Football (2: Hermoso granted restraining order vs. Rubiales; 39 Spanish women's players demand further RFEF changes) = Gymnastics (Britain and France win three each at World Challenge Cup) = Judo (Brazil and Canada lead Pan Am Champs) = Shooting (Italy wins two at ISSF World Cup) = Table Tennis (Calderano and Wang take Pan Am singles titles) ●
● Special coverage of the sensational Prefontaine Classic, also the 2023 Diamond League Final, was posted over the weekend, on Saturday and Sunday. ●
● Errata: Some readers of Friday's post saw a reference to the Salt Lake City bid for the 2034 Olympic Winter Games incorrectly shown as "2023″; now corrected. Thanks to reader Don Kopriva for the sharp eyes! ●
1.
Kuss becomes first U.S. winner of Vuelta a Espana in 10 years
No one predicted this, but American Sepp Kuss, 29, won the 78th Vuelta a Espana in Madrid on Sunday, rising above his celebrated Jumbo-Visma teammates Primoz Roglic (SLO) – the 2020 and 2021 winner – and two-time Tour de France champion, Jonas Vingegaard (DEN).
Kuss, who has been a support rider for those race leaders, won the sixth stage and took the overall race lead after the eighth stage, and held it to the end. He came into Friday's stage with a 17-second lead on Vingegaard and 1:08 on Roglic, after both had – controversially – attacked him hard on Wednesday, with the lead down to eight seconds. But the situation calmed on Thursday and Kuss continued leading, with a 177.1 km flat, sprint stage on Friday won by Italy's Alberto Dianese in 3:42:09, ahead of countryman Filippo Ganna.
Saturday's hilly, 207.8 km stage to Guadarrama saw Dutch star Wout Poels win over defending champ Remco Evenepoel (BEL), Pelayo Sanchez (ESP) and Lennert van Eetvelt (BEL) in a four-man sprint to the line in 4:59:29. Roglic, Vingegaard and Kuss rode in together in 34-35-36th place at +10.37. Said Kuss, a day from winning the event:
"We decided to cross the finish line with the three of us. It was a fantastic moment.
"We've achieved something unique with the team this season by winning the three grand tours. The last three weeks certainly haven't been easy, but we've granted one another. It is like a fairytale.
"It will take a while for everything to sink in. It's an incredible feeling. It was a huge relief to cross the line here. I knew it was possible to finish this, but you have to get through all the stages well. I suffered a lot, but I survived every time. This Tour of Spain has been an unexpected success for me. When I became a cyclist, I did it for the love of the sport. Now, I am close to winning a grand tour. It is still too difficult to express my feelings. I am grateful for this experience."
Sunday's short, flat, 101.5 km ride into Madrid finished with the expected mass sprint, won by Australia's Kaden Groves – his third stage win! – in 2:24:13, ahead of Italy's Ganna and Nico Denz (GER), with Roglic, Vingegaard and Kuss in 52-53-56th (+0:26).
Kuss's win completes an astonishing year for the Dutch-based Jumbo-Visma team, which won all three of the Grand Tours. Roglic won the Giro d'Italia, Vingegaard repeated as the Tour de France winner and Kuss got his first Grand Tour title, in Spain. Moreover, Kuss, Vingegaard and Roglic finished 1-2-3 in La Vuelta, an almost unbelievable achievement in cycling, where teams ride in support of their lead entry, not with him.
Kuss finished in 76:48:21, with Vingegaard 17 seconds back and Roglic at +1:08 to complete the Jumbo-Visma podium sweep.
It's the second-ever U.S. win at the Vuelta a Espana, after Chris Horner's victory in 2013, and Kuss is only the fourth American winner of a Grand Tour, also Horner, Greg LeMond, who won the Tour de France three times, and Andrew Hampsten, the 1988 Giro d'Italia winner.
2.
Court of Arbitration names Valieva case arbitrators
The long saga of the Kamila Valieva doping case and the 2022 Olympic Winter Games figure skating Team event are getting closer to a resolution with the hearing before the Court of Arbitration for Sport coming up on 26-29 September in Lausanne, Switzerland.
Valieva tested positive for the prohibited substance trimetazidine, which can help with blood flow efficiency and endurance, following a competition on 25 December 2021. She was given a four-year ban by the Russian Anti-Doping Agency (RUSADA), but this was overturned by the independent appeals panel, which gave her a one-day sanction and allowed her to continue competing, including at the Beijing Winter Games in February 2022.
The Court of Arbitration for Sport announced Friday:
● "The parties to the proceedings: RUSADA, the ISU, WADA and Ms Valieva (collectively, the parties), want privacy and have not requested that a public hearing be held. Consequently, the hearing will take place behind closed doors in accordance with the provisions of Article 57 of the Code of Sports-related Arbitration (the "CAS Code"), and outside persons will not be authorised to attend. For that reason, on 5 September 2023, the CAS Panel denied a request filed by the 2022 United States Olympic Figure Skating Team for an observer to be permitted to attend the hearing on their behalf."
● "The Panel of CAS arbitrators constituted to decide the matter is composed of:
"President: Mr James Drake KC, Barrister, United Kingdom & Australia
"Arbitrators: "Mr Jeffrey Mishkin, Attorney-at-Law, USA "Dr Mathieu Maisonneuve, Professor of law, France
"The ISU and WADA nominated Mr Jeffrey Mishkin, and Ms Valieva nominated Prof. Mathieu Maisonneuve. RUSADA being involved as Appellant in one procedure and as Respondent in the other two, it decided not to participate in the nomination process. The President of the Panel was appointed by the Deputy President of the Appeals Arbitration Division in accordance with the CAS Code."
● "The Panel and parties have established a detailed hearing timetable. The proceedings will open on Tuesday, 26 September 2023 with a short opening submission from each party, followed by the hearing of fact witnesses. On Wednesday, 27 September 2023, the Panel will hear expert witnesses and on Thursday, 28 September 2023, the Panel will hear the parties' closing submissions and rebuttals. Should additional time be required, the Panel and parties have reserved Friday, 29 September 2023.
"Following the hearing, the Panel will deliberate and prepare the Arbitral Award containing its decision. At this juncture, it is not possible to indicate when the final decision will be announced. The CAS Panel's decision will be final and binding, with the exception of the parties' right to file an appeal to the Swiss Federal Tribunal within 30 days on limited procedural grounds."
The written submissions on the case have already been completed and exchanged. Valieva and the RUSADA team will participate by videoconference and will not be in Lausanne.
There are three appellants in the case: the World Anti-Doping Agency, which is seeking a four-year ban from 25 December 2021; the International Skating Union, which has asked for a ban of two to four years, and RUSADA, which wants the holding of the independent appeal board invalidated and an "appropriate penalty" instituted.
Waiting on the sidelines are the rest of the Russian Team Event team, which won the competition on the ice; the U.S. team, which was second, and Japan and Canada, which finished 3-4. The results of this event have never been declared completed and no medals were awarded in Beijing.
3.
USOPC looking for ways to preserve collegiate sport
In a session with reporters last week during the U.S. Olympic & Paralympic Assembly in Los Angeles, U.S. Olympic & Paralympic Committee chief executive Sarah Hirshland made a special point concerning the conference realignment chaos now consuming the Football Bowl Subdivision schools:
"There's been a lot of movement in the college landscape and I want to comment briefly on the big shift in college sport in the recent weeks and months.
"We made a commitment back in 2016 to engage deeply on this issue and to find better connection points between Team USA and the schools that play Olympic and Paralympic sports. This is important to us for a number of reasons and we will continue to work with our entire community to advocate for the promotion of preservation of Olympic and Paralympic sports on collegiate campuses.
"It is profoundly important not only to Team USA at the elite level, but to the health of sport in our country, broadly."
The USOPC has a Collegiate Advisory Council which is made up primarily of current and former university athletic directors, currently chaired by Stanford athletic director Bernard Muir and includes the head of athletics at Alabama, Florida, Iowa State, North Carolina, Ohio State and Oregon. A staff member is responsible for collegiate partnership projects, which are in the development stage and, as with all programs related to sports, need more money.
But this is an area which will need expanded attention as the gyrations around college football continue to disrupt what used to be a college sports system that was rooted in geography rather than television game windows.
Hirshland, who is a member of the International Olympic Committee's Programme Commission, spoke briefly about the status of the added-sport program for the Los Angeles 2028 Olympic Games:
"As part of organizing the [Olympic Games], the OCOG – the organizing committee – takes on the responsibility of collaborating in a review, and thinking about new sports for the program. This work has been ongoing for some time now and the original timing for the recommendations to be considered was by the IOC Executive Board last week.
"As many of you know, that discussion has been delayed and postponed, at this point, indefinitely. As those conversations continue, we don't yet have a date for the future decisions, and discussions , but we know that LA28 and the IOC are in very active and productive conversations to come to resolution, and, frankly, we're excited about the outcome of that, knowing that the LA28 Games is going to present an exceptional program."
4.
Nearly $113 million in Olympic Solidarity spending in 2022
The International Olympic Committee shared details of its Olympic Solidarity and National Olympic Committee support services in a 27-page report posted last week that showed $112.879 million spent in 2022, a 21.2% increase from 2021.
Where did the money go? Most of it went to two sets of programs:
● $52.59 million to the continental associations of National Olympic Committees
This includes $9.26 million to ANOCA (Africa), $10.03 million to PanAm Sports, $10.97 million to Asia (OCA), $12.11 million to Europe (EOC), $6.23 million to Oceania (ONOC) and $4.00 million to the Association of National Olympic Committees (ANOC).
● $57.07 million to 17 individual programs for athletes, coaches and NOCs
The largest groups receiving this type of aid includes athletes, with $14.66 million for direct athlete scholarships, $4.34 million for continental athlete grants, $2.28 million for youth athlete development, and $821,000 for refugee athlete support; that's $22.10 million combined.
Coaching programs received $5.27 million and another $17.37 million to help NOCs with staff education, sports management training and team support for travel, uniforms and so on. That's more than 78% of the total.
There's also $5.52 million in spending on "Olympic Values Programme" on health and sustainability, and $3.10 million on special projects.
The report also included some snapshot statistics on National Olympic Committees which are fascinating:
● NOC spending is, on average, divided between operations (32%), direct support to national federations (27%), athlete management (26%) and other (15%).
● NOC funding consists, on average, of IOC support (50%), government (24%), the IOC's TOP sponsor program (9%), domestic sponsors and donors (7%), a national lottery (4%) and other (6%).
● The median (mid-point) of the number of employees of National Olympic Committees is 27 in Asia, 26 in Europe, 15 in Africa, 12 in the Americas and eight in Oceania.
Taken together, the data demonstrates that there are a lot of small NOCs, with small staffs and limited resources. And even with nearly $113 million in spending, it's not close to enough, perhaps anywhere.
The Olympic Scholarship program is supporting 1,146 individuals from 145 NOCs for Paris 2024, after 429 athletes were supported for the Beijing 2022 Winter Games, from more than 8- NOCs. The Paris 2024 Olympic Refugee project has 52 athletes from 12 countries that are living in 18 host countries and training for 2024, across 10 sports.
5.
Dick Fosbury fondly remembered by family and friends
Nearly 50 family, friends and admirers of Olympic high jump legend Dick Fosbury  gathered for a celebration of life at the LA84 Foundation in Los Angeles last Tuesday.
Fosbury was remembered not only for revolutionizing the high jump with his back-to-the-bar approach recognized as the "Fosbury Flop," but for his successes in life, as an engineer, family and community stalwart and as Blaine County Commissioner in Idaho.
His widow, Dr. Robin Tomasi, shared Fosbury's passion for his sport, for the Olympic Games and his commitment to his beloved Idaho, where he ran unsuccessfully for the Idaho House in 2014 before winning the Blaine County Commissioner post in 2019:
"He loved Idaho, he loved the beautiful mountains where we lived, he loved Blaine County and he loved politics. He was really into politics as a vehicle for making things better go everybody."
And she broke up the audience completely, explaining the giant, dressed-up torso topped with an enlarged photograph of Fosbury's head that was displayed behind her:
"In 2014, he decided he wanted to run for the Idaho Statehouse. And so, District 26, Seat B was his goal. He had a campaign manager who was very serious about his campaign. …
"He had to go to every parade. There were a lot of things he had to do. Unfortunately at the time, he was also President of USOPA [U.S. Olympians and Paralympians Association], and so he had to be gone for some of these events.
"So we dreamed up these – there's actually two of them – and they are very affectionately referred to as 'the Dickheads,' … so the Dickheads stood in for Dick at these parades."
A series of speakers shared their memories of Fosbury, including Olympic swim star Donna de Varona, who was a broadcaster with ABC at the 1968 Mexico City Games, where Fosbury won his high jump gold; Cathy Oerter, the widow of four-time Olympic discus winner Al Oerter; Bob Welch, who co-wrote "The Wizard of Foz: Dick Fosbury's One-Man High-Jump Revolution" with Fosbury in 2018, and Olympians (and friends) Willie Banks and John Naber.
The high jump fraternity was well represented in the room with Rey Brown, Fosbury's 1968 teammate who made the team as a high schooler and finished fifth; Doug Nordquist, fifth at the 1984 Olympic Games in Los Angeles, and Erik Kynard, now the 2012 Olympic champion in the event.
The iconic Dwight Stones spoke for all of them, and shared messages from high jump stars such as two-time Olympic medalist Hollis Conway, Charles Austin, the 1996 Olympic champion, and Germany's Dietmar Mogenburg, the 1984 Olympic gold medalist, all of whom paid tribute to Fosbury's contributions to their success.
Stones recounted his own journey to the Flop in high school – against the advice of his coach – improving from 5-6 (1.68 m) with the Straddle style to 7-1 1/2 (2.17 m) and the national high school record by 1971. In 1972, he became the first flop-style jumper to set the world record at 2.30 m (7-6 1/2), but noted:
"I always felt that Dick's technique would have continued to evolve if he had seriously continued with the sport. But engineering school at Oregon State University became the priority. … Of course, he made the right decision, for his future and his family, but I really wanted the chance to compete with him."
Stones spoke about what Fosbury meant to him and everyone else in his event:
"We're all connected to Dick Fosbury for life, every high jumper in this room. I tried, at least a couple of times each year, through Facebook, on the phone, or in person, to let him know how much he meant to me. I would always say or post, 'Dick, have I thanked you lately, for all my jobs?' …
"Thanks to Dick, I had a 16-year athletic career that morphed into a 46-year sports television gig that's still going. Let's get real: he changed the life of every high jumper in this room. We all owe him a debt of gratitude that we can never repay."
Tom Lough, a 1968 U.S. Olympic modern pentathlete, presented Tomasi with a commemorative flag from the U.S. Olympians and Paralympians Association. The event showed that Dick Fosbury's life was no flop, indeed.
≡ WORLD CHAMPIONSHIPS ≡
● Rugby ● The 10th Rugby World Cup is into its second of seven weeks of matches, lasting until 28 October, in nine venues across France, with defending champion South Africa and runner-up England both returning.
The first phase of group play has 20 teams playing 15-per-side round-robin matches in four groups, with the top two in each advancing to the quarterfinals. This will last until 8 October, with the playoffs beginning on 14 October. Through the first two rounds of matches in each group, the pool leaders:
● Group A: France (2-0), New Zealand (1-1)
● Group B: Ireland (2-0), South Africa (2-0)
● Group C: Wales (2-0), Fiji (1-1)
● Group D: Samoa, Japan, England (all 1-0)
This is a major event, with attendance through the first 13 matches at 545,860, or 41,989 on average.
The biggest controversy so far has been about the national anthems of the teams, played prior to the matches. A massive youth choir was used for the first-round matches and was badly received; organizing committee President Jacques Rivoal explained that "instrumental elements" would be added to "remixed" anthems beginning in the second round:
"The feedback we got after eight games were that these anthems were disturbing, or surprising to our fans. We are here to prioritize the fan experience, and we were quite concerned by this negative feedback.
"It is quite a sensitive question because for all the teams it's a very important point. Today we have proposed new versions, simplified versions, while preserving the children's voices. These different versions will not be disturbing for the supporters, and will offer a more affirmative musical performance."
Crowd flow issues also surfaced at some venues, such as in Marseille for England-Argentina and Bordeaux for the Ireland-Romania match due to public transit problems. This is an ultra-sensitive issue after the security debacle at the European Championship football match at the Stade de France in Paris in 2022 and with the 2024 Olympic Games coming next year.
● Weightlifting ● The two-week World Weightlifting Championships  concluded in Riyadh (KSA), with China once again on top of the medal table.
The Chinese won their seventh class in the women's 81 kg category, with defending champ Xiaomei Liang setting a world record in the Clean & Jerk on the way to the gold medal. She was second in the Snatch (122 kg), lifted a record 159 kg in the Clean & Jerk for a winning total of 281 kg. Teammate Zhouyu Wang took the Snatch (122 kg), was second at 155 kg in the C&J and second overall at 277 kg.
Australia's Eileen Cikamantana was only fifth after the Snatch, but her 146 kg C&J was third-best and lifted her to the bronze at 256 kg. American Mattie Rogers, a four-time Worlds silver winner, was able to complete only three of her six lifts and finished fourth at 252 kg.
Chinese Taipei's Ying-yuan Lo completed only one of her lifts at the 2022 Worlds, and did not place, but roared back in 2023 to win the Snatch at 112 kg, and with 133 kg in the C&J, totaled 245 kg for the gold medal. Yeinny Geles of Colombia won her first Worlds medal at 244 kg, with the second-best C&J lift of 138 kg.
Korea's Hye-jeong Park moved from eighth in 2022 to the gold in 2023 in the women's +87 kg class, winning the Snatch at 124 kg and the C&J at 165 kg for a total of 289 kg. That was well ahead of American Mary Theisen-Lappen, who won her first Worlds medal at 117-160-277 kg, and had her last C&J attempt controversially ruled a no-lift.
Fellow American Sarah Robles finished fifth at 117-150-267, completing three of her six lifts.
In the men's 109 kg class, Olympic champ Akbar Djuraev (UZB) swept to his second title – also in 2021 – winning the Snatch (189 kg), the Clean & Jerk (226 kg) and the total at 415 kg. Teammate Ruslan Nurudinov, the defending champ, finished second at 180-227-407. American Wesley Kitts was 11th at 170-200-370.
The +109 kg category was another showcase for super-strongman Lasha Talakhadze of Georgia, who won all three segments, lifting 220-253-473 kg for a clear win over Varazdat Lalayan (ARM: 212-248-460 kg) and Gor Minasyan (BRN: 213-246-459 kg). Americans Caine Wilkes was 16th (386 kg) and Alejandro Medina was 19th (373 kg).
It's Talakhadze's seventh World Championships gold, going back to 2015.
Despite injury issues with some of its stars, China led all nations with 13 medals (7-4-2) in the overall standings only; South Korea was well back in second with five (1-2-2), and Colombia had four (1-3-0). It's the second straight Worlds for China as the medals leader and in four of the last five, as it did not compete in 2021 due to Covid.
The U.S. had three medals: one silver and two bronze.
● Wrestling ● The 2023 United World Wrestling World Wrestling Championships are ongoing in Belgrade (SRB), with Olympic quota places at stake in addition to individual honors.
The men's Freestyle finals in four classes were held Sunday, with the U.S. dominating, scoring three golds and a bronze:
● At 61 kg, NCAA champ Vito Araujo from Cornell faced 2021 World Champion  Abasgadzhi Magomedov (RUS) in the final, after winning his earlier bouts by 10-0, 10-0, 8-2 and 12-2. The two were tied, 7-7, in the second period, but Araujo got a takedown and a step-out to lead by 10-7, than running out the clock with the final of 10-9. It's Araujo's first Worlds gold in his first Worlds appearance.
● At 70 kg, 2022 silver winner Zain Retherford took care of his first three opponents by 4-0, 9-2 and 7-0, then faced Iran's 2021 Worlds silver medalist Amir Yazdani in the final. Retherford led 3-2 after one period, then extended to 8-2 with two takedowns and a step-out an cruised to an 8-5 win and his first World title.
● Two-time World Champion David Taylor steamrolled his way to a third Worlds gold at 86 kg by dismantling five opponents in a row, by pinfall, 10-0, 12-2, another pin in the semis and finally a dominant victory over Iran's three-time World Champion,  Hassan Yazdani. Taylor led by 5-3 at the period, then got a takedown for a 7-3 edge and pinned the Iranian when he tried to turn him, at 5:57. It's the second straight win for Taylor over Yazdani at the Worlds.
● In the 125 kg class, Iranian Amir Hossein Zare won his second World title – also in 2021 – with an 11-0 technical fall over three-time World Champion Geno Petriashvili (GEO). American Mason Parris, in his first Worlds, lost a tight, 8-6 battle to Petriashvili in the semis, then came back to take the bronze with a 12-2 win over Russian "neutral" Abdulla Kurbanov.
The top five in each of the six Olympic weight classes in men's freestyle wrestling qualify their nation for the 2024 Paris Olympics. Competitions continue through the 24th.
≡ PANORAMA ≡
● Athletics ● American Betsy Saina, the 2023 U.S. 25 km champion, won the Sydney Marathon on Sunday, moving away with Ethiopia's Rahma Tusa after 30 km and breaking free by 40 km, to win in 2:26:47, with Tusa making a late surge to close to 2:26:53.
It's Saina's first marathon win since the 2018 Paris Marathon. Othmane El Gourmi of Morocco won the men's race in 2:08:20.
¶
The Collegiate Hall of Fame induction ceremony for the Class of 2023 took place on Thursday evening (14th) at the Hult Center for the Performing Arts at the University of Oregon:
● Dyrol Burleson, distances (Oregon 1959-62)
● Michael Carter, throws (SMU 1980-84)
● Joetta Clark, distances (Tennessee 1981-84)
● Mike Conley, jumps (Arkansas 1982-85)
● Sheila Hudson, jumps (California 1986-90)
● Holli Hyche, sprints (Indiana State 1991-94)
● Edwin Moses, hurdles (Morehouse 1974-77)
● Renaldo Nehemiah, hurdles (Maryland 1978-79)
● Sonia O'Sullivan, distances (Villanova 1988-91)
● Julie Shea, distances (North Carolina State 1978-81)
● Seilala Sua, throws (UCLA 1997-2000)
● John Thomas, jumps (Boston University, 1959-62)
● Wyomia Tyus, sprints (Tennessee State 1964-67)
● Dave Wottle, distances (Bowling Green 1969-73)
The 14 new members won 70 national collegiate titles, set 39 world records, and won eight Olympic medals.
¶
World Athletics announced Friday that it has removed the 2024 World Athletics Cross Country Championships from Medulin and Pula in Croatia, stating the organization "believes that preparations have not advanced sufficiently for Medulin and Pula to host the event on February 10 next year, as scheduled."
Instead, the federation is "in advanced negotiations with an alternative host in Europe with a view to staging the event in March 2024."
● Badminton ● At the BWF World Tour Hong Kong Open in Kowloon, Indonesia came out with two wins, starting with the women's Doubles, with Apriyani Rahayu and Siti Ramadhanti taking gold over Pearly Tan and Muralitharan Thinaah (MAS), 14-21, 24-22, 21-9, and then fifth-seed Jonatan Christie winning the men's Singles against Kenta Nishimoto (JPN), 12-21, 22-20, 21-18.
Top-seeded Akane Yamaguchi (JPN) defeated Yi Man Zhang (CHN) in the women's Singles final, 21-18, 21-15. China's Xin Wa Guo and Ya Xin Wei won the Mixed Doubles against Chun Man Tang and Ying Suet Tse (HKG), 21-13, 21-19.
Kim Astrup and Anders Rasmussen (DEN) won the men's Doubles over Leo Rolly Carnando and Daniel Marthin (INA), 21-10, 22-24, 21-19.
● Basketball ● Even with a fourth-place finish at the just-completed FIBA World Cup, the U.S. men regained the no. 1 spot in the FIBA World Rankings.
The U.S. leaped over former no. 1 and 2019 FIBA World Cup winners Spain, 786.6 to 778.2. While the American men lost the bronze-medal game to Canada, Spain finished ninth and did not make it to the elimination round.
Champion Germany moved all the way to third from 11th, now with 759.7 points. Australia, runner-up Serbia (+1), and bronze medalists Canada (+9) make up the top six.
¶
Canada won the FIBA 3×3 Women's Series in Ulaanbaatar (MGL), with a 16-15 win over France in the final, with former Utah star Paige Crozon sinking the winner with no time left.
France's Hortense Limouzin had tied the game with seven seconds left, but the Canadians completed an undefeated final with wins over Mongolia (22-17), France (16-14) and Germany (21-13) in pool play and then beating the U.S., 21-12, in the semis prior to the final.
The American squad – Cierra Burdick, Blake Dietrich, Linnae Harper and Camille Zimmerman – finished fourth overall.
● Boxing ● The International Boxing Association promoted interim chief executive Chris Roberts (GBR) to permanent status on Friday. He was previously the IBA's Development Director, coming to the IBA after 17 months at Boxing Scotland and a long career at the Royal Army Physical Training Corps.
¶
The IBA-affiliated Oceania Boxing Confederation issued a statement that the French Polynesia federation which joined World Boxing is not a federation at all and its boxers are part of the Polynesian Boxing Federation (Fédération Polynésienne de Boxe), which is still affiliated with the IBA.
None of this has anything to do with the Olympic boxing tournament in Paris in 2024, as qualification is being handled directly by the International Olympic Committee.
● Cycling ● On the UCI Women's World Tour, the three-stage Tour de Romandie in Switzerland concluded on Sunday, with a showdown between Demi Vollering (NED), Poland's Kasia Niewiadoma and Swiss home favorite Marlon Reusser.
Friday's first stage was a mass-finish sprint over 144.1 km won by Sofia Bertizzolo (ITA) in 3:53:10, with the first 52 riders given the same time. On Saturday, Vollering beat Niewiadoma and Reusser to the line on the uphill-finishing 110.8 km course to Torgon, taking six-second lead on the Pole and 12 seconds on Reusser into Sunday's finale.
The 131.9 km ride to Nyon finished with a two-lap course with two modest climbs, and a final sprint had Liane Lippert (GER) as the winner in 3:18:31, ahead of Fem van Empel (NED) and Silvia Persico (ITA). Reusser was fourth, Vollering sixth and Niewiadoma seventh, so the final standings ended with Vollering the winner, Niewiadoma at +0:06 and Reusser at +0:12.
It's Vollering's seventh win of the year on the Women's World Tour, including the Tour de France Femmes.
● Football ● Spanish midfielder Jenni Hermoso was granted a restraining order against former Royal Spanish Football Federation President Luis Rubiales. The Spanish High Court ordered that Rubiales stay more than 200 m away from Hermoso.
Even with the resignation of Rubiales and the end of the coaching tenure of Jorge Vilda, 39 players stated they would not report for any national-team matches, including 21 of the 23 members of the winning FIFA Women's World Cup team. The message said in part:
"As of today, as we have communicated to RFEF, the changes which have been made are not enough so that the players feel in a safe place, where women are respected, women's football is supported and where we can give our all."
The message called for changes in the federation's women's program, in governance, and in the communications, marketing and integrity departments.
● Gymnastics ● The FIG Artistic World Challenge Cup series concluded in Paris (FRA) with the sixth stage, and the French women and British men scoring three wins each.
French star Melanie de Jesus dos Santos – the 2019 European All-Around champ – won two events, taking the Uneven Bars, 14.700 to 14.600 over Brazil's Rebeca Andrade, the 2022 World All-Around gold medalist, then winning on Floor, 13.650 to 13.400 vs. Brazilian Jade Barbosa, the 2007 Worlds All-Around bronzer.
The third French win came on Beam from Marine Boyer, the 2016 European silver winner, scoring 13.500 along with Kaylia Nemour (ALG), but winning on criteria. Mexico's 2018 Worlds bronze winner, Alexa Moreno, took the Vault with a 14.075 average for two, and Australian Georgia Godwin second (13.850).
The British men's wins came from two-time Olympic champ Max Whitlock on Pommel Horse, 2022 Worlds bronze medalist Courtney Tulloch on Rings and senior-level newcomer Harry Hepworth on Vault.
Whitlock scored 15.540 to beat 2022 World Champion Rhys McClenaghan (IRL: 15.100); Tulloch shared the Rings win with 2021 Worlds bronze winner Salvatore Maresca (ITA), with both scoring 14.700, and Hepworth received 14.700 for his average on Vault, well ahead of Leo Saladino (FRA: 14.250).
Japan's Koga Hiramitsu won on Floor (14.700, over Benjamin Osberger/FRA and Luke Whitehouse/GBR, both 14.650); Olympic silver winner Lukas Dauser (GER) took the Parallel Bars winner at 15.250, and Chia-hung Tang (TPE), the 2018 Asian Games winner, dominated on the Horizontal Bar, winning at 14.950.
● Judo ● Brazil and Canada were the big winners at the Pan American Championships in Calgary (CAN), taking six and four classes each.
The Brazilians got wins from Matheus Takaki in the men's 60 kg, Tokyo bronze medalist Daniel Cargnin at 73 kg and Rafael Macedo at 90 kg, and 2021 Pan Am Champs winner Larissa Pimenta at 52 kg, three-time Olympic bronze winner Mayra Aguiar at 78 kg and 2022 Worlds silver winner Beatriz Souza at +78 kg.
Canada's Julien Frascadore took the men's 66 kg class, Francois Gauthier Drapeau won at 81 kg, and Shady El Nahas at 100 kg, and two-time World Champion Christa Deguchi struck gold at 57 kg.
Cuba's Andy Granda, the 2022 World Champion, won at +100 kg, defeating two-time Olympic bronze medalist Rafael Silva.
The U.S. won bronze medals from Nathaniel Keeve at 100 kg, and Maria Celia Laborde in the women's 48 kg, and Hannah Martin at 63 kg.
● Shooting ● The latest ISSF World Cup in Rifle and Pistol is in Rio de Janeiro (BRA), with Italy winning two events.
Italian Federico Maldini won the men's 10 m Air Pistol final, 237.8 to 236.4 against Latvian Emils Vasermanis. Armenia's Elmira Karapetyan took the women's 10 m Air Pistol title, 236.6 to 235.8 over Siyu Wang (CHN).
The 2022 Worlds runner-up, Danilo Sollazzo, also won for Italy in the men's 10 m Rifle final, beating Germany's Maximilian Dallinger, 251.0 to 250.0. India's Elavenil Valarivan won the women's 10 m Air Rifle, 252.2 to 251.9 over France's Oceanne Muller, 20, the 2021 World Junior Champion.
Hungary's Veronika Major took the women's 25 m Pistol by 34-31 over Kaiyan Shang of China for her fourth career World Cup win in the event.
China scored a win in the men's 50 m Rifle/3 Positions, with Yukun Liu – the 2017 World Junior Champion in this event – scoring 460.1 in the final to edge Norway's 2022 Worlds bronze medalist Jon-Hermann Hegg (456.9) and three-time World Cup winner Istvan Peni (HUN: 444.5).
The events conclude on Monday.
● Table Tennis ● Chile took two titles at the Pan American Championships in Havana (CUB), with the U.S. and Brazil winning the Singles golds.
Chile's Doubles wins came in the men's classification, with Gustavo Gomez and Nicolas Burgos defeating Gaston Alto and Horacio Cifuentes (ARG), 3-0, and in the Mixed Doubles, with Burgos and Paulina Vega sweeping Brazil's Vitor Ishiy and Bruna Takahashi, 3-0.
Brazil was in both Singles finals, with Hugo Calderano (BRA) defeating Burgos (CHI) by 4-1 (11-4, 11-8, 13-11, 11-13 and 11-5), and American Amy Wang – seeded fourth – claiming her first Pan Am title, taking down Takahashi, in a 4-3 thriller (11-13, 11-6, 4-11, 11-8, 12-10, 9-11, 12-10).
Puerto Rico's Melanie Diaz and Adriana Diaz won the women's Doubles, over Canada's Ivy Liao and Mo Zhang, 3-1.
¶
You can receive our exclusive TSX Report by e-mail by clicking here. You can also refer a friend by clicking here, and can donate here to keep this site going.
For our updated, 787-event International Sports Calendar (no. 3) for 2023 and beyond, by date and by sport, click here!