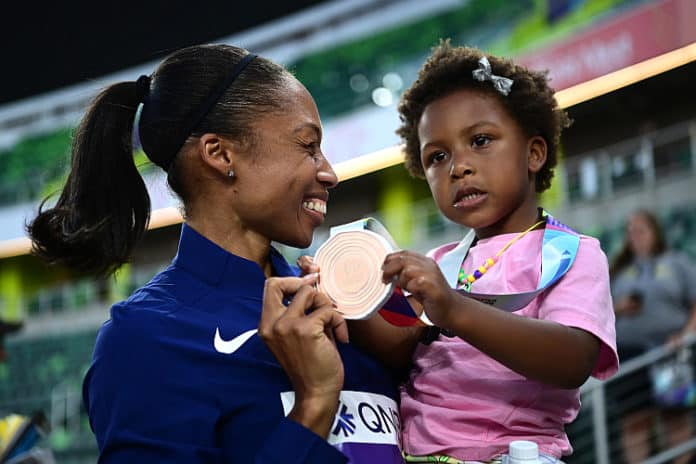 ★ The Sports Examiner: Surveying, monitoring and explaining the key competitive, economic and political forces shaping elite sport and the Olympic Movement.★
Thank you to our now 18 donors, who have covered 22% of our summer funding goal for operating costs. Will you join in? Please donate here. Comments? Click here.
★ To get The Sports Examiner by e-mail: sign up here! ★
≡ THE 5-RING CIRCUS ≡
1. U.S. offered deal to release detainees Griner and Whelan
2. France is excited about the Paris 2024 Olympic Games … or not?
3. Allyson Felix among four appointed to IOC Athletes' Commission
4. Commonwealth Games open in Birmingham.
5. Ledecky wins 20th and 21st titles at USA Swimming Nationals
The U.S. Department of State has made, and is pursuing, an offer to Russia for the release of basketball star Brittney Griner and security executive Paul Whelan, even as Griner testified in a Moscow court on Wednesday. In France, a survey published Monday showed 47% of respondents across the country are "indifferent" to the 2024 Games in Paris, with 26% interested and 19% "worried" with the Games two years away. U.S. track star Allyson Felix is one of four athletes to join the International Olympic Commitee's Athletes' Commission, a positive for American representation. In Birmingham, England, the 22nd Commonwealth Games begin on the 28th, with more than 5,000+ athletes competing in 20 sports. Swimming superstar Katie Ledecky continued winning, scoring her 20th and 21st career victories at the USA Swimming nationals in Irvine, California. And physicist Neil deGrasse Tyson weighs in on whether Tobi Amusan's 12.12 world record in the women's 100 m hurdles is legit.
1.
U.S. offered deal to release detainees Griner and Whelan
U.S. Secretary of State Antony Blinken told reporters on Wednesday that the U.S. had made a proposal to Russia for the release of detainees Brittney Griner and Paul Whelan:
"In the coming days, I expect to speak with Russian Foreign Minister [Sergey] Lavrov for the first time since the war began. I plan to raise an issue that's a top priority for us: the release of Americans Paul Whelan and Brittney Griner, who've been wrongfully detained and must be allowed to come home.
"We put a substantial proposal on the table weeks ago to facilitate their release. Our governments have communicated repeatedly and directly on that proposal. And I'll use the conversation to follow up personally and I hope move toward a resolution."
Griner has been detained since mid-February and is on trial for "drug smuggling." Whelan, a corporate security director, was sentenced in 2020 to 16 years in prison for "spying."
Two-time Olympic basketball gold medalist Griner testified at a Moscow courthouse on Wednesday that she did not intend the break any laws when the returned to Russia to play for her team, UMMC Ekaterinburg:
"I do plead guilty because of the actions that have happened, but again I did not intend to smuggle or bring any substance into Russia."
She explained that the small amount of cannabis oil she brought in vape cartridges was purchased under a doctor's supervision in Phoenix:
"I still don't understand to this day how they ended up in my bag. If I had to speculate, if I had to guess on how they ended up in my bags, I was in a rush packing. I was recovering from COVID, the stress of packing, making sure I had my COVID tests. Jet lag. And I was in a rush, throwing my stuff into my bag.
"In the seven years that I came back and forth (to Russia), I never brought any substance that needed to be declared. And I didn't plan on bringing any substance when I came on Feb. 17.
"The rules change everywhere on what you can and can't bring into the country. And our team is always giving us updates and making sure that we know all the rules for whatever border we're crossing or country we're going into."
Griner said she never had any information given to her on her legal rights: "No one explained any of it to me." Her attorneys are asking for a light sentence in light of the "imperfections" in her arrest and the small amount of oil she was carrying. The trial is expected to continue well into August; the Russian government has said that her release is not possible until the trial is over.
2.
Paris is excited about the 2024 Olympic Games … or not?
The International Olympic Committee's Monday report of the meeting between President Thomas Bach (GER) and French President Emmanuel Macron included Bach's comment:
"He also noted the enthusiasm of the French people for the Olympic Games, and the great inclusivity of the project. A recent report found an approval rating of 80 per cent for the Games, rising to 90 per cent among young French people."
Directly contrary was a survey published Tuesday in Le Parisien, titled – per a computer translation – "Paris 2024: the French are not against the Games, but we will have to convince them." The story explained the results:
● 47% are "indifferent"
● 26% are "interested"
● 19% are "worried"
● 7% are "impatient"
● 1% did not have an answer
The poll was taken of 1,019 French aged 18+ on 20-21 July, and also found that 54% expect to follow the Games in the media, 12% said they wanted to buy tickets and 6% indicated they wanted to work on the Games or volunteer.
And, showing that concerns over costs are ever-present, 75% thought the existing budget for the event will be exceeded.
Some 65% are positive on the concept of staging the Opening Ceremony on the River Seine.
Bach and LeParisien can't both be right. The actual answer will begin to be apparent in December and early 2023, when ticket sales will begin.
3.
Allyson Felix among four appointed to IOC Athletes' Commission
Another honor for the most decorated athlete in World Athletics Championships history, as 20-time medalist Allyson Felix (USA) was one of four appointees announced on Wednesday for the IOC Athletes' Commission.
Also joining are two-time Olympic Triathlon winner Alistair Brownlee (GBR), Canadian sprinter and bobsledder Seyi Smith, and Tokyo Olympian cyclist Masomah Ali Zada, originally from Afghanistan, but now part of the Olympic Refugee Team and living in France.
According to the International Olympic Committee:
"The four athletes were appointed by IOC President Thomas Bach, in consultation with IOC AC Chair Emma Terho [FIN], and in accordance with IOC AC regulations, which are aimed at ensuring a balance between genders, regions and sports within the Commission. They can each serve a term of up to eight years."
Felix's appointment is especially important for the U.S., as it lost Olympic Winter gold medalist Kikkan Randall from the Athletes' Commission in 2021 to health issues after she was elected in 2018. It also opens the possibility for Felix to become an athlete member of the IOC in the future.
4.
Commonwealth Games open in Birmingham
Overcoming a lack of interest and possibly developing a significant competitor to London for major sporting events in England, the XXII Commonwealth Games will open in Birmingham on Thursday and run through 8 August.
First held in 1930 as the British Empire Games, the Commonwealth Games now bring together 72 countries, with 5,054 athletes expected and contesting 280 medal events in 20 sports. Some athletes, especially from Australia – with a huge team of 433 – have chosen the Commonwealth Games over the world championships in their sports, notably in swimming.
For others, the Commonwealth Games is a nice, but no longer vital event. However, it is a major step forward for Birmingham, which has reportedly put the event to together for about £778 million (now ~$938 million U.S.), with the British government paying 75% and the Birmingham City Council responsible for the other 25%.
The use of existing facilities has been emphasized, with three universities providing the athlete accommodations Of the 16 competition venues, 13 are existing, one is temporary, the Alexander Stadium – expanded from 18,000 to 32,000 for athletics and ceremonies – was extensively renovated and one new facility, the Sandwell Aquatics Centre, was built.
Australia was the top medal winner at the 2018 edition in Gold Coast (AUS), collecting 198 total to 136 for England; the English team topped the table in 2014 in Glasgow (SCO), 174-137.
5.
Ledecky wins 20th and 21st titles at USA Swimming Nationals
USA Swimming's national championships have returned to the familiar surroundings of Irvine, California at the Woollett Aquatics Center for the sixth time in the last 17 years, and Tuesday's opening day saw another familiar winner: Katie Ledecky.
She won the women's 800 m Freestyle in 8:12.03, some 19 seconds ahead of Mariah Denigan (8:31.12) for her 20th U.S. summer national title. She added the 200 m Free on Wednesday in a seasonal best 1:54.50, ahead of 17-year-old Erin Gemmell  (1:56.14); Ledecky remains no. 2 on the world for 2022 and Gemmell moved to no. 10! Ledecky also plans to contest the 400 m Medley and will swim time trials in the 200 m Fly and 200 m Medley.
Tuesday's other winners included Olympic relay bronze medalist Natalie Hinds in the women's 100 m Free in 53.53, and Dakota Luther in the women's 200 m Butterfly (2:07.02, no. 7 worldwide in 2022). In the men's 100 m Free, Zach Apple and Matt King tied at 48.44; Will Gallant won the men's 1,500 m Free in 14:57.08, and Gabriel Jett won the men's 200 m Butterfly in 1:54.37 (world no. 8 in 2022).
On Wednesday, Luke Hobson upset Tokyo 400 m Free bronze winner Kieran Smith in the men's 200 m Free (1:46.14-1:46.32); Matt Fallon used a hot last 50 m to win the 200 m Breast in a lifetime best of 2:07.91, now no. 3 on the world list for 2022 (!), and Virginia frosh Jack Aikins took the 200 m Backstroke in 1:57.52.
Mackenzie Looze used a lifetime best of 2:25.35 to win the women's 200 m Breast title, then 2019 Pan Am silver winner Isabelle Stadden upset Worlds bronze medalist Rhyan White to win the 200 m Back in 2:07.29-2:07.51, moving Stadden to no. 6 in the world for 2022.
The meet is being broadcast live by NBC, mostly on the Olympic Channel, at 8 p.m. Eastern time on Thursday, Friday and Saturday, with highlights on Sunday at noon on NBC and 5 p.m. on CNBC.
≡ PANORAMA ≡
● Olympic Games 1972: Munich ● The German government is proposing further payments to the families of the 11 Israeli athletes and officials who were murdered by Palestinian terrorists at the 1972 Games. However, family members of the victims have characterized the new offer as "degrading."
No figures have been released; the Associated Press reported that a first settlement was paid in in 1972 of 4.19 million German marks (~$2.09 million U.S.) and a further amount of €3 million in 2002 (~$3 million at that time). The German Ministry of the Interior is in discussions with the families.
● National Olympic Committees ● The International Olympic Committee is warning the Indian Olympic Association that it may be suspended if it does not hold elections soon.
The IOA has had governance issues before and was suspended in 2012; its President, Narinder Batra, resigned as he is being investigated for possible misappropriation of public funds. Elections were to have been held in December, but have been held up by litigation over its constitution and national sports regulations.
India was recently considered a rising power in sports hosting and plans for bids for the Youth Olympic Games and a future Olympic Games have been widely discussed. The country planned to showcase itself during the 2023 IOC Session to be held in Mumbai in May or June, but if the IOA is suspended, the Session will likely be moved.
● Athletics ● World Athletics President Sebastian Coe (GBR) was asked last Sunday about a possible format change for the World Athletics Championships from the present 10-day program:
"I don't think we should ever feel that existing formats are absolutely sacrosanct. We know the existing challenges of having 10 days. Morning sessions; you want flow, you want content, you want people in the stadium that are actively engaged and maybe looking at the 10 days, you're just not going to arrive at that that easily.
"So I'm not sitting here saying there's an imminent change. We have our championships that are contracted and agreed up until '25. But I instinctively think that there are lots of things that we want to achieve in our sport and 10 days is quite a challenge.
"It's quite a challenge for broadcasters. It's quite a challenge for the public. It's quite a challenge for the fans and it's quite a challenge for organizing committees. So that's sort of where my head is at the moment and I don't have a tidy prescriptive view, but it has been my view for some time and are going to have to address that."
¶
As for the controversy – in some quarters – about the validity of Nigerian Tobi Amusan's 12.12 world record in the first semifinal at the Worlds, here's the view of astrophysicist Neil deGrasse Tyson on Twitter:
"I timed the race video with a digital stopwatch, of course taking multiple measurements. The data easily averaged the reported world record. So either the race clock & race video are both wrong or there was a tail wind nobody noticed – or they simply kicked ass."
¶
NBC released its ratings data for the Eugene Worlds, reporting a total audience of 18.7 million across all platforms for the 10-day event. The network ratings on NBC (reported at 1.934 million on average) didn't set any records, as the 2007 Worlds in Osaka (JPN) drew an average of 2.08 million. NBC has rights to the World Athletics Championships into 2029.
¶
American 1,500 m and 5,000 m record holder Shelby Houlihan is serving a four-year ban into 2025. But some sharpies on Twitter noticed that she is still active, winning the University of Okoboji Homecoming Half Marathon in Iowa on 16 July in 1:16:18. Wrote USATF activist and @PoleVaultPower poster Becca Peter:
"Ah I see Shelby and [coach] Jerry [Schumacher] have discovered one of the largest loopholes in the WADA code… many road races in the US are open to banned athletes because they are not USATF sanctioned."
● Cycling ● Stage four of the revitalized Tour de France Femmes saw the fourth different winner, as Swiss Marlen Reusser attacked with 23 km remaining on the 126.8 km, modestly hilly ride from Troyes to Bar-Sur-Aube and went unchallenged. She won by an impressive 1:24 over Evita Muzic (FRA), Russian Alena Amialiusik (competing as a neutral) and American Veronica Ewers.
Race leader Marianne Vos was fifth (+1:40) and continued with a 16-second edge on Silvia Persico (ITA) and Kasia Niewiadoma (POL). The race continues through Sunday, with the final three stages all in the Vosges Mountains.
● Water Polo ● World Championships silver medalist Italy pounded the U.S. by 6-1 in the third quarter and won the FINA men's World League Super Final by 13-9 in Strasbourg (FRA).
The teams were tied, 4-4, at halftime, but Italy's overwhelming third quarter left the U.S. down five goals entering the final period. The American squad managed four goals in the period, but Italy scored three for the 13-9 final. Alex Bowen led the U.S. with four goals, while Luca Damonte, Giacomo Cannella and Eduardo Di Somma each scored three times for the winners.
The FINA Water Polo World League has been dominated by Serbia and Montenegro, which have won 15 of the 20 seasonal titles, and the last eight in a row. Italy's win is its first, after three silvers and a bronze. The U.S. finished second for the fourth time, and for the second straight year.
Spain, the 2022 World Champions, won the bronze medal over France, 11-8.
¶
You can receive our exclusive TSX Report by e-mail by clicking here. You can also refer a friend by clicking here, and can donate here to keep this site going.
For our updated, 620-event International Sports Calendar for 2022 and beyond, by date and by sport, click here!