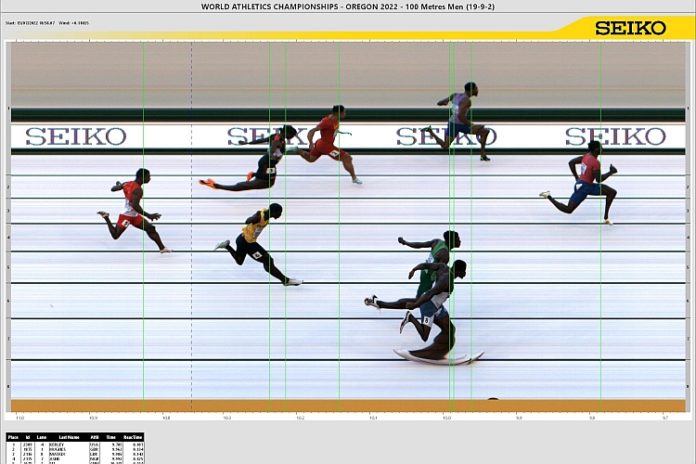 ★ The Sports Examiner: Surveying, monitoring and explaining the key competitive, economic and political forces shaping elite sport and the Olympic Movement. This site is free to view, with donations gratefully accepted to support our operating costs.
Comments? Click here. ★
★ Get The Sports Examiner's session-by-session Worlds e-mails; sign up here! ★
≡ WORLD ATHLETICS CHAMPIONSHIPS ≡
Session 2 ~ Friday, 15 July 2022
Just three finals on the first day of the World Athletics Championships in Eugene, finishing with the Mixed 4×400 m and a 19th career Worlds medal for Allyson Felix, but it was bronze and not gold.
A formal, but quick Opening Ceremony was held at 4:50 p.m., with Oregon Governor Kate Brown welcoming the event, along with Douglas Imhoff, husband of U.S. Vice President Kamala Harris, and World Athletics President Sebastian Coe (GBR). Plus a stirring rendition of the Star Spangled Banner by Army National Guard Staff Sgt. Duane Reno.
After the women's 20 km Walk in the morning, the men's 20 km Walk started at 3:13 p.m. on a 1 km course adjacent to Autzen Stadium, with the Mixed 4×400 m to end the program. Here's what happened:
● Men/20 km Walk ● The race went off at 81 F temperatures, with Japan's Toshikazu Yamanishi – the defending World Champion – leading from the start, but the walkers were bunched at 5 km, with 2019 Worlds bronze medalist Perseus Karlstrom (SWE) leading at 20:11. Yamanishi led a group of 20+ across the 10 km split in 40:34, then picked up the pace and strung out the field, with 10 in the lead pack by 12 km. By the 15 km mark. Yamanishi pulled Kenya's Samuel Gathimba and Tokyo Olympic silver medalist Koki Ikeda (JPN) to a three-second lead over the rest at 59:57.
Karlstrom pushed back and got to the lead before 16 km, bringing the lead pack down to four. But he fell back at 17 km as Yamanishi pushed the pace again, with Ikeda and Gathimba close. The two Japanese walked together and had a nine-second lead over Hathimba and Kallstrom at the bell, but Yamanishi then stormed away and opened an enormous lead right after 19 km, leaving the silver to Ikeda, and winning his second straight world title in 1:19:07 with a final km of 3:40! Ikeda was at 1:19:14 and Karlstrom – third in 2019 – passed Gathimba for third on the final turn, 1:19:18 to 1:19:25.
The temperature at the finish was 83 F. Yamanishi is the third to win multiple Worlds gold in this event after Maurizio Damiliano (ITA: 1987-91) and Jefferson Perez (ECU: 2003-05-07).
Nick Christie was the top American finisher in 31st in 1:28:28.
● Women/Shot Put qualifying ● Two-time World Champion and Tokyo Olympic winner Lijiao Gong (CHN) led the qualifying with a seasonal best of 19.51 m (64-0 1/4), with world leader Chase Ealey an automatic qualifier at 18.96 m (62-2 1/2). Americans Jessica Woodard (19.08 m/62-7 1/4) and Maggie Ewen (also 18.96 m) also scored auto qualifiers on their third tries.
Adelaide Aquilla of the U.S. got out to 18.33 m (60-1 3/4) on her final try, finishing 14th.
● Men/3,000 m Steeple heats ● Tokyo Olympic champ Soufiane El Bakkali (MAR) took control in the final 300 m of the first heat to win in 8:16.65, with Kenyans Leonard Bett and Abraham Kibiwot passing Getnet Wale (ETH) on the final straight, 8:16.94-8:17.04-8:17.49. American Benard Keter passed on the final half-lap, was seventh in 8:21.94 and did not qualify.
Ethiopia's Olympic silver winner Lamecha Girma led at the bell of the second heat and into the final straight and ran away to win in 8:19.64. Comebacking Rio 2016 gold medalist Conseslus Kipruto (KEN) moved from fourth to second in the final 50 m to edge American Hillary Bor, 8:20.12-8:20.18, with Mehdi Belhadj (FRA) fourth in 8:20.47.
The final water jump was decisive in the final heat, with Haile Amare of Ethiopia taking it cleanly and American star Evan Jager moving from third to second ahead of Olympic bronze medalist Ben Kigen (KEN), who was flailing in the deep end of the water and fell back. Amare won in 8:18.34 with Jager at 8:18.44 and Avinash Sable (IND) third in 8:18.75; Kigen was seventh in 8:22.52.
● Women/Pole Vault qualifying ● The auto qualifying height was 4.65 m (15-3), but the bar didn't get past 4.50 m (14-9), as 11 cleared, including Olympic champ Kate Nageotte and World Indoor Champion Sandi Morris of the U.S. The third American vaulter, Gabriela Leon, cleared 4.35 m (14-3 1/4) and tied for 12th and made the final as well.
● Men/Long Jump qualifying ● Japan's Yuki Hashioka was the first to get an auto-qualifier with his second-round leap of 8.18 m (26-10) and was joined by American Marquis Dendy at 8.16 m (26-9 1/4). Sweden's Thobias Montler was third in Group A at 8.10 m (26-7). Olympic champ Miltiadis Tentoglu (GRE) led the second group at 8.03 m (26-4 1/4) and tied for fifth overall; American Steffin McCarter reached 7.93 m (26-0 1/4), finishing 11th and advancing to the final.
● Women/1,500 m heats ● The top six in each of three heats made it to the semis, plus the next six fastest on time. Ethiopia's Hirut Meshesha and Britain's Tokyo silver medalist Laura Muir led at the bell of heat one and controlled the race from the front. Five runners separated on the home straight, with Meshesha winning in 4:07.05, Muir second at 4:07.53 and American Sinclaire Johnson a clear fourth in 4:07.68.
Olympic champ Faith Kipyegon (KEN) had no trouble winning heat two, maintaining control of the race throughout and winning in 4:04.53. But behind her, it was a sprint down the final straight with Australian Jessica Hull crossing second (4:04.68), Freweyni Hailu (ETH: 4:04.85) third and American Elle St. Pierre fourth (4:04.94).
Ethiopia's Gudaf Tsegay – the 2019 Worlds bronze medalist – took charge of the third heat at the 800 m mark and cruised home in an impressive 4:02.67. Kenya's Winny Chebet charged down the straight to get second in 4:03.12, with Linden Hall (AUS: 4:03.21) third. American Cory McGee got the last auto qualifier in sixth (4:03.61).
● Men/100 m heats ● Seven heats, with the top three moving through, plus the next three fastest on time. American Marvin Bracy looked easy in winning heat one in 10.05. But Fred Kerley breezed to the win in heat two, winning in 9.79 (wind: +0.1), the no. 3 performance of 2022 … all of which are his! His last four races have been wins in 9.83, 9.76, 9.77 and 9.79. Wow!
Trayvon Bromell easily won heat three, moving away at the finish in 9.89 (+0.6), then Jamaica's Oblique Seville won heat four in 9.93, ahead of a comebacking Lamont Marcell Jacobs (ITA: 10.04). Letsile Tebogo (BOT) won heat five over 2011 World Champion Yohan Blake (JAM) in a World U-20 Record of 9.94 to 10.04.
Defending World Champion Christian Coleman of the U.S. exploded out of the blocks and shut it down with 10 m to go and won in 10.08 (+0.5), and Kenya's Ferdinand Omanyala – who barely got to Eugene after a visa hassle – made it through the final heat, third in 10.10, with Japan's Abdul Hakim Sani Brown winning in 9.98.
● Men/Shot Put qualifying ● Olympic champ and world-record holder Ryan Crouser of the U.S. qualified easily with his opening throw of 22.28 m (73-1 3/4) and teammate Josh Awotunde threw 21.18 m (69-6), close enough to the auto-qualifying distance of 21.20 m (69-6 3/4) to assure getting to the final. In Group B, defending champion Joe Kovacs of the U.S. got his auto-qualifier in the first round at 21.50 m (70-6 1/2), as did former American Nick Ponzio (ITA: 21.35 m/70-0 1/2).
The fourth American, Adrian Piperi, got to 21.03 m (69-0) and also advanced in eighth, so all four Americans will be in the final.
● Mixed/4×400 m ● The U.S. led the qualifying by almost a second at 3:11.75, the no. 9 performance of all time and added Felix on the second leg for the final.
Elija Godwin got the U.S. off to a strong start, handing to Felix with the lead and Felix moved out smartly to a big lead on the backstraight. But Dominican Olympic 400 m silver medalist Marileidy Paulino finished like a rocket and essentially ran Felix (50.1) down on the home straight.
Alexander Ogando had the lead for the Dominicans on the third leg, but was passed by American Vernon Norwood on the home straight and Kennedy Simon had the lead on the final lap. She looked strong through 200 m, but was losing the lead to Dominican anchor Fiordaliza Cofil on the turn and faded to third as Dutch 400 hurdles star Femke Bol got the silver, 3:09.82-3:09.90-3:10.16.
It's the no. 2 time in history for the Dominicans and no. 4 for the Netherlands. For Felix, she extends her record total of World Championships medals to 19 (13-3-3) in what was likely her final race in a major championships.
The crowd at Hayward Field was disappointing, with plenty of open seats; a full house is expected for the evening sessions for the rest of the week.
¶
The meet is being televised in the U.S. by NBCUniversal, mostly on USA Network, but also on NBC and CNBC on the weekends and on the Peacock streaming service.
You can receive our exclusive TSX Report by e-mail by clicking here. You can also refer a friend by clicking here, and can donate here to keep this site going.
For our updated, 620-event International Sports Calendar for 2022 and beyond, by date and by sport, click here!