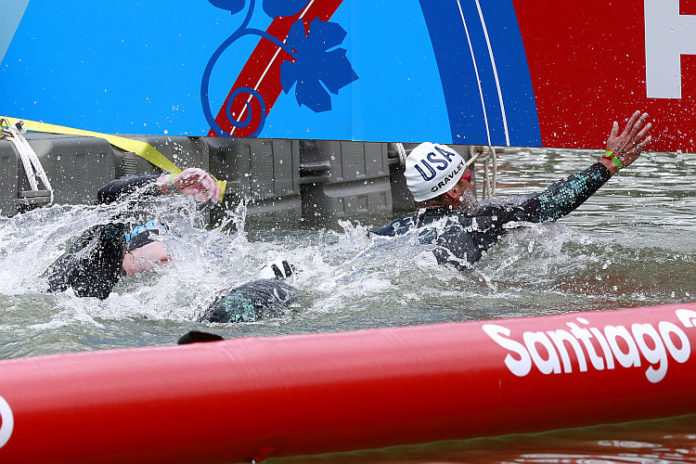 ★ The Sports Examiner: Chronicling the key competitive, economic and political forces shaping elite sport and the Olympic Movement.★
★ To get The Sports Examiner by e-mail: sign up here! ★
≡ THE 5-RING CIRCUS ≡
1. U.S. scores seven golds, has 163 total Pan Am Games medals
2. South Africa defends Rugby World Cup title, beats New Zealand
3. Manfred: Major leaguers in Olympics will be difficult
4. Lyles recruiting teammates for 4×200 m record attempt!
5. Olympic-response Friendship Games to offer prize money
● American athletes won seven golds Sunday and have 163 total medals at the Pan American Games in Santiago, Chile at the end of the first week of competition. The U.S. swept the two open-water 10 km races with Brennan Gravley and Ashley Twichell and scored three golds in the Canoe Slalom finals. In shooting, 60-year-old Venezuelan Leonel Martinez, a competitor at the 1984 Olympic Games in Los Angeles, qualified for his second Olympics in 2024 (!) with a silver medal in men's Trap.
● A thrilling championship match at the Rugby World Cup in France saw defending champion South Africa squeak past New Zealand, 12-11. The tournament was a hit at the gate, with 2.36 million total attendance, the second-most ever.
● Baseball Commission Rob Manfred said he was very happy that baseball was again to be included at the Olympic Games in Los Angeles in 2028, but gave no indication that any kind of deal was being considered to allow major league player to play.
● Triple World Champion Noah Lyles of the U.S. went to X (ex-Twitter) to recruit fellow Olympic and Worlds medal winners Kenny Bednarek and Erriyon Knighton to form a team to break the world record in the men's 4×200 m relay at the 2024 World Relays!
● Russia's 2024 Olympic-response "Friendship Games" announced that prize money will be awarded to the top three finishers in another poke at the Olympics, which does not pay prize money. The amounts quoted were in U.S. dollars, by the way, not in rubles.
● Panorama: Alpine Skiing (2: Gut-Behrami wins season opener in Soelden; Norway's Braathen suddenly retires at 23) = Archery (Wiljer wins Lausanne Indoor World Series opener) = Athletics (2: Astana in, Birmingham out in World Athletics Indoor Tour Gold; Nwokocha suspended three years for doping) = Badminton (Three wins for China in French Open) = Boxing (Van der Vorst and Seignolle candidates for World Boxing President) = Cycling (Lavreysen continues dominance at Track Champions League) = Figure Skating (Yamamoto and Sakamoto take titles at Skate Canada) = Football (Fishel and Shaw spark U.S. women to 3-0 win over Colombia) = Short Track (Santos-Griswold claims three more medals at Montreal World Cup) = Speed Skating (Stolz and Jackson shine bright at U.S. Nationals) = Triathlon (Jorgensen second in Miyazaki World Triathlon Cup) = Wrestling (Elor completes double-triple at U-23 Worlds, but Olympic options still cloudy) ●
● Errata: Some readers of Friday's post saw references to two-time FIS Alpine World Cup champion Marco Odermatt as Austrian. He's Swiss, and the corrections have been made. Thanks to Andrew Craig and Michal Kisielewicz for being the first to spot it. ●
1.
U.S. scores seven golds, has 163 total Pan Am Games medals
After three days of comparatively few finals, the XIX Pan American Games revved back up on Sunday with 24 finals and now 221 events completed out of 425 in total. The U.S. won seven golds on Sunday to bring its total to 68. Over the weekend:
● 27 Oct.: Boxing: Jahmal Harvey, men's 57 kg
● 27 Oct.: Boxing: Joshua Edwards, men's +92 kg
● 29 Oct.: Canoeing: Zach Lokken, men's Slalom C-1
● 29 Oct.: Canoeing: Josephua Joseph, men's Slalom K-1
● 29 Oct.: Canoeing: Evy Leibfarth, women's Slalom C-1
● 29 Oct.: Cycling: Lauren Stephens, women's road race
● 29 Oct.: Equestrian: Caroline Pamukcu, eventing
● 29 Oct.: Swimming: Brennan Gravley, men's 10 km open water
● 29 Oct.: Swimming: Ashley Twichell, women's 10 km open water
The boxing finals were all held on Friday, with the Americans winning five quota places for Paris 2024, with silver medals for Jennifer Lozano in the women's 50 kg class and Morelle McCane at 66 kg. Jajaira Gonzalez won a bronze at 60 kg and won a quota place with four spots allowed from that weight class. Brazil totaled 12 medals and four wins in the ring to lead the medal table; the U.S., Canada and Colombia all won six medals.
Only nine finals were held on Saturday and the U.S. scored only a couple of bronzes, but with 24 event finals on Sunday, the American squad claimed seven golds. Among those was 36-year-old Lauren Stephens in road cycling, the 2021 U.S. national road champion, who rode away with a 1:24 win in the 105 km road race, on a hilly loop course. Ecuador's Miryam Nunez won silver and Agua Espinola (PAR) took the bronze, both 1:24 behind; American Kristen Faulkner finished sixth (+2:30).
U.S. swimmers continued to dominate, even when not in the pool, sweeping the 10 km open-water races. Brennan Gavley led for much of the men's 10 km race, but was then pressed on the final lap and barely touched first in 1:50:23.4 over Argentina's Franco Cassini (1:50:23.6) and Mexico's Paulo Strehlke (1:50:23.8). Brother Dylan Gravley was fourth in 1:50:26.8.
Tokyo Olympian Twichell was her second Pan American Games by winning the women's 10 km swim, dominating an excellent field and winning by 13 seconds over Brazil's Olympic champ Ana Marcela Cunha, 1:57:16.4 to 1:57:29.4. Fellow American Leah DeGeorge finished fifth in 1:58:54.7.
Twichell won a Pan Am silver in the 800 m Freestyle way back in 2011 (!), but won her first international gold at age 34.
The U.S. and Brazil both won three events in the Canoe Slalom races, but only Brazil's Ana Satila won two events – and women's C-1 and Kayak Cross – and now owns five Pan Am golds across 2015-19-23, including the C-1 in all three. The U.S.'s Leibfarth won the women's C-1 and also took a bronze in the Kayak Cross final as the only American double medalist.
The in-stadium track & field competitions will start on Monday, along with most of the finals in judo and surfing.
With 52% of the events now concluded, the U.S. total has reached 163 (68-45-50), ahead of Brazil (105: 33-39-33), Canada (98: 33-30-35) and Mexico (88: 35-21-32). The competitions continue through 5 November; the event is being shown on the Panam Sports Channel (sign-in required).
¶
A pretty amazing story in shooting, where Venezuela's Leonel Martinez, 60, won the men's Trap silver and qualified for Paris 2024. That will be 40 years since his first Olympic appearance in 1984 in Los Angeles, where he tied for 41st in men's Trap!
NBC Sports consulted Olympedia.org co-founder Dr. Bill Mallon (USA), who said that the 40-year gap between Olympic starts for Martinez will be the second-most ever, behind Japan equestrian Hiroshi Hoketsu, who competed in Tokyo in 1964 and then again in Beijing in 2008 (at age 67)!
¶
The Panam Sports Channel, the primary vehicle to watch the Santiago action, has offered nine live feeds and now has more than 750,000 subscribers. Said Panam Sports President Neven Ilic (CHI), of the event so far:
"We are halfway through the Pan American Games, and we are very happy with what is happening at Santiago 2023. The athletes are happy, the response from the public that has packed the venues has been spectacular, and the numbers from the Panam Sports Channel and of our multimedia in general, are surprising."
2.
South Africa defends Rugby World Cup title, beats New Zealand
A bruising battle between the nos. 1-2 ranked teams in the world saw South Africa win its fourth Rugby World Cup title with a 12-11 win over New Zealand at the Stade de France in the Paris area in the final game of the 2023 Rugby World Cup.
Handre Pollard scored all of South Africa's points on penalties, converting in the 3rd, 13th, 19th and 34th minutes for a 12-6 lead at the half. For New Zealand, Richie Mo'unga converted a penalty in the 17th and 38th minutes. New Zealand captain Sam Cane was dismissed with a red card in the 27th minute for a high tackle, leaving the All Blacks with 14 men for the last 53 minutes.
The only try of the match was scored by New Zealand's Beauden Barrett in the 58th to close to 12-11, but Mo'unga missed the conversion and the score remained 12-11. Jordie Barrett missed a long penalty try that could have won it for the All Blacks late in the match.
The defensive effort by South Africa was outstanding, as the All Blacks had scored 71, 96, 73, 28 and 44 points since an opening loss to France, 27-13. The Springboks specialized in winning tight matches, winning their third straight one-point win in the playoffs: 29-28 over France in the quarters and 16-15 against England in the semis.
With the victory, South Africa became the first country to win the World Cup four times, now taking three of the last five with victories from 1995-2007-2019-2023. Amazingly, the 2023 almost mirrored the tight 1995 final, where the Springboks beat New Zealand, 15-12, in extra time.
England, the 2019 finalist, won the third-place match with Argentina, 26-23, for its fourth medal in the 10 World Cup tournaments (0-3-1). The Argentines had won the bronze in 2007, but lost in the third-place match in 2015 and now in 2023.
Will Jordan (NZL) finished with the most tries, with eight. England's Owen Farrell ended as the top scorers with 75 points, with Thomas Ramos (FRA) with 74 and Argentina's Emiliano Boffelli third at 67.
Attendance at the medal matches was excellent, with 77,674 for the Argentina-England match and 80,065 for the final. In all, attendance was 2,357,143 or 49,107 per match, second-best all-time to the 2,477,805 from the 2015 tournament.
3.
Manfred: Major leaguers in Olympics will be difficult
To the surprise of absolutely no one, Major League Baseball Commissioner Rob Manfred told reporters on the eve of the 2023 World Series that the concept of a National Hockey League-style break during the 2028 season for the Olympic Games is a difficult issue.
"Everyone appreciates the challenges associated with major league players playing in a tournament that is in the middle of our season.
"We're an everyday game. We're kind of big on the integrity of that regular season. It's an important thing for us."
The International Olympic Committee approved the LA28 organizing committee's request for five added sports on the 2028 program, including baseball and softball, cricket, flag football, lacrosse and squash. Baseball was in the Olympic Games in 1992-96-2000-04-08, then came back as an added sport for the Tokyo Games held in 2021. In all cases, major league players did not take part.
LA28 Chair Casey Wasserman said that he has been in contact with the MLB office and with the Players Association, and Manfred noted:
"Casey Wasserman has been supportive of getting baseball back in the Olympics, which we appreciate.
"We think it's a great thing and we will continue to listen as to whether there's some arrangement that could be worked out – I'm not saying one word about major league players – some arrangement that could be worked out to make it the best possible tournament."
Major League players do participate in the World Baseball Classic, co-owned by Major League Baseball and the Players Association, held quadrennially during spring training.
When the NHL has agreed to have its players participate in the Winter Olympics, beginning in 1998, an accommodation was made, with the season put on hold to allow players to compete for their national teams. But the NHL did not allow its players to compete at the 2018 or 2022 Winter Games, and discussions are continuing for 2026.
4.
Lyles recruiting teammates for 4×200 m record attempt!
How about this from triple World Champion Noah Lyles of the U.S.:
"Yo @ErriyonK @kenny_bednarek we should go break that 4x200m world record"
That was the message underneath the logo of the World Athletics Relays, back in The Bahamas on 4-5 May 2024, for the fourth time in Nassau, but first since 2017. Lyles is asking Worlds silver winner Erriyon Knighton and Tokyo Olympic silver medalist Kenny Bednarek to join him on a potential U.S. "dream team."
Jamaica set the world men's 4×200 m mark in the first World Relays back in 2014 at 1:18.63, with a team of Nickel Ashmeade, Warren Weir, Jermaine Brown and Yohan Blake. Jamaica won again in 2015 and the U.S. teams were disqualified in both years.
Canada won in 2017 in 1:19.42, beating the U.S. (1:19.88), which had Lyles as the lead-off leg! The U.S. finally won the event in 2019 in 1:20.12 with Chris Belcher, Bryce Robinson, Vernon Norwood and Remontay McClain. The U.S. did not contest the event in 2021.
If Lyles is able to recruit his fellow 200 m stars, consider the line-up from their 2023 bests:
● 19.47 (no. 1 in 2023) Noah Lyles
● 19.72 (no. 3 in 2023) Erriyon Knighton
● 19.79 (no. 7 in 2023) Kenny Bednarek
And how about these choices for the fourth leg:
● 19.85 (no. 9) Courtney Lindsey
● 19.86 (no. 10) Fred Kerley
● 19.89 (no. 12) Robert Gregory
● 19.93 (no. 13) Christian Coleman
● 19.98 (no. 17) Javonte Harding
In the world top 20 for 2023, there were the eight listed Americans, and a couple more with wind-aided sub-20 times.
The Jamaican record from 2014 is hardly soft; the average is a swift 19.66.
5.
Olympic-response Friendship Games to offer prize money
One of the constant complaints of athlete activist groups is that Olympic medal winners do not receive prize money directly from the International Olympic Committee. Instead, any athlete prizes are provided by the National Olympic Committees, which send the athletes to the Games, much as the ancient Greek city-states did.
But for the 2024 Friendship Games that Russia is organizing a month after the Paris Olympic Games, prize money will be paid, with a Friday announcement that $40,000 to be provided to gold medalists, $30,000 to silver medalists and $20,000 for the bronze winners.
The Friendship Games will be held in Moscow and Yekaterinburg from 15-29 September 2024, with some events possibly to be held in Minsk, Belarus, as well. Details of the program – sports and events – have not been released.
≡ PANORAMA ≡
● Alpine Skiing ● The FIS Alpine World Cup season opened in Soelden, Austria, with a big win for Swiss Lara Gut-Behrami, and one for the weather on Sunday.
Gut-Behrami, the 2021 World Champion in the Giant Slalom, came from behind to win the women's season opener on Saturday She was fourth after the first run, 0.73 behind Italy's Federica Brignone, the Beijing Olympic silver medalist (1:08.77). American star Mikaela Shiffrin was fifth in 1:09.52.
On the second run, Gut-Behrami was unsurpassed, clocking 1:09.44, the fastest run in field and enough for the win in 2:18.94. Brignone managed the ninth-fastest run (1:10.19) and finished second (2:18.96), with Petra Vlhova, the 2019 Giant Slalom World Champion, moving up to third overall with the third-fastest second run (2:19.08 total).
Shiffrin was all-in on the second run, but clocked 1:10.82, the 25th-best second run and ended up finishing sixth in 2:20.34. For Gut-Behrami, it was her 39th career World Cup win and seventh in a Giant Slalom. It was also her third win Soelden – also in 2013 and 2016 – equaling the record of Slovenia's Tina Maze for the most wins in this race.
The men's race on Sunday never got going; FIS posted on X (ex-Twitter):
"Due to the extreme wind and with the forecast of even increasing wind for the rest of the day, for safety and fairness reasons, it has been decided to cancel today's Giant Slalom race in Sölden."
No word on whether or when the race may be made up.
The Alpine World Cup will take a week off, then resume in November with the two-country men's Downhills in Zermatt (SUI) and Cervinia (ITA). The women will be in Levi (FIN) for the famous "reindeer" Slaloms from 11-12 November.
¶
A sponsorship clash contributed to the sudden retirement of Norwegian star Lucas Braathen, 23, announced on his Instagram channel on Friday.
"I am done. … "For the first time in at least half a year I'm happy, after making this decision. For the first time in years I feel free. …
"Up until the point where I debuted, the [2018] World Cup race in Val d'Isere, with skis that my dad tuned in his garage back home, that is the day where I lost my freedom. I came to find that I'm locked. I cannot do my difference, whatever I do is wrong."
Braathen, who won the World Cup men's Slalom title in 2023 and scored five wins and 12 medals in five season on the World Cup circuit, was refused permission by the Norwegian ski federation to promote the J. Lindeberg company, a competitor of the federation's Helly Hansen apparel brand. The Associated Press reported, "The skier had not paid the fine imposed by the federation for breaching the rules in his athlete's contract."
● Archery ● Dutch star Steve Wijler won the World Archery Indoor World Series opener, the Lausanne Excellence Challenge on Sunday. Shooting from 18 m, Wijler – a Tokyo Olympic silver medalist in the Mixed Team event – shut down Jerome Bidault (FRA) by 6-0 (30-29, 29-27, 30-29) in the final. The all-Italian bronze-medal match had Alessandro Paoli winning an extra-end battle with David Pasqualucci, 6-5 (9-8).
Slovakia's Denisa Barankova won a tense women's Recurve final over Laura van der Winkel (NED), also in a shoot-off, 6-5 (10-9) after a 5-5 tie after five ends. Estonia's Reena Parnat won the bronze medal, 6-0, against Sarah Russell (GBR).
● Athletics ● World Athletics announced a seventh meet in its World Indoor Tour Gold series, to be the series opener in Astana, Kazakhstan on 29 January 2024. This brings the gold-meet total to seven, with the other six in Europe (4) and the U.S. (2).
Gold-level meets are required to offer "at least USD $7000 in prize money for each individual discipline on the programme, including USD $3000 to the winner."
The 24 February 2024 Gold-level meet in Birmingham (GBR) was canceled over a potential city bankruptcy following a €760 million (about $920.4 million U.S.) tab due for equal-pay abuses over multiple years.
¶
The Athletics Integrity Unit announced another doping suspension, this time by Nigeria sprinter Grace Nwokocha, for three years for the use of the prohibited muscle-building drugs Ostarine and Ligandrol.
She tested positive at the 2022 Commonwealth Games in Birmingham (GBR), where she finished fifth in the 100 m; she also competed in the 2022 World Athletics Championships in Eugene, reaching the semifinals in the women's 100 and 200 m and anchoring the 4×100 m relay to the gold medal (42.10), which will now be forfeited. Still just 22, she will be ineligible until 2 August 2025; she has bests of 10.97 and 22.44, both from 2022.
Nwokocha was sixth for North Carolina State in both the 100 and 200 m at the 2022 NCAA meet, but has not competed since the end of the 2022 season.
● Badminton ● Another strong performance for China, with four finalists in five events at the BWF World Tour French Open in Rennes, and three wins.
Tokyo Olympic champion Yu Fei Chen (CHN) defeated Tokyo runner-up Tzu Ying Tai (TPE) in the women's Singles final, 21-17, 22-20 for her 13th career World Tour title. Chen is now 4-3 against Tai in World Tour finals match-ups.
Sheng Shu Liu and Nang Tan (CHN) took the women's Doubles title from Jongkolphan Lititharakul and Rawinda Prajongjai (THA), 26-24, 21-19, and eighth-seeds Zhen Bang Jiang and Ya Xin Wei (CHN) won the Mixed Doubles against Chun Man Tang and Ying Suet Tse (HKG), 21-17, 15-21, 21-12.
Fifth-seed Jonatan Christie (INA) won the men's Singles, 16-21, 21-15, 21-14 over Shi Feng Li (CHN), and the seventh-seeded Kim Astrup and Anders Rasmussen (DEN) won the men's Doubles against Muhammad Fikri and Bagas Maulana (INA), 21-14, 10-21, 21-18.
● Boxing ● Former Dutch Boxing Federation President Boris van der Vorst and American Elise Seignolle, a former boxer and a financial management expert, are the candidates for President of World Boxing.
A total of 27 candidates from 10 countries were announced for six different offices at the World Boxing congress, to be held in Frankfurt (GER) from 24-25 November.
● Cycling ● Tokyo Olympic Sprint gold medalist Harrie Lavreysen (NED) continued his domination of the UCI Track Champions League with another win in the Sprint Division in the second stop, in Berlin (GER).
Lavreysen won the Sprint final over Poland's Mateusz Rudyk by 0.113 seconds, then took the Keirin to remain undefeated in the league, beating Australia's 2022 Commonwealth Games gold winner Matthew Richardson to the line by 0.47 seconds. After two of five rounds, Lavreysen now leads Richardson in the overall standings by 80-58.
The women's Sprint title went to Ellesse Andrews (NZL) – the 2022 Commonwealth Games Sprint and Keirin champ – who also swept both races, winning the Sprint over Katy Marchant (GBR) by 0.082, and then winning the Keirin by 0.203 over Germany's Alessa-Catriona Propster. Andrews now has the seasonal lead by 70-65 over the German.
In the men's Distance division, Canada's Dylan Bibic won the 5,000 m Scratch race, with Maximilian Schmidbauer second, then Jules Hesters (BEL) took the Elimination final over seasonal leader Eiya Hashimoto (JPN). Hashimoto's overall lead is now just 59-56 over Bibic.
Lily Williams of the U.S. won the women's Scratch race over Sarah Van Dam (CAN), but British star (and five-time Worlds gold medalist) Katie Archibald dominated the Elimination final, winning against Maggie Coles-Lyster (CAN), with Williams fading to 10th. Archibald continues to lead Williams for the season, 67-61.
● Figure Skating ● Japan and Canada swept the honors at the Skate Canada Internationale in Vancouver (CAN), with World Champion Kaori Sakamoto winning the women's Short Program and Free Skate and piling up 226.13 points.
Korea's Chaeyeon Kim was second in 201.15, finishing second in the Short Program and fourth in the Free Skate. Japan's Rino Matsuike was third (198.62), with Americans Lindsay Thorngren, Audrey Shin and Starr Andrews finished fifth (189.52), seventh (177.14) and eighth (174.82).
Sota Yamamoto, the 2023 Grand Prix Final runner–up, won the men's Singles in a tight competition over countryman and 2023 World Junior Champion Kao Miura, 258.42 to 257.89. Yamamoto won the Short Program, with Miura fourth, but then Miura won the Free Skate on Sunday, with Yamamoto third, but could not catch the leader. American Liam Kapeikis was eighth at 220.15.
It's Yamamoto's first career Grand Prix win.
Canada was the big winner in both Pairs and Ice Dance. Worlds fourth-placers Deanna Stellato-Dudek and Maxime Deschamps took the Pairs title with a 214.64 to 187.78 win over Maria Pavlova and Alexei Sviatchenko of Hungary. Italy's Lucrezia Beccari and Matteo Guarise finished third (181.42).
In Ice Dance, the two-time Worlds bronze medalists Piper Gilles and Paul Poirier won both segments to win their third straight Skate Canada Internationale, 219.01 to 209.55 over European silver winners Lilah Fear and Lewis Gibson (GBR). Lithuanians Allison Reed and Saulius Ambrulevicius finished third (192.01), with the U.S. finished 4-5-6, with Oona Brown and Gage Brown (187.62), Emilea Zingas and Vadym Kolesnik (184.96) and Eva Pate and Logan Bye (181.46).
The circuit heads to Europe now, with the Grand Prix de France coming up next week in Angers.
● Football ● The U.S. women raised their energy level vs. Colombia in their second straight friendly, this time in San Diego, and came away with a dominant, 3-0 victory.
After the 0-0 tie on Thursday in Sandy, Utah, the U.S. started out with a much more determined offensive push in this game, with 57% of possession in the first 15 minutes and headers from midfield star Lindsey Horan in the 11th and 14th minutes that first went over the goal and then was saved by keeper Natalia Girado.
American striker Alex Morgan had a great chance in the 21st, but her left-footed shot from the middle of the box was saved by Girado with her right hand, and pushed to the side. Girado's right arm was injured on the play and she had to be replaced in the 25th by veteran Sandra Sepulveda.
The U.S. was in almost total control, but could not score in the half even with 58% of possession – and it seemed like a lot more – and a 8-1 advantage on shots. There were 22 fouls in the first half alone.
The energy remained high in the second half and Colombia finally got a quality chance in the 48th, as midfielder Marcela Restrepo rifled a shot from the left of goal that U.S. keeper Casey Murphy was able to push over the net.
American interim coach Twila Kilgore substituted Mia Fishel, 22, for Morgan at striker to start the second half and she made her presence felt right away. She sent a centering pass from sub forward Jaedyn Shaw over the top of the net in the 49th, then changed the game seven minutes later.
The U.S. finally got a goal in the 56th, as Fishel headed in a perfect strike from midfielder Emily Sonnett from the right side of the field for the 1-0 lead. Fishel headed the ball down in the middle of the box and past Sepulveda; it's her first goal for the U.S., in her second international appearance.
Then, in the 62nd, Horan settled under a long cross from the right side all the way to the left side from defender Emily Fox and volleyed the ball into the net on a line, whistling past Sepulveda for a 2-0 edge. That decided the issue.
The Americans got a final goal in the 83rd as substitute forward Alyssa Thompson, 18, forwarded a pass from the top of the box to a charging Shaw, whose powerful, right-footed shot went through the hands of Sepulveda for a final score. The U.S. ended with 56% of possession and a 20-3 advantage on shots; the unrelentingly physical nature of the match was underlined by 48 total fouls and five yellow cards (four on Colombia).
The U.S. women are now 3-0-1 (8-0 on goals) since returning from the Women's World Cup and will face China in two friendlies in December to close out the year.
● Short Track ● Canada and Korea took three individual wins each at the ISU World Cup II in Montreal (CAN), and American Kristen Santos-Griswold scored two more medals.
Canada's Jordan Pierre-Giles won the men's 500 m final over 2016 World Champion Shaolin Liu, now of China, 40.349 to 40.420 and William Dandjinou took the men's 1,500 m over 2022 Olympic Champion Dae-heon Hwang (KOR), 2:21.780 to 2:21.809.
Hwang also claimed a silver in the 1,000 m, with European silver medalist Jens van't Wout (NED) winning in 2:21.780 to 2:21.809. The Koreans did get one men's win with Gun-woo Kim taking the 1,500 m title over 2023 World Champion – and teammate – Ji-won Park, in 2:20.294 to 2:20.406.
The Korean squad won two women's races, with Gil-li Kim taking the 1,500 m over Santos-Griswold, 2:34.588 to 2:34.829, with Corinne Stoddard of the U.S. sixth (3:32.912). Whi-min Seo was the 1,000 m winning by 1:31.288 to 1:31.471 over Canada's Danae Blais. Kim also won a silver in the 1,500 m (2:24.770), won by Belgian Hanne Desmet – the Olympic 1,000 m bronze winner – in 2:24.672, with Santos-Griswold third in 2:24.851.
The Canadian women's win was in the 500 m, with Rikki Doak beating Olympic relay gold medalist Selma Poutsma (NED), by 42.408 to 42.734.
The Korean women took charge in the final four laps and won the 3,000 m relay in 4:12.133, well ahead of the Dutch (4:20.607) and the U.S. (4:21.594).
Eunice Lee, Julie Letai, Santos-Griswold and Stoddard raced for the American team, which scored a silver last week and now a bronze, so Santos-Griswold has six medals in all in the first two weeks of the World Cup season. She took gold and bronze in the two 1,000 m races in the first World Cup in Montreal last week.
The World Cup series will take a break and resume on 8 December in Bejing (CHN).
● Speed Skating ● The amazing Jordan Stolz continued to dominate at the 2023 U.S. Long Track Championships in Milwaukee, taking four more races, while Olympic 500 m champ Erin Jackson showed she is still to be reckoned with.
Stolz, still just 19, won the World Championships golds in the 500 m, 1,000 m and 1,500 m last season, and won the national titles in the same events, plus a bronze in the 5,000 m.
He did even a little better this time.
Stolz repeated in the 500 m, in 34.66 to 34.84 for Cooper McLeod on Friday, then won the 1,500 m in 1:42.31 to 1:44.45 for Emery Lehman. On Saturday, he skipped the second 500 m race (won by McLeod in 35.27), then won a silver in the 5,000 m in a lifetime best of 6:20.76, behind Casey Dawson's 6:17.10.
On Sunday, he repeated in the 1,000 m, winning in 1:07.85, over McLeod (1:08.56) and then contested both of the 16-lap Mass Start races. He was second in the first race, with 40 points to 61 for Connor McDermott-Mostowy, then won the second race with 60 points to 40 for Ethan Cepuran.
So, six races, four wins and a 5,000 m silver in a lifetime best. Wow.
Jackson, now 31, won both of the 500 m races, taking Friday's race over Kimi Goetz – a five-time medalist on the World Cup circuit last season – by 38.00 to 38.01, with four-time Worlds gold medalist Brittany Bowe third in 38.31. The same three finished in that order in Saturday's 500 m, with Jackson at 37.38, Goetz at 37.64 and Bowe third in 38.33.
Bowe, 35, won the 1,500 m on Friday in 1:54.76, ahead of Goetz (1:55.68) and Mia Kilburg (1:57.18), but Kilburg came back to win the 3,000 m in 4:10.97, over Greta Myers (4:11.62).
On Sunday, Goetz upset Bowe in the 1,000 m, 1:13.85 to 1:15.51, with Jackson third in 1:16.08. Kilburg won the first Mass Start with 61 points and Piper Yde finished up with a win in the second Mass Start race, also with 61.
● Triathlon ● Another strong finish for comebacking Rio Olympic champ Gwen Jorgensen on the World Triathlon Cup circuit, finishing second in the Miyazaki, Japan event in 2:00:01 to Italy's Bianca Seregni (1:59:43).
Seregni had an 11-second lead out of the bike phase and transition to the run and posted a 34:00 post for the 10 km run, with Jorgensen coming up from fourth, running 34:13 for the second-best run time. Jorgensen continues to pile up points to get into contention for a spot on the Paris Mixed Relay team.
She's now 44th in the ITU Olympic Rankings list and the no. 7 among American athletes.
● Wrestling ● The United World Wresting World U-23 Championships concluded in Tirana (ALB), with another amazing tournament win for 19-year-old emerging American superstar Amit Elor.
Elor competed a second straight Worlds triple in 2023, winning the World Junior, World U-23 and World Championships gold in the same year! And she now has eight World titles as a teenager:
● 2 World Championships (2022: 72 kg, 2023: 72 kg)
● 2 World U-23 Championships (2022: 72 kg, 2023: 72 kg)
● 3 World U-20 Championships (2021: 68 kg, 2022: 72 kg, 2023: 72 kg)
● 1 World Cadet Championship (2021: 69 kg)
Elor won a bronze at the 2019 World Cadet Champs, so she owns a stellar World Championships record – at all levels – of 32-1. Wow!
In Tirana, Elor crushed her four foes, winning by pinfalls in 17 seconds, then 18 seconds, a 5-0 decision against 2022 World U-23 finalist Wiktoria Choluj of Poland and a 10-0 technical fall in the gold-medal match against India's Jyoti Berwal.
She'll be 20 on New Year's Day, but her path to Paris in 2024 is hardly straightforward. The 72 kg class is not included on the Olympic program, so she will have to drop to 68 kg and the U.S. has yet to land a spot in the women's 68 kg field. That effort will start in February. But for now, she's an eight-time World Champion.
¶
You can receive our exclusive TSX Report by e-mail by clicking here. You can also refer a friend by clicking here, and can donate here to keep this site going.
For our updated, 850-event International Sports Calendar (no. 4) for 2023 and beyond, by date and by sport, click here!