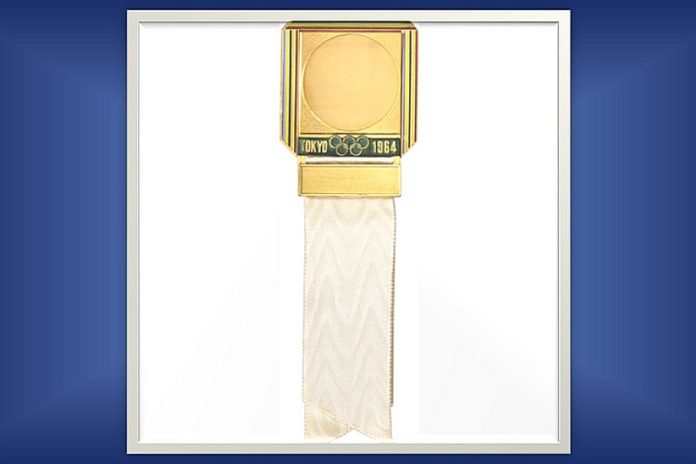 ★ The Sports Examiner: Chronicling the key competitive, economic and political forces shaping elite sport and the Olympic Movement.★
★ To get The Sports Examiner by e-mail: sign up here! ★
≡ THE 5-RING CIRCUS ≡
1. Russia: no money for Paris 2024 participation, maybe for medals
2. Biles seals sixth Worlds appearance with camp A-A win
3. Japan: four golds, U.S.: four medals at women's wrestling Worlds
4. Paris 2024 opening ceremony to have 8-10,000 staff!
5. New memorabilia auction includes $90,000 Tokyo '64 badge!
● Russia's deputy sports minister said there would be no government payments to athletes who decide to compete as neutrals in Paris in 2024, even with 882.2 million rubles set aside for team support.
● Simone Biles came from behind on the final rotation to win the All-Around at the USA Gymnastics training camp in Katy, Texas on Tuesday. The federation named its World Championships and Pan American Games teams on Wednesday.
● At the World Wrestling Championships, Japan won all four women's classes contested on Wednesday, but the U.S. won four medals as well (0-3-1) and continued to lead the overall medal count.
● More details on the Paris 2024 opening were released on Wednesday, with 2,000 dancers and 6-8,000 more support personnel needed for the show, which will be covered by 130 cameras. A decision has not yet been finalized on the number of spectators who will be allowed to watch.
● A new auction of Olympic memorabilia is now live, with 48 Olympic medals and 33 Olympic torches, but led by a badge from the 1964 Tokyo Olympic Games, to be worn by the Japanese Imperial Family. The starting bid is set at $90,000!
● Panorama: Athletics (3: Diamond League calendars for 2024-25 posted; DDR double Olympic jav champ Fuchs passes; not so many Mexico City Marathon disqualifications) = Football (3: Julie Ertz farewell on Thursday vs. South Africa; Spanish women's team ends boycott with RFEF agreement; UEFA sanctions Albania, Poland, Romania and Ukraine for fan violence) = Shooting (ISSF ExBoard sends Russian-Belarusian re-entry decision to Council) = Swimming (2: Boston College suspends swim-dive programs for hazing; USA Swimming and Swimming World in commercial tie-up) = Triathlon (World Tri inducts four to Hall of Fame) ●
● Errata: A note in yesterday's post on Noah Lyles' interview on Paper Route stated that direct-to-athlete payments were not allowed until the late 1970s; it was actually the mid-1980s when trust funds were approved by the IAAF (now World Athletics). Also, reader Olivier Bourgoin notes that Rob Stull, who is part of a modern pentathlon working group to absorb the obstacle-racing federation, was not only an Olympian in the pentathlon (1988 and 1992) for the U.S., but also as a fencer in Seoul '88 as well! ●
1.
Russia: no money for Paris 2024 participation, maybe for medals
The sour notes coming from Moscow on the possible participation of Russian athletes at the 2024 Olympic Games in Paris continued Wednesday, with First Deputy Sports Minister Azat Kadyrov telling the State Duma Committee on Physical Culture and Sports that any "neutral" athletes who make it to Paris will receive no payment from the government:
"They are going as nobody from nobody, athletes have to give up everything. If someone gets a license to go, we have to take them off the Sports Training Center roster, all these expenses are taken up by the International Olympic Committee.
"If someone wins a medal of any dignity, the relevant issue will be raised."
Kadyrov said that an allocation of 882.2 million Russian rubles (~$9.14 million U.S.) has been made, but made clear that if an athlete agrees to compete as a neutral – which is expected to include a declaration of non-support of the war against Ukraine – the sports ministry cannot be expected to help them:
"The Ministry of Sport of the Russian Federation provides the necessary conditions to protect the interests of Russian athletes in the international arena and the social payments and guarantees stipulated by law. (emphasis added)
"At the moment, the IOC criteria on the issue of Russian athletes' participation in the Olympic Games have not been officially defined, therefore, it is impossible to form specific regulations.
"The interests of athletes are a priority for the Russian Ministry of Sport when providing training and competition activities, as well as when making a decision on participation in the Olympic Games. At the same time, we consider it unacceptable to set discriminatory conditions for our athletes that have nothing to do with the sporting principle."
Kadyrov's statements continue the Russian line that the country's invasion of Ukraine should have no impact on its athletes, whether as individuals or teams. There has been considerable discussion within Russia about whether individual athletes should compete in Paris if the IOC eventually decides to allow them to go. Wednesday's announcement opens the question about whether those Russian athletes who do go will be welcomed back into the country's training system.
The Russian sports ministry has asked the government for medal bonuses at the recent CIS Games held in Belarus last August, with 179,200 rubles for a gold (~$1,857 U.S.), 76,800 for silver (~$796 U.S.) and 38,400 for bronze (~$398 U.S.). Considering that Russian athletes won 149 golds, 89 silvers and 50 bronzes at the event, the total ask is for 36.006 million rubles or $373,023 U.S.
2.
Biles seals sixth Worlds appearance with camp A-A win
Gymnastics icon Simone Biles won the All-Around competition at the USA Gymnastics selection camp in Katy, Texas Tuesday night to earn an automatic selection to the American team for the FIG World Artistic Championships in Belgium later this month.
The All-Around came down to the final rotation, after Biles had another adventure on the Uneven Bars – her least favorite apparatus – scoring 12.800 for 13th place among the 18 contestants. But she won on Floor (14.300) and was third in Beam (14.050), and then scored 14.550 for third in Vault to give her a winning total of 55.700.
That was just 0.400 better than 2022 Worlds All-Around runner-up Shi Jones, who scored a second on Beam (14.150) and was fifth on Floor (13.500) and scored 13.500 on the Uneven Bars. Skye Blakely, a member of the 2022 Worlds Team gold medalists, won on Beam (14.350) and tied for second on the Uneven Bars (14.200) to score 55.000 for third, emerging star Joscelyn Roberson was fourth at 54.900, with runner-up finishes on Vault (14.600) and Floor (13.850); and 2021 World All-Around silver and Floor bronze medalist Leanne Wong was fifth (54.850).
Jade Carey, the 2022 World Champion on Vault, won that event at 14.650, and Zoe Miller was tops on the Uneven Bars (14.500).
Beyond Biles, the rest of the 2023 Worlds team was selected Wednesday night, as well as the Pan American Games team for October. Blakely, Jones, Roberson and Wong will be at Worlds, with 2021 Worlds A-A bronze medalist Kayla DiCello as the traveling reserve athlete.
Heading to Santiago (CHI) for the PanAms will be DiCello, Miller, 2022 Worlds Team gold medalist Jordan Chiles, Kaliya Lincoln and Tiana Sumanasekera.
At the Wednesday session, competitions were held on the Uneven Bars and Beam, with Jones winning on Bars (14.750) ahead of Miller (14.400) with Biles a much-improved fourth (14.050). On Beam, Biles won at 14.900, with Blakely second (14.500) and Jones (14.350) third.
3.
Japan: four golds, U.S.: four medals at women's wrestling Worlds
The U.S. medal machine kept purring at the World Wrestling Championships in Belgrade (SRB), but Wednesday belonged to Japan as the top team in women's wrestling won four golds in all four classes with finals. In each case, the U.S. also won medals: a silver and three bronzes.
Yui Sasaki won her fourth Worlds gold in the women's 50 kg division, racing past Dolgorjavyn Otgonjargal (MGL) in the final with a 10-0 technical fall. Sasaski won her matched by 12-1, pinfall, 8-2 in her semi and 10-0. Otgonjargal, who lost to Sasaki in the 2022 gold-medal match, won her third career Worlds medal.
American Sarah Hildebrandt, the silver medalist in 2018 and 2021, won her second career Worlds bronze with a 5-0 victory in her bronze-medal match with Evin Demirhan (TUR).
Tsugumi Sakurai won her third straight Worlds gold in the 55-57 kg class, edging Anastasia Nichita (MDA) – the 2022 Worlds winner at 59 kg – by 3-2 in the final. American Helen Maroulis, a three-time World Champion, won her seventh career Worlds medal with a bronze by defeating Poland's Anhelina Lysak, 10-6. Now 32, Maroulis has won seven Worlds medals and two Olympic medals in her international career from 2012-23!
At 65 kg, Nonoka Ozaki won her second straight Worlds gold, moving up from 62 kg in 2022. She defeated American Macey Kilty – in her first Worlds – by a 10-0 technical fall in the final. Kilty, 22, had won her prior matches by 10-0, pinfall, 11-2 and 10-0 before facing Ozaki.
At 76 kg, Yuka Kagami won her first Worlds gold with an 8-0 win over Aiperi Medet Kyzy (TUR) in the final, as Medet Kyzy retired before the end of the match. American Adeline Gray, the six-time World Champion, returned to the Worlds after maternity last year – she had twins – and won the bronze with a 10-6 victory over Miliamys Marin of Cuba. Gray lost to Kagami in the quarterfinals, but now has nine career Worlds medals (6-0-3), plus an Olympic silver from Tokyo.
The women's wrestling continues on Thursday, with defending champion Amit Elor of the U.S. already in the finals against 72 kg and first-time Worlds entrant Emma Bruntil contesting a bronze-medal match at 68 kg. The U.S. leads the overall medal count with 13 (3-3-7) with Japan at seven (5-1-1).
4.
Paris 2024 opening ceremony to have 8-10,000 staff!
During a Tuesday interview, Paris 2024's Executive Director of Brand, Events and Ceremonies, Thierry Reboul, explained that the precise schedule for the 26 July 2024 Olympic opening on the Seine River would be completed by the end of the year.
He explained that from the 200 people currently working on the project, there would be 6-8,000 people actually involved in staging the event, plus another 2,000 dancers as part of the entertainment program.
Rehearsals will mostly be held out of view for the show, but certain aspects have to be worked on on the river and will serve as "teasers" for the show. Some 130 cameras are expected to cover the event along the 6 km route, with the first test shots completed on Sunday,
Serge Boulanger, the Paris Police prefect in charge of the Olympic project, said that the actual number of free spectators is still being worked out, with an announcement due in the coming weeks. It has been reported that tickets for 100,000 spectators on the lower quays will be sold, but the number of free-to-view places is still being worked out with the Paris transit authorities. All spectators, including those in free-to-view places, will be required to have a ticket, with the Ministry of the Interior to set up a distribution plan.
5.
New memorabilia auction includes $90,000 Tokyo '64 badge!
Olympic memorabilia fans can bid on a new, 537-lot auction from Ingrid O'Neil which began on Wednesday and will run through 7 October. There are some big-ticket items in this auction, based on the minimum bids:
● $90,000: Tokyo 1964 Imperial Family badge
● $65,000: Albertville 1992 Winter Olympic torch
● $35,000: Berlin 1936 IOC Chain of Office
● $30,000: Melbourne 1956 Olympic torch
● $24,000: St. Moritz 1928 Winter gold medal
● $22,000: Chamonix 1924 Winter silver medal
● $20,000: Oslo 1952 Winter silver medal
● $20,000: Tokyo 2020 bronze medal for wrestling
● $19,000: Rio 2016 gold medal
● $18,000: Albertville 1992 Winter silver medal, with case
● $18,000: Sochi 2014 Winter bronze medal, with case
● $17,000: St. Moritz 1948 Winter gold medal
● $17,000: Innsbruck 1976 Winter gold medal for ski jumping
● $17,000: Calgary 1988 Winter silver medal for alpine skiing
● $16,000: Stockholm 1956 Equestrian bronze medal
● $16,000: Sarajevo 1984 Winter gold medal for cross-country skiing
● $16,000: Lillehammer 1994 Winter silver medal for figure skating
● $15,000: Lake Placid 1932 Winter bronze medal
● $14,000: Chamonix 1924 Winter bronze medal, with case
● $12,000: St. Louis 1904 participation medal
● $12,000: Chamonix 1924 Winter bronze medal
● $12,000: Berlin 1936 Sevres porcelain vase
● $12,000: Innsbruck 1964 Winter silver medal for ice hockey
● $12,000: Tokyo 1964 Olympic torch
The 1928 St. Moritz gold was won by Norwegian cross-country skier Johan Grottumsbraaten, one of two he won there. The 1948 St. Moritz gold was won by Canadian ice hockey team member Patrick Guzzo. A total of 48 Olympic medals are available, from the Athens 1906 ten-year anniversary Games to Tokyo 2020.
There are 33 Olympic torches and some smaller replicas and a couple of Paralympic torches on offer, plus flame-safety lamps used to carry the Olympic Flame during the torch relay from Los Angeles 1984, Vancouver 2010 and Sochi 2014.
The astonishing $90,000 starting price for the Tokyo 1964 "Badge of the Imperial Family" – Lot 33 – is described as:
"Gold colored, 50x67mm. The Rising Sun of the national flag is surrounded on three sides by the five Olympic colors, Olympic rings dividing 'TOKYO-1964.' A blank gold bar represents the Imperial Family's badge. With long white moiree ribbon. Elbel S-2. Housed in its case. Badge EF. ($90,000)"
There are eight other badges from the Tokyo 1964 Games, with starting prices from $180 to $2,600.
Among the really unique pieces on offer is the Congressional medal given to American athletes in 1980; the description:
"Gold-plated bronze, 76mm. Logo of the American Olympic Committee surrounded by 'United States Olympic Team 1980.' Rev. 'In Recognition of Outstanding Athletic Achievement and Determination in the Pursuit of Excellence' in seven lines, flanked by laurel branches, united by ribbon inscribed 'By Act of Congress.' Awarded to U.S. Moscow 1980 team members by President Carter after his decision to boycott the Moscow Olympic Games in protest of the Soviet invasion of Afghanistan. Congressional medals are made in gold while this medal is gold-plated bronze – another fact that made team members unhappy. With red-white-blue ribbon. EF. ($1,200)"
Also:
● A mounted set of 80 badges and pins issued by the British Olympic Committee, from the 1908 London Games to Beijing 2008. Starting bid of $6,000.
● A logo pin of the never-held 1940 Olympic Games in Helsinki, Finland. Starting bid of $100.
● A used discus signed by Al Oerter, the 1956-60-64-68 Olympic champion; starting bid of $600.
● A bugle used at the opening of the Moscow 1980 Games; starting bid of $300.
● An Atlanta 1996 police badge, starting bid of $70.
Pretty wild; the auction continues through 7 October.
≡ PANORAMA ≡
● Athletics ● The Wanda Diamond League schedules for 2024 and 2025 were posted, with the series opening earlier than ever, with the meets in China in April in Xiamen and Shanghai.
For 2024, these meets will be on 20 and 27 April, the on to Doha (QAT) in May (10th), to Rabat (MAR) on the 19th and the Prefontaine Classic in Eugene on the 25th before heading to Europe for the final nine meets of the series. The final in 2024 will be the Memorial Van Damme meet in Brussels (BEL) on 13-14 September.
¶
The 23 August Mexico City Marathon did not have the 11,000 disqualifications that had been reported. Road Race Management asked race communications coordinator Carlos Ochoa Aranda about the situation and he reported that 21,504 started the race and 19,697 "qualified as finalists of the full route."
So, not more than 1,807 would have been disqualified for course-cutting. Ochoa Aranda added:
"We regret that some media outlets have disseminated information without verifying it and without having sources of information, which negatively affects the runners who made a valuable effort. Therefore, the erroneous information spread in the media regarding participants in the Telcel 2023 Mexico City Marathon is flatly denied."
¶
German sources reported that two-time Olympic women's javelin champ Ruth Fuchs, 76, passed away on Wednesday in Jena (GER).
Competing for East Germany, Fuchs won the javelin gold in Munich in 1972 and Montreal in 1976 and set six world records between 1972 and 1980 with the old-style javelin (replaced in 1999). She finished with a best of 69.96 m (229-6), and later admitted that she was a steroid user, as part of the East German state-sponsored doping program.
After reunification, she became a member of Parliament for the Party of Democratic Socialism (now the Left Party).
● Football ● The U.S. women's national team will be back in action on Thursday in Cincinnati against South Africa (7:30 p.m. Eastern on TNT and Universo), and will be the final match for star defender and midfielder Julie Ertz.
Now 31, Ertz will play in her 123rd game for the national team, making her first appearance in 2013, and a key member of the Women's World Cup championship teams in 2015 and 2019, and the Tokyo 2020 Olympic bronze medalists.
She left the national squad for 18th months to heal injuries and then for maternity, but came back in some and in fitness to make the 2023 Women's World Cup team. It's worth noting that with Ertz and others, the American defense gave up just one goal across four games, being eliminated only on penalty kicks in the quarterfinals.
On Sunday, the U.S. will play South Africa – which also reached the round-of-16 at the Women's World Cup this summer – again in Chicago, which will be the final U.S. national team match for star midfielder and striker Megan Rapinoe (5:30 p.m. Eastern, on TNT and Universo).
¶
The Spanish women's national team – the FIFA Women's World Cup champions – and other unhappy players reached an agreement with the Royal Spanish Football Federation (RFEF), and ended their boycott of the national team. Per Reuters:
"The decision was reached around 5 a.m. (0300 GMT) after more than seven hours of meetings at a hotel in Oliva, an hour from Valencia, involving the players, RFEF officials, the National Sports Council (CSD) and the women's players' union FUTPRO."
A joint working group will be formed to implement changes in the federation, with several officials to be dismissed. The Spanish team is scheduled to play at Sweden on Friday in a UEFA Nations League match and against Switzerland in Cordoba on Sunday.
¶
UEFA announced a series of sanctions, including on Romania for the actions of its fans:
"● To fine the Romanian Football Federation €40,000 and to order the Romanian Football Federation to play its next (1) UEFA competition match as host association behind closed doors for lighting of fireworks, throwing of objects, transmitting messages of a political nature (i.e. for the "Kosovo is Serbia" banner and chants) and for the racist behaviour of its supporters.
"● To fine the Romanian Football Federation €12,000 for blocking of public passageways."
Sanctions were announced against Ukraine for the actions of its fans, and also against Albania and Poland, all for the "throwing of objects and lighting of fireworks."
● Shooting ● The International Shooting Sport Federation (ISSF) announced Wednesday:
"[T]he ISSF Executive Committee unanimously decided to submit eligibility regulations drafted by the appointed ISSF Ad hoc Committee regarding the participation of athletes with a Russian or Belarusian passport in ISSF Competitions to the ISSF Council as the competent body for discussion and approval in its next meeting."
The proposed regulations were not included. No next-meeting date for the 30-member Council is shown on the ISSF calendar.
● Swimming ● In a statement posted Wednesday:
"The Boston College Men's and Women's Swimming and Diving program has been placed on indefinite suspension, after University administrators determined that hazing had occurred within the program. Consistent with University policy, the matter will be investigated by the Office of the Dean of Students and adjudicated fairly and impartially through the student conduct process.
"The University does not—and will not—tolerate hazing in any form. During the suspension, all Swimming and Diving student-athletes will continue to have access to academic and medical resources provided to all Boston College student-athletes."
SwimSwam.com reported that Boston College does not offer scholarships in this sport, but that the program was on an upward trajectory after breaking three school records last season. It had been scheduled to start the 2023-24 season on 7 October.
¶
USA Swimming announced a commercial partnership with Swimming World Magazine as the "Official Supplier of Magazine Publishing Services":
"With dedicated 20-page Splash Magazine inserts in each publication, Swimming World will help amplify coverage of USA Swimming athletes, teams, and events. Swimming World will also get access to exclusive stories and news around USA Swimming national events and athletes."
USA Swimming members will also be able to access a 50% subscription discount for Swimming World, whose origins go back to 1960.
● Triathlon ● World Triathlon inducted four members into its Hall of Fame, at a gala in Pontevedra (ESP), site of this weekend's World Triathlon Championship Series finale.
The newest members, in the sixth Hall of Fame class included American Siri Lindley, the 2001 women's World Champion, and Spain's Ivan Rana, the 2002 men's World Champion.
The Michel Grigoux Award for contributors went to Japanese official and Japanese Triathlon Board member Kiriyo Suzuki, and the Lifetime Achievement Award was presented to Loreen Barnett (CAN), a founding member of Triathlon Canada and a former World Triathlon Secretary General.
¶
You can receive our exclusive TSX Report by e-mail by clicking here. You can also refer a friend by clicking here, and can donate here to keep this site going.
For our updated, 787-event International Sports Calendar (no. 3) for 2023 and beyond, by date and by sport, click here!