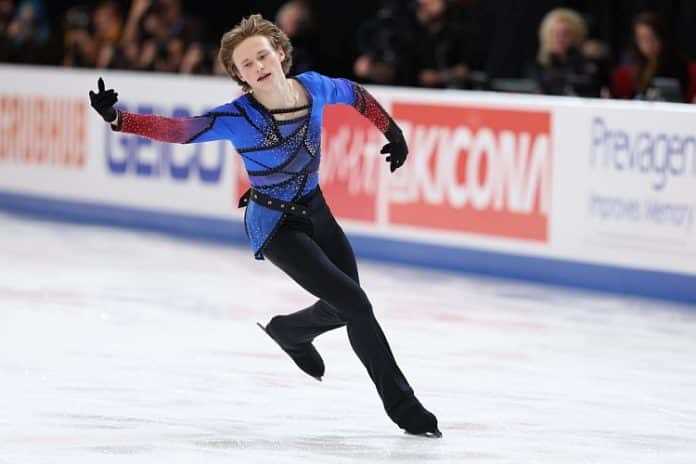 ★ The Sports Examiner: Surveying, monitoring and explaining the key competitive, economic and political forces shaping elite sport and the Olympic Movement. ★
★ Want TheSportsExaminer.com insights for your team? Yes! Click here for info on speaking, research and consulting from editor Rich Perelman. ★
★ To get The Sports Examiner by e-mail: sign up here! ★
≡ THE 5-RING CIRCUS ≡
1. RUSADA announces no announcement coming in Valieva case
2. Iranian climber Rekabi reportedly under house arrest
3. Pent United on offense against UIPM and new fifth discipline
4. U.S. women draw Dutch, Vietnam for FIFA World Cup 2023
5. Our exclusive, 951-event international sports calendar now posted!
The Russian Anti-Doping Agency, citing figure skater Kamila Valieva's minor status, announced it would not release its decision on her doping case that inflamed the Beijing 2022 Olympic Winter Games. The outcome will, of course, be known from other sources such as the World Anti-Doping Agency, but the Russians will say nothing. In the meantime, Valieva won the Russian Grand Prix stage held in Moscow over the weekend. The BBC reported that Iran sport climber Elnaz Rekabi was placed under house arrest after her return to Tehran from the Asian Championships after she did not wear her headscarf during the final. This despite the Iranian National Olympic Committee giving assurances that no action would be taken against her. The Pent United athletes group is on offense ahead of the November Congress of the Union Internationale de Pentathlon Moderne (UIPM), with multiple national federations filing motions to advance its agenda, including retaining riding as part of the sport. Tokyo Olympic gold medalist Joe Choong (GBR) said in an Instagram post that the IOC did not ask the federation to replace riding, but to make the sport cost raise its profile and lower its costs. The draw for the FIFA Women's World Cup in 2023 was completed over the weekend, with the U.S. women – ranked no. 1 – to face the Netherlands, Vietnam and the winner of a playoff in Group E.
Our exclusive, 951-event International Sports Calendar – through October 2023 – is now available, and free!
1.
RUSADA announces no announcement coming in Valieva case
The Russian Anti-Doping Agency said on Friday that as figure skater Kamila Valieva is still a minor, it will provide no information on the hearing concerning doping positive revealed during the Beijing 2022 Olympic Winter Games:
"In order to protect the interests of the figure skater, a member of the ROC team, who is a protected person [minor], RUSADA declares that in accordance with paragraph 4.1 of the International Standard for Results Management, all processes and procedures related to Results Management, including the charge and the final decision, are confidential."
"Strictly following the principles of international and Russian anti-doping standards, as well as taking into account the facts and circumstances of the case, RUSADA does not intend to announce the date of the hearings, the decision or other details in the case of the figure skater – a member of the [Russian Olympic Committee] team."
Although unnamed, this is clearly the Valieva case, with the Russian news agency TASS adding:
"RUSADA's Disciplinary Committee is set to notify Valieva of the verdict in her case on the day of its announcement and all following statements in this regard should be made by the athlete herself or her official representatives."
RUSADA Director General Veronika Loginova indicated previously the hearing would be held in October, but gave no date. The reaction to the announcement that there would be no announcement was quick:
● ARD Germany's Hajo Seppelt, who has chased doping stories for decades, tweeted:
"They lie and lie and lie and lie … always the same by RUS: RUSADA says Valieva doping verdict will be kept confidential – with absurd reasoning Won't work. Anyway… A desperate (but obviously stupid) move to try to keep Olympic gold in team event."
● The World Anti-Doping Agency told TASS:
"WADA will carefully consider RUSADA's decision in this case and reserves the right to appeal it to the Court of Arbitration for Sport, if appropriate."
● Valieva, now 16, and competing in the Russian Grand Prix, told reporters:
"I won't say anything about it."
● U.S. Anti-Doping Agency chief Travis Tygart told USA Today that WADA, the International Olympic Committee and the International Skating Union must make the decision and all available details public as soon as possible:
"Short of this, it's impossible for athletes or the public to believe what happened at the 2022 Beijing Games was real and not just another fraudulent win by the Russians like so many before, as the evidence has clearly shown. …
"Certainly, keeping the decision and facts secret makes a mockery of the whole process and there is no wonder athletes and the public do not trust the global WADA anti-doping system."
Still in limbo – now for eight months – amid the controversy are the American (2nd place), Japanese (3rd) and Canadian (4th) squads from the Beijing 2022 Winter Games Team Event, won by Russia, but for which no medal ceremony has been held, pending the outcome of the inquiry into Valieva's doping positive. Her 25 December 2021 sample came back positive, but was forwarded only after the Team Event was concluded in Beijing; she was initially suspended by RUSADA, but reinstated by its Disciplinary Committee and allowed to compete in the women's competition by the Court of Arbitration for Sport (she finished fourth).
On Sunday, Valieva won the women's division of the Russian Grand Prix in Moscow, scoring 244.86 points, ahead of Sofia Akatieva (238.68). Valieva won the Short Program and was second to Akatieva in the Free Skate. Valieva told TASS (DeepL.com translation from Russian):
"Emotionally I was fine. I have read a lot of snide remarks about me and my coaches; let's leave it at that. But it was hard, it was normal, it was like I was going through it for the first time. And when you get it rolling, it gets calmer. I'm happy to share it, I'm ready to roll this program, if I wasn't ready, I would have said so.
"The fans' opinion doesn't affect me. I only care about the opinion of my coaches and people in authority, I'm not a flower to please everyone."
She plans to compete next in the third leg of the Russian Grand Prix from 4-6 November, in Kazan.
2.
Iranian climber Rekabi reportedly under house arrest
While a International Federation of Sport Climbing statement issued on Wednesday (19th) noted assurances from the Iranian National Olympic Committee "that [climber Elnaz] Rekabi will not suffer any consequences," the BBC's Persian service reported that she has been placed under house arrest on her return to Tehran.
Rekabi did not wear a headscarf (hijab) during the Asian Championships in Seoul, where she placed fourth in the combined Boulder and Lead event, which has special significance after the 16 September death of Mahsa Amini while in police custody after being arrested for "allegedly wearing her headscarf too loosely."
Her Instagram page showed a post in which she said that her headscarf fell off by accident, but it is not clear that Rekabi made the post, or that it was done for her. The BBC reported that while she received a hero's welcome at the Tehran airport upon her return, she was forced into a confession. Instead of going home, "she was held at the national Olympics academy under the watch of plainclothes officers until she met [sports minister Hamid Sajjadi]."
The IFSC World Cup schedule has been completed for 2022 and Iran has no entrants for the final Asia Continental Cup event in Manila (PHI) on 5-6 November, so Rekabi will not be seen in any international competition until next April.
3.
Pent United on offense against UIPM and new fifth discipline
The next chapter in the ongoing tug-of-war for the future of modern pentathlon will be written at the 2022 Union Internationale de Pentathlon Moderne (UIPM) Congress in Guatemala (and online) on 12-13 November, with the Pent United athlete group trying to keep riding as one of the five disciplines, and all sides trying to figure out how to restore the sport to the program for the 2028 Olympic Games in Los Angeles.
Since the Tokyo Games and the horse-punching incident revolving around German pentathlete Annika Schleu and an unwilling horse, Saint Boy, the UIPM leadership has moved ahead with a place to replace riding with obstacle course running. But the Pent United group isn't budging, and is now moving on offense ahead of the Congress. In a tweet last week, the group wrote:
"It is now less than 4 weeks until the UIPM Congress when we hope that our National Federations will represent us and do the rights things to save our sport. … We have motions before Congress that can fix our sport. … These motions have come from a range of different National Federations, including Great Britain, the Czech Republic, Australia, Sweden and Denmark."
On governance, the tweet cites seven motions, including a no-confidence vote in UIPM President Klaus Schormann (GER; first elected in 1993), a 12-year limit for all elected persons, a financial reporting review, suspension of Russian and Belarusian national federations and officials, and disclosure of commercial agreements with any third parties, especially regarding the obstacle course test events and any relationship with the Tokyo Broadcasting System and its Ninja Warrior series.
On trying to get the sport back onto the program for the Los Angeles 2028 Games, the motions including reincorporating a revamped riding program, a strategic alliance with the Federation Equestre Internationale (FEI) and an opportunity for the Pent United group to address the Congress.
A motion from eight federations, led by Georgia, asks to keep Modern Pentathlon with riding as a non-Olympic event!
On the central question of whether the change away from riding to something else was requested by the International Olympic Committee, Finnish coach Jouko Pakarinen tweeted last week that IOC Sports Director Kit McConnell (NZL) told Tokyo Olympic champ Joe Choong (GBR, shared in an Instagram post) "that the IOC never asked the UIPM to remove riding:
"'Kit McConnell confirmed that the IOC did not explicitly or officially request the removal of horse riding, however the IOC confirmed to the UIPM the need to improve accessibility, attractiveness and reduce the cost and complexity of the sport. The IOC therefore supports the UIPM in looking to innovate while reducing cost and complexity of the sport.'"
That's not a riding problem, that's a cost and marketing problem, for which trading obstacle course for riding is at best a tactic and not a strategy. The tug-of-war continues.
4.
U.S. women draw Dutch, Vietnam for FIFA World Cup 2023
The draw for the 2023 FIFA Women's World Cup, to be held in Australia and New Zealand, was concluded on Saturday in Auckland, New Zealand, with the no. 1-ranked American women in Group E with the Netherlands, Vietnam and a team to be determined. The groups and current world rankings:
● Group A: New Zealand (22), Norway (12), Philippines (53), Switzerland (21)
● Group B: Australia (13), Canada (7), Ireland (24), Nigeria (45)
● Group C: Spain (6), Costa Rica (37), Japan (11), Zambia (81)
● Group D: England (4), China (15), Denmark (18), play-off winner among Senegal (84), Haiti (56) and Chile (38)
● Group E: United States (1), Netherlands (8), Vietnam (34), play-off winner among Portugal (23), Cameroon (58) and Thailand (41).
● Group F: France (5), Brazil (9), Jamaica (43), play-off winner among Chinese Taipei (40), Paraguay (51), Papua New Guinea (50) and Panama (57)
● Group G: Sweden (2), Argentina (29), Italy (14), South Africa (54)
● Group H: Germany (3), Colombia (27), Morocco (76), South Korea (17)
The U.S. and the Netherlands played in the 2019 World Cup Final and the Americans enter as the two-time defending World Cup champions. If the U.S. should win Group E, it would face the Group G runner-up (Italy?) in the Round of 16 and then either Group A winner (Norway?) or Group C runner-up (Japan?) in the quarterfinals. The U.S. could see Spain or Sweden in the semifinals.
The tournament, which opens on 20 July 2023, has been expanded from 24 teams to 32 for the first time ever and figures to be the most competitive yet. The American women have won a medal in all eight prior World Cups, winning in 1991-99-2015-19, runner-up in 2011 and third in 1995-2003-07.
5.
Our exclusive, 951-event international sports calendar
now posted!
The Covid-19 pandemic and the Russian invasion of Ukraine continue to cause chaos, including within the international sports calendar. But sport goes on, and as your guide, here's our exclusive 951-event listing for the remainder of 2022 and into 2023 (as 20 October 2022), with a few of the larger events beyond to 2028.
Our updated International Sports Calendar focuses on sports and events on the Olympic and Winter Games program for 2024 and 2026, plus a few other meetings and multi-sports events..
Two calendars are included in the single PDF download: an 20-page listing in chronological order and a 21-page listing by sport (and in date order within each sport).
It's free! Get your download right now here!
≡ WORLD CHAMPIONSHIPS ≡
● Break Dancing ● Japan dominated the women's competition at the World Breaking Championships in Seoul (KOR) with 2019 World Champion Yuasa Ami ("Ami") winning a second title, this time over China's Qing-Yi Liu ("B-Girl 671″). Defending champion Ayumi Fukushima ("Ayumi" – JPN) took the bronze.
Canada's Philip Kim ("Phil Wizard") defeated Japan's Shigeyuki Nakarai ("Shigekix") in the men's championship final, 8-1, 3-6, 9-0 to win the gold. Defending champ Victor Montalvo ("Victor" – USA) won the bronze.
● Football ● The U.S. women's U-17 team was eliminated by Nigeria in the quarterfinals of the FIFA Women's U-17 World Cup being held in India.
The American women had given up only one goal (vs. 13 scored) in group play, but Nigeria's Omamuzo Edafe scored on a penalty kick in the 27th minute to go up, 1-0. The U.S. tied it in the 40th minute on a Amalia Villareal goal, but that was the end of the scoring in regulation. Nigeria won on penalty kicks, 4-3, and moves onto to the semis to face Colombia, a 3-0 winner over Tanzania.
Germany defeated Brazil, 2-0 in the lower half of the bracket and will play Spain in the semis, a 2-1 winner over Japan. The semis will be on 26 October and the medal matches on the 30th.
● Shooting ● The ISSF World Championships in Cairo (EGY) are headed into their final week, with the Chinese continuing a strong performance.
Veteran Ukrainian star Serhiy Kulish, the 2021 World Cup Final winner, took the men's 50 m Rifle/3 Positions title with an impressive, 16-6, final performance over 2018 World Champion Tomasz Bartnik (POL). In the women's 50 m Rifle/3 Positions, 22-year-old newcomer Wanru Miao (CHN) won the gold, defeating Norway's Tokyo Olympian Jenny Stene, 17-13, in the final.
Norway captured the men's Team gold in the 50 m Rifle/3 Positions final, 16-12, over France. Germany took the women's 50 m Rifle/3 Positions Team event, scoring a 16-4 win over Switzerland.
Korea was brilliant in the Pistol events, with 2018 World Junior silver medalist Gun-hyeok Lee winning the men's 25 m Rapid-Fire Pistol final, 31-30, over France's Clement Bessaguet, the seventh placer from Tokyo 2020.
Korea's Jang-mi Kim, the 2012 London Olympic winner, defeated China's Yan Chen and German's 2018 Worlds bronze medalist, Doreen Vennekamp, 32-31-22, in the women's 25 m Pistol final. Chen came back to get a gold in the women's 25 m Pistol Team event, with China whitewashing India, 16-0, in the final.
In the non-Olympic 25 m Rapid-Fire Pistol Mixed Team event, Ukraine defeated India, 16-14.
The shooting continues through the 27th.
≡ PANORAMA ≡
● Paris 2024 ● During a short presentation during the Association of National Olympic Committees General Assembly in Seoul (KOR), the Paris 2024 organizers gave an update heavy on logistical issues and timelines.
Of general note, however, was that the organizing committees has now signed 25 commercial partners, and nine official supporters and has passed the 1,000 mark in total staff, with a little less than two years to go.
The next major announcement will be the Games mascots, in about two weeks.
● Russia ● The International Ski & Snowboard Federation (FIS) Council met in Soelden (AUT) on Saturday (22nd), with a clear decision on Russia and Belarus throughout the 2022-23 season:
"The FIS Council decided, with due regard to the integrity of FIS competitions and for the safety of all participants, and in line with IOC recommendations, to continue its policy to not allow Russian and Belarusian teams and athletes, to participate in all FIS competitions."
● Alpine Skiing ● Saturday's FIS World Cup season opener – the women's Giant Slalom – on the Rettenbach Glacier in Soelden (AUT) … was canceled, due to rain and wet snow, resulting in a surface that was too soft for racing.
The surface hardened enough for Sunday's men's race, with Switzerland's two-time Soelden champ and reigning World Cup champ, Marco Odermatt winning his third straight in 2:04.72, 0.76 ahead of Zan Kranjec (SLO) and 0.97 over Henrik Kristoffersen (NOR). It's Odermatt's 12th career World Cup win, with eight in Giant Slaloms. American Tommy Ford was seventh (2:05.88).
¶
One of the most anticipated races of the new season, the across-two-countries men's World Cup Downhill to start in Zermatt (SUI) and finish in Cervinia (ITA) was canceled due to a lack of snow and the resulting safety concerns.
Although the men's 29-30 October races of what is called the "Matterhorn Cervino Speed Opening" were canceled, there is hope that the following week's women's event can be held. That decision is expected on Tuesday.
● Badminton ● China dominated the BWF World Tour Denmark Open, winning four of five finals, two of which were all-Chinese affairs. Yuqi Shi won the men's title, and Bing Jiao He took the women's crown. In the Doubles finals, China posted wins by Qing Chen Chen and Yifan Jia in the women's division and Siwei Zhang and Yaqiong Huang in Mixed Doubles.
Indonesia's Fajar Alfian and Muhammad Rian Ardianto scored a win over countrymen Marcus Fernaldi Gideon and Kevin Sanjaya Sukamuljo in the men's Doubles final.
● Curling ● No surprise that Team Edin – named for Swedish star Niklas Edin, skip of the Beijing 2022 Olympic Champions – won the Grand Slam of Curling men's Tour Challenge, the second of six events this season. Team Edin out-scored Matt Dunstone (CAN) and his squad by 7-3 in the final in the strength of three points in the sixth end and three in the eighth. The surprise was that Edin was not with the squad and it was Oskar Ericsson who piloted the team to victory.
In the women's final, the all-Canadian final had 2022 Worlds bronze medalist Kerri Einarson's rink trying for a second straight win this season, against 2017 World Champion Rachel Homan. It was a 5-4 match through five ends, but Homan scored twice in the sixth end and once in the seventh to clinch an 8-4 victory. It's Homan's 12th career Grand Slam title.
● Diving ● A year after winning only two of the eight events on the FINA World Cup program, China rebounded strongly at the 2022 World Cup, held in Berlin (GER), winning eight of nine events, all except the Mixed Team Event … which they did not contest.
Tokyo silver medalist Zongyuan Wang (562.20) and Rio 2016 Olympic champ Yuan Cao (513.85) were 1-2 in the men's 3 m Springboard; Tokyo silver medalist Jian Yang (537.70) and five-time Worlds medalist Hao Yang (472.20) went 1-2 on the 10 m Platform; Wang and Cao won the 3 m Synchronized title (442.68) and Junjie Lian and Yang won the 10 m Synchronized event (444.84). That's four events and six medals.
World Championships bronze medalist Yani Chang (363.75) won the women's 3 m Springboard, followed by teammate (and 2022 World Champion) Yiwen Chen (346.95); Tokyo silver medalist Yuxi Chen (449.85) and Tokyo winner Hongchan Quan (430.45) were 1-2 on the 10 m Platform; Chang and Yiwen Chen won the 3 m Synchro event (330.03) and Yuxi Chen and Quan won the 10 m Synchro gold (349.80). Four events and six medals for a total of 12 and the rest of the fields were really not competitive. Impressive, but not unexpected.
The U.S. had a good showing, with six medals overall. These included a bronze from Brandon Loschiavo in the men's 10 m Platform, a silver from Tyler Downs and Greg Duncan in the men's 3 m Synchro, a bronze for Nike Agunbiade in the women's 10 m Platform, a bronze for Brooke Schultz and Kristen Hayden in the women's 3m Synchro and a silver for Katrina Young and Agunbiade in the women's 10 m Synchro.
The American team of Young, Hayden, Zach Cooper and Downs won the Mixed Team Event, 375.80-370.85, over Germany.
● Figure Skating ● The ISU Grand Prix season opener at Skate America was a coming-out party for the newest American star, 17-year-old Ilia Malinin, who won the men's title convincingly at the Albright Performance Center in Norwood, Massachusetts.
Known as the "Quad God" for being the first to land the much-sought-after Quadruple Axel, Malinin stood fourth after the Short Program, but won the Free Skate by 16.06 points – even with a fall – to take the event at 280.37, with Kao Miura (JPN: 273.19) and Junhwan Cha (KOR: 264.05) following. Fellow American Liam Kapeikis was seventh (219.50). Said the winner:
"I felt great, it was a really good skate. I'm still in shock. I just know that I trusted my practice and it worked well. It was very important to forget what I did yesterday [Short Program] and just focus on the long.
"I was really well prepared going into the long. That gave me the confidence to try the quad Axel and I was able to pull it off. I was very happy with how I landed it. I just have to keep that same confidence with every competition I do."
Japan's 2022 World Champion Kaori Sakamoto only led American Isabeau Levito by 0.42 points going into the Free Skate, but emerged as a clear winner, 217.61-206.66, after the Free Skate, earning her third career Grand Prix victory. American Amber Glenn was third (197.61) and comebacking Sochi 2014 Team bronze medalist Gracie Gold was sixth overall at 174.09.
The U.S. scored wins in both Pairs and Ice Dance. The 2022 World Champions, Brandon Frazier and Alexa Knierim won both the Pairs Short Program and the Free Skate and scored 201.39 to edge Canadians Deanna Stellato-Dudek and Maxime Deschamps (197.89). Americans Maria Mokhova and Ivan Mokhov were fourth (145.23) and Valentina Plazas and Maximiliano Fernandez (143.55) were sixth.
Two-time Worlds bronze medalists Madison Chock and Evan Bates won the Ice Dance over fellow Americans Kaitlin Hawayek and Jean-Luc Baker, overcoming a 3½-point deficit after the Rhythm Dance, 202.80-202.07. Americans Lorraine McNamara and Anton Spiridonov finished seventh (167.05).
The ISU Grand Prix moves on to the Toronto area for the Skate Canada International next week.
● Freestyle Skiing ● The Freestyle World season opened with Big Air events for men and women at Chur (SUI), with familiar stars at the top of the podium.
Norway's Beijing 2022 Big Air gold medalist Birk Ruud took the men's victory with a best-two-of-three scores total of 188.75 to best 19-year-old Noah Porter MacLennan (CAN: 180.00) and 18-year-old American Troy Podmilsak (179.75). It's the first career medals for both Porter MacLennan and Podmilsak.
Beijing 2022 silver medalist and 2019 World Champion Tess Ledeux (FRA) won the women's event, scoring 181.00 to 170.75 for Norway's Sandra Eie and 170.00 for Swiss Mathilde Gremaud, the Beijing bronze medal winner an Slopestyle winner.
● Judo ● The IJF World Tour was in the UAE for the Abu Dhabi Grand Slam, with Czech star – and two-time Olympic gold medalist – Lukas Krpalek winning the men's +100 kg title.
Worlds 2021 bronze medalist Julia Figueroa won the women's 48 kg class, and France's Astride Gneto won her second World Tour tournament of the year, at 52 kg, as did Lucy Renshall (GBR) at 63 kg. China's 2022 Worlds silver medalist Zhenzhao Ma won the women's 78 kg division and teammate Xin Su won her first Grand Slam event at +78 kg.
● Snowboard ● Japan swept the FIS World Cup Big Air opener in Chur (SUI), with Takeru Otsuka and Ruki Tobita going 1-2 in the men's final and Reira Iwabuchi taking the women's gold.
Otsuka was dominant, scoring 166.50 to outdistance everyone, with Tobita second at 140.00. It's Otsuka's fifth career World Cup medal (third win), at age 21.
Iwabuchi, still just 20, won her eighth World Cup gold (seven in Big Air), to edge rival Anna Gasser, the 2018 and 2022 Olympic Champion. 180.75-164.75.
● Swimming ● The first of three FINA World Cups, all in short-course (25 m) pools, was held in Berlin over the weekend, with U.S. swimmers leading the medal table with 16.
However, the biggest individual winner was South African Matt Sates, who won the men's 200-400 m Freestyles and the 200-400 m Medleys for four wins, plus a silver to Rio 2016 Olympic champ Kyle Chalmers (AUS) in the 100 m Free.
Hong Kong's Siobhan Haughey, the reigning World 25 m champ in the 100-200 m Freestyles, tripled in the 100-200-400 m Freestyles for three golds. Trinidad & Tobago's Dylan Carter scored a triple in the men's 50 m Free, 50 m Back and 50 m Fly. They were matched by Americans Beata Nelson, who took the 100-200 m Backstrokes and the 200 m Medley, and Nic Fink in the 50-100-200m Breaststroke events.
American Shaine Casas won the 100-200 m Back events and Tokyo medal winner Hali Flickinger took the women's 400 m Medley for nine total U.S. golds during the three-day meet.
The other multi-event winners included Beryl Gastaldello (FRA) in the women's 50 m Fly and 100 m Medley; South Africa's four-time World Champion Chad le Clos in the men's 100-200 m Fly, and Lithuanian star Ruta Meilutyte – the London 2012 100 m Breast gold medalist – who won the 100 m Breast on Saturday and then scared the world 25 m record in the 50 m Breast on Sunday, winning in 28.60, just 0.04 short of Jamaican Alia Atkinson's 28.56 mark from 2018, and the no. 2 performance in history.
The FINA World Cup heads to Toronto next week and then to Indianapolis in two weeks, with an even stronger American cast expected.
¶
Japan's 2022 World Championships 200 m Fly bronze winner, Tomoru Honda (JPN) set a world record on the short-course (25 m pool) 200 m Fly at the Japan Nationals in Tokyo, timing 1:46.85. He crushed the prior record of 1:48.24, held by fellow Japanese star Daiyo Seto from 2018.
● Tennis ● Romanian star Simona Halep, winner of two Grand Slam titles, was provisionally suspended for the use of Roxadustat, an anti-amenia drug which boosts the production of red blood cells.
The International Tennis Integrity Agency announced that Halep, 31, had tested positive at the U.S. Open and if her positive test is confirmed, could be suspended for four years. On Friday, she posted on Twitter:
"Today begins the hardest match of my life: a fight for the truth. I have been notified that I have tested positive for a substance called Roxadustat in an extremely low quantity, which came as the biggest shock of my life. …
"I will fight until the end to prove that I never knowingly took any prohibited substance and I have faith that sooner or later, the truth will come out."
● Wrestling ● Another world title for new American star Amit Elor, 18, who won her third (!) World Championships gold in 2022 with a victory at 72 kg in the United World Wrestling U-23 World Championships at Pontevedra, Spain.
Elor had earlier won the UWW World Junior title in September, then took the World Championships gold in Belgrade, also at 72 kg and defeated two-time European U-23 champion Wiktoria Choluj (POL) last Friday by an 11-0 technical fall. He three matches were won by pin (5:31), pin (0:34) and a technical fall. Wow!
¶
You can receive our exclusive TSX Report by e-mail by clicking here. You can also refer a friend by clicking here, and can donate here to keep this site going.
For our updated, 951-event International Sports Calendar for 2022-23 and beyond, by date and by sport, click here!