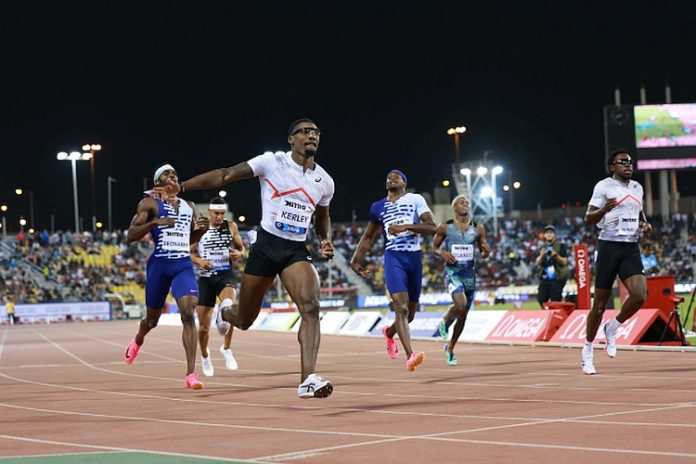 ★ The Sports Examiner: Chronicling the key competitive, economic and political forces shaping elite sport and the Olympic Movement.★
★ To get The Sports Examiner by e-mail: sign up here! ★
≡ THE 5-RING CIRCUS ≡
1. Richardson's 10.76 and six more world leads in Doha!
2. IBA sends 400-page reply to IOC's questions
3. Sports ministers of 36 countries question IOC approach
4. Bach "undertaking all efforts" to return Russia and Belarus
5. Indonesia ban on Israel resurfaces for World Beach Games
The first Wanda Diamond League meet of the season was a good one in Doha, Qatar on Friday, with sizzling sprinting and seven world-leading performances, including a sparkling 10.76 women's 100 m win for Sha'Carri Richardson of the U.S. and a come-from-behind finish by Fred Kerley in the men's 200 m. The International Boxing Association sent a 400-page file to the International Olympic Committee to answer all of its questions about the federation. Will this actually help? Sports ministers from 36 countries issued their fourth statement on Russia and international sport, asking the IOC to ensure that only truly "neutral" athletes compete, noting state funding as an important question to be answered. IOC chief Thomas Bach, on a visit to China, said the IOC is "undertaking all the efforts" to return Russian and Belarus to competition, "so that we can really unify the whole world." Meanwhile, the governor of Bali in Indonesia continues to assert that Israel will not be allowed to compete in the ANOC World Beach Games this summer, and the Israel Olympic Committee has taken the matter up with the IOC. The governor has already cost Indonesia the FIFA men's U-20 World Cup by refusing to allow Israel to compete.
● World Championships: Judo (Garrigos and Tsunoda win opening weights) ●
● Panorama: Artistic Swimming (Inui stars in World Cup in France) = Athletics (3: Hot 5,000 at Mt. SAC; Holloway world lead in Atlanta; Davis-Woodhall 23-2 1/2 in Arkansas) = Curling (Champions Cup) = Cycling (2: Giro d'Italia starts; van Vleuten repeats at La Vuelta Femenina) = eSports (ticket sales start for IOC's Esports Week) = Fencing (2: Kiefer wins Foil World Cup; Epee Grand Prix) = Gymnastics (Griskenas second in Rhythmic World Cup) = Rowing (Swiss and Spain lead World Cup winners) = Sport Climbing (Miroslaw wins Speed World Cup) = Swimming (Chinese nationals produce six world leaders) = Wrestling (U.S. sweeps team titles at Pan Am Champs!) ●
1.
Richardson's 10.76 and six more world leads in Doha!
The opening Diamond League meet of the season in Doha, Qatar was expected to produce hot marks, and it did not disappoint, with world-leading times and distances in seven events, led by a taut battle in the women's 100 m.
There was no doubt about Jamaica's Shericka Jackson, the incoming world leader at 10.82 and the 200 m World Champion from 2022. But beside her in the blocks were Britain's Dina Asher-Smith, the 2019 200 m Worlds winner and mercurial American Sha'Carri Richardson, now 23, who wasn't right in 2022, but ran a startling 10.57w in April.
Off the gun, it was Asher-Smith running best, but with Jackson in close attendance and Richardson close. Jackson accelerated in the middle and as Asher-Smith faded slightly, Richardson came on. And kept coming on, taking over in the final 30 m for a world-leading 10.76 win (wind: +0.9 m/s), her fastest in two years and her fourth-fastest ever.
Jackson was close at 10.85, with Asher-Smith at 10.98 and American TeeTee Terry fourth at 11.07. Said the winner, "I'm so blessed and thankful, I feel at peace. All I do is the best I do and I'm excited to do it."
The world-leading performances:
● Men/3,000 m: 7:26.18, Lamecha Girma (ETH)
● Men/Triple Jump: 17.81 m (58-5 1/4), Hugues Fabrice Zango (BUR)
● Men/Javelin: 88.67 m (290-11), Neeraj Chopra (IND)
● Women/100 m: 10.76, Sha'Carri Richardson (USA)
● Women/1,500 m: 3:58.57, Faith Kipyegon (KEN)
● Women/Steeple: 9:04.38, Winfred Yavi (BRN)
● Women/Vault: 4.81 m (15-9 1/4), Katie Moon (USA)
The men's 200 m was also much anticipated, with 100 m World Champion Fred Kerley of the U.S. against countrymen (and Worlds medal winners) Kenny Bednarek and Michael Norman, plus Kyree King, and Canada's Tokyo 200 m gold winner Andre De Grasse and teammate Aaron Brown.
Bednarek was best on the turn and into the straight and looked like a winner until the final 40 m, when Kerley just jetted to the finish, winning in 19.92 (+0.3) to 20.11, with Brown third in 20.20 and Norman last in 20.65. This was amazing; said Kerley:
"I was comfortable, but I know I still got work to do. The most important thing was to win, and I did. I was happy with the competition, it was a good one, the guys gave me a fight. Next is Japan [21 May in Tokyo], open up my season in the 100."
Wow. On an 81 F evening at the nearly-full Qatar Sports Club, Ethiopian Steeple star Lamecha Girma may want to consider more flat races, as he took control of the race at the bell and then ran away from countryman Selemon Barega – the 2022 World Indoor Champion – to win in a meet record of 7:26.18, with Barega at 7:17.16 and Berihu Aregawi (ETH) third in 7:27.61.
Olympic and Worlds silver medalist Rai Benjamin looked like an easy winner in the men's 400 m hurdles, but slowed in the home straight and had to fend off a challenge from fellow American C.J. Allen over the final hurdle to win in 47.78 to 47.93, a lifetime best for Allen, now the 57th man (and 24th American) to break 48.
The men's field events were intriguing, with JuVaughn Harrison of the U.S. clearing seven straight bars to win the high jump at 2.32 m (7-7 1/4). Home hero Mutaz Essa Barshim was third at 2.24 m (7-4 1/4) and the stadium emptied after he went out.
Olympic and World Champion Pedro Pablo Pichardo of Portugal was sensational, taking the lead at 17.65 m (57-11) in the first round, then riding a barely-illegal wind of 2.1 m/s out to 17.95 m in round two (58-10 3/4). That was enough to win, but Burkina-Faso's Hugues Fabrice Zango ended with a legal jump of 17.81 m (58-5 1/4) to grab the world lead.
World Champion Kristjian Ceh won the discus with his first throw of 70.89 m (232-7), moving him to no. 2 in the world for 2023, and Olympic champ Neeraj Chopra (IND) also caught his big throw on the first try at a world-leading 88.67 m (290-11), with Olympic silver winner Jakub Vadlejch (CZE) just short with his second-round toss of 88.63 m (290-9).
Favored Marileidy Paulino (DOM) won the women's 400 m over Shamier Little of the U.S., 50.51-50.84, and Olympic champ Jasmine Camacho-Quinn grabbed the 100 m hurdles in 12.48 (+1.1), taking control after the sixth hurdle. Americans Alaysha Johnson and former Worlds winner Nia Ali were 2-3 in 12.66 and 12.69.
The women's 1,500 m was a master class given by Olympic and World Champion Faith Kipyegon of Kenya, who led at the bell and then blasted away from the field on the turn for home, winning in a world-lead of 3:58.57, over Diribe Welteji (ETH: 3:59.34) and Freweyni Hailu (ETH: 4:00.29). Same for the 3,000 Steeplechase, with Winfred Yavi (BRN: 9:04.38) running away from Sembo Almayew (ETH: 9:05.83). American Emma Coburn fell early in the race and finished 10th in 9:29.41.
The U.S. was 1-2 in the women's vault, with Olympic and Worlds gold medalist Katie Moon sailing over 4.81 m (15-9 1/4) for the world lead and the win over Slovenia's Tina Sutej (4.76 m/15-7 1/4) and Sandi Morris of the U.S. (4.71 m/15-5 1/2).
2.
IBA sends 400-page reply to IOC's questions
The International Boxing Association promised a thorough response to the International Olympic Committee's continuing concerns over finances, governance and refereeing and judging, and delivered on Friday.
Said IBA Secretary General George Yerolimpos (GRE):
"The IBA has sent all the requested responses and documents to the IOC totalling over 400 pages.
"We are open to continued dialogue and cooperation for the sake of our core values and duty to protect our athletes, and the sport of boxing itself. We hope this helps to ensure a fair evaluation of the IBA and its progress done and will lead to a full reinstatement of the organization in the Olympic movement and production of the boxing events in the lead-up and during Paris 2024."
The federation, previously known as AIBA, has been on suspension since June 2019, when it was headed by Uzbek businessman Gafur Rakhimov, who removed himself that year, replaced by Moroccan Mohamed Moustahsane on an interim basis. Russian Umar Kremlev, the Secretary General of the Russian Boxing Federation was elected in December of 2020, and the federation changed its name in December 2021.
The IOC has continued to be unhappy with the IBA's finances, especially a two-year, $50 million deal with Russian energy giant Gazprom which paid off the IBA's debts. That deal has not been re-signed. A scheduled election for President in 2022 turned into a farce as opponent Boris van der Vorst (NED) was disqualified just prior to the vote and then, after being reinstated by the Court of Arbitration for Sport, a vote to not hold an election was passed.
Kremlev also reinstated Russian and Belarusian boxers without restrictions in 2022, ignoring the IOC's recommendations to the contrary in view of the Russian invasion of Ukraine.
For its part, the IOC has made it clear that it has no issues with boxing or the boxers, but with the federation, which is not involved in the Olympic qualifying process, or the operation of the Olympic tournament in Paris. Further, boxing is not currently on the program for Los Angeles in 2028.
Observed: The IBA's announcement of the filing with the IOC was odd. Not so much that the documentation was sent as promised, but in how it was delivered.
Kremlev has taken great pride in saying, over and over again, that the IBA is "an open and transparent organization." Strange, then, that the 400 pages of documentation sent to the IOC was not made available publicly, if not in full, then with some redactions of material which may – for some reason – need to be protected.
An open filing of this type is an old and trusted public relations tool to bolster confidence in the organization being investigated, saying "we have nothing to hide." Odd that the IBA did not do so.
Have no doubt that the IBA is on a charm offensive, naming a "Communication Committee" of which Kremlev is not a member, to continue the discussions with the IOC. Instead, the heads of the five continental associations, two other Board members and Yerolimpos are the designees to try and win back the IBA's place as the sport's governing body for the Olympic Games.
They have an uphill fight ahead of them.
3.
Sports ministers of 36 countries question IOC approach
In their fourth announcement on Russia and sport, ministers from 36 countries, including the U.S., questioned the IOC's approach – especially the details – on reintegration of Russian and Belarusian athletes into international sport. The four-paragraph statement includes:
"We, as Ministers and equivalent senior representatives for sport of our like-minded countries, have noted the recommended conditions of participation for individual neutral athletes and support personnel with a Russian or Belarusian passport in international sports competitions, and the accompanying press statement, published by the International Olympic Committee (IOC) on 28 March 2023. We maintain that the Russian state, which has broken the Olympic Truce twice, must not be allowed to use sport to legitimise its barbaric and unprovoked invasion of Ukraine, nor should the Belarusian state be able to use sport to legitimise its complicity in Russia's war of aggression.
"On the IOC recommendations, we are clear that while some aspects of the strong concerns we raised in our collective statement of 21 February 2023 have been addressed by the IOC, there are substantial issues remaining, not least around military connections of athletes, state funding, the definition of what constitutes teams, and on enforcement mechanisms.
"We underline again that our position is not one of discrimination against individuals on the basis of their passport, and we respect the rights of all athletes to be treated without any discrimination in accordance with the Olympic Charter. We are focused on fair sporting competition as well as on ensuring that Russian and Belarusian athletes are in no way appearing as representatives of their states, as the IOC is also seeking to ensure through its recommendations.
"While fully respecting the autonomy of sporting organisations, we will closely watch the implementation of the recommendations by the IOC and international sports federations over the coming weeks. If these issues are not addressed, we would expect the IOC to reconsider its approach."
The second-paragraph notice of "state funding" for athletes was raised earlier by British minister Lucy Frazer and could be a key pivot point on whether governments and the IOC fall in line together, or the relationship becomes icy. Lee Satterfield, Assistant Secretary of State for Educational and Cultural Affairs, was the U.S. signatory.
4.
Bach "undertaking all efforts" to return Russia and Belarus
During a visit to China and meetings with the Chinese Olympic Committee, IOC President Thomas Bach (GER) told the Xinhua state news agency:
"Now we are undertaking all the efforts to accomplish the mission … of the Olympic Movement by having athletes with Russian or Belarusian passports back into the international competitions.
"We are in a very close cooperation and exchange with the International Federations who at this moment are responsible for running their competitions, and we hope very much that this mission then can be accomplished under the conditions which have been established that the athletes from these two countries must take part in a neutral status, so that we can really unify the whole world with the [view] to the Olympic Games in Paris."
As usual, Bach insisted that a Ukrainian boycott would solve nothing and pushed back against government intrusion in sport:
"You know the statements of governments who want to decide the people who can participate in the Olympics, the international sports competition, and who not. We have to be very firm that these decisions have to be taken by the responsible sports organizations.
"I see that the governments, it's their right to express their position. But that they also realize that any kind of boycott would only punish their own athletes and would deprive their people to be proud of their athletes of their Olympic performances."
He reiterated that no decision has been made about Russian and Belarusian participation in the Paris 2024 Olympic Games.
5.
Indonesia ban on Israel resurfaces for World Beach Games
The Association of National Olympic Committees has insisted that Israel will compete in its World Beach Games in Bali, Indonesia from 5-12 August.
But the governor of Bali, citing the Indonesian government's pro-Palestinian stance, continues to say Israel is not welcome.
The issue flared up again this week, with Bali governor Wayan Koster reiterating on Friday:
"It has been agreed when I received a visit by the youth affairs and sports minister and Indonesian Olympic Committee Chairman Mr. Raja [Sapta Oktohari] that the ANOC World Beach Games in Bali will be held without Israeli participants.
"The list of participating countries has been released and no Israel on it."
Koster is quite wrong about the country list, especially since qualifications are still going on. Israel did not attend the Chef de Mission meetings in Indonesia, but that's quite different from not participating in the event. The ANOC announcement on the meetings included:
"Representatives from nearly 70 National Olympic Committees attended the seminar in person with more than 30 joining the meetings remotely. With qualification for the Games ongoing, the final list of NOCs will be finalised on 8 July, but it is expected more than 100 NOCs from all five Continents will compete at the Games."
For their part, the Israelis are getting irritated. The Israel Olympic Committee issued a statement last week that included:
"After many conversations with the chairman of the International Olympic Committee in recent months, a letter was sent to the President and CEO of ANOC clarifying that Israeli athletes will participate in ANOC only if given the same conditions as those of other countries.
"It should be noted that the IOC is in constant contact with us on this matter, and we are confident that they will uphold the equality and right of the State of Israel to compete in any competition around the world, as it has done throughout the year."
This is an issue of importance for the IOC. Koster's anti-Israeli comments already cost Indonesia the hosting opportunity for the 2023 FIFA men's U-20 World Cup, which will not be held in Argentina this month. FIFA withdrew the tournament in March, moved it and is now considering sanctions against the Indonesian football federation.
≡ WORLD CHAMPIONSHIPS ≡
● Judo ● The 2023 IJF World Championships opened in Doha (QAT) with 19 entries from Russia and Belarus as "neutral" athletes and Ukraine boycotting the event in response.
So much for bringing the world together.
Japan's Natsumi Tsunoda won her third straight World Championships gold in the women's 48 kg class and her fourth career Worlds medal overall. She defeated France's Shirine Boukli in the final, with fellow Japanese Wakana Koga taking a bronze medal. It was Boukli's first senior-level Worlds medal.
Spain's Francisco Garrigos was the upset winner of the men's 60 kg division, beating Uzbek Dilshodbek Baratov in the final, after taking out Tokyo Olympic champ Naohisa Takato (JPN) in the semis. Baratov also made some history, winning his first career Worlds medal, at age 25.
The Worlds continue through the 13th.
≡ PANORAMA ≡
● Artistic Swimming ● The Artistic World Cup moved on to Montpellier (FRA), with reigning World Champion Yukiko Inui (JPN) claiming wins in both the Solo Technical and Solo Free finals.
Inui, now 32, won the Solo Technical convincingly, scoring 282.2583 to 262.1833 for Ukraine's Marta Fiedina and 254.6542 for Spain's Iris Tio Casas. She was even more dominant in the Solo Free, scoring 389.3583 to 334.6709 for Vasiliki Alexandri (AUT) and 260.8376 for Slovak Viktoria Reichova.
World Champion sisters Luiyi Wang and Qianyi Wang (CHN) won the Duet Technical at 285.4041 over Japan's Moe Higa and Mashiro Yasunaga (276.7250) and Austria's sisters, Anna-Maria Alexandri and Erini-Marina Alexandri (273.3468). Americans Megumi Field and Calista Liu finished fourth (254.5458).
Ukraine's Maryna Aleksiiva and Vladyslava Aleksiiva won the Duet Free, 370.2791 to 334.0125 over Japan's Higa and Yashunaga.
Spain's Fernando Diaz won the men's Technical (214.4959) and was second to Gabriele Minak (ITA, 16) in the Free final, 224.2291 to 193.2875.
A close Mixed Duet Technical final went to China's Haoyu Shi and Yiyao Zhang (246.3042) over Tomoka Sato and Yotaro Sato (JPN: 244.5167). Sato and Sato won the Mixed Duet Free at 273.5708 to 267.8917 for Spain's Diaz and Mirela Hernandez.
China won the Mixed Team Technical and Japan won the Mixed Team Free.
● Athletics ● Distance running was the focus at the Sound Running On Track Fest at Mt. SAC on Saturday evening, with world-leading marks in the men's Steeple and the expected fireworks in the women's 5,000 m.
BYU's Kenneth Rooks won the Steeple in 8:17.62, ahead of George Beamish (NZL; 8:20.62), fellow American Hillary Bor (8:20.67) and Jean-Simon Desgagnes (CAN: 8:20.68), now the top four performers of the year.
The women's 5,000 m was set for hot times and did not disappoint.
Josette Andrews took over after the pacesetter was done at 3,000 m and then turned out laps of 70.9, 69.9, 71.8, 68.4 and 64.5 to win with a huge lifetime best of 14:43.36, the 2023 world leader and moving her to no. 7 all-time U.S. Only Venezuela's Joselyn Brea was really close, four-tenths back at the bell and finishing with a national record of 14:47.76, a lifetime best by more than 17 seconds!
Mexico's Laura Galvan was third in 14:49.34, another national record, and American Emily Infeld was fourth (14:50.90), also with a lifetime best.
In seventh was North Carolina State junior Katelyn Tuohy, 21, who crushed her prior lifetime best of 15:14.61 with a time of 15:03.12, the fastest ever recorded by a collegian outdoors. Colorado's Jenny Simpson ran 15:07.64 in 2009, but also had a 15:01.70 performance in 2009 indoors. But it's a collegiate outdoor best for Tuohy, steadily moving up.
In the men's 5,000 m, American Cooper Teare won in 13:21.73 with a 54.82 last lap, ahead of Morgan Beadlescomb (13:12.95) and Ben Flanagan (CAN: 13:13.97). Places 1-12 are now ranked 2-13 on the year list. South Africa's Adriaan Wildschutt ran away with the men's 10,000 m to win in 27:23.10.
¶
At the Atlanta City Games, a street meet with an elevated track, emphasized the sprints and hurdles, with a world-leading mark from hurdles World Champion Grant Holloway of the U.S.
Running in his second meet of the year, Holloway – already the world leader at 13.03 from mid-April – won his heat in 13.15 and then stormed away in the final to win in 13.01 (wind: 0.0), ahead of Robert Dunning's lifetime best of 13.09 and Jamal Britt (13.14).
Tia Jones won the women's hurdles in 12.50 (+0.4), ahead of Keni Harrison (12.53).
The women's 100 m went to U.S. star Aleia Hobbs in 10.99 (+0.2), her ninth meet without a loss this season (60 m x 5; 100 m x 4), beating Mikiah Brisco (11.02). The men's 100 m was a tight finish between Oblique Seville (JAM: 9.99; wind -0.2), Akani Simbine (RSA: 10.01) and Zharnel Hughes (GBR: 10.01).
Noah Lyles was the dominant winner of the 150 m sprint in 14.56, beating teen star Erriyon Knighton (14.85) and Kenya's Ferdinand Omanyala (14.89), while Tamari Davis of the U.S. won the women's race in 16.44.
¶
In Fayetteville, Arkansas, Tara Davis-Woodhall took the world lead in the women's long jump at the Arkansas Twilight meet with her second-best jump ever, 7.07 m (23-2 1/2). She got out to a windy 6.91 m (+4.3) in the first round, another windy 6.91 m (+3.0) in the second, and after a foul, a legal 6.85 m (22-5 3/4 +1.9) in the fourth. Then she exploded out to 7.07 m with a just-legal +1.9 m/s wins before passing in round six.
● Curling ● The season-ending Grand Slam of Curling Champions Cup in Regina (CAN) came down to all-Canadian finals in both the men's and women's divisions.
Turin Olympic champ Brad Gushue's team won the Beijing 2022 Olympic bronze and the 2023 Worlds silver, but it was Brendan Bottcher's rink that scored two in the sixth and one in the eighth end to get a 5-3 win. It's the second Champions Cup win for Bottcher – also in 2019 – and his fifth Grand Slam tournament title.
Defending Champions Cup winner and two-time Worlds medalist Kerri Einarson got off to a 4-0 lead in the women's final after three ends against 2017 World Champion Rachel Homan, a three-time winner of this tournament. But Homan mounted a charge, scoring once in ends 4-5-6 and twice in the eight to force an extra end at 5-5. And Homan completed the comeback, scoring once to win, 6-5, with scores in five of the final six ends.
For Homan, it's her 13th Grand Slam win and fourth Champions Cup title.
● Cycling ● The 106th Giro d'Italia got underway Saturday with one of the overall favorites, Remco Evenepoel (BEL) immediately taking charge with a win in the 19.6 km Individual Time Trial.
He dominated the flat course along the Abruzzo Coast to Ortona, winning in 21:18, well ahead of former World Time Trial champ Filippo Ganna of Italy (+0:22) and another of the contenders, Portugal's Joao Almeida (+0:29).
Sunday's hilly 202 km stage from Teramo to San Salvo was set for a mass sprint finish, but was hampered by a bad crash with 4 km left. The peloton reformed and the dash for the line was won by Italian Jonny Milan, 22, his biggest win ever. He timed 4:55:11, ahead of 43 more with the same time. Second was David Dekker (NED), ahead of Kaden Groves (AUS), with Evenepoel retaining the pink jersey and a 22-second lead on Ganna.
¶
The ninth women's La Vuelta Femenina concluded in Lagos de Covadonga in the Asturias region in northwest Spain, with Dutch superstar Annemiek van Vleuten – two-time World Road Champion – taking control after the sixth stage and leading into Sunday's final ride.
Fellow Dutch master Marianne Vos, 35 – a three-time World Road winner – had the lead from the second stage through the fourth, winning both the third and fourth stages. But Dutch star Demi Vollering, the best rider so far in 2023, won the climbing fifth stage to take over the race lead, with van Vleuten just three seconds back on the day and five seconds back in the overall race.
Italy's Gaia Realini beat van Vleuten to the line in the final sprint on Saturday, but both were more than a minute ahead of the field and that gave van Vleuten the lead by a hefty 1:11 over Vollering.
Stage 7 was no picnic, a 93.7 route with a major climb in the middle and then an uphill finish going from 65 m to 1,106 m in the final 22 km. Vollering, Realini and van Vleuten were all in contention on their way to the finish, but Vollering broke free and won in 2:43:02, ahead of Realini (+0:11) and van Vleuten (+0:56). That gave van Vleuten the overall title at 19:00:11, just nine seconds ahead of Vollering and Realini (+2:41).
That's three in a row for van Vleuten in this race, who has also won three editions of the Giro Donne, four total UCI World Championships golds and the Tour de France Femmes in 2022. At 40, she can claim to be the best women's road rider of all time.
● Diving ● China won all nine events at the World Cup opener in Xian. At the second Diving World Cup in Montreal (CAN), it was the same: nine for nine.
Current World Champion Zongyuan Wang won the men's 3 m Springboard – as he did in Xian – scoring 556.75, with teammate Shixin Li second at 465.25. Xian winner and two-time Worlds medalist Hao Yang took the 10 m Platform gold in 580.25, followed by Rikuto Tamai (JPN) at 513.45. American Brendan Loschiavo was seventh (439.55)
Wang teamed with Daoyi Long to win the men's 3 m Synchro title, scoring 492.18 for a decisive win over Anthony Harding and Jack Laugher (GBR: 443.10). Americans Tyler Downs and Greg Duncan finished sixth at 395.64.
In the 10 m Synchro, reigning World Champions Junjie Lian and Yang were not challenged, winning by 456.72 to 412.74 over Ukraine's Kirill Boliukh and Oleksii Sereda.
The women's sweep featured 2022 World Champion Yiwen Chen on the 3 m Springboard and Olympic gold medalist Hongchan Quan on the 10 m Platform. Chen won for the second time this season, scoring 404.70 to 365.40 for Canada's Pamela Ware and 357.85 for American Sarah Bacon. Hailey Hernandez of the U.S. was sixth at 315.25.
Quan, who was second in Xian, won this time with 458.20, ahead of teammate and 2022 World Champion Yuxi Chen (438.90).
In the women's 3 m Synchro, the 2022 World Champion duo of Yani Chang and Yiwen Chen won, but were pressed – 329.43 to 315.09 – by the U.S.'s Bacon and Kassidy Cook.
The women's 10 m Synchro team of Yuxi Chen and Quan won easily, 378.60 to 316.68, for Britain's Andrea Spendolini-Sirieix and Lois Toulson. Americans Jessica Parratto and Delaney Schnell were seventh at 281.52.
In the mixed team event, China won by 489.25 to 454.90 for Canada, with the U.S. eighth at 343.60.
That's 18-for-18 for the Chinese; the World Cup Super Final will take place in Berlin (GER) in August.
● eSports ● The IOC announced the opening of ticket sales for the four-day Olympic Esports Week in Singapore from 22-25 June 2023. A sport-shooting game developed by the International Shooting Sport Federation with Fortnite has been added to the program.
Single-day general admission tickets are SGD 10 for 23 June and SGD 15 for 24-25 June, with three-day passes for adults at SGD 30. (SGD 1 = $0.75 U.S.).
● Fencing ● The Epee Grand Prix in Cali (COL) offered contrasting finals of well-knowns and unknowns.
The women's championship matched pitting world no. 2 Man Wai Vivian Kong (HKG) against no. 3 Marie-Florence Candassamy of France, both looking for their first career Grand Prix gold. It was Kong in charge, winning 15-8, now with three career Grand Prix medals (1-1-1). Candassamy won her second career Grand Prix silver (0-2-4).
The men's final had no. 27 Davide Di Veroli, 21, of Italy facing 114th-ranked Jiri Beran (CZE), now 41! And Beran won it, in a 9-8 defensive struggle to win his first Grand Prix gold and first Grand Prix medal since 2010! Di Veroli won a Grand Prix bronze last year and has now moved up to silver.
¶
The women's Foil World Cup scheduled for Tauberbischofsheim (GER), but returned by the German federation in protest against the FIE Congress vote to allow Russian and Belarusian fencers to compete as neutrals was held instead in Plovdiv (BUL).
Tokyo Olympic champ Lee Keifer of the U.S. collected her fifth career World Cup gold (and 21st medal) with a 15-11 win in the final over France's Ysoara Thibus, the 2022 World Champion.
The U.S. team of Lauren Scruggs, Maia Weintraub, Zander Rhodes and Jacqueline Dubrovich finished third, with France defeating Italy, 45-41, for the gold.
Keifer's husband, Gerek Meinhardt, was competing at the men's Foil World Cup in Acapulco (MEX) and reached the semifinals against Tokyo Olympic winner Ka Long Cheung (KOR), but fell 15-7 and settled for a bronze medal. Cheung faced Egypt's 22-year-old Mohamed Hamza – born in Houston, Texas! – in the final, with Hamza winning, 15-10, for his first career World Cup gold.
The U.S. team of Meinhardt, Alexander Massialas, Nick Itkin and Miles Chamley-Watson won gold, defeating Italy in the final.
● Gymnastics ● The FIG Rhythmic Gymnastics Challenge Cup series was in Portimao (POR), with 2022 Worlds All-Around silver medalist Darja Varfolomeev taking the All-Around at 125.200 from American Evita Griskenas (121.950) and Aibota Yertaikyzy (KAZ: 118.400).
It was the third career World Challenge Cup medal for Griskenas (0-2-1), and she wasn't done.
Varfolomeev dominated the apparatus finals, winning with Hoop (33.800) over Griskenas second (30.450); with Clubs (33.150), with Griskenas second again (30.950) and on Ribbon (31.200), with Griskenas fifth (29.850).
Kazak Elzhana Taniyeva won with Ball (32.500) with Varfolomeev third (31.600) and Griskenas fourth (31.450).
● Rowing ● At the opening World Rowing World Cup in Zagreb (CRO), Switzerland picked up three wins in the full-weight classes and Spain won twice.
The star power was in the men's races, with two-time World Champion Oliver Zeidler (GER) winning the Single Sculls, 6:46.82 to 6:49.40 over 2020 European Champion Sverri Nielsen (DEN).
The Croatian Sinkovic brothers – Martin and Valent – the Double Sculls gold medalists at Rio 2016 and then the Pairs winners at Tokyo 2020, won in Double Sculls in Zagreb, 6:16.74 to 6:20.53 against Spain's 2022 Worlds runner-ups, Aleix Garcia and Rodrigo Conde. The Czech Republic won the Quadruple Sculls over Ukraine, 5:50.08 to 5:51.39.
In the men's Pairs, Swiss Roman Roeoesli and Andrin Gulich won by daylight in 6:30.98 against Spain's 2022 Worlds silver medalists, Jaime Canalejo and Javier Garcia (6:33.21). The Swiss Fours also won in 5:59.70, well in front of South Africa (6:02.12).
Spain got a win in the women's Single Sculls, as Virginia Diaz eked out a 7:33.93 to 7:33.95 victory against Swiss Aurelia-Maxima Janzen. The Swiss took their third win in the Double Sculls, with Fabienne Schweizer and Lisa Loetscher finishing in 7:04.75, well clear of Katharina and Magdalena Lobnig (AUT: 7:08.32). Ukraine won the Quadruple Sculls, 6:24.43-6:37.48, over the Swiss.
Spain's second win came in the women's Pairs, as Aina Cid and Esther Briz Zamorano managed a 7:16.49 to 7:17.22 win over Czechs Radka Novotnikova and Pavlina Flamikova. Chile won the Fours final over Spain, 6:46.34 to 6:50.93.
The second World Cup comes from 16-18 June in Varese, Italy.
● Sport Climbing ● The IFSC Speed World Cup in Jakarta (INA) was much anticipated after the men's and women's world records has been shattered the week before in Korea.
Poland's Aleksandra Miroslaw claimed four world-record performances in Seoul, and led the qualifying in Jakarta, but had a tough time in the final against home favorite Made Desak, winning by 6.43 to 6.52.
In the men's final, Indonesian stars Kiromal Katibin (5.03) and Veddriq Leonardo (5.09) led the qualifying, but when the final came, it was the third Indonesian entry, Raharjati Nursamsa who won in 5.11, defeating China's Xinshang Wang (5.14) with Katibin winning the bronze.
● Swimming ● A very fast Chinese Nationals concluded in Hangzhou, with world-leading marks in six events:
● Men/100 m Free: 47.22, Zhanie Pan (CHN)
● Men/200 m Free: 1:44.65, Pan
● Men/100 m Back: 52.26, Jiayu Xu (CHN)
● Men/100 m Breast: 57.93, Haiyang Qin (CHN)
● Men/200 m Medley: 1:55.55, Shun Wang (CHN)
● Women/100 m Fly: 56.48, Yufei Zhang (CHN)
Pan's time in the 100 m Free is a national record and moves him to no. 11 all-time, at age 18. His 200 m win was a lifetime best and moves him up to a tie for 13th all-time.
Qin exploded to a national record in the 100 m Breast and his 57.93 makes him no. 3 ever and only the third man to break 58 seconds! His prior best had been 58.66 from the Chinese Spring Nationals in March!
● Wrestling ● The U.S. was expected to dominate the Pan American Championships in Buenos Aires (ARG), and left no doubt, winning all three teams titles and grabbing wins in a total of 20 classes!
The wins started in the Greco-Roman division, with golds for Dalton Duffield (55 kg), Dalton Roberts (60 kg), Justus Scott (72 kg), Kamal Bey (77 kg), Spencer Woods (82 kg) and Joe Rau at 97 kg. Cuba won the other three classes: Luis Orta (67 kg), Daniel Gregorich (87 kg) and three-time Worlds medalist Oscar Pino at 130 kg.
The U.S. piled up 175 points for the team title, ahead of Cuba (114) and Mexico (78).
The American women picked up five golds, with Tokyo bronze winner Sarah Hildebrandt winning at 50 kg; Xochitl Mota-Pettis at 59 kg, two-time Worlds medalist Mallory Velte at 65 kg, Forrest Molinari at 68 kg (her third PanAm gold) and World Champion Amit Elor at 72 kg. Alisha Howk took the silver at 55 kg and Kayla Miracle won bronze at 62 kg.
The U.S. women won the team crown with 178 points to 135 for Canada and 93 for Ecuador.
The men's Freestyle finals started with seven straight wins for the U.S.: 2021 World Champion Thomas Gilman at 57 kg, Vito Arujau at 61 kg (his second PanAm gold), Yianni Diakomihalis at 65 kg (second PanAm gold), Worlds silver winner Zain Retherford at 70 kg; a sixth Pan American Champs gold for Jordan Burroughs, this time at 79 kg, and Michael Macchiavello at 92 kg.
Kyle Dake won at 74 kg, his third PanAm title; Kyle Snyder won his sixth at 97 kg and Dominique Bradley won at 125 kg to give the U.S. nine wins in 10 weights. At 86 kg, Cuba's Yurieski Torreblanca won his fourth PanAm title, with Mark Hall of the U.S. third.
The American men won the Freestyle title by 240-136 over Canada, with Puerto Rico third at 123.
¶
You can receive our exclusive TSX Report by e-mail by clicking here. You can also refer a friend by clicking here, and can donate here to keep this site going.
For our updated, 651-event International Sports Calendar (no. 2) for 2023 and beyond, by date and by sport, click here!