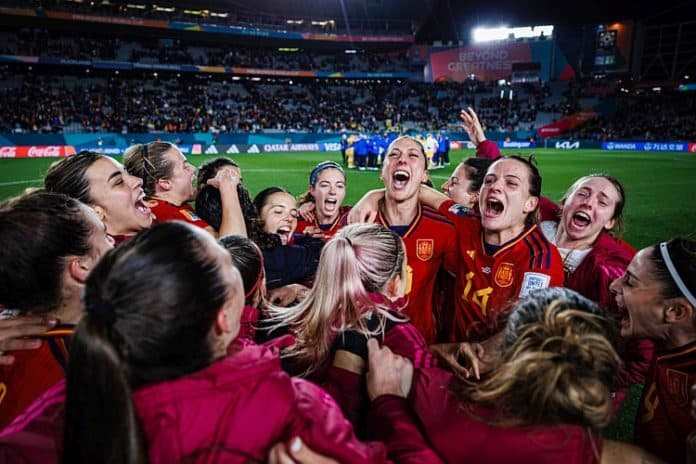 ★ The Sports Examiner: Chronicling the key competitive, economic and political forces shaping elite sport and the Olympic Movement.★
★ We need you! Our 29 donors have covered 66% of our summer fund-raising goal. Please help if you can. ★
★ To get The Sports Examiner by e-mail: sign up here! ★
≡ THE 5-RING CIRCUS ≡
1. Putin: "parallel structures" to IOC "inevitable"
2. Paris 2024 triathlon swim in Seine River is on
3. Spain a slight favorite vs. England in Women's World Cup final
4. World Boxing will wait until 2024 to approach IOC
5. Rio gold winner Lange announces retirement, at 61!
● Russian President Vladimir Putin continued his war of words with the International Olympic Committee, saying that the current "politicalization" makes "parallel" organizations inevitable in international sport. His lieutenants are already hard at work creating alternate events, with a copy of the World University Games coming up next.
● The test event for the Paris 2024 triathlon begins Thursday and the waters of the Seine River have been found satisfactorily safe for swimming for the athletes, after heavy rains made the pollution level unsafe earlier this month for the open-water swimming test that had to be canceled. An important new agreement between World Triathlon and the Professional Triathletes Organisation will bring the PTO's long-distance format into the federation's program.
● Oddsmakers have made Spain a slight favorite over England to win the FIFA Women's World Cup on Sunday. Total attendance for the tournament should finish just under two million, and only the third Women's World Cup in history to average more than 30,000 fans per match. U.S. women's coach Vlatko Andonovski has resigned, following the worst-ever American showing at a Women's World Cup.
● World Boxing will apply to the IOC to be the international federation for boxing, but has been told that can't happen until 2024, after the International Boxing Association's complaint to the Court of Arbitration for Sport has been heard and concluded.
● At the World Sailing Championships in the Netherlands, Argentina's 61-year-old Santiago Lange has decided to retire as he and his sailing partner did not qualify for the country's spot in the Nacra 17 class for Paris. Lange will finish as the Rio 2016 gold medalist in that event and having competed in seven Olympic Games.
● Panorama: PanAm Sports (top 75 Pan Am Games athletes for 1998-2007 and 2008-2017 noted) = Aquatics (2: Australia out of compliance; "open" category debuts at Berlin World Cup) = Athletics (2: Kenyan doping all about road money; Operation Hammer Sweep grants) = Cycling (Lappartient thrilled by mega-Worlds in Glasgow = Shooting (Worlds begin in Baku) ●
1.
Putin: "parallel structures" to IOC "inevitable"
Russian President Vladimir Putin underscored Wednesday his view that one or more new organizations will arise to govern international sports beyond the International Olympic Committee. The Russian news agency TASS reported his comments as:
"As a result of the politicization of international sports structures and further commercialization of the International Olympic Movement we unfortunately witness a certain degradation evolving there.
"This is inevitable and will simply entail an emergence of parallel structures in the sphere of international sports."
Putin's directives following the February 2022 invasion of Ukraine and the subsequent IOC request to ban Russian and Belarusian athletes and teams have leaned on this concept. The short-term result has been the formation of events attending by former Soviet republics and central Asian countries and other members of organizations such as the Commonwealth of Independent States (CIS), the Shanghai Cooperation Organisation (SCO) and BRICS countries (Brazil-Russia-India-China-South Africa).
The second CIS Games was held in Belarus from 4-14 August and a "BRICS Games" is scheduled for June 2024 in Kazan (RUS), prior to the Paris Olympic Games in July. A "Friendship Games" is also being worked on for September 2024.
2.
Paris 2024 triathlon swim in Seine River is on
While the Paris 2024 open-water swimming test event scheduled for 5 August had to be canceled due to pollution levels in the Seine River, better news for the triathlon test event for Thursday through Sunday, with water-quality levels deemed fully acceptable.
Christophe Rosa, the deputy general delegate of the Paris Olympic and Paralympic delegation said, "We are monitoring water quality with a very robust process … almost hour by hour." The tests have shown that the pollutant levels meet the safety requirements.
Heavy rains ahead of the swimming event caused sewage overflows that made the river water quality to be unsafe. No such weather issues are now in play.
Public swimming in the Seine has been banned due to water-quality issues since 1923 and the clean-up of the river has been a high-profile, legacy promise of the Paris government for the Paris 2024 Games, and the work is ongoing.
¶
In an important development for the future of the sport, World Triathlon and the Professional Triathletes Organisation (PTO) announced an agreement that recognizes the PTO "as the official World Championship Tour of long distance triathlon, using the 'made for TV' 100km distance."
This brings the two groups together and will create a year-round program of the existing World Triathlon Championship Series at the Olympic distance (1.5 km swim, 40 km bike, 10 km run) and the PTO at the longer distance of 2 km swimming, 80 km cycling and an 18 km run.
Noted PTO Executive Chair Chris Kermode (GBR):
"[B]y uniting together the professional athlete body of the PTO with the international federation of World Triathlon, this partnership has the opportunity to unite the sport under the common goal of growing triathlon – which is essential for the sport to become mainstream."
World Triathlon rules, including anti-doping, will be observed and PTO competitions will be offered for both professional and amateur athletes alike.
3.
Spain a slight favorite vs. England in Women's World Cup final
Sixth-ranked Spain is a mild favorite over no. 4 England in Sunday's 2023 FIFA Women's World Cup final at Stadium Australia in Sydney:
● Spain: +160 to +165
● England: +175 to +190
Translation: a $100 wager on Spain wins $160 to 165 with a Spanish victory – depending on where you place your action – while the same $100 on England would return $175 to $190.
You can be sure the match will be widely viewed in both countries. In Spain, the semifinal win against Sweden was watched by 1.921 million people on TVE, with an audience share of 45.1, meaning that 45.1% of all televisions in the country that were on during the match were watching it!
For the third-place game in Brisbane, the home team is a very slight favorite:
● Australia: +150 to +170
● Sweden: +155 to +180
¶
With two matches remaining, total attendance has reached 1,853,029 or 29,888 per match, an all-time record, smashing the prior high of 1,353,506 from Canada 2015 (52 matches), and well above the hoped-for total of 1.5 million.
It's fairly well assured that the final two matches will have capacity crowds of 49,461 at Lang Park in Brisbane and 75,784 at Stadium Australia, so the final total looks to be 1,978,274 or 30,911 per match, to rank no. 3 all-time on average attendance per match:
● 37,944 in 1999 (hosted in the U.S.: 32 matches)
● 37,218 in 2007 (China: 32)
● 30,911 in 2023 (Australia and New Zealand: 64) ~ projected
● 26,428 in 2011 (Germany: 32)
● 26,029 in 2015 (Canada: 52)
Observed: Sunday will be an impressive conclusion to a tremendous tournament, whose true impact may not be known until the 2027 Women's World Cup is also complete.
It will be interesting to see if FIFA, in its drive to expand the women's game and obtain much more money from broadcasters for 2027 – they paid a cumulative total of $200 million this time – will expand the tournament again, or remain at 32 teams and 64 matches.
¶
Multiple reports have confirmed that U.S. women's National Team coach Vlatko Andonovski (MKD) has resigned, following the team's worst-ever performance at the FIFA Women's World Cup.
The defensive-minded Andonovski, 46, had a 51-5-9 (W-L-T) record as the U.S. coach from 2019-23, but his no. 1-ranked team was eliminated in the Round-of-16 at the Women's World Cup; the U.S. had reached the semis in all prior editions of the event. The American women also won the bronze medal at the Tokyo Olympic Games, although favored to win the tournament.
The Athletic reported that assistant coach Twila Kilgore will be the interim head coach, while U.S. Soccer determines a full-time replacement. The women's team has friendly matches coming up on 21 and 24 September against South Africa, and is already qualified for the Paris 2024 Olympic tournament.
4.
World Boxing will wait until 2024 to approach IOC
"World Boxing intends to apply for IOC recognition as an International Olympic Federation.
"However, the IOC has indicated that they will not initiate any discussions with World Boxing until the arbitration proceedings with the IBA are completed. Therefore, we are awaiting the outcome of this litigation, before applying, which is likely to happen in early 2024."
That's a statement by World Boxing to the Russian news agency TASS, as it named its first six members on 9 August, from Australia, England, the Netherlands, New Zealand, the U.S. and the GB Boxing high-performance unit. The boxing federations of Argentina, Brazil, Canada and Switzerland have all indicated they will also join.
An initial Congress will be held in November. Meanwhile, the International Boxing Association (IBA), which has been de-recognized by the International Olympic Committee, has commenced an action at the Court of Arbitration for Sport in protest. The IBA President is Russian Umar Kremlev.
None of this impacts the Paris 2024 boxing tournament, which is being run by the IOC itself, primarily in coordination with the major multi-sport events coming up in 2023, including the Asian Games and Pan American Games, and the 2024 African Games, along with the already-completed European Games.
5.
Rio gold winner Lange announces retirement, at 61!
A remarkable story has come to a close, with 61-year-old Argentine sailing star Santiago Lange, a veteran of seven Olympic Games, deciding to retire after he and Vicky Travascio did not qualify for Paris 2024 at the World Sailing Championships now underway off The Hague (NED).
Lange and Travascio were longshots to surpass fellow Argentines Mateo Majdalani and Eugenia Bosco for the one position in the 2024 Nacra 17 class, with the 2023 Worlds the final qualifier for Argentina. With all but the medal race completed (15/16), Majdalani and Bosco sit seventh overall at 73 net points with Lange and Travascio in 17th (158). He told World Sailing:
"It's important for me to sail the best we can, and to enjoy every moment on the water. I've been in the Olympic circuit long enough to know how to perform the best in any given situation and I really want to enjoy the fleet and enjoy the opportunity to race these boats.
"It's a privilege at 61 years old to still be in this class competing at this level. So it would be stupid of me if I let us down and didn't try so hard because we are not making it to Paris."
Lange won the Rio gold in the Nacra 17 with Cecilia Carranza, after taking bronze medals in the Tornado class in 2004 and 2007. He will finish with four World Championships golds in the Snipe class (1985-93-95) and the Tornado in 2004.
≡ PANORAMA ≡
● PanAm Sports ● Two more decades of the top athletes to compete in the Pan American Games, with the selections for 1998-2007 and 2008-2017 revealed.
One American made the list for 1998-2007, gymnast Nastia Liukin, who won two golds at age 14 at the Pan Ams in Santo Domingo (DOM) in the Team event and on Beam. She added a third in 2007 in Rio de Janeiro (BRA) in the Team and won a total of eight Pan Am medals between the two. She went on to win the Olympic All-Around gold at Beijing 2008, plus silvers in the Team, Beam and Uneven Bars and a bronze on Floor.
The 2008-17 list started with Allyson Felix, who attended only the 2003 Pan Ams, winning a gold on the women's 4×100 m and a bronze in the 200 m. But she went on to greater glory with seven Olympic golds and 11 medals between 2004-2020 in the 200-400 m and relays, and 20 medals (14-3-3) at the World Championships.
The 2017 honoree was the amazing Kim Rhode, who won Olympic medals in six consecutive Games from 1996-2016. At the Pan American Games, she won the women's Double Trap gold at Winnipeg in 1999 and in 2003, then switched to Skeet, taking the silver in 2007, and golds at Guadalajara 2011, Toronto 2015 and Lima in 2019. Wow.
● Aquatics ● SwimSwam.com reported on compliance issues within Swimming Australia which will need to be resolved promptly:
"Swimming Australia is in violation of multiple points within the World Aquatics Constitution, including a lack of athlete voting power on the Board, and the implementation of a Stabilization Committee, and even the expulsion of Swimming Australia's membership within World Aquatics, would be the consequences if changes aren't made in a timely manner."
A Thursday call for an October special meeting of the federation to adopt new regulations that will satisfy the requirements is expected.
¶
World Aquatics announced that it will introduce its promised "Open" category, available to transgender athletes, at the upcoming swimming World Cup in Berlin (GER) from 6-8 October.
Events are to include 50 m and 100 m races in all strokes, but with no further details. Per the announcement:
"To be eligible, swimmers need an affiliation with a national federation and will be given the flexibility to participate individually, for their club, team or as national federation members."
● Athletics ● In an interview with The Associated Press, Brett Clothier (AUS) of the Athletics Integrity Unit explained that the rampant doping in Kenya has little to do with winning medals for the country in major competitions like the Olympic Games.
It has to do with road running and prize money which is available in more than 1,000 races around the world annually:
"This money that we're talking about … is life-changing. Not just for them, but for their families, their whole communities. In essence, it really is all about the money."
He said that the ability to earn created the pressure to "take risks that no one, no other athletes who are controlled by us, would normally take." He also noted that until the AIU stepped in, Kenya had been, for the most part, "a completely uncontrolled environment," as regards road running especially. And there will be more positives and more suspensions:
"We're certainly expecting more positive tests. I'll tell you that straight away. But that's the system working."
¶
The USA Track & Field Foundation continues giving money away, announcing Wednesday the second round of grants for its "Operation Hammer Sweep."
Created by two-time U.S. Olympian Ken Flax (Seoul 1988-Bacelona 1992), the program provides $5,000 grants to the top three finishers at the U.S. nationals, providing they have met the Olympic qualifying standard. The 2023 women's recipients are reigning World Champion Brooke Andersen, 2019 World Champion DeAnna Price and 2022 Worlds bronze winner Janee Kassanavoid, who rank 1-3-4 on the 2023 world list going into the World Championships.
American Record holder Rudy Winkler, Daniel Haugh, and Alex Young are the men's recipients. Winkler ranks no. 2 in the world for 2023 so far, with Haugh 16th and Young 35th.
● Cycling ● Union Cycliste Internationale President David Lappartient (FRA) was thrilled with the outcome of the first mega-Cycling World Championships in Glasgow that ended on Sunday.
"It was the first time, it was a bit of a risk, but it turned into a real success. When we still see today (Sunday), 150,000 to 200,000 people on the streets of Glasgow for the women's [road] race, it is in the image of what happened during these ten days. We lived an extraordinary atmosphere. The work upstream has been enormous and the five years have not been too much. We've had Covid, Brexit, the war in Ukraine, inflation. But the result is up to our expectations."
Perhaps most important was the exposure, normally reserved for the road-race Worlds, that the other disciplines received:
"It's huge and, in many markets, we are well beyond what the events were doing individually. Some were simply not broadcast [at all]."
The next edition will be in 2027 and talks have already begun on possible sites for 2031.
● Shooting ● The ISSF World Championships opened Wednesday in Baku (AZE) with 1,249 athletes from 101 countries present for pistol, rifle and shotgun events. A total of 48 qualifying places (quotas, not individual) for Paris 2024 will be available.
¶
You can receive our exclusive TSX Report by e-mail by clicking here. You can also refer a friend by clicking here, and can donate here to keep this site going.
For our updated, 787-event International Sports Calendar (no. 3) for 2023 and beyond, by date and by sport, click here!