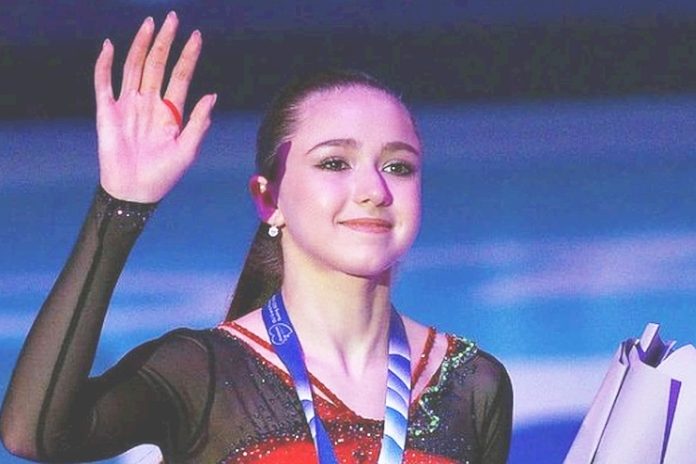 ★ The Sports Examiner: Chronicling the key competitive, economic and political forces shaping elite sport and the Olympic Movement.★
★ To get The Sports Examiner by e-mail: sign up here! ★
≡ THE 5-RING CIRCUS ≡
1. New Paris 2024 top-end track & sailing experiences available
2. Russia upset over no Asian Games invite; wants to retain top athletes
3. RUSADA wants Valieva to get only a warning
4. Fencing rule changes from the Kharlan-Smirnova bout added
5. UEFA to allow Russian U-17 teams to play as neutrals
● A new hospitality offering announced by On Location, the exclusive provider for the Paris 2024 Olympic Games, provides first-category tickets and a close-by lounge for most of the track & field evening sessions for between €5,500 to €8,500 per person, or $5,778 to $8,930. A much-lower-priced package is available for morning sessions. A unique, on-the-water package for sailing is also now available.
● The head of the Russian Olympic Committee is still upset that the offer last December for Russian to send athletes to the Asian Games was not followed through, principally by the International Olympic Committee. A new plan is being formulated to keep Russia's "golden hundred" athletes for moving elsewhere so they can compete again.
● The head of the Russian Anti-Doping Agency said she feels Kamila Valieva should get off with just a warning in the Court of Arbitration for Sport hearing now ongoing.
● The International Fencing Federation (FIE) finally published the new rule which removes the requirement for handshakes at the end of a bout with a "fencer's salute" a la what Ukraine's Olha Kharlan tried to do at the 2023 World Championships, but was disqualified anyway.
● UEFA's Executive Council approved a concept for Russian U-17 teams to be able to compete, saying "children should not be punished for actions" of adults. Ukraine is livid; Sweden, the host of the 2024 UEFA Girls U-17 Championship, said it would not allow a Russian team to play there.
● Panorama: Paris 2024 (Bad valve caused Seine water-quality issues) = Olympic Games 2036 (Poland plans to bid) = Asian Games (Three world leaders in the pool; Al-Rashidi, 60, equals shooting WR) = Athletics (2: Coe says the sport must modernize; World Athletics moves cross-country champs to Serbia) = Boxing (World Boxing Congress in November) = Luge (German superstar Geisenberger retires) ●
1.
New Paris 2024 top-end track & sailing experiences available
If you're looking for a best-of-the-best experience at the 2024 Olympic Games in Paris, the official hospitality providers – On Location – want to talk.
A new program, announced Monday, focuses on track & field and sailing with unique options.
For track & field, "On the Finish Line Gold" and "On the Finish Line Silver" bookings are now being offered. The Gold-level program is for the evening sessions on 2-3-5-7-9-10 August only, including first-category tickets, a hospitality lounge close to the seating area, food and drink, a gift and "exclusive meetings with star athletes." Pricing (€1 = $1.05 U.S. today):
● 03 August: €5,500 per person ~ men's 10,000 m final
● 04 August: €6,500 per person ~ women's 100 m, men's shot finals
● 05 August: €5,500 per person ~ women's 800 m, discus, men's vault finals
● 07 August: €5,500 per person ~ men's 400 m, Steeple, women's vault finals
● 09 August: €6,000 per person ~ men's 400 m hurdles, both 4×100 m finals
● 10 August: €8,500 per person ~ men's 800 m, women's 1,500 m, both 4x 400 m finals
The options do not include 4 August, with the men's 100 m final; 6 August, with the men's 1,500 m and women's 200 m finals, or 8 August, with the men's 200 m and 110 m hurdles and women's 400 m hurdles finals.
The Silver-level program is for the morning sessions from 2-9 August, also with first-category tickets and hospitality service, but which costs a lot less:
● 02 August: €1,150 per person
● 03 August: €1,150 per person
● 04 August: €995 per person
● 05 August: €995 per person
● 06 August: €995 per person
● 07 August: €995 per person
● 08 August: €995 per person
● 09 August: €995 per person
The 2-3 August sessions include the early rounds of the women's and men's 100 m, respectively.
The sailing program is even more ambitious, with a Gold Level Rooftop Package on the water in a private boat, or a Silver Level Terrace Package from the Marseille Marina, watching from a balcony:
● 28-29-30-31 July: €1,995 and €1,495
● 03-04-05 August: €1,995 and €1,495
● 01-02-06-07-08 August: €2,500 and €1,750
The IQ Foil wind-surfing races are on 1-2 August, and the 6-7-8 August programs feature the Formula Kite races and the final races in the 470 dinghy class and the Nacra 17 multi-hulls.
2.
Russia upset over no Asian Games invite;
wants to retain top athletes
Russian Olympic Committee President Stanislav Pozdnyakov blasted the International Olympic Committee once again for disallowing Russian entries into the ongoing Asian Games in Hangzhou (CHN). He told the Russian news agency TASS:
"Let's return to the Olympic Summit, where Acting President of the Olympic Council of Asia Randhir Singh [IND] was speaking. After [IOC President] Thomas Bach [GER] proposed seeking ways to bring Russian and Belarusian athletes back, he said that it would be nice to begin with the Asian continent, presumably with the Asian Games. Following this, the [Olympic Council of Asia] director general called me and said: '500 spots have been reserved for you, we are expecting your athletes.'
"We started waiting for the necessary specifics in terms of selection, logistics, the official invitation, after all. However, we were simply stonewalled by the other side. And on September 23, the Games kicked off. From the point of view of diplomacy, I think that such things are simply unacceptable; they did not even inform us that they reconsidered their decision to invite us.
"Even considering the fact that the Olympic Council of Asia got into trouble related to elections that the International Olympic Committee did not recognize as legitimate, these problems have also somewhat affected the fact that, in the end, there are no athletes from Russia at the Asian Games. The Games are being held in China, relations between our countries would have removed all security issues and the geographical closeness excludes any logistics issues. Yet, the IOC's stance turned out to be counterproductive."
The IOC declined to allow Russian and Belarusian entries at the Asian Games for "technical reasons."
The ongoing international sanctions have caused a substantial staff reduction at the Russian Olympic Committee:
"Certainly, the current situation does not inspire the staff, since one of the main tasks of the ROC is making preparations for the Olympic Games and the participation itself.
"The fact that we did not receive an invitation to Paris 2024 does not add any joy. Moreover, we had to significantly cut our staff. The reason is simple: the amount of work directly related to international Olympic events has decreased significantly.
"We had to make personnel decisions. We were able to help a number of our former staff members to find jobs with some Russia-wide sports federations; they are now working in the same building, doing the amount of work necessary for the relevant Russia-wide sports federations.
"These are specialists with good experience. The staff has been reduced by a quarter in total. However, as soon as the Olympic Games become open to us again, we will ask them to come back. Our main task now is to ensure that those specialists who have skills, knowledge and competencies do not leave the industry."
Deputy Sports Minister Alexey Morozov said that with more than 100 athletes leaving Russia to affiliate with other countries to allow them to resume competing – 55 in Olympic sports – the ministry is looking to create a program to keep its top athletes in the country:
"There is a working discussion of various approaches to incentivize athletes and coaches in the current situation. No decisions on the 'golden hundred,' no final formulations or definitions are available now.
"We are discussing with the expert community what we can do. We intend to raise the pay for athletes and coaches, maybe to reward athletes who have achieved outstanding results, but this discussion is only in the works, as many structures should be involved in this.
"It is a loss for us when an athlete joins the national team of another state, as certain efforts and resources are invested. We want them to compete for the Russian national team and stay with us and we are doing everything possible for that. But so far it is just a working discussion on various options."
3.
RUSADA wants Valieva to get only a warning
As the Court of Arbitration for Sport hearing on the Kamila Valieva doping case continues in Lausanne (SUI), the Director General of the Russian Anti-Doping Agency, Veronika Loginova, have her view of the case to the Russian daily sports newspaper Sport Express:
"As we said earlier, RUSADA believes that the athlete's side was unable to prove at the level established by the rules the complete absence of her guilt.
"As at the stage of presenting the case to the disciplinary committee, RUSADA believes that the athlete is guilty of violating the rules, however, it is minimal and a reasonable sanction would be a warning."
That would allow Valieva's eligibility to be preserved for the 2022 Beijing Olympic Winter Games and have Russia retained as the gold medalists in the figure skating Team event. The World Anti-Doping Agency is asking for a four-year ban.
Russian Olympic Committee chief Pozdnyakov told TASS that he believes the entire proceeding is suspect:
"The defense counsel was chosen by the athlete's entourage, which means they trust her. As for CAS, the existing negative experience over the past year and a half shows that there is no need to talk about fairness. For me, the fact that even sports arbitration, once independent, is now seriously engaged, is extremely unpleasant. And I am sorry that this process is taking place against the background of undisguised political pressure on all sports structures. Including CAS.
"In our practice, we have not always paid attention to the nationality of the chairman of the court [James Drake/GBR]. In previous years, they looked more at his professionalism, the prospects and the outcome of the cases in which he participated. Today, everyone is in a state of uncertainty. From our point of view, CAS has certainly come under pressure from external factors. And this affects his authority."
Pozdnyakov was also asked whether he thought the CAS panel was more interested in whether to "bury" Valieva or have the Team event victory handed to the U.S.:
"This medal is what it's all about."
The CAS hearing is scheduled to conclude on Thursday, but could continue on Friday if needed.
4.
Fencing rule changes from the Kharlan-Smirnova bout added
It has been widely reported that the Federation Internationale de Escrime (FIE) changed its rules following the 2023 World Championships incident in Milan (ITA) between four-time World Champion Olha Kharlan of Ukraine and Russian Anna Smirnova on 27 July, won by Kharlan, who refused to shake hands, but saluted her with her sabre, but was disqualified.
In fact, the rule change has only now been published in the FIE's September rules update, reading:
● "t.122 Rule until the end of the 2023-2024 season
"Before the beginning and at the end of a bout, the two fencers must perform the fencer's salute to their opponent, to the referee and to the spectators, as defined in article t.1.
"When the final hit of the bout has been scored, the two fencers stand still on their on-guard line while the referee is making his/her decision.
"The two fencers then perform the fencer's salute (cf. t.1) to their opponent, to the referee and to the spectators.
"The bout has then ended."
● "t.1
"In competition, the fencer's salute is a gesture of civility towards the opponent, the referee and the spectators.
"To perform the fencer's salute, the two fencers:
"– face each other
"– stand still on their on-guard line
"– place the mask under the non-sword arm
"– lift the guard to the chin
"– then lower the blade to the ground."
No more handshakes, as was required under prior editions of the rules, although relaxed due to the Covid-19 pandemic in recent years.
Russian Olympic Committee head Pozdnyakov said in a TASS interview that he still cannot believe what happened in Milan and afterwards:
"The punishment that the judge handed down in that situation was the only correct and logical one. But what began to happen next caused surprise. The IOC's decision to allocate her a separate quota, to put it mildly, was surprising.
"And to a greater extent not even the decision [to award an Olympic quota spot] itself, but the fact that it was made by a former fencer – the head of the IOC, Thomas Bach. If it were a representative of another sport, one could assume that he does not fully understand how everything works in fencing.
"I couldn't imagine that something like this could ever happen."
5.
UEFA to allow Russian U-17 teams to play as neutrals
"UEFA is also aware that children should not be punished for actions whose responsibility lies exclusively with adults and is firmly convinced that football should never give up sending messages of peace and hope. It is particularly aggrieving that, due to the enduring conflict, a generation of minors is deprived of its right to compete in international football.
"For these reasons, the UEFA Executive Committee has decided that Russian teams of minor players will be readmitted to its competitions in the course of this season. In this respect, the Executive Committee has asked the UEFA administration to propose a technical solution that would enable the reinstatement of the Russian U17 teams (both girls and boys) even when draws have already been held. All matches of the Russian teams shall be played without the country flag, anthem, national playing kit and not on the Russian territory."
That's from Tuesday's meeting of the Union of European Football Associations (UEFA) Executive Committee in Cyprus, offering a new look at Russian sanctions while continuing its ban on the higher-age national teams:
"At the same time, the Executive Committee reiterated its condemnation of Russia's illegal war and confirmed that the suspension of all other teams of Russia (clubs and national teams) will remain in force until the end of the conflict in Ukraine."
After the Russian invasion of Ukraine, UEFA suspended the Russian federation, removed all of its events from Russia, and ended its sponsorship agreement with the Russian energy giant Gazprom.
Ukraine's football federation reacted angrily:
"UAF strongly condemns today's UEFA decision on the return of U-17 teams from the Russian Federation to international competitions.
"UAF insists on preserving the previous decisions of UEFA and FIFA regarding the prevention of all Russian teams from participating in international competitions.
"UAF confirms that we will not take part in any competitions with the participation of Russian teams, and appeal to other UEFA member associations to boycott possible matches with the participation of teams from the Russian Federation, subject to their admission.
"We are convinced that the adoption of similar decisions regarding the gradual return of teams from the Russian Federation to participation in competitions in the midst of hostilities conducted by the Russian Federation against Ukraine is groundless and such that it tolerates Russia's aggressive policy."
The Swedish football federation, organizers of the 2024 UEFA girls U-17 championship, said that it would not allow a Russian team to play in the tournament.
≡ PANORAMA ≡
● Olympic Games 2024: Paris ● A report from the Paris regional and city authorities confirmed that the poor water quality in the Seine River in August that canceled an Olympic test event in open-water swimming and curtailed part of the following triathlon events was due to heavy rains and an open valve at a water-treatment plant.
The valve issues with the Tolbiac-Massena plant were due to storm damage, now repaired, with new monitoring systems being installed to prevent any wastewater leakage. As for the overflow of unexpectedly heavy rains, the continuing construction of rainwater regulators for the Seine and Marne rivers will be completed prior to the Games and create huge storm basins to deal with major rainfall episodes. These efforts should allow public swimming in sections of the Seine again as planned in 2025.
● Olympic Games 2036 ● Poland is now aiming to host the 2036 Olympic Games, with President Andrzej Duda telling reporters in Zakopane during the II European Congress of Sports and Tourism:
"After consultations with the Polish Olympic Committee (POC), the Ministry of Sport and Tourism and the government, I would like to say that it is our ambition and intention to start efforts to hold the Summer Olympic Games in our country in 2036.
"In this matter, I will forward a letter to the President of the International Olympic Committee, Thomas Bach, which will be handed to him by the President of the Polish Olympic Committee Rados aw Piesiewicz during the meeting to be held on October 6."
Poland is coming off a highly successful hosting of the 2023 European Games in Krakow and Malopolska in June and July, with 6,857 athletes from 48 countries competing in 254 events in 29 sports. The current thinking for a 2036 Olympic bid is that the competitions would be centered in and around the national capital of Warsaw.
● Asian Games ● Competition continues at the 19th Asiad in Hangzhou (CHN), with the hosts continuing to crush the rest of the field in most events.
The swimming events have been fierce, with tremendous marks in multiple events:
● Men/100 m Free: 46.97, Zhanle Pan (CHN) ~ World Leader
● Men/200 m Free: 1:44.40, Sun-woo Hwang (KOR) ~ no. 2 in 2023
● Men/100 m Back: 51.91, Jiayu Xu (CHN) ~ relay lead-off; no. 2 in 2023
● Men/200 m Medley: 1:54.62, Shun Wang (CHN) ~ World Leader
● Women/100 m Free: 52.17, Siobhan Haughey (HKG) ~ no. 2 in 2023
● Women/100 m Fly: 55.86, Yufei Zhang (CHN) ~ World Leader
● Women/200 m Fly: 2:05.57, Zhang ~ no. 5 in 2023
● Women/200 m Medley: 2:07.75, Yiting Yu (CHN) ~ no. 4 in 2023
Still a couple more days to go in the pool, with Xu having won four golds, including the 50-100 m Backs and two relays, and two individual golds on the women's side for Haughey (100-200 m Frees); Bingjie Li of China in the 400-1,500 m Frees; Zhang in the 100-200 m Flys and Yu in the 200-400 m Medleys. Zhang also had two relay medals so far.
China's 4×100 m Medley Relay of Xu, World 100-200 m Breast champ Haiyang Qin, Changhao Wang and Pan won in 3:27.01, the no. 2 performance in history behind only the U.S. record swim of 3:26.78 at Tokyo 2020.
¶
In shooting, Kuwait's Abdullah Al-Rashidi, now 60, the 1995-97-98 World Skeet Champion and Rio 2016 and Tokyo 2020 Olympic bronze medalist, not only won the men's Skeet final, but equaled the world record with a perfect 60-for-60 performance. That was just two shots better than India's Anantjeet Singh Naruka (58).
The Asian Games continues through 8 October.
● Athletics ● In a guest editorial in the South China Morning Post, World Athletics chief Sebastian Coe (GBR) wrote that track & field needs to continue to innovate. Highlights:
● "I wrote at the beginning we had the chance to shape Budapest in our own fashion. We have had medal plazas in the past, but this one just seemed to catch fire. I gave the medals to the 100 metres guys, and Noah Lyles [USA] broke down and said 'I've never been to a medal ceremony like this'.
"In the past we've been conservative – we've had them in the stadium, often at the end of the evening when most people are actually home or on buses. This time, it was in front of thousands of people in a fan zone. I think it is highly unlikely we are ever going to go back to presentations in a stadium."
● "We also changed the way that we introduce the athletes. They do not just come out now and find their lane. We showcase it. I think the public needs to be nudged gently about our history. So 1,500 metres winner Josh Kerr [GBR] walked out, past Steve Cram [GBR] and Hicham El Guerrouj [MAR], which shows that we are a sport with a deep history and heritage."
● "I am very honoured to be given the stewardship of the sport. The first four years were difficult. We had come through a really bad period and it was self-inflicted. We did not have the right governance in place, people behaved appallingly badly. I remember having to travel almost every day of the week, just to keep our sponsors on board.
"The next four years was dealing with all the things that we certainly could not have done while we were in crisis mode: issues around transfers of allegiance, the way the calendar comes together, the challenges of state sponsored doping in Russia and the illegal invasion of Ukraine.
"Then we had to get the building blocks in place before we can really do what I want to in the last four years of my mandate, which is to have a ruthless, forensic analysis of what is working and what isn't. Particularly around competition."
● "I am not designing the sport just around 15 and 16-year-olds, but you do need to recognise that the world has changed. The way young people consume everything has altered. And we need to make sure that our competitions are exciting and salient.
"We should question whether a nine-day World Championships is too much. Does it fit into the lifestyles of people?
"We talk about our season being May through to September, but it is really July through to September. And that isn't the basis of a professional sport. So we do need to get the athletes out on more occasions, we need to see more head-to-heads, that is what excites people."
¶
After removing the 2024 World Athletics Cross Country Championships from Medulin and Pula in Croatia for lack of progress, the federation stayed in the Balkans and awarded the event to Belgrade, Serbia for 30 March. Belgrade previously hosted the 2013 European Cross Country Championships and next year's event will use the same location.
The dates for the 2026 World Athletics U-20 Championships in Eugene, Oregon were confirmed for 4-9 August.
● Boxing ● World Boxing announced that its inaugural Congress will be held in Frankfurt (GER) on 24-25 November. Elections will be held; look for more federations to join, with the dates now fixed and membership required to vote.
● Luge ● German star Natalie Geisenberger, now 35 and a mother of two, announced her retirement after one of the greatest careers in the sport.
She won nine World Championships golds from 2009-19, including four Singles titles, a Sprint gold and four on the Team Relay, and collected 16 total Worlds medals, right up to a 2021 Singles silver. She won six Olympic golds, doubling in the Singles and Team Relay in 2014-18-22, and earned a singles bronze back in 2010.
She said in a television interview, "I couldn't be more grateful and proud. It's always been my dream to end my career with two big smiles on my face. This is the moment to say: Thank you, that's it!"
¶
You can receive our exclusive TSX Report by e-mail by clicking here. You can also refer a friend by clicking here, and can donate here to keep this site going.
For our updated, 787-event International Sports Calendar (no. 3) for 2023 and beyond, by date and by sport, click here!