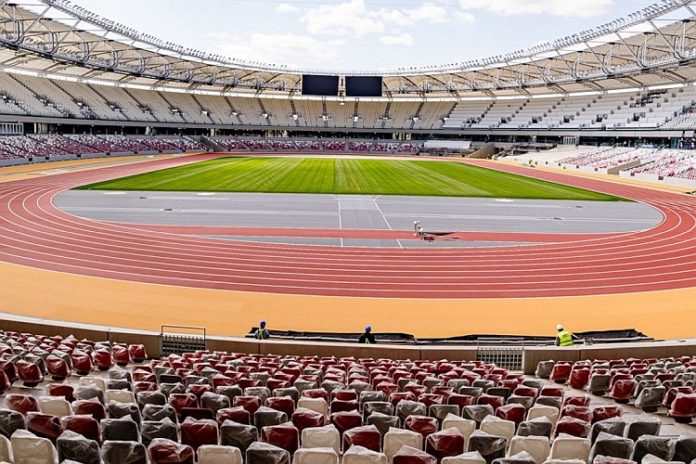 ★ The Sports Examiner: Chronicling the key competitive, economic and political forces shaping elite sport and the Olympic Movement.★
★ To get The Sports Examiner by e-mail: sign up here! ★
≡ THE 5-RING CIRCUS ≡
1. Poland coordinating diplomatic push vs. Russian return
2. Ricci Bitti says ASOIF guidance will include a declaration
3. Pozdnyakov "surprised" by low motivation of Russian athletes
4. IBA notes USA Boxing withdrawal; threatens officials again
5. Sightseeing tour of Paris included in 2024 triathlon route
Polish sports minister Kamil Bortniczuk said he is working to coordinate a European government response to the International Olympic Committee's recommendations on Russian and Belarusian re-entry into international sports. He'll have support from members of the Parliamentary Assembly of the Council of Europe, who sternly criticized the IOC's idea to allow "neutral" Russians and Belarusians to compete again, while the war against Ukraine continues. The head of the Association of Summer Olympic International Federations (ASOIF) said that Russian and Belarusian athletes who want to return will have to sign a declaration of some kind, attesting to their "neutrality." The complexities are substantial and the effort is a work in progress. The President of the Russian Olympic Committee said he does not understand why some Russian athletes are having trouble with motivation during this period of exile from international competition. The International Boxing Association noted USA Boxing's withdrawal, blaming it on a referral for sanctions against its officials for helping to found the new World Boxing federation. That's not what USA Boxing's letter said, however. The IBA also issued a letter "reminding" its referees and judges not to participate in the IOC's Paris 2024 Olympic qualifying events without IBA permission; that drew a strong rebuke from Dutch Boxing Federation chief Boris van de Vorst, who said the IBA "is attempting to treat them like property." The triathlon course for Paris 2024 was announced, starting in the River Seine and including multiple landmarks in the city on the bike and run routes.
● Panorama: Athletics (2: 2023 Worlds track in Budapest unveiled; Guardian Life sponsors Michigan wheelchair-sports program) = Basketball (Griner speaks of captivity at news conference) ●
1.
Poland coordinating diplomatic push vs. Russian return
Polish Minister of Sport and Tourism Kamil Bortniczuk told RMF Radio on Thursday that Russian and Belarusian athletes will not compete at the European Games in Krakow and Malopolska in June and that he is working on further political pressure on the International Olympic Committee:
"We are in the process of formulating the next position of the coalition of 36 countries. On May 15, we have the EU Council for Sport, where we also plan to adopt a declaration that will clearly oppose the return of Russians and Belarusians to the international arenas."
He also noted that while Poland has protested the IOC's 28 March recommendations opening a pathway for "neutral" Russian and Belarusian athletes to re-enter international competitions, the Russians and Belarusians are also angry because so many of their athletes have ties with their military or national security agencies:
"There are competitions where almost one hundred percent of Russian personnel are formally soldiers of the Russian army."
He also offered a small surprise, that in discussions with Ukrainian colleagues, there could be some Russian athletes who could be accepted back into competition:
"They indicated probably five Russian sportsmen who opposed the war so clearly that the Ukrainians would see the possibility of competing with them."
Bortniczuk's comments followed Tuesday's hearing in Strasbourg (FRA) by the Parliamentary Assembly of the Council of Europe Committee on Culture, Science, Education and Media on "Excluding the athletes and officials of the Russian Federation and Belarus from participating in the international Olympic Movement."
In addition to a strident, eight-and-a-half minute video from British lawmaker Lucy Frazer outlining her concerns over the IOC's recommendations, there were passionate comments from the floor in the same direction.
Britain's George (Lord) Foulkes was especially pointed in his criticism of "special status" for athletes:
"With due respect to our [IOC] guests, I find the special pleading for sportsmen quite sickening. There are two arguments that you are putting forward. One is that there are other conflicts around the world. That's no explanation at all.
"What we're fighting here, as an organization that upholds democracy, we are fighting – we are supporting – Ukraine because they are fighting, they are dying on our behalf, fighting for democracy against totalitarianism.
"And how is this war going to end? It's only going to end in one way, and that is Putin deciding to give up. And how can we make him give up? There is only one way, that the people of Russia need to put pressure on him. And just as the sanctions on businessmen, on oligarchs, is to make sure that they – to protect their fortunes – put pressure on Putin, we need the athletes to put pressure on Putin.
"And the only way to do that is to stop them participating in any way whatsoever in these international events. And we need to be firm on this. As an organization destined, designed to protect human rights and democracy, if we don't do that, then we are failing in our duty."
Denmark's Mogen Jensen, twice a national minister, took aim at the Olympic Charter:
"Imposing a war on another country with all that mass destruction, lost lives, violence, has to have a clear consequence. And for me, it overrules the statues of the Olympic Movement.
"We have imposed sanctions on a lot of people in Russia. When you impose sanctions on companies which cannot trade, you impose sanctions on, you could say, innocent workers in Russia, who has nothing to do with this conflict.
"Why should this be different when it comes to people who exercise sports? Is there is special discrimination on sports people to impose sanctions and to exclude other, ordinary Russian citizens? I don't think so.
"Sport has also to take their responsibility when it comes to countries that impose wars on other countries, so I think there's only one clear signal, one clear message to send here from the Assembly and that is to exclude officials and athletes from Russia and Belarus for the Olympic Games and I think that the Olympic Movement should take down that message."
2.
Ricci Bitti says ASOIF guidance will include a declaration
Russian and Belarusian athletes who want to come back into international competition will need to have a pen with them.
In an interview with the French all-sport newspaper L'Equipe, Francesco Ricci Bitti (ITA), the former head of the International Tennis Federation and now head of the Association of Summer Olympic International Federations (ASOIF), explained that the current thinking about the specific process of certifying athlete "neutrality" will require the execution of a declaration concerning the Russian war against Ukraine:
"The athletes will have a declaration to sign.
"But they will not be asked to say that they are against the war because that becomes a criminal matter in Russia. We are in the process of developing, with legal assistance, a model declaration. Formula 1 drivers already do that. Federations like swimming are already ahead and we will try to harmonize all that, but it is not easy.
"There is another delicate subject, it is the control [of the conformity of the athletes to the reinstatement criteria]. We are studying the possibility of entrusting this task to the Court of Arbitration for Sport. But it's not official yet."
In its detailed recommendations brief, the IOC noted that "Only those Individual Neutral Athletes and support personnel who have not acted against the peace mission of the Olympic Movement by actively supporting the war in Ukraine may be invited to participate in international sports competitions" and added some further specifics, including:
"In order to ensure a harmonised interpretation of these criteria, the IFs should consider creating a single independent panel under the umbrella of the IF associations (ASOIF, AIOWF, ARISF) to take the decisions."
That's where Ricci Bitti's ASOIF comes in, endorsing its role in a statement on 30 March:
"ASOIF is ready to support and assist the concerned International Federations in their forthcoming discussions with the IOC given the complexity of the implementation and the serious implications on the qualification system for the Paris 2024 Olympic Games."
But, as Ricci Bitti said, "it's not official yet."
3.
Pozdnyakov "surprised" by low motivation of Russian athletes
"The sport of the highest achievements is a matter of special pride for both Belarusians and Russians. Our history is rich in sporting events, and continuity will be preserved. The sports of the highest achievements will live in our countries, today the conditions are difficult, but any athlete, if he is of a high level, can look for motivation in any particular fight.
"To be honest, I'm always surprised when they say that athletes lose motivation. How can you lose motivation if one of the main Olympic principles is the desire for improvement? To be the first always and everywhere, in all competitions. This is what the vast majority of our athletes strive for, and in this we will help them in every possible way."
That's Russian Olympic Committee chief Stanislav Pozdnyakov, a four-time Olympic fencing champion and 10-time World Championships gold medalist, from Wednesday in a rare joint appearance with Viktor Lukashenko, the head of the National Olympic Committee of Belarus and son of Belarusian President Alexander Lukashenko, at the National Athletes Forum in Minsk.
Lukashenko added, "This has always been our top priority, and we have made great progress in this direction. We have created clusters, ranging from children's to youth and adult competitions. CIS [Commonwealth of Independent States] Games, which will be held in August, should clearly demonstrate that the sport has not stopped in place. We have a number of ideas, we are constantly looking for serious competitions, we do not have any kind of stagnation."
Both criticized both the 2022 IOC sanctions recommendations and the IOC's 28 March initiative to explore a pathway for "neutral" individual Russian or Belarusian athletes to return to international competition. Lukashenko said:
"The question is not only about symbolism, there are a number of conditions. We all heard the statement of the International Olympic Committee, where there have been some kind of warming, movement, from our point of view, in the right direction. But the decisions were submitted to the judgment of international sports federations.
"As for the Olympics, there is no talk of qualifying yet, only about international competitions. There should be some definite red line that we cannot cross. Only with respect for our country, our athletes, we will be able to take part in these competitions. We don't rush headlong into the pool . . . if only ours were allowed in. There are certain moments in which we will never step over ourselves."
Pozdnyakov maintained his steady line against any sanctions:
"A month ago, the IOC put forward rather complicated and, I would say, too strict conditions. I called this situation a farce. The IOC went forward, heard criticism from the U.N., the Human Rights Council. Discrimination on the basis of nationality has been supplemented by discrimination based on the type of activity, membership in sports organizations by sports.
"Today, those unfair and legally insignificant conditions that are not spelled out in any of the sections of the Olympic Charter are arbitrariness on the part of the IOC. And we will seek to change these conditions."
He said the Russian Olympic Committee was in the process of formulating re-entry recommendations of its own for its national sports federations.
4.
IBA notes USA Boxing withdrawal; threatens officials again
The International Boxing Association posted a statement with its own take on the withdrawal of USA Boxing:
"The International Boxing Association (IBA) acknowledges the resignation of the National Federation of the United States of America, USA Boxing, on 26 April 2023 that came as an immediate reaction to the filing of the official compliant to the Boxing Independent Integrity Unit (BIIU) for their involvement in the creation of a rogue boxing organization
"With this decision, the National Federation and all its members, including officials, coaches, and boxers, are prohibited from having any relationship with IBA and from participating in any of its, or any affiliated member competitions as enshrined in the IBA Constitution and IBA Technical and Competition Rules. The above-mentioned is an automatic mechanism triggered by the resignation email of USA Boxing received by the IBA yesterday.
"Not only did the USA Boxing's decision hurt all their affiliates who will now not be able to take part in IBA's or affiliated member competitions, but it also deprives the boxing community as a whole from competing together and increasing the level of the talent within the boxing family."
This interpretation is, of course, quite different from the reasons listed by USA Boxing chief executive Mike McAtee in his five-page letter made available on Wednesday, which focused on the IOC's continuing issues with the IBA on finance, governance and refereeing and judging.
Also on Thursday, Dutch Boxing Federation President Boris van der Vorst referenced a letter sent by IBA Development Director Chris Roberts (GBR) to all IBA technical officials which noted a rule which prohibits participating "in an International Tournament which is not approved in advance by IBA."
This is a specific warning against participation as an official with the IOC's Paris Boxing Unit, which is overseeing the qualification process for the Paris 2024 Olympic Games. There was more:
"It is within our duty to remind all recipients of this instruction, that all Technical Officials who have responded to any communication presented by the [Paris Boxing Unit], should inform the IBA Development Department at development@iba.sport as to their proposed intention regarding Paris 2024 and participation in the event holistically. This would include selection for any events that are known to be in a qualifying capacity, or a selection procedure moving towards the end-state of the tournament.
"The process in terms of communication to IBA is clear, all qualifications/certifications met by each respective official are owned and directed by IBA. The pathway and education are appropriately managed by IBA, with extensive investment to support everyone through that process of both events and continuous professional development."
The obvious intent is to try and keep existing IBA officials from working at the IOC's Paris 2024 qualifiers, who will first include 2023-24 continental multi-sport events such as the African Games, Asian Games, European Games and Pan American Games. A final Paris qualifier will be held in 2024.
Van de Vorst tweeted:
"An IF, suspended from the Olympic Movement, in big part for failing to establish & implement effective management and development systems for their competition officials, is attempting to treat them like property. Not acceptable. Time for change."
and
"To boxing competition officials around the world: an International Federation is not in a position to restrict your professional affiliation choices! Don't fall for continued threats. Time to leave the corrupting & authoritarian regime behind!"
Van der Vorst's Dutch federation is expected to join the new World Boxing federation, following the U.S. lead.
5.
Sightseeing tour of Paris included in 2024 triathlon route
The Paris 2024 organizers announced Thursday the route of the 2024 Olympic and Paralympic triathlon courses, beginning in the River Seine and continuing on bicycle and foot through multiple Parisian landmarks.
The Olympic triathlon comprises a 1.5 km swim, 40 km bike phase and 10 km run. Swimming will be held in the River Seine, now undergoing a major cleaning effort to once again allow swimming, with a two-loop course of 910 m and 590 m, followed by a climb of 32 steps to the Pont Alexandre III bridge for the first transition zone.
The bike segment will be over seven laps of a 5.715 km route on the Avenue Winston Churchill, the Champs Elysees, Avenue Montaigne, the Boulevard Saint-Germain and the Rue de Bac, and include some cobbled sections.
The run phase will be four loops of 2.5 km, finishing on the Pont Alexandre III bridge.
The Grand Palais, the Petit Palais, the Quai d'Orsay and Quai Anatole France are all along the route. The men's race will be held on 30 July 2024 at 8 a.m. and the women's race at the same time on the following day. Each race will have 55 entrants.
The Mixed Relay will also be held on the 31st, with a 300 m swim, 5.8 km ride and 1.8 km run for two men and two women.
The Paralympic courses will include most of the same elements, but in a course of 750 m for swimming, 20 km of cycling and a 5 km run on 1-2 September.
≡ PANORAMA ≡
● Athletics ● The new National Athletics Centre stadium in Budapest, Hungary was opened for inspection on Wednesday, just less than four months ahead of the 2023 World Athletics Championships from 19-27 August.
The facility was built to host the championships, but will be reconfigured for long-term use. Situated right on the iconic Danube River, it will seat 35,000-plus for the Worlds, but then reduced to a more suitable 14,000 for long-term use, allowing for the construction of a running path and a 26-acre sports park. About 160,000 tickets – perhaps 40% – have been sold so far.
As built for the 2023 Worlds, the facility includes press seating for 500, a news conference room for 110 and a workroom for 400.
The Mondo track has nine lanes and there is a six-lane indoor running track. And a change in the awards protocol:
"In contrast to previous world championships, the medal ceremonies will be held outside the stadium, in the adjacent Medal Plaza, before the evening sessions, instead of between the events, so that spectators arriving at the venue will be able to get up close to the world's best athletes."
¶
An interesting sponsorship announcement came on Tuesday, with the Guardian Life Insurance Company of America stepping up in a new role in Paralympic sport with:
"a multi-year grant to the University of Michigan Adaptive Sports and Fitness (ASF) program for the creation of the Adaptive Student Athlete Program (ASAP). This national program significantly expands access to competitive opportunities in Para track and field, wheelchair tennis, and wheelchair basketball for collegiate student athletes with disabilities, paving the way for them to increase their participation and receive equitable recognition alongside their able-bodied peers."
The project will immediately be showcased at this weekend's Drake Relays, where the first National Collegiate Wheelchair Championships will be held in the 100 m.
Guardian is a leading disability insurer and financial services provider, and part of its funding will take care of the costs of the wheelchair races and athlete travel, lodging, and other costs.
Is this the start of more corporate sponsorship of Para programs at the collegiate level? In addition to the Drake Relays racing, the Wheelchair Tennis National Championships in Florida in May and a Michigan wheelchair basketball tournament in September.
● Basketball ● Two-time Olympic gold medalist Brittney Griner appeared at a Thursday news conference in Phoenix, describing in public for the first time some of her feelings during her wrongful detainment in Russia that ended with a prisoner swap last December.
"I'm no stranger to hard times," Griner, 32, said, explaining that pictures of her family were of special comfort to her while imprisoned.
"Just digging deep. You're going to be faced with adversities in life. This was a pretty big one. I just relied on my hard work to get through it."
She has resumed training, readying to play for the WNBA's Phoenix Mercury this season:
"I feel like I've hit the corner and just loving it now, but at first there was a point where it was like, wow, dang, I really want to do this this fast right now? But no, it was so worth it. So worth it."
After being detained while going to play with her Russian club team, she also noted, "I'm never playing overseas again. The only time I would want to would be to represent the USA."
She also thanked the news media for their coverage:
"Thank y'all for covering me and all the exposure you gave me, my family to help get me home. That coverage was much needed.
"I was aware of the efforts and everything that was going on. I know people were fighting for me and bringing awareness. That made me more comfortable there, and meant I had hope, which is a hard, dangerous thing to have because when it doesn't work, it's so crushing.
"No one should be in any of the conditions that I went through or they're going through."
Griner announced a new effort with the WNBA's Mercury and the Bring Our Families Home campaign (BOFH) to raise awareness and support those impacted by wrongful detainment in other nations.
¶
You can receive our exclusive TSX Report by e-mail by clicking here. You can also refer a friend by clicking here, and can donate here to keep this site going.
For our updated, 651-event International Sports Calendar (no. 2) for 2023 and beyond, by date and by sport, click here!