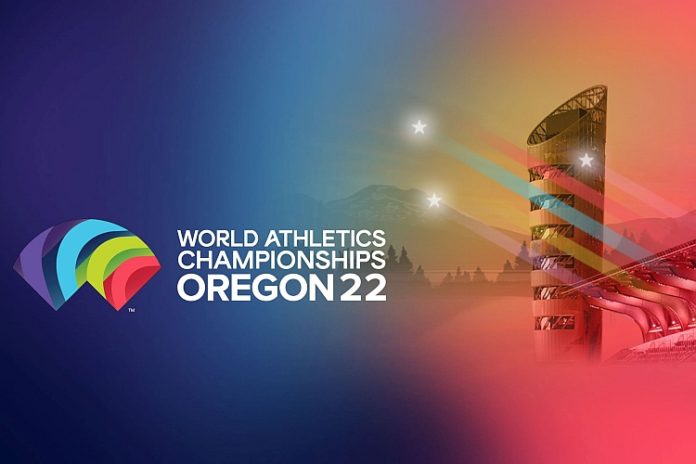 ★ The Sports Examiner: Surveying, monitoring and explaining the key competitive, economic and political forces shaping elite sport and the Olympic Movement. This site is free to view, with donations gratefully accepted to support our operating costs.
Comments? Click here. ★
★ Sign up for The Sports Examiner's session-by-session coverage
e-mails now: click here ★
≡ WORLD ATHLETICS CHAMPIONSHIPS ≡
Session 1 ~ Friday, 15 July 2022
The first World Athletics Championships to be held in the United States opened at 9:06 a.m. Pacific time on Friday in front of a few hundred fans at the new Hayward Field in Eugene, Oregon.
Canada's Adam Keenan was the first competitor, in the men's hammer qualifying, reaching 74.38 m (244-0), but he did not qualify for the final. Poland's Olympic champ Wojciech Nowicki reached the automatic qualifying distance on his first try of 79.22 m (259-11) and American Daniel Haugh led the first group at 79.34 m (260-4).
We're underway.
The "opening ceremony" appeared to be a 10-minute march of 200 school children around the track at 10 a.m., waving flags of the 192 participating countries.
In the first session:
● Men/Hammer qualifying: Four-time World Champion Pawel Fajdek led all qualifiers at 80.09 m (262-9), ahead of Haugh and Nowcki. Americans Rudy Winkler qualified fifth at 78.61 m (257-11) and Alex Young was the final qualifier at 74.67 m (244-11).
● Men/High Jump qualifying: Eleven jumpers cleared 2.28 m (7-5 3/4), including Olympic co-champs Gianmarco Tamberi (ITA) and Mutaz Essa Barshim (QAT). Americans JuVaughn Harrison and Shelby McEwen both qualified, as did Korea's Sanghyeok Woo, who – with McEwen – have the best seasonal best in the field at 2.33 m (7-7 3/4).
● Mixed/4×400 m heats: The U.S. team of Elija Godwin (44.89), Kennedy Simon (50.64), Vernon Norwood (44.74) and Wadeline Jonathas (51.48) won heat one with a world-leading 3:11.75, easily ahead of the Dutch (3:12.63) and Poland (3:13.70). The Dominican Republic won heat two in 3:13.22, beating Ireland (3:13.88) and Jamaica (3:13.95). The U.S. is the defending champ from the 2019 Worlds, but was third to Poland in Tokyo in 2021.
● Men/100 m prelims: The "run-in" races were led by Emanuel Archibald (GUY) at 10.31, ahead of Ebrahima Camara (GAM: 10.37).
● Women/Hammer qualifying: American Janee Kassanavoid led the first group with an auto qualifier of 74.46 m (244-3), and teammate Brooke Andersen – the world leader – also got the automatic qualifier at 74.37 m (244-0) to lead the second group. They were 1-2 overall, with fellow American Annette Echikunwoke qualifying fifth at 72.60 m (238-2).
● Women/20 km Walk: The first final of Oregon22 started in 80 F temps, with China's London 2012 gold medalist Shijie Qieyang and Peru's Kimberly Garcia Leon sprinting to the lead and dumping the field after 3 km, forging an 11-second lead after 4 km and 14 seconds after 5 km (21:42) on the 1 km loop outside of Oregon's Autzen Stadium. The pair passed 10 km in 43:41 with a 20-second edge on the field, walking about 4:22 per kilometer. Poland's Katarzyna Zdzieblo, 10th in Tokyo, was all alone in third, with a 36-second lead by 12 km.
At 14 km, Garcia Leon moved ahead and had a two-second edge at 15 km, but then six at 16 km and 18 at 17 km, with Zdzieblo passing a slowing Qieyang at the 17.5 km mark. Garcia Leon won easily in a national record 1:26:58, followed by Zdzieblo, also in a national mark of 1:27:31. Qieyang won the bronze in 1:27:56, her third career Worlds medal (0-1-2). Americans Robyn Stevens finished 24th (1:36:16) and Miranda Melville was 35th (1:39:58).
Garcia Leon – whose best finish was a third at the 2022 World Team Championships – won Peru's first-ever medal at the World Championships and stopped a five-Worlds winning streak for the Chinese. She also won $70,000 for the victory.
The men's 20 km Walk follows at 3:10 p.m.
¶
More visa issues, as Britain's Curtis Thompson "will not compete in the World Athletics Championships men's marathon this weekend after significant delays in the processing of his US visa.
"UKA had been in close liaison with World Athletics and enlisted help of the UK Government to solve a last minute hold up, however, due to the close proximity to the marathon on Sunday 17 July, Thompson is now unable to travel and compete."
The BBC reported:
"The United States Olympic and Paralympic Committee (USOPC), Oregon22 organisers and World Athletics have dealt with 374 cases, with 255 resolved and 20 refused [99 unresolved].
"In some cases, athletes have had delays in getting interviews, or applications have either been late or contained incorrect information."
≡ PANORAMA ≡
● Basketball ● Two-time Olympic gold medalist Brittney Griner appeared in a Moscow court again on Thursday and Friday, but with no verdict announced in her trial for "drug smuggling."
Griner has pled guilty with hopes to obtain a reduced sentence. During Thursday's hearing, she was praised by members of her Russian club, UMMC Ekaterinburg. Griner's attorneys expect the proceedings to continue into August; she has been detained since mid-February. U.S. authorities consider Griner to be unlawfully detained.
● Bobsled & Skeleton ● The International Bobsleigh & Skeleton Federation elected Italian Ivo Ferriani, 62, for a fourth term as President, which he says will be his last. He ran unopposed. Also:
"The delegates of the International Bobsleigh & Skeleton (IBSF) 2022 Congress in Lausanne (SUI) have voted to suspend all athletes of the Bobsleigh Federation of Russia (BFR) or otherwise affiliated to the BFR from participating in IBSF bobsleigh or skeleton competitions until further notice."
The Congress also made a change that multiple federations are adopting, allowing its Executive Board to take "protective measures" in case of unforeseen events, allowing the suspension of "federations or persons for the necessary time or cancelling/relocating events."
● Cycling ● Stage 12 of the Tour de France, on a hilly, 192.6 km route ending in Saint-Etienne, saw a final sprint won by Dane Mads Pedersen from Fred Wright (GBR) and Hugo Houle (CAN) in 4:13:03. American Matteo Jorgenson was fifth (+0:30). The overall leader finished in a pack, 5:45 behind; Jonas Vingegaard (DEN) continues to lead two-time defending champ Tadej Pogacar (SLO) by 2:22 and Geraint Thomas (GBR) by 2:26.
● Football ● Six appeals made by Russian football clubs against decisions by FIFA and UEFA which suspended the clubs indefinitely were rejected by the Court of Arbitration for Sport.
The Football Union of Russia and clubs FC Zenit, FC Sochi, PFC CSKA Moscow and FC Dynamo Moscow appealed and lost:
"[T]he Panel determined that the escalation of the conflict between Russia and Ukraine, and the public and government responses worldwide, created unforeseen and unprecedented circumstances to which FIFA and UEFA had to respond. In determining that Russian teams and clubs should not participate in competitions under their aegis while such circumstances persisted, the Panel held that both parties acted within the scope of the discretion granted to them under their respective statutes and regulations. …
"The Panel finds it unfortunate that the current military operations in Ukraine, for which Russian football teams, clubs, and players have themselves no responsibility, had, by reason of the decisions of FIFA and UEFA, such an adverse effect on them and Russian football generally, but those effects were, in the Panel's view, offset by the need for the secure and orderly conduct of football events for the rest of the world."
● Skating ● The International Skating Union announced the figure skating Grand Prix schedule – at least most of it – for 2022 on Thursday, with four events set in the U.S., Canada, France and Japan, plus the final in Italy. However, the stops in Russian and China will have to be replaced, with the ban on Russian events and China withdrawing in view of continuing Covid uncertainties. One of the events has been replaced and will be held in Espoo (FIN), with one still to be determined.
The schedule will open, as usual, in the U.S. with Skate America, to be held in Norwood, Massachusetts on 21-23 October, followed by Skate Canada International on 28-30 October in Mississauga, Ontario.
● Weightlifting ● The newly-elected International Weightlifting Federation Executive Board met for the first time on Thursday, in Lausanne (SUI). Despite reports of legal challenges to the elections, the Board considered actions to try and retrieve its place on the Los Angeles 2028 program:
"[C]oncrete steps were agreed including commissioning the International Testing Agency (ITA) to increase the number of out-of-competitions tests. Additionally, an international auditing firm will now be appointed to perform a detailed financial, governance and operational due diligence of the IWF covering the past ten years."
This is yet another report on the IWF's sordid past, adding to the 2020 report by McLaren Global Sport Solutions and the ITA's 2021 report of doping issues from 2009-19. Whether this will help satisfy the International Olympic Committee's concerns is open to question.
¶
You can receive our exclusive TSX Report by e-mail by clicking here. You can also refer a friend by clicking here, and can donate here to keep this site going.
For our updated, 620-event International Sports Calendar for 2022 and beyond, by date and by sport, click here!