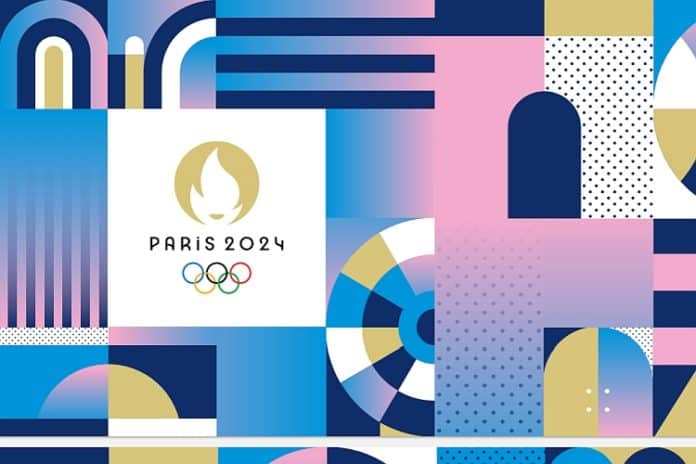 ★ The Sports Examiner: Chronicling the key competitive, economic and political forces shaping elite sport and the Olympic Movement.★
★ To get The Sports Examiner by e-mail: sign up here! ★
≡ THE 5-RING CIRCUS ≡
1. Report: Paris 2024 sells a million tickets in 48 hours
2. No boycott yet, but EU asks IOC to keep Russia out of Paris '24
3. Russian border-state athletes want declarations and donations
4. Giro d'Italia leader Evenepoel out after Covid positive
5. Lots of star power in L.A. Grand Prix entry lists for 26-27 May
The Paris 2024 organizers hoped to sell 1.5 million tickets in its second sales phase, but moved more than a million last Thursday and Friday alone in the first 48 hours of sales Premium packages for the Opening Ceremony on the Seine were also announced, at €9,500-7,500-5,000 per person. European Union sports ministers continued to urge the International Olympic Committee not to allow Russia or Belarus to return to international competitions, or compete at the Paris 2024 Games, while an athlete's conference in Estonia compiled a five-step list of requirements for readmission, including an anti-war declaration, a donation to Ukraine and no state funding. At the106th Giro d'Italia, co-favorite and race leader Remco Evenepoel of Belgium withdrew after a positive test for Covid after winning the seventh stage. The L.A. Grand Prix track & field meet coming to UCLA on 26-27 May unveiled most of its entries, including a long list of Olympic and Worlds medal winners, headed by 2022 world-record setters Sydney McLaughlin-Levrone, Mondo Dupantis, Ryan Crouser and Tobi Amusan.
● Panorama: Ancient Olympic Games (many were vegetarians) = Paris 2024 (caregivers, security staff to take up 3,000 dorm rooms) = Anti-Doping (WADA considering extending terms for President, Vice President) = Archery (Ellison and Kaufhold take Gator Cup titles) = Athletics (USC star Willie Deckard passes) = Boxing (IBA asks new sanctions on four national federations) = Cycling (2: UCI placing new tech on frames to prevent cheating; condemns use of helicopters to move some riders at Giro d'Italia) = Football (Unilever takes major sponsorship with FIFA) = Gymnastics (Colombia and Brazil win PanAm Trampoline titles) = Shooting (Australians raising their own money for competitions) = Swimming (big marks at Sydney Open in Australia) ●
1.
Report: Paris 2024 sells a million tickets in 48 hours
The FrancsJeux site noted Monday that the opening hours of the second phase of the Paris 2024 ticket sales effort was a smashing success.
More than 1,000,000 tickets were purchased on Thursday (11th) and Friday (12th) alone, out of a hoped-for total of 1.5 million tickets in this phase.
That's a strong start and the report cited 20 disciplines or sports which have been marked as sold out:
● Aquatics: Artistic Swimming, Diving, Open Water
● Athletics: Marathon, Race Walking
● Basketball: 3×3
● Breaking
● Cycling: BMX Freestyle, BMX Racing, Road, Mountain Bike, Track
● Equestrian
● Fencing
● Gymnastics: Rhythmic
● Modern Pentathlon
● Shooting
● Skateboarding
● Sport Climbing
● Triathlon
These are all sports with fairly limited seating, compared with, for example, athletics and football. The most popular sports in terms of sales were football, athletics, beach volleyball, tennis and basketball.
These early "sell-outs" are a big help for the Paris 2024 organizers, who can now re-visit these sites – knowing their popularity – and see if there are ways to augment the seating, and ask for tickets back from International Federations, National Olympic Committees, sponsors and others if they are not going to be used. Because now they know they can sell them.
¶
Premium seating packages for the Opening Ceremony on the River Seine went on sale last week, with multiple options for seeing the parade of nations and the protocol aspects of the event from various locations. Some of the options (€1 = $1.09 U.S. today):
● €9,500 per person (+ tax): Bridge 360 at the Alma Bridge, with a "cocktail-style dinner," live entertainment and a gift.
● €7,500 per person (+ tax): Riverside Gold Package, with a Category A ticket, buffet dining and live entertainment at the Palais de Tokyo, and a gift.
● €5,000 per person (+ tax): Riverside Silver Package, with a Category B ticket, buffet dining and live entertainment at the La Maison de l'Amerique Latine, and a gift.
All three levels promise dedicated "way-finding" help and charging stations and restroom facilities nearby.
2.
No boycott yet, but EU asks IOC to keep Russia out of Paris '24
"I do think that the International Olympic Committee, they really risk a trust issue here if they are not listening, and also making sure that no Russian athletes can represent Russia in any way at the Olympics."
That's Swedish sports minister Jakob Forssmed, speaking with The Associated Press on Monday on the sidelines of a meeting of European sports ministers in Brussels (BEL).
He said that a boycott by European nations of the Paris 2024 Olympic Games is not in the works, at least not yet. Sweden currently holds the rotating Presidency of the European Union, putting it in a position to advance its own agenda items through July.
The 27 member nations have been quite resolute against a Russian or Belarusian return to participation in international sports, or the Olympic Games next year, with the exception of Hungary.
As for the IOC's recommendation that athletes returned to competition cannot be part of the armed forces or national security apparatus. Forssmed warned of the difficulties:
"It's very, very difficult to see this happening because they are so integrated with the administration in Russia.
"[Athletes] are often governmentally employed or they are state sponsored or they were even employed by the army. So, that makes it very, very difficult."
3.
Russian border-state athletes want declarations and donations
The just-concluded "Athletes for Peace and Freedom International Sports Conference" with athletes from Estonia, Latvia, Lithuania, Poland, Ukraine and dissident athletes from Belarus met in Tallinn (EST) and posted a three-page declaration, including a list of five points as "admission criteria" to international competitions:
"a) Athletes with a Russian or a Belarusian passport must publicly sign documents on condemnation of aggressive war or neutrality, including the Anti-War Declaration;
"b) Athletes with a Russian or a Belarusian passport must make a donation to help Ukrainian people;
"c) Athletes with a Russian or a Belarusian passport must compete only as Individual Neutral Athletes. A special procedure to check the eligibility and to nominate such Individuals independent from the National Olympic Committees or federations of Russia and Belarus must be introduced by international federations;
"d) Athletes who are contracted to the Russian or Belarusian military or national security agencies cannot compete. Support personnel who are contracted to the Russian or Belarusian military or national security agencies cannot be entered.
"e) Athletes who meet the criteria are prohibited from using public sources of funding from Russia and Belarus."
In contrast with many calls for Russian and Belarusian exclusion, this declaration again would allow them to compete, but only under such stringent conditions that few, if any, would qualify.
The document goes on, and includes requests:
● "Recognize the right of the Ukrainian side to boycott international sporting events, including the Olympic Games, including a collective boycott, in case the eligibility criteria are not revised to become stricter and more specific. Such action should not be deemed as a derogation from autonomy of sport."
and
● "Urge the International Olympic Committee to develop universal criteria for ensuring that the Olympic movement conforms to its main mission – to establish and maintain peace and sustainable development with a special respect to the values of human rights, freedom and democracy."
It's hard to see this specific declaration getting much traction, but it does state a position from athletes who are closest to this conflicts, in countries which have absorbed million of Ukrainian refugees.
4.
Giro d'Italia leader Evenepoel out after Covid positive
Belgian star Remco Evenepoel, 23, in the midst of a dream season and a day after regaining the lead in the 106th Giro d'Italia, is out of the race. He explained:
"I am really sorry to be leaving the race. As part of the team's protocol, I took a routine [Covid] test, which unfortunately was positive.
"My experience here has been really special and I was looking forward to competing over the next two weeks. I can't thank enough the staff and the riders who sacrificed so much in preparation for the Giro. I will be cheering them on over the next two weeks."
The rest of his Soudal-Quick Step team tested negative and will continue. But Evenepoel, who crashed out of his first Giro in 2021, will not finish in 2023. He won the 2022 Vuelta a Espana and was a co-favorite in the Giro d'Italia with Slovenia's Primoz Roglic, who will move up from third to second as a result of Evenepoel's departure.
The new race leader will be Britain's Geraint Thomas, winner of the 2018 Tour de France, then Roglic (+0:02), Britain's Tao Geoghegan Hart (+0:05), Portugal's Joao Almeida (+0:22) and former leader Andreas Leknessund (NOR: +0:22).
Evenepoel won the opening Individual Time Trial and was the race leader for the first three stages. He regained the lead on Sunday with his win in the second Individual Time Trial, by one second over Thomas, but 1:15 up on Leknessund, to re-take the lead.
Roglic and Thomas will now be the favorites to win, with Roglic undefeated in two prior multi-stage events this season, the Tirreno-Adriatico and Volta Ciclista de Catalunya. He's a three-time winner of the Vuelta a Espana, and was third in the 2019 Giro and fourth in the 2018 Tour de France.
5.
Lots of star power in L.A. Grand Prix entry lists for 26-27 May
The upcoming L.A. Grand Prix posted entry lists and shared a complete schedule for its 27 May meet at 11,142-seat Drake Stadium at UCLA, with lots of star power from both the U.S. and aboard.
The meet schedules were also posted, with the distance meet on Friday from 5:15 p.m. with the hammer to about 9:15 p.m. with the finish of the men's 5,000 m. The program includes the 800 m, 1,500 m, Steeple and 5,000 m for men and women and the women's vault, and the men's and women's discus and hammer.
Saturday's Grand Prix runs from 12:30 to 3 p.m., with NBC on from 1-3. It's mostly sprints: men's and women's 100-200-400 m, women's 100 m hurdles, men's 400 m hurdles, men's 800 m and 1,500 m and the men's vault, women's shot put and men's and women's javelin.
The fields are quite good, assembled by veteran athlete agent, coordinator and meet promoter Mark Wetmore. According to the listings for Saturday, the top matchups:
● Men/100 m: Christian Coleman, the 2019 World Champion, ran 9.76 that year and 9.87 in 2022. He's not talked about much these days, but maybe he will be after this meet.
● Men/200 m: Olympic silver winner Kenny Bednarek vs. 2022 Worlds bronze medalist Erriyon Knighton, with Josephus Lyles chasing both.
● Men/400 m: World Champion Michael Norman – who has been toying with the 100 m this season – against London 2012 champ Kirani James (GRN), with ex-Florida star (and Worlds fourth-placer) Champion Allison trying to upset both. This could be Allison's breakthrough race.
● Men/1,500 m: Kenya's 2019 World Champion, Timothy Cheruiyot, and world leader Reynold Kipkorir (3:32.01) against Americans Cole Hocker, Cooper Teare and Sam Prakel.
● Men/400 m hurdles: Olympic and World silver winner Rai Benjamin, who ran on this track during his time at UCLA, against his top American threats: World bronze winner Trevor Bassitt, improving C.J. Allen (47.93) and Khallifah Rosser (47.59 in 2022).
● Men/Vault: Olympic and World Champion and world-record holder Mondo Duplantis (SWE), France's former world-record holder and 2012 Olympic champ Renaud Lavillenie, 2017 World Champion Sam Kendricks of the U.S. and Olympic silver winner Chris Nielsen of the U.S.
● Men/Shot: Olympic and World Champion (and world-record holder) Ryan Crouser vs. two-time World Champion Joe Kovacs. The two best in the world.
● Women/100 m: Americans Sha'Carri Richardson (10.76 world leader) and U.S. indoor 60 m winner Aleia Hobbs, undefeated in nine meets this year (best of 10.86).
● Women/400 m: Olympic 400 m hurdles champ and world-record holder Sydney McLaughlin-Levrone vs. Tokyo Olympic silver winner Marileidy Paulino (DOM).
● Women/100 m hurdles: World Champion and world-record holder Tobi Amusan (NGR), Olympic champ Jasmine Camacho-Quinn (PUR), and star Americans Keni Harrison (ex-world record holder), 2019 World Champion Nia Ali and 2018 World Junior Champion Tia Jones. This might be the best race of the day.
Britain's Worlds 1,500 m winner Jake Wightman headlines the men's 800 m, and Olympic bronze medalist Gabby Thomas will be in the women's 200 m. World Champion Chase Ealey leads the women's shot field.
General admission tickets for both days are $44 and for Saturday only at $39. Premium seating is available at $55-80-165.
≡ PANORAMA ≡
● Ancient Olympic Games ● Fascinating story from GreekReporter.com on the diet of ancient Greeks who competed in the Games:
"Many meals consisted of barley porridge, (as wheat was considered unhealthy and decadent), along with cheese, fresh vegetables, and seasonal fruits of some kind with figs being the most popular fruit in antiquity. …
"Lentils and beans were also an integral part of an athlete's diet in ancient Greece, but they were controversial, as some claimed they had negative health effects.
"Lastly, seafood and eggs were an additional, significant part of the ancient Greek diet which likely served as good sources of protein for ancient Olympians."
Meats were not widely consumed in the early years of the Games, but was more in vogue later, with a runner in 480 B.C.E. consuming a diet with a high amount of meat. The story notes that "boxers ate bull meat while wrestlers ate pork and runners consumed goat."
Now you know.
● Olympic Games 2024: Paris ● Things are getting serious when rooms are reserved for security staff for the Games. The French Sports Ministry said last Friday that 3,200 rooms are being reserved for bus drivers, caregivers, first-aid workers and security forces.
The rooms will be used during the Games period, with students returning in September, after the end of the Olympic Games on 11 August, with a smaller number needed for the Paralympic Games, which end on 8 September. But, for those students who wanted to stay in their places during the Games period, they will be accommodated elsewhere.
An immediate cry went up from a student group, insisting that no one should be moved unless they volunteer.
● Anti-Doping ● The energetic German ARD Sportschau investigative team reported last week that discussions within the World Anti-Doping Agency about matching up the term limits for the President and Vice President with those of Executive Committee and Foundation Board members.
ExCo and Board members have limits of nine years, while the President (Poland's Witold Banka) and Vice President (China's Yang Yang) can serve in their positions for a maximum of six years.
A proposal is under discussion, but has not been approved yet.
● Archery ● The Easton Foundation Gator Cup in Newberry, Florida, a USA Archery team qualifying event, concluded over the weekend, with Olympic stars Brady Ellison and Casey Kaufhold winning both the qualifying and elimination rounds.
Former World Champion Ellison led the men's qualifying at 679/720, followed by Jackson Mirich (673) and Matthew Requa (668). Ellison stormed through the eliminations, 6-0, 6-0, 7-3, 7-3 over fellow Olympian Jack Williams in the quarters, then 6-0 in his semi and winning a tight, 6-5 shoot-off battle over Mirich for the tournament title.
Kaufhold, still just 19 and the 2021 Worlds silver medalist, led the qualifying at 671/720, well in front of Emma Kim (649) and Erin Mickelberry (643). Kaufhold won her elimination matches by 6-0, 6-0, 6-2, 6-0 and 6-2 in the final over Alexandria Zuleta-Visser.
● Athletics ● Sad news of the death of former USC sprint great Willie Deckard, who passed away on 6 May from pancreatic cancer at age 72, in Inglewood, California.
Deckard set the world on fire at UCLA's Drake Stadium in 1971, running 9.2 for 100 yards and 20.2 for 220 yards to help upset UCLA in their annual dual meet, 75-70. His 9.2 was equal-best in the world for 1971 and the 20.2 was the top mark in the U.S., making him a favorite for the 1972 U.S. Olympic team. But injuries slowed him and he finished fifth in the 200 m Olympic Trials final in 1972.
He became a well-recognized high school coach in Southern California, at Crenshaw, North Torrance and Redondo Union.
● Boxing ● The International Boxing Association is now after other federations beyond USA Boxing over the new World Boxing group, announcing Sunday:
"A complaint against Individuals affiliated to the National Federations has been submitted to the Boxing Independent Integrity Unit (BIIU) due to their participation in the governing body of so-called rogue world boxing organization. Moreover, the Board opened formal proceedings against National Federations of Germany, New Zealand, Sweden, and the Netherlands due to an alleged serious breach of the IBA Constitution and Regulations related to the participation in said organization."
Although USA Boxing is the only national federation so far to withdraw from the IBA, can there be much doubt that the above-named national feds will follow?
● Cycling ● Trust, but verify. The Union Cycliste Internationale (UCI) announced a new "registration procedure" for equipment to be used for the upcoming Tour de France and Tour de France Femmes:
"This procedure strengthens the UCI's monitoring of equipment for regulatory compliance. …
"While teams are already required to register their equipment at the beginning of each season as part of the annual team registration procedure, as well as whenever they intend to use new equipment during the season, it is very common for their respective sponsors to supply them with new equipment shortly before the Tour de France and the Tour de France Femmes avec Zwift. …
"Regarding frames, the UCI has developed a tamper-proof tag using radio frequency identification (RFID) technology. This RFID tag will be placed on frames by UCI staff in the days leading up to the races. The tag will be scanned at random intervals during the races to ensure that the equipment is the same as that registered a few days earlier. Once attached to a bicycle, the tamper-proof RFID tag cannot be removed without being destroyed, thereby making it unreadable by UCI scanners."
Concerns over cheating are constant in cycling, especially with the use of motors or other devices in frames.
¶
The UCI registered considerable displeasure with the use of helicopters to remove some riders from the finish area after Stage 7 of the Giro d'Italia, atop the Grand Sasso d'Italia:
"This constitutes an advantage that goes against the principles of fair play and the regulatory provisions for ensuring equal treatment for transfer of teams to their hotels. In addition, some riders' use of a helicopter transport for this purpose goes against the principle of carbon footprint reduction, as stated in the UCI WorldTour organiser specifications.
"The UCI will take necessary measures and sanctions to ensure that such a practice does not occur in the future."
● Football ● Many sponsorship announcements aren't especially noteworthy, but FIFA World Cup fans are going to start seeing billboards, commercials and promotions for beauty brands Dove and LUX, Lifebuoy soaps and Rexona deodorant, also sold as Sure, Shield and Degree.
They are part of a Unilever personal-care brands deal with FIFA that will debut at the FIFA Women's World Cup in Australia and New Zealand this summer and continue through the FIFA World Cup 2026 in Canada, Mexico and the U.S., and into 2027.
Expect a high visibility from this deal, as the announcement noted, "Investing at all levels from grassroots to FIFA's top tournaments, Unilever will have the opportunity to supply a total of 80,000 gift packs containing personal care products direct to fans at various FIFA events over the coming years."
● Gymnastics ● The Pan American Trampoline & Tumbling Championships were held in Monterrey (MEX) last weekend, with Colombia and Brazil winning in the Olympic Trampoline events.
Angel Hernandez (COL) took the men's title at 59.120, just ahead of Jeremy Chartier of Canada (58.460) and Ryan de Castro (BRA: 58.010). Americans Aliaksei Shostak and Isaac Rowley were 4-5, scoring 57.340 and 57.150.
Camilla Gomes of Brazil won the women's division, scoring 55.120 to edge American Jessica Stevens (54.990) and Canada's Sophiane Methot (54.300). Lima Pan Am Games silver medalist Nicole Ahsinger of the U.S. finished fourth at 53.140.
Ahsinger and Cheyenne Webster teamed up to win the women's Synchro gold at 48.670, beating Brazil's Alice and Camilla Gomes (47.340).
● Shooting ● It isn't only American athletes struggling to get funding for competitions. ABC Australia reported Friday:
"With just over 12 months until the 2024 Paris Olympics, Australia's elite clay target shooting athletes are in the midst of a funding crisis.
"Seven of the nation's best contenders for an Olympic medal have been told by the sport's peak body, Shooting Australia, to raise $6,000 each to attend a major international competition next week in Almaty, Kazakhstan." (A$6,000 ~ $4,013 U.S.)
Athletes are doing individual fund-raising, starting GoFundMe pages and taking second jobs. Asked about the situation:
"Shooting Australia chief executive Adam Sachs said in a statement to the ABC that the peak body's 'resources do not extend far enough to cover all costs for all athletes, and so athletes will always be required to invest in themselves.'"
Its solution was to ask for more government support.
● Swimming ● Beyond the Speedo Atlanta Classic in the U.S. last weekend, there was some hot swimming in Australia at the Sydney Open, with multiple marks way up near the top of the world list for 2023.
In the men's races, Rio Olympic 100 m Free champ Kyle Chalmers stormed to a 47.69 win to move to no. 3 in 2023. Tokyo Olympic 200 m Breast gold medalist Zac Stubblety-Cook won his specialty in 2:07.62, also no. 3 this season.
Tokyo relay gold winner Meg Harris took the women's 50 m Free in 24.29, again no. 3 on the season, and triple Olympic backstroke gold medalist Kaylee McKeown moved to no. 2 in the world for 2023 in both the 200 m Medley (2:07.19) and 400 m Medley (4:31.68).
At the Mare Nostrum series opened in Canet (FRA), Hong Kong star Siobhan Haughey (HKG) won the women's 100 m Free in 52.85, moving to no. 3 on the world list.
¶
You can receive our exclusive TSX Report by e-mail by clicking here. You can also refer a friend by clicking here, and can donate here to keep this site going.
For our updated, 651-event International Sports Calendar (no. 2) for 2023 and beyond, by date and by sport, click here!