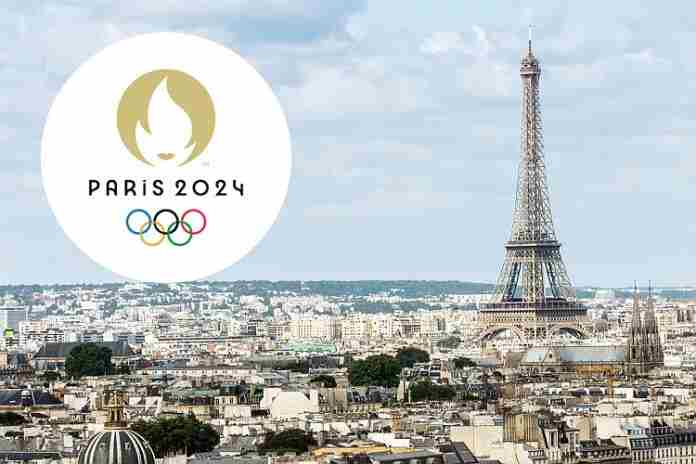 ★ The Sports Examiner: Surveying, monitoring and explaining the key competitive, economic and political forces shaping elite sport and the Olympic Movement. ★
Yea! Our 24 donors have now covered 39% of our summer funding goal for operating costs. Can you help? Please donate here. Comments? Click here.
★ To get The Sports Examiner by e-mail: sign up here! ★
≡ THE 5-RING CIRCUS ≡
1. French Sports Minister asks for lowered specs for Paris 2024
2. Pan American Esports Championships with PanAm Games '23
3. Korea vs. U.S. Universiade 2027 selection process heating up
4. Kovacs 74-2 1/4 in Brussels; Fraser-Pryce vs. Duplantis at 100 m?
5. Ecuador's Carapaz wins La Vuelta Stage 12 on final ascent
The cost pressures on the Paris 2024 Olympic Games are real, real enough for the French Sports and Olympics minister to ask the Coordination Commission of the International Olympic Committee this week to revise some of its technical specs "a little downwards." A Pan American Esports Championships will be mounted in parallel with the 2023 Pan American Games in Santiago, Chile, extending a run of closer relations in multi-sport games with the electronic gaming community. The 2027 World University Games will be in Korea or in North Carolina in the U.S. and the bid pace is increasing with second sets of visits underway from the International University Sports Federation (FISU). At the Diamond League Memorial Van Damme in Brussels, American shot star Joe Kovacs won with a brilliant 21.61 m (74-2 1/4) in the second round, and Jamaican sprint icon Shelly-Ann Fraser-Pryce challenged Olympic and world men's vault champ Mondo Duplantis of Sweden to a 100 m race next year! At the Vuelta a Espana, Ecuador's Richard Carapaz won Stage 12 with a brilliant final climb while Remco Evenepoel of Belgium remained in the overall lead.
1.
French Sports Minister asks for lowered specs for 2024
The FrancsJeux.com site reports that the French Minister for Sport and the Olympic and Paralympic Games asked the International Olympic Committee's Coordination Commission to look at relaxing some of its technical requirements for the Paris 2024 Games, in the name of saving money.
In her remarks at the organizing committee's offices on Tuesday, Amélie Oudéa-Castéra told the CoComm (computer translation of the original French):
"We will have to deal with the adverse effects of inflation.
"It will sometimes be necessary to re-discuss with you certain specifications and see the reasonable side of revising them a little downwards. Moderate all forms of costs and be on the hunt for 'waste.' There is no room for bureaucracy, there is no room for unnecessary coordination costs. It may sometimes be necessary to work on optimizations, and sometimes on optimizations of lesser recipes."
Paris 2024 chief Tony Estanguet underscored the need:
"In the current context, with the health, economic and geopolitical crises that have been linked for two years, maintaining the level of ambition until the end will be a real challenge.
"We are going to need your help to find new sources of optimization and to go even further in the savings to be made."
At the Wednesday news conference at the end of the meetings, the Commission chair, Belgian Pierre-Olivier Beckers-Vieujant was enthusiastic about the hunt for savings and his confidence in the outcome:
"No stone will be left unturned! We will turn over all of those stones to find efficiency and we are going to think outside the box, be flexible, look at getting those creative juices flowing, so that we're able to ensure that the work linked to optimizing the costs is put into place. It is a collective responsibility that we must take on. …
"We are leaving Paris with the conviction, with the belief that Paris 2024 is on track and will be able to overcome the [budget] challenge and the challenges that may present themselves in the upcoming weeks and months. The teams are ready, the projects are in place, and I have blind faith in Paris 2024."
For openers, Paris 2024 chief executive Etienne Thobois mentioned that the rental periods for competition and training sites is being evaluated based on the now-available sports schedule and the number of vehicles being acquired could perhaps be dropped by 30-40% vs. Tokyo given the proximity of the venues and available public transportation. He noted that savings will be made on a case-by-case basis, a process that will continue not only up to the Games, but through them as well.
2.
Pan American Esports Championships with PanAm Games '23
PanAm Sports and the Global Esports Federation announced the first Pan American Esports Championships, to be staged alongside the Pan American Games in Santiago, Chile in 2023.
This is the latest move to incorporate eSports into the Olympic Movement. The 2018 Asian Games in Indonesia had a six-game program included as a demonstration program and will have eight games included as medal events at the 2022 Asian Games in Hangzhou (CHN), postponed to 2023.
The 2022 Commonwealth Games in Birmingham (ENG) also included eSports as a demonstration program, with three games contested and open and women's divisions.
Similarly, the 2023 Pan American Esports Championships will be held "in parallel" with the Pan American Games in Santiago, scheduled for 20 October-5 November, with 414 events in 39 sports. In addition, the Global Esports Federation will be showcased with a "GEF Festival" – described as "a celebratory showcase of the diverse esports culture" and "GEFcon," a conference on the future of eSports.
The specifics of the 2023 event have not been worked out; the announcement noted only, "The GEF and Panam Sports will jointly establish the governance structures to oversee the coordination of the Pan American Esports Championships."
3.
Korea vs. U.S. Universiade 2027 selection process heating up
The International University Sports Federation (FISU) will decide on the host for the 2027 World University Games in November, with the federation busy evaluating both candidate regions for the 12-day, 19-sport, 6,000-athlete event.
After seeing the Korean bid in early July, a three-member FISU technical team visited the North Carolina bid committee in late July, inspecting venues and reviewing the plan offered for the event.
Just completed – on Wednesday – was a visit by a four-member FISU senior management team to Korea to review the plan offered by the Chungcheong Megacity bid committee, including Acting FISU President Leonz Eder (SUI), Vice President Marian Dymalski (POL), Secretary General Eric Saintrond (BEL), Games Director Jing Zhao (CHN) along with Byong-jin You (KOR), a member of FISU's Executive Committee.
Eder, Dymalski, Saintrond and Zhao are headed for North Carolina now for a 17-21 September review of its bid. The North Carolina organizers describe this as "a more high level tour intended to meet our state leaders, as well as local government, bid, sponsor, and sport key executives. Our guests will also spend time at primary venues, Games Villages, and on our Games plan and bid."
The formal bid documents for the North Carolina bid were also completed this week and transmitted to FISU. The U.S. has hosted the summer World University Games once, in Buffalo in 1993, but will host the Winter WUG for a second time this coming January in Lake Placid.
4.
Kovacs 74-2 1/4 in Brussels; Fraser-Pryce vs. Duplantis
at 100 m?
The next-to-last Diamond League meet for 2022, the Memorial Van Damme, began on Thursday with the men's shot put at the Marche aux Poissons in mid-town Brussels with a superb win for two-time World Champion Joe Kovacs (USA), at 22.61 m (74-2 1/4).
Here's how good a season Kovacs – the Worlds silver medalist – is having: the winning distance was his ninth-best throw of the season. But: "I think there's more in the tank, but hopefully in Zurich or Zagreb I can get out a few big throws and get towards the 23-meter line."
Kovacs took the lead in the second round and was never challenged. New Zealand star Tom Walsh was second at 21.60 m (70-10 1/2) with teammate Jacko Gill third (21.32 m/69-11 1/2).
At the news conference ahead of Friday's main meet, five-time women's 100 m World Champion Shelly-Ann Fraser-Pryce (JAM: 35) challenged Sweden's pole vault icon Mondo Duplantis (22) to a race! This was hysterical (partial transcript):
SAFP: How fast can you say you can do in the 100 meters … against me?
Mondo: Wait, what'd you say?
SAFP: Against me.
Mondo: Against you? I would beat you, yeah.
SAFP: Explain to us how sprinting and pole vault work; I don't see you doing a lot of sprint work.
Mondo: How do you know what I do?
SAFP: I know, because I saw the backyard pole vault thing; I didn't see you do any … I mean, 20 meters? 10 meters run-up [to vault]?
Mondo: Forty-five meters.
SAFP: 45? Are you sure?
Mondo: I should be sure. Of my own run, yeah. I ran the 100 meter a few times in high school.
SAFP: '18, '19, '20, '21 … that's five years ago.
Mondo: And I'm a lot faster than five years ago.
SAFP: Wanna bet?
Mondo: I would want to bet a lot!
SAFP: OK (handshake).
Duplantis said he's fine with a race in Brussels in 2023, "just me against Shelly-Ann."
Now this would be classic, as Duplantis ran 10.73 for the 100 m back in 2018, and 10.57w, with a slight 2.1 m/s wind-aid. Fraser-Pryce, of course, ran 10.60 in 2021 and has run 10.70 or faster 10 times (with legal wind) in her career.
The Memorial Van Damme on Friday will be shown on NBC's Peacock subscription service from 2:00-4:00 p.m. Eastern time, with highlights on NBC on Saturday from 3:00 to 4:30 p.m.
5.
Ecuador's Carapaz wins La Vuelta Stage 12 on final ascent
Ecuadorian star Richard Carapaz, the Tokyo Olympic road race gold medalist, showed off his climbing skills with an impressive win in Stage 12 of the 77th La Vuelta a Espana. He broke away in the final 2 km of the misery-inducing finishing ascent up the Penas Blancas in the Andulucia region of Spain and finished nine seconds up on Wilco Keldermann (NED) and 24 seconds ahead of Marc Soler (ESP).
A breakaway group of 32 riders took a bid lead a quarter of the way into the 192.7 km route, but only 10 were left when the ride up the Penas Blancas started, with Carapaz finishing the strongest. Well behind him was the group of race leaders, with Remco Evenepoel (BEL) maintaining his 2:41 lead on three-time defending champion Primoz Roglic (SLO) and 3:03 on Spain's Enric Mas.
While Friday's stage is flat, the weekend stages both have climbing finishes; will Roglic try to strike at Evenepoel on either?
≡ PANORAMA ≡
● Athletics ● The twice-postponed World Indoor Championships in Nanjing (CHN) was postponed again in view of the continuing no-Covid policy in China.
World Athletics announced that the Nanjing meet, originally attributed for 2020, then slated for 2021 and then March of 2023, will now take place in 2025.
The World Indoors used to be held on a two-year cycle, with the next edition in Glasgow (GBR) in 2024. The statement noted that as "the bid process has already commenced for the 2026 edition of the championships," the Nanjing event is being slotted for 2025.
¶
The Philadelphia Eagles re-signed rookie wide receiver – and three-time national 110 m hurdles champion – Devon Allen to its practice squad on Wednesday after releasing him on Tuesday.
Allen, the no. 3 hurdler in history at 12.84 earlier this season, cleared waivers and will now be held in reserve; according to NBCSports.com:
"The NFL weekly practice squad minimum is now $11,500 for rookies, so they can make $207,000 if they remain on the practice squad the entire season. …
"With the NFL's game-day call-up rules now, practice squad players earn a game-day active-roster minimum-wage salary of $39,167 for every week they're promoted."
● Ice Hockey ● At the IIHF Women's World Championship in Denmark, the U.S. women continued their march, stomping Hungary in the quarterfinals by 12-1 on Thursday. Canada defeated Sweden by 3-0, the Czech Republic upset Finland by 2-1 in overtime and Switzerland edged Japan, 2-1, in a shoot-out.
The re-seeded semifinals will see the U.S. play the Czechs and Canada face Switzerland, both on Saturday. The medal matches will be on Sunday.
The U.S. has the top two goal scorers so far in the tournament, with Taylor Heise and Hannah Bilka both with five. The Americans have outscored their five opponents by 42-4.
● Wrestling ● Ellis Coleman, a U.S. Olympian in the 60 kg Greco-Roman division at the London 2012 Olympic Games, had his sanction for use of a steroid confirmed by an arbitrator in late July, according to the U.S. Anti-Doping Agency.
Coleman, 31, a five-time U.S. Open champion at 67 kg, tested positive at an out-of-competition test in December 2021. According to the announcement, "USADA determined that Coleman used a supplement that listed the prohibited anabolic agent DHEA on the label."
Coleman challenged the finding and the "arbitrator concluded that Coleman's degree of fault was significant due to a number of factors, including the athlete's extensive anti-doping education and failure to check the ingredients on the label to determine for himself whether it contained a prohibited substance."
The sanction is for two years, through 28 February 2024.
¶
You can receive our exclusive TSX Report by e-mail by clicking here. You can also refer a friend by clicking here, and can donate here to keep this site going.
For our updated, 620-event International Sports Calendar for 2022 and beyond, by date and by sport, click here!