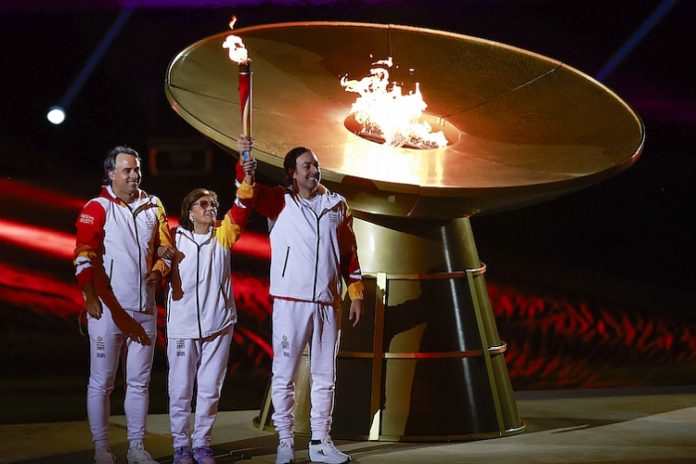 ★ The Sports Examiner: Chronicling the key competitive, economic and political forces shaping elite sport and the Olympic Movement.★
★ To get The Sports Examiner by e-mail: sign up here! ★
≡ THE 5-RING CIRCUS ≡
1. Pan Am Games opens, with U.S. piling up the medals
2. McKeown claims two world records at World Cup
3. IOC rejects Putin's "ethnic discrimination" slap
4. Commonwealth Games 2026 cost explosion was real
5. Olympic pin maker reveals tie-in with Looney Tunes, Peanuts
● The 19th Pan American Games opened in Santiago, Chile, with the cauldron lit by Chile's first Olympic gold medalists and a silver medalist from the first Pan Ams in 1951! The U.S. immediately started earning medals, with 46 won in the first 55 events through Sunday.
● Australia's Kaylee McKeown, winner of two Olympic Backstroke golds, set world records in the 50 m and 100 m Backstrokes at the final World Aquatics Swimming World Cup, in Budapest, Hungary. She now owns the world marks in all three Backstroke events.
● The International Olympic Committee slapped back at Russian President Vladimir Putin's accusation of "ethnic discrimination" last week, and pointed out other glaring errors in his hostile remarks to a sports conference held in Russia.
● Testimony at an Australian Senate hearing explained that the cost explosion which led to the withdrawal of Victoria as the host of the 2026 Commonwealth Games was real, centered mostly in construction costs for the athlete village and the creation of temporary sites for some of the other events. The issue came to a head about a month before the withdrawal last July.
● The owner of Honav USA, the Olympic pin-making giant, told the Olympin Collectors Club Festival in California that new designs are coming that will include characters from new licensing agreements with Warner Bros. for its "Looney Tunes" characters and with "Peanuts."
● World Championships: Curling (Sweden wins Mixed Worlds title) = Rugby (Perennial powers New Zealand and South Africa in World Cup final) ●
● Panorama: Athletics (Kandie runs fourth-fastest Half ever in Valencia) = Badminton (China wins four at Denmark Open) = Curling (Jones and Retornaz win at Grand Slam opener in Niagara Falls) = Cycling (Lavreysen sweeps Champions League men's Sprint) = Figure Skating (Malinin, Chock & Bates star at Skate America) = Freestyle & Snowboard (2: Chur Big Air opener sees Japan sweep in snowboard) = Football (2: Reggae Girlz strike against federation for back pay and more; Canada's Sinclair retires) = Gymnastics (Retton recovering, but with a setback last week) = Short Track (Santos-Griswold wins at World Cup opener) ●
1.
Pan Am Games opens, with U.S. piling up the medals
The XIX Pan American Games opened in Santiago, Chile on Friday, with a crowd of 35,000-plus watching 41 national delegations march into the Estadio Nacional.
Chilean cyclist Catalina Soto took the Athlete Oath and the Pan American Flame was brought into the stadium on a cold night by five-time Pan Am women's swimming medalist Kristel Kobrich, who handed to footballer Ivan Zamorano, who handed to Olympic shooting medalist Alfonso de Iruarrizaga. He passed the torch to 2004 Olympic tennis Doubles champions Nicolas Massu and Fernando Gonzalez, winners of Chile's first-ever Olympic golds. They were joined by 93-year-old Lucy Lopez, the women's high jump silver medalist at the first Pan American Games in 1951 and a volunteer at the 2023 Pan Am Games, and the trio lit the Pan American Cauldron together.
The first gold medal of the Games was awarded to Canada's Gunnar Holmgren in the Mountain Bike race (1:17:59 for the seven-lap course), ahead of Chile's Martin Vidaurre (+0:53). The first women's gold went to American Kaitlyn Reclusado in the Taekwondo Poomsae event.
And the U.S. team started winning a lot more medals, 20 on the first day alone and 45 by the mid-point of the second full day on Sunday. The 20 American gold-medal winners through Sunday's events:
● Cycling: Kamren Larsen, men's BMX
● Cycling: Kristen Faulkner, women's road Time Trial
● Gymnastics: Men's Team
● Gymnastics: Women's Team
● Roller: Taylor Nye, Skateboard Park
● Shooting: Sagen Maddalena, women's 10 m Air Rifle
● Shooting: Vincent Hancock, men's Skeet
● Sport Climbing: Piper Kelly, women's Speed
● Sport Climbing: Sam Watson, men's Speed
● Swimming: Coby Carrozza, men's 200 m Free
● Swimming: Jack Aikins, men's 200 m Back
● Swimming: Jacob Foster, men's 100m Breast
● Swimming: Lukas Miller, men's 100 m Fly
● Swimming: Mason Laur, men's 200 m Fly
● Swimming: Paige Madden, women's 400 m Free
● Swimming: Kennedy Noble, women's 200 m Back
● Swimming: Dakota Luther, women's 200 m Fly
● Taekwondo: Khalfani Harris, men's 68 kg
● Taekwondo: Carl Nickolas, men's 80 kg
● Taekwondo: Kaitlyn Reclusado, women's Poomsae
Hancock, now 34, the three-time Olympic champ in Skeet in 2008-12-20, won his third PanAm gold in Skeet, after prior wins in 2007 and 2011.
Overall, the U.S. has 46 medals in 55 events (20-11-15), followed by Brazil (23: 5-9-9), Canada (21: 9-6-6), Mexico (18: 10-5-3) and Colombia (14: 3-5-6).
Gymnastics star Jordan Chiles and Hancock carried the flag for the U.S. delegation in the Opening Ceremony.
Diving, swimming, track cycling, shooting, taekwondo and wrestling are the busiest sports in the first week; track & field starts on the 29th.
The Pan Ams continue through 5 November and can be streamed live on the Panam Sports channel (sign-in required).
2.
McKeown claims two world records at World Cup
Backstroke star Kaylee McKeown of Australia has had a busy 2023. Already the Tokyo Olympic gold medalist in the 100 and 200 m Backstrokes, she tripled at the Fukuoka Worlds, taking the 50-100-200 m Back titles and also set the world record in the 200 m Back in March at 2:03.14.
But she closed her year with two bolts of lightning at the World Aquatics World Cup III in Budapest (HUN), setting world marks in the 50 and 100 m Back events on Friday and Saturday.
First up was the 50 m on Friday, and McKeown crushed the 2018 world mark of 26.98 by China's Xiang Liu, touching in 26.86! McKeown was already no. 2 all-time coming in at 27.02, but grabbed her third career world record. Canadians Ingrid Wilm and Kylie Masse tied for a distant second in 27.68.
The 100 m Back was on Saturday, with McKeown already the world-record holder at 57.45 from the 2021 Australian Olympic Trials. She crushed a good field, touching at 50 m just behind her world-record pace from 2021 in 28.15 (vs. 28.10), then came home in 29.18 to finish in a world record of 57.33, giving her the five fastest times in history.
Masse and Wilm were 2-3, finishing in 59.26 and 59.64, nowhere close.
McKeown now owns the world marks in all three Backstroke events and has four career individual world records to her credit. In Paris, however, only the 100 and 200 m events will be contested.
But she wasn't done and won the 200 m Back on Sunday in a World Cup record of 2:04.81, the equal-16th fastest ever, and she has 10 of those.
There were more strong performers, including Tokyo 100-200 m Free silver medalist Siobhan Haughey of Hong Kong, who won the 100-200 m Frees; Benedetta Pilatto (ITA) took the 50-100 m Breast events; 100 m Fly World Champion Yufei Zhang (CHN) won the 100-200 m Flys, and only she has bettered her 100 m winning time of 56.13 this season.
Swedish sprint icon Sarah Sjostrom (SWE) won the 50 m Free and 50 m Fly, and only she has been faster this year that her 23.97 50 m Free winner.
Two men won three events each: China's Haiyang Qin in the 50-100-200 m Breast events, and South African Matt Sates in the 200 m Fly and 200-400 m Medleys. American Michael Andrew won the only U.S. golds, in the 50 m Back and 50 m Fly. Italy's Thomas Ceccon, the 2022 Worlds 100 m Back winner, won that event and the 100 m Free.
Two "neutral" athletes won medals, both from Belarus: Anastasiya Shkurdai, silver in the women's 200 m Back, and Alina Zmushka, bronze in the 50 m Breast.
In the overall World Cup points race, McKeown won the women's division (of course) with 177.4 points, ahead of Haughey (166.4) and China's Zhang (166.2). Qin, the breaststroke star, took the men's division with 175.4 points, followed by Ceccon (167.9) and Sates with 166.8.
3.
IOC rejects Putin's "ethnic discrimination" slap
At last week's "Russia: A Sports Power" conference in Perm, near the Ural Mountains, Russian President Vladimir Putin continued slamming the International Olympic Committee, telling the attendees:
"We learned that an invitation to the [Olympic] Games is not an unconditional right of the best athletes, but a kind of 'privilege,' and it can be earned not by sports results, but by some political gestures that have nothing to do with sports at all, and that the Games themselves can be used as a tool of political pressure against people who have nothing to do with politics, as gross and in fact racist, ethnic discrimination."
And he continued his campaign against the West and sport:
"What is happening in modern international sports organizations are signs of degeneration. It is very commercialized, which means it is very dependent on business, and business depends on authorities at various levels, political structures of various countries. This is and there are signs of degeneration."
While the IOC has generally ignored most Russian comments on sanctions, this one drew a sharp response. Reuters reported an IOC statement on Friday which included:
● "Participation in the Olympic Games is by no means a human right and the recent amendment of the Olympic Charter [at the IOC Session] is not related to it. … We firmly reject the accusations being made that these measures are an 'ethnic discrimination'."
● "The strict conditions the IOC has defined in its recommendations to the International Federations for the participation of individual neutral athletes with a Russian or Belarusian passport in international competitions are compliant with the Olympic Charter.
"They are a reaction to the breach of the Olympic Charter by the Russian and Belarusian governments."
Under current chief Thomas Bach (GER), the IOC has made anti-discrimination a leading focus, hence its sensitivity on the issue. The recent changes to the Charter incorporated references to "internationally recognized human rights" in the "Fundamental Principles of Olympism."
The IOC's recommendations in March told the International Federations that the only Russian or Belarusian athletes who could be considered for neutral status cannot include those "contracted to the Russian or Belarusian military or national security agencies" or those "who actively support the war" against Ukraine. And all team entries are prohibited.
The Russian Olympic Committee was suspended by the IOC during its recent 141st Session in India for incorporating sports organizations in eastern Ukraine areas which have been overrun by Russia during the invasion.
This is only going to get nastier.
4.
Commonwealth Games 2026 cost explosion was real
An Australian Senate Select Committee hearing into the stunning July withdrawal of Victoria to host the 2026 Commonwealth Games was told that the A$2.6 billion government share of the cost was not even close to the actual need. (A$1 = $0.63 U.S.)
Jeremi Moule, the Secretary for the Department of Premier and Cabinet for Victoria told the committee:
"By April 2023, following extensive design and market consultation processes, it was emerging that costs were shaping up to be significantly higher than expected. The estimate of gross cost at this time exceeded $4.5 billion, not including transport and policing costs nor having fully costed other risks.
"The [Office of the Commonwealth Games] and Victoria 2026 were asked to report back to government in June with options to reduce costs and maintain legacy outcomes within the $2.6 billion net state budget envelope, or approximately $3.6 billion in gross costs."
"This work was tracking towards a likely meeting in mid-June. This was a critical juncture because, although there had been considerable effort expended and some sunk costs, no major infrastructure contracts had been signed as the expanded budget requests had not been considered by government.
"My department was aware that the estimated cost from the OCG and Victoria 2026 as well as other costs, such as transport and policing, were close to $5 billion, without including risk factors and other pressures.
"[The Department of Premier and Cabinet] subsequently received further analysis from OCG and Vic 26 that included cost implications if the risks materialised. Essentially if the risks were weighted at 50 per cent, the costs would likely reach or exceed $6 billion. If they were weighted at 100 per cent, the cost would be closer to $7 billion.
"Independently both DPC and the Department of Treasury and Finance formed the view that there was a very high probability that the risks would be realised; in fact DTF formed the view that it was prudent to rate them all at 100 per cent."
Moule testified that the first time a withdrawal was considered by the Victoria government was on 14 June, and a law firm was hired to determine the state's options.
Tim Ada, the Department of Jobs, Skills, Industry and Regions Secretary explained the specific areas of risk:
● "It is clear now with the benefit of hindsight that the business case prepared in early 2022 did not reflect the true cost of delivering a sporting program spread across five cities or anticipate the significant cost escalation that has been experienced in the construction sector."
● "The main drivers of the additional costs related to villages and competition venues but also temporary overlays, which are, as the name suggests, physical requirements that are established just for the purpose of the games. They were the three main cost drivers of why we saw a significant increase in budget over the course of the last sort of 15 months."
And Allen Garner, the former chief executive of the government's Office of the Commonwealth Games, told the committee about the cost explosion:
"There are a lot of significant drivers that feed into it. You can start from the top down. The biggest areas that moved were the games villages – a significant cost increase. The major venues – there was a cost increase, which the government had announced previous even to me coming along, the cost of those. And the organising committee costs to run the games had gone up. So three big pockets. Then underneath that there are a lot of minor parts that make that up."
The Victoria government announced its withdrawal on 14 July and negotiated an A$380 million exit fee with the Commonwealth Games Federation and Commonwealth Games Australia.
5.
Olympic pin maker reveals tie-in with Looney Tunes, Peanuts
The 2023 Olympin Club Festival, the annual meet-up of the most devoted Olympic pin collectors, traders and seller, was held in Marina del Rey, California on 13 October with 40 busy tables, including Honav USA, the Southern California-based company which holds the license to make today's Olympic pins.
And the pin trade is about to explode way beyond organizing committees, National Olympic Committees and sponsors.
Mario Simonson, owner of Honav USA, addressed the Olympin Collector's Club at the festival, with a look ahead to what's coming.
"One thing we've all talked about, is trying to get the younger generation involved. … We just signed with Warner Bros. and with Peanuts, so in first quarter you're going to be seeing all these pins coming out that are going to be collab'd with the Olympics and Warner Bros. 'Looney Tunes.' We're really excited about that. We already have the designs with the IOC and the Olympics, so we're getting those all approved now, they'll go into production and they'll be coming out first quarter.
"Same with Peanuts. So having Snoopy and Woodstock, it'll be really cool. I have an original Charles Schulz in my house and I'm excited about that. … [It] does [get] the younger generation excited, so we're going to be doing a lot more pin sets, numbered, collectibility pins with those."
The "Looney Tunes" franchise includes more than a dozen characters, including Bugs Bunny, Daffy Duck, Porky Pig, Road Runner, Foghorn Leghorn and so on.
Simonson explained that Honav will be creating a pin-trading center for Paris in 2024, as Coca-Cola will not be organizing it. The location will be in or around the USA House at the massive Palais Brongniart, which served as the Paris Stock Exchange until 1987, with the details still being worked out.
And Honav has expanded its support of the Olympic Movement:
"We also became the global licensee for [IOC] sponsors and NOCs, so that's something that I'm working on some more global retail with them.
"Also, we are the exclusive – all the way through '28, including Milan [2026] – and that's going to be in the host country, so we'll be a little different than Paris. For Paris, we're not the licensee in the host country, but in Milan we will and, of course, '28.
"In LA28, we will be doing the official pin-trading center and also activation sites all over the area, that if you come here, you get a pin, you get a pin, you get a pin, you bring it back to the pin-trading center, you get another pin, for free. … We're going to have mystery packs, we're going to be doing stuff like that with Warner Bros. and Peanuts products, so that will be a lot of fun."
Simonson also noted the importance of his relationship with the Olympin Club and the collectors: "I might own the company, I might make all the pins, but really knowing what you guys want in a pin is really valuable to us."
Honav and Olympin are already working together; club members receive a discount on Honav's pins, and Simonson said that the members will receive first crack at some of the new releases, including some limited-editions runs of only about 1,000.
The show itself was eclectic, with lots of pins, but also other memorabilia, including an impressive array of collectibles from multiple Olympic Games of the late Los Angeles County Superior Court Carlos Velarde, who passed away in 2018, but actually attended the 1932 Olympic Games in Los Angeles at age three!
≡ WORLD CHAMPIONSHIPS ≡
● Curling ● Sweden won its first-ever title at the seventh World Curling Mixed Team Championship at Aberdeen (SCO) on Saturday, defeating Spain in the final by 8-2.
Sweden, Canada, Spain and Norway were all undefeated in pool play and advanced directly to the quarterfinals. The Swedes dispensed with Belgium (7-2), Canada (7-4) and moved into the final. The Spanish, with Sergio Vez as skip, defeated Japan (6-4) and edged Norway (4-3) to make it to the championship round.
The final was tight through four ends and tied, 2-2, but the Swedes came up with three points in the fifth and sixth ends to win easily.
It's the first title for Sweden and skip Johan Nygren, with Jennie Wahlin, Fredrik Carlsen and Fanny Sjoberg. Sweden was the runner-up in the first two Worlds, in 2015 and 2016, and Wahlin was a member of the 2016 squad. Spain and Vez were runner-ups for the second time, losing to Canada in 2018.
Three-time defending champs Canada, with Felix Asselin as Skip, won the bronze by 4-3 over Norway, for a medal in their fifth straight Mixed Worlds. The U.S., skipped by Jed Brundidge, was second on its group, but lost in the qualification round to Australia, 8-7, and finished ninth.
● Rugby ● After almost seven weeks, the final of the 10th Rugby World Cup in France is set, with no. 1-ranked New Zealand (5-1) to face no. 2 South Africa (5-1) on 28 October at the Stade de France in Saint-Denis.
These traditional powers have, between them, won the last four Rugby World Cups – two each – with South Africa defending its title from 2019.
On Friday, the All-Blacks from New Zealand had no trouble in their semifinal, routing seventh-ranked Argentina by 44-6. Kiwi star forward Will Jordan scored a try in the 11th minute, followed by Jordan Barrett in the 17th for an 11-3 lead, which ballooned to 19-6 at halftime. Shannon Frizell got a second try in the 49th and Jordan scored in the 62nd and 73rd for a hat trick, with Argentina held scoreless.
Saturday's match between no. 5 England – which came in 5-0 – and South Africa was exactly the opposite. No tries were scored in the first half, which saw Owen Farrell convert four penalties for England for 12 points, to six for the Springboks. Farrell added a drop kick in the 53rd to extend the lead to 15-6, but Rudy Snyman finally got loose for a try in the 69th, and the conversion closed the lead to 15-13. Handre Pollard's penalty kick in the 78th was the difference in a 16-15 victory.
New Zealand has won the title three times (1987-2011-2015) as has South Africa in 1995-2007-2019. The two have met in the final once before, with South Africa winning, 15-12 in extra time, in 1995.
Argentina and England will play in the third-place match on Friday, also in Saint-Denis.
At the same time as the Rugby World Cup is heading toward the finish, the International Wheelchair Rugby World Cup was played from 18-22 October, also in Paris, at the Accor Arena. No. 2-ranked Australia won the title from Canada in the final, 53-48, while Japan defeated France, 50-49, in the bronze-medal game. It's another demonstration of how the Paralympic world is becoming more closely attached to able-bodied sports events. 
≡ PANORAMA ≡
● Athletics ● A brilliant win for Kenya's 2020 Worlds silver medalist Kibiwott Kandie at the Valencia Half Marathon in Spain, winning in a world-leading 57:40, the fourth-fastest race in history, just ahead of Ethiopians Yomif Kejelcha (57:41) and World 5 km Champion Hagos Gebrhiwet (57:41).
The first 5km was covered in 13:43 and Kandie, Kejelcha, Gebrhiwet and Tokyo Olympic 10,000 m winner Selemon Barega (ETH) passed 10 km in a ridiculous 27:15, on world-record pace. The same four passed 15 km in 41:01. Barega fell back after 19 km, and Worlds 5 km runner-up Kejelcha took the lead, but Kandie surged with less than 400 m to go and won by a second.
Kandie ran a then-world record 57:32 in 2020, but his run is the fourth-fastest ever; Kejelcha and Gebrhiwet are now the nos. 3-4 performers in history with the fifth-fastest performances ever. Barega was fourth in 57:50, now the no. 6 performer ever.
Kenyan Margaret Chelimo broke away from countrywoman Irine Cheptai in the final kilometer and won in a lifetime best of 1:04:46, moving to equal-ninth on the all-time list and equal-second in 2023. Cheptai finished in 1:04:53, now no. 13.
● Badminton ● China placed finalists in four events in the BWF World Tour Denmark Open in Odense, and won them all, including a match-up of Olympic champions.
Hong Yang Weng (CHN) took the men's Singles title by defeating Zii Ja Lee (MAS), 21-12, 21-6, and Tokyo 2020 Olympic winner Yu Fei Chen (CHN) won the women's Singles in a match with Rio 2016 Olympic champ, Carolina Marin (ESP), 21-14, 21-19.
Top-seeded Qing Chen Chen and Yi Fan Jia (CHN) won the women's Doubles with a 21-16, 21-13 sweep over Japan's Nami Matsuyama and Chiharu Shida (JPN). In the all-China Mixed Doubles final, top-seeded Si Wei Zhang and Ya Qiong Huang needed three sets to overcome Yan Zhe Feng and Dong Ping Huang (CHN), 16-21, 21-15, 26-24.
The men's Doubles final saw Aaron Chia and Wooi Yik Soh (MAS) sweep aside Muhammad Fikri and Bagas Maulana (INA), 21-13, 21-17.
Next up is the French Open in Rennes.
● Curling ● The opening tournament of the new Grand Slam of Curling season is the Tour Challenge in Niagara Falls, Ontario (CAN), with an impressive string of wins for Canadian star Jennifer Jones' rink.
Jones, the 2014 Olympic gold medalist, came out a 7-4 winner over Kaitlyn Lawes' rink in the women's final. Her squad had a tough road to the last match, beating four-time defending Swiss World Champion Silvana Tirinzoni's team in the quarters, 7-4, and then Anna Hasselborg (SWE) and her 2018 Olympic champs in the semis, 7-5. Jones got up early in the final on Lawes, 3-1, after two ends, but Lawes got close at 4-3 after four. But two points for Jones in the fifth was decisive on the way to the 7-4 final.
In the taut men's final, it was 1-1 after four ends between Italian Joel Retornaz, the 2022 Worlds bronze medalist and five-time Grand Slam tournament winner Brendan Bottcher (CAN). Retornaz managed points in the fifth end and then in the seventh for a 3-1 edge, but Bottcher tied it in the eighth, requiring an extra end. But Retornaz managed a point in the ninth for the 4-3 win.
It's Retornaz's second career Grand Slam tournament win.
● Cycling ● The first leg of the UCI Track Champions League was in Mallorca (ESP), with Tokyo Olympic Sprint winner Harrie Lavreysen (NED) taking the men's Sprint division, beating France's Tom Derache in the Sprint final and then out-dueling 2023 World Champion Kevin Quintero (COL) and Commonwealth Games Sprint champ Matthew Richardson (AUS) in the Keirin.
Lavreysen finished with 40 points to 30 for Derache and 26 for Richardson.
The women's Sprint class was tight, with German Alessa-Catriona Propster winning with 35 points, to 32 for Colombia's two-time Worlds Keirin runner-up Martha Bayona and 30 for Keirin World Champion Ellesse Andrews (NZL). Propster surprised World Champion Emma Finucane (GBR) in the Sprint final, with Andrews beating Propster in the Keirin final.
The men's Endurance class saw Japan's Eiya Hashimoto win decisively with 31 points to 25 for Dylan Bibic (CAN). Hashimoto, competing in his first Champions League event, came from behind to win the Scratch race from Mark Stewart (GBR) in the final laps. After a crash of all seven finalists required a re-start in the Elimination race, Worlds silver medalist Bibic won over William Tidball (GBR), the 2023 Worlds Scratch gold medalist.
American Lily Williams won the women's Scratch final over five-time Worlds gold medalist Katie Archibald (GBR), but Archibald winning the Elimination final over Anita Stenberg (NOR), with Williams third. That was enough to give Archibald the Endurance title by 37-35 over the American, with Stenberg third (30).
● Figure Skating ● Ilia Malinin and the Ice Dance pair of Madison Chock and Evan Bates scored impressive home wins at Skate America in Allen, Texas, in the first stage of the ISU Grand Prix.
Malinin, still just 18, scored a lifetime best of 310.47 to win the men's title, and got a personal-best Free Skate score of 206.41 to defend his 2022 Skate America win. He included four quadruple jumps in his Free Skate routine (no quad-Axel, however), after scoring 104.06 in the Short Program that included two quadruple jumps. Said the winner:
"I was really not expecting this outcome. I'm still speechless.
"I have no words to explain how I really feel. It's just a mix of emotions. I've put in so many hours, and I think that it really paid off that I took a lot of time to focus on everything, to try to improve everything, to try to have the least possible amount of mistakes in the program. And overall, I'm really happy with how I did today."
A distant second was France's Kevin Aymoz (279.09), with Shun Sato (JPN: 247.50) third. American Andrew Torgashev was seventh (219.67).
Malinin's score was the eighth-highest in history, and he stands as the no. 4 performer ever, behind Nathan Chen of the U.S. and Japan's Yuzuru Hanyu and Shoma Uno.
Chock and Bates, the 2023 World Champions, won both the Rhythm Dance and Free Dance segments by 7.07 and 8.90 points to rack up a 212.96 to 196.99 win over Marjorie Lajoie and Zachary Lagha of Canada, with Evgeniia Lopareva and Geoffrey Brissaud (FRA: 193.47) third and Americans Caroline Green and Michael Parsons fourth (185.07).
It's the third career win for Chock and Bates at Skate America, but their first since 2014 and 2015!
Belgium's Worlds bronze medalist Leona Hendrickx led the women's competition after the Short Program, 75.92 to 71.45 for Amber Glenn of the U.S. and 70.07 for American champ Isabeau Levito. She followed up by taking the Free Skate with 145.36 to 138.08 for Levito and a 221.28 to 208.15 overall win over Levito.
It's Hendrickx's second career Grand Prix win, after the Grand Prix de France in 2022. Levito repeated her runner-up finish at Skate America and got her third career Grand Prix medal. Glenn fell to fifth in the Free Skate and ended up fifth (189.63), with Niina Petrokina (EST) moving up to the bronze medal at 194.55.
In the Pairs, Germany's 2023 European bronze medalists Annika Hocke and Robert Kunkel won both the Short Program and Free Skate to eke out a 184.23 to 182.59 victory over Lia Pereira and Trennt Michaud (CAN). The U.S. went 3-4-5 with Chelsea Liu and Balazs Nagy (177.66), Valentina Plazas and Maximiliano Fernandez (157.08) and Isabelle Martins and Ryan Bedard (154.66).
Next on the schedule is the Skate Canada International, in Vancouver.
● Football ● "It is with great disappointment that we share that the 2023 World Cup roster will not be participating in the upcoming October international window for the first-ever Women's Gold Cup Qualifiers.
"While this has been one of the hardest decisions we have had to make, we feel it is necessary to take such a drastic stance to put an end to the constant mistreatment we receive from the Jamaica Football Federation. …
"Due to the current circumstances the JFF has put us in, we would not be able to do our job. We take out stance in solidarity with hope to end this cycle of mistreatment."
That's from an Instagram post by Jamaican midfielder Drew Spence on behalf of the Reggae Girlz, who will not play against Panama on 26 October or Guatemala on 29 October. The post further notes that the players have not been paid for their Women's World Cup qualification, received information about staff changes from outside the federation and a lack of organization and management.
The Jamaican federation has called up a less-experienced roster for the two upcoming games.
¶
Canadian great Christine Sinclair said Friday that she will retire from national team play at the end of the year, but will continue to play one more season in the NWSL with the Portland Thorns.
Sinclair, now 40, has scored 190 goals in 327 national-team matches, the most by any player, and expects to play two more matches near the end of the year in the international match window. She began her national team career in 2000 and won an Olympic gold with Canada at the Tokyo Games in 2021.
She told Reuters, "Honestly, you can't play forever. And this seems like a good time to be done."
● Freestyle Skiing & Snowboard ● The weather played a major role in the season-opening Big Air competitions in Chur (SUI), with the Freestyle finals wiped out by heavy winds on Friday.
So, the results from Thursday's qualifying round were used, with Canadian Dylan Deschamps, 20, getting his first career World Cup medal – and the win – scoring 93.66, ahead of Daniel Bacher (AUT: 92.66) and defending champ Birk Ruud (NOR: 92.00), the 2022 Olympic Champion.
American Troy Podmilsak, the 2023 World Champion, was fourth (91.66).
The women's winner was home favorite Mathilde Grimaud (SUI: 95.50), the Beijing 2022 bronze winner, beating 2023 World Champion Tess Ledeux (FRA: 94.00) and fellow Swiss Sarah Hoefflin (91.75), the 2018 Olympic Slopestyle winner.
¶
The situation was better for the snowboarders and Saturday's Big Air event was able to be completed, with a men's sweep for Japan, by 18-year-old Hiroto Ogiwara (171.50), Kira Kimura (168.00) and defending champion Takeru Otsuka (167.50). American Sean Fitzsimmons was fifth (145.75).
It's also Ogiwara's first career World Cup medal, and victory.
Japan nearly swept all the medals, with 18-year-old Kokomo Murase (179.25) and Reira Iwabuchi (175.50) going 1-2 in the women's final, with Great Britain's Mia Brookes third (169.75)! It's Murase's second career World Cup Big Air win, as she took the title in Chur in 2021; she also has two wins in Slopestyle. Iwabuchi, 21, won her 14th career World Cup medal.
● Gymnastics ● The last update from Mary Lou Retton's family was on Wednesday, with an Instagram video from daughter Shayla Schrepfer, who explained that Retton's recovery in a Houston hospital from a rare form of pneumonia was going well, but:
"But then yesterday we had a pretty scary setback. She is still in ICU and we're just working through some things as far as her setback goes.
"She had a better day today, which is great, [she's] just really, really exhausted."
Retton, now 55, the 1984 Olympic gold medalist in the women's gymnastics All-Around, has touched the public. Her family's fund-raising appeal for $50,000 in support, has reached $459,304 by mid-day on Sunday, from 8,319 donors.
● Short Track ● American Kristin Santos-Griswold emerged as a force on the ISU World Cup circuit last season, winning seven medals in all, and picked up right where she left off in World Cup I in Montreal (CAN).
She picked up her first World Cup win since 31 October 2021 with a victory in the women's 1,000 m in 1:31.288, ahead of Korea's So-youn Lee (1:43.214), as the rest of the field crashed! Santos-Griswold said later:
"It was a crazy race, I've never been in one where everyone has crashed before. I don't think most people have. I saw it and just thought, 'no, don't call it back'. I wish it was different and everyone had stayed on their feet, but I felt like I had the win either way. I'm really happy with how I skated."
She wasn't finished, winning a bronze in the second 1,000 m race in 1:31.168, behind Gil-li Kim (KOR: 1:30.998) and Belgian Hanne Desmet, the 2023 European 1,000 m gold medalist.
Teammate Corinne Stoddard won a third medal for the U.S. in the 1,500 m in 2:18.104, behind Desmet (2:27.863) and Kim (2:28.012). Reigning World Champion Xandra Velzeboer (NED) won the 500 m in 41.961, ahead of teammate Selma Poutsma (42.081).
Korea's Ji-won Park, the 1,000 and 1,500 m Worlds winner in 2023, took the 1,000 m in 1:24.903, beating Canadian Worlds bronze medalist Steven Dubois (1:24.916). Teammate Gun-woo Kim won the second 1,000 m race in 1:26.712 with Park fourth, and Dae-heon Hwan, the Beijing 2022 Olympic gold medalist, won the 1,500 m in 2:23.666 ahead of Stijn Desmet (BEL, Hanne's brother) at 2:23.789.
China's Shaoang Liu, who won the Beijing Olympic 500 m in 2022 for Hungary, won his specialty in 40.875, ahead of Canadian Felix Roussel (40.895).
¶
You can receive our exclusive TSX Report by e-mail by clicking here. You can also refer a friend by clicking here, and can donate here to keep this site going.
For our updated, 850-event International Sports Calendar (no. 4) for 2023 and beyond, by date and by sport, click here!