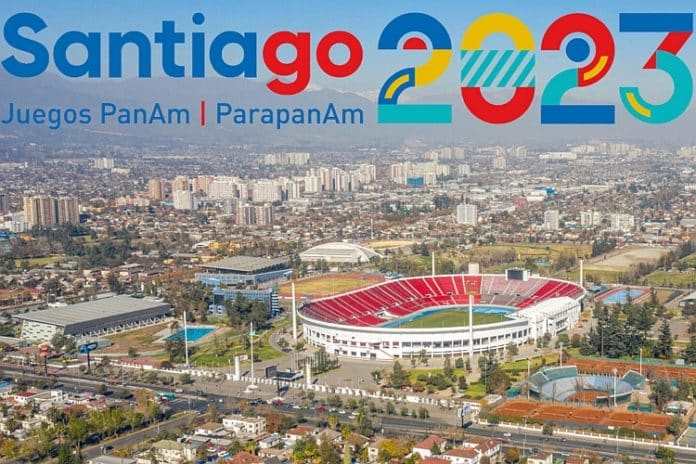 ★ The Sports Examiner: Chronicling the key competitive, economic and political forces shaping elite sport and the Olympic Movement.★
★ To get The Sports Examiner by e-mail: sign up here! ★
≡ THE 5-RING CIRCUS ≡
1. Pan American Games start in Chile tomorrow
2. Russia focusing on 2028; "neutrals" called a disgrace
3. Swiss Olympic shares national "203X" Games plan
4. Winter season starts with Skate America in Texas
5. Gold Coast mayor trying to save 2026 Commonwealth Games
● The 19th edition of the Pan American Games opens in Santiago, Chile on Friday with a gala opening ceremony and then competition in 39 sports over two weeks. The U.S. will lead the medal count again and has a giant, 631-athlete team competing.
● The head of the Russian Olympic Committee told a conference audience in Russia that he is focusing on LA28 and now on Paris in view of sanctions. History says that the decision on whether any Russian athlete accepts "neutral" status for Paris could come from Vladimir Putin.
● The Swiss Olympic committee unveiled its feasibility study for a 2030 Winter Games bid, with events placed across the country and existing accommodations used instead of an Olympic Village. The decision on a formal bid will come in November.
● The winter sports season gets underway this weekend with the annual Skate America competition, this year in the Dallas area. Headliners include U.S. teen sensation Ilia Malinin and Ice Dance World Champions Madison Chock and Evan Bates.
● While the Australian state of Victoria gave back the Commonwealth Games in July, the mayor of Gold Coast – where the 2018 event was held – wants to take it over. But he faces an uphill fight with the Queensland government, more focused on the 2032 Brisbane Olympic Games.
● World Championships: Rugby (World Cup finishes in France this weekend) ●
● Panorama: Paris 2024 (French financial prosecutors visit Paris 2024 offices again) = Israel (events being relocated away from Israel due to war) = Athletics (five more doping suspensions reported) ●
1.
Pan American Games start in Chile tomorrow
The XIX Pan American Games will start in and around Santiago, Chile on Friday (20th), with competitions in 39 sports, 425 events and 6,909 athletes from 41 countries expected, competing in 39 venues.
Swimming and Artistic Gymnastics will highlight the first week, with track and field and wrestling anchoring the second week. Olympic qualifying is a major focus of multiple sports on the Pan Am program:
● Direct qualification in nine sports or disciplines: artistic swimming, breaking, boxing, gymnastics (rhythmic and trampoline), hockey (men & women), modern pentathlon, sport climbing, team handball and water polo (men & women).
● Quota qualification in seven sports or disciplines: archery, diving, equestrian jumping, table tennis, sailing and shooting.
There is no doubt about the medal leader; it will be the U.S. For the Pan American Games in this century, it has been no contest:
● 2003: United States, 271; Cuba, 152; Canada, 128, in Santo Domingo (DOM).
● 2007: United States, 237; Brazil, 157; Canada, 138, in Rio de Janeiro (BRA).
● 2011: United States, 237; Brazil, 141; Cuba, 136, in Guadalajara (MEX).
● 2015: United States, 265; Canada, 219; Brazil, 141, in Toronto (CAN).
● 2019: United States, 293; Brazil, 169; Canada, 152, in Lima (PER).
The U.S. is sending a massive team to Santiago, with 631 total athletes in 43 disciplines out of 46, some 93 Olympians and 45 prior Pan American Games gold medalists. There are 13 Olympic gold medalists on the team, including Lee Kiefer (Tokyo: fencing), Vincent Hancock (Tokyo: shooting), Brooks Curry (Tokyo: swimming), Rio wrestling champs Helen Maroulis and Kyle Snyder, Beijing equestrians Laura Kraut and McClain Ward, and six members of the Tokyo women's water polo champions: Maggie Steffens, Maddie Musselman, Ashleigh Johnson, Kaleigh Gilchrist, Rachel Fattal and Amanda Longan.
The Games will be shown in the U.S. on the PanAm Sports streaming channel live.
2.
Russia focusing on 2028; "neutrals" called a disgrace
"We have set the aim of competing in Los Angeles.
"I'm sure that the sanctions would be lifted by that time and the present-day approach would be altered. It is already being altered."
That's Russian Olympic Committee chief Stanislav Pozdnyakov, speaking at a sports conference in Perm (RUS) on Thursday. The ROC was suspended on 12 October by the International Olympic Committee for integrating sports organizations governing areas which are part of Ukraine, but overrun during the Russian invasion that began in February 2022. So now:
"We believe that this status is temporary," Pozdnyakov said. "And at the right time, relations between our organizations will take a positive path, so we do not break contacts with our colleagues. Now they are informal."
Irina Viner, the high-profile head of the Russian Rhythmic Gymnastics Federation, is campaigning for a new sports structure altogether:
"I believe that amid external sanctions pressure and our country being disparaged by international federations it is crucial to create alternative organizations that will not be affiliated with international federations. There should be independent organizations that can invite athletes to compete. In rhythmic gymnastics, for example, there is the League of Sports Societies, an association of clubs.
"We won't stop. Rhythmic gymnastics is a sport that was born in the Soviet Union. We are looking for new forms and have already found some. There are competitions and concerts, which we hold on such dates as Defender of the Fatherland Day and Children's Day. They bolster the morale of our athletes. Children and families of our soldiers show up there as guests."
Viner also repeated her view of the possibilities for Russians competing as "neutrals" at Paris 2024:
"We are all very worried since we keep hearing one and the same thing regarding the Olympic Games: lower, even lower, stay down. In a way, we are being 'kept down' all the time.
"Sometimes we are accused of doing something wrong, or our athletes are dressed in white uniforms, without the anthem, without fans. Our colleagues and children will not go to the Games under this status: it's a disgrace.
"We are used to hearing our anthem when our flags are raised. The most popular song at the world championships is always the Russian anthem. And now, to compete at the Games is beneath the dignity of a country like Russia."
Observed: Pozdnyakov made an important comment during his presentation at the ongoing "Russia: A Sports Power" conference:
"Today at the Council everyone was once again convinced of how attentive the President of Russia is to the problems of our sport. At the meeting, a variety of issues related to current challenges and prospects for the development of the industry were raised. Sport, including elite sport, remains a matter of national importance. This is probably one of the key results of the meeting."
That says a lot about Russian sport and what will happen in 2024. Reporting since 1984 indicates that the decision to boycott the Games of the XXIIIrd Olympiad in Los Angeles came down to Soviet Premier Konstantin Chernenko, a 72-year-old bureaucrat who was a protégé of Leonid Brezhnev, the 18-year Premier from 1964-82.
Similarly, a decision on whether Russian athletes will simply not go to Paris under any circumstances will very much be up to current Russian autocrat Vladimir Putin. Whatever the IOC's stance or requirements – which have not been specified as yet – it is likely that Putin will make a decision whether to allow Russians to compete as neutrals, or demand that they not go.
It's worthwhile to remember that that's the way it works in an autocracy.
Putin spoke to the conference and among his remarks:
"We learned that an invitation to the [Olympic] Games is not an unconditional right of the best athletes, but a kind of 'privilege,' and it can be earned not by sports results, but by some political gestures that have nothing to do with sports at all, and that the Games themselves can be used as a tool of political pressure against people who have nothing to do with politics, as gross and in fact racist, ethnic discrimination."
And he continued his campaign against the West and sport:
"What is happening in modern international sports organizations are signs of degeneration. It is very commercialized, which means it is very dependent on business, and business depends on authorities at various levels, political structures of various countries. This is and there are signs of degeneration."
3.
Swiss Olympic shares national "203X" Games plan
"Switzerland has the potential, the knowledge and the support of the population to hold the Olympic and Paralympic Winter Games according to a new concept from 2030. Decentralized, on existing facilities, in all four language regions and largely privately financed. This is the conclusion reached by a feasibility study by Swiss Olympic, the Olympic winter sports associations and Swiss Paralympic. Now the sports parliament will decide on the next step at the end of November 2023."
That's the summary of the "Vision Switzerland 203X" plan revealed by Swiss Olympic – the national Olympic committee of Switzerland – with an eye on the 2030 Games now up for grabs. The 60-page feasibility study detailed the opportunities:
● 12 competition sites, all across Switzerland
● Opening in Lausanne, Closing in Bern
● Existing accommodations, no new Olympic Village
The "headquarters" city would be Bern, but existing, well-respected venues will be used for all sports, including St. Moritz for bobsled, luge and skeleton, and freestyle skiing and snowboard, Engelberg and Kandersteg for ski jumping, Lenzerheide for biathlon, Crans-Montana for alpine skiing, Lausanne for figure skating and short track and so on. A venue for curling is still to be identified
Perhaps most important is the financial projection, which has sunk Swiss bids in the past:
"The budget assessment shows that it seems possible to generate an organizational budget of around CHF 1.5 billion from largely private resources – also thanks to a direct financial contribution from the IOC of CHF 710 million. According to the financial analysis, this should make it possible Organizational costs of the Olympic and Paralympic Winter Games in Switzerland, according to a decentralized format, without covering financial resources from the public sector. Instead, the public sector should financially support the Paralympics. The public sector would also invest in the areas of legacy and security."
(CHF 710 million is about $796.5 million U.S.)
A poll taken in September showed 67% in favor, 26% against and seven percent not sure, an unusually strong support indicator in Switzerland. As for the target:
"The focus is on hosting the Olympic and Paralympic Games in 2030. 2034 remains an option as an alternative year."
The IOC is hoping to find a suitable candidate for 2030 from the Swiss, Sweden or France in time to be formally elected in mid-2024.
4.
Winter season starts with Skate America in Texas
Ready or not, the winter-sports season is here, with the annual opener of the International Skating Union's Grand Prix circuit, Skate America. For 2023, the event is being held in Allen, Texas, in the Dallas area.
The skater invitations are made for the entire Grand Prix by the ISU, based on past performances, with American teen star Ilia Malinin, still 18, the headliner. The first man to perform the quadruple axel in competition, he won the Worlds bronze medal at the 2023 Worlds after winning the 2022 World Junior Championships gold.
The women's competition will feature Worlds silver and bronze medalist Loena Hendrickx of Belgium, competing against U.S. champ Isabeau Levito and Amber Glenn, third at last year's U.S. nationals and at Skate America.
The favorite in Pairs might be Germany's Annika Hocke and Robert Kunkel, the 2023 European Championships bronze medalists.
In Ice Dance, American stars Madison Chock and Evan Bates, the 2023 World Champions, are in and will face competition from U.S. skaters Caroline Green and Michael Parsons, the 2022 Four Continents winners. The third U.S. entry could be the future: the brother-sister combo of Oona and Gage Brown, the 2022 World Junior Champions. French national champs Evgeniia Lopareva and Geoffrey Brissaud and Canada's Marjorie Lajoie and Zachary Lagha are both national champions.
Malinin is the defending Skate America champion from 2022 and Chock and Bates have won this event three times, in 2014, 2015 and last year. Levito and Glenn were 2-3 in the women's Singles in 2022.
The event is mostly on NBC's Peacock streaming network, but the Friday's evening session is on E! from 7:30-10:30 p.m. Eastern, Saturday evening session is on E! from 8-11 p.m. and Sunday's 3-6 p.m. session will also be on E!. A highlights package of the first two days will be shown on NBC on Sunday from 12-2 p.m.
5.
Gold Coast mayor trying to save 2026 Commonwealth Games
Australia's Gold Coast hosted a very successful Commonwealth Games in 2018, at a cost of about A$1.2 billion (about $757.8 million U.S.), and now Gold Coast Mayor Tom Tate wants to do it again.
Tate sees an opportunity to run what he calls a "streamlined" version of the event in 2026 in the aftermath of the Victoria government withdrawing from its hosting agreement in July, with then-Premier Daniel Andrews saying that the event cost was too high, perhaps more than A$6 billion (~$3.8 billion U.S.).
He told reporters earlier this week:
"I've just concluded a very positive meeting with the [Commonwealth Games Federation]. Mr [Craig] Phillips [of Commonwealth Games Australia] agrees the Gold Coast is an excellent option for the Games. It is heartening for us to have a frank discussion regarding hosting the Commonwealth Games on the Gold Coast.
"Of course there is a bit of a journey to do but the key point is this: we want to salvage Australia's reputation. Because in future years, nobody will remember Daniel Andrews and the Victorian Government, they will say 'the Aussies are the ones who cancelled the 2026 Commonwealth Games.'
"I showed them our preliminary business case which proves that a scaled down 2026 Games can be held on the coast for around $700 million [$442 million U.S.]. This is a $2 billion-plus gift to the [southeast Queensland] economy at no monetary cost to Queensland, apart from in-kind support at the time."
The Queensland government has said it is not interested in the 2026 Commonwealth Games in view of the forthcoming 2032 Olympic Games in Brisbane, with Queensland Sports Minister Stirling Hinchliffe strongly opposed. Queensland Housing Minister and Member of Parliament Meaghan Scanlon said, "I can't say I have had a single person raise with me their desire to have the Commonwealth Games again on the Gold Coast."
But Tate is undeterred. He, along with the Commonwealth Games Federation, will pitch the idea further to the Queensland government and hopes to make a bid presentation to the CGF in November.
≡ WORLD CHAMPIONSHIPS ≡
● Rugby ● The 10th Rugby World Cup is on to the semifinals on Friday and Saturday (with current world rankings):
● 20 October: (7) Argentina (4-1) vs. (2) New Zealand (4-1)
● 21 October: (5) England (5-0) vs. (1) South Africa (4-1)
Both games will be played at the Stade de France in Saint-Denis in the Paris area, with the championship final on the 28th.
≡ PANORAMA ≡
● Olympic Games 2024: Paris ● A terse announcement from the Paris 2024 organizers on Thursday explained:
"Paris 2024 confirms that the PNF (Parquet national financier) visited its headquarters on Wednesday Oct. 18 and obtained all the information it requested."
This is the second search for information at the organizing committee's headquarters by the national financial prosecutors, looking at specific contracts for favoritism and conflicts of interest. The head of the PNF, Jean-Francois Bohnert, said in September that "I don't see any elements, at least not at this stage, that would lead the investigation towards the most serious cases of corruption or influence peddling."
● Israel ● Multiple federations are postponing events involving Israel in view of the attack by Hamas and the continuing conflict. The International Basketball Federation (FIBA) said that Basketball Champions League matches involving Israeli club teams from Jerusalem and Hapoel have been rescheduled and games in Israel will be moved outside of the country.
The European Handball Federation said Thursday that two qualifying matches involving Israel against Luxembourg for 1 November and 5 November are being postponed. UEFA announced:
"After a thorough evaluation of the current safety and security situation in the whole territory of Israel, the UEFA Executive Committee decided that no UEFA competition matches shall be played in Israel until further notice.
"The Israel Football Association and its clubs Maccabi Haifa FC and Maccabi Tel-Aviv have been requested to propose alternative venues/stadiums (which must comply with all applicable UEFA regulations) outside the territory of Israel for their home matches to be used for as long as this decision remains in force."
The Association of Tennis Professionals announced the ATP 250 men's tournament scheduled for Tel Aviv from 5-11 November will be played on Sofia (BUL) instead.
● Athletics ● The Athletics Integrity Unit posted suspension notices this week on five more athletes this week, four of which are women and at least four are distance runners:
● Jennifer Gonzalez (CHI), 33, a six-time national champion at 5,000 or 10,000 m, six years suspension from 7 November 2022, for excessive use over a five-month period of recombinant erythropoietin (EPO).
● Zhang Xin (CHN), 34, a 2:31:19 marathoner from 2007, three years suspension from 21 April 2023 for the use of the steroid Metandienone.
● Daisy Cherotich (KEN), 26, a 2:25:30 marathoner (2022), three years suspension from 21 February 2023 for use of recombinant erythropoietin (EPO).
● Salina Jebet Kosgei (KEN), 46, a 2:23:22 marathoner from 2006, provisionally suspended from 17 August for the use of norandrosterone.
● Wesram Nasser Alfarsi (KSA), for the use of Darbepoetin (no other details available).
¶
You can receive our exclusive TSX Report by e-mail by clicking here. You can also refer a friend by clicking here, and can donate here to keep this site going.
For our updated, 850-event International Sports Calendar (no. 4) for 2023 and beyond, by date and by sport, click here!