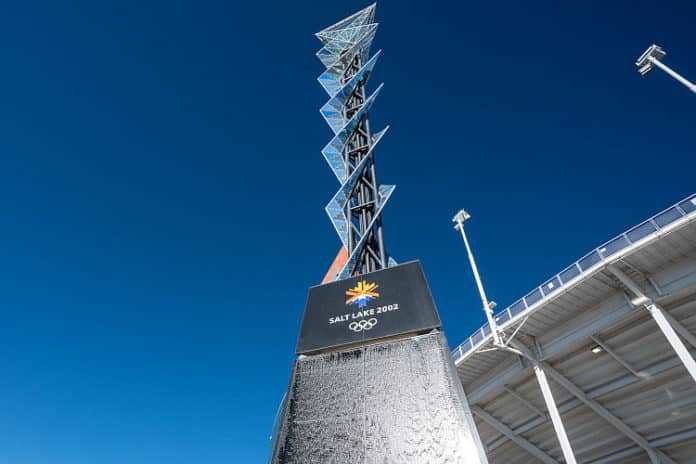 ★ The Sports Examiner: Chronicling the key competitive, economic and political forces shaping elite sport and the Olympic Movement.★
★ To get The Sports Examiner by e-mail: sign up here! ★
≡ THE 5-RING CIRCUS ≡
1. USOPC's Sykes underscores Salt Lake City bid quality for 2034
2. Infantino re-elected by acclimation at FIFA Congress
3. FIE's Russia vote causes German World Cup cancellation
4. Japan marches on with 9-3 win over Italy in WBC quarters
5. Volleyball ranked top social-media IF in survey
Gene Sykes, the new Chair of the U.S. Olympic & Paralympic Committee's Board of Directors said that Sale Lake City is clearly the best available bidder for a future Olympic Winter Games but that a 2034 hosting continues to be preferred to 2030. The USOPC also insists on continuing sanctions against Russia and Belarus, and wants to see if there are truly "neutral" and "clean" athletes from those countries to compete internationally again. FIFA President Gianni Infantino was re-elected by acclimation for a second term, and said he expects FIFA revenues for 2023-26 to exceed $11 billion and announced that the 2023 Women's World Cup prize package would expand to $152 million. The German Fencing Federation "returned" a May women's Foil World Cup to the International Fencing Federation in view of that body's vote to reinstate Russian and Belarusian athletes, saying it would not be a host to them. Japan surged past Italy, 9-3, in its quarterfinal of the World Baseball Classic in Tokyo on Thursday, and comes to the semis in Miami undefeated at 5-0. In an annual ranking of International Federation social-media effectiveness, Volleyball World was listed first, followed by FIFA and World Athletics.
● Panorama: Los Angeles 2028 (Garcetti confirmed as India ambassador) = Alpine Skiing (Odermatt and Gut-Behrami win World Cup Super-G finales) = Athletics (2: Raven Saunders accepts fault for suspension; appreciating Jasmine Moore's NCAA double) = Basketball (USA Basketball not requiring World Cup play to be on Olympic team) = Football (SoFi Stadium may be too narrow for '26 FIFA World Cup Final) = Wrestling (Italy's Chamizo loses 2022 Worlds bronze to doping) ●
1.
USOPC's Sykes underscores Salt Lake City bid quality for 2034
"I think it's fair to say there will not be bids from any other host which will be more attractive to the [International Olympic Committee] than a bid from Salt Lake City, just given how well prepared Salt Lake City is, and the local support, which is absolutely critical and, I think, very very differentiating.
"So I don't imagine that any bid will be more attractive on its face than the Salt Lake City opportunity."
That's new U.S. Olympic & Paralympic Committee Chair Gene Sykes during a Thursday teleconference with reporters, where he spoke at some length about the strength of the Salt Lake City candidature for the 2030 or 2034 Olympic Winter Games:
● "The commitment to supporting winter sports, through venue updating and investment and access pathways at all levels, and of course, the support for returning the Games to Utah: it's remarkable."
● "As you know, we have always looked at the possibility of either 2030 or 2034. Our preference is to host 2034 due to the proximity in dates to Los Angeles 2028. But we remain committed to whichever year best suits the Olympic and Paralympic Movement."
● Asked about the IOC and what to do about 2030, Sykes explained:
"They have been looking to find a city that would offer a good alternative to Salt Lake City for 2030. They understand our preference; they have the same preference we do for 2034, if possible. But almost every other city has some limitation, either by capability or local support or something else, and so I think there's no issue of fairness, it's just a matter of understanding wat their options are, and I believe very strongly, they understand the advantages that Salt Lake City has to every other potential host."
Sykes also reiterated the USOPC position on the possible return of Russian and Belarusian athletes to international competition, but underscored the concerns about whether adequate conditions could actually be met:
"Though the conversation has shifted over time; our position has not. Above all else, we stand in solidarity with the people and athletes of Ukraine. …
"The commitment to the principles of Olympism is reflected in the strength of the sanctions that were put in place nearly a year ago against Russia and Belarus. We support these sanctions and believe they must continue to be upheld.
"We've listened to, and continue to gather feedback from athletes, sports and other constituents around the United States. Many have told us it's their desire to compete against all of the world's best athletes, but only if that can happen in a way that ensures safe and fair play.
"There's a very real concern, even skepticism – and we continue to hear the skepticism – about whether that condition can be met, and how the strong sanctions that are in place will be upheld as athletes return to the competition environment. What will neutrality really mean? What will the conditions for neutrality be?
"As such, we encourage the IOC to continue exploring a process that would preserve the existing sanctions, ensuring only truly neutral athletes, who are clean, are welcome to compete. This process will continue to require very careful management, and will demand extra effort to earn the confidence and trust of our community. …
"Only if these conditions of neutrality and clean, fair competition can be met do we believe the spirit of the Olympic Games can prevail."
USOPC chief executive Sarah Hirshland cheered the forward movement of the Kamila Valieva doping case from the 2022 Beijing Winter Games, now at the Court of Arbitration for Sport:
"I really want to stress that while we can't force action at CAS, it is so important that the figure skating team athletes who competed in Beijing get resolution with no delay."
Hirshland also noted that the USOPC is ready to support the work of the fledgling Commission on the State of the U.S. Olympics and Paralympics, including extension of the Congressionally-set deadline to allow the group to do a thorough job.
2.
Infantino re-elected by acclimation at FIFA Congress
Running unopposed, FIFA President Gianni Infantino was re-elected for a second full term by acclimation at he 73rd FIFA Congress in Kigali, Rwanda, noting the promises he had made during his prior term:
"So what did I promise you? Well, I promised you – and very few believed it – that we would experience the best (FIFA) World Cup ever, and we delivered. We organised the best (FIFA) World Cup ever. We had five billion viewers all over the world. We had three million fans in the stadiums, we had teams from five different continents qualifying for the knockout phase, even Morocco, the first African team in the semifinal, mabrouk! Felicidades Argentina, of course, for winning this (FIFA) World Cup. Congratulations to France too, for being that close to winning the trophy. We had excellent stadiums, perfect infrastructure, no incidents, zero incidents. Some were telling me that maybe it's linked with the fact that people weren't drinking alcohol in or around the stadiums, maybe, maybe not, but it was very peaceful and joyful. And, of course, we took on board as well our responsibility to deal with human rights matters and to deal with the legacy of this (FIFA) World Cup – the first in the Middle East – Shukran Qatar.
"Secondly, we have promised you that we would organise the best, the most beautiful FIFA Women's World Cup. And we did so in 2019, in France. We created, we organised, we hosted a beautiful (FIFA) Women's World Cup: 1.2 billion viewers around the world; more than a million of fans in the stadiums – a magical atmosphere in France. This environment has led to an impressive progress in globalising women's football. And, therefore, thank you to France (and) congratulations to the U.S. as they won the trophy. It was once again the best, of course. …
"And I would like to remind you as well that when I arrived in FIFA, the FIFA reserves were around USD 1 billion. Today, the FIFA reserves are at almost USD 4 billion, which means we have even more money that we can inject and invest in football, because FIFA's money is your money. It's for football and football development. And you know, I promised you that we would increase all the programmes, that we would have more development programmes in the world.
"And that's what we did. Many of you may remember that before being elected as FIFA President, each federation would receive USD 250,000 per year. Now, they receive USD 2 million per year. So it's seven times more in seven years. We multiplied the investment by seven. If a CEO were to tell stakeholders that the products were multiplied by seven, I believe that they would keep that CEO forever. They would love for this story to carry on, but I'm only here for a four-year cycle."
He also emphasized trials of new concepts, like a smaller video-review system that could be used for all competitions and a new offside rule "to give a bit more advantage to the attacker."
And Infantino said that the $11 billion FIFA budget projected for 2023-26 is no longer aspirational, but with the expansion of the 2026 FIFA World Cup from 64 to 104 matches, it will be surpassed:
"We are promising you new record revenues for the next four-year cycle of USD 11 billion. So from USD 6.4 (billion), which became USD 7.5 (billion) in the last cycle, we go to USD 11 billion. And actually the new (FIFA) Club World Cup is even not included in that, so I think this figure will increase still, by at least a couple of billions. We will see."
Infantino's closing comments also set new goals for the FIFA Women's World Cup:
"Step one being equal conditions and services for all men and women playing at a FIFA World Cup. This will be a reality for the (FIFA) Women's World Cup 2023, the same conditions as 2022 will be for the players and coaching staff for the (FIFA) Women's World Cup 2023.
"Step two entails a significant increase in the total prize money envelope for the 2023 (FIFA Women's) World Cup. It will be over three times more than in 2019 when I was already President. It will be 10 times more than in 2015, before I became President of FIFA. 10 times more. So, we move from (USD) 15 million in 2015 to (USD) 150 million in 2023. For the first time ever, we will try to dedicate a specific portion of this payment – which mainly has to go to football development, but a specific portion of that should go, of course, to the players."
The breakdown includes $110 million in actual prize money, $11.3 million in club benefits and $30.7 million in team preparation support, for $152 million in all. For 2019, the total was $50 million, with $30 million in prizes and $20 million in team prep support.
He also set a goal "to have equality in payments for the 2026 men's and the 2027 women's World Cups" and then challenged "[b]roadcasters and sponsors, dear friends, have to do more in this respect."
The FIFA World Cup in 2022 paid $440 million in prize money to federations, $209 million to clubs and $48 million in team preparation fees for total of $697 million.
3.
FIE's Russia vote causes German World Cup cancellation
"The Executive Committee of the German Fencing Federation informed the World Fencing Federation FIE today that it will not be hosting the women's foil World Cup planned for the first weekend in May in Tauberbischofsheim."
Last week's vote at the Federation Internationale de Escrime (FIE) to re-admit Russian and Belarusian athletes after 15 April, subject to recommendations or regulations from the International Olympic Committee, has led to the cancellation of May's women's Foil World Cup in Germany.
German federation President Claudia Bokel, a former IOC Member during her term as an IOC Athletes' Commission representative, explained (translation from the original German):
"The discussions of the last few days after the decision of the FIE Congress to allow Russian and Belarusian participation again, triggered heated discussions both internally and externally.
"The [Tauberbischofsheim] World Cup would have been one of the first when this decision should have been implemented. For the Executive Committee, it is currently inconceivable how this should have happened. A number of questions remain unanswered at this point in time.
"As before, our solidarity is with the people in Ukraine who are suffering from the war of aggression. The German Fechter-Bund accepts the decision of last Friday.
"We now want to give a clear signal that we would have wished for a different result and still see a large number of open implementation issues, also from the world federation, which make it impossible to hold the tournament. Accordingly, a later decision on admission would have been the only right way.
"As much as we would have liked to have presented our top athletes to the German audience and given them the opportunity to use the home field advantage on their way to the Olympic Games in Paris, the circumstances do not make another decision possible."
Another women's Foil World Cup could be in trouble as Poznan (POL) is scheduled to host a tournament from 21-23 April, immediately after the new regulations on Russian and Belarusian inclusion would apply. Poland is one of the countries most impacted by refugee flows from Ukraine and has been a leader against Russian and Belarusian re-admission to sports.
4.
Japan marches on with 9-3 win over Italy in WBC quarters
Undefeated Japan cruised into the semifinals in Miami, Florida via a 9-3 win over Italy in the second World Baseball Classic quarterfinal to be played at the Tokyo Dome in Japan.
Now 5-0, Japan has outscored its opponents by 47-11 and broke the game open in the bottom of the third, taking a 4-0 lead principally on a three-run homer from first baseman Kazuma Okamoto. After the Italians got two back on right fielder Dominic Fletcher's single in the top of the fifth, Japan scored three times for a 7-2 lead thanks to doubles from third baseman Munetaka Murakami and Okamoto. Left fielder Masataka Yoshida belted a seventh-inning home run and Japan scored once more to lead 9-2, and Fletcher slugged an eight-inning home run to make the final, 9-3.
Japanese ace Shohei Ohtani pitched the first 4 2/3 innings, giving up two runs and getting the win. Fellow star Yu Darvish pitched two innings and gave up one run. Joe LaSorsa pitched the third inning for Italy and took the loss.
With the victory, Japan heads to Miami to meet the winner of Friday's quarterfinal between Puerto Rico and Mexico on Monday (20th). Cuba, which defeated Australia, 4-3, in the first quarterfinal, will play the winner of Saturday's Venezuela-U.S. quarterfinal on Sunday.
The championship game will be in Miami on Monday (21st).
Beyond the quarterfinalists, eight teams finished third or fourth in their groups and qualified for the 2026 World Baseball Classic: Canada, Czech Republic, Dominican Republic, Great Britain, Israel, Netherlands, Panama, and South Korea.
5.
Volleyball ranked top social-media IF in survey
The seventh edition of the #SportOnSocial League Table produced by the London-based Redtorch digital research and creative agency evaluates International Federation social-media performance on a series of factors that mostly ignore sheer audience size. Follower growth, growth rate, engagement rate and video views are all included in the evaluation, which saw Volleyball World (from the Federation Internationale de Volleyball) ranked first overall.
FIFA ranked second, moving up from third in 2021, and World Athletics ranked third, also up one spot. The prior leader, the Badminton World Federation, was fifth in this survey. A total of 40 federations – summer and winter – were reviewed.
The project looked at social-media performance on Facebook, Instagram, Twitter, TikTok and YouTube. The data was weighted according to the "average level of priority for IFs":
1. Instagram: 25%
2. Facebook: 20%
3. YouTube: 20%
4. TikTok: 20%
5. Twitter: 15%
Overall, the cumulative performance showed an impressive growth in new followers of 68% compared to 2021. The top-ranked federations by platform:
● Facebook: 1. World Aquatics; 2. Volleyball World; 3. International Gymnastics Federation.
● Instagram: 1. Volleyball World; 2. FIFA; 3. Badminton World Federation.
● Twitter: 1. World Athletics; 2. Volleyball World; 3. Badminton World Federation.
● TikTok: 1. FIFA; 2. Volleyball World; 3. World Athletics.
● YouTube: 1. FIFA; 2. World Athletics; 3. Volleyball World.
The overall rankings of the top-performing federations:
1. Volleyball World
2. FIFA (football)
3. World Athletics
4. FIBA (basketball)
5. World Rugby
6. World Aquatics
7. Union Cycliste Internationale
8. United World Wrestling
9. International Skating Union
10. International Judo Federation
The lowest-ranked federations included: 36. International Shooting Sports Federation; 37. World Sailing; 38. World Pentathlon; 39. World Skate; 40. International Golf Federation.
It's worth noting FIFA's performance, due in significant part to the 2022 World Cup in Qatar. The federation saw growth of 15.9 million on Instagram alone, and 7.5 million on YouTube
≡ PANORAMA ≡
● Olympic Games 2028: Los Angeles ● Former Los Angeles Mayor Eric Garcetti, a key player in the 2017 negotiations that brought the 2028 Olympic Games to Los Angeles, was confirmed by the U.S. Senate, 52-42, to be the American Ambassador to India.
Garcetti, named in July 2021, had to wait two years for confirmation after doubts were raised about his knowledge of sexual harassment allegations concerning a Mayoral office staff member. But the U.S. need to have an ambassador in New Delhi overrode all other concerns.
● Alpine Skiing ● The FIS Alpine World Cup Final in Soldeu (ROU) continued with the Super-G races on Thursday, with Swiss champions on the top of the podium.
Marco Odermatt, already the seasonal men's World Cup champ, won his 12th race of the season and clinched the seasonal Super-G trophy in 1:23.91. He was a clear winner, ahead of Marco Schwarz (AUT: 1:24.20) and Norway's Aleksander Aamodt Kilde (1:24.62). American Ryan Cochran-Siegle just missed a medal in fourth in 1:24.77.
Odermatt won the seasonal Super-G title with 740 points to 512 for Kilde. He's also the seasonal Giant Slalom winner, to go along with his second overall title in a row.
Former women's World Cup champ Lara Gut-Behrami (SUI) won the women's Super-G, timing 1:26.70, beating 2022 Super-G season winner Federica Brignone (ITA: 1:26.92) and Norway's Ragnhild Mowinckel (1:27.17). The win was Gut-Behrami's third of the season and have her the seasonal Super-G title by 413-368-366 over Brignone and Mowinckel.
U.S. superstar Mikaela Shiffrin finished 14th in 1:28.16.
The season will conclude with the Slaloms on Saturday (18th) and Giant Slaloms on Sunday (19th).
● Athletics ● Tokyo Olympic women's shot runner-up Raven Saunders replied on Twitter to her U.S. Anti-Doping Agency suspension for 18 months for "whereabouts" failures:
"As a veteran I definitely should've done better and I take full responsibility for my actions. I didn't fail a test for any substance and was tested again after each of my missed test. I've always been an advocate of clean sport. I'll be back to claim the throne Feb 15th 2024!"
¶
One of the best, but perhaps not fully appreciated performances at the NCAA Championships in Albuquerque was Jasmine Moore's 7.03 m (23-0 3/4) and 15.12 m (49-7 1/4) double in the women's long jump and triple jump.
Moore won that NCAA indoor and outdoor double in 2022 for Georgia, then moved on to Florida and did the indoor double for the Gators, becoming – with the aid of altitude, true – the 20th woman to jump 7 m indoors (and equal-third all-time U.S. indoor) and no. 5 on the all-time world indoor list in the triple jump.
She vaporized the U.S. indoor triple jump record on her first jump of 14.74 m (48-4 1/2), bettering Tori Franklin's 2020 mark of 14.64 m (48-0 1/2). She then extended it in round two to 15.08 m (49-5 3/4) and finally to 15.12 m on her final try.
For comparison, consider that her 7.03 m long jump would have ranked fifth in the world on the combined indoor/outdoor list for the Olympic year of 2021 and equal-fourth for 2022, a World Championships year. In the triple jump, her 15.12 m would make her no. 2 to world-record holder Yulimar Rojas (VEN), and is the furthest non-Rojas jump since 2010 indoors and since 2016 outdoors!
Franklin won the U.S.'s first-ever World Athletics Championships medal in the women's triple jump at the 2022 Worlds in Eugene. Moore is now positioned to do even better, perhaps also the first-ever Olympic medal in the women's triple!
● Basketball ● USA Basketball's Managing Director of the USA Men's National Team, 1996 Olympic gold medalist Grant Hill, told reporters this week that playing in the FIBA World Cup is not a prerequisite to being selected for the Olympic team.
ESPN Senior Writer Brian Windhorst wrote that Hill explained it this way:
"There's no commitment necessary, no 'if you want to play in the Olympics, you have to play here. I understood why that was implemented and I think it was tremendously successful. …
"But we feel like we had to make a change in that regard. So no tryouts, no commitment.
"You have to adapt to the times. If you looked at the NBA, it has changed tremendously. It's changed since I retired in 2013. Every generation's different and it's important for us as leadership, particularly USA Basketball, to recognize that and be willing to adapt with that change."
The plan will be to select a 12-man roster for the 2023 FIBA World Cup in August and also have a "Select Team" of younger players as a practice squad, who could be elevated if needed due to injury or sickness.
● Football ● "Stan Kroenke's SoFi Stadium pitch too narrow to host 2026 World Cup final" read the headline in The Times (London) on Wednesday, noting that the field is as much as 63 feet (19.2 m) short of the preferred FIFA dimensions. The 70,000-seat stadium, which was built for temporary expansion to 100,000, would have to have the field re-worked for a potential final there.
MetLife Stadium in New Jersey apparently does meet the field-dimension requirements and seats 82,500, and has been whispered as a more suitable choice, also due to being in the Eastern time zone.
● Wrestling ● A Eurosport report states that Italian Freestyle star Frank Chamizo, a two-time World Champion at 65 kg, has lost his 2022 Worlds bronze at 74 kg due to a doping positive and subsequent disqualification.
The penalty imposed was three months, so he is eligible again, but lost his fifth career Worlds medal, elevating Turkey's Soner Demirtas to medal status.
¶
You can receive our exclusive TSX Report by e-mail by clicking here. You can also refer a friend by clicking here, and can donate here to keep this site going.
For our updated, 929-event International Sports Calendar for 2023 and beyond, by date and by sport, click here!