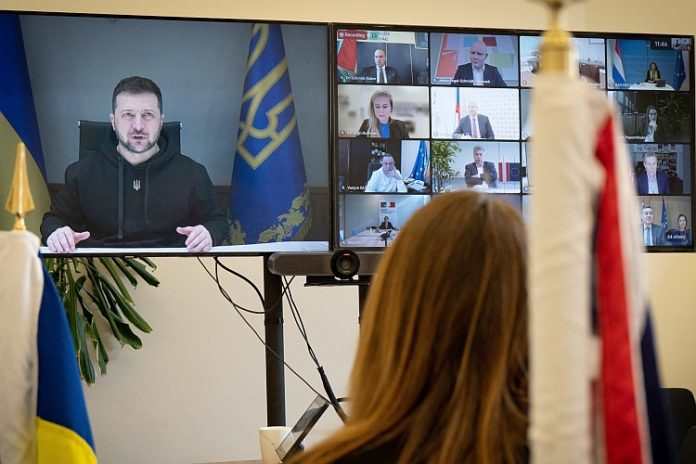 ★ The Sports Examiner: Chronicling the key competitive, economic and political forces shaping elite sport and the Olympic Movement.★
★ Bravo! Our 26 donors have now covered 59% of our technical expenses for the first half of 2023. Please consider a donation. Thank you in advance. ★
★ To get The Sports Examiner by e-mail: sign up here! ★
≡ THE 5-RING CIRCUS ≡
1. Friday meeting of 35 nations on Russia in Paris sees "dissident" team
2. Russian spokeswoman says Paris ban idea not about Ukraine!
3. IBA's Kremlev calls USA and Irish federations "hyenas and jackals"
4. Canada's women football threatens strike, but will play SheBelieves Cup
5. Another Worlds shocker as Flury wins women's Downhill
An online meeting held on Friday with the sports ministers of 35 countries (including a Department of State official from the U.S.) heard Ukrainian President Volodymyr Zelensky ask that Russia and Belarus not be allowed to compete at the Paris 2024 Olympic Games. A concept to allow "dissident" athletes to compete as refugees was floated by Poland; International Olympic Committee chief Thomas Bach brushed off the meeting as insufficient to meet its needs for human rights. Russia reaction was, of course, angry, with swimming federation head Vladimir Salnikov – an Olympic gold medalist himself – saying that the ministers had lost their sanity. Sports Minister Oleg Matytsin decried "government interference" in sport and the Foreign Ministry spokeswoman said the West has been trying to force Russia out of international sports for years and the Ukraine invasion is just an excuse! Umar Kremlev, the Russian President of the International Boxing Association, called the heads of USA Boxing and the Irish Athletic Boxing Association "hyenas and jackals" after the federations declared they would not be participating in the 2023 IBA Worlds for men or women; he also asked the sanctions be brought against them. Skipping the IBA Worlds has no impact on 2024 Olympic qualifying, since it is being handled by the IOC. The Canadian women's national football team called a strike on Friday over equal-pay concerns and a lack of funding of Canada Soccer; they relented on Saturday under threat of a lawsuit against them for an illegal work stoppage. Canada will play against the U.S., Brazil and Japan this week in the SheBelieves Cup in Orlando, Nashville and Frisco, Texas. At the FIS Alpine World Championships in France, another shock as Swiss Jasmine Flury – with one World Cup Downhill victory in her career – won the women's Downhill on Saturday. Swiss star Marco Odermatt – the seasonal World Cup leader – restored some order by winning the men's Downhill on Sunday, but even so, it was his first World Cup or World Championship Downhill victory since he won the World Junior title back in 2018!
● World Championships: Biathlon = Skateboarding ●
● Panorama: Athletics (4) = Bobsled & Skeleton = Boxing = Cycling = Fencing (4) = Football = Freestyle Skiing = Luge = Nordic Combined = Short Track = Ski Jumping = Snowboard = Speed Skating ●
1.
Friday meeting of 35 nations vs. Russia in Paris,
sees "dissident" team
A Friday online conference of sports ministers and government officials from 35 nations agreed that Russia and Belarus should not field teams at the Paris 2024 Olympic Games, but in a strange way, may be coming to much the same position as the International Olympic Committee.
The meeting was coordinated by Britain's Lucy Frazer, the Secretary of State for Department for Digital, Culture, Media & Sport, who tweeted afterwards:
"It was a very productive meeting between 35 nations, and I made the UK's position very clear: as long as Putin continues his barbaric war, Russia and Belarus must not be represented at the Olympics."
Ukraine President Volodymyr Zelensky spoke, telling the ministers:
"The mere presence of representatives of the terrorist state is a manifestation of violence and lawlessness. And it cannot be covered up with some pretended neutrality or a white flag.
"If the Olympic sports were killings and missile strikes, then you know which national team would occupy the first place. If Russian athletes are allowed to participate in any competitions or the Olympic Games, it just a matter of time before the terrorist state forces them to play along with the war propaganda. Russia is now a country that stains everything with blood; even the white flag."
He also noted that while the IOC has suggested allowing athletes who have not "actively" supported the war might be allowed to compete, Zelensky noted that few have dared to come out publicly against the invasion:
"There is almost no such condemnation. There are only a few isolated voices that are quickly fading away."
The discussions, which included Australia, Britain, Canada, France, Germany, Japan, the Netherlands, Poland, the Nordic countries – Denmark, Norway, Sweden and Finland – and the Baltic states of Estonia, Latvia and Lithuania, led Lithuanian minister Jurgita Siugzdiniene to say, "We are going in the direction that we would not need a boycott because all countries are unanimous" and added:
"We invite you not to allow Russian and Belarusian athletes to participate in any international competitions, including the Olympic Games, while the war in Ukraine continues. Our position as sports politicians must be strong and united. We cannot allow it to be used. Pressure on Russia and Belarus is very important. Lithuania will support and join all initiatives and efforts to prevent Russian and Belarusian athletes from returning to international competitions if these [efforts] coincide with our clear and firm position."
The question of "neutral athletes" from Russia and Belarus was a non-starter for some:
● "In a Russian context, there is no difference between sport and politics, and any sports performance is pure propaganda," Norwegian Minister of Culture and Equality Anette Trettebergstuen said in a Verdens Gang interview, adding "Neutrality is not possible. It's a dead end."
● Czech Foreign Minister Jan Lipavsky told reporters after a meeting with the country's sports agency and the National Olympic Committee:
"We know that 70% of Russian athletes are soldiers. I consider it unacceptable that such people participate in the Olympic Games in the current situation, when fair play obviously means nothing to them."
However, Kamil Bortniczuk, the Polish Minister for Tourism and Sport, told reporters afterwards:
"It may be a compromise for the IOC to create a team of refugees … not a neutral team, but a team of refugees in which people of Russian or Belarusian nationality who are dissidents against the regimes of Putin and Lukashenko, respectively, could take part."
Bortniczuk said most of the ministers favored a total exclusion, saying "Most voices – with the exception of Greece, France, Japan – were exactly in this tone."
The U.S. was represented by Lee Satterfield, Assistant Secretary of State for the Bureau of Educational and Cultural Affairs; a spokesperson explained:
"The Assistant Secretary outlined that the United States will continue to join a vast community of nations in our unwavering support for the people of Ukraine and hold the Russian Federation accountable for its brutal and barbaric war against Ukraine, as well as the complicit Lukashenka regime in Belarus.
"We will continue to consult with our independent National Olympic Committee – the U.S. Olympic and Paralympic Committee – on next steps, and look forward to greater clarity by the IOC on their proposed policy toward Russia and Belarus."
On Friday, the IOC Press Office said only, "We do not comment on the interpretations of individual participants in the meeting, the general content of which is unknown."
IOC President Thomas Bach (GER), speaking at the FIS World Alpine Championships in France on Sunday, brushed off the meeting of ministers, told reporters, "Unfortunately, what they have not addressed, at least so far as we can see, are these human rights concerns [of Russian and Belarusian athletes]. There, we don't have an answer but we have to take it seriously. …
"The IOC being committed to human rights, like the international sports federations, has of course to address these serious concerns. …
"Every Ukrainian athlete can be rest assured that we are standing in full solidarity with them and that all their comments are taken very, very seriously into consideration."
2.
Russian spokeswoman says Paris ban idea not about Ukraine!
The response from Moscow came quickly after the announcements from the online meeting of ministers about Russian and Belarusian participation in the Paris 2024 Olympic Games.
Sports Minister Oleg Matytsin told the Russian news agency TASS:
"This is a big challenge not so much for Russian and Belarusian athletes, but for the international Olympic Movement. If it, represented by the IOC and international sports federations, makes concessions and succumbs to influence, this will create a precedent and negatively affect the development of sports, its unity. I hope that this will be consolidated by the international federations, which have already supported the decision of the IOC. The National Olympic Committees must show that they are an independent force."
"Moreover, history remembers how in the same 2003, the United States, together with the coalition, carried out military operations in Iraq, but then no one raised the question of the participation of American athletes in the Olympic Games in Athens.
"This is a direct intervention of ministers in the activities of independent international sports organizations, an attempt to dictate the conditions for the participation of athletes in international competitions, which is absolutely unacceptable. Moreover, more than a month ago, the National Olympic Committees of these countries supported the decision of the IOC on the participation of our athletes in competitions. These countries are putting pressure on the activities of independent public organizations, which they tried to accuse us of. Now we see an undisguised desire to destroy the unity of international sports and the international Olympic movement, to make sport a means of pressure in order to resolve political issues.
"The assessment is the most negative. It would be better to organize sports within countries and do everything necessary for sports to be an ambassador of peace and build bridges between peoples."
Of the suggestion by Poland's Bortniczuk of a possible dissident team for Russian and Belarusian athletes against the war in Paris, Matytsin told TASS:
"It shows the level of culture of the man concerned, and his desire to split the unity of the sport, to break all the principles and humiliate the athletes. But by doing so, he humiliated himself, not those he was addressing."
Vladimir Salnikov, a former swimming world-record holder and four-time Olympic gold medalist, told the agency:
"It's a pity that these countries have changed their sanity. They have lost it, and politics has firmly interfered in the sports of these countries. We will see the consequences, the situation may change. Let's wait for the reaction of the International Olympic Committee, it must now express its position more specifically, then the further development of events is clear."
Russian Foreign Ministry spokeswoman Maria Zakharova also let loose on Friday (Deepl.com translation):
"In fact, the task of a well-known group of Russophobes is to launch another campaign against some of our athletes, calling to boycott the competition otherwise. We consider such initiatives of fierce Russophobe-minded countries not only as an attempt to put pressure on the main international sports organization, but also as an attempt to split the international Olympic Movement.
"All this is a gross violation of generally recognized norms of international law in the field of sport and fundamentally contradicts the principled position of the Russian Federation, which traditionally stands for equal development of sports cooperation.
"We are sure that major international competitions without the participation of Russian athletes have naturally lost a lot in sports competition, the heat of the struggle, and the spectacle. This, in turn, leads to a drop in spectator interest and discredits all those who are bureaucrats from international sport.
"I would like to hope that this awareness reaches all sensible people in Western countries as well. And about motivation. We are told that the motivation for such anti-Russian steps is the desire to oppose what they call Russian aggression against Ukraine. It's not. That's not true. That's not what drives you. You've been squeezing Russia out of world sport for years. And it has nothing to do with Ukraine. Every year you find new excuses."
As far as "dissident" athletes are concerned, deputy head of the Russian Athletics Federation, Irina Privalova, a four-time Olympic medal winner in the sprints and hurdles (1992-2000), told Reuters:
"Athletes and any Russian citizen who does not support the President [Vladimir Putin]'s decision should not represent the country. I think those who don't support [the Ukraine operation] have already left. The ones who remain are those who support it."
3.
IBA's Kremlev calls USA and Irish federations
"hyenas and jackals"
International Boxing Association President Umar Kemlev (RUS) tore into USA Boxing and the Irish Athletic Boxing Association after both announced last week that neither would participate in the 2023 IBA World Championships in view of the IBA's continuing difficulties with the International Olympic Committee. Kremlev's statement during a news conference on Friday in Morocco included:
"This decision doesn't belong to the athletes themselves. Not one of the sports administrators or politicians in the world is entitled to deprive athletes of their dream to become World Champions. Boxers dedicate their whole life to the sport, while administrators and politicians come to and go. Those, who are doing this to our athletes, are worse than hyenas and jackals, they violate the integrity of sport and culture. I urge all my colleagues to clear their organizations of such hyenas, as I can't call them another way. IBA will do its utmost to help athletes from the USA to come and participate in the World Boxing Championships and will assist them, including financially. For this, we have our Financial Support Programme."
There was also a detailed response to the USA Boxing statement withdrawing from the IBA Worlds in 2023, which underscored its own actions and disputed that anything was wrong. With regard to the USA Boxing comments that the IBA has not complied with the IOC's requests for changes in the federation "culture," the IBA reply noted that "it is still of vital importance for the future of IBA that the governance culture is continuously improved" and contested the IOC's statement that the "recent IBA Congress has shown once more that IBA has no real interest in the sport of boxing and the boxers but is only interested in its own power."
The IBA replies also noted with regard to its sponsorship with the Russian energy giant Gazprom:
"The Gazprom sponsorship deal with IBA expired as of 31 December 2022 and IBA currently does not have a sponsorship deal with Gazprom. That being said, there are no sanctions on Gazprom, and nothing legally prevents IBA to cooperate with Gazprom. In addition, IBA has no relations with Gazprombank and Gazprom Neft."
Although a renewal of the Gazprom agreement, described by Kremlev himself as a two-year, $50 million promotional deal, was not on the agenda of the last IBA Congress in the UAE in December, Kremlev asked for permission during his closing remarks to have the agreement renewed, and received no negative comments!
The IBA reply also included a referral for sanctions against USA Boxing and the IABA:
"IBA will request that the McLaren Independent Investigation Team (MIIT) which performs duties of the BIIU investigators to investigate the statement of USA Boxing Executive Director/CEO Mr. Mike McAtee and the leadership of the Irish Athletics Boxing Association whether there is a breach of the following articles of the IBA Disciplinary and Ethics Code."
It is worthwhile to note that by skipping the IBA Worlds, there is no impact for either American or Irish boxers on qualification for their regional championships, or for the 2024 Olympic Games in Paris, since IBA events are not part of the process.
4.
Canada's women football threatens strike, but will play SheBelieves Cup
The eighth SheBelieves Cup, a tournament hosted by the U.S., is scheduled to open Thursday in Orlando, Florida with a doubleheader featuring Japan and Brazil in the first match and the U.S. and Canada in the second.
The Canadians will be there, but under protest.
On Friday, the Canadian Soccer Players Association tweeted "The time is now, we are taking job action," followed by a statement that was summarized by striker Janine Beckie:
"Saying that we're outraged is an understatement. There's not really words to describe how it feels to be here in camp with the national team and know we are not being given the same resources that our men's team was given last year to prepare for their World Cup … I don't like the word fair. But it is so incredibly unfair to the women, and the staff, and to everyone that supports this team, works for this team, is a fan of this team. We've had enough. It's way, way, too far gone."
The statement included:
"We have been told, quite literally, that Canada Soccer cannot adequately fund the Women's National Team, and they have waited to tell us this until now, when we are less than six months from the World Cup. …
"If Canada Soccer is not willing or able to support our team, new leadership should be found."
On Saturday, the Players Association tweeted another statement that included:
"Canada Soccer told us that they consider our job action to be an unlawful strike. They told us that if we did not return to work – and did not commit today to playing in Thursday's game against the United States – they would not only take legal action to force us back to the pitch but would consider taking steps to collect what could be millions of dollars in damages from our Players' Association and from each of the individual players currently in camp.
"As individual players who have received no compensation yet for any of our work for Canada Soccer in 2022, we cannot afford the risks that personal action against us by Canada Soccer will create. Because of this, we have advised Canada Soccer that we will return to training tomorrow and will play in the SheBelieves Cup as scheduled."
Star forward Christine Sinclair tweeted:
"To be clear. We are being forced back to work for the short term. This is not over. We will continue to fight for everything we deserve and we will win. The She Believes is being played in protest."
Canada Soccer posted its own statement on Friday, which said it had presented an "equity-based proposal" to both the men's and women's National Teams "several months ago, and we are still waiting for a definitive response."
Canada is currently no. 6 in the FIFA Women's World Rankings and plays the no. 1 American women on Thursday in Orlando, then no. 9 Brazil in Nashville, Tennessee on the 19th and no. 11 Japan on the 22nd in Frisco, Texas.
5.
Another Worlds shocker as Flury wins women's Downhill
The FIS Alpine World Championships in France kept serving up surprises, with 29-year-old Jasmine Flury of Switzerland – who had won one World Cup race in nine seasons – taking the women's Downhill on Saturday at Meribel (FRA).
Just as shocking was silver medalist Nina Ortlieb (AUT), 27, who had logged one World Cup win in eight seasons, with 2021 World Champion and Beijing 2022 Olympic winner Corinne Suter (SUI) in third! It was tight, with Flury timing 1:28.03 to 1:28.07 for Ortlieb and 1:28.15 for Suter.
This followed the men's Super-G on Thursday, where Canada's James Crawford, 25, won gold after having totaled no wins and three World Cup medals in seven seasons on tour.
The early starters did best, with Flury starting second and Ortlieb fifth, ahead of the favored Sofia Goggia of Italy. Goggia, the 2018 Olympic Downhill champ and Beijing runner-up, was disqualified for straddling a gate, and after Suter moved into third as the eighth skier down, the podium did not change.
"Unbelievable, I still don't get it. It feels unreal, crazy," said Flury. "I don't know, it still feels like a dream. I don't know what is happening and with Corinne on the podium, I don't know, more than a dream has come true."
Isabella Wright was the top American finisher in 19th (1:29.71); Breezy Johnson did not finish and Tricia Mangan was 23rd (1:30.24).
Sunday's men's Downhill at Courchevel was won by World Cup seasonal leader Marco Odermatt (SUI), one of the favorites, who took the lead as the no. 10 starter and no one could match him.
Although a better Giant Slalom and Super-G skier than a downhiller, Odermatt's time of 1:47.05 could not be surpassed, not even by Norwegian star Aleksander Aamodt Kilde, who got closest at 1:47.53, skiing from the no. 15 position. It was Odermatt's first career win in a World Cup or championship Downhill since he won the World Junior gold in 2018! Kilde won his second career Worlds medal, both in these championships, after his Super-G silver earlier.
But there was one more surprise, however, as unheralded Cameron Alexander (CAN), who had a grand total of one career World Cup win – his only World Cup medal – took the bronze in 1:47.94, ahead of Marco Schwarz (AUT: 1:47.98).
The top U.S. finisher was Erik Arvidsson in 17th (1:48.66), with Ryan Cochran-Siegle in 24th (1:48.95) and Travis Ganong in 28th (1:49.25).
≡ WORLD CHAMPIONSHIPS ≡
● Biathlon ● Norway's Johannes Thingnes Boe, 29, continue to expand his medal collection at the IBU World Championships in Oberhof (GER), taking Saturday's men's 10 km Sprint for his 14th World Championships gold.
Boe led a Norwegian sweep, winning in 23:21.7 (1 penalty) ahead of older brother Tarjei Boe (23:36.5/0) and Sturla Holm Laegreid (24:01.6/1), with fellow Norwegian Johannes Dale fourth (24:05.3/1)!
It was the third Worlds gold for Boe in this event, previously winning in 2015 and 2019 and the first sweep in the event since Norway did it in 2009. Paul Schommer was the top American in 31st (25:32.1/2).
Boe continued his domination in the 12.5 km Pursuit on Sunday, winning in 33:34.5 (0 penalties), with Laegreid second (34:45.7/0) and Sweden's Sebastian Samuelsson third (35:28.6/2). Boe has now won eight World Cup/World Champs races in a row and 13 of 16 held this season!
Schommer was the top American, in 52nd, at 40:53.2 (8).
The women's 7.5 km Sprint saw Denise Herrmann-Wick, the Beijing 2022 15 km gold medalist, take her second career Worlds gold in 21:19.7 (0), ahead of Swedes Hanna Oeberg (21:21.9/0) and Linn Persson (21:45.9/0). It was the first German win in the event since 2012. Deedra Irwin was the best U.S. finisher, in 55th (23:58.5/2).
Seasonal World Cup leader Julia Simon (FRA) won the women's 10 km Pursuit easily, finishing in 32:00.8 (1), nearly half-a-minute ahead of Herrmann-Wick (32:27.8/4) with Marte Olsbu Roeiseland (NOR) in third in 32:38.5 (3). Irwin was the only U.S. finisher, in 57th in 38:32.4 (6).
For Simon, it was her first individual Worlds gold.
The Worlds continue through the 19th.
● Skateboarding ● The fifth World Skate Park World Championships at Sharjah (UAE) provided some history, especially by American Jagger Eaton.
The 21-year-old from Arizona became the first rider to win both the World Street Championship – he did that in 2021 – and the World Park Champion, winning on Sunday by scoring 93.00 in his final-round run.
He was just better than Brazil's Augusto Akio (92.00) and Pedro Barros (90.00), with Australian Kieran Woolley fourth (89.50). Barros, 27, has now won Worlds Park medals in four of the five editions (1-2-1), while this was the first medal for Akio, 22.
The women's champ was Britain's Sky Brown, the 13-year-old Tokyo 2020 bronze medalist. She's now 14 and was the only one over 90 points in the final, at 90.83, followed by another 14-year-old, Kokona Hiraki (JPN: 86.66), and 20-year-old Sakura Yosozumi (JPN: 85.15), with Japan's Hinano Kusaki fourth (84.50). Brown is Britain's first skateboarding Worlds gold medalist; Hiraki was the Tokyo silver medalist and Yosozumi now has a complete set of medals, winning in 2018, second in 2019 and now the bronze medalist. Bryce Wettstein, 19, was the top American, in fifth (84.40).
≡ PANORAMA ≡
● Athletics ● Fabulous 115th Millrose Games at The Armory in New York, with eight world-leading performances and four American Records! First, the world leaders:
● Men/800 m: 1:44.98, Noah Kibet (KEN)
● Men/1,500 m: 3:33.28, Yared Nuguse (USA) ~ en route
● Men/Mile: 3:47.38, Yared Nuguse (USA)
● Men/Shot: 22.58 m (74-1), Ryan Crouser (USA)
● Women/300 m: 35.54, Abby Steiner (USA)
● Women/2,000 m: 5:39.86, Alicia Monson (USA) ~ en route
● Women/3,000 m: 8:25.05, Alicia Monson (USA)
● Women/Shot: 20.03 m (65-8 3/4), Chase Ealey (USA)
The records came from Nuguse in the 1,500 m and mile, from Steiner in the women's 300 m and Monson in the 3,000 m.
Nuguse, who made the U.S. team for Tokyo 2020 but had to pull out due to a leg injury, was targeting the U.S. indoor mile record of 3:49.89 by Bernard Lagat from 2005, and took over with two laps to go, then stormed away from Britain's Neil Gourley on the final back straight and roared home in 3:47.48, the second-fastest indoor mile ever! Gourley finished in 3:49.46, the ninth and 10th indoor miles to be run under 3:50 indoors, with Australia's Olli Hoare third in 3:50.83.
Nuguse passed 1,500 m in 3:33.28, also an American Record, displacing Lagat's 3:33.34 en route in his 2005 race, and moving Nuguse to no. 14 in the all-time world performers list.
Steiner trailed Brittany Brown until the final straight in the women's 300 m, then turned on the jets for a 35.54 U.S. record, smashing Quanera Hayes's 35.71 from 2017 and moving Steiner to no. 3 all-time. Brown was second in 36.13, the no. 10 performance all-time U.S.
Monson came into the meet also targeted the American Record, of 8:25.70 by Karissa Schweizer from 2020, and ran away from the field with three laps to go, finishing powerfully at 8:25.05, moving to no. 6 all-time (the top five are all from Ethiopia). Monson also led at 2,000 m in 5:39.86, no. 2 all-time U.S. behind Mary Slaney's 5:34.52 from way back in 1985! Whittni Morgan (USA) got a lifetime best of 8:30.13 in second and North Carolina State star Katelyn Tuohy was third in 8:35.20, claiming the U.S. Collegiate Record from Schweizer (8:41.60) from 2018.
There was a lot more at this meet, including a statement by world-record holder Christian Coleman in the men's 60 m, with a world-leading 6.47, beating Noah Lyles (6.53), who ran under protest after being called for a false start; he was eventually disqualified. Coleman turned on the jets past 40 m and was a clear winner; he bowed to the Armory crowd afterwards.
Kibet took over the men's 800 only on the final half-lap, passing Isaiah Harris to win, 1:44.98 to 1:45.64. Britain's Josh Kerr used his speed to take the men's 3,000 m in 7:33.47, thanks to a 26.98 last lap, moving to no. 3 on the 2023 year list indoors. Luis Grijalva (GUA) was second in 7:33.86, a national indoor record. On the infield, Crouser debuted a new wrinkle in his technique, adding a step to his spin and reaching 22.50 m (73-10) in the first round, then 22.58 m (74-1) in the second for his best of the day. American Joe Kovacs was second, at 21.34 m (70-0 1/4).
Aleia Hobbs proved once again she's the top women's sprinter, coming on at 50 m to win the 60 in 7.02, over Tamari Davis (7.04), the U.S. outdoor nationals fourth-placer in 2022. Ajee Wilson won the women's 600 m, passing Shamir Little with a half-lap remaining and winning in 1:24.85, the no. 9 performance in history. Little was second in 1:26.16, now no. 6 all-time U.S.
British star Laura Muir won the women's mile, passing Josette Andrews (nee Norris) at the bell and pushing away, 4:20.15 to 4:20.88, the nos. 2-3 performances of 2023 (and the no. 5 performance all-time U.S. for Andrews). Muir passed 1,500 m in 4:03.08 to 4:03.21 for Andrews, also nos. 2-3 this season.
Olympic vault champ Katie Moon (nee Nageotte) won at 4.81 m (15-9 3/4), just a centimeter off the world lead, and Ealey easily won the women's shot with her world-leading performance of 20.03 m (65-8 3/4) in the third round.
¶
Dutch star Femke Bol, the European champ at 400 m and the 400 m hurdles last year, stunned again at the Meeting Metz Moselle Athlelor in France, with wins in the women's 200 m in 22.87 and the 400 m in a world-leading 49.96.
Her 400 m mark is the first indoor sub-50 clocking since 2006 and only the third this century! She is now the no. 4 indoor performer in history, with the no. six performance.
Increasing her world lead in the women's high jump was Ukraine's World Indoor Champion Yaroslava Mahuchikh, who cleared 2.02 m (6-7 1/2). It's Mahuchikh's 37th career 2.00-or-better clearance!
¶
The men's world 60 m lead – 6.49 – was equaled by Great Britain's Reece Prescod at the ISTAF Indoor meet in Berlin (GER) on the 10th (Friday), but then surpassed later in the day. Swedish star Mondo Duplantis won the men's vault at 6.06 m (19-10 1/2) for the no. 2 performance of the season.
German Shanice Craft set a world indoor best in the rarely-contested women's discus at 65.23 m (214-10).
¶
American Trayvon Bromell, the 2016 World Indoor Champion at 60 m, took the world lead later Friday at the Tiger Paw Invitational in Clemson, South Carolina, winning in 6.42 and moving him to equal-sixth on the all-time list and no. 5 all-time U.S. He had earlier taken the world lead at 6.46 in his semifinal!
● Bobsled & Skeleton ● The penultimate stop on the IBSF World Cup tour was in Innsbruck (AUT), with five-time World Four-Man Champion Francesco Friedrich (GER) getting his fourth win of the World Cup season on Saturday in 1:40.65, with 2023 World Champs bronze medalist Brad Hall (GBR) taking his sixth medal in seven races in second (1:40.84).
The second Four-Man race had different times, but the same result: Friedrich winning in 1:40.17, with Hall second (1:40.36) and Johannes Lochner (GER: 1:40.54) third again.
The women's Monobob was won by Lisa Buckwitz (GER), third at the Worlds, but getting her first World Cup win in 1:49.20 over Australia's Breanna Walker (1:49.38). The Two-Woman racing was the second win of the season for Beijing 2022 Olympic champ Laura Nolte (GER: 1:45.18), with teammate – and 2023 World Champion – Kim Kalicki second (1:45.19). Swiss Melanie Hasler was third for the second race in a row (1:45.24).
The men's Skeleton was a continuation of the rise of Britain's Matt Weston, the 2023 World Champion, who won his fourth World Cup race (out of seven) in 1:42.96, ahead of Worlds bronze medalist Seung-gi Jung (KOR: 1:43.32).
Dutch star Kimberley Bos, the Worlds runner-up, won the women's Skeleton in 1:46.35, with American Hallie Clarke getting her second medal of the season (1:46.63).
● Boxing ● Russia dominated the IBA Golden Belt Series in Marrakesh (MAR), able to compete with no restrictions under the IBA rules, winning 22 medals from 23 entrants.
Russian fighters won 12 divisions, won five silvers and five bronzes for 22 total, with Kazakhstan next with 10 (5-2-3). There were 201 fighters from 34 countries, spread across 25 weight classes, some with as few as four contestants.
The Russians won nine of 13 men's weights: Edmond Khudoian (48 kg), Vasilii Egorov (51 kg), Dmitrii Dvali (54 kg), Vsevolod Shumkov (60 kg), Gabil Mamedov (63.5 kg), Pavel Sosulin (75 kg), Imam Khataev (80 kg), Sharabutdin Ataev (86 kg), and Ramazan Karnukaev (92+ kg), and had finalists in two other classes. There were three Russian women's winners: Nadezhda Golubeva (60 kg), Nataliya Sychugova (63 kg) and Saltanat Medenova (81 kg).
The U.S. did not send any boxers to the tournament.
● Cycling ● The UCI Women's World Tour was in the United Arab Emirates for the first UAE Tour, with Italy's Elisa Longo Borghini taking charge on the upslope finish to win the 107 km third stage in 2:48:24 – just ahead of teammate Gaia Realini (21) and head into the final day with a seven-second advantage.
The final stage was a flat 119 km ride into Abu Dhabi, with a mass sprint finish won by Charlotte Kool (NED) over Chiara Consonni (ITA) and Lorena Wiebes (NED) in 2:57:55. Longo Borghini was 32nd and Realini 69th, but all with the same time, so Longo Borghini was the overall winner, in 12:08:48, with Realini at +0:07 and Silvia Persico completing the Italian sweep (+1:18).
● Fencing ● The FIE World Cup men's Sabre tour was in Warsaw (POL), with a home win for Krzysztof Kaczkowski – and his first international medal – in a tight, 15-13 final over Georgia's 2022 Worlds bronze medalist Sandro Bazadze.
In the team competition, Korea defeated Hungary, 45-37, in the final, with the U.S. squad of Eli Dershwitz, Colin Heathcock, Daryl Homer and Grant Williams picking up a bronze after their semifinal loss to Korea.
¶
The women's Sabre World Cup was in Tashkent (UZB), with an all-Greek final where Despina Georgiadou defeated Theodora Gkountoura, 15-10. American Elizabeth Tartakovsky, 22, won her first international medal with a bronze.
¶
In Barcelona (ESP), Brazil's Nathalie Moellhausen continued her hot streak in the women's Epee, winning over Korea's Young Mi Kang, 15-8, for her second win this year after her Grand Prix triumph on Doha (QAT) at the end of January, and her eighth career World Cup medal.
¶
An FIE Grand Prix in Foil was held in Turin (ITA), with American Gerek Meinhardt edging Filippo Macchi, 15-14, in the final. Meinhardt had to beat teammate (and 2016 Olympic silver medalist) Alex Massialas in the quarters, then Rio Olympic champ Daniele Garrozzo (ITA) in the semis before getting to the final. Meinhardt, a two-time Worlds bronze winner, earned his fourth career Grand Prix gold. Macchi, 21, won his first career international medal!
The women's title went to France's 2022 World Champion, Ysaora Thibus, who out-dueled Erica Cipressa (ITA) in the final by 15-9; American Lee Kiefer, the Olympic champ in Tokyo, was eliminated in the quarterfinals.
● Figure Skating ● At the ISU Four Continents Championships in Colorado Springs (USA), Japan won two of the four events, but the U.S. scored a home gold in Ice Dance.
Japan's Kao Miura led the men's scoring after the Short Program at 91.90, and won the Free Skate to take the title with a solid 281.53 points to 275.57 for Canada's Keegan Messing, who was second in both programs. The top U.S. finishers were Jimmy Ma in ninth (221.04) and Maxim Naumov in 10th (218.71).
Korea dominated the women's competition, going 1-2-4 with Haein Lee – runner-up in 2022 – winning the Free Skate to move from sixth to the gold (210.84), while Short Program leader Yelim Kim was third in the Free Skate and dropped to second overall (209.29). Japan's Mone Chiba won the bronze (204.98), with Chaeyeon Kim fourth (KOR: 202.39) and Americans Bradie Tennell and Amber Glenn in fifth and sixth (199.91 and 192.50).
World Championships silver medalists Riku Miura and Ryuichi Kihara won the Pairs title, scoring 208.24 and winning both the Short Program and Free Skate. Americans Emily Chan and Spencer Howe, runners-up at the U.S. Nationals, took the silver (201.11). Valentina Plazas and Maximiliano Fernandez of the U.S. were fourth (169.09) and Ellie Kam and Danny O'Shea finished fifth (168.69).
U.S. Ice Dance stars Madison Chock and Evan Bates led after the Rhythm Dance at 87.67 and won the Free Skate to take their third Four Continents title at 220.81. Canada claimed silver and bronze with Laurence Fournier Beaudry and Nikolaj Soerensen (214.08) and Marjorie Lajoie and Zachary Lagha (200.00).
Americans Christina Carreira and Anthony Ponomarenko and Caroline Green and Michael Parsons finished fourth and fifth (189.78 and 186.88).
● Football ● FIFA announced its Player of the Year finalists, with World Cup stars Lionel Messi (ARG), and Kylian Mbappe (FRA) both finalists, along with French striker Karim Benzema, who was injured and could not play in Qatar.
The women's finalists include American striker Alex Morgan, English striker Beth Mead and Spain's star midfielder Alexia Putellas.
The top men's goalkeeper candidates are Yassine Bounou (MAR), Thibault Courtois (BEL) and Argentina's Emiliano Martinez. The women's keeper finalists: Ann-Katrin Berger (GER), Mary Earps (ENG) and Christiane Endler (CHI).
The coaching finalists include Carlo Ancelotti (ITA/Real Madrid), Pep Guardiola (ESP/Manchester City) and Lionel Scaloni (ARG) for the men, and Sonia Bompastor (FRA/Olympique Lyonnais), Pia Sundhage (SWE/Brazil National Team) and Sarina Wiegman (NED/England National Team).
The winners will be announced on 27 February.
● Freestyle Skiing ● A light schedule this week, with Dual Moguls in Chiesa di Valmalenco (ITA), with a second win this season for Japan's 2017 World Champion Ikuma Horishima, who defeated three-time World Champion Mikael Kingsbury of Canada in the final. Canadian Julien Viel, 21, won his first career World Cup medal in the third-place race, over American Dylan Walczyk.
The women's final was the 24th career World Cup win for 2018 PyeongChang Moguls winner Perrine Laffont (FRA), who beat American 17-year-old Elizabeth Lemley in the final; it was Lemley's second Dual Moguls medal this season. Japanese star Anri Kawamura took the bronze – her fourth medal in five Dual Moguls events – over American Olivia Giaccio.
● Luge ● The FIL World Cup circuit was in Winterberg (GER), with the home team continuing to dominate the action, winning seven of eight races in the standard and Sprint distances.
Max Langenhan, 23, the Worlds silver medalist, won his third straight World Cup race, this time in 1:45.687, beating World Champion Jonas Mueller (AUT: 1:45.987) and two-time Olympic champ Felix Loch (GER: 1:46.009). Langenhan also won the Sprint (36.161) over Mueller and Loch.
Three-time Olympic champs Tobias Wendl and Tobias Arlt (GER) won their third World Cup race of the season over 2023 World Champions Toni Eggert and Sascha Benecken (GER), 1:27.141 to 1:27.571. Latvia's Martins Bots and Roberts Plume won their third straight World Cup medal in 1:27.641. Wendl and Arlt won the Sprint (30.798), with Eggert and Benecken second and Juri Gatt and Riccardo Schopf (AUT) third.
Germany went 1-2 in the women's Singles, with 2021 World Champion Julia Taubitz taking her third World Cup win of the season in 1:51.683, with 2023 Worlds winner Anna Berreiter (1:51.891) and American Emily Sweeney third in 1:52.038. Taubitz also won the Sprint (38.989).
World champions Jessica Degenhardt and Cheyenne Rosenthal (GER) won the Women's Doubles in 1:28.288, ahead of Selina Egle and Lara Kipp (AUT: 1:28.508) and Italy's Andrea Votter and Marion Oberhofer (1:28.534). But it was Latvia's Anda Upite and Sanija Ozolina who won the Sprint in 31.482, defeating Votter and Oberhofer (31.514).
● Nordic Combined ● The eighth stop of 10 in the 2022-23 FIS World Cup was in Schonach (GER: 100 m hill), with Austria's Johannes Lamparter and Norway's Jens Luras Oftebro dueling for the seasonal World Cup trophy. On Saturday, it was Oftebro with his third win of the season, in 23:06.0, with Lamparter second in 2314.1 and Kristjan Ilves (EST), 26, getting his first medal of the season and fourth career in 23:22.8.
Lamparter got the win on Sunday in 24:40.0, with Oftebro second (24:41.6) and Laurent Muhlethaler (FRA: 24:52.9) winning his first career World Cup medal at age 25.
Norway's Gyda Westvold Hansen continued her perfect season in the women's World Cup, winning her eighth straight in 13:49.8 for the 5 km race, with German Jenny Nowak getting her first medal of the season (14:52.1) in second. Japan's Yuna Kasai, 19, also won her first medal of the season at 14:57.3.
Same on Sunday, as Hansen won in 14:11.9, ahead of Ida Marie Hagen (NOR: 14:42.5) and German Nathalie Armbruster (14:50.6). Hansen has one more race in March standing between her and an undefeated season.
● Short Track ● The 25th ISU World Cup season finale was in Dordrecht (NED), with a new award – the ISU Crystal Globe – to be awarded to the overall points leader throughout the six-event season.
As has been the theme this season, Korea's Ji-won Park was the men's star, winning the second 1,000 m race (1:25.359) and the 1,500 m (2:17.200). He was the easy winner of the seasonal Crystal Globe, winning nine races and scoring 1,068 points to best teammate Kyung-hwan Hong (674) and then Canadian stars Steven Dubois (668) and Pascal Dion (635).
Dubois and Dion went 1-2 in the first 1,000 m race, and China's Xiaojun Lin won the 500 m in 40.693.
Dutch star Suzanne Schulting – who won medals in all four events in Beijing – came in with a big lead in the women's seasonal standings and won with 1,062 points (eight race wins), to 776 for Courtney Sauralt (CAN) and Belgium's Hanne Desmet. In Dordrecht, Schulting won a silver in the women's 1,500 m behind Desmet (2:29.432 to 2:29.470). Canada's Kim Boutin won the first 1,000 m race (1:29.807), with American Kristen Santos-Griswold second in 1:29.864. Sauralt won the second 1,000 m in 1:32.930. The 500 m sprint went to Xandra Velzeboer (NED) in 52.020, over Boutin (42.301).
Santos-Griswold had a noteworthy season and finished fifth overall with 700 points (seven medals!), and teammate Corinne Stoddard was 10th with 546.
● Ski Jumping ● The men's World Cup tour was in Lake Placid, New York, jumping off the 128 m hill, with Germany's Andreas Wellinger, the 2018 Olympic champ, taking the first victory of the season for Germany! He scored 264.5 points, beating two-time World Cup seasonal champ Ryoyu Kobayashi (JPN: 256.0) and 20-year-old Daniel Tschofenig (AUT: 255.4) getting his first individual World Cup medal in third.
Seasonal leader Halvor Egner Granerud (NOR) got his 10th of the season on Sunday, scoring 287.6 points to win over Wellinger (GER: 276.1) and Austria's three-time World Champion Stefan Kraft (275.3).
¶
The women were in Hinzenbach (AUT: 90 m hill), with the home team sweeping both events. Seasonal leader Eva Pinkelnig won on Friday with 254.4 points, beating Slovenians Ema Klinec (250.5) and Nika Prevc (248.2). Teammate Chiara Kreuzer got her seventh career individual World Cup win – but first since 2020 – on Saturday, out-scoring Pinkelnig, 235.6-235.5! Japan's Nozomi Maruyama was third at 234.8.
● Snowboard ● Halfpipe and Slopestyle events were held in Calgary (CAN), with Japan's Ruka Hirano winning his third straight World Cup Halfpipe event on Friday, scoring 88.50 to 82.00 for Valentino Guseli (AUS) and 81.75 for Shuichiro Shigeno (JPN).
The women's Halfpipe title went to Japan as well, with Misuko Ono winning her second straight World Cup at 89.75, comfortably ahead of Canada's Elizabeth Hosking (86.00) and Berenice Wicki (SUI: 72.50). Ono is the only one to medal in all three World Cups so far this season.
Sunday's men's Slopestyle final was the second career World Cup win for Darcy Sharpe (CAN: 88.85), edging American Dusty Henricksen's fourth career World Cup medal (USA: 82.66) and Cameron Spalding (CAN: 77.33), who won his first World Cup medal in third.
American Julia Marino, the Beijing '22 silver medalist, won her second straight World Cup, scoring 78.36 to beat Canadians Laurie Blouin (76.41) and Jasmine Baird (76.21).
● Speed Skating ● The ISU World Cup is concluding with two straight weeks of racing in Tomaszow Mazowiecki (POL), with a major breakthrough for American Kimi Goetz, 28, on Sunday.
Goetz was a Beijing 2022 Olympian, finishing 18th at 500 m and seventh in the 1,000. On Sunday, she got to the medal stand twice, with a bronze in the women's 500 m and winning her first World Cup gold in the 1,000 m!
Korea's Min-sun Kim won the 500 m, followed by 2018 European Champion Vanessa Herzog, 37.90 to 38.09. Goetz was next at 38.11, ahead of teammate and 2022 Olympic gold medalist Erin Jackson (38.23).
In the 1,000 m, Goetz was in the final pair with Olympic champ Miho Takagi of Japan, but won a close race by 1:16.00 to 1:16.18 to get her first World Cup gold! Fellow American star Brittany Bowe, a three-time World Champion at the distance, was third in 1:16.43.
The U.S. won another medal with Mia Kilburg claiming a bronze in the women's Mass Start in 9:34.61, behind 2021 World Champion Marijke Groenewoud (NED: 9:34.23) and Canada's 2022 Olympic silver medalist Ivanie Blondin (9:34.47).
Groenewould also won the 1,500 m ahead of 2021 World Champion Ragne Wiklund (NOR), 1:56.67 to 1:57.83, with Takagi third (1:58.02) and Goetz sixth (1:59.19). Wiklund won the 3,000 m in a tight finish with Czechia's triple Olympic gold medalist Martina Sabilkova, 4:05.96 to 4:06.04.
The Dutch men won the 1,000 m with Hein Otterspeer (1:09.24) edging teammate (and triple Olympic champ) Kjeld Nuis (1:09.52) and Nuis winning the 1,500 m in 1:46.71. Olympic champ Bart Swings (BEL) with the Mass Start in 8:12.17, with American Ethan Cepuran fourth (8:12.42) and Olympic bronze winner Davide Ghiotto won the 5,000 m in 6:17.45. Japan's Wataru Morishige, the Beijing bronze medalist, won the 500 m in 34.78.
¶
You can receive our exclusive TSX Report by e-mail by clicking here. You can also refer a friend by clicking here, and can donate here to keep this site going.
For our updated, 929-event International Sports Calendar for 2023 and beyond, by date and by sport, click here!