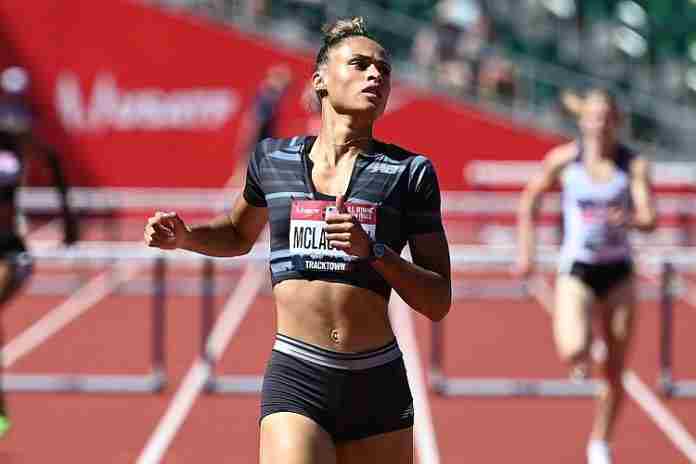 (★ Dear readers: We're unveiling a new format, to make TSX easier to read, more impactful and less esoteric. The goal remains to cover the key competitive, economic and political forces in international sport and the Olympic Movement. Comments are welcome and we hope you enjoy it. Please donate here if you would like to help with our support costs; thank you so much for your interest and enthusiasm. ★)
≡ THE 5-RING CIRCUS ≡
1. McLaughlin's world record highlights USATF Nationals in Oregon
2. Huge drama as U.S. sets medals record at swimming World Champs
3. Olympic sprint icon Thompson-Herah falls to third in Jamaican 100 m
4. Weightlifting federation elections may have ended its Olympic history
5. U.S. women's footballers cruise past Colombia, 3-0, in friendly
¶
The two sports which provide the U.S. with half or more of its medals at each Olympic Games are track & field and swimming. American domination was on full display on Saturday, at the U.S. nationals in track and the FINA World Championships in Hungary.
1.
McLaughlin's world record highlights
USATF Nationals in Oregon
The final event of the third day of the USA Track & Field National Championships at Hayward Field in Eugene, Oregon was focused on one question.
What would Olympic 400 m hurdles champ – and world-record holder – Sydney McLaughlin do? Win easy or go for broke?
The answer came quickly, as she pressed from the start, making up the stagger on NCAA champ Britton Wilson just outside her and storming the turn. She was going to win, but how fast? She charged the straight and flew through the tape in a sensational world record – her third – of 51.41!
Wilson, who has a great future in this event, came off the turn in a fight for second and passed Anna Cockrell to finish with a huge lifetime best of 53.08 – no. 10 all-time U.S. – and no. 3 in the world for 2022. Cockrell, meanwhile, lost ground to veteran Shamier Little in the final 50 m and Little got third, 53.92 to 53.98, seasonal bests for both.
As was forecast from her high school days in New Jersey, McLaughlin is becoming the Edwin Moses of the 21st Century. She has won a modest five straight finals in 2021 and 2022, but with world records in three of her last four races. She owns four of the five fastest times in history and five of the top eight. McLaughlin is now one of the faces of this sport, with an unlimited future.
That was the final thrill on a busy Saturday on the track, with additional world-leading performances in the men's 400 m and women's 110 m hurdles.
World leader Michael Norman was the clear favorite in the men's 400 m and he took off hard, moving up on the field through 200 m. On the turn, Norman took control, but was being harassed by Florida's Champion Allison into the straight. Allison would not go away and chased Norman home to a world-leading 43.56, with Allison enjoying a massive lifetime best of 43.70 (old: 44.29) from the NCAA Championships. Two-time NCAA winner Randolph Ross clinched third in the final 40 m in 44.17 to 44.34 for Georgia's Elija Godwin and 44.35 for Vernon Norwood.
The women's 100 m hurdles started with the semis, with 2019 World Champion Nia Ali winning impressively in a season's best of 12.49, ahead of find-of-the-year Alaysha Johnson (12.60). World-record holder Keni Harrison moved to equal-2nd on the 2022 world list at 12.40 in winning the second semi and setting up a hot final.
Ali withdrew, as she has a direct entry to the Worlds as reigning champion. Off the gun, it was former LSU star Tonea Marshall who got out best, but Harrison took over in mid-race and dueled with Johnson to the tape. Harrison leaned best to win in a world-leading 12.34, with Johnson claiming a lifetime best of 12.35 and moving to equal-6th all-time U.S. Current LSU star Alia Armstrong – the NCAA champion – leaned hard to edge Marshall, 12.47-12.55.
All eyes were on icon Allyson Felix in the women's 400 m final and she was out like a shot in lane nine, right with the leaders at 200 m. But Tokyo 4×400 m gold medalist Lynna Irby came hard on the turn to take the lead, with Tokyo teammate Kendall Ellis coming up to challenge. But NCAA champ Talitha Diggs moved best in the middle of the track in the final 70 m to win in 50.22, to 50.35 for Ellis and Irby in third (50.67). Felix faded on the turn and finished sixth in 51.24 and should be on the Worlds team on the 4×400 m or mixed 4×400 m relay. She said she will have a final race in the Los Angeles area on 7 August to end her competitive career.
The women's 1,500 m final started slowly, with Elle St. Pierre at 72.81 after 400 m and then St. Pierre wanted to get out of traffic and threw in a 63.95 lap to lead Karissa Schweizer after 800 m. But at the bell, it was Schweizer leading St. Pierre, Cory McGee and Sinclaire Johnson as those four opened a gap on the rest. St. Pierre had the lead with 300 m left, but Johnson poured on the gas on the backstraight, passed St. Pierre and McGee to take the lead into the straight and ran away to win in 4:03.29 to 4:04.52. St. Pierre fought off Schweizer for third, 4:05.14-4:05.40.
The men's 1,500 m was up for grabs, with the famous names absent and in 87 F temperatures at the start. The pace was slow and finally picked up at the bell, with all 12 in contention. Sam Prakel took the lead on the back straight, but the event ended in a dead sprint in the home straight, with former Oregon star Cooper Teare coming from fifth into a clear lane to the line in 3:45.86. NCAA sixth-placer Jon Davis of Illinois passed Josh Thompson in the final 20 m for a surprise second – 3:46.01 to 3:46.07 – with Eric Holt having to settle for fourth (3:46.15).
The men's Steeple started slowly, but all eyes were on U.S. record holder Evan Jager, continuing his odyssey from injury. He took the lead after 2,400 m and was joined by two-time U.S. champ Hillary Bor down the penultimate straight and then charged to the lead at the bell. Jager and Benard Keter stayed close and had broken away from the rest, but could they hang with Bor? That answer was no, as Bor broke away after the final water jump, but Jager was strong and ran away from Keter on the straight to finish 1-2 in 8:15.76 and 8:17.29, with Keter at 8:19.16. Duncan Hamilton closed hard for fourth in 8:20.23. The top four all have the Worlds time standard.
In the field, Olympic silver medalist Chris Nilsen and former NCAA Division III champ Luke Winder were the only ones to clear 5.70 m (18-8 1/4) in the men's vault and Nilsen won on fewer misses.
Tokyo 11th-placer Daniel Haugh got a lifetime best of 80.18 m (263-1) in the first round to take the lead in the men's hammer final and move to no. 5 on the all-time U.S. list. It turned out that no one could do better; American Record holder Rudy Winkler ended up second at 78.33 m (257-0).
The first shock of the day came in the women's javelin, as world leader and American Record-setter Maggie Malone fouled three times and did not place. But former American Record holder Kara Winger got a seasonal best of 64.26 m (210-10) to win her ninth U.S. title and qualified for the Worlds. Malone will likely also advance to the Worlds given her world ranking.
The women's triple jump saw two-time Olympian Keturah Orji get out to 14.38 m (47-2 1/4) in the first round to take the lead, but was passed by former American Record holder Tori Franklin in round four (14.59 m/47-10 1/2). No problem: Orji re-took the lead on the next jump, reaching 14.79 m (48-6 1/4), a meet record and the no. 3 jump in American history. NCAA champ Jasmine Moore was a clear third at 14.15 m (46-5 1/4)
In the men's 200 m qualifying, the reigning World Champion, Noah Lyles, led all qualifiers at 19.95, with teen sensation Erriyon Knighton (20.08), Christian Coleman (20.18) and Olympic silver winner Kenny Bednarek (20.10) the other heat winners. Fred Kerley, the 100 m winner, qualified easily in 20.29.
The heats of the 110 m hurdles produced four familiar winners: World Champion Grant Holloway (13.11), world all-time no. 3 Devon Allen (13.27), NCAA champ Trey Cunningham (13.13) and 2019 national champ Daniel Roberts (13.28). The amazing Rai Benjamin – the Olympic silver medalist – loafed the first 250 m of his 400 m hurdles semi, ran harder for about 100 m and then jogged in to win in 47.93, a time that only two others in the world have bettered this season! Yowsah! Khallifah Rosser won the second semi in 48.34.
The women's 200 m showed that world leader and NCAA Champion Abby Steiner continues in shape, leading the qualifying at 22.14. Olympic bronze winner Gabby Thomas won her heat in 22.59, Jenna Prandini won heat three in 22.65 and Sha'Carri Richardson was runner-up in the first heat in 22.69.
The meet concludes tomorrow; broadcast coverage is on NBC from 1-2 p.m. Pacific time, switching to USA Network from 2-3 p.m.
2.
Huge drama as U.S. sets medals record
at swimming World Champs
The final day of the swimming portion of the FINA World Championships in Budapest (HUN) climaxed with the U.S. team setting an all-time medals record, including an American Record and a reversal of fortune … after medals had been handed out in the men's 50 m Backstroke.
American Justin Ress and world-record holder Hunter Armstrong were 1-2 in the semis and they had the lead when they came up from the underwater start. Ress had the slimmest of leads at midway and the two Americans were clearly 1-2 and Ress extended his final stroke underwater and touched first at 24.12, with Armstrong just behind.
But a video review was signaled and Ress was ruled not to have any part of his body above the water at the finish and was disqualified. That left Armstrong as the winner at 24.14 for his second medal of the meet, but with a bitter taste for winning by disqualification. Poland's Ksawery Masiuk was moved up to second (24.49) and 100 m Back winner Thomas Ceccon (ITA) to third in 24.51.
USA Swimming protested the disqualification, and the decision was – remarkably – reversed, giving Ress the gold, 24.12-24.14, with Masiuk third. It's the first individual Worlds medal for Ress and his second gold of the meet. Ress did receive his medal in a specially-held ceremony after the revision of the final results.
Almost as dramatic was the men's 1,500 m Free final, featuring top five finishers from the Tokyo Games, led by American gold medalist Bobby Finke. At the 500 m mark, Rio Olympic champ Gregorio Paltrinieri (ITA) had the lead – on world-record pace – over Finke by 2.40 seconds, with Germany's Tokyo bronze medalist Florian Wellbrock just behind. And he did not let up.
At the half, Paltrinieri, 27, touched in 7:14.94 – still on world-record pace – with Finke bringing up the rest of the field, 4.14 behind. At 1,000 m, Paltrinieri was 1.96 seconds up on the record and then accelerated, up 2.69 by 1,200 m, 2.79 at 1,300 m, 2.81 at 1,400 m, and then he tired. He was only 1.23 seconds up on the record with 50 to go and then finished with the no. 2 mark of all time in 14:32.80. Dazzling, and while not a record, his third Worlds 1,500 gold to go along with his wins in 2015 and 2017.
Behind Paltrinieri, Finke and Wellbrock swam together for most of the race, with Finke making a late charge as usual to grab silver in 14:36.70, smashing Connor Jaeger's 2016 mark of 14:39.48! Wellbrock was third in 14.36.94.
Italy's day was made even better with a shocking win over the U.S. in the men's 4×100 m Medley Relay. Cecchon had the lead on American Ryan Murphy at the turn by 0.58 and that turned out to be crucial. Nicolo Martinenghi increased the lead on the Breast leg, 57.47 to 57.86 for Nic Fink, but Michael Andrew got the U.S. to just 0.40 back with a brilliant 50.06 leg to 50.63 for Federico Burdisso.
Ryan Held actually took the lead on Alessandro Miressi on the Freestyle leg, but couldn't hold and his 47.36 closer fell short. Miressi split 47.48 and Italy won the gold in a European Record 3:27.51, the equal-third-fastest performance of all time. The U.S. finished in 3:27.79, the fifth-fastest mark ever. Great Britain was third in 3:31.31.
Another upset came in the women's 50 m Breast final. Ruta Meilutyte of Lithuania, still just 25, was the London 2012 Olympic gold medalist in the 100 m Breast, but had been in and out of the sport since 2019, when she suffered a doping whereabouts suspension. But she came back to the pool in 2021 and showed some of her old form with a bronze in the 100 m Breast. In the 50, she faced Italy's world-record holder, Benedetta Pilato, the leading qualifier. Off the start, the two moved ahead of the field, but very close to each other. Meilutyte forged a small lead in the final 15 m and held it on the final stroke for a 29.70-29.80 win, with Lara van Niekerk (RSA: 29.90) third. American Lilly King, the Worlds winner in 2017 and 2019, could not generate her usual speed and finished seventh in 30.40.
One of the greatest sprinters in history – Sweden's Sarah Sjostrom – came in as the world leader in the women's 50 m Free and a medalist in three straight Worlds – bronze-gold-silver in 2015-17-19 – and was out well and got to the lead at halfway. But she was being challenged by Poland's 30-year-old Kasia Wasick, no. 2 on the world list this season. It was close, but Sjostrom had the best final stroke and touched in a world-leading 23.98 to 24.18 for Wasick. It looked like Australia's Meg Harris got third, but American Erika Brown closed hard to tie in 24.38 and earned her first individual medal of the meet.
It was Sjostrom's 20th career Worlds medal in individual events (10-7-3) and a second gold – also in the 50 m Fly – and third medal of the meet. The 20 medals in individuals events ties Michael Phelps (USA) for the most in FINA Worlds history; Phelps is the all-time leader with 33 total medals, including 13 on relays.
Another new sensation, Canada's 15-year-old Summer McIntosh was the clear favorite in the women's 400 m Medley, already having won the 200 m Fly and silver in the 400 m Free. She took the lead from the start and forged a solid lead over 16-year-old American Katie Grimes by the end of the Butterfly leg and was briefly on world-record pace.
These two separated themselves from the field and McIntosh kept churning, up 1.33 seconds on Grimes after the Backstroke and 1.93 seconds up after the Breaststroke leg. But Grimes charged home on the Freestyle finale and moved to no. 5 all-time U.S. at 4:32.67, not far behind McIntosh's World Junior Record of 4:32.04. Behind them, Hungarian legend Katinka Hosszu was third for a while, but was passed by American Emma Weyant, 4:36.00 to 4:37.89, for the bronze.
The meet's final event was a stirring fight between the U.S. and Australia in the women's 4×100 m Medley. Canada's Kylie Masse, American Regan Smith and Aussie star Kaylee McKeown were within 0.38 at the turn, but then 200 m Breast winner King took over for the U.S. and forged a clear 0.47-second lead at halfway over Australian Jenna Strauch. The key leg was Torri Huske's 56.67 Fly segment, giving anchor Claire Curzan a 0.99-second lead over 100 m Free winner Mollie O'Callaghan. The Australian closed hard in the final 20 m, but Curzan's 52.82 brought the Americans home in 3:53.78, the no. 10 performance in American history. Australia finished in 3:54.25, with Canada in bronze position (3:55.01).
The medal table, once revised for Ress's reinstated win, showed the U.S. with an overwhelming performance and the greatest total ever in a swimming Worlds: 45 total medals (17-12-16) in 42 events, surpassing its total of 38 from the 2017 Worlds, also held in Budapest. This was with sprint superstar Caeleb Dressel having left the meet midway due to a medical condition, and, yes, while Australia and Britain did not field their best teams, this was a stunning performance. Australia was second with 17 medals (6-9-2) and Canada had a quality meet with 11 (3-4-4).
Amazing, epic and historic.
3.
Olympic sprint icon Thompson-Herah
falls to third in Jamaican 100 m
In Rio in 2016 and then in Tokyo in 2021, Jamaica's Elaine Thompson-Herah won both the women's 100 m and 200 m, and she flirted with the iconic 10.49 world 100 m record of Florence Griffith-Joyner (USA) from 1988 last season, running 10.54.
But at the Jamaican nationals in Kingston on Friday evening, a lengthy delay threw off her concentration and she ended up only third in 10.89, behind Tokyo bronze medalist Shericka Jackson (10.77) and Kemba Nelson (10.88). Said Thompson-Herah, "Honestly, I almost walked away, I only stayed because I wanted to qualify for the World Championships. I felt very flat after waiting so long, fought my way through the line, and was happy that I came third."
World leader Shelly-Ann Fraser-Pryce (10.67) had the top time in the heats at 10.70 and as she already has a direct entry into the Worlds, did not compete further. The men's title was impressively won by 2011 World Champion Yohan Blake in 9.85, his best mark since 2012! Oblique Seville, 21, was second at 9.88.
4.
Weightlifting federation elections
may have ended its Olympic history
The International Weightlifting Federation held chaotic elections at a special Congress in Tirana, Albania on Saturday, with the sport's future in the Olympic Games very much in the balance.
The IWF has been marred by years of doping positives, governance issues and corruption, but rather than turning to someone with a fresh background, the federation's new head is a man who has been in the middle of the IWF as an Executive Board member and Secretary General since 2017.
That would be Iraqi Mohammed Jalood, 60. He wasn't even nominated by his national federation, instead standing as an individual.
In a confused proceeding, nine of the 11 Presidential candidates withdrew before the vote, leaving only Jalood and friend Mohamed Yousef Al-Mana (QAT), but Al-Mana insisted that Jalood had also withdrawn, which would leave him as the sole candidate. The election was stopped, discussions were held and Jalood was ruled to still be a candidate. Then Al-Mana resigned, leaving Jalood to be elected by acclimation!
Further, in the elections for General Secretary and the Executive Board, three members of the existing IWF Board – all with long histories at the federation during its period of excesses – won seats. American Ursula Papandrea, running as a reformer, was one of those who withdrew for President, but was elected First Vice President.
With the election of Jalood and the other Board holdovers, the next step will be up to the International Olympic Committee, which will not be amused by the continuity of a core governance group that has failed so badly. It's hard to see how the sport makes it onto the Los Angeles 2028 program now.
5.
U.S. women's footballers cruise past Colombia, 3-0, in friendly
Competing for the first time since April, the U.S. Women's National Team was an easy winner over Colombia in Commerce City, Colorado, 3-0, with all three scores in the second half.
There was no score in the first half, although the Americans had a 12-0 edge in shots. But Sophia Smith scored in the 54th and 60th minutes, both times with assists from star midfielder Rose Lavelle. Taylor Kornieck scored in the 90th minute (in her first game for the U.S.), as the Americans ended with 72% of possession and a 22-1 total on shots. The two teams meet again on Tuesday in Sandy, Utah.
You can receive our exclusive TSX Report by e-mail by clicking here. You can also refer a friend by clicking here, and can donate here to keep this site going.
For our updated, 620-event International Sports Calendar for 2022 and beyond, by date and by sport, click here!