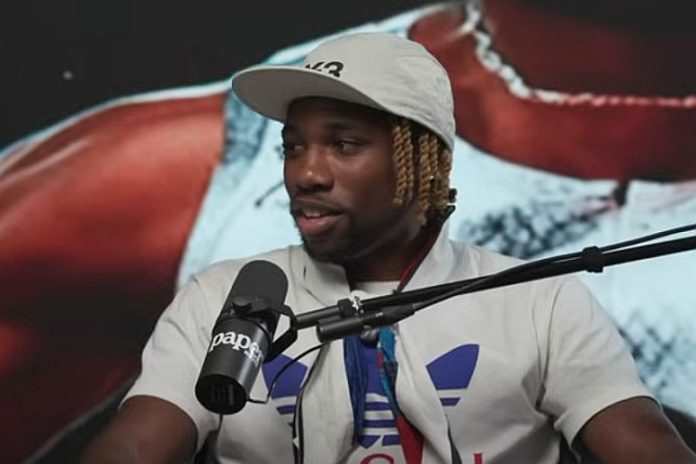 ★ The Sports Examiner: Chronicling the key competitive, economic and political forces shaping elite sport and the Olympic Movement.★
★ To get The Sports Examiner by e-mail: sign up here! ★
≡ THE 5-RING CIRCUS ≡
1. "We all want change, but we all struggle to find how we should change"
2. Very respectable ratings for Pre Classic on NBC
3. U.S. win men's Freestyle team title at wrestling Worlds
4. Russia could send up to 180 to Paris, says minister
5. Spanish women's footballers report, unhappily, for UEFA matches
● In a fascinating, hour-plus interview on video with former NFL receiving star Brandon Marshall, Noah Lyles explained the desire of track & field athletes today to change their sport, but no one is quite sure how to get more attention, more interest and more money into it.
● Competing against college football on Saturday and the NFL on Sunday, the Prefontaine Classic on NBC did reasonably well in terms of television viewership, averaging more than 750,000 view for the two days.
● The U.S. men's Freestyle wrestling team won its second consecutive team title at the World Wrestling Championships in Belgrade, Serbia, winning seven medals (3-2-3) in the 10 divisions and out-pointing Iran. The American women also won two medals in the first two weight classes.
● Russian Sports Minister Oleg Matytsin said Russia could send as many as 180 athletes to Paris in 2024, but the window for qualifying continues to shrink. The head of the Russian Olympic Committee ripped the International Olympic Committee for restrictions which eliminate athletes from the famed Central Sports Club of the Army (CSKA) from competing, even as neutrals.
● In Spain, 15 players who said they would not participate with the national women's soccer team decided to come to practice on Tuesday rather than risk sanctions ranging from a fine to suspension, but who are still unhappy with the pace of change within the Spanish federation. Spain has UEFA Nations League matches coming up with Sweden and Switzerland.
● Panorama: Judo (U.S.'s Cutro-Kelly sanctioned for doping) = Modern Pentathlon (UIPM forms group to absorb obstacle federation) ●
1.
Lyles: "We all want change, but we all struggle
to find how we should change"
In a fascinating, hour-plus interview with former NFL All-Pro receiver Brandon Marshall on the Paper Route by I Am Athlete video, triple sprint World Champion Noah Lyles talked about his sport, about the impact he has had and wants to have, fashion and the future.
And he and Marshall talked a lot about the business of track and field, or the lack thereof.
The video, one of a series that Marshall hosts online, was posted on 13 September (last Wednesday) and has garnered nearly 24,000 views in less than a week. Marshall asked Lyles about his comments at the Worlds men's 200 m medal-winners news conference, where he asked why NBA teams that win the seasonal title get hats with "World Champion" on them, for a domestic league. Lyles shared that his answer was about track & field, not basketball:
"In the question, I dive into how it hurts. Usually you don't get paid attention to [until] the Olympics, and being a track athlete living in the U.S. and trying to run and build your career, you start to get this idea that you're only cared about for four years and you're in a dying sport.
"But then when you go to Europe, and you're a champion and people are taking care of you and they're giving you hotel rooms for free and everybody in the city recognizes you like … you don't get none of that stuff here, in the U.S. It hurts. …
"We are ready to do just as much work, and show our journey and all that, but we're just not paid attention to. So it hurts."
Lyles said he was not expecting the strong pushback he got from NBA players:
"And the reason why is because I've said this multiple times before. It's not until now that they have paid attention, heard or even seen what's happening.
"So, here I've said this multiple times and now, all of a sudden it's blowing up. … My mission in my sport is to transcend the sport and, hopefully, take it with me. But if nobody's hearing and seeing, it's hard to do that."
And then he and Marshall got into a discussion which has been going on a lot this year. Lyles explained that he wanted to use the immediate attention after the World Athletics Championships to get people interested in his next meet, the Diamond League Final:
Marshall: "What and where?"
Lyles: "I'm competing in Eugene, Oregon on September 15th."
Marshall: "Where the hell is Eugene?"
Lyles: "In Eugene, Oregon. (Marshall laughs) Oregon Ducks, University of Oregon! (Marshall: 'OK. Sorry.') Hey, no, it's OK. That leads to another issue of our sport, that we are running in these random places. …
"So, we're running in these random places … everybody and their mama has run track & field at one point, so they're excited, and, yeah, they just saw a meet, or Sha'Carri [Richardson] or Christian Coleman, who else won World Championships, and like 'I want to go see them now.'
"Well, OK, we're going to be in the U.S., but how would they know that? How would they know, if we're not marketing or targeting the right demographics, which we really struggle with in our sport."
Asked to explain further later, Lyles explained the backdrop – from his view – that led to today's situation:
"The problem with the business of track & field is, there is no business. These are non-profits, and they are treated as such. Track & field started off as clubs, they were club groups. When you think of Carl Lewis's era, they were all track & field clubs. And it just so happened that one club would have a more popular or faster athlete. So that athlete would be invited to a track meet, and eventually that athlete started saying, 'I'm bringing in all these tickets, you need to pay me.'
"So then they started paying them. Then they started getting shoe contracts, like I'm bringing all these people in TV attention, you need to pay me. And then we just kept going, but eventually, it kind of just stopped, the growth kind of just stopped, because we were still in that club mentality.
"Everybody's in a club, everybody only gets paid for the big moments, and that's really what they see as what our sport is doing. But the problem is because we only get paid for those big moments, we only show up for those big moments.
"A lot of athletes [will] forego the normal part of the season to make sure they're going to be ready – and when I say a lot of athletes, I mean the Sydney McLaughlins, the Athing Mus, the mes, the Fred Kerleys – the athletes that everyone wants to see on TV will forego to make sure they are healthy enough so that they can perform on the big stage so that they can stay and have their paycheck so they can survive.
"If you look at basketball, football, tennis, soccer, golf, they have their regular season and of course, they can all go to the Olympics, but that's an afterthought because their sport supplies them with the ability to stay here, play, compete and still keep a normal job, a steady income. …
"It is a business at the end of the day. Technically, all track and field athletes who are paid by shoe contract are contractors: they're not hired, they're contractors for that brand, meaning that they can be taken on and let go very easily. So when athletes talk about unionizing and stuff like that, we can't even technically do that, because we aren't even employees. We got 1099s, we don't got W-2s.
"A lot of the athletes that are in the sport can't even think about because they're just trying to get food on the table."
In fact, athlete payments were made in secret for decades because of the sport's amateur rules, which were so strict that the iconic Finnish distance runner Paavo Nurmi was disqualified before the 1932 Olympic Games in Los Angeles on the suspicion that he had received money in excess of his actual on-the-road living expenses (which wasn't true). Approval of direct payments to athletes didn't come until the mid-1980s.
So what now? Lyles:
"The issue comes when we are reminded that track & field is an amateur sport. There is no line for what is considered professional. A high schooler can run in a professional track meet if he knows the right person. It happens all the time, and because of that, we all have different aspirations of what we want to see change in our sport. So you'll have the little guy who just wants more money, you'll have the middle guy who believes he should be in more meets, and you have the higher-ups like me, who are trying to make the biggest changes on the biggest stages.
"So we all want change, but we all struggle to find how we should change it."
Marshall commented favorably on the Atlanta City Games street meet that was held in May, and advised, "If you put the athletes first, not the fans, put the athletes first, the fans will follow, which means the money will follow."
Lyles was also asked about the introduction of fashion into the sport, with his walk-ins, developed in conjunction with agent Mark Wetmore. Lyles said he wants to see it spread:
"Now I'm trying to get more athletes into it, and what's funny is I will go a lot of track meets and I'll be like 'hey guys, we've had great success here; if you just give me a place to change, a vehicle and … a walkway, we can set this up at your track meet."
The interview goes a lot of places in 66 minutes, including Lyles' health challenges growing up, and his mind-set that has allowed him to be so good so many times. And then there's his dream of running 9.41 in the 100 m.
2.
Very respectable ratings for Pre Classic on NBC
This was going to be an acid test of U.S. viewer interest in track and field: the two-day Wanda Diamond League was going to be on NBC live at 3 p.m. Eastern time on Saturday and 4 p.m. on Sunday, directly against the two biggest sports in the country: college football and the NFL.
And the results were encouraging. Not great, but good.
On Saturday, the first day of the Prefontaine Classic from Eugene, the telecast drew 744,000, behind the live football games on ABC-CBS-ESPN-FOX, but ahead of everything else.
On Sunday, the NFL games on CBS and FOX were the runaway winners in the afternoon, but the Pre Classic came in at 765,000, a slight improvement.
Track & field has done poorly on television in the outdoor season; the three indoor meets in February on NBC averaged over 930,000, but the three U.S. outdoor meets in the spring on NBC averaged only a little more than 750,000. The three NBC telecasts of the World Athletics Championships averaged 1.122 million.
So, to have the two days of the Pre Classic draw 744,000 and 765,000 going against football on both days is a sign of strength for the sport among American viewers. Not great, but quite good.
¶
There was a lot less interest in the U.S. men's National Team soccer friendly against Oman on Tuesday (12th), which drew an average of 339,000 on TNT. On the other hand, the Mexico-Uzbekistan friendly, a 3-3 draw in Atlanta on the same day, did a lot better, with an average of 1.285 million viewers on Univision!
3.
U.S. win men's Freestyle team title at wrestling Worlds
The U.S. men's Freestyle wrestling impressively defended their team title at the 2023 World Wrestling Championships in Belgrade (SRB), winning seven medals (3-1-3) in the 10 classes, and scoring 148 points to 110 for Iran.
On Tuesday, the U.S. scored the seventh medal with a bronze at 97 kg from three-time World Champion Kyle Snyder, defeating Russian rival Abdulrashid Sadulaev in a walkover due to Sadulaev's neck injury suffered in the semifinals. Snyder won his first two matches, then was beaten by 20-year-old newcomer Akhmed Tazhudinov of Bahrain – who transitioned from Russian affiliation in 2022 – in the quarterfinals, sending him to the repechage round. He won there and advanced to the bronze-medal match; he's now won a Worlds medal in seven straight championships, beginning in 2015 (3-2-2).
Tazhudinov took the title, pinning Magomedkhan Magomedov (AZE) in the final.
At 65 kg, another ex-Russian, Ismail Musukaev – wrestling for Hungary since 2019 – won his third career Worlds medal and first gold with an 11-0 win over Sebastian Rivera of Puerto Rico, who won his first Worlds medal. Nick Lee of the U.S. was defeated in the quarterfinals.
The men's team Freestyle win was the fifth all-time for the U.S. and the first time it won back-to-back titles. Both teams were down from their 2022 totals of 198 for the U.S. and 150 for Iran, significantly due to the re-appearance of Russian and Belarusian wrestlers. The American men previously won the title in 1993, 1995 and 2017.
The women's Freestyle competition got started and the American women collected medals in both the 55 and 59 kg classes.
Jacarra Winchester, the 2019 World Champion, won the silver at 55 kg, losing to Japan's now three-time World Champion Haruna Okuno in the final, 4-2. Winchester had dominated her first three opponents, winning by 7-2, 11-1 and 10-0, and won her second career Worlds medal.
At 59 kg, newcomer Jennifer Rogers capped her first Worlds with a bronze medal, pinning Alyona Kolesnik (AZE) in 1:40, after losing to eventual champ Qi Zhang (CHN) in the semis. Zhang defeated Ukraine's 2014 World Champion, Yuliya Tkach, 4-1, in the gold-medal final.
4.
Russia could send up to 180 to Paris, says minister
Russian Sports Minister Oleg Matytsin said Tuesday that the maximum number of athletes that Russia could send to the Paris 2024 Games – if allowed – remains at 180:
"The forecast remains the same; the figure is based on athlete participation in qualifying competitions.
"Our athletes won't be able to participate in team competitions or track and field. A statistical analysis was conducted, which led us to this figure; 180 athletes is the maximum number. However, it keeps changing every day, and not for the better.
"Our position does not change, we are united in understanding that the sanctions are politicized and discriminatory. We defend the interests of our athletes on all platforms, but we must take a proactive stance. We hope that in terms of admitting our athletes, the voice of reason will prevail in the international federations and the IOC."
Russia sent 436 athletes to the London 2012 Games, but this was reduced in view of the state-sponsored doping program from 2011-15 to 282 for Rio in 2016 and then to 335 for the "Russian Olympic Committee" team in Tokyo in 2021.
Other than token appearances in 1900 (5) and 1908 (6), the smallest Russian delegation at a Games was 159 in Stockholm in 1912.
Russian Olympic Committee President Stanislav Pozdnyakov blasted the sanctions recommended by the International Olympic Committee against athletes who are part of the Central Sports Club of the Army, or CSKA, as a link to the military which would disqualify them from competing in Paris:
"CSKA played a key role in the early '90s, when it did not allow the sports component, national teams, and centralized training to fall apart. Today it is at the forefront of Russian sport, and it is probably because of this that the unfair and illegal sanctions against CSKA athletes imposed by the IOC are related to this.
"There is unfair competition, but we will not just look at it, but will prove, including to our colleagues from Lausanne, that such actions are flawed and erroneous. I'm sure that CSKA athletes in the near future will go to the Olympic tracks, swimming pools and will, as before, defend the honor of the Russian flag."
He also ripped the IOC's recommendations as prohibiting support of Russian athletes:
"There is a big difference in funding between 2018 and now. Then the athletes represented the Russian Olympic Committee, but now they will be as individual athletes. The IOC, guided by its regulations, has actually prohibited us from funding neutral athletes."
Swim star Evgeny Rylov, the 100-200 m Backstroke winner in Tokyo, said in a Russian MatchTV interview:
"You can count on your fingers how many athletes meet these [IOC] requirements. If necessary, everyone will go, but I only speak for myself: if I have to sign such a declaration, I will refuse. I don't want to accept their conditions."
5.
Spanish women's footballers report, unhappily, for UEFA matches
Not wanting to be subject to sanctions, Spanish players reported for training on Tuesday for women's national team matches in the UEFA Nations League Friday against Sweden and against Switzerland on 26 September.
Many of the players called – 15 – had signed a statement (signed by 39 players in all) pledging not to play for the national team while their grievances against the Royal Spanish Football Federation (RFEF) continued. However, a Spanish law imposes penalties, ranging from fines to suspensions, for not reporting to a national team call-up, except in cases of injury.
Victor Francos, the state secretary for sports, said in a television interview that he would be meeting with the players:
"The government had let the federation be the ones to talk to the players, giving it room to maneuver.
"(But) yesterday we looked ridiculous as a nation. It is unacceptable and this morning I spoke to some of the players. The impression I came away with was the most negative one possible. I did not hear resentment or anger, I heard sadness and exhaustion, and that is why I decided to back them."
Midfield star Jenni Hermoso, the victim of the FIFA Women's World Cup medal ceremony controversy, was not called up, with new coach Montse Tome, saying it was for her protection. Hermoso posted a bi-lingual statement titled, "Protect me from what?," which included:
"The players are certain that this is yet another strategy of division and manipulation to intimidate and threaten us with legal repercussions and economic sanctions. It is yet more irrefutable proof that shows that even today, nothing has changed.
"I want to once again show my full support to my colleagues who have been caught by surprise and forced to react to another unfortunate situation caused by the people who continue to make decisions within the RFEF."
≡ PANORAMA ≡
● Judo ● American judoka Nina Cutro-Kelly, 38, a four-time Pan American Championships medal winner – and silver medalist at +78 kg in 2021 – has been sanctioned for two years by the U.S. Anti-Doping Agency. She tested positive from an out-of-competition sample collected on 2 October 2022. Per the USADA:
"During its investigation into the circumstances of the case, USADA determined that Cutro-Kelly used a DHEA supplement at the recommendation of her doctor but failed to assess the prohibited status of any ingredients in the supplement before use despite USADA having educated her on the importance of carefully checking product labels and the significant risks of supplement use.
"Cutro-Kelly's two-year period of ineligibility began on April 12, 2023, the date her provisional suspension was imposed. In addition, Cutro-Kelly has been disqualified from all competitive results obtained on and after October 2, 2022, the date of her positive test."
● Modern Pentathlon ● The Union Internationale de Pentathlon Moderne (UIPM) named a seven-member committee to work out the absorption of the FISO – Federation Internationale de Sports d'Obstacles – into the UIPM:
"The formation of the Working Group is the next step in the process to deliver on the Memorandum of Understanding signed by the UIPM and FISO Presidents in Bath (GBR) in August. This agreement will enable UIPM to oversee the global Obstacle sports movement, following the integration of Obstacle as a discipline of Modern Pentathlon, with the mutual aim of increasing audience and participation numbers across a wider multi-sports portfolio."
The question on the minds of many observers will be the extent to which the tail will wag the dog, i.e., whether pentathlon actually becomes obstacle-first, moving further away from modern Olympic founder Pierre de Coubertin's concept of the five-part soldier's test, introduced at the 1912 Olympic Games in Stockholm.
The working group is chaired by UIPM President Klaus Schormann (GER) and includes UIPM Secretary General Shiny Fang (CHN), FISO President Ian Adamson (AUS), and also American pentathlon Olympian Rob Stull, the head of the Pan American (NORCECA) confederation. The first meeting is scheduled for November.
¶
You can receive our exclusive TSX Report by e-mail by clicking here. You can also refer a friend by clicking here, and can donate here to keep this site going.
For our updated, 787-event International Sports Calendar (no. 3) for 2023 and beyond, by date and by sport, click here!