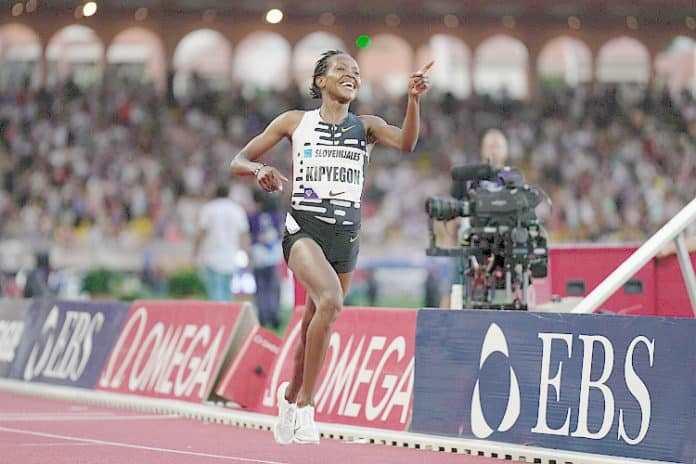 ★ The Sports Examiner: Chronicling the key competitive, economic and political forces shaping elite sport and the Olympic Movement.★
★ Bravo! Our 25 donors have covered 62% of our summer fund-raising goal. Please help if you can; it's important. ★
★ To get The Sports Examiner by e-mail: sign up here! ★
≡ THE 5-RING CIRCUS ≡
1. Kipyegon shatters world mile mark: 4:07.64 in Monaco!
2. Lyles (19.47!), Bol (51.45!) star at London Diamond League
3. Australia delivers big on triple-world record day in swimming
4. Spain, U.S. most impressive in World Cup openers
5. Grenoble '68 torch goes for $187,500 at auction!
The final two Diamond League meets before the World Athletics Championships provided eight world-leading marks and a spectacular world record in the women's mile. Kenya's Faith Kipyegon claimed her third world record in two months with a stunning 4:07.64 win in Monaco on Friday, the first woman to eclipse 4:10. In London on Sunday before 50,000 at the Olympic Stadium, Dutch star Femke Bol ran the third-fastest 400 m hurdles of all time in 51.45 and Noah Lyles of the U.S. won the 200 m in 19.47, the 10th-fastest in history. At the World Aquatics Championships in Fukuoka, China won 12 straight golds in the diving events before Australia's Cassiel Rousseau won the men's 10 m Platform. And the Aussies had a lot more to celebrate with four wins on the first day of swimming, with world records from Ariarne Titmus in the women's 400 m Free and in the women's 4×100 m Free, plus golds from Sam Short in the men's 400 m Free and in the men's 4×100 m Free. France's Leon Marchand smashed Michael Phelps' world mark in the men's 400 m Medley for the only non-Australian win of the day. At the FIFA Women's World Cup, Spain's 3-0 win over Costa Rica and the U.S.'s 3-0 win over Vietnam were the top performances as the first round of matches continues. Japan also impressed with a 5-0 thrashing of Zambia. At the RR Auction of Olympic memorabilia, an ultra-rare torch from the Grenoble 1968 Olympic Winter Games – only 33 were made – went for $187,500 at the top of a list of 25 torches and medals that went for $10,000 or more!
● World Championship: Basketball (U.S. outlast Spain in FIBA women's U-19 World Cup) ●
● Panorama: Athletics (Fraser-Pryce opens with wins in 10.82 and 10.83) = Cycling (2: Vingegaard wins Tour de France; Kopecky leads Tour de France Femmes) = Gymnastics (Varfolomeev stars at Rhythmic World Cup) = Volleyball (Poland wins Nations League final over U.S. in four) ●
1.
Kipyegon shatters world mile mark: 4:07.64 in Monaco!
It was a sensational Herculis Meet in Monaco on Friday, headlined by another world record in the Diamond League – her third of the year – by Kenya's two-time Olympic 1,500 m champ Faith Kipyegon, who destroyed another barrier in the women's mile.
Hers was the most stupendous of four world-leading marks:
● Men/800 m: 1:43.22, Wyclife Kimyamal (KEN)
● Men/400 m hurdles: 46.51, Karsten Warholm (NOR)
● Women/Mile: 4:07.64, Faith Kipyegon (KEN) ~ World Record
● Women/100 m hurdles: 12.30, Nia Ali (USA)
The women's mile record wasn't by accident; it was planned from the start. Kipyegon was amazing, running just behind the pacesetter from the gun, with only Ethiopia's Freweyni Hailu even close; Kipyegon passed 800 m in 2:04.10, well ahead of world-record pace. She had a 25 m lead with 500 m left and at 3:06.66 after 1,200 m. She grimaced on the backstraight and was more than 50 m up on the field with 200 to go and dug hard for the line at a sensational 4:07.65 for her third world record in 50 days!
The old record was 4:12.33 by Sifan Hassan (NED) from 2019 and Kipyegon broke the 4:10 barrier, to go along with her 3:49.11 world 1,500 m mark in Florence (2 June) and 14:05.20 in the 5,000 m in Paris on 9 June. Awesome! Kipyegon passed 1,500 m en route in 3:51.41, the no. 8 performance of all time.
Behind her was a chase pack the benefitted from her record race, with six national records set, including Ciara Mageean (IRL: 4:14.58) who passed Hailu (4:14.79) for second, then Britain's Laura Muir (4:15.24), Australia's Jessica Hull (4:15.34) and Nikki Hiltz of the U.S. (4:16.35).
Hiltz's time finally eclipsed Mary Decker Slaney's 1985 U.S. record of 4:16.71 from 1985 – 38 years ago! – and Elise Cranny was eighth in 4:16.47, now no. 2 all-time U.S. At 1,500 m en route, Cranny ran 3:58.88 for a lifetime best (still no. 8 all-time U.S.) and Hiltz passed in 3:59.61, also a lifetime best, now no. 12 all-time U.S. and the 14th American woman to dip under 4:00.
As for the other world-leading marks:
Warholm was the first up, racing away from the gun from his favored lane seven, and storming to a big lead over Brazil's comebacking World Champion, Alison dos Santos. He had no let-up on the home straight, finishing in a word-leading 46.51, the no. 4 performance of all-time. Dos Santos finished in 47.66, a very encouraging time for him and now no. 5 in the world for 2023. American CJ Allen challenged dos Santos and finished third in 47.84 to 47.85 for Ludvy Vaillant (FRA). Khallifah Rosser of the U.S. was seventh in 48.71; Olympic and Worlds silver medalist Rai Benjamin was scheduled to run, but decided to remain home and train.
The men's 800 m saw Canadian star Marco Arop in front with 200 to go and looking good, but Kenya's Commonwealth Games champ Wyclife Kinyamal was charging hard and finally got even in the home straight. He forged a small lead and then African champ Slimane Moula (ALG) moved up and was able to pass Arop in the final meters. Kinyamal got the world lead – with a 54.15 last lap – at 1:43.22 to 1:43.40 for Moula, with Arop third at 1:43.51. Bryce Hoppel of the U.S. ran 1:43.95, but was sixth and Clayton Murphy was 10th in 1:45.83.
The women's 100 m hurdles followed Kipyegon and 2019 world champ Nia Ali was out best, but former world-record holder Keni Harrison edged ahead after the fourth hurdle and maintained a tiny lead off the final hurdle but Ali pushed hard and leaned best to win in a lifetime best and world-leading 12.30 (wind: +0.6 m/s), with Harrison at 12.31, and fellow Americans Alaysha Johnson and Tia Jones 3-4 with both at 12.39. Ali is now no. 9 all-time and no. 3 all-time U.S. Harrison moved to equal-2nd in 2023 and Jones to no. 7.
The men's 5,000 m was almost a fifth world leader, with another fast Diamond League race. Four were in a lead pack after 3,000 m, with three more close and six were in contention with three laps left. Kenya's Jacob Krop and Ethiopia's Berihu Aregawi were at or near the front, with Mohamed Katir (ESP) third with two laps left off a very fast pace. Ethiopia's Hagos Gebrhiwet took over with 500 m left, ahead of Krop, and took the bell in front, then opened a 2 m lead on the back straight. Aregawi tried, but Gehrhiwet finished with a final lap of 56.70 to win in a fabulous 12:42.18, now no. 8 all-time (no. 11 performance). Aregawi stayed in second at 12:42.58, his no. 2 time of the season and the no. 12 performance ever. Talehun Haile (ETH) got third, also in a lifetime best of 12:42.70, with Katir fourth (12:45.01 European Record) and Krop fifth in 12:46.02.
The Steeple was also fast, with Kenya's 20-year-old Simon Koech and Abraham Kibiwott breaking away by 2,000 m, and then Koech running away in the final 500 m and winning in a fast 8:04.19, now no. 3 in the world for 2023. His best coming in was 8:18.43! Kibiwott was second in 8:09.54 and Abrham Sime (ETH: 8:10.56) got third in a dive at the line. American Anthony Rotich was sixth in a lifetime best of 8:13.74, now no. 11 all-time U.S.; Mason Ferlic was eighth in a lifetime best of 8:16.03.
The men's 100 m was, stunningly, one of the lesser lights in the meet, with Kenya's Ferdinand Omanyala taking the lead in mid-race to win in 9.92 (+0.6), followed by late-surging Letsile Tebogo (BOT: 9.93), then early leader Ackeem Blake (JAM: 10.00). Courtney Lindsey of the U.S. was seventh in 10.16.
The men's vault was a surprise, only because Swedish icon Mondo Duplantis lost for the first time this year after 11 wins. Only four were still jumping at 5.82 m (19-1) and Ernest John Obiena (PHI) and Kurtis Marschall (AUS) both cleared on their first try and Olympic silver winner Chris Nilsen cleared on his second, with Duplantis passing. Nilsen took the lead with a first-time clearance at 5.92 m (19-5), with Marschall missing all three tries. Duplantis and Obiena missed twice, then also missed at 6.02 m (19-9) to finish 2-4. Duplantis only cleared 5.72 m (18-9 1/4) and tied for fourth with two-time World Champion Sam Kendricks of the U.S.
The men's triple jump looked like a win for NCAA champ and world leader Jaydon Hibbert (JAM: age 18!), leading since the second round and at 17.66 m (57-11 1/4) in round four. But Hugues Fabrice Zango (BUR), the 2022 Worlds silver winner, produced a superb final effort to go from third to first on the final jump of the day at 17.70 m (58-1)! Americans Will Claye and Christian Taylor finished seventh and eighth at 16.21 m (53-2 1/4) and 16.20 m (53-1 3/4).
Czech Jakub Vadlejch took the men's javelin lead in the first round at 85.95 m (282-0) and no one could catch him. Julian Weber (GER) was closest at 84.23 m (276-4); American Curtis Thompson was fifth a 78.79 m (258-6).
Jamaica's World women's 200 m champ Shericka Jackson got back to winning after a 100 m loss to Sha'Carri Richardson in Poland, and win her fifth 200 m race without a loss this season in 21.86 (+0.2), ahead of NCAA champ Julien Alfred (LCA: 22.08) and 2019 World Champion Dina Asher-Smith (GBR: 22.23). The Americans had a tough day: Kayla White tied for fifth in 22.54, Gabby Thomas had an off day in seventh in 22.67 and Tamara Clark was eighth (22.83).
In the women's 400 m, Shamier Little of the U.S. was out in lane eight and was in front of the start. She stayed in front and felt the pressure of 2022 Worlds bronze medalist Sada Williams (BAR) coming up in lane seven in the final 60 m. But Little was still in front with 30 m left, when Poland's Natalia Kaczmarek surged to the line and won in 49.63 to 49.68, a lifetime best for Little and now equal-6th in the world for 2023. Lieke Klaver (NED) was third in 49.99.
Australia's Olympic silver medalist Nicola Olyslagers got another win – her third in the Diamond League – in the women's high jump, clearing 1.99 m (6-6 1/4) on her final try, eluding four others who could not go higher than 1.96 m (6-5); Ukraine's Iryna Gerashchenko and World Indoor Champion Yaroslava Mahuchikh finished 2-3 on misses.
Long jumper Tara Davis-Woodhall of the U.S. got out to 6.88 m (22-7) in the third round and looked like a possible winner, but Italy's Larissa Iapichino had the final jump and launched out to a lifetime best of 6.95 m (22-9 3/4) for her third Diamond League victory of 2023. American Quanesha Burks was ninth at 6.66 m (21-10 1/4).
2.
Lyles (19.47!), Bol (51.45!) star at London Diamond League
How could Sunday's meet at London's Olympic Stadium compare to Monaco? Pretty well, as it turns out, with four world-lead marks and two especially sensational performances:
● Men/200 m: 19.47, Noah Lyles (USA)
● Men/4×100 m: 37.80, Japan
● Women/Steeple: 8:57.35, Jackline Chepkoech (KEN)
● Women/400 m hurdles: 51.45, Femke Bol (NED)
The meet was a success before it started, with a sell-out of 50,000 announced on Saturday, and lots of noise for the competitors on Sunday, several of whom doubled back after Friday's meet. 
Lyles, the reigning World Champion at 200 m, started in lane six, with Britain's 100 m world leader Zharnel Hughes outside in seven and Botswana's 20-year-old star Tebogo in eight. But it was Hughes leading through the turn and Lyles had work to do in the straight. Hughes was still leading at 150 m, but Lyles surged to the front and barely held off Tebogo's rocket finish – isn't that Lyles' signature? – to win in a superb 19.47 (wind: +1.6 m/s).
This wasn't just a world-leading time but the 10th fastest ever run, of which he owns three (and Usain Bolt has four). Tebogo is now no. 6 all-time at 19.50, and Hughes was third in a national record 19.73, no. 2 ever in European history. American Kyree King was fourth in a seasonal best of 20.01.
Bol, the silver winner in Eugene behind Sydney McLaughlin-Levrone's unreal 50.68 last year, is getting closer. She stormed out of the blocks in lane six, made up the staggers on both runners outside of her on the back straight and didn't let up, finishing in the no. 3 performance of all time in 51.45. Only McLaughlin-Levrone has run faster with her world records of 51.41 at the 2022 U.S. Nationals and the 50.68 Worlds victory. The fight for second was epic, as Jamaica's Janieve Russell barely beat the on-rushing Shamier Little of the U.S., 53.75-53.76, on the run-in. Bol is the easy Worlds favorite, and Russell and Little will be in the medal mix.
The women's Steeple was down to Kenya's women's world-record holder Beatrice Chepkoech and 19-year-old Jackline Chepkoech (not directly related) after the first lap. While Beatrice led at 2,000 m, it was Jackline who took control with two laps to go and she finished strong, winning in a lifetime best of 8:57.35, running away from Beatrice, second in 9:04.34, also a season's best. Jackline is the 10th-ever runner to break 9:00 and now ranked seventh all-time. American Courtney Wayment finished fourth in 9:17.21 and U.S. champ Krissy Gear was sixth (9:25.49).
It would have taken a world record for a 2023 world lead in the men's shot, but American giant Ryan Crouser put on another show, with all six puts beyond 22 m (72-2 1/4) and his fifth throw the winner at 23.07 m (75-8 1/4). It's Crouser's eighth meet with a throw beyond 23 m; no one else in history has more than two! New Zealand's Tom Walsh got a seasonal best of 22.58 m (74-1) to get second and two-time Worlds winner Joe Kovacs was third at 21.87 m (71-9) with teammate Payton Otterdahl fourth (21.74 m/71-4).
The women's 5,000 m was clearly going to be fast, with Olympic champ Sifan Hassan (NED) and 2022 World Champion Gudaf Tsegay (ETH) the headliners. The race narrowed to Hassan, Tsegay, Kenyan Beatrice Chebet, Medina Eisa (ETH) and American Alicia Monson still in contact in fifth with three laps to go. Hassan kept towing the field, and at the bell, all five were close. Hassan and Tsegay broke away with 200 m to go, and then Tsegay waited until the final 90 m to pass, with Chebet passing into second with 50 m left.
The clock showed Tsegay at 14:12.29, the fourth-fastest performer in history, with Chebet at 14:12.92 (seventh) and Hassan third in 14:13.42 (ninth ever). Eisa, 18, set a world U-20 record at 14:16.54, with Monson finishing fifth in 14:19.45, now no. 14 all-time and taking the American Record, shattering Shelby Houlihan's 14:23.92 from 2020! Fellow American Elly Henes finished 11th in 14:47.15, now no. 10 in U.S. history.
Australia's Stewart McSweyn was just behind the pacesetter for 800 m in the men's 1,500 m and had a 10 m lead with a lap and a half to go, but down to 5 m at the bell. Norway's Narve Nordas moved up on the back straight and bumped McSweyn and took the lead with 200 m to go. But U.S. champ Yared Nuguse was perfectly positioned on the turn and made a run at Nordas on the final straight, drawing even with 25 m left and in front with 20 m to go, winning in a very impressive 3:30.44 and sharpening his credentials as a possible Worlds medalist. Nordas held on for second (3:30.58) and Neal Gourley (GBR: 3:30.60) got up for third as McSweyn faded to sixth (3:31.42). Cole Hocker of the U.S. was 13th, but still ran a seasonal best of 3:32.14.
The women's 800 m made the home crowd happy, as Britain's Jemma Reekie won a hot finish in 1:57.30, coming from third on the home straight to win in 1:57.30, now third on the world list this season. She passed front-runner Natoya Goule (JAM: 1:57.61) and 2019 World Champion Halimah Nakaayi (UGA: 1:57.62) and Catriona Bisset (AUS: 1:57.78). Americans Raevyn Rogers and Sage Hurta-Klecker finished 7-8 in 1:58.98 and 2:03.98.
The men's 400 was an encouraging result for Americans Bryce Deadmon and Vernon Norwood, 1-2 at the nationals, but with indifferent races in Europe so far. South Africa's world-record holder, Wayde van Niekerk, was the clear leader at 200 m and then at 300 m, but Norwood closed hard and Deadmon even harder in the final 30 m and van Niekerk barely held on in 44.36-44.40-44.66. American Ryan Willie was sixth in 45.39.
The men's 110 m hurdles featured reigning World Champion Grant Holloway of the U.S., who got his usual lightning start and continued smoothly to the finish to win in 13.01 (+1.3). But the race also proved that Japan's Shunsuke Izumiya is for real (13.04 this year), closing on Holloway over hurdles nine and 10 and on the run-in to finish second in 13.06. American Jamal Britt was third in 13.25, with Olympic champ Hansle Parchment (JAM) fourth in 13.26.
The women's 100 m was another win for Marie-Josee Ta Lou (CIV), her fourth on the Diamond League circuit, in 10.75 (+1.2), equaling her fastest this season and still no. 3 on the 2023 world list. She had to run down quick-starter Dina Asher-Smith (GBR) after 50 m, who got a seasonal best of 10.85, with Jamaica's world-leader, Shericka Jackson third most of the way in 10.94 in her fourth race in eight days. Americans Aleia Hobbs, TeeTee Terry and Melissa Jefferson were 5-6-7 in 10.96-10.99-11.09. Sha'Carri Richardson was a late scratch.
The women's vault saw European champ Wilma Murto (FIN) and Olympic and World champ Katie Moon of the U.S, both clear 4.80 m (15-9), but Murto got the win on misses. Sandi Morris of the U.S., trying out new poles, tied for sixth at 4.51 m (14-9 1/2).
American long jumper Quanesha Burks had always jumped well in the U.S., with her top nine performances all on American soil, and a best of 6.81 m (22-4 1/4) in Europe from 2018. But in London, she exploded on her first try, out to a lifetime best of 6.98 m (22-10 3/4) and no one could match her! Australia's Brooke Buschkuehl and U.S. champ Tara Davis-Woodhall both reached 6.72 m (22-0 3/4), with Buschkuehl taking second on a better back-up jump. Burks is now no. 4 on the year list.
American star JuVaughn Harrison moved to no. 2 in the world for 2023, winning at 2.35 m (7-8 1/2) with a kick over the bar on his second try, taking the win away from world leader and Olympic co-champ Mutaz Essa Barshim (QAT), who cleared 2.33 m (7-7 3/4).
Olympic champ Daniel Stahl (SWE) won the men's discus with his fourth-round throw of 67.03 m (219-11), ahead of Matthew Denny (AUS: 66.77 m/219-0) and World Champion Kristjian Ceh (SLO) at 66.02 m (216-7). U.S. champ Sam Mattis was seventh at 61.83 m (202-10).
This was great, but now the Diamond League is off for a month, in advance of the World Championships in Budapest that begins 19 August.
3.
Australia delivers big on triple-world record day in swimming
The World Aquatics Championships in Fukuoka (JPN) moved into its main event, with the swimming starting on Sunday, and Australia expected to make the noise in the 400 m Free and the 4×100 m Free. Did it ever.
Five finals on day one, with each the fastest in the world this season, three world records and four wins for Oz:
● Men/400 m Free: 3:40.68, Sam Short (AUS)
● Men/400 m Medley: 4:02.50, Leon Marchand (FRA) ~ World Record
● Men/4x 100 m Free: 3:10.16, Australia
● Women/400 m Free: 3:55.38, Ariarne Titmus (AUS) ~ World Record
● Women/4×100 m Free: Australia ~ World Record
The men's 400 m Free was the first final, with Australian Sam Short the favorite as the qualifying leader at 3:42.44, fastest in the world in 2023. He led from the start, but never by much over Tunisia's Tokyo Olympic champ, Ahmed Hafnoui. Short was up by 0.21 at 200 m, and 0.14 at 300 m, but Hafnoui grabbed the lead at the final turn by 0.07! Short was just a little faster in the final meters and touched first in 3:40.68, moving to no. 4 all-time with the eighth-fastest swim ever. Hafnoui was just 0.02 back, now no. 5 all-time; these were the fastest swims since 2012. German Lukas Martens was third in 3:42.20.
Next up was the much-awaited women's 400 m Free, with Canada's new world-record holder Summer McIntosh – still just 16 – facing Tokyo Olympic champ Ariarne Titmus (AUS) and Rio 2016 gold medalist Katie Ledecky of the U.S. This was not that close, with Titmus flying from the buzzer and forging a lead over Ledecky that was 0.95 after just 100 m and grew to 1.68 by 300 m and Titmus roared home with a world record 3:55.38, shattering McIntosh's March mark by 7/10ths. McIntosh was second for most of the race, but was passed by Ledecky before the final turn, and Ledecky finished a solid second in 3:58.73. McIntosh tired in the final 50 m and was passed for the bronze by Erika Fairweather (NZL), 3:59.59 to 3:59.94. Fairweather becomes the fifth to ever swim under 4:00.0. Bella Sims of the U.S. was eighth in 4:05.37.
The men's 400 m Medley was another world-record assault, this time by France's Leon Marchand, the Arizona State star. He was gunning for Michael Phelps' last individual world mark – 4:03.84 from the 2008 Olympic Games – and led from the start.
Marchand was ahead of Phelps' splits right away, 0.26 after the Fly, but slower after the Back (-0.15), then turned in a brilliant Breaststroke leg to set up the record, ahead of Phelps by 2.77 seconds at 300 m and then finishing in 4:02.50, crushing Phelps' mark by 1.34.
Behind Marchand was American Carson Foster, who was alone in second and repeated his 2022 medley silver in 4:06.56, exactly the same time he swam in Budapest last year! He remains no. 4 on the all-time U.S. list and no. 8 all-time. Daiya Seto, Japan's three-time World Champion, won the bronze at 4:09.41; American Chase Kalisz, the Tokyo Olympic winner, was fourth in 4:10.83.
The women's 4×100 m Free was only a question of whether Australia would set another world record and the quartet of Mollie O'Callaghan, Shayna Jack, Meg Harris and Emma McKeon had no trouble on their way to a 3:27.96 runaway world record, breaking their own mark from Tokyo in 2021 by 1.73 seconds. It's the fifth straight world record for Australia in this event and Aussie teams have the top eight marks in history.
The U.S. was second in 3;31.93, the no. 4 performance in U.S. history, with Gretchen Walsh fifth after the first leg, but Abbey Weitzeil moving up to third, Olivia Smoliga remaining in third and Kate Douglass passing China's Yufei Zhang in the final 50 m to win the silver. China was third in 3:32.40, an Asian record.
The final race was the men's 4×100 m Free and while not a record, Australia got a sensational anchor from Rio 2016 100 m Free winner Kyle Chalmers (46.96) to go from third to first on the final lap to win in 3:10.16, the no. 15 performance in history. Italy, despite a 47.03 anchor from Thomas Ceccon, was second in 3:10.49, and the U.S. was third in 3:10.81. Ryan Held got the Americans off to a slow start in fourth (48.16) and Jack Alexy was sixth (47.56), but Chris Guiliano (47.77) moved up to second before Matt King's 47.32 anchor, with Chalmers passing both he and Ceccon.
Great start for Australia (4-0-0) and the U.S. also won four medals (0-3-1) with a whole week of racing coming up.
¶
Diving concluded with China looking sure to repeat with a clean sweep of all 13 events. It didn't happen.
China's defending champion Yiwen Chen and Yani Chang, the 2022 bronze medalist, went 1-2 as expected in the women's 3m Springboard at 359.50 and 341.50, with Canada's Pamela Ware third (332.00). Hailey Hernandez of the U.S. was sixth at 307.15 and Sarah Bacon also made the final, finishing 293.20.
That was followed by the Mixed 3 m Synchro, with Zifeng Zhu and Shan Lin winning by 326.10 to 307.38 over Australia's Domonic Bedggood and Maddison Keeney (307.38). Americans Jack Ryan and Krysta Palmer finished eighth at 263.88.
The final event was the men's 10 m Platform, with China's defending champion Junjie Lian and 2022 Worlds bronze winner Hao Yang looking strong, but Australia's 22-year-old Cassiel Rousseau – the 2022 Commonwealth Games champion – moving up from second in the semifinals (494.10) to win at 520.85!
Lian scored 512.35, almost seven points more than in the semis, but was undone by his fifth five of six, where he scored only 70.20, where is next-lowest score had been 81.60. Yang took the bronze at 504.00; Maxwell Flory was the top American, in 16th and did not advance to the finals.
¶
In Artistic Swimming, China won its second gold in the Team Free, scoring 329.1687, clearly ahead of Japan (317.8085) and Ukraine (256.2415). And the Chinese finished with a flourish, as Wentao Cheng and Haoyu Shi took the Mixed Duet Free, 225.1020 to 192.5500 over Mexico's Itzamary Gonzalez and Diego Villalobos. For Cheng, it was her third Worlds medal in Fukuoka, with another gold in the Team Acrobatic and a bronze in the Mixed Duet Technical.
¶
In the men's water polo tournament, Greece handed the U.S. a 15-14 loss in their final Group A match, coming back from an 11-7 deficit with a 7-3 outburst in the fourth quarter.
The other group winners, who moved – with Greece – to Tuesday's quarterfinals, included Italy (3-0 in Group B), Hungary (3-0 in C) and Spain (3-0 in D).
That sent the Americans into the play-in round vs. Canada (1-2) on Sunday, and the U.S. moved on, 13-10, and will play Hungary in the quarters. Greece will face Montenegro and Italy will play Serbia in the top half of the bracket, and Spain will play France, with the winner to get the U.S. or Hungary.
The women's tournament had the play-in round on Saturday, with Italy (3-1) clubbing New Zealand, 14-7, and moving on to play the four-time defending champion U.S. on Monday. The Netherlands will play Canada (3-1), Greece (3-0) will face Australia (3-1) and Hungary (3-0) will play Spain (3-1).
4.
Spain, U.S. most impressive in World Cup openers
The U.S. opened the 2019 Women's World Cup with a 13-0 rout of Thailand, but those days appear to be over, judging by the opening matches of the 2023 FIFA Women's World Cup in Australia and New Zealand.
Tight defense, more speed and better organization were evident in lesser-ranked teams and Jamaica earned a first-ever Women's World Cup point with a 0-0 draw against fifth-ranked France on Sunday.
Spain scored three first-half goals and cruised past Costa Rica, 3-0, and the U.S. also won its game, 3-0, against Vietnam in the most impressive performances of the first few days. Group openers continue on Monday and a second round of games begins on Tuesday. Game by game:
● Group D: Spain 3, Costa Rica 0 ● The Spanish held 80% of possession in this game in Wellington (NZL), and the pressure paid off with a 21st-minute own goal by defender Valeria del Campo, then a second in the 23rd by midfielder Aitana Bonmati from the center of the box and a third in the 27th by striker Esther Gonzalez from in front of the net off of a corner. Game over.
At the end, the statistics showed Spain – one of the tournament favorites – with 46 shots to one for Costa Rica. A favorite Spanish statistic demonstrated its dominance: 521 completed passes to 76 for Costa Rica.
● Group E: United States 3, Vietnam 0 ● There was little doubt about the outcome of this game in Auckland (NZL), but the U.S. was challenged, before a big crowd of 41,107 at Eden Park.
The first half was essentially all played in Vietnam's half of the field, with the U.S. pressing the offense, but having trouble finishing. Sophia Smith got the first score in the 14th minute on a left-footed blast that went to the far right side of the net off an Alex Morgan flick-on from the top of the box that gave Smith the space to shoot. 1-0.
The U.S. continued on the attack, but without much to show for it. Defender Hoang Thi Loan tripped Trinity Rodman in the 39th going for a ball near the endline and was called for a penalty. But the dependable Morgan had her left-footed penalty shot saved by keeper Tran Thi Kim Tranh, and then Morgan's right-footed try on the rebound went wide.
It looked like it would be 1-0 at half, but deep into stoppage time, another long U.S. shot was punched out by Thi Kim Tranh, with Morgan appearing to be offside. But Smith sent another left-footer toward the goal that went through the legs of the diving Vietnamese keeper for a 2-0 lead after a long video review at 45+7. The U.S. had 66% of possession – it seemed like more – and a 17-0 lead on shots.
More of the same in the second half. Midfielder Lindsey Horan missed an open volley into the net in the 49th, then got the third goal in the 77th, as Smith sent a perfect cross from the right side into the middle of the box, and Horan brought it down and finished with a powerful right-footed shot through two defenders. Substitute midfielder Rose Lavelle slammed a shot off the crossbar in the 86th and then missed a header at 90+7 for the best late opportunities for the Americans. The U.S. ended with 66% possession and 28-0 on shots.
● Group C: Japan 5, Zambia 0 ● Lots of talk about Zambia following its surprise 3-2 win over Germany in a friendly on 7 July, but Japan was clearly the better team in a 5-0 rout in Hamilton (NZL).
The first half was scoreless until forward Hinata Miyazawa clubbed a cross from fellow forward Aoba Fujino into the net on a right-footed shot from the center of the box and it was 1-0 at the half.
The game opened up for Japan in the second half, as striker Mina Tanaka got a 55th-minute goal and Miyazawa scored again in the 62nd for a 3-0 lead. The game was over, and midfielder Jun Endo added to the lead in the 71st and finally substitute striker Riko Ueki scored on a penalty at 90+11 after Zambian keeper Catherine Musonda was called for a second yellow card, meaning she was disqualified.
How bad was it? Japan had 60% of possession and a 25-0 lead on shots, including 11 on goal.
● Group D: England 1, Haiti 0 ●The highly-regarded English had a tough time with Haiti in Brisbane (AUS), which had only 25% of possession, but got brilliant goal-keeping from Kerly Theus, and was fast and agile on defense.
The only goal came on a hand-ball call on Haiti defender Batcheba Louis in the box, that sent Georgia Stanway to the penalty spot. Her attempt was saved by Theus, who came off her line early and Stanway got a second try. This time she scored on a right-footed shot to the left side of the net in the 29th. The English piled up a 21-7 edge on shots and 11-2 on shots-on-goal, but did not score during run-of-play.
English keeper Mary Earps had to make a late save to preserve the win against substitute striker Roseline Eloissaint in the 81st minute. The chattering about the Lionesses is fully underway.
● Group D: Denmark 1, China 0 ● A tight match in Perth (AUS) was finally decided in the 89th minute as substitute forward Amalie Vangsgaard scored with a header from the center of the box off a cross from striker Pernille Harder.
Although Denmark controlled possession, scoring chances were harder to come by. Forward Josefine Hasbo's header in the 52nd went over the goal in front of an open net, and a flurry in the 75th saw one Danish shot go wide, another blocked and a third saved.
The Danes had 56% of possession and a 13-9 edge on shots, but most importantly got three points to stay even with England.
● Group G: Sweden 2, South Africa 1 ● While the game was controlled – as expected – by Sweden, South Africa was more than a challenge, taking the lead in the 48th minute as midfielder Hildah Magaia was right in front of the net to knock in a rebound off a left-to-right shot from striker Thembi Kgatlana.
But the joy was short-lived, as Fridolina Rolfo right-footed a perfect cross all the way across the goal from midfielder Johanna Rytting Kaneryd into the net in the 65th to tie the game. From there, it was a struggle for both sides, but in the 90th minute, forward Kosovare Asllani sent a corner kick right in front of the South African goal that was headed in by defender Amanda Ilestedt for the winning score, 2-1.
Played in a downpour in Wellington, the Swedes had 69% of possession and 15-10 edge in shots, but the South Africans were strong defenders and Sweden not as sharp as desired on their finishes.
● Group E: Netherlands 1, Portugal 0 ● Played in wet and windy conditions in Dunedin, the Dutch got an early goal thanks to a video review and made it stand up against a very limited Portuguese attack.
Defender Stefanie van der Gragt headed in a corner from the far side of the Portuguese net in the 13th minute, but the Netherlands was called for interference with the keeper, then overturned by a video review and the goal stood. It was the only score of the match, but the Dutch controlled 56% of possession and Portugal did not get a shot off in the first half and ended with just two on the game, to 12 for the Orange.
Portugal's first shot didn't come until the 82nd, but it was a beauty, on a drive into the box by striker Telma Encarnacao and a powerful shot that was punched away by keeper Daphne van Domselaar. But it wasn't enough; the Dutch will play the U.S. on Wednesday in a re-run of the 2019 Women's World Cup final.
● Group F: France 0, Jamaica 0 ● This was the surprise of Sunday, as Jamaica held fifth-ranked France scoreless in Sydney to get its first-ever point in a Women's World Cup.
The French controlled the game, with 72% of possession, but the speed and athleticism of the Jamaican players made life miserable in the final third and despite a 14-6 edge in shots, France could not score.
They got close, really close in the 90th, as forward Kadidiatou Diani sent a header across the goal from right to left, but hit the goalpost and the ball bounced away.
The game had 25 fouls, 15 by France, and the Jamaican defense helped keeper Rebecca Spencer with deflections and quick closes on French attacks that kept the game scoreless.
Monday's game continue group play: Italy vs. Argentina in Group G, Germany vs. Morocco in Group H, Brazil vs. Panama in Group F and Colombia vs. South Korea (Group H).
5.
Rare Grenoble '68 torch goes for $187,500 at auction!
The 396-lot RR Auction of Olympic memorabilia concluded on the 20th, with the rarely-seen Grenoble 1968 Winter Olympic Games torch – one of just 33 – selling for a spectacular $187,500, including the buyer's premium.
That was the top item among an impressive 25 that sold for $10,000 or more (including the buyer's premium):
● $93,748: Lake Placid 1980 Winter gold medal in Pairs
● $53,594: Los Angeles 1932 gold medal
● $43,750: Athens 1896 bronze medal
● $41,321: Albertville 1992 Winter torch
● $37,500: Lillehammer 1992 Winter torch
● $30,596: Athens 2004 gold medal in Boxing
● $28,125: Rio 2016 bronze medal in Boxing
● $25,000: London 2012 silver medal in Football
● $25,000: Berlin 1936 gold medal in Hockey
● $18,750: Sapporo 1972 Winter torch
● $18,750: London 1908 gold medal in Shooting
● $14,984: St. Louis 1904 participation medal
● $14,616: Athens 1934 Olympic Truce discus
● $14,271: Munich 1972 gold medal in Boxing
● $13,644: Mexico City 1968 flame safety lamp
● $12,501: Barcelona 1992 gold medal
● $12,501: Sydney 2000 bronze medal in Javelin
● $12,501: Beijing 2008 bronze medal in Decathlon
● $11,534: Tokyo 2020 torch
● $10,980: Amsterdam 1928 bronze medal
● $10,330: Rome 1960 silver medal in Canoeing
● $10,208: Garmisch 1940 Winter participation pattern medals
● $10,001: Los Angeles 1932 silver medal
● $10,000: Athens 2004 silver rmedal in Boxing
The Lake Placid Pairs medal was awarded to Soviet skater Alexander Zaitsev; the Athens 2004 gold was for the heavyweight class won by Cuba's Odlanier Solis. The track & field medals from Sydney 2000 (javelin) and Beijing 2008 (decathlon) went to Russian Sergey Makarov and Cuban Leonel Suarez.
The Athens 1896 bronze medal was for second place; winners in the first modern Olympic Games received silver medals and third-place finishers got a handshake. The Garmisch 1940 Winter Games participation medal pattern samples are especially rare since the event was canceled due to World War II.
Another Olympic flame safety lamp – this one for the Sochi 2014 Winter Games – sold for $7,563. A collection of 900 unused season tickets (!) for the 1932 Olympic Games in Los Angeles, in five different sports, went for $4,999. A seat from the Lake Placid Arena from the "Miracle on Ice" game at the 1980 Winter Games, signed by members of the U.S. team sold for $3,750.
The most unusual item? Might be from the estate of Canadian International Olympic Committee member James Worrall: a collection of 62 neckties – 21 in original boxes – that went for $443.
≡ WORLD CHAMPIONSHIPS ≡
● Basketball ● The two-time defending champion U.S. women cruised into the final of the FIBA women's U-19 World Cup in Madrid (ESP), then faced the home team on Sunday.
The U.S. had an 18-13 lead at the quarter, but the game was tied at half, 34-34. It was still a two-point game at the end of three quarters. Spain tied it at 54, then a jumper from forward Grace van Slooten jumper and a layup and free throw by forward Cotie McMahon gave the U.S. a five-point edge with 7:26 to play. But the Spanish closed to 62-61 and finally tied the game at 66 with 45 seconds left. The U.S. missed two shots in a row, got both offensive rebounds and McMahon made a layin with 28 seconds to go for a 68-66 lead and after guard Kira Rice added a late free throw, the Americans had a 69-66 win and the trophy.
McMahon led the U.S. with 16 points, with forward Chloe Kitts adding 15 and nine rebounds Sub forward Madison Brooks led the rebounding with 10. Point guard Iyana Martin led Spain as usual with 19 points, and guard Elena Buenavida had 16. Martin was named Most Valuable and was joined on the all-tournament team by forward Joyce Edwards and guard Hannah Hidalgo of the U.S.
The American women won their group-match games by 85-66 over Mali, 100-46 against Germany and 112-49 against Chinese Taipei, moving on to the round-of-16 playoffs and a 112-36 rout of Argentina.
Edwards scored 20 to lead the U.S. in scoring for the third time in five games in a 121-61 win over the Czech Republic in the quarters, with Rice and Van Slooten scoring 13 each in the 80-57 win in the semifinals against France.
Spain, Japan and Canada also went 3-0 in their groups, with the French eliminating Japan and both the Spanish and Canadians sailing through to the semifinals at 5-0. This was a tight game, with Spain leading at half, 40-36, and extending the lead to 58-47 after three quarters. But the lead was down to 67-64 with 3:19 to play, and 69-68 with 1:42 left, until Martin took over, with a steal, multiple rebounds and seven free throws to finally seal a 77-70 win. She finished with a game-high 24 points in just 29 minutes off the bench.
This was the U.S.'s third title in a row and tenth overall, including nine of the last 10. It's the third time the U.S. has beaten Spain in the final, previously in 2009 and 2011.
Canada got the bronze medal with an 80-73 overtime win over France.
≡ PANORAMA ≡
● Athletics ● Jamaica's Shelly-Ann Fraser-Pryce showed that she is getting ready to defend her women's 100 m title at the World Athletics Championships with a 10.83 (wind: -0.1 m/s) win in Madrid (ESP).
Fraser-Pryce had a good start, but then ran away from the rest of the field, with Spain's Jael Bestue a distant second in 11.10. It's Fraser-Pryce's second meet of the year, behind her 10.82 (+0.3) in Luzern (SUI) on 20 July.
There were other good marks, starting with strong hurdle wins from Megan Tapper (JAM) in 12.69 over Tonea Marshall of the U.S. (12.74 (+0.3) in the 100 m hurdles and a seasonal best of 53.79 for American Anna Cockrell in the 400 m hurdles, now equal-7th on the year list.
Worknesh Melese (ETH) won the women's 800 m in a season's best of 1:58.75 and Brenda Chebet (KEN) took the 1,500 m in 4:01.85.
France's Gabriel Tual won the men's 800 m in a seasonal best of 1:44.46 from Cornelius Tuwei (KEN: 1:44.70) and Adrien Ben (ESP: 1:44.72) and Switzerland's Jason Joseph equaled his national record to win the 110 m hurdles in 13.10 (+0.3). Jamaica's Rajindra Campbell set a national record in the shot, winning at 22.22 m (72-10 3/4).
● Cycling ● Denmark's Jonas Vingegaard rode into Paris on Sunday to win his second straight Tour de France, having to fend off 2020-21 winner Tadej Pogacar (SLO) in the process.
The critical difference came in two stages, the Individual Time Trial in Stage 16, where Vingegaard routed the field and increased his lead from 10 seconds to 1:48, and in the brutal Stage 17, where Pogacar was unable to respond on the final ascent to the 2,300 m Col de la Loze and Vingegaard's lead increased to an insurmountable 7:35.
On the weekend, the hilly, 172.8 km Stage 19 ended with a sprint including Stage 18 winner Kasper Asgreen (DEN), but it was Matej Mohoric (SLO) who got the win at the line in 3:31:02, with Ben O'Connor (AUS) four seconds back. Saturday's final climbing stage was 133.5 km with four climbs, including 1,179 m Col du Platzerwasel at the end, with a redemptive win for Pogacar in a five-way battle with the other major contenders. Pogacar won in 3:27:18, ahead of Stage 17 winner Felix Gall (AUT), Vingegaard and Simon Yates, with brother Adam Yates seven seconds back.
Vingegaard entered Sunday's 115.1 km ride into Paris with a 7:29 lead on Pogacar, with Adam Yates 10:56 back and Simon Yates at +12:23. The expected final, mass sprint ended with Belgium going 1-2, as Jordi Meeus got his first-ever Tour stage win, denying Jasper Philipsen a fifth stage win this year in 2:56:13. Philipsen won Points classification for the best sprinter, taking home the green jersey.
Vingegaard finished in 82:05:42 over the 21 stages, with Pogacar 7:29 behind, followed by Adam Yates (GBR: +10:56) and Simon Yates (GBR: +12:23) and Carlos Rodriguez (ESP: +13:17).
The Dane, 26, took the race lead after Stage 6, ironically a Pogacar win, and held it throughout the remainder of the race. He's the 22nd to win multiple Tour de France titles; only nine have won three or more, with Britain's Chris Froome the most recent in 2013-15-16-17.
Vingegaard and Pogacar finished 1-2 for the second straight year; that hadn't happened since 1978 and 1979. But as Vingegaard was second to Pogacar in 2021, the same riders finished 1 or 2 for the third straight year, which was a first.
Vingegaard said he will race in the Vuelta a Espana starting 17 August; that double hasn't happened since Froome did it in 2017.
¶
The Tour de France Femmes got underway on Sunday with a 123.8 km route in and around Clermont-le-Ferrand, with Belgian star Lotte Kopecky taking off on the final hills 10 km out and riding away to a 41-second win in 3:04:09. Dutch stars Lorena Wiebes, Charlotte Kool and Marianne Vos finished 2-3-4 and favorite Annemiek van Vleuten (NED) was 13th, 43 seconds back.
The eight-stage race continues through the 30th, finishing with an Individual Time Trial in Pau.
● Gymnastics ● The final stop in the 2023 FIG Rhythmic World Cup series was in Milan (ITA), with 2022 Worlds runner-up Darja Varfolomeev (GER) taking the All-Around over home favorite and World Champion Sofia Raffaeli, 137.200 to 136.700. Bulgaria's 2022 Worlds A-A bronze winner Stiliana Nikolova and teammate Boryana Kaleyn were 3-4 at 135.050 and 130.950. Alexandria Kautzman was the top American in 25th (119.050) with Lili Mizuno in 27th (118.800).
Rafaelli got a popular home win in Hoop, 35.900 to 35.250 over Ukraine's Viktoriia Onopriienko, with Varfolomeev third, and then the German topped the victory stand in Ball (35.850), and Clubs (34.000), with Raffaeli second (33.500). Onopriienko came back with an impressive win in Ribbon, scoring 32.500 to best Kaleyn (31.700) and Varfolomeev (30.500).
● Volleyball ● The U.S., Japan and Poland all led the FIVB men's Nations League round-robin standings at 10-2 and, lo and behold, they were the teams to beat at the Nations League finals in Gdansk, Poland.
The U.S. had a tough time with France, going up 2-0 before being tied and having to win the fifth set, 15-9, to advance to the semifinals. Japan and Poland swept Slovenia and Brazil, respectively, to set up their semifinal. Powered in part by a home crowd of 10,483, Poland lost the first set, then stormed back to win, 3-1 and move on to the final (19-25, 28-26, 25-17, 25-21).
The Americans were up against Italy (10-3) and had no trouble advancing, 25-19, 25-18, 25-19.
The final matched teams which had not yet won a Nations League title; the U.S. was runner-up in 2019 and 2022, with Poland finishing second in 2021 and winning bronze medals in 2019 and 2022. An even bigger crowd of 10,621 cheered the Poles to a 3-1 win, 25-23, 24-26, 25-18, 25-18, with Opposite Lukasz Kaczmarek scoring 25 points on 23-35 swings and Outside Hitter Alexsander Sliwka adding 14. For the U.S., Outside Hitter Torrey Defalco and Aaron Russell led with 14 and 11 points and Opposite Matthew Anderson had 10.
Polish Libero Pawel Zatorski was named Most Valuable; American Micah Christiansen was named Best Setter and David Smith shared the award for top Middle Blocker.
In the third-place match, Japan was up 2-0, but had to rally in the fifth set to beat Italy, 25-18, 25-23, 17-25, 17-25, 15-9.
¶
You can receive our exclusive TSX Report by e-mail by clicking here. You can also refer a friend by clicking here, and can donate here to keep this site going.
For our updated, 787-event International Sports Calendar (no. 3) for 2023 and beyond, by date and by sport, click here!