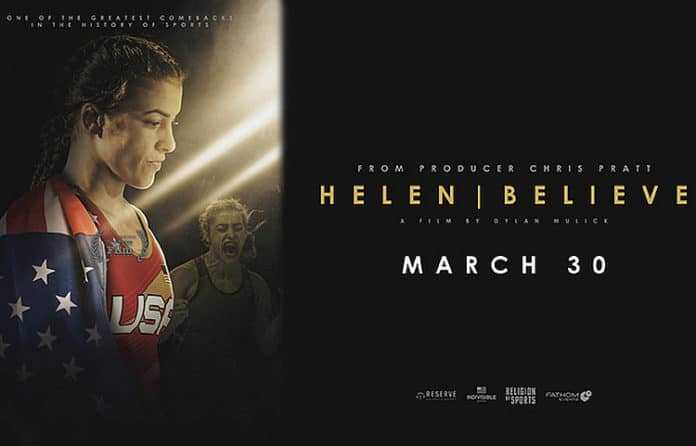 ★ The Sports Examiner: Chronicling the key competitive, economic and political forces shaping elite sport and the Olympic Movement.★
★ To get The Sports Examiner by e-mail: sign up here! ★
≡ THE 5-RING CIRCUS ≡
1. IOC reports "new interest" in 2030 Winter Games
2. IOC to prepare report on IBA activities for further action
3. Teen McIntosh shatters Titmus' 400 m Free world record
4. FIFA removes Indonesia as men's U-20 World Cup over Israel
5. HELEN | BELIEVE documentary on Rio star Maroulis in theaters
At the International Olympic Committee's Executive Board meeting on Wednesday, no decision was reached on a timetable to elect the host of the 2030 Winter Games, as the IOC's Future Hosts Commission works on the organization's future strategy. But the number of parties showing new interest in 2030 has expanded and is increasing. The Executive Board also rejected criticisms by the International Boxing Association about "poaching its officials" for Olympic qualifying events and commission a thorough staff review of the IBA in advance of future actions with or to the federation. In Toronto, Canadian teen phenom Summer McIntosh smashed the world record in the women's 400 m Freestyle at the Canadian World Championships trials, removing Australia's Ariane Titmus from the list. Because of the stated unwillingness of the pro-Palestinian Governor of Bali to have Israel play in the FIFA World U-20 World Cup in Indonesia, FIFA took back the tournament and will play it elsewhere. Sanctions against the Indonesian federation were not announced, but will be coming later. On Thursday (30th), some 700 theaters nationwide will screen "HELEN | BELIEVE," a documentary about the return of U.S. wrestling star and 2016 Olympic winner Helen Maroulis to the mat after suffering through a concussion and other injuries that looked like they would end her career before the Tokyo Games in 2021.
● Panorama: Paris 2024 ("Olympic law" passed by National Assembly) = American Football (IFAF recommended for IOC recognition) = Athletics (Mboma to take hormones to reduce testosterone levels) = Cycling (Laporte and Vollering win Dwars door Vlaanderen) = Fencing (323 fencers from 28 countries protest Russia-Belarus re-entry) = Figure Skating (ISU Worlds draw solid audience on NBC) = Football (big audience for Mexico-Suriname!) ●
● Errata: Apologies for an error in early versions in Wednesday's post, mis-spelling the name of International Olympic Committee member and Paris 2024 Coordination Commission head Pierre-Olivier Beckers-Vieujant of Belgium. This has been corrected on the TSX site. ●
1.
IOC reports "new interest" in 2030 Winter Games
Wednesday's meeting of the International Olympic Committee Executive Board featured a report from the Future Hosts Commission for the Olympic Winter Games, asked last December to provide recommendations on the future of the Winter Games with regard to climate and winter sports, on the advisability of a rotation among hosts and whether a double award should be made for 2030 and 2034.
The IOC's Olympic Games Executive Director Christophe Dubi (SUI) told reporters that while the studies are ongoing, there is new enthusiasm among potential hosts for 2030 or later:
"These decisions from the [Executive Board] have created a true momentum and we have new interest – which are confidential at this stage – but we have a number of parties which have come to the table since those decisions, which is excellent news."
Dubi did not disclose exactly who or how many inquiries have come in, but did acknowledge the ready-made bid from 2002 host Salt Lake City:
"We have to respect the willingness of Salt Lake City. I think they have clearly indicated that 2034 is their preference. They also said, time and again, that they stand ready – in case – for 2030.
"However, with the decision from the Executive Board, we have – as I said before – a true renewed interest and it is incredibly reassuring. We have a number of parties and I am sorry if I cannot reveal who at this stage, but we have to respect this confidentiality."
So what now? Said Dubi:
"The question on the timing is interesting. First and foremost, the Future Host Commission has to respond to these three strategic questions that were posed to the Future Host. EB wants to know if rotation is a good idea, whether 2030 and 2034 makes sense, but also to look – and that's slightly more complicated – the development of winter sports.
"This work is ongoing. I would anticipate that, first, a report would be made to the Executive Board, then to the Session in Mumbai [in October] … which leads us to a calendar after Mumbai for the election.
"Now if you look at to those parties that come to the table at this point in time, these are very mature, winter markets. So, I'm definitely not worried with the timing, knowing that we're going to go to – as we have with Milano and Cortina – a region or a country that have the infrastructure and are used to organizing high-level events, being World Cups or World Championships. So, we're not pressed by time for the election."
Pressed for details, Dubi said that the number of "interested parties" has increased beyond Salt Lake City, Sapporo, Vancouver and Sweden and continues to expand to six and more. Asked why interest has picked up, Dubi cited (1) the new, heavy emphasis on the use of existing facilities which can be located in another region or even another country, and (2) the informal nature and low cost of the "continuous dialogue" process:
● "With Milano and Cortina, we demonstrate that we walk the talk. When we said we would use existing venues and existing capabilities, it truly works. … All those parties that come at the table, they do offer similar capacities. They are generally hosts of many World Cups and World Championships across the winter sports."
● Explaining that in the confidential, continuous dialogue, with the IOC doing a significant amount of work, "in the end, if it doesn't work, we don't move to targeted dialogue, no damage done. This is OK. We have all invested in a project: it flies, it doesn't fly. At least the parties can look across the table, in the eyes, and still remain good friends. So, no more losers as we painfully had at the time."
But Dubi also noted, "I think that the notion of rotation is, indeed, very appealing. … With the climatic conditions, the way they are evolving, there will be a limit to who can host in the future. If you project yourself in 2050, you probably see a picture that is different than today."
He confirmed that Vancouver remains in the discussions and that the Canadian Olympic Committee is readying another push for funding support from the Province of British Columbia and from the Canadian national government.
For Salt Lake City, more waiting, but still firmly positioned as the best bid currently on the table.
2.
IOC to prepare report on IBA activities for further action
The continuing war of words between the International Boxing Association and the IOC took an interesting off-ramp on Wednesday, with the IOC Executive Board taking no direct action, but setting the stage for the future.
No decisions were made, and the Executive Board sent a letter to the IBA leadership that "generally refuted" the accusations made by the IBA on 27 March over contacting referees and judges regarding working at Olympic qualifying events later this year.
Further, the IOC Director General, Christophe de Kepper (BEL) and Chief Ethics and Compliance Officer Paquerette Girard Zappelli (FRA) were asked:
"1. [T]o analyse all the elements available, in particular the Expert Reports, and determine whether there are still major concerns regarding IBA's practice and activities;
"2. [I]n the event that there are still major concerns regarding IBA's practice and activities, pursuant to the Olympic Charter, to take the following actions:
"a. notify IBA of the points of potential non-compliance and IBA's right to be heard in writing;
"b. prepare a comprehensive report regarding IBA's practice and activities on the basis of all available elements (including without limitation the Expert Reports and IBA's response) to be presented at a next IOC Executive Board meeting."
IOC spokesman Mark Adams (GBR) told reporters at Wednesday's news conference:
"To make it absolutely clear, the IOC does not have any problem with the sport of boxing itself, nor with the boxers – clearly not with the boxers – but there are problems with this suspended federation. …
"It's very clear to us that if the IBA pushes ahead with these proposals [for an investigation of the contact with officials], it will have quite some consequences."
The IBA specifically asked that Zappelli not be involved further, but lost out on that. They did ask for de Kepper, who will now be involved. Adams indicated that there had been a good response to the IOC's inquiries about officials' interest in participating in the qualifiers.
Observed: The IOC Executive Board decided to take a light touch with the IBA for now, but it clearly setting up – as it has before – a process by which the IBA can be sanctioned, or even excluded in favor of a different group.
The process and timing are important. The request for a report, including IBA replies, will take several months, but could be completed by the time of the next IOC Executive Board meeting from 20-22 June, allowing a vote to be taken, if needed, on actions against the IBA at the IOC Session in Mumbai (IND) in October. There is also an Executive Board meeting right before the Session as well.
Only a vote of the Session could remove boxing from the Paris 2024 program.
National boxing federations which are in opposition to the IBA and its leadership were waiting for a signal from the IOC at this meeting about the projected future for Olympic boxing, but got little firm direction as the Executive Board essentially kicked the can down the road. Adams, however, did say that the IOC has no issues with boxing as a sport, a good sign for its future on the Olympic program.
A peaceful protest was held outside of Olympic House and then in front of the Olympic Museum on Wednesday by several hundred supporters of the IBA, but it is not clear that it had any impact.
3.
Teen McIntosh shatters Titmus' 400 m Free world record
Everybody in the sport knew this was coming. But maybe not this quickly. Canada's 16-year-old phenom Summer McIntosh is now a world-record holder.
Competing at the Canadian World Championships Trials in Toronto, McIntosh won the women's 400 m Freestyle in a sensational 3:56.08, slashing 0.32 off of Ariarne Titmus' 3:56.40 from the 2022 Australian national championships.
She won by more than 12 seconds over Ella Jansen (4:08.81).
This is no coming-out party, as McIntosh won Worlds golds in 2022 in Budapest in the women's 200 m Butterfly and 400 m Medley, and was second to American star Katie Ledecky in the 400 Free (3:59.39). She was fourth in Tokyo in the 400 Free at age 14 in 4:02.42.
McIntosh flew through the first 200 m in 1:55.91 – no. 7 on the 2023 world list for that distance! – then slowed to 2:00.17 on the way home, enough to get the record. Ledecky now sits third on the all-time list at 3:56.46 from 2016.
Now training in Sarasota, Florida, McIntosh has entered the 200 m Medley (where she ranks equal-18th all-time), 200 m Fly (12th), 400 m Medley (3rd), and 200 m Free (8th) in the meet which concludes on Sunday.
4.
FIFA removes Indonesia as men's U-20 World Cup over Israel
Indonesia's implacable stance against Israel has caused it to be removed as the host of the FIFA men's U-20 World Cup, set to start in May. Wednesday's brief announcement gave few details, but included:
"Following today's meeting between FIFA President Gianni Infantino and President of the Football Association of Indonesia (PSSI) Erick Thohir, FIFA has decided, due to the current circumstances, to remove Indonesia as the host of the FIFA U-20 World Cup 2023. A new host will be announced as soon as possible, with the dates of the tournament currently remaining unchanged. Potential sanctions against the PSSI may also be decided at a later stage."
Thohir explained in a PSSI Web site post:
"Indonesia is a member of FIFA, so for international football matters, we must follow the rules that have been set. Even though I have conveyed everything to Gianni earlier, what was entrusted by the President, football lovers, the children of the U-20 national team, and also loyal football fans, but because we are members and FIFA considers that the current situation cannot be continued, we must submit."
Indonesia had guaranteed to FIFA that it would host all qualified teams when it was awarded the tournament. Sanctions against the Indonesian federation are sure to follow.
Israel qualified for its first appearance in the U-20 World Cup by finishing second in the 2022 UEFA U-19 Championship Group B, eventually finishing second overall. But Wayan Koster, the Governor of Bali, wrote to the national sports ministry, stating "We, the Bali Province administration, reject Israel's participation in Bali." He told reporters last Friday, "We refuse because Israel is disrupting or occupying Palestine."
Israel had been specifically placed in Bali as it is a Hindu-majority province, as opposed to the other five venues, all in Muslim-majority provinces. The head of the Bali Legislative Council commission overseeing tourism, Kresna Budi, said Tuesday he was in favor of hosting Israel:
"In our opinion, as representatives of the people, as hosts, we will respect any guests who come to Bali. It's not a matter of agreeing or disagreeing. Moreover, as hosts, we will respect any guests who come. That is the character of Balinese culture.
"After all, Bali belongs to everyone. We cannot be on one side."
The tournament is set to open on 20 May, with whispers of possible hosting by Argentina, Qatar or others.
5.
HELEN | BELIEVE documentary on Rio star Maroulis in theaters
The remarkable story of American Freestyle wrestler Helen Maroulis debuts on the big screen on Thursday only (30 March) in HELEN | BELIEVE, the story of her comeback from a concussion to compete at the Tokyo Olympic Games in 2021.
Maroulis was one of the American sensations of the Rio 2016 Olympic Games, becoming the first U.S. woman to win an Olympic gold medal in wrestling, defeating heavy favorite Saori Yoshida of Japan, the three-time Olympic champ and 13-time World Champion, at 53 kg
Maroulis won the 57 kg Worlds gold in 2017, outscoring her five opponents, 52-0. But she suffered a bad concussion in a match in India in January 2018, which limited her training and led to a stunning defeat at the 2018 Worlds, losing by pinfall to Azerbaijan's Alyona Kolesnik in her opening bout, in which she also sustained a shoulder injury that eventually required surgery.
She was really out of the sport until 2021 and made it back not just to competition, but to the Tokyo Games, where she won a bronze medal at 57 kg.
The story is documented by producer Chris Pratt, a wrestler himself in younger days, and written and directed by Dylan Mulick. The film runs 1:38 and the site to find a theater on Thursday is here.
≡ PANORAMA ≡
● Olympic Games 2024: Paris ● The French National Assembly passed the "Olympic law" by 400-93, allowing specific kinds of monitoring and surveillance measures to be used on a temporary basis through the end of 2024.
The language has to be coordinated with a similar bill that passed the Senate for the measure to become law. The text includes anti-doping measures, administrative investigations, emergency measures and a polyclinic in the Athlete Village.
● American Football ● Flag Football took an important step forward in its effort to eventually become part of the Olympic program with the IOC's announcement that the Executive Board recommended it for full status as a recognized International Federation:
"IFAF, which was granted provisional recognition by the IOC EB in 2013, has demonstrated that it has fulfilled all the necessary criteria in order to obtain full IOC recognition. …
"At present, IFAF can count on 74 affiliated National Federations on five continents, with an estimated number of almost 4.8 million registered athletes." The sport was a popular feature of the 2022 World Games in Birmingham, Alabama last summer.
Full recognition requires a vote by the IOC Session in India in October.
● Athletics ● The coach of Namibian sprint star Christine Mboma indicated that the Tokyo Olympic 200 m silver medalist would begin hormone therapy to lower her serum testosterone level while the Namibian federation lobbies for a change in the new World Athletics rules for women with Differences in Sex Development (DSD). Mboma coach Henk Botha (NAM) said in a radio interview:
"I'm very optimistic that Christine will be 100% competitive on the track. Christine feels the same way. We know her situation, and we know that Christine has a tremendous amount of speed and that is not from testosterone levels.
"We've had disappointments and some obstacles in the past. There's not a lot that we can do as Namibians, we'll have to take this one on the chin and do our best to get Christine back on the track."
Mboma ran 49.22 for 400 m as a 17-year-old in 2021 and moved to the 200 m when the World Athletics DSD rules did not allow women with high testosterone levels to run in events from 400 m to the mile. The new regulations, requiring levels of 2.5 nmol/L, come into effect this weekend and apply to all events. She owns the African women's record at 200 m of 21.78 from 2021.
● Cycling ● France's Christophe Laporte won his second straight on the busy UCI World Tour Classics circuit in Belgium on Wednesday, becoming the first Frenchman to win the Dwars door Vlaanderen in 15 years.
Laporte won the 77th Gent-Wevelgem race on Sunday right at the line from Jumbo-Visma teammate Wout van Aert (BEL), but was all alone after the hilly, 183.7 km route from Roeselare to Waregem. His final attack with 4 km to go broke away from the peloton and gave him a 15-second victory in 4:06:20 over the chase pack, led by runner-up Oier Lazkano (ESP) and American Neilson Powless, his second-best finish ever in a World Tour race.
Dutch riders had won the prior three editions of this race, but Laporte's win was the first by a Frenchman since Sylvain Chavanel in 2008.
The women's Dwars door Vlaanderen, a Women's Elite Pro race (a level below the World Tour), was won by Dutch star Demi Vollering, who raced away with 10 km left and scored a 38-second win over Chiara Consonni (ITA) and Marianne Vos (NED), among others, in 2:53:08 over 114.9 km.
● Fencing ● The International Fencing Federation has still not published an official notice of its online Congress from 10 March at which it authorized Russian and Belarusian athletes to compete once again, in accordance with the recommendations of the International Olympic Committee.
However, some 323 fencers – 315 of whom signed their name – protested the outcome in an open letter posted on Monday. Addressed to IOC President Thomas Bach and Interim FIE chief Emmanuel Katsiadakis, it included:
● "In your roles as presidents of the International Olympic Committee (IOC) and the International Fencing Federation (FIE), we turn to you regarding your efforts to allow Russian and Belarusian athletes to compete again in international sporting competitions. With complete disregard for athletes' voices, you have permitted both Russia and Belarus back into FIE competitions, as well as a suspected tournament hosted on Russian soil."
● "As long as Russia's war of aggression, aided by Belarus, wages on, both states' athletes and officials must remain excluded from world sport. Given the recent escalation of attacks against Ukrainian civilians, there should be no reason at this time to allow Russia and Belarus to be reintegrated into world sport. Integration would lay a precedent in which a nation can violate the values and rules of sport and international peace without fear of consequences."
● "The international community is acutely aware that for Russian and Belarusian athletes, there is no distinction between the athlete and the state. Not only have these athletes been encouraged to fight in the war by the Russian Olympic Committee, with a large majority of them holding military and law enforcement positions, but they are also beneficiaries of state funding – drawing their pay from Putin's war chest and thus making any separation between the state and the athlete implausible. Athletes were and will be instrumentalized for Putin's propaganda. Competing under a neutral flag has not proven to be a suitable sanctioning instrument in the past and is not suitable now."
● "Any suspension must reject the notion of neutrality and include the banning of all Russian and Belarusian athletes from international sport, including hosting events, qualifying for, and competing at the 2024 Paris Olympic Games until Russia withdraws completely from Ukrainian territory. We also expect an unequivocal commitment to support and protect peaceful anti-war protests and expressions of solidarity with Ukraine by athletes at international competitions."
● "The FIE is not fulfilling its duty of care for athletes, especially for Ukrainians. Your insufficient leadership in completely banning Russia and Belarus is being called out by athletes and civil society across the globe. You have chosen Russian and Belarusian interests over the rights of athletes, notably Ukrainian athletes, and by doing so, you are failing to support the very people your organizations are meant to support. This egregious, unprovoked war and its breach of the Olympic Truce cannot be ignored or rewarded. Returning to business as usual would be a catastrophic error and thus we again urge you to uphold the suspensions of Russia and Belarus."
The signees include U.S. Tokyo Olympic gold medalist Lee Keifer (women's Foil) and U.S. men's Foil Team bronze medal winners Alexander Massialas and Gerek Meinhardt. Fencers from 28 countries signed, including Argentina, Austria, Australia, Belgium, Brazil, Canada, Chile, Czech Republic, Denmark, Finland, France, Germany, Great Britain, Ireland, Israel, Italy, Japan, Mexico, the Netherlands, Norway, Poland, Puerto Rico, Spain, Sweden, Switzerland, Turkey, Ukraine, and the United States.
● Figure Skating ● The ISU World Championships got a mixed reception on U.S. television last week.
The NBC highlights show on NBC last Saturday at 8 p.m. Eastern time drew a nice audience of 1.317 million viewers, well ahead of the usual 1.0 million audience for prior events this season.
On cable on USA Network – all starting at 6 or 6:30 a.m. Eastern – the men's Short Program drew 133,000; the men's Free Skate had 160,000 viewers; the women's Short Program had 157,000 viewers and the women's Free Skate had 110,000.
● Football ● Some interest in the U.S. men's National Team match with Grenada in the CONCACAF Nations League last Friday, drawing 260,000 viewers on TNT.
On the other hand, the Nations League match with Mexico beating Suriname, 2-0, last Thursday drew 1.133 million on Univision! Wow!
¶
You can receive our exclusive TSX Report by e-mail by clicking here. You can also refer a friend by clicking here, and can donate here to keep this site going.
For our updated, 651-event International Sports Calendar (no. 2) for 2023 and beyond, by date and by sport, click here!