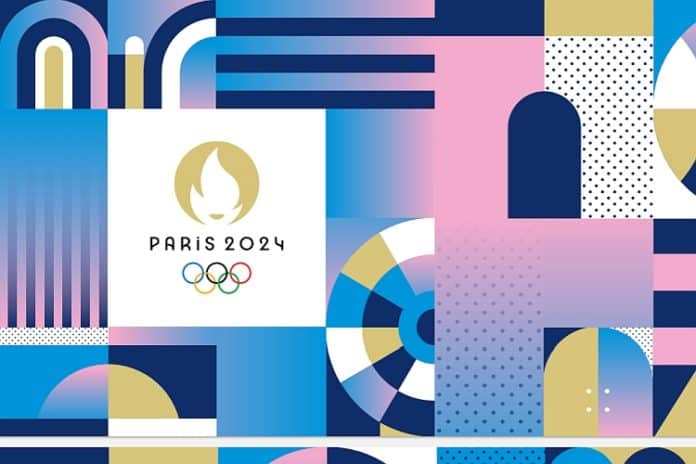 ★ The Sports Examiner: Chronicling the key competitive, economic and political forces shaping elite sport and the Olympic Movement.★
★ Yes! Thanks to 23 donors, we're at 59% of our summer fund-raising goal. Please help if you can. Your support is vital. ★
★ To get The Sports Examiner by e-mail: sign up here! ★
● Our new, 787-event International Sports Calendar of 2023 is out!
Download it now! ●
≡ THE 5-RING CIRCUS ≡
1. IOC says Russia and Belarus will not be invited to Paris
2. Russia: this isn't news, and stop asking us to be traitors
3. FIFA Women's World Cup sponsor giving away tickets in NZL
4. Another suspended sentence in Tokyo 2020 bribery scandal
5. Kersee says McLaughlin-Levone in 400, Mu in 800 at Worlds
The International Olympic Committee stated Thursday that it will not be issuing and invitation to attend the 2024 Olympic Games in Paris to either Russia or Belarus, and re-confirmed that it is ready to financially support Ukrainian athletes who wish to defy their government's edict to refrain from competing against Russians or Belarusians. Reaction in Moscow was a shrug, but questions about how individuals may be invited – and the timetable – remain unanswered. Sales of FIFA Women's World Cup tickets for the 29 matches in New Zealand have been slow, so one of the event's New Zealand sponsors is giving away 20,000 tickets in lots of 5,000 for each of four of the matches. The 10th conviction and sentencing in the Tokyo 2020 Olympic sponsorship pay-to-play scandal was handed down on Thursday, with another suspended sentence (as with all the prior nine). Superstar coach Bobby Kersee said that his stars Sydney McLaughlin-Levrone and Athing Mu will run the 400 m and 800 m, respectively, at the upcoming World Athletics Championships in Budapest, as the schedule is not conducive to doubling.
● Panorama: Olympic Games 2036 (Poland interested in hosting after Euro Games success) = Paralympics 2024 (RMC sponsors terrestrial and digital Paralympics channels) = Bobsled & Skeleton (Humphries loses harassment complaint review) = Boxing (Argentina and New Zealand leaving IBA) = Cycling (Izagirre solos to Tour stage win) = Gymnastics (Gabby Douglas returns to training) ●
1.
IOC says Russia and Belarus will not be invited to Paris
Hold on. Breathe. Nothing earth-shaking happened. But there was a modest announcement on Thursday from the International Olympic Committee, buried in a long revision of its continuing "Q&A regarding the participation of athletes with a Russian or Belarusian passport in international competitions."
Seven new sections were added as of Thursday (13th), mostly adulatory comments from outside groups that support the IOC's 28 March recommendation on the re-entry of individual Russian and Belarusian athletes as "neutrals." The IOC continues to vigorously promote its own version of the facts and how their approach is the right one.
The seventh and final added item was this:
"Will the Russian and Belarusian NOCs receive an invitation for the Olympic Games Paris 2024 when the invitations are sent on 26 July 2023?"
"The current IOC recommendations for International Federations and international sports event organisers on the participation of athletes with a Russian or Belarusian passport in international competitions do not concern the participation of athletes and their support personnel with a Russian or Belarusian passport at the Olympic Games Paris 2024 or the Olympic Winter Games Milano Cortina 2026. The IOC will take this decision at the appropriate time, at its full discretion, and without being bound by the results of previous Olympic qualification competitions.
"The invitations to the 203 eligible NOCs will be sent on 26 July 2023. For the reasons given, this will exclude the NOCs of Russia and Belarus, plus the NOC of Guatemala, which is currently suspended."
So, the National Olympic Committees of Russia and Belarus are not being invited to Paris, which is fully in line with the IOC's approach since the Russian invasion began in February 2022. But the question of "neutral" athletes is still to come.
The IOC's comments also struck out at the Ukrainian government and the Ukrainian National Olympic Committee, which has forbidden participation in events with Russian and Belarusian athletes, and again publicized its offer to help Ukrainian athletes who want to defy their government:
"The IOC wants to give them this opportunity to qualify and finally participate in the Olympic Games. Therefore, through the respective International Federations, the IOC will support every Ukrainian athlete in their preparation and participation in any competition that they want to take part in. Athletes who want to compete but would lose the support of their National Sports Federation and their National Olympic Committee because of government interference, can count on the direct support of the Olympic Movement's Solidarity Fund for the Olympic community of Ukraine and the IOC's athlete support programmes."
And the IOC clarified the situation concerning its two members from Russia, former tennis player Shamil Tarpishchev, 75, and women's vault world-record holder Yelena Isinbayeva:
"The situation of the IOC Members concerned will be assessed [by the IOC Ethics Commission] from the time of the invasion on 24 February 2022 and subsequently. Considering the second point, the past contractual situation of the Members before the beginning of the war will not be taken into consideration. These guidelines are being applied to both the IOC Members and Honorary Members."
Isinbayeva, 41, has long been associated with the Russian Army and has appeared in uniform in public; she has been reported with a rank as high as captain.
2.
Russia: this isn't news, and stop asking us to be traitors
The Russian response to the IOC's confirmation that it would not receive an invitation to Paris 2024 was, more or less, a shrug. Said Russian Olympic Committee President Stanislav Pozdnyakov:
"Today's news is a logical continuation of the IOC's current policy of neutralizing our athletes.
"In fact, nothing new has been announced. Nor is there any answer to the question: what are the legal grounds not to invite the NOC, which was not disqualified, not suspended and not subject to any restrictions.
"The International Olympic Committee from the outset ruled out the possibility of inviting the ROC and the NOC of Belarus to the Games, when in its March recommendations it in fact deprived the citizens of our countries of the right to national identity in sports.
"So now it would be highly strange if such an invitation occurred."
Pozdnyakov added that "the conditions and criteria put forward for Russian and Belarusian athletes are illegitimate, discriminatory, contrary to the spirit and letter of Russian and international legislation."
Russian Deputy Prime Minister Dmitry Chernyshenko told reporters that there are lots of questions for the IOC still to answer:
"Of course, we always hope to be invited, we do not reject anything on our own and are very happy when our athletes get a chance to participate.
"The question, though, is: in exchange for what? If in order to do so, one has to reject one's homeland and betray it, then, of course, it does not suit us. On top of those humiliations that the Anglo-Saxons dreamt up when they say: 'Compete under a neutral flag and without a national anthem,' now they are adding that one has to publicly condemn our decision to conduct the special military operation. Of course, we don't agree to this."
Chernyshenko said he did not see any sense in litigating the legality of the sanctions imposed on Russian sports at this time:
"What's the point? Of course, we are accumulating all the necessary documentation wherever possible in order for time to be our judge in the courts and it can be presented."
State Duma deputy Svetlana Zhurova, the Turin 2006 Olympic gold medalist in the women's 500 m in speed skating, told TASS:
"We have been waiting for this date for them to decide. But they are stalling for now. The IOC wants to find an opportunity for the Russians and Belarusians a little later so that the athletes can still participate in the Olympics. They are delaying this moment until the last moment, looking for ways. And they will drag it out until the last opportunity."
3.
FIFA Women's World Cup sponsor giving away tickets in NZL
Ticket sales in New Zealand for the FIFA Women's World Cup that begins on 20 July have been lagging, so sponsor Xero – a professional services firm – is giving away 20,000 tickets to matches there.
New Zealand is hosting 24 group-stage games and five play-off matches out of the 64 total matches in the tournament at four sites:
● Auckland (Eden Park: 48,276 capacity)
● Dunedin (Forsyth Bar Stadium: 28,744)
● Hamilton (Waikato Stadium: 25,111)
● Wellington (Wellington Regional Stadium: 39,000)
Xero announced that it will provide 5,000 free tickets for one match at each of the four New Zealand venues. The New Zealand women – in Group A – will play matches in Auckland, Wellington and Dunedin. The U.S. and the Netherlands – both in Group E – will play in Auckland, Dunedin and Wellington.
Total sales of 1.25 million tickets for the tournament have been report, but with only about 320,000 at the New Zealand sites.
4.
Another suspended sentence in Tokyo 2020 bribery scandal
As expected, another suspended sentence was entered in the continuing Tokyo 2020 sponsorship pay-to-play scandal. This time, the former head of the ADK Holdings ad agency, Shinichi Ueno, 69, was sentenced to two years in prison, with the sentence suspended for four years.
Ueno's firm was accused of paying around ¥14 million (~$101,440) to a consulting form owned by then-Tokyo 2020 Executive Committee member Haruyuki Takahashi, now 79, who played a leading role in the record-breaking Tokyo 2020 domestic sponsorship program. The payments were made from 2019-22; Ueno said the payments were made, but he did not think they were illegal.
Two others from his firm were previously convicted and received suspended sentences.
A total of 15 defendants are known to have been charged in the Takahashi-led Tokyo 2020 sponsorship scandal that surfaced in August of 2022. So far, defendants from Aoki Holdings (3 on 21 April 2023), ADK Holdings (2 on 11 May, 1 on 13 July), Sun Arrow Inc. (2 on 6 June), Kadokawa Publishing (1 on 4 July) and Amuse Consulting (1 on 4 July) have all received suspended sentences.
Executives from Daiko Advertising and the Commons 2 consulting form were also charged, but have not yet been tried. Takahashi has also not been tried yet. He has admitted receiving funds directed to his consulting company, but has denied any illegality.
These cases are separate from the bid-rigging scheme allegedly masterminded by Dentsu Inc. – in collusion with some Tokyo 2020 officials – concerning 26 bids for test event management and then venue management contracts for the Games period, which was publicly exposed in February 2023.
5.
Kersee says McLaughlin-Levone in 400, Mu in 800 at Worlds
Legendary coach Bobby Kersee told the Los Angeles Times that Sydney McLaughlin-Levrone will run the women's 400 m at the World Athletics Championships in Budapest, Hungary and that World women's 800 m Champion Athing Mu will defend her title in that event.
Kersee said of the possible 400 m/400 m hurdles for McLaughlin-Levrone:
"The double does not allow us, I think, the proper amount of time and recovery to do both and I think the bigger challenge would obviously be to see how we can do in the 400. We won our nationals, which is hard to win and we did it in good fashion, so I think that we want to continue moving forward with the challenge. …
"By no means does that mean we're giving up the 400 hurdles or whatever goals we might have in the future toward being an Olympic champion again in the 400-meter hurdles or challenging the world record in the 400-meter hurdles or what have you."
The time schedules for Budapest; first for McLaughlin-Levrone to try a 400/400H double:
● 20 August, 9:35 a.m.: women's 400 m heats
● 21 August, 6:50 p.m.: women's 400 m hurdles heats
● 21 August, 9:10 p.m.: women's 400 m semifinals
● 22 August, 8:25 p.m.: women's 400 m hurdles semifinals
● 23 August, 9:50 p.m.: women's 400 m final
● 24 August, 9:50 p.m.: women's 400 m hurdles final
That would be six races in five days, with a leg on the women's 4×400 m relay on Sunday, and perhaps Saturday as well.
For Mu, an 800-1,500 m double would have looked like:
● 19 August, 1:15 p.m.: women's 1,500 m heats
● 20 August, 5:05 p.m.: women's 1,500 m semifinals
● 22 August, 9:30 p.m.: women's 1,500 m final
● 23 August, 10:05 a.m.: women's 800 m heats
● 25 August, 8:25 p.m.: women's 800 m semifinals
● 27 August, 8:45 p.m.: women's 800 m final
As noted above, the women's 4×400 m relay final is also on 27 August, an hour after the finish of the 800 m final. So if Mu was trying the double, she would be running the 800 m final as her sixth race of the meet in eight days.
Mu's withdrawal from the 1,500 m will allow 2022 U.S. champion Sinclaire Johnson to run in Budapest; she finished fourth last week in 4:03.49, just 0.01 behind third-placer Cory McGee.
Kersee added that while McLaughlin-Levrone will compete at the Monaco Diamond League meet on 21 July, Mu may not compete again until the Worlds.
≡ PANORAMA ≡
● Olympic Games 2036 ● In an interview last week with Polskie Radio, national Sports Minister Kamil Bortniczuk said that the successful hosting of the European Games in Krakow and Malopolska makes Poland a legitimate candidate to host a future Olympic Games:
"By successfully holding the 2023 European Games, we have made a giant step towards assuring the sports community that Poland is capable of being a brilliant host of various multi-sport events.
"We should apply to organise the first Olympic Games that are available, which means the 2036 Olympics … Poland has a sufficient level of economic development, sufficient budgetary resources and sufficient experience, in part thanks to the 2023 European Games.
"Quite simply, we can do it.
"It's a political decision. I will be urging for such a decision to be made."
Bortniczuk also noted the support of the European Olympic Committees and its President, Spyros Capralos (GRE):
"The EOC President said that by successfully hosting the 2023 European Games, Poland proved it was also ready to organise winter or summer Olympics. This view is shared by a great many people who got an inside look at the 2023 European Games."
Poland will join a long line of candidates for 2036; the 6,857-athlete, 29-sport European Games was the largest sporting event ever held in Poland and Capralos said it "exceeded our expectations."
● Paralympic Games 2024: Paris ● Pretty interesting sponsorship news as RMC – formerly Radio-Monte-Carlo – has committed to be an "official radio partner" of the 2024 Paralympic Games. It's all about programming:
● "The Paralympic Games are the biggest showcase for persons with disabilities on the world stage, and as part of the deal, RMC will be launching a Paralympic digital radio station that raises awareness of the Paralympic disciplines and Para sport."
● "RMC will be offering its listeners an exceptional programme to enable them to follow the entire competition, including dedicated broadcasts, prestigious guests (French Para athletes and medal winners), live commentary, and results in real time."
● "The entire competition will be available on digital radio, accessible via the RMC app and website. With a view to raising awareness of the Paralympic disciplines and Para sport in general, RMC is committed to creating educational digital content, both before and during the event."
So, this is radio on both the terrestrial and digital level, an interesting experiment in extending the Paralympic message. RMC is also a broadcaster for the 2024 Olympic Games, but has not proposed anything of this breadth for its Olympic coverage.
● Bobsled & Skeleton ● The long-running abuse case filed by Olympic star Kaillie Humphries was rejected once again. As announced this week:
"The current Bobsleigh Canada Skeleton Board of Directors has examined the independent report following the independent investigation of the harassment and discrimination complaint submitted by Ms. Kaillie Humphries.
"The independent report determined there was no evidence that any of the allegations constituted harassment and found no fault in BCS's handling of this matter."
Humphries filed her original complaint against coach Todd Hays (an American Olympic silver medalist in 2002) in July of 2018, alleging "I was verbally and mentally abused by our Head Coach Todd Hays. The part that got me was that while I expressed concern throughout the entire season for specific incidents, nothing was ever done about it by the people who are supposed to keep us safe."
Humphries, an Olympic gold medalist for Canada in 2010 and 2014 in the two-woman sled, demanded her release in August 2019, which was granted and she began working with the U.S. team, winning an Olympic Monobob gold at the Beijing Winter Games in 2022.
● Boxing ● The national federations of Argentina and New Zealand have signaled their withdrawal from the International Boxing Association and their intention to join the new World Boxing group.
The InsideTheGames site reproduced a letter from the Argentine federation to the IBA, noting the IOC's withdrawal of recognition, which included:
"Unfortunately, IBA and AMBC [the American Boxing Confederation] could not find a solution in line with the IOC's recommendations and thus avoid this total failure in the eyes of our athletes and the Olympic Family, being the first International Federation, which was expelled."
● Cycling ● Stage 12 of the 110th Tour de France was a win for Spain's Ion Izagirre, who celebrated his second career Tour stage win, but his first in seven years!
This was a hilly, 168.8 km course, but Izagirre attacked with about 31 km left, on the final climb of the day on the Col de la Croix Rosier, and soloed to the win. He finished in 3:51:42, a startling 0:58 up on Mathieu Burgaudeau (FRA) and Matteo Jorgenson of the U.S.
The overall leaderboard did not change. Two-time winner Tadej Pogacar (SLO) and Denmark's Jonas Vingegaard, the defending champ, finished 12th and 16th in the same time, some 4:14 back and remained locked in a two-man duel. Vingegaard leads by 17 seconds, with Jai Hindley (AUS) third and 2:40 behind.
That could change on Friday, with a brutal, uphill finish from 248 to 1,495 m atop the Grand Colombier over the last 18 km of the 137.8 km route. Not for the faint of heart.
● Gymnastics ● Gabby Douglas, the 2012 Olympic women's All-Around champion, announced on Instagram on Thursday that she is returning to training:
"for many years, i've had an ache in my heart
"but i didn't want to keep carrying anger, pain, sadness, or regret and through my tears and hurt, i've found peace.
"i wanted to find the joy again for the sport that i absolutely love doing.
"i know i have a huge task ahead of me and i am beyond grateful and excited to get back out on the floor
"and even more grateful for all of your support and love. it truly means so much [heart] there's so much to be said but for now…. [muscled arm] [smiley face] let's do this #2024″
Douglas, now 27, last competed at the Rio Olympic Games in 2016, winning a Team gold and scoring high enough to compete in the All-Around final, but as the third American, was not allowed to compete.
¶
You can receive our exclusive TSX Report by e-mail by clicking here. You can also refer a friend by clicking here, and can donate here to keep this site going.
For our updated, 787-event International Sports Calendar (no. 3) for 2023 and beyond, by date and by sport, click here!