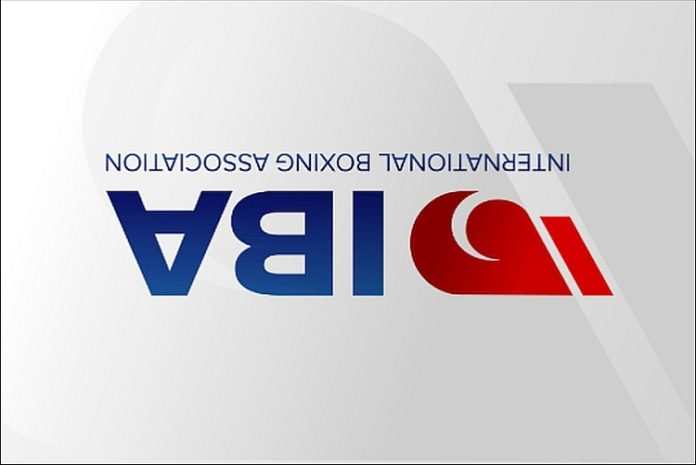 ★ The Sports Examiner: Chronicling the key competitive, economic and political forces shaping elite sport and the Olympic Movement.★
★ Friends: If you would like to support our coverage, please donate here. Your enthusiasm is the reason this site continues. Thank you. ★

★ To get The Sports Examiner by e-mail: sign up here! ★
≡ THE 5-RING CIRCUS ≡
1. IOC Exec Board recommends IBA out, boxing in for '24
2. IBA calls IOC action "truly abhorrent and purely political"
3. World Rowing to allow Russian and Belarusian pairs
4. FIFA details $152 million Women's World Cup distribution
5. Austin 9.89, Onwuzurike 19.76 in NCAA semis in Texas!
The International Olympic Committee Executive Board announced, after a quickly-scheduled meeting, that it is recommending that its recognition of the International Boxing Association be withdrawn, to be confirmed by a special Session of the membership on 22 June 2023. A 24-page report cited multiple reasons for the decision, in governance, finance and refereeing and judging. The IBA, in response, was furious and indicated it would seek a challenge in a competent court. World Rowing announced that it would allow "neutral" Russian and Belarusian athletes to compete in its World Championships, but nowhere else. The federation will allow entries in the Single Sculls and the Coxless Pairs, but not in Double or Quadruple Sculls, or in Fours or Eights. FIFA divulged its distribution scheme for the upcoming Women's World Cup, with all players to receive at least $30,000 for participating in the tournament and players on the winning team to get $270,000 each. At the first day of the NCAA Track & Field Championships in Austin, Texas, Florida's P.J. Austin led the semifinal qualifiers at 9.89 in the men's 100 m and Nigerian Udodi Onwuzurike led the 200 m semis at 19.76 for Stanford! Five 4×400 m teams broke 3:00, in the semifinals!
● World Championships: Surfing (New champions at World Surfing Games) ●
● Panorama: Games of the Small States of Europe (Malta wins, but questions about eligibility?) = Swimming (Penn's Paula Scanlan says team was told Lia Thomas' place on women's team was not negotiable) = Taekwondo (Russian winner told not to promote victory on social media) = Tennis (Sabalenka criticizes Belarus' war stance) = Wrestling (death of The Iron Sheik) ●
1.
IOC Exec Board recommends IBA out, boxing in for '24
The final page of the International Olympic Committee's detailed, sober and even sad 24-page report on the International Boxing Association and its fitness as an international federation came to the inevitable conclusion:
"Despite the various chances given to the IBA, including the Roadmap 2021 to 2023, to address the various concerns with actual, effective evolution, the IBA was unable to provide the elements which would have allowed the lifting of its suspension. Therefore, it is not possible to reach any conclusion other than to confirm the analysis made by the IOC Session in 2019, which was at no time contested by the IBA, on the necessity to withdraw the IOC's recognition of the IBA. Effectively, the situation has become so serious that the only proportional conclusion is to withdraw the IOC's recognition of the IBA pursuant to the Olympic Charter."
And this led to the final statement: "the IBA should not organise the Olympic Games LA28 boxing tournament."
The IOC decided to act quickly on the IBA matter and in addition to Wednesday's unannounced Executive Board meeting, it has also scheduled an additional, remote Session of the IOC on 22 June 2023 to
(1) Vote on the recommendation to withdraw recognition of the IBA as the recognized international federation for boxing, and
(2) to confirm boxing's place on the program for Paris in 2024.
No vote was scheduled on boxing for the 2028 Olympic Games in Los Angeles; this is expected to be considered at the scheduled IOC Session in Mumbai (IND) in October.
The report detailed what the IOC has continually seen as IBA's failures in governance, finance and refereeing and judging, including:
Governance:
● "In her report dated 31 March 2023, [British attorney and governance reviewer] Kendrah Potts made similar observations, emphasising the still ongoing lack of effective implementation of the [Governance Reform Group]'s recommendations, which continues to raise concerns about the IBA's governance."
● "Both the GRG and Ms Kendrah Potts took into consideration not only the positive evolution in the IBA's statutes, but also the continuous lack of their effective implementation in the actual practice and activities of the IBA."
● "Perhaps the most problematic example identified by Ms Potts is the lack of democracy, in particular as the elections were significantly impacted by the decision of the Independent Nominations Unit (INU) to exclude five individuals from the elections of the President and Board of Directors members, which was subsequently overturned by the CAS. The IBA Board of Directors' decision to ask the Congress whether or not a new election should take place, rather than organising new elections with all the eligible candidates, including the right for each of them to promote their candidature, was in fact a disrespect of the CAS decision, at least in its spirit."
● "As a consequence of the elements analysed above, it clearly appears that, four years after the last IOC Session decision and despite the many opportunities provided to the IBA, the IOC's concerns regarding AIBA-the IBA's effective governance are still unaddressed."
Finance:
● "One may conclude that the IBA's cash position can only be expected to further decline after June 2023, if the expenditure is maintained at the current budget level and no additional sources of revenues are contracted for the next period. It is understood from the IBA's audited financial statements for the year ended 30 June 2022 ('other deferred income') and from the budget that the IBA's sources of revenue were primarily deriving from the result of the previous contract concluded with Gazprom."
Refereeing and Judging:
● "Regarding the competition phase, a number of potential risks in the integrity of the IBA's R&J processes were already apparent from the analysis of the rules available in the public domain, which contained a number of inconsistencies and contradictions, in particular with regard to the R&J draw, R&J evaluation, bout review and competency of the Observer."
The IOC report also noted IBA audit reports which questioned its ability to function as a going concern, and its view that all of its debts had been redeemed or excused. IBA comments which disparaged the IOC were also noted, with the conclusion "that the IBA has no interest in continuing to belong to the Olympic Movement under the leadership of the IOC. In fact, the IBA does not need the IOC's recognition to continue its activities outside the Olympic Movement as part of the wider sports community."
And, if the IOC Executive Board's view is confirmed by the special, remote Session on 28 June, the IBA will be part of the wider sports community and not part of the Olympic Movement.
Observed: The IOC is ready to jettison the IBA as soon as possible. An unannounced Executive Board meeting was called, with a special Session in 15 days to confirm the decision to remove the IBA's affiliation with the Olympic Movement.
No waiting for the Mumbai Session and the inevitable lobbying campaign that would be launched to keep the IBA in. The IOC wants the IBA out now.
That's just one of the impacts of Wednesday's moves by the IOC. More:
● The biggest immediate winner are boxers themselves, whose place at the Paris Games had been in doubt because of the IBA's antics. The IOC has said, multiple times, that it has no issues with the boxers or boxing, but the IBA.
The IOC's moves are also a positive sign for boxing's place in Los Angeles for 2028, which are now looking up, but is not yet assured. That will come later.
● The 106 federations who backed Russian Umar Kremlev in the ill-advised, September 2022 vote not to have a IBA Presidential election re-run against then-Dutch Boxing Federation chief Boris van der Vorst, are now in a bad spot, having chosen a leader who has overseen the federation's impending exit from the Olympic Movement.
What do they do now? What of their funding from their National Olympic Committee or national government?
● The IOC's move obviously strengthens the possibilities for the new World Boxing group, which so far has applications coming from Great Britain, Switzerland and the U.S. How quickly it grows will be fascinating to watch; the IOC's report did not mention the new group.
If confirmed, Wednesday's actions will remove an international federation which was essentially a captive of the Russian government. Kremlev was the Secretary General of the Russian Boxing Federation prior to his election in 2020 and brought in the state-controlled energy giant Gazprom to solve the federation's financial problems. This is not the outcome that was foreseen and could stall similar future takeover concepts.
The IOC's move is historic, and is the first time in memory that it has actually thrown a federation out, as opposed to removing a specific sport from a specific Olympic Games. That fact will not be lost on the other IFs.
2.
IBA calls IOC action "truly abhorrent and purely political"
The International Boxing Association reacted with predictable fury to the IOC Executive Board recommendation:
"The International Boxing Association (IBA) considers the IOC Executive Board (EB) recommendation to withdraw IBA's recognition truly abhorrent and purely political, as all the efforts undertaken by the IBA, with its democratically elected leadership constituting the international of boxing during last two years were largely ignored and not taken into consideration by the International Olympic Committee (IOC). …
"The IBA as the home of boxing reserves its right to take retaliatory measures, as the organization in its current state will never acknowledge the assertion that IBA is not compliant with the standards of good governance or that IBA does not deserve its place at the Olympic movement."
IBA chief Kremlev stated, in part:
"Now, we are left with no chance but to demand a fair assessment from a competent court.
"This is watershed moment for not just IBA but for all International Federations (IFs), as what it is taking place now is a litmus test to gauge the level of apathy within IFs and the Olympic movement. Strong, autonomous, and financially independent IFs should be keenly aware and concerned as they are witnessing the time tested political and strategic tool of orchestrated coups for the sake of regime change, leaving only one winner, the organization seeking absolute power, and many losers consisting mainly the athletes.
"Today this happens to IBA and becomes a precedent for others, so everybody should be concerned about the unchecked power of the body that has no limits."
In Russia, State Duma deputy Svetlana Zhurova, the 2006 Olympic women's 500 m speed skating winner, told the Russian news agency TASS:
"This was to be expected, no matter how much we resisted. It is clear that the IOC cannot allow our athletes to perform with an anthem and a flag, which is why they made such a recommendation. This is an absolutely political story, there is no sport here, everyone understands this very well."
Fellow State Duma member Nikolai Valuev, twice WBA heavyweight champ between 2005 and 2009, said:
"This is an unauthorized decision, purely political. Apparently, they want to recognize the opposition organization, but even if they don't want it, they are being persuaded to do so.
"In today's realities, it will be difficult for the IBA to defend its rights, there is no hope – there is no need to talk about the fairness of international courts today."
Alexei Tishchenko, a double Olympic boxing gold medalist in 2004 and 2008, told TASS:
"Yes, this is due to the fact that Umar Kremlev heads the federation and does not heed calls to remove the Russians.
"The prize fund of the world championships was increased, the athletes began to earn. And now the IOC is trying to show other federations by this example that if they allow the Russians, it will be the same."
3.
World Rowing to allow Russian and Belarusian pairs
"The World Rowing Executive Committee decided to allow a limited number of eligible athletes, holding a Russian or Belarusian passport, to compete as individual neutral athletes in a limited number of boat classes at upcoming World Championships. The eligibility of these athletes will be determined by a number of criteria, including a background check to ensure they are not associated with, or publicly supporting, the war in Ukraine in any form, and an enhanced anti-doping control process."
World Rowing became the latest federation to line up behind the IOC's recommendations of 28 March to allow "neutral" Russian and Belarusian athletes to participate in international competitions. Importantly, it also became the first federation to specify further what "team" means in terms of the number of competitors.
Its decision allows Russian and Belarusian to compete only in World Championship competitions and not in any lead-up events. So, participation is authorized, subject to an eligibility review and added anti-doping testing for:
● 2023 World U-19 Championships in Paris (FRA)
● 2023 World U-23 Championships in Plovdiv (BUL)
● 2023 World Championships in Belgrade (SRB)
● 2023 World Coastal Championships and Beach Finals (Barletta, ITA).
For the senior World Championships, Russians and Belarusians can compete in Single Sculls and Coxless Pairs, but not in Double Sculls, Quadruple Sculls, Fours or Eights, but only Single Sculls in the Lightweight division.
For the Coastal and Beach Championships, only solo events may be entered by seniors, but solos and doubles are allowed for U-19s.
Single Sculls and Coxless Pairs are approved for the World U-23s, but only Fours and Eights are prohibited in the World U-19s.
So, some two-person events (Pairs) are OK, but Double Sculls are not. No explanation was given.
World Rowing promises "a thorough background-check process, implemented by a third party, to ensure that athletes who are associated with the military or war in any form, or have publicly supported the war, will be automatically excluded."
Alexei Svirin, head of the Russian Rowing Federation, told TASS:
"Now we see that we are given the opportunity to declare a minuscule number of athletes. … We're going to discuss this issue with the coaching staff and the organizations involved in training athletes, and then we'll make a decision. …
"A small window has opened, only a few people can participate in the World Championship. The final decision on participation will be made by the coaching staff and the athletes, who themselves must decide if they are ready to participate in this story."
The World Rowing position will also, no doubt, be discussed by those questioning why participation in anything other than the Single Sculls would be allowed, especially in view of the IOC's recommendation that no team entries should be permitted.
World Rowing promised more details would be forthcoming.
4.
FIFA details $152 million Women's World Cup distribution
With its Women's World Cup opening on 20 July, FIFA announced that each player in the tournament would receive at least $30,000, the first time a specific amount has been guaranteed to individual participants.
The winning team – 23 players – will receive $270,000 each; The Associated Press also reported:
"The 16 nations exiting in the group stage will get a total of $2.25M from FIFA — $690,000 to shares among the players and $1,560,000 for the federation.
"FIFA will pay $10.5M to the title-winning nation. The majority of that, $6.21M, will be distributed among the players with the remaining $4.29 million going to the federation."
FIFA has committed $152 million to the tournament, more than three times the $50 million it spent for the 2019 edition in France.
Beyond the $110 million in prize money, the federation is providing $30.7 million in preparation funding for each participating national team, and $11.5 million in funds paid to clubs whose players are in the World Cup.
¶
The Swiss Commission for Fairness (SLK), which handles concerns about commercial communications and issues non-binding judgement, upheld complaints about FIFA's claims of a "carbon-neutral" World Cup in Qatar in 2022.
"Complainants from Switzerland, France, Belgium, the UK and the Netherlands have accused FIFA of making false statements in its communications about carbon neutrality at the World Cup. The Second Chamber of the SLK has now upheld all five complaints following a complex process."
The complainers asserted that FIFA's estimates of carbon emissions related to the event were too low, were not calculated using "generally accepted methods" and did not prove its carbon offsets or how it would do so in the future. So:
"The SLK has advised FIFA to refrain from making unsubstantiated claims in the future. Particularly the claim that the 2022 FIFA World Cup in Qatar was climate- or carbon-neutral. At the time of communication, claims of this nature could only be made if the body could – using generally accepted methods – fully substantiate the calculation of all CO2 emissions caused due to the tournament and provide proof that these CO2 emissions have been fully offset."
There is no legal jeopardy from the Commission's findings; FIFA is subject to SLK review as it is headquartered in Zurich.
5.
Austin 9.89, Onwuzurike 19.76 in NCAA T&F semis in Texas!
Hot sprinting was on order at the first day of the NCAA Division I Track & Field Championships in Austin, Texas, with Florida senior P.J. Austin getting a lifetime best and moving to equal third in the world in the men's 100 m at 9.89 to win his semifinal (wind: +1.3 m/s)!
Five men broke 10 seconds, with LSU sophomore Godson Oghenebrume (NGR) next fastest at 9.93 (+0.8) and equal-10th in 2023.
Fellow Nigerian Udodi Onwuzurike (Stanford) was even hotter in the 200 m semis, winning semi two in a sensational 19.76 (+0.6), no. 2 for 2023, ahead of Texas Tech senior Courtney Lindsey at 19.88 in semi three (+0.6, no. 5 this season). Soph Tarsis Orogot of Alabama (UGA) came in behind Onwuzurike at 19.04 and Florida soph Robert Gregory won semi one at 19.95 (+1.0) and was only fourth-fastest overall! Six men broke 20 seconds and the top nine all had lifetime bests!
The top six finishers in the 400 m heats all broke 45 seconds, led by Arizona State soph Justin Robinson with a lifetime best of 44.54, no. 9 on the year list, followed by Emmanuel Bamidele of Florida and Nigeria (44.67) and Georgia's Elija Godwin (44.73).
The distances were not quite as crazy, but pretty good semifinals. Georgia freshman Will Sumner led the 800 m qualifiers at 1:46.00, a lifetime best, Washington junior Joe Waskom had the fastest 1,500 m at 3:39.50, and Eastern Kentucky's Abdelhakim Abouzouhir (MAR) led the Steeple at 8:35.41.
In the men's 10,000 m final, Stanford posted a 1-2 finish with Ky Robinson (AUS) at 28:10.96 and Charles Hicks (GBR) at 28:12.20.
Arkansas junior Philip Lemonious (JAM) led the 110 m hurdles qualifiers at 13.28 (+1.1) and Alabama junior Chris Robinson had the top time in the 400 m hurdles semis at 48.79.
The relay semis were sensational, with LSU – and Oghenebrume on anchor – running 38.06 in the 4×100 m semi two, just 0.16 off of its world-leading 37.90. In the 4×400 m, five teams broke 3:00 in the semis: Florida at 2:58.62, Arizona State at 2:59.14 and UCLA at 2:59.51 in semi three, and Alabama (2:59.24) and Clemson (2:59.78) in semi one. Oklahoma ran 3:01.85 for third in semi two and didn't qualify for the final!
There were finals in five men's field events, with South Africa's Kyle Rademeyer taking the vault for South Alabama at 5.70 m (18-8 1/4), and Jamaican Carey McLeod winning the long jump for Arkansas at 8.26 m (27-1 1/4; he also won the NCAA Indoor in March).
Arizona's Jordan Geist also completed an NCAA indoor-outdoor double, winning the shot at 21.04 m (69-1 1/4), after finishing third in the hammer throw. That was won by Harvard soph Kenneth Ikeji (GBR), who reached 77.92 m (255-8) on his final throw, moving from third to first. LSU's Tzuriel Pedigo won the javelin at 79.79 m (261-6) with a lifetime best on his third toss.
That was day one. The women's semifinals and first set of field events will be held Thursday, with the men's finals on Friday and women on Saturday.
≡ WORLD CHAMPIONSHIPS ≡
● Surfing ● New champions were crowned at the ISA World Surfing Games off Surf City (ESA), with Peru leading the medal table with three (1-1-1).
Mexico's Alan Cleland won his first World Surfing Games medal and it was gold, as he triumphed in the final. He scored 18.23 to finish ahead of veteran Lucca Mesinas (PER: 16.17), Miguel Tudela (PER: 14.96) and 2020 Tokyo silver medalist Kanoa Igarashi (JPN: 14.80) in fourth.
Cleland's win was the first ever for Mexico. Mesinas won his third career World Surfing Games medal, previously runner-up in 2016 and the bronze medalist in 2018.
Brazil's Tati Weston-Webb won the women's title for her first World Surfing Games medal, scoring 15.00 in the final, ahead of Erin Brooks (CAN: 14.36), Johanne Defay (FRA: 13.54) and Vahine Fierro (FRA: 12.30).
Weston-Webb scored Brazil's first women's division gold since 2000. Defay won her second career World Surfing Games medal, after her silver in 2017. Two-time World Surfing Games gold medalist Sally Fitzgibbons from Australia finished fifth.
Peru won the team title over France, 3,253 to 3,230, with Brazil third (2,937) and Japan (2,653) fourth. The U.S. was 15th.
≡ PANORAMA ≡
● Games of the Small States of Europe ● You might not have heard of it, but the 19th edition of this event was held on Malta from 28 May to 3 June, with nine countries competing – Andorra, Cyprus, Iceland, Liechtenstein, Luxembourg, Malta, Monaco, Montenegro and San Marino – and Malta leading the medal table with 97 (38-30-29).
But there were complaints about whether the members of the Maltese squad were actually eligible. The Times of Malta reported:
● "All athletes representing Malta were compliant with the Small Nations Games' rules, the Maltese Olympic Committee has insisted, amid complaints that a number of participants had no connection with the island, while other athletes protested about being left out of the team."
● "The core of many complaints has been the nationalities of players who, despite having slight or no connection to Malta, were still able to compete under the red and white flag."
● "[Organzing committee head Mark] Cutajar and [Malta Olympic Committee] director of sports Charlene Attard admitted that some athletes were indeed included by being given a passport, just as other countries do, they remained firm on their competitors' connection to Malta."
When medals and trophies are at stake, there is pressure to win. Even in the Games of the Small States of Europe.
● Swimming ● Paula Scanlan, a member of the University of Pennsylvania women's swimming team, a teammate of controversial transgender swimmer Lia Thomas, said that the university tolerated no dissent about her position on the squad:
"The university wanted us to be quiet and they did it in a very effective way."
She told the Daily Wire that the Penn women were told in September 2019 that Will Thomas – then a member of the men's team – "would be joining the women's team" the following season after going through "HRT" (Hormone Reduction Therapy); "I didn't know what that was or what that meant." In fact, it was Will Thomas himself who led the meeting that Scanlan attended.
Scanlan added:
"I felt a little shocked and a little uncomfortable, but everyone around me looked really happy and excited for this member of the men's team to be 'living their true self.'
"Honestly, I can't speak for everyone, but in my own experience, I think it was definitely just a lot of shock, that was the biggest thing. You know, you kind of, like, smile when you're uncomfortable. That's how I would have read it, but I can't speak for every single person on my team, but that's how I interpreted it and it was a situation where we're like, 'well, we're going to have navigate this for the next year. At least we have a year to think about it.' … I never thought that would be my reality."
She explained that after one team member complained to Penn athletic department, and was convinced that Thomas' transgender experience was worthwhile, Scanlan recalled she thought "There was something going on in that athletic department that wanted to keep us quiet, and I was like 'this is getting scary.'
Two days later, a team meeting was held, with Thomas not attending:
"They said, 'don't talk to the media. You will regret it.' … Another thing they said is , 'Lia's swimming is non-negotiable' and then they provided us with counseling services to help us be OK with Lia swimming."
Thomas won the NCAA women's 500-yard title in March 2022 in Atlanta, the first known transgender woman to win a swimming title, which has sparked continuing controversy.
● Taekwondo ● Russian World 62 kg Champion Liliia Khuzina was told at the World Championships that she should not publicize her victory. She told TASS she was instructed:
"Upon arrival in Russia, we should not associate World Cup medals with national attributes – the flag, the anthem," including on social media. "You can't have a flag or even a uniform with country attributes in the background."
Khuzina said there were no written requirements. "I didn't sign anything, they just told me in words what not to do. I tried to take it calmly. The main thing is that the task is completed."
● Tennis ● Belarusian Aryna Sabalenka, 25, who lives in the U.S. and won the Australian Open in January, is into the French Open semifinals in Paris after a 6-4, 6-4 win over Ukrainian Elina Svitolina on Tuesday, but not without controversy.
Svitolina publicly stated that she would not shake hands following any match with a Russian or Belarusian player, but Sabalenka stood at the net as if expecting a handshake anyway.
But after the match, Sabalenka attended her post-match news conference – she had skipped the prior two – and had some of her strongest comments to date on the Russian invasion of Ukraine, aided by Belarus:
"I'm not supporting war. I don't want my country to be involved in any conflict.
"I said it many times, and you know where I stand, you know. You have my position. You have my answer. I answered it many times. I'm not supporting the war.
"And the thing that I don't want sport to be involved in politics, because I'm just a tennis player, 25-years-old tennis player. And if I would like to be political I wouldn't be here. I don't want to be involved in any politics. I just want to be a tennis player."
Asked specifically about the administration of Belarus President Alexander Lukashenko, she replied:
"I don't support war, meaning I don't support Lukashenko right now."
Observed: Those are the kind of statements that would impress the International Tennis Federation to allow Sabalenka to compete at Paris in 2024, but they will certainly cause her not to be selected or proposed by the National Olympic Committee of Belarus, thoroughly under the control of the government.
● Wrestling ● Hossein Khosrow Ali Vaziri, born in Iran and who competed for a spot in the 1968 Olympic Greco-Roman competition, passed away at 81.
Better known as "The Iron Sheik" in professional wrestling, he became a widely-known villain, and briefly the World Wrestling Federation champion in 1983, losing the title to Hulk Hogan in 1984. He then teamed up with "Nikolai Volkoff" (Josip Peruzovic) to win the WWF Tag Team title in 1985 and was one of the most recognizable wrestlers in the world.
He worked in many different wrestling promotions until he finally retired in 2010, and was also a manager. He was in failing health in his final years before passing was announced on Wednesday.
¶
You can receive our exclusive TSX Report by e-mail by clicking here. You can also refer a friend by clicking here, and can donate here to keep this site going.
For our updated, 651-event International Sports Calendar (no. 2) for 2023 and beyond, by date and by sport, click here!