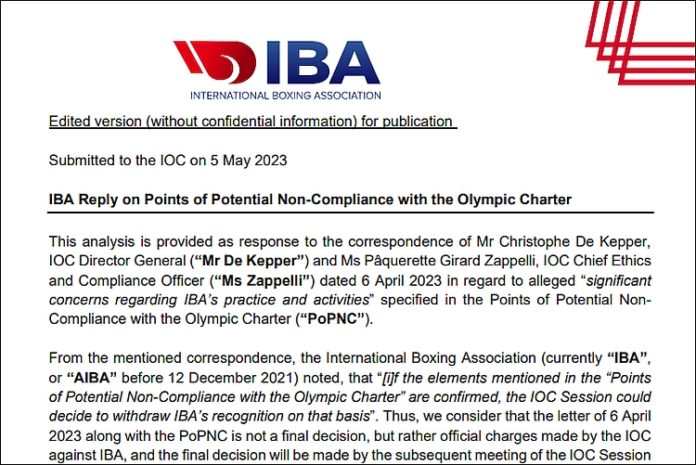 ★ The Sports Examiner: Chronicling the key competitive, economic and political forces shaping elite sport and the Olympic Movement.★
★ Friends: If you would like to support our coverage, please donate here. Your enthusiasm is the reason this site continues. Thank you. ★
★ To get The Sports Examiner by e-mail: sign up here! ★
≡ THE 5-RING CIRCUS ≡
1. IOC Executive Board meeting on IBA future in Lausanne
2. Protesters invade Paris 2024 HQ during CoComm
3. More suspended sentences in Tokyo sponsorship scandal
4. Seven U.S. wins at Szewinska Memorial in Bydgoszcz
5. Khuzina: "We were given an absolutely faceless uniform"
Update: The IOC Executive Board recommended Wednesday that the IOC Session vote to withdraw recognition of the International Boxing Association.
The International Boxing Association released a pared-down version of its 5 May report to the International Olympic Committee, in advance of what it said will be a special meeting of the IOC Executive Board on Wednesday (7th). The document, responding to IOC criticisms and concerns, rejects any attempt to remove the IBA as the governing body of Olympic boxing as both wrong and legally insufficient. In the meantime, GB Boxing announced it will apply to join the new World Boxing federation. In Paris, the IOC Coordination Commission is in town, with continuing concerns over the budget, but with Paris Mayor Anne Hidalgo saying in a radio interview, "We're ready." A small group of protesters briefly invaded the Paris 2024 organizing committee offices as part of a national protest over changes in the national retirement program, but apparently did little damage. A Tokyo judge handed down two more suspended sentences in the third Tokyo 2020 sponsorship scandal case, this time against stuffed-toy maker Sun Arrow. A total of seven men have been convicted so, all receiving suspended sentences. More to come. Americans won seven events at Tuesday's Irena Szewinska Memorial in Poland, including a 19.95 victory by teen 200 m star Erriyon Knighton and big hammer wins for Rudy Winkler and Brooke Andersen. A survey of post-event interviews from the Florence Diamond League meet included this from discus winner Valarie Allman: "I am looking forward to spaghetti and gelato so much now, I think I deserve it." Russia won the most medals at the World Taekwondo Championships last week, but its only gold medalist, Liliia Khuzina, said the neutrality requirements were rigidly enforced, with blank uniforms and fingernails not allowed to be painted in national colors.
● Panorama: Russia (85 sanctions – a lot – announced by RUSADA so far this year) = Volleyball (U.S. women sweep to U-21 Pan Am Cup title) ●
1.
IOC Executive Board meeting on IBA future in Lausanne
Reuters reported that a specially-called meeting of the International Olympic Committee Executive Board is being held today (Wednesday) to consider the situation in the sport of boxing and the International Boxing Association.
The IBA – formerly known as AIBA – has been suspended since 2019 over finance, governance and refereeing and judging issues and the IOC has issued multiple letters and statements expressed its displeasure with the federation, now headed by Umar Kremlev, the former Secretary General of the Russian Boxing Federation.
Wednesday's Executive Board session is separate from the already-planned 20-22 June meeting.
On Tuesday, the IBA published a 34-page excerpt of its 400-page report to the IOC, submitted on 5 May, that makes its case for reinstatement and a return to the governance of Olympic boxing. All "confidential" information – all of the documentation and exhibits – was excluded.
The IBA's view of the situation was summed up thus:
"[W]e can conclude that IBA made significant progress within last years. There are still ongoing reforms and a lot of work to do to improve the boxing family's culture, but withdrawal of the IBA's full recognition by the IOC will be not justified, fair and legally correct decision.
"We call on the IOC members to hear our arguments, note our progress and make a fair decision about the future of boxing."
The document was organized around what the IBA calls the IOC's "Points of Potential Non-Compliance with the Olympic Charter," outlined in a 6 April letter from IOC Director General Christophe De Kepper (BEL) and IOC Chief Ethics and Compliance Officer Paquerette Girard Zappelli (FRA), and begins with the assertion:
"IBA provides these objections against the PoPNC with the Olympic Charter, which we suppose are biased drafted and do not take into account significant progress made by IBA since December 2020."
The IBA then lists multiple instances in which it perceives interference from the IOC: the formation of rival federation World Boxing, a recusal of its auditor due to a conflict of interest, a refusal by ASOIF to include it in governance rankings and an equipment supplier withdrawal. Conclusion:
"When something happened the first time it is an accident, when the second time it is a coincidence, and when the third time it is already a pattern. Unfortunately, we cannot believe in accident and coincidences anymore, and we are sure that somebody in the IOC does not want IBA to return its recognition and the boxing to be at the Olympics. …
"We do hope that the IOC members will be able to read the entire and full IBA position, instead of biased review prepared by the several IOC officials."
The IBA argues that the IOC has not fulfilled its own rules in proposing a possible revocation of recognition, and essentially promises a prompt appeal to the Court of Arbitration for Sport.
The remainder of the document is a hyper-technical reply to the IOC's concerns, relying on third-party endorsements from reports it commissioned from McLaren Global Sport Solutions and its own governance oversight group, promises of future actions and playing up what it asserts is the IBA's unmatched competence in staging boxing events. It also complains that the IOC is not following the IBA's rules for its Olympic qualifying competitions for Paris 2024, even though the IOC is running the qualification program itself. In short:
"[T]he allegations made by the IOC appear to be baseless and lack validity. It appears that these allegations are being used as another pretext to make a decision against IBA."
No decision about the IBA's recognition by the IOC can be made by the IOC Executive Board; it must be made by the IOC Session, which will take place in October in Mumbai (IND). But it can make a recommendation.
¶
In the meantime, the in-formation World Boxing group gained a third member on Tuesday with the announcement that Great Britain – GB Boxing – will join:
"GB Boxing is to apply for associate membership of World Boxing, the new international sport federation, which has been set-up to keep boxing at the heart of the Olympic Movement.
"The decision was made by the board of GB Boxing today and reflects its determination to support World Boxing's commitment to sporting integrity and good governance and its efforts to ensure boxing is kept on the Olympic programme for Los Angeles 2028 and beyond."
The announcement also shared immediate future developments:
"GB Boxing's decision follows recent announcements by USA Boxing and the Swiss Boxing Federation to leave IBA and apply for membership of World Boxing. A statement from the Dutch Boxing Federation has said 'a farewell to IBA seems inevitable' while the leadership of Boxing New Zealand claimed to see 'little future in continuing the association with IBA.'
"World Boxing was set-up by a collection of individuals from boxing organisations around the world in response to the persistent issues surrounding IBA, whose failure to address the IOC's longstanding concerns over sporting integrity, governance, transparency and financial management has placed boxing's future as an Olympic sport in doubt."
Interestingly, GB Boxing is not a national governing body, but a publicly-funded management organization of the world-class Olympic boxing program in the country. Thus, it can apply to be a member of World Boxing while the governing bodies in England, Scotland and Wales can remain members of the IBA!
2.
Protestors invade Paris 2024 HQ during CoComm
In the middle of the continuing IOC Coordination Commission meetings with the Paris 2024 organizing committee, a protest over the French government's pension reform plan resulted in a brief invasion of the organizing committee's offices.
Protests have been continuing for months over the Macron government's change in the national pension program, moving the eligibility from age 62 to 64 in view of coming financial challenges. The leftist CGT (General Confederation of Labor) called for a national protest on Tuesday, but saw far smaller crowds than on 1 May.
A Paris 2024 statement included, "Several dozen CGT militants got into the building for a few minutes to deploy banners against pension reform. There was no violence and no damage."
Reuters reported, "Some protesters have threatened to disrupt next summer's Olympics if Macron does not back down. Banners reading 'No retirement, No Olympics' were visible in Paris."
¶
The opening of the Coordination Commission meetings were highlighted by what were reported as opposing views on Paris's readiness for the 2024 Games.
Belgian IOC member Pierre-Olivier Beckers-Vieujant, leader of the CoComm review group, urged the Paris 2024 team to "continue to work, continue to optimize, continue to seek efficiencies. There is still a lot of work to do."
He added:
"There is commitment, will, but we know that we live in a difficult world, a world of inflation, a world where commercial partnerships are also more difficult to find. We will have to look for these optimizations together. But you have the commitment of the IOC to continue to play this role of partnership on optimization, with a collective objective of maintaining our budget."
Paris Mayor Anne Hidalgo was more optimistic, speaking on France Inter radio on Tuesday:
"Look at all the previous Olympics and Paralympics around the world, one year before the Games, generally it's stressful and people are saying 'we'll never manage this'. Well, we're ready.
"We're on budget and we're on time."
She also took a shot at continuing complaints about the price of tickets, praising the sales program that she explained was offering 50% of the tickets at €50 or less (about $53.46 U.S.).
¶
Occasional chatter that Tahiti – the largest island in French Polynesia – would renounce the Olympic surfing competition was squashed by Polynesian President Moetai Brotherson, in Paris this week. He told Agence France Presse:
"We have a certain set of requirements for these events that we absolutely want to host here. The Games will be held in Tahiti, but my role is to ensure that they are carried out as efficiently as possible, both from the point of view of the Olympic Committee, and, above all, from the point of view of Polynesia and the Polynesians. …
"[T]he question of heritage arises: what will remain after these ten days of competitions? If we leave the structures with which we will not know what to do, then it's not worth it. If we leave nothing to the young Polynesians who want to surf or even move to professional surfing, we will miss the boat too."
3.
More suspended sentences in Tokyo sponsorship scandal
The Tokyo District Court imposed suspended sentences on two former executives of the stuffed-toy maker Sun Arrow Inc. for bribes paid to former Tokyo 2020 Executive Committee member Hiroyuki Takahashi for assistance in becoming a licensee of the organizing committee.
According to the Kyodo News Agency:
"In the trial, one of a series of Tokyo Olympic bribery cases, the Tokyo District Court gave the firm's former president, Taiji Sekiguchi, 50, and his father and former Sun Arrow executive Yoshihiro Sekiguchi, 75, sentences of one year in prison, suspended for three years."
A total of 15 people have been indicted in the bribery-and-influence scheme organized by Takahashi, who received as much as $1.5 million in all, either in direct payments, or via other firms working with him.
In the Sun Arrow case, about ¥7 million (~$50,135 U.S. today) was paid for Takahashi's support in getting a license to produce and sell toys of the Tokyo 2020 Olympic and Paralympic mascots. The trial was over ¥2 million in payments in view of a three-year statue of limitations, made to a firm cooperating with Takahashi, headed by Joji Matsui, between January 2020 and April 2021. Upon getting the license, Sun Arrow paid Takahashi – indirectly – 1.5% of sales on their Olympic products every quarter.
This is the third group of defendants to be tried and sentenced, with seven men convicted so far and all receiving suspended sentences in view of their confessions and stated remorse.
On 21 April, three former executives of the Aoki Holdings men's clothing firm received suspended sentences of one to two-and-a-half years. On 11 May, two executives from the ADK Holdings advertising agency received suspended sentences of three years each, all for bribes paid to Takahashi, either directly or indirectly.
Takahashi has conceded that he received the money, but says it was for legitimate consulting services. Arrested multiple times in connection with the sponsorship sales scandal, he has not yet been brought to trial.
4.
Seven U.S. wins at Szewinska Memorial in Bydgoszcz
American athletes won big at the fifth Irena Szewinska Memorial in Bydgoszcz in Poland on Tuesday (a Continental Tour Gold meet), including a second straight sub-20 victory for teen Erriyon Knighton.
The fifth-fastest 200 m man of all-time, Knighton, now 19, won at the Diamond League in Florence (ITA) last Friday in 19.89 in drizzly conditions, and dominated the race on Tuesday, running away in lane six in 19.95 (wind: +0.7 m/s) with Dominican Alexander Ogando way behind at 20.18 in second.
U.S. men also won the 110 m hurdles, with Daniel Roberts beating Jamal Britt, 13.24 to 13.31 (+1.1), Olympic silver winner Chris Nilsen taking the vault at 5.92 m (19-5) and Rudy Winkler reversing two close losses to Poland's Tokyo Olympic champ Wojciech Nowicki, by 79.70 m (261-6) to 79.52 (260-11).
American Cambrea Sturgis won the women's 100 m in 11.24 (-0.8) and was third in the 200 m (22.99) behind Britain's Daryll Neita (22.23 lifetime best; +0.8) and fellow American Anavia Battle (22.47). Alaysha Johnson was a clear winner in the 100 m hurdles in 12.41 (+1.9) and World Hammer Champion Brooke Andersen won her latest battle with Canadian record setter Cam Rogers, 78.79 m (261-9) to 77.62 m (254-8) with 2022 Worlds bronze winner Janee Kassanavoid third at 75.10 m (246-5).
Italy's Pietro Arese starred in winning the men's 1,500 m in 3:33.56 over Ireland's Andrew Coscoran (3:33.87) in lifetime bests for both, and New Zealand star Tom Walsh took the shot with a season's best of 22.22 m (72-10 3/4), ahead of a personal record of 21.61 m (70-10 3/4) for Adrian Piperi of the U.S.
Next up: the Diamond League Meeting de Paris on Friday!
¶
Athletes sometimes say interesting things, as after last Friday's Diamond League meet in Florence (ITA). For example, Knighton after his impressive 200 m win:
"I am very satisfied with this time – under 20 in the first race of the season. I was hoping for such a result. The weather was going to affect anybody out here. I just hoped for the sunny conditions before the race but I was ready to come out and do the best. My main goal for the next two weeks is just to do what I can do the best – just to focus and to continue the training.
"I really do not know how to succeed on the world level, I just have to trust my coach [Jonathan Terry]. Whatever he says, I do."
World 100 m champ Fred Kerley, often quite reserved, told his interviewer:
"The secret of my success is being consistent. I ran 9.88 already this year, so when my time will be sub-9.80 the world will be surprised, but I will not be surprised.
"I feel good, I feel good in my training. It was a good, open race for me, so I knew what I had to do. Pressure? I leave the pressure behind, I believe in myself and in what I am capable of doing."
Hurdles winner (and World Champion) Grant Holloway ran 13.04 and was satisfied:
"I executed my race with perfection so I could not have done anything better today.
"Maybe the start could be a little bit better, there can be a thousand things that I can improve but I am consistent and the season is still going on. The conditions were good; a little bit cooler than in Florida but it was amazing and it just feels good to be here. When I do my race plan and the race pattern, it is a phenomenal thing and I am curious what can happen."
Devon Allen, the U.S.'s hurdler turned NFL wide receiver and now hurdling again, was third in 13.19, a seasonal best:
"I am still in the training. The thing is I just need to compete and to do my best. I am feeling pretty good and I look forward to a couple more races next weeks. The change back to the track and field was difficult.
"You know, my body was a little bit tired going back to the training so it took me a little bit but I feel good now. We will see about the rest of the season, maybe it is a better question for my coaches."
Olympic discus champ Valarie Allman of the U.S. won with her fifth-round throw of 65.96 (216-5) and said she was ready to celebrate:
"The rain messed with my timing and my technique. I was not able to fly properly, but in the end I managed. At my fifth attempt, I found the right tension. Before the sixth attempt it would have been nice to have more time to rest, but this is Diamond League. So I rolled with the rules and the rhythm.
"I am looking forward to spaghetti and gelato so much now, I think I deserve it."
And for those who think traveling around Europe and competing must be lots of fun, here's Slovenian star Tina Sutej – a former Arkansas Razorback – with a competing view:
"Yesterday, I was not sure that I would jump because I had a really bad pain in my back. It had spread to the front and into my shoulder. So I spent a lot of time at my physio. It was a really bad pain: on a scale from 1 to 10, it was the 10. It was really acute and they helped me and it got better.
"But it was hurting today and I did not want to think about it. I just wanted a few good jumps. I do not have much time to recover because I am traveling by car in the morning home to compete at the national competition [in Slovenj Gradec]. It is seven hours away and I need just one good jump. I believe I can make it [she won at 4.60 m/15-1].
"And the next start should be in Paris so I hope it will be OK by that time."
5.
Khuzina: "We were given an absolutely faceless uniform"
Russia returned to the World Taekwondo Championships and won the most medals of any country – neutral or not – with seven, including a victory for Liliia Khuzina in the women's 62 kg class, Russia's first women's gold since 2013.
Thrilled to win, she told the Russian news agency TASS that the World Taekwondo neutrality regulations were carried out with vigor:
"There could be absolutely no paraphernalia, it was impossible even to do a manicure in national colors. And talismans in the form of bears and nesting dolls were also banned. We were given an absolutely faceless uniform."
She said that although IOC President Thomas Bach was in attendance for the final – the person most responsible for allowing her to compete – she didn't have the time or opportunity to chat with him:
"At that moment, I didn't see anyone except [Brazil's 2019 Worlds silver winner Caroline Santos], whom I had already met in the past. I initially went to the World Championship only for gold, so I was focused on the fight and did not look at the stands. I saw him only at the award ceremony.
"What would Bach say? I think I would just thank him for coming to watch our competitions. What can I ask him? My task is to train and show results, I don't go into politics because I don't want to, and I don't have time to figure it all out."
Although admitted to the World Championships, Russia has not been permitted yet to compete on the Grand Prix circuit, which provides points towards qualification for Paris 2024. Said Russian head coach Vadim Ivanov:
"Unfortunately, we will not be able to take part in the first Grand Prix, which will be held next weekend in Italy, since at the moment our athletes were only allowed to participate in the World Championships.
"This tournament has passed, and now it will be further decision on the admission of our athletes. I admit that already at the next Grand Prix there may be some clarity in our issue. But skipping each stage has a very strong impact on the Olympic rating."
≡ PANORAMA ≡
● Russia ● For those still worried about doping in Russia, stay worried.
The Russian Anti-Doping Agency (RUSADA) said it has collected 4,555 samples this year and has handed down 85 sanctions during calendar year 2023:
● "According to TASS, in just five months of this year, RUSADA took 4,555 samples (846 in May, 996 in April, 853 in March, 961 in February, 899 in January)."
● "In May 2023, RUSADA identified 21 cases of possible anti-doping rule violations …
"According to TASS, RUSADA recorded 16 such cases in April, 13 in March, 25 in February, and 10 in January. Over the 12 months of 2022, 135 cases of possible anti-doping rule violations were identified.
"Earlier, RUSADA Director General Veronika Loginova told TASS that anabolic steroids, diuretics and masking agents, as well as meldonium, are most often found in athletes' samples."
For comparison, the U.S. Anti-Doping Agency reports statistics by quarter; it collected 1,969 samples in the first quarter of 2023, up from 1,774 in 2022. Last year, it reported 4,894 samples collected from January to June.
So far in 2023, USADA has announced 27 total sanctions (including three for Mixed Martial Arts and six for Brazilian Jiu-Jitsu) through 1 June 2023. Oy.
● Volleyball ● The U.S. women completely dominated the U-21 NORCECA Pan American Cup in Nogales (MEX) that finished last week, not only winning all five matches, but winning all 15 of its sets!
Already defending champions, the American women disposed of Guatemala, the Dominican Republic and Costa Rica in straight sets in group play, advancing directly to the semifinals. There, the U.S. was challenged by Cuba, but won by 26-25, 25-13 and 26-20.
Then came the final against Mexico, also undefeated, but which resulted in a 23-13, 25-16 and 25-21 win to seal the title. All told, the U.S. outscored its five opponents by 375-211.
U.S. outside hitter Chloe Chicoine was named Most Valuable and was recognized in the all-tournament team as First Outside Hitter. Teammate Norah Sis was named Second Outside Hitter, Gabrielle Essix as First Middle Blocker, Lauren Briceno the Best Receiver and Rachel Fairbanks the Best Setter. Mexico's Regina Perez was the Best Server.
¶
You can receive our exclusive TSX Report by e-mail by clicking here. You can also refer a friend by clicking here, and can donate here to keep this site going.
For our updated, 651-event International Sports Calendar (no. 2) for 2023 and beyond, by date and by sport, click here!