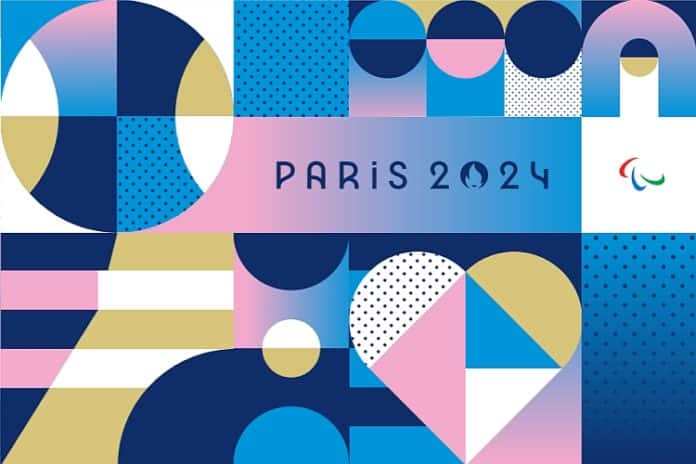 ★ The Sports Examiner: Chronicling the key competitive, economic and political forces shaping elite sport and the Olympic Movement.★
★ To get The Sports Examiner by e-mail: sign up here! ★
≡ THE 5-RING CIRCUS ≡
1. Int'l Paralympic Committee considers Russia at General Assembly
2. Arrest warrant issued in June for Qatar's bin Hammam
3. U.S. skater Zhou bemoans lengthy Valieva case resolution
4. Assefa's record marathon aided by $500 adidas shoe
5. Paris 2024 projected to create 181,000 jobs
● The International Paralympic Committee will vote this week whether to allow Russia and Belarus to compete in any form at the 2024 Paralympic Games in Paris. So far, the IPC has banned both countries.
● Mohamed bin Hammam of Qatar, a former President of the Asian Football Confederation and a mastermind of Qatar's winning bid for the 2022 FIFA World Cup had an arrest warrant for corruption issued against him in France in June. He has been banned from football for life by FIFA and his current whereabouts are unknown.
● Figure skater Vincent Zhou, a member of the medal-winning Team Event squad for the U.S. at the Beijing 2022 Winter Games, posted an open letter decrying the long delays in settling the Kamila Valieva case and criticizing the International Olympic Committee, World Anti-Doping Agency and others for failing athletes instead of helping to ensure clean sport.
● The amazing world marathon record by Ethiopia's Tigst Assefa (2:11:53) was aided by a new adidas shoe which retails (if you can get it) for $500 and is meant to be worn once! Moreover, her time also has to be considered in light of the pacing assistance she received.
● A new study showed that the Paris 2024 Games will create about 181,000 limited-term and short-term jobs, in the construction, Games operations and tourism sectors.
● Panorama: Paris 2024 (Minister reiterates no-hijab rule for French athletes in 2024) = Athletics (Dutch star Schippers retires) = Basketball (strong FIBA World Cup viewing in finalist countries) = Bobsled & Skeleton (2: Russia reinstatement not considered as IBSF Congress; Evans files suit for abuse by U.S. federation) = Football (3: modest ratings for Ertz and Rapinoe send-off matches; U.S. Department of Justice forms anti-collusion strike force for 2026 FIFA World Cup; Spain wins first two UEFA Women's Nations League matches) = Short Track (Santos-Griswold sweeps U.S. nationals!) = Swimming (Nesty and DeSorbo named 2024 Olympic coaches) ●
1.
Int'l Paralympic Committee considers Russia at General Assembly
While the International Olympic Committee continues to stew over whether to admit Russian and Belarusian athletes to the Paris 2024 Olympic Games, the International Paralympic Committee is expected to vote on the issue at its 2023 General Assembly, which began today (27th) in Manama, Bahrain.
Unlike the IOC, the IPC has maintained a firm ban on both Russian and Belarusian participation. At its Extraordinary General Assembly on 16 November 2022 in Berlin (GER), "IPC members voted 64-39 in favour of a motion to suspend NPC Russia (with 16 members abstaining), while 54-45 voted to suspend NPC Belarus (with 18 abstaining)."
The IPC announcement included:
"The decision by IPC members to suspend NPC Russia and NPC Belarus stems from their inability to comply with their membership obligations under the IPC Constitution. This includes the obligations to 'ensure that, in Para sport within the Paralympic Movement, the spirit of fair play prevails, the safety and health of the athletes are protected, and fundamental ethical principles are upheld' and 'not to do anything (by act or omission) that is contrary to the purpose or objects of the IPC and/or that risks bringing the IPC, the Paralympic Movement, or Para sport into disrepute'."
At the Beijing 2022 Paralympic Winter Games, a decision by the IPC Governing Board to allow Russian and Belarusian athletes as "neutrals" under the Paralympic flag, was reversed on the day before the opening ceremony. IPC President Andrew Parsons (BRA) said in a statement:
"In the last 12 hours an overwhelming number of members have been in touch with us and been very open, for which I am grateful. They have told us that if we do not reconsider our decision, it is now likely to have grave consequences for the Beijing 2022 Paralympic Winter Games. Multiple NPCs, some of which have been contacted by their governments, teams and athletes, are threatening not to compete.
"Ensuring the safety and security of athletes is of paramount importance to us and the situation in the athlete villages is escalating and has now become untenable. First and foremost, we have a duty as part of the Paralympic mission, enshrined in the constitution, to guarantee and supervise the organisation of successful Paralympic Games, to ensure that in sport practiced within the Paralympic Movement the spirit of fair play prevails, violence is banned, the health risk of the athletes is managed and fundamental ethical principles are upheld.
"With this in mind, and in order to preserve the integrity of these Games and the safety of all participants, we have decided to refuse the athlete entries from RPC and NPC Belarus."
Parsons has said that the IPC will abide by whatever decision is made by its General Assembly.
The Global Athlete activist group published a statement on Tuesday, urging the continuation of the ban on Russia and Belarus, including:
"[W]e echo and amplify the voices of thousands of athletes and twenty-six governments by calling for both Russia and Belarus to be banned from the 2024 Paris Paralympic Games. For nearly twenty months, Russia has waged a war of aggression in Ukraine, aided and abetted by Belarus. The violence has neither ceased nor diminished. Given the continued violation of sovereignty and ever-increasing toll of the conflict, the IPC has an ongoing responsibility as a world leader of sport to uphold its principled suspension of Russian and Belarusian athletes. …
"With the IPC set to deliberate over the fate of the ban during this week's General Assembly, we reiterate that neutrality is not an option. There is no such thing as a 'neutral team' or 'neutral athlete' at the Paralympic Games. Nationality is a central element of the Games – athletes are standard-bearers whose success is strongly associated with their homeland, regardless of whether flags, anthems, or national colours are stripped away. Removing identification does not change the fact that a team or an athlete represents their country – and in the case of Russia, represents, and potentially supports or serves for, the Putin regime.
"In concert with athletes from around the world, we urge the IPC to reject pressure from Russia, Belarus, and the International Olympic Committee to create a pathway for Russian and Belarusian athletes to compete. We call on the IPC to uphold the outright ban on Russia and Belarus for the Paris 2024 Paralympic Games."
2.
Arrest warrant issued in June for Qatar's bin Hammam
The French all-sports newspaper L'Equipe reported Tuesday that the Parquet National Financier – France's National Financial Prosecutor's Office – asked for and received an arrest warrant for former Asian Football Confederation chief Mohamed bin Hammam of Qatar, concerning corruption charges related to the country's selection as the host of the 2022 FIFA World Cup.
The report explained that the PNF received the warrant for bin Hammam on 23 June 2023, and that the now 74-year-old did not appear for multiple hearings and his present whereabouts are not known.
Bin Hammam was a major power-broker in football as head of the Asian Football Confederation from 2002-2011, and led the lobbying effort for Qatar in the lead-up to the December 2010 vote in which Qatar was surprisingly selected over Australia, South Korea, Japan and the U.S. as the host for 2022. A report in the online magazine Tablet showed that some $330 million in payments was distributed to specific members of FIFA's Executive Committee, which made the selection.
Bin Hammam then made a brief and unsuccessful run to be FIFA President in 2011, ultimately withdrawing and allowing Swiss Sepp Blatter to run unopposed for a fourth term. He was accused of offering bribes to potential voters prior to his withdrawal and was suspended for life by FIFA's Ethics Committee. Bin Hammam appealed to the Court of Arbitration for Sport and had the ban annulled in 2012, but FIFA suspended him for life again in December 2012 for conflicts-of-interest in his role as the head of the Asian Football Confederation.
The French daily Le Monde reported that bin Hammam has been ordered by the Qatari government to remove himself from any public presence since then.
The L'Equipe story characterized the charges as "acts of private corruption related to the awarding of the 2022 Football World Cup." This specifically included efforts to "neutralize a vote favorable to Qatar's competitors," by financially supporting Oceanian Football Confederation head Reynald Temarii (French Polynesia) with the costs of an appeal of a FIFA ban for corruption, with payments of €305,000. Temarii was indicted by the PNF in May. Temarii has denied any wrongdoing; he recently completed an eight-year ban by FIFA imposed in 2014.
3.
U.S. skater Zhou bemoans lengthy Valieva case resolution
"It has been 595 days since my teammates and I earned medals at the Olympics. We still have not received them."
That's the beginning of a two-page open letter posted Monday (25th) from U.S. figure skater Vincent Zhou, now 22, who placed third in the men's Free Skate segment of the figure skating Team Event at the Beijing 2022 Winter Games. The U.S. placed second to Russia on the ice, but the results of the event are still not finalized pending the resolution of the doping positive against Russian skater Kamila Valieva. The appeal by the World Anti-Doping Agency, International Skating Union and Russian Anti-Doping Agency against Valieva's lenient sanction by the Russian anti-doping appeals board began Tuesday at the Court of Arbitration for Sport.
Zhou wrote, in pertinent part:
"While there are significant economic costs associated with not receiving an Olympic medal (sponsors love medals), the real harm has come from the way the 'situation' has been handled by sport administrators.
"In the 19 months since we took to the ice in Beijing, my teammates and I have heard almost nothing from the officials handling the case, and we have no reason to believe our interests are being adequately represented. This week, a hearing is scheduled at CAS … The idea that such a hearing will serve the interests of clean athletes is absurd – the Russian 'Anti-Doping' Agency has been facilitating Russian doping for over a decade. The IOC, for its part, has repeatedly refused to hold Russia accountable for a state-sponsored doping program involving more than 1,000 athletes. WADA, which is controlled by the IOC through a governing agreement with public authorities, reinstated the Russian Anti-Doping Agency in 2018 despite the agency's refusal to turn over data detailed the extent of Russian doping. And the 'court' in next week's hearing, CAS, which is an arm of the IOC (its president is the IOC vice-president), has repeatedly sided with Russia – first in overturning the sanctions of Russian athletes and then in watering down the subsequent sanctions on Russia and RUSADA. Who in this panoply of actors represents the interests of me and my teammates, and furthermore, the interests of the broader sporting community?"
And Zhou pulled no punches on blame:
"The situation we found ourselves in at the Beijing Games and the painful process that we have endured since are a direct result of decisions made by the IOC, WADA and CAS. The global sport administrators allowed Russian athletes to compete in the past four Olympics, including Beijing, despite the country's state-sponsored doping program. The program is widely known to have corrupted multiple Olympic Games and defrauded thousands of athletes. Also, the Russian government has obstructed the pursuit of justice by manipulating data, destroying laboratories, and going so far as to murder whistleblowers in order to undermine investigations. And yet, the Russian team has not been excluded from a single Olympic Games.
"Valieva's positive drug test is not an isolated incident. My teammates and I are aware of widespread doping by other Russian skaters – and this, unfortunately, should surprise no one, given that a non-compliant anti-doping organization is still tasked with ensuring the integrity of sport inside Russia. …
"As my team's empty medal boxes show, the global anti-doping system is failing athletes. … Whenever finally held, the awards ceremony for the Beijing 2022 Figure Skating Team Event will be a symbol of the gross failures of the IOC, CAS, RUSADA and other global sporting administrators."
The letter was accompanied by a photograph of Zhou's medal case from Beijing, which is, of course, empty, as the Valieva hearing continues this week.
4.
Assefa's record marathon aided by $500 adidas shoe
Stunning is just one way to describe the 2:11:53 women's world record in the marathon by Ethiopian Tigst Assefa in Berlin on Sunday, slashing the prior best of 2:14:04 by Kenyan Brigid Kosgei in Chicago in 2019.
Assefa's run was amazing not just for the sensational final time, but that she ran the race with "negative splits," meaning the second half was faster than the first! She passed halfway in 1:06:20, then came home in 1:05:33. Her 5 km splits, as reported by Track & Field News:
● 5 km: 15:59
● 10 km: 15:46 [31:45]
● 15 km: 15:42 [47:27]
● 20 km: 15:26 [1:02:53]
● 25 km: 15:47 [1:18:40]
● 30 km: 15:32 [1:34:12]
● 35 km: 15:30 [1:49:42]
● 40 km: 15:32 [2:05:14]
● 42.2 km: 6:39 [2:11:53]
Association of Track & Field Statisticians Treasurer Tom Casacky (USA) points out that Assefa did have help:
"She was paced all the way to the last 400-600m by her countryman Girmay [Birhanu] Gebru, in company with several others for parts of the way, and by Jared Ward from 28 km until the last mile or so.
"2:11:53 is an impressive time for any human in the marathon, but like so many others, this was a time trial, not a proper 'race.' For that, a women-only event without pacers is necessary."
(Gebru finished 30th overall in 2:12:31; the U.S.'s Ward was 27th in 2:11:44.)
World Athletics keeps a separate record for women-only races, with the record being 2:17:01 by Mary Keitany (KEN) from London in 2017, but that race had pacesetters as well. Casacky noted, "the fastest marathon ever run by a woman in a women's-only race, without pacers, on a legitimate out-and-back (loop) course, is apparently the 2:18:11 at last year's Eugene World Championships [by Gotytom Gebreslase/ETH]."
Assefa also benefitted from a new shoe, the adidas Adizero Adios Pro Evo 1, which is reportedly designed to be worn only once and which retails for $500 U.S., and is shown as sold out on the adidas Web site. The description:
"Meet a running shoe like no other. The Adizero Adios Pro Evo 1 is a prototype enhanced with unique technology that challenges the boundaries of racing. Featuring a liquid rubber outsole, a state-of-the-art forefoot rocker, and the latest version of the LIGHTSTRIKE PRO foam, this model embodies performance running innovation."
Assefa held up the shoes after the race and later told reporters:
"This is the lightest racing shoe I have ever worn and the feeling of running in them is an incredible experience, like nothing I've felt before. I knew I wanted to go for the world record but I never thought I would do this time. It was the result of hard work."
The new shoe has a sole thickness of 39 mm, just under the 40 mm limit, and weighs just 138 g (4.87 oz.).
Tweeted 1984 British Olympian Tim Hutchings, a four-time World Cross Country silver medalist who ran 13:11.50 for 5,000 m and 28:07.57 for 10,000 m:
"'We no longer have historical context on what times mean.' – that's the great sadness. We all have to accept tech advances. But listen to any sport on TV; data & comparisons are everywhere. Yet they're impossible now, unless you only care about the last 4-5 years."
¶
Kenya's Agnes Ngetich's apparent women-only world-record runs in the women's 5 km and 10 km on 10 September at the Transylvania 10K in Brasov (ROU), will not be ratified as the course was short. From a Facebook post by the organizers:
During the homologation process of the World Record set by Agnes Ngetich that required a remeasurement, it was indicated that the course used in Brasov, on September 10, differed with 25m from the certified circuit. Although barely relevant in relation to the 36 seconds that Agnes Ngetich took from the previous World Record, this difference makes the result technically non-ratifable. …
"We understand that such an error is way below the standard of our event, and we will take all the measures so that it never repeats."
The organizers announced that Ngetich is prepared to try for these women-only race records again in 2024. She ran 29:24 for the 10 km distance, way ahead of the women-only 30:01 by the late Agnes Tirop (KEN) from 2021, and 14:25 en route for 5 km, better than the women-only 14:29 by Senbere Teferi (ETH) in 2021.
5.
Paris 2024 projected to create 181,000 jobs
A new study by Limoges Center for Sports Law and Economics (CDES) projects that the 2024 Paris Olympic and Paralympic Games will create 181,000 jobs, mostly in construction, Games operations and tourism:
● 30,000 in construction
● 89,300 in Games operations
● 61,800 in tourism
The leading sectors include catering (40,000), private security (26,000), marketing support (13,000) and logistics (10,000). The Paris 2024 organizers have 1700 staff now, 2,000 by the end of the year and about 4,000 by the time of the Games.
A major job fair was held in Paris on Tuesday, looking to fill 16,000 positions, with the Sodexo Live catering operation looking for 6,000 people and the RATP and SCNF transit groups also looking for workers.
≡ PANORAMA ≡
● Paris 2024 ● During a Sunday interview, French Sports Minister Amelie Oudea-Castera confirmed a Conseil d'Etat court ruling in June, saying that no French athletes would be allowed to wear a hijab at the 2024 Paris Olympic Games, with a policy of "a strict regime of secularism, applied rigorously in the field of sport.
"What does that mean? That means a ban on any type of proselytising and the absolute neutrality of the public service."
Her ministry noted in a statement:
"French teams are subject to the principle of public service neutrality, from the moment they are selected to this end in all national and international competitions. Thus, one cannot wear a headscarf (or any other accessory or outfit demonstrating a religious affiliation) when representing France in a national or international sporting competition."
The United Nations Office of the High Commissioner for Human Rights criticized the announcement, with spokeswoman Maria Hurtado (ESP) adding, "No one should impose on a woman what she needs to wear, or not wear."
● Athletics ● Dutch sprint star Dafne Schippers, who started as a heptathlete, but became the 2015 and 2017 World Champion in the 200 m, announced her retirement at 31. She wrote on Instagram, in part:
"Today, I have decided to take my life off track to pursue and embrace whatever comes next, but not without saying a massive thank you for all the endless support. It has been a journey without regret."
She won a Worlds bronze in the heptathlon in 2013 and scored a best of 6,545 points. But she changed to the sprints and was European Champion in the 100 and 200 m in 2014 and then took the 2015 Worlds gold in the 200 (plus a 100 m silver), an Olympic silver at 200 m in 2016 and another 200 World title in 2017. Injuries slowed her after that, finishing in 2022 with five meets in the 100 m only.
She finishes with bests of 10.81 in the 200 m (2015) and 21.63 – no. 6 all-time – in the 200 (2015), and was a 22-time national champion.
● Basketball ● FIBA reported strong viewership of the men's World Cup for the Serbia vs. Germany final, with a 59% share of audience for the game in Serbia and 35% in Germany. The tournament was shown in 190 countries, a 15% increase over the 2019 edition.
● Bobsled & Skeleton ● The International Bobsleigh & Skeleton Federation Congress met in Barcelona (ESP) on Sunday, but the topic of Russian re-entry for the 2023-24 season was not discussed. Russian Bobsleigh Federation President Anatoly Pegov told the Russian news agency TASS:
"At last year's Congress, the International Bobsleigh and Skeleton Federation made a decision to impose a temporary ban on all athletes of the Russian Bobsleigh Federation or athletes linked with the Russian Bobsleigh Federation from taking part in IBSF competitions until further notice and until the situation improves so that the Russian Bobsleigh Federation's teams could be allowed to take part in competitions.
"The Executive Committee enjoys the right to revoke the temporary suspension either partially or fully as soon as it deems expedient taking into account the analysis of the circumstances that have led to this measure. Regrettably, the IBSF Executive Committee did not think it possible to change this decision and put this matter for consideration at today's Congress.
"The general atmosphere at the congress was calm, although some participants made negative remarks in respect of the Russian delegation. Our bobsledders and skeleton racers will continue training and competing in Russia to prepare for international tournaments when the IBSF makes a positive decision concerning our athletes."
¶
Former NCAA shot put All-American-turned-Olympic bobsledder Aja Evans filed suit in New York last Thursday (21st) against USA Bobsled & Skeleton, Dr. John Wilhelm, Pro Chiropractic and the U.S. Olympic & Paralympic Committee, alleging "sexual abuse and harrassment" over many years.
According to the complaint, Evans – a Sochi 2014 Olympic bronze medalist in the two-woman sled – was assaulted "under the guise of athletic medical care" by Wilhelm, a team osteopathic medical provider. She alleged that much of the abuse took place at the USA Bobsled headquarters in Lake Placid, N.Y.
Wilhelm's attorney issued a statement denying all claims made against him.
● Football ● Modest television ratings for the farewell matches for Julie Ertz and Megan Rapinoe last week in friendlies against South Africa. On Thursday, the U.S. women's 3-0 win in Ertz's finale was watched by an average of 249,000 on TNT. Sunday's 2-0 win in Chicago had an average of 344,000 during the game, preceded by 266,000 for the half-hour pregame on TNT that saluted Rapinoe.
¶
"The [U.S.] Justice Department announced today, alongside its partners from Mexico's Federal Economic Competition Commission (COFECE) and Canada's Competition Bureau, the launch of a joint initiative to deter, detect and prosecute collusive schemes related to the provision of goods and services in connection with the 2026 FIFA World Cup."
Friday's announcement also explained:
"Through this initiative, the enforcement agencies will collaborate on outreach to the public and business community about anti-competitive conduct, as well as on investigations, using intelligence sharing and existing international cooperation tools."
A "Procurement Collusion Strike Force" has been set up and is interested in receiving information on "market allocation, price fixing, bid rigging or other anticompetitive conduct."
¶
In the aftermath of an agreement with the Spanish federation (RFEF) to improve conditions, Spain's Women's World Cup champions returned to the field with impressive victories in the UEFA Nations League Group 4. The Spanish came from behind to beat Sweden in Goteborg (SWE), 3-2, finally winning in stoppage time at 90+6 on a penalty kick from forward Mariona Caldentey.
On Tuesday, the Spanish had no trouble with Switzerland in Cordoba (ESP), winning by 5-0, with Aitana Bonmati scoring twice.
● Short Track ● Beijing 2022 Olympian Kristen Santos-Griswold came into the USA Speedskating Short Track Nationals in Kearns, Utah as the favorite after a brilliant World Cup season. And she showed why, sweeping all six events on the way to national titles in the women's 500 m, 1,000 m and 1,500 m!
● 500 m: Santos-Griswold beat Corinne Stoddard in the first final, 42.723 to 42.839, then won the second final over Julie Letai, 42.593 to 43.170.
● 1,000 m: Santos-Griswold and Stoddard were 1-2 again in the first final, 1:38.373 to 1:38.493, and went 1-2 in the second final, 1:27.422 to 1:27.559.
● 1,500 m: Santos-Griswold won the first final in 2:50.772, over Stoddard (2:50.859), then they went 1-2 again in the second final, 2:14.572 to 2:14.491.
Santos-Griswold, of course, ended with a perfect overall score of 60,000 points, with Stoddard at 47.720 and Letai third (44,625). In addition to the six wins, Santos-Griswold also set a U.S. record in the 1,500 m at 1500m with her second final time of 2:14.572. Stoddard finished second overall in the 1,000 m and 1,500 m, with Letai grabbing second in the 500 m. In the men's racing:
● 500 m: Marcus Howard took the first final in 41.603, beating Brandon Kim (41.678), but Kim won the second final over Seung-Min Kwon, 40.864 to 41.297, with Howard third (41.615).
● 1,000 m: Howard took the first final over Clayton DeClemente, 1:34.986 to 1:35.074, then Wesley Park won the second final, 1:25.029 to 1:25.128 over DeClemente.
● 1,500 m: DeClemente won the first race in 2:18.702 over Andrew Heo (2:18.869), while Howard won the second final in 2:18126 over Kim (2:18.131).
Howard came out the overall winner with 42,024 points, ahead of Kim (41,877) and DeClemente (35,399). Kim was the 500 m event winner, with DeClemente winning at 1,000 m and Howard taking the 1,500 m title.
● Swimming ● USA Swimming announced Florida head coach Anthony Nesty and Virginia head coach Todd DeSorbo as the head men's and women's coaches for the Paris 2024 Olympic swim team for 2024.
The pair are supremely experienced, as both served as assistant coaches for the Tokyo 2020 Olympic teams and as head coaches for the USA Swimming teams at the 2022 World Aquatics Championships in Hungary.
Nesty was an Olympic gold medalist for Suriname in 1988 in the 100 m Butterfly, and has been the Florida men's coach since 2018, and for both men and women since 2021. DeSorbo's Virginia women's teams are the three-time defending NCAA team champions.
¶
You can receive our exclusive TSX Report by e-mail by clicking here. You can also refer a friend by clicking here, and can donate here to keep this site going.
For our updated, 787-event International Sports Calendar (no. 3) for 2023 and beyond, by date and by sport, click here!