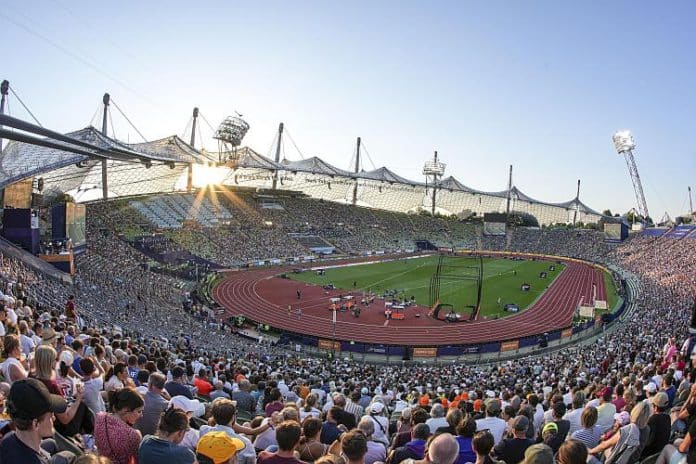 ★ The Sports Examiner: Surveying, monitoring and explaining the key competitive, economic and political forces shaping elite sport and the Olympic Movement. ★
Thank you to our 23 donors, who have covered 34% of our summer funding goal for operating costs. Can you help? Please donate here. Comments? Click here.
★ To get The Sports Examiner by e-mail: sign up here! ★
≡ THE 5-RING CIRCUS ≡
1. Ingebrightsen 3:29.05, upsets by Hobbs & Broadbell in Lausanne
2. European Championships drew 1.47 million spectators!
3. World Games organizers failed to inform the politicians
4. California legislature OKs 10-year in-state tuition for student-athletes
5. Evenepoel extends lead at La Vuelta a Espana
The Lausanne Diamond League meet showcased Norway's distance star Jakob Ingebtigtsen, who won with a world-leading 3:29.05 in the men's 1,500 m. But the meet was also marked by upset wins for American Aleia Hobbs (women's 100 m) and Jamaican Rasheed Broadbell (men's 110 m hurdles) and a speedy 19.56 200 m win for Noah Lyles of the U.S. The just-completed European Championships in Munich drew 1.47 million spectators in total and drew excellent television audiences as well, a good sign for an event in just its second edition. The 2022 World Games in Birmingham, Alabama, was an aesthetic and athletic success, but not a financial one, as it ended with a $15.66 million deficit, with the City Council angered because it was not kept informed. Nevertheless, it allocated $5 million to help more government help apparently on the way. The California legislature approved a bill to give Olympic-sport athletes in-state tuition rates through 2032; it now goes to Governor Gavin Newsom for signature. At the Vuelta a Espana, the third uphill finish in a row saw Belgium's 22-year-old star Remco Evenepoel hold on to the lead for the fourth straight stage, heading into Monday's rest day.
1.
Ingebrightsen 3:29.05, upsets by Hobbs & Broadbell in Lausanne
/Updated/The 11th of 13 Diamond League meets for 2022 saw one world-leading performance, but some amazing upsets in the sprints and hurdles on Friday in Lausanne's Athletissima meet.
Norway's Olympic 1,500 m champ Jakob Ingebrigtsen was the only one willing to follow the swift pacesetting, passing 800 m in 1:51.5 and continuing on through 1,200 m in 2:47.8. He was never challenged, finishing his last lap in 55.2 to cross the line in a world-leading 3:29.05. Kenyan Abel Kipsang out-dueled Australian Stewart McSweyn, 3:29.93 to 3:30.18 for second.
The sprints were another story. In the eagerly-anticipated women's 100 m, Jamaica's five-time World Champion Shelly-Ann Fraser-Pryce withdrew with an injury during warm-ups and twice Olympic champ Elaine Thompson-Herah was disqualified for a false start! When the running finally got going, it was American Aleia Hobbs with the lead with 20 m and she survived a late rush by Jamaica's World 200 m champ Shericka Jackson for the win by 10.87-10.88 (wind 0)! Americans Tamari Davis and TeeTee Terry went 4-5 in 10.94 and 11.13. Said the winner:
"I had a good start today and I know that if I start well I can get great times."
In the men's 110 m hurdles, World Champion Grant Holloway of the U.S. got out to his usual strong start and had control of the race after seven hurdles. But Commonwealth Games champ Rasheed Broadbell (JAM) came on strong as did Worlds silver winner Trey Cunningham of the U.S. and they went 1-2 in 12.99 (lifetime best) and 13.10, with Holloway slipping to third in 13.11 (wind 0).
Not every event was an upset. American Noah Lyles was challenged on the turn of the men's 200 m by World 400 m gold medalist Michael Norman, but took over in the final 50 m to win in a speedy 19.56 (wind: +1.3 m/s) to 19.76 with Jereem Richards (TTO: 19.95) third. U.S. teen star Erriyon Knighton was sixth in 20.13. It's the equal-16th performance of all-time for Lyles, who said afterwards:
"I would have taken anything under 19.60, so 19.56 is alright for tonight. I could have gone faster but I am not going to fret too much about it.
"I am going to run the 100 m in Berlin and 200 m in Zurich, so there are quite a few meets in the coming weeks. … I feel if I have a 19.30 in me, I will not be too far from a 9.70 in the 100."
Olympic and World Champion Soufiane El Bakkali (MAR) ran away with the men's Steeple, winning in 8:02.45, the no. 5 time of the year. American Evan Jager was eighth in a season's best of 8:16.99. Cuba swept the men's triple jump, with Andy Diaz (17.67 m/57-11 3/4), Lazaro Martinez (17.50 m/57-5) and Jordan Diaz (17.44 m/57-2 3/4); Americans Donald Scott and Christian Taylor were 6-7 at 16.81 m (55-2) and 16.45 m (53-11 3/4). Olympic champ Neeraj Chopra (IND) got a big, 89.08 m (292-3) throw in the first round and that held up to win the javelin; American Curtis Thompson was third (83.72 m/274-8).
In the women's 400 m, Dominican star Marileidy Paulino used a late rush to win, 49,87 to 49.94 over Sada Williams (BAR). European silver medalist Renelle Lamote (FRA) held on in the final meters to edge Allie Wilson of the U.S. in the women's 800 m, 1:57.84 to 1:58.09 in lifetime bests for both. And it looked like American Alicia Monson was going to steal the women's 3,000 m with her steady, hard pace, but was overtaken at the line by favored Francine Niyonsaba (BDI), 8:26.80 to 8:26.81 (lifetime best, no. 4 all-time U.S.). Dutch star Sifan Hassan was fourth (8:28.28) and American Elise Cranny got a lifetime best in sixth in 8:29.95, moving to no. 8 all-time U.S..
Femke Bol (NED) continued her superstar streak from the Europeans with a convincing 52.95 win, with Rio Olympic champ Dalilah Muhammad of the U.S. out strongly, but fading to seventh in 56.03.
Olympic champ Jasmine Camacho-Quinn took a swift 100 m hurdles in 12.34 (wind: -0.9) ahead of world-record holder Tobi Amusan (NGR: 12.45) and Americans Tia Jones (3: 12.47), Nia Ali (4: 12.59) and Keni Harrison (6: 12.59). Slovenia's Tina Sutej won the vault at 4.70 m (15-5) and Olympic and World Champion Yulimar Rojas (VEN) took the triple jump at 15.31 m (50-2 3/4).
In the men's high jump, Ukraine's Andriy Protsenko faired best in the cool conditions at 2.24 m (7-4 1/4), ahead of World Champion Mutaz Essa Barshim (QAT) and JuVaughn Harrison of the U.S. In the men's shot, two-time World Champion Joe Kovacs of the U.S. scored a minor upset over countryman Ryan Crouser, 22.65 m (74-3 3/4) to 22.05 m (72-4 1/4), with Crouser saying afterwards:
"I have just recovered from a long Covid and have not had any training in the last three weeks.
Considering that, tonight was not at all bad, Joe had a great series and I felt I was in the mix with the other guys."
Next up is the Memorial Van Damme in Brussels next Friday (2 September).
2.
European Championships drew 1.47 million spectators!
The nine-sport European Championships Munich 2022 organizers released some statistics on the 12-day program, which has been widely regarded as a considerable success.
At the top of the figures was a whopping total attendance of 1.47 million, including the free public events, led by 200,000-plus for the men's cycling road race; there were 55,000 for the opening ceremony in the Munich Olympiastadion. And:
● 4,024 athletes competing in 175 medal events in 116 sessions
● "The Roofs" festival added 150 musical performances
● Munich 2022 had 1,595 staff on-site and 6,000+ volunteers
A really unique program sure to be replicated elsewhere was the Sportabzeichen or "Sports Badge" project, in which visitors to Munich 2022 could try out each of the nine included sports for themselves. Each completed "sport" earned a single badge and more than 4,000 people completed all nine sports. The concept was to encourage more exercise.
The International Fair Play Committee awarded a "Special Fair Play Trophy" to Andorra's Nahuel Carabana, who stopped to help the fallen Danish runner Axel Vang Christiansen in heat one of the men's 3,000 m Steeplechase on 16 August. Christiansen – an 8:29 Steepler – had slammed into one of the barriers and crumpled in a heap on the track when Carabana (an 8:32 man) stopped to help him and get him out of the path of runners coming around again.
When the medical help came, Carabana continued, now hopelessly behind the other runners, and finished last in the heat at 9:37.74.
The television audience for the European Championships was also impressive, with the events shown on more than 50 public broadcasting channels in Europe via the European Broadcasting Union. Some 700 hours were shown live and 3,500 hours combined including on-demand video of other events.
The top draw in Germany was track & field, with an average audience on ARD of 4.48 million, followed by 2.4 million for triathlon and 2.1 million for gymnastics. Its audience peaked at about six million for Konstanze Klosterhalfen's women's 5,000 m win. The ZDF channel had a peak of 6.7 million, also for track & field, on the final day, with the entire session averaging 5.1 million viewers. ZDF had audiences that averaged 2.85 million for beach volleyball and track cycling (2.3 million).
Stars meant a lot and Swedish television (SVT) had a 60% audience share in the country for the men's vault final, starring home favorite Mondo Duplantis on 20 August. Neighboring Norway's NHK reported a 63% audience share for the track & field broadcast on 19 August that included the men's 400 m hurdles final, starring Olympic champ Karsten Warholm.
The takeaway is that the program as a whole in Munich was more than the sum of its parts. That's not easy to do, but this was – helped by being part of the 50-year commemoration of the Munich 1972 Olympic Games – a great example of what is possible.
3.
World Games organizers failed to inform the politicians
In a loud and forthright commentary, AL.com columnist Roy Johnson – a 2021 Pulitzer Prize winner – praised the 2022 World Games organizing committee for staging a remarkable event in a town which had never hosted anything like it, and condemned them for not sharing the financial realities as they went along:
"Yes, the World Games was a gargantuan feat. One executed with minimal glitches and seismic successes. One for which there was no viable economic blueprint, no sensible model for an event few on this side of the pond had even heard of until a handful of local businessmen and then-Mayor William Bell sought it out eight years ago – at least not one in which the math added up. …
"And yet, as [chief executive Nick] Sellers and crew fully know now: They should have said something sooner, much sooner. They should have alerted city and business leaders not just that there would be a deficit (which they did) but as soon as it was clear the hole was deeper than expected – $14 million deep."
In fact, the debt was $15.66 million in all, with the Birmingham City Council agreeing to pick up $5 million of it, on what Johnson explained was a 7-2 vote. "I deeply resent being left in the dark," said Councilor Valerie Abbott, one of the votes against the bailout. Sellers apologized, but Johnson noted that the Jefferson County Commission will be asked to vote on a $4 million grant and the Convention & Visitors Bureau for $1 million. That's $10 million in all, with Sellers trying to raise the remainder from sponsors and supporters.
Said Councilor Clinton Woods:
"When we're in the dark we're in a terrible situation out there telling residents what we believe to be the truth. …
"In order to most effectively run the city, the public has to have faith in us – telling them the truth when we say we can't give them what they want. We can say we didn't know, but they see it as we should have known. They see it as a World Games versus the neighborhoods discussion. That is not the case. We got to do a better job."
Observed: Long-time observers of the Olympic Movement will remember the broken relationship between the 1996 Olympic organizers and the City of Atlanta, which had terrible consequences for the short-term and long-term reputation of the event, such as from the non-sponsor commercial displays in the downtown area.
But in Birmingham – even with a deficit looming – the local and regional governments and the organizers ensured that the event went off well and are now trying to solve the remaining issues. That's to the credit of both sides, with Birmingham looking to future on how it can capitalize on putting on a quality show for 3,600 athletes from 110 countries. Now they need to take the knowledge they have and make it pay off in the years to come.
4.
California legislature OKs 10-year in-state tuition
for student-athletes
The California Assembly and Senate have passed AB 2747 (2021-22), which will allow college students from anywhere who train in California to obtain in-state tuition rates and fees for the next 10 years:
"Any Team USA student athlete who trains in the state in an elite level program approved by the United States Olympic and Paralympic Committee is entitled to resident classification for tuition and fee purposes until the athlete has resided in the state the minimum time necessary to become a resident."
Being a "Team USA athlete" only means being eligible under the rules of the U.S. Olympic & Paralympic Committee and the relevant National Governing Body.
The legislation was endorsed by the LA28 organizing committee, the USOPC, the National Governing Bodies Council and others. It's in force as written through 30 June 2032; after that, it applies only to "any student athlete in training at the United States Olympic Training Center in the City of Chula Vista" (actually now named the Chula Vista Elite Athlete Training Center).
It passed by 40-0 in the Senate and the final amended version was approved, 76-0, by the Assembly. California Governor Gavin Newsom is expected to sign it.
5.
Evenepoel extends lead at La Vuelta a Espana
Sunday's 171.4 km route for Stage 9 at the 77th Vuelta a Espana featured yet another uphill finish, this time a brutal climb up Les Praeres in Nava in Asturias, rising almost 500 m in the final 3.8 km.
It was South Africa's Louis Meintjes who mastered the climb best, catching the three riders ahead of him with 2.5 km left and storming to the finish in 4:32:39, ahead of Samuele Battistella (ITA: +1:01) and Edoardo Zambinini (ITA: +1:14).
Behind them was Belgium's Remco Evenepoel (+1:34), who added to his overall lead, now 1:12 up on Enric Mas (ESP) and 1:53 on three-time defending champ Primoz Roglic (SLO). Just 22, Evenepoel has already had three UCI World Tour wins this season and continues in the lead for fourth straight stage.
The overall race did not change on Friday's single-climb, 190 km ride from Camargo to Cistierna, with home favorite Jesus Herrada winning the final sprint from Battistella (ITA) and Fred Wright (GBR) with the top five all timed in 4:30:58. Saturday's more arduous, 153.4 km route ended with a nasty climb on the Collau Fancuaya in Astuias in northwest Spain at 1,084 m, conquered by Stage 6 winner Jay Vine (AUS) with a solo attack over the last 6 km. He finished 43 seconds up on Marc Soler (ESP) and Estonia's Rein Taaramae.
Monday is a rest day, with a time trial on Tuesday, two more flat stages, two hilly stages and two mountain stages coming up through next Sunday.
≡ WORLD CHAMPIONSHIPS ≡
● Badminton ● The 27th BWF World Championships was held in Tokyo, with China claiming two of the five titles decided on the final day.
In the women's Doubles, defending champions Qing Chen Chen and Yi Fan Jia (CHN) out-lasted 2021 bronze medalists So Yeong Kim and Hee Yong Kong (KOR), 22-20 and 21-14; it's the third world title for Chen and Jia (also in 2017). In the Si Wei Zhang and Ya Qiong Huang (CHN) won their third career Mixed Doubles title together by 21-13, 21-16 over Yuta Watanabe and Arisa Higashino (JPN), silver medalists for the second consecutive year.
The hosts celebrated a win in the women's Singles, as top-seeded and defending champion Akane Yamaguchi (JPN) defeated Yu Fei Chen (CHN), 21-12, 10-21, 21-14. Chen won her third Worlds medal in the last five editions, after bronzes in 2017 and 2019.
Viktor Axelsen (DEN) won his second career world title with a 21-5, 21-16 rout of Kunlavut Vitidsarn (THA). Axelsen also won in 2017; Vititsarn was the first-ever Thai finalist in this event.
Malaysia's Aaron Chia and Wool Yik Soh won the country's first-ever men's Doubles world title, upsetting three-time champions Mohammad Ahsan and Hendra Setiawan (INA), 21-19, 21-14.
● Cycling ● The Mountain Bike World Championships returned to Les Gets (FRA) for the first time in 18 years, with the amazing Nino Schurter (SUI) winning his 10th career Worlds gold in the men's Cross Country final.
Schurter, now 36, was in the lead or close to it during the entire seven-lap, 24.01 km race, producing the fastest laps in the field on the final two laps to finish in 1:21:13. That was nine seconds up on Spain's David Valero (1:21:22) and 29 seconds ahead of Italian Luca Braidot (1:21:42), both first-time medal winners. Schurter came in as the defending champ and has now won seven of the last eight world titles.
French star Pauline Ferrand-Prevot, 30, won her third world title in the past four seasons and fourth overall in 1:22:08 for the six-lap, 20.58 km course. She was a clear winner, some 1:35 up on 2017 Worlds winner Jolanda Neff (SUI) and 2:13 ahead of American Haley Batten, who won her first career Worlds medal and the first for the U.S. since 2018.
In the men's 12.0 km short-track racing, New Zealand's Sam Gaze – the two-time Commonwealth Games Cross Country winner – managed a three-second win over Swiss Filippo Colombo, 22:21 to 22:24 in the men's race, with fellow Swiss Thomas Litscher third (22:27). France's Ferrand-Prevot moved up from the bronze medal in the women's division in 2021 to the top of the podium, winning the 10.8 km race in 21:56, 18 seconds up on Alessandra Keller (SUI: 22:14) and 21 seconds ahead of American Gwen Gibson. Fellow Americans Kate Courtney finished eighth and Savilla Blunk was 10th.
The non-Olympic downhill was a French sweep for the men, with Loic Bruni winning his fifth world title in 3:20.478 over Amaury Pierron (3:23.059) and Loris Vergier (3:23.864). Dakotah Norton and Aaron Gwin finished 7-8 for the U.S. Austria's Valentina Hoell, 20, scored an upset win in the women's race in 3:53.857, ahead of Nina Hoffmann (GER: 3:54.763) and defending champion Myriam Nicole (FRA: 3:57.304).
● Ice Hockey ● The annual IIHF Women's World Championship is underway in Denmark, with the U.S. off to a hot start with a 10-0 rout of Japan and a 6-1 win over Finland, both at the KVIK Hockey Arena in Herning. Canada is 3-0 and has out-scored its opponents by 17-2 so far.
Canada and the U.S. will play on 30 August; the playoffs begin on 1 September with the medal matches on 4 September.
● Volleyball ● The 2022 FIVB men's World Championship is underway in Poland and Slovenia, with pool play through the 30th, followed by playoffs beginning on 3 September.
The U.S. is in Pool C in Katowice (POL) along with defending champion Poland, and is 2-0 after defeating Mexico and Bulgaria in straight sets. The Americans and Poles will play in the final pool match on the 30th; the top 16 teams (out of 24) advance to the playoffs.
≡ PANORAMA ≡
● National Olympic Committees ● The Russian sports minister, Oleg Matytsin, well respected from his time as the head of the International University Sports Federation (FISU), now is in a difficult position during the Russian war against Ukraine.
But given his FISU experience, his recent comments were an interesting gauge of what makes a sport important. At the All-Russian Spartakiad in Kazan, he visited the break dancing competition and told reporters:
"Everything that is interesting to people, everything that is interesting to young people deserves the closest attention and support.
"Moreover, this sport is Olympic, and the Federation of Dance Sports and Acrobatic Rock and Roll Russia is actively developing it in our country."
On this basis, there are multiple Olympic-program sports which have low participation among youth and could be jettisoned. Time will tell if his view prevails.
● Athletics ● The Athletics Integrity Unit posted provisional suspensions for two more Kenyan marathoners late last week, alleging use of prohibited substances against Michael Kunyuga and Maiyo Johnstone Kibet (also known as Johnstone Maiyo).
Kunyuga, 35, a 2:06:43 man from 2020, was sanctioned for use of the steroid Norandrosterone, and Kibet, 33, with a 2:10:02 best from 2011, for the oxygen-support drug erythropoietin (EPO).
The AIU database shows 49 Kenyans as ineligible (45 are distance runners), not counting seven others on the provisional suspension list.
● Badminton ● Sydney 2000 women's bronze medalist Zhaoying Ye of China told Denmark's TV2 television on Saturday that she was ordered to lose to teammate Zhichao Gong in the Olympic semifinals in order to give Gong an edge going into the gold-medal match.
Gong "defeated" Ye, 11-8, 11-8, to advance to the final, which she won in straight sets over Denmark's Camilla Martin. Said Ye:
"They asked me to do this. They told me not to let it look like I was losing on purpose. But at the same time, they wanted me not to tire Gong Zhichao too much. They wanted me to lose in two sets, not in three sets, so that I wouldn't tire her out too much.
"You can go and watch it again. I would purposely put points out of bounds, stuff like that, or make sure (the shuttlecock) did not go over the net. I had no choice."
Ye, now 48, won her bronze-medal match against fellow Chinese Yun Dai, and added, "We feel very helpless, because we are alone against the system. The Olympics is almost a once-in-a-lifetime opportunity for an athlete, so it's really sad. But as an individual, I couldn't argue with the system."
She and her husband, Haidong Hao, 52, a former Chinese football star striker, live in exile in Malaga (ESP) after Hao's criticism of the regime in 2020.
The Badminton World Federation, in response to the story, noted that much stronger competition manipulation oversight tools are available today.
● Basketball ● The U.S. men's national team crushed Uruguay, 105-71, in Las Vegas to win its first of six matches in Group F of the Americas qualifying window for the 2023 FIBA World Cup.
Guard John Jenkins – who plays professionally in France – the U.S. with 22 points, followed by sub guard Langston Galloway (18) and forward DaQuan Jeffries (16), as the team shot a blistering 63.6% from the field, including 51.7% (15-29) from three-point range.
The American squad will travel to Barranquilla for a Monday match against Colombia; the next qualifying window will be in November.
● Football ● FIFA lifted its suspension of the All India Football Federation on Friday, in view of the return of control of the federation's operations from the court-appointed Committee of Administrators. The good news:
"As a consequence, the FIFA U-17 Women's World Cup 2022 scheduled to take place on 11-30 October 2022 will be held in India as planned."
● Rugby Sevens ● The HSBC World Rugby Sevens Series came to the Los Angeles area over the weekend, playing the ninth and final stage of the season at the Dignity Health Sports Park in Carson, the proposed site for the 2028 Olympic tournament.
Australia, New Zealand, Fiji and Samoa all cruised through pool play with 3-0 records. Those four all won their quarterfinals and then Fiji crushed the Aussies, 29-10 in one semi and New Zealand edged Samoa, 28-26 in the other.
However, Australia, which had never finished better than second way back in 2000-01, defeated Samoa, 21-7, in the bronze-medal march and won its first-ever team title with 126 points.
The gold-medal final saw a 14-14 tie at half, but New Zealand winning late, 28-21, for its first tournament win of the season.
Defending champion South Africa, which won the first four tournaments of the season, finished second overall with 124, with Fiji third (122), Argentina fourth (118) and Ireland (92) fifth. The U.S. was sixth (87).
● Wrestling ● U.S. wrestler Pat Smith won the Greco-Roman 60 kg gold for the only American win at the Slaven, Halfen, Weinberg & Gottfruend Memorial, held in Be'er Sheva (ISR) in memory of four members of the Israeli delegation who were murdered at the 1972 Olympic Games by Palestinian terrorists.
The seven-nation tournament saw Israel win nine titles overall (Greco and Freestyle), followed by Germany and Morocco with three each and Greece and the U.S. with one each.
¶
You can receive our exclusive TSX Report by e-mail by clicking here. You can also refer a friend by clicking here, and can donate here to keep this site going.
For our updated, 620-event International Sports Calendar for 2022 and beyond, by date and by sport, click here!