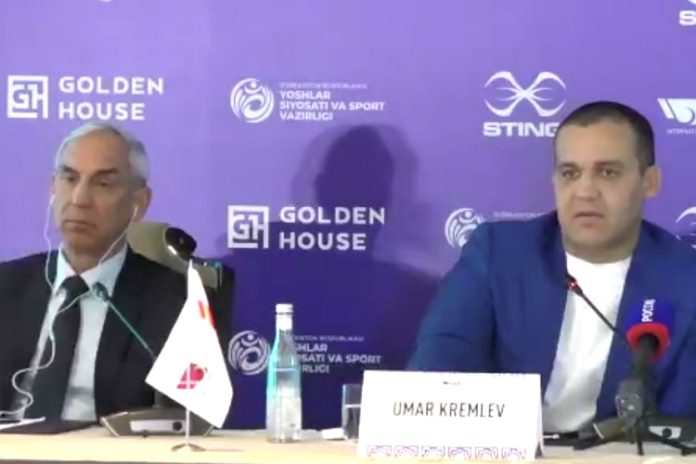 ★ The Sports Examiner: Chronicling the key competitive, economic and political forces shaping elite sport and the Olympic Movement.★
★ To get The Sports Examiner by e-mail: sign up here! ★
≡ THE 5-RING CIRCUS ≡
1. Kremlev: IBA looking to select new U.S. national federation
2. Remembering long jump great, analyst and activist Ralph Boston
3. Canoe federation agrees to Russian and Belarusian re-entry
4. Ukrainian fencers and judokas ready to skip events with Russian entries
5. Russia continues to protest all sports sanctions
International Boxing Association President Umar Kremlev employed his usual colorful style to declare at a news conference in Uzbekistan that the IBA has no problems, is working to answer all the issues posed by the International Olympic Committee, is unconcerned by the new World Boxing group and has a committee reviewing five applications from possible replacement federations for the now-departed USA Boxing. Even casual track fans know the names Jesse Owens and Bob Beamon, but they set one world record each. Ralph Boston, who passed away on Sunday at age 83 was the one who broke Owens' mark after 25 years and was credited with six world marks in his career and won three Olympic medals. The International Canoe Federation dropped into line with the International Olympic Committee on Russian and Belarusian re-entry, but noted that national federations running events would be allowed to exclude them if desired. In separate situations, Ukrainian fencers and judoka said they will not compete against Russian or Belarusians, with the Ukrainian Judo Federation announcing a boycott of the upcoming IJF Worlds in Qatar. Russian criticism of any and all restrictions against them due to Russia continuing war on Ukraine now includes a statement by the Athletes Commission of the Russian Olympic Committee, which called the sanctions "a gross violation."
● Panorama: Athletics (3: Brooks wins GardaStars, Allen returns at Penn; Sawe now no. 5 all-time at 10 km) = Canoe-Kayak (U.S. star Liebfarth wins two in PanAm Slalom Champs) = Cycling (2: Andersen wins Eschborn-Frankfurt; U.S.'s Hoehn takes Tour of the Gila) = Modern Pentathlon (Korea wins World Cup mixed relay) = Rowing (Kohler win highlights U.S. National Selection Regatta) ●
● Errata: Some readers saw a version of Monday's post which showed Ireland as part of the field for the 2023 FIBA men's World Cup. Iran, ranked 22nd, will compete; not Ireland. Thanks to Olympic statman Hilary Evans (GBR) for the sharp eyes. ●
1.
Kremlev: IBA looking to select new U.S. national federation
During a nearly-90 minute news conference in Tashkent, Uzbekistan on the second day of the International Boxing Association men's World Championships saw federation chief Umar Kremlev maintain his well-rehearsed lines about how well the IBA is doing and rejecting any challenge from the new World Boxing group. But there were some new twists:
● Asked about the withdrawal of USA Boxing from the IBA, Kremlev replied, according to the Russian news agency TASS:
"The American association has left, but we already have more than five applications from the USA from organizations that are ready to develop boxing in the country. We have created a special commission that will study which of them we accredit. But the decision [to leave] was not made by boxers, but by officials who decided to break the faith of athletes, American boxers write to me, complaining that they are not allowed [to compete].
"Only hyenas or jackals do this, you can't call them otherwise. They should be pointed to their place, shown that they are outcasts of society and cleanse the sport of such people. The functionary's task is to ensure the participation of the athlete, and not to tell them where to go."
● Asked about the new World Boxing group, Kremlev said (transcribed from the English-language interpreter online):
"You know, we say that there's always a black sheep in a family. There are always people who go their own ways. We need to keep our dignity, and as for this situation, yes, I heard about it, but I don't think it's worth discussing this matter here. So let's not make a mountain out of a molehill.
"Someone just decided in their garage to register an international association. Why should we even pay attention to that? Our only concern are critical remarks, that we can handle and that we can improve.
"I am fine with any criticism, it gives motivation for development, but today the IBA is the only international association that manages boxing. Those who want to leave or move on, must understand that all the rules of boxing belong to the IBA, and we have the right to govern boxing. No one else decides [whether] IBA has the right to organize tournaments."
● About the concerns of the International Olympic Committee and boxing's future in the 2028 Olympic Games and beyond (transcribed interpretation):
"As of today, there are no problems at IBA. …
"Basically, I don't see the reason or the point to explain anything. I am sure that they don't like me. They didn't like the fact that I'm not licking anyone's ass – sorry for saying it such a straightforward way – but indeed. Maybe they don't like us providing and giving prize money, which is even greater than the prize money at the Olympics. This is all their own problem.
"Our organization exists for us to provide all the money to the athletes. We don't want to pay for five-star hotels, for travels of functionaries or sports officials. No, we would like dedicate all money to athletes. I can't see any hurdles or difficulties in our communications with the IOC. I do not see any problems or any hurdles."
Kremlev once again blamed all of the IOC's issues at his predecessor as federation president, C.K. Wu (TPE), who he pointed out was an IOC Executive Board member: "So all the questions, they should be raised from C.K. Wu."
The IBA has set up a committee to work on a reply to the IOC's inquiries; Secretary George Yerolimpos (GRE) explained:
"The fifth of May, or a few days after, the IBA will present to the IOC a package of all the answers, and what we did in all this period, and I feel very proud to be part of this as a member of the IBA. …
"Olympics is a very nice and beautiful tree. We would like to be very close to this tree. But also, IBA must deal with other trees we have around. We want to deal with our forest, the boxers. We love this tree, but we need to take care about also the forest, the boxing."
Yerolimpos explained that the prize money for the women's Worlds ($2.4 million) and men's Worlds ($5.2 million) came from the license fees paid by the host associations (India and Uzbekistan). He also said that additional sponsors would be announced by the IBA during the summer, to help fund the IBA office and its development projects.
Kremlev said that the sponsorship agreement with the Russian state-owned energy giant Gazprom has run out and has not been renewed, at least not yet. The Gazprom agreement has been a sticking point for the IOC, given its state ownership and the sanctions on the Russian state amidst its continuing invasion of Ukraine.
2.
Remembering long jump great, analyst and activist Ralph Boston
Olympic icon Jesse Owens of the U.S. set the world long jump of 8.13 m (26-8) on his day-of-days in Ann Arbor, Michigan on 25 May 1935. Although today's fans remember Bob Beamon's astounding jump of 8.90 m (29-2 1/2) at the 1968 Mexico City Olympic Games, in-between was another all-time great: Ralph Boston.
Boston passed away on Sunday at age 83 at his home in Peachtree City, Georgia.
But he is the man who moved Owens out of the record books and took over the event until Beamon's Mexico City miracle.
A Tennessee A&I grad, Boston was the 1960 NCAA champion after finishing third in 1959, then won the AAU Nationals and the U.S. Olympic Trials. But it was what he did next that made him famous: a win at a pre-Olympic meet at Mt. San Antonio College on 12 August of 8.21 m (26-11), taking Owens' record for himself.
He went on to the Olympic gold in Rome, then became the dominant figure in the event for the next six years. He won the AAU Nationals from 1961-66 and set five more world records:
● 8.24 m (27-0 1/4) on 27 May 1961 in Modesto
● 8.28 m (27-1 3/4) on 16 July 1961 in Moscow (URS)
● 8.31 m= (27-3=) on 15 August 1964 in Kingston (JAM)
● 8.34 m (27-4 1/4) on 12 September 1964 in Los Angeles
● 8.35 m (27-4 1/2) on 29 May 19865 in Modesto
So, five outright records and a tie with Soviet Igor Ter-Ovanesyan, who was the first to jump 8.31 m, in 1962, and equaled Boston's 8.35 m at altitude in the pre-Olympic meet in Mexico City in 1967. Only Boston (6) and Ter-Ovanesyan (2) have set the men's world record more than once.
(In 2022, World Athletics recognized American Phil Shinnick's 8.33 m [27-3 3/4] mark from the Modesto Relays in 1963 as a world record, which technically negates Boston's 8.31 m equaler in 1964.)
Boston finished second to Britain's Lynn Davies on Tokyo in 1964, 8.07 m to 8.03 m (26-5 3/4 to 26-4 1/4), with Ter-Ovanesyan third.
Beamon came on a strong competitor in 1967, then lost his scholarship at UTEP because he would not compete against BYU in 1968 in the aftermath of the assassination of Dr. Martin Luther King, Jr. Boston reportedly helped Beamon, his direct competitor on an unofficial basis, with both qualifying for the U.S. team for Mexico City.
At the 1968 Games, Beamon made history on his first jump, with Boston the first to explain that 8.90 m was 29-2 1/2 and Beamon falling to the ground in disbelief. The competition went on and East Germany's Klaus Beer ended up second with Boston third, but with the 16 other finalists all shattered by what Beamon had done.
Boston retired after the '68 season, but became even more well known as a member of the CBS broadcast team for U.S. and European meets in 1969-70-71-72, with host Jack Whitaker and analysts Dick Bank (1969-70) and Bill Toomey (1971-72).
His day job was as coordinator of minority affairs and assistant dean of students at the University of Tennessee from 1968-75 and later president and chief executive officer of ServiceMaster Services in Stone Mountain, Georgia. Boston was inducted into the National Track and Field Hall of Fame in 1974 and into the U.S. Olympic Hall of Fame in 1985.
He was a fierce competitor, an activist who made his views known more with quiet and dignity than with public outbursts, an excellent lecturer and speaker and a knowledgeable and relatable broadcaster. A special, 50-year celebration of his 1960 world record at Mt. SAC (and others set at that meet) was held there in 2011.
His athletic ability is often underrated; he also had bests of 9.6 for 100 yards, 13.7 for the 120-yard hurdles, 4.16 m (13-8) in the vault, 15.89 m (52-1 1/2) in the triple jump and even 51.51 m (169-0) with the javelin!
Said four-time Olympic long jump champ Carl Lewis on Twitter:
"I'm devastated about Ralph Boston's passing. As a child I idolized him and he was a major influence in my life. I'll miss his voice and support. He changed the game as an athlete, advocate and mentor. Jumpers, Know his name!!! Rest with the greats."
3.
Canoe federation agrees to Russian and Belarusian re-entry
The International Canoe Federation is the latest to bow to the International Olympic Committee's recommendations on Russian and Belarusian athlete re-entry into international competitions. A statement issued Saturday read in part:
"In view of the current circumstances, the ICF Executive Board fully backs the IOC Executive Board recommendations of 28 March 2023 and has decided to lift the protective measures against Russian and Belarusian athletes and highlighted the following key strict conditions ahead of appointing an independent panel. …
"The ICF will continue to collaborate closely with the IOC, [Association of Summer Olympic International Federations], and the [International Testing Agency] to determine the necessary anti-doping measures and neutral athlete status criteria. Furthermore, the appointment of an independent assessors to the Individual Neutral Athlete Eligibility Panel will be subject to a consultation process with important stakeholders and service providers before being confirmed by the ICF Executive Committee."
There was also a list of six points that the ICF stressed, including a unique twist to accommodate individual countries in part:
● "Individual Neutral Athletes and support personnel who are contracted to the Russian or Belarusian military or national security agencies will not be able to participate as an individual neutral athlete."
● "Only athletes who have not supported the war in public, on social media or on other occasions will be eligible to compete."
● "In order to protect the implementation of ICF events and the safety of athletes the ICF will respect any position and decision of a National Canoe Federation as host of an ICF event not to include Individual Neutral Athletes. However, the ICF calls on all hosts of ICF competitions to respect the Olympic Charter and to establish conditions that guarantee unhindered access to competitions for all athletes. …
● "Athletes who want to compete as neutral athletes will have to declare in writing that they meet all the criteria set by the ICF before their individual evaluation. Any violation of these conditions will result in the withdrawal of their Individual Neutral Athlete status."
The statement did not set out any timetable for the decision-making process on Russian or Belarusian athletes. Canoeing has multiple races in Sprint and Slalom disciplines coming in Poland and Germany, which have shown little interest in having Russian or Belarusian entries.
4.
Ukrainian fencers and judokas ready to skip events with Russian entries
"People in my country die every day. Militaries fighting for our freedom. We will not compete against Russians. They should not take part because it is unfair and impossible in a civilized world."
That's 20-year-old fencer Svitlana Sopit, speaking with Agence France Presse on the sidelines of a training camp in Paris for the Ukrainian Foil squad, adding "It was a really shocking decision for all fencing family because nothing changed since the war started.
"The athletes who stay in Ukraine live in really hard conditions for training but they never stop. No electricity, no heating but they continue to work.
"We keep working, we never stop because we believe in fair decision. There are things much more important than sports competitions."
Her twin sister Olga explained:
"We still compete sometimes in Ukraine. We start to fence, hear the alarm, hold for a second, go to the shelter, wait for three hours, then you come out, fence again. At some moment, the lights turn off. You wait another two hours. Competition can last 11 to 12 hours.
"It is quite difficult to be in these conditions and then you realize, this is the life, you can adapt and can live."
Alina Poloziuk, a FIE Grand Prix bronze medalist from February, has been training in a war zone. She told AFP:
"I come from Mykolaiv in the south of the country. It was bombed today by Russians."
Ukrainian judoka, who include two-time World Champion and Tokyo Olympic women's 48 kg bronze winner Daria Bilodid, are also ready to skip the upcoming World Championships in Doha (QAT) from 7-14 May if Russian or Belarusians are included. The Ukrainian Judo Federation statement of 1 May included:
"The Judo Federation of Ukraine informs that it is forced to withdraw the application of the national team of Ukraine to participate in the World Judo Championship in Doha (Qatar), which will be held from May 7 to 14.
"This is due to the fact that on Friday, April 28, the International Judo Federation IJF allowed the teams of Russia and Belarus to participate in the world championship as individual neutral athletes. Subsequently, the application of the 'Individual Neutral Athletes' team appeared on the Judobase website.
"The majority of the team are athletes who are active servicemen of the armed forces of the Russian Federation, part of the army that attacked Ukraine on February 24, 2022 and is still waging a brutal full-scale war on our territory, which is shelling Ukrainian cities and civilian homes every day, destroying peaceful citizens, children Instead, more than 250 Ukrainian athletes gave their lives defending the country. There are judo representatives among them.
"We do not see the neutrality, equal conditions and 'bridge to peace' mentioned in the IJF Resolution regarding the participation of Russian and Belarusian teams in the World Cup in Doha.
"Moreover, we see here a decision that contradicts the latest recommendations of the International Olympic Committee of March 28, 2023, where the IOC says that the status of neutral athletes can only be granted to those athletes who are not military personnel."
Said Bilodid in an Instagram post:
"I think that it is unacceptable to allow military personnel of a terrorist country who every day kills Ukrainians to participate in international competitions. This is not at all about sports values."
5.
Russia continues to protest all sports sanctions
The Russian position on all of the "re-entry" discussions is that they are all politics and no restrictions should be in place, regardless of the war against Ukraine.
For example, Deputy Foreign Minister Sergey Vershinin told reporters Friday:
"Our principled position is that this issue must not be politicized and athletes must not be denied participation in sports events on political grounds. Unfortunately, this takes place. We certainly condemn this."
The Athletes Commission of the Russian Olympic Committee has now joined the chorus, with a statement issued by the Russian Olympic Committee on Friday:
"We believe the proposed reintegration and admission criteria are excessive and discriminatory – by nationality and by passport, by discipline and sport, and by affiliation to certain entities developing sports for decades in most post-Soviet states.
"Similar systems of athlete support are a common thing in many other countries, but in this particular case it is only used as a ground to exclude athletes with Russian and Belarusian passports.
"Depriving athletes of their national identity, of an opportunity to compete in team and group events, as well as sanctioning them just because of a contract with a sports club providing legal labor guarantees: all of this constitutes a gross violation of the principle of equality, which is fundamental not only to the concept of Olympism, but also in humanitarian, universal sense, in the International Law."
Meanwhile, the Kremlin is deciding on its next move, according to Presidential Spokesman Dmitry Peskov, also commenting on Friday:
"As for the IOC recommendations, they are now being thoroughly analyzed, and we are currently working out our approach regarding this issue."
Rest assured, the response will not be complimentary.
≡ PANORAMA ≡
● Athletics ● Another American world leader, this time in the women's heptathlon at the annual GardaStars meet in Desenzano del Garda (ITA) over the weekend.
Taliyah Brooks, 28, who had to be carted off the field with heat stroke at the 2021 U.S. Olympic Trials in Eugene, got a lifetime best of 6,330 to win and take the world lead for 2023. She finished with a flourish, getting personal records in the javelin and 800 m to end the competition, her first completed heptathlon since the 2021 Texas Relays! Britain's Jade O'Dowda was second at 6,178 and American Chari Hawkins was third with 6,036.
The men's decathlon winner was Karel Tilga (EST) at 8,482, no. 2 on the 2023 world list, followed by Fredrik Samuelsson (SWE: 8,070) and American Devon Williams (7,956).
¶
In his first race back since the NFL season ended, Olympian Devon Allen won the 110 m hurdles at the Penn Relays in 13.46, just out-leaning Rafael Pereira (BRA: 13.46) into a 1.0 m/s headwind.
¶
In a hot Adizero Road to Records 10 km race in Herzogenaurach (GER), Sabastian Sawe led a Kenyan sweep in the nos. 2-3-4 times of the year ahead of 2020 World Half Marathon runner-up Kibiwott Kandie and Tokyo Olympic 5,000 m fourth-placer Nicholas Kipkorir in 26:49, 26:53 and 26:54!
The time moved Sawe, who broke away at the 7 km mark, to no. 5 on the all-time list.
● Canoe-Kayak ● Host Brazil picked up two wins to highlight the Pan American Slalom Championships in Tres Coroas (BRA) over the weekend.
Three-time Olympian Ana Satila of Brazil won the women's C-1 in 119.20 seconds (no penalties), to win ahead of Canada's Lois Betteridge (139.61). Brazilian Neta Estancia took the K-1 title in 111.34, beating Florence Maheu (CAN: 119.84).
The men's winners included Argentina Olympian Sebastian Rossi in C-1 in 108.47, ahead of Alex Baldoni (CAN: 113.26) and American Zachary Lokken (114.44). Olguin Echevarria (CHI) won the K-1 final in 103.23, ahead of Pedro Goncalves (BRA: 106.81).
Tokyo Olympian Evy Leibfarth of the U.S. won the women's Kayak Cross final and took the women's U-23 division K-1 gold.
● Cycling ● The 60th edition of the one-day Classic Eschborn-Frankfurt was held on Sunday, with Danish star Soren Kragh Andersen getting his first career one-day-race win in 4:51:27 over the hilly 204.8 km course.
Although there were two significant climbs early in the race, the last section was downhill into Frankfurt and ended with the expected mass sprint, with nine given the same time at the finish. Andersen got to the line first, ahead of Patrick Konrad (AUT) and Alessandro Fedeli (ITA).
¶
In the U.S., the 35th Tour of the Gila concluded in New Mexico on Sunday, with American Alex Hoehn getting the overall win by two seconds over Oscar Sevilla (ESP) at 13:11:20 across five stages.
Hoehn didn't win any stage, but finished 14-3-3-9-2 to move up to 1:03 behind Dane Torbjorn Roed after the fourth stage. On Sunday, Sevilla beat Hoehn in a duel to the tape some 2:37 ahead of the pack and with Roed seventh and 3:20 behind, Hoehn moved up to get the overall victory.
● Gymnastics ● The Russian news agency TASS reported that Yuri Korolyov, a nine-time Worlds Championships gold medalist, but never an Olympian, passed away at age 60 on Saturday (29th).
Korolyov was dominant from 1981-87, winning the Worlds All-Around in 1981 and 1985, Floor in 1981, Rings in 1985 and 1987, Vault in 1985 and as part of the Team winners in 1981-85-87. He missed the 1984 Los Angeles Games because of the Soviet boycott and then was injured at the time of the Seoul Games in 1988. He is considered perhaps the best-ever gymnast never to have appeared at an Olympic Games.
● Modern Pentathlon ● The Mixed Relay that concluded the UIPM's Budapest World Cup saw Korea's Changwan Seo and Mexico's Manuel Padilla coming off the final shooting set even, but as Padilla got tangled and Seo ran away for the win in 12:29.60, fastest in the final.
Seo and Sunwoo Kim finished with 1,382 points to 1,374 for Mariana Arceo and Padilla, with France's Rebecca Castaudi and Jean-Baptiste Mourcia third (1,368), moving up from seventh during the Laser Run. Seo and Kim started in fifth place, about 14 back of Mexico (which started second), but made up the ground quickly in the final event.
Americans Tristen Bell and Phaelen French finished 12th with 1,255.
● Rowing ● The U.S. Rowing National Selection Regatta in Chula Vista, California saw Olympic and Worlds medal winner Kara Kohler – at age 32 – back into contention for another trip to the World Championships.
A 2011 World Champion for the U.S. in the Fours, Kohler won a London 2012 bronze in the Quadruple Sculls and seven years later took a Worlds bronze in the Single Sculls. Ninth in the Tokyo Olympic Single Sculls, she won another U.S. title in 7:42.25, ahead of Michelle Sechser (7:47.15) and Savannah Prija (7:52.72). The winners all earned the right to compete for the U.S. in the second World Rowing World Cup in Italy, set as a qualifier for the Worlds for American entries.
Tokyo Olympian Kristi Wagner and Lauren O'Connor won the women's Double Sculls in 6:54.35 against 6:54.80 got Sophia Vitas and Emily Kallfelz. Molly Reckford and Mary Jones Nabel finished third in 7:04.95.
In women's Pairs, Olympic veterans Meghan Musnicki (a two-time Olympic gold winner in the U.S. Eights) and Alie Rusher barely edged Claire Collins and Mollie Bruggeman, 7:11.62 to 7:12.42. Mary Mazzio-Manson and Emily Froelich were a close third in 7:14.80.
In the men's Single Sculls final, Jacob Plihal was a decisive winner, 7:06.57 to 7:09.49 over Andrew LeRoux and Eliot Putnam (7:10.59). In Double Sculls, Ben Davison and Sorin Koszyk won in 6:23.56, comfortably ahead of Kevin Cardno and Dominique Williams (6:29.26).
Michael Grady and Liam Corrigan won the men's Pairs in 6:30.78 over Henry Hollingsworth and Pieter Quinton (6:33.46).
¶
You can receive our exclusive TSX Report by e-mail by clicking here. You can also refer a friend by clicking here, and can donate here to keep this site going.
For our updated, 651-event International Sports Calendar (no. 2) for 2023 and beyond, by date and by sport, click here!