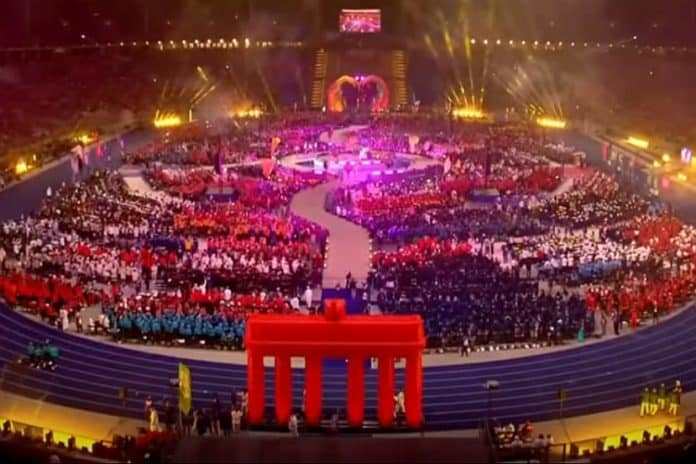 ★ The Sports Examiner: Chronicling the key competitive, economic and political forces shaping elite sport and the Olympic Movement.★
★ Friends: If you would like to support our coverage, please donate here. Your enthusiasm is the reason this site continues. Thank you. ★
★ To get The Sports Examiner by e-mail: sign up here! ★
≡ THE 5-RING CIRCUS ≡
1. IBA replaces CEO three days before IOC vote
2. Russian weightlifting fed rejects neutrality declaration
3. Special Olympics World Games opens in Berlin
4. Mod Pent federation "welcomes" World Cup criticism?
5. ISL appeals January court loss to World Aquatics
The International Boxing Association replaced its chief executive three days before the International Olympic Committee vote to withdraw recognition of the federation, with Development Director Chris Roberts replacing George Yerolimpos. The International Weightlifting Federation required Russian and Belarusian athletes who wanted to compete in the just-completed IWF Grand Prix in Havana to sign a declaration of neutrality; 13 Belarusians did and competed, but no Russians did. Now, the head of the Russian federation says they will never sign and is demanding that the IWF withdraw any and all special restrictions on their participation. An inspiring start to the 2023 Special Olympics World Games in Berlin, Germany on Saturday, opening a week of competition for 6,500 athletes from 176 countries in the same stadium where Adolf Hitler opened the 1936 Olympic Games. The Union Internationale de Pentathlon Moderne announced that it received a letter from its own Athletes Commission with significant concerns about athlete safety in the staging of the World Cup Final in Turkey earlier this month. It did not publish the letter or summarize it, but welcomed it and said it would be helpful for the future. What? The International Swimming League appealed the January dismissal of its lawsuits against World Aquatics to the U.S. Ninth Circuit Court of Appeals, asking for a reversal and for the case to go to trial. ISL, owned and funded by Ukrainian billionaire Konstantin Grigorishin, has been dormant since the Russian invasion of Ukraine in 2022.
● Panorama: World Anti-Doping Agency (new rules allow President and Vice President to serve for nine years) = Athletics (Santos looking at suspension for 2012 age falsification) = Football (3: Mexico fires coach; Canada's Herdman asks for more men's team support; Armenia builds 89 mini-pitches for youth access) = Ice Hockey (Bedard wins IIHF player of the year) = Judo (Russians win three at Astana Grand Slam) = Modern Pentathlon (Anderson and Davis defend titles at U.S. nationals) = Sport Climbing (Lehmann, not Megos, wins Innsbruck Lead World Cup) = Triathlon (Jorgensen anchors U.S. mixed-relay win in Mexico) ●
1.
IBA replaces CEO three days before IOC vote
The International Boxing Association announced the "departure" of George Yerolimpos (GRE) as its Secretary General and chief executive, replacing him with Development Director Chris Roberts (GBR) on an interim basis.
Yerolimpos was designated as interim Secretary General in July 2022, replacing Istvan Kovacs (HUN) and became permanent Secretary General and IBA chief executive last September. He came to the IBA via an application for the position after a lifetime in Olympic sports, with the World Karate Federation, SportAccord, the International Mediterranean Games Committee and as the director of venue operations for the Athens 2004 Olympic Organizing Committee.
Yerolimpos left three days before Thursday's 140th Session of the International Olympic Committee, at which the IBA is expected to be de-recognized as the governing body for boxing within the Olympic Movement. He had been a strident critic of the IOC's actions against the federation, in line with the positions taken by IBA President Umar Kremlev (RUS).
Roberts left Boxing Scotland in June of 2022, where he had been chief executive for 17 months, after serving in the British Army for more than 30 years as a commissioned officer and leaving with the rank of Major. He has also been a critic of the IOC, writing a letter in March to IBA-accredited referees and judges, telling them not to volunteer for duty at any of the IOC's Olympic qualifying competitions in 2023, which has since been rescinded.
The IBA statement noted, "His demonstrated leadership, dedication, and strategic vision make him an excellent fit for guiding the organization through this important period" and that "The IBA would like to assure its members, partners, and stakeholders that it remains fully committed to its core values and objectives."
With the IOC set to ex-communicate the IBA – which has been on suspension since 2019 – the federation has filed with the Court of Arbitration for Sport to stay the IOC's vote on Thursday. An announcement from the Court is due by Wednesday, a day before the vote.
2.
Russian weightlifting fed rejects neutrality declaration
The much-awaited International Weightlifting Federation Grand Prix in Havana (CUB) has concluded, but not without a parting shot from Moscow regarding the IWF's requirements for Russian and Belarusian participation.
Following up on the IOC recommendations of 28 March this year for the re-entry of Russians and Belarusians into international competitions, the federation adopted a policy concerning "neutrality" as regards the Russian invasion of Ukraine, which included signing a declaration that includes:
"I undertake to continue to abstain from expressing any support to the war and will immediately and voluntarily notify any relevant change in my activities that occurs after the date of this declaration."
No Russian lifter signed a declaration, but 13 Belarusian lifters did; "neutral" athletes from Belarus won three men's weight classes and one women's class.
But the head of the Russian Weightlifting Federation (FTAR), Maxim Agapitov, the 1991 World 91 kg gold medalist, was unapologetic. He told the Russian news agency TASS on Monday:
"We have written an official letter to the international federation explaining the conditions under which Russian athletes are ready to compete at international competitions.
"The conditions that the IWF puts forward now are humiliating and discriminating for us. We have no desire to boycott foreign tournaments; Russian weightlifters who meet all the requirements of the anti-doping rules and the IWF constitution are ready to perform exclusively on equal terms for all athletes and IWF-member countries. The proposal of the International Weightlifting Federation to sign political declarations by Russian athletes, coaches and other specialists that contradict the legislation of the Russian Federation and the Olympic Charter is discriminatory.
"Therefore, we consider the participation of Russian athletes and coaches in international competitions on political terms absolutely unacceptable.
"Russian weightlifters have always wanted to compete in those international tournaments that meet the requirements of the Olympic Charter and the fundamental signs of Olympism. On behalf of all athletes, the FTAR Executive Committee calls on the IWF to take a responsible position and immediately abandon discriminatory sanctions. The extremely irresponsible behavior demonstrated by the IWF can only lead to an intensification of the crisis in weightlifting, its degradation and internal division."
According to the Olympic qualification criteria, athletes desiring to compete in Paris must participate in the 2023 IWF World Championships in Riyadh (KSA) in September. That's the next pivot point in weightlifting.
3.
Special Olympics World Games opens in Berlin
A magnificent and meaningful Opening Ceremony in the famed Olympiastadion in Berlin marked the start of an important 16th edition of the Special Olympics World Games on Saturday, which will run through next Sunday (25th).
Approximately 6,500 athletes with intellectual disabilities and their Unified partners from 176 countries participated in the program, along with 3,000 coaches and officials, 18,000 volunteers and more than 20,000 spectators. And there was a unique element sure to be used in future mega-ceremonies:
"Each delegation was asked to bring water from their home country. One member from each delegation then broke away from their team to pour this water into a watercourse, forming an Olympic River, standing as a symbol for the unity of all of those participating at the Special Olympics World Games Berlin 2023."
German President Frank-Walter Steinmeier told the attendees (interpreted from the original German):
"This is very much about sports, but of course not only about sports. It's about inclusion. It's about participation. And that's why I'm quite sure that we, as a society, can learn a great deal beyond the sport that we'll be seeing over the next week. Not only that people with disabilities have something to gain from inclusion, but that we as a society also become richer when we live inclusion."
The setting itself made the loudest statement, in the stadium originally built for the 1936 Olympic Games, a showpiece for the Nazi movement that was already terrorizing people with intellectual disabilities, and eventually murdering tens of thousands of them, beginning in 1939. It's only the third Special Olympics World Games to be held in Europe, previously in Dublin (IRL) in 2003 and Athens (GRE) in 2011.
The World Games ceremonial flame was lit by German tennis player, Sophie Rensmann, 25, a World Games 2019 bronze medal winner.
Competition will be held in 22 sports, with 450 events in all, and is being shown in the U.S. via ESPN on ESPN+ and ESPN3. A two-hour retrospective on the 2023 World Games will be shown on ABC on 2 July.
4.
Mod Pent federation "welcomes" World Cup criticism?
In short: we received a letter from our athletes, which was highly critical. We won't tell you what it said, but we were happy to receive it.
Huh? What?
That was from the Union Internationale de Pentathlon Moderne on Monday, which noted:
"UIPM has a duty of care covering all participants in UIPM competitions and takes its responsibilities across athlete welfare and other safety aspects extremely seriously.
"The contents of this letter will be fully examined and will form part of a comprehensive review into the organisation of the UIPM 2023 Pentathlon World Cup Final. This has already been initiated through UIPM's internal post-competition debrief process.
"UIPM has taken steps to improve communication with athletes in recent years and has repeatedly encouraged the tens of thousands of athletes who take part in UIPM Sports to use official channels – including the UIPM Athletes Committee, which is elected by athletes for athletes. Today's letter is very welcome and without commenting on its contents, we can state with some confidence that positive outcomes will emerge from this communication."
The World Cup Final, held at the beginning of the month in Ankara (TUR), offered very difficult conditions for the men's competition, including a three-hour delay due to a rainstorm, and then a wet and slippery Laser Run course that saw Tokyo Olympic champion Joe Choong (GBR) slip in the final meters and dive at the line, with Mohanad Shaban (EGY) passing him and winning, thus getting an automatic qualification to the Paris 2024 Games.
It's a strange response. If the letter was so welcome, why not publish it? Since it is from the UIPM's Athletes Committee, shouldn't its voice be heard?
After all, in the federation's report on the World Cup Final, UIPM chief Klaus Schormann (GER) said of the decision to run the men's event:
"After a long discussion with the coaches – and it was very important to listen to the athletes – we finally decided following the athletes' wishes that we could replicate all that was needed to keep the competition at the same facility."
Are coaches and athletes the same? Not in most sports, and apparently not at the World Cup Final either, in view of the follow-up message from the Athletes Commission. But we would know for sure if the letter was made public.
Nevertheless, despite the issues with one of the UIPM's showcase events – and under its direct supervision – the federation's confidence in its future remains undimmed:
"Modern Pentathlon remains firmly on track for inclusion in the Los Angeles 2028 Olympic programme with continued progress on the introduction of the new Obstacle discipline and demonstrations of improved governance."
5.
ISL appeals January court loss to World Aquatics
The International Swimming League, conceived and funded by Ukrainian billionaire Konstantin Grigorishin, has been dormant since 2021 in view of the Russian invasion of Ukraine, but his legal teams in the U.S. are busy.
In January, U.S. District Court Judge Jacqueline Scott Corley granted summary judgement to World Aquatics (formerly FINA) in the two cases brought against it – by a group of swimmers and by ISL itself in 2018 – on anti-trust grounds, writing:
"The Court acknowledges the record is replete with evidence of FINA's concern about competition from ISL. But, so what? The antitrust laws do not require one competitor to help another compete with it; instead, they prohibit only unreasonable restraints of trade."
and
"It is undisputed that top-tier swimmers are not bound by contract to swim only in FINA-sanctioned competitions. Indeed, the undisputed evidence is that ISL can and does sponsor top-tier swimming competitions without any affiliation with member federations."
On 14 June, a 59-page brief was filed with the U.S. Ninth Circuit Court of Appeals, asking for a reversal of the summary judgement holding, arguing
"ISL's entry, and the competitive opportunities it would provide, was blocked by FINA. FINA has the power to block competition from ISL, or any other potential competitor, through its control over eligibility to participate in the Olympics, the most important competition for top-tier swimmers."
Stating "That decision was deeply flawed," the filing insists "That erroneous decision threatens to undermine application of the Sherman Act in the sports industry. It should be reversed."
The appeal is from the summary judgement of the District Court, and the prayer is not for a decision on the merits, but "The judgment of the court should be reversed, and the case remanded for trial."
The only sure outcome is that this will take time.
≡ PANORAMA ≡
● World Anti-Doping Agency ● The WADA Foundation Board adopted a series of governance changes by 33-1 with four non-votes that will expand the Board itself from 38 to 42 positions, including two members of the elected Athlete Council.
The terms of the President (currently Poland's Witold Banka) and Vice President (currently China's Yang Yang) were changed to line up with the current term limits for Board members of nine total years. Instead of the current limit of two three-year terms, first terms will now be six years, with an additional three years available on re-election. Both were re-elected to second terms in late 2022.
● Athletics ● Dominican sprinter Luguelin Santos has admitted to falsifying his passport in 2012 to be allowed to compete in the World Junior Championships that year, and is subject to sanctions by the Athletics Integrity Unit.
Santos, ostensibly now 30 but likely 31, won the World Junior 400 m title at 44.85 in 2012 and then took the silver at the Olympic Games in London in 44.46; his 44.45 seasonal best ranked no. 4 in the world that year. He wrote in a Twitter post:
"I greatly regret what happened at that time, and without intending to evade responsibilities, I want to explain that in those years I was a young man under 18 years of age, with few resources, and little education, from Bayaguana, who simply followed the guidelines of those who directed me in my sports career back then.
"At the moment I have a provisional suspension of all competition, which we have been complying with, and we are waiting for the final sanction from said Integrity Unit, which we will fully respect."
Santos could lose his 2012 World Junior title, but also be suspended for the next 2-4 years. He's still competing, with a 2022 best of 45.09 – no. 42 on the world list – and one race this year, a 1:52.49 third-place effort in an 800 m on 11 March.
● Football ● The Federacion Mexicana de Futbol (FMF) was not impressed with the Mexican national team's 3-0 loss to the U.S. in the semifinals of the CONCACAF Nations League last week, so it did what team owners usually do: fire the coach.
Diego Cocca (ARG) – hired in February – has exited and former national team midfielder Jaime Lozano, 44, was hired. He coached the Mexican U-23 team from 2018-21 and his Tokyo Olympic squad won the bronze medal.
Cocca was 3-1-3 in his tenure with Mexico. He was brought in after Mexico was eliminated in the group stage of the FIFA World Cup in Qatar, which not happened since 1978.
Lozano will be immediately busy. Mexico opens play at the CONCACAF Gold Cup on Sunday in Houston, against Honduras.
¶
Canada's 2-0 loss to the U.S. on Sunday in the final of the CONCACAF Nations League has Canadian coach John Herdman (GBR) sounding a familiar refrain there about money.
After the Canadian women's team nearly went on strike after complaining about unequal conditions and funding vis-a-vis the men's team, Herdman talked about the men's team's future with the 2026 FIFA World Cup coming:
"We've got to figure this out financially.
"We've got to get serious about winning a World Cup. When you play at home, you get a chance to win it. You get a chance to get to a semifinal, a quarterfinals, semifinal, and then get on the road to win it. And we're not serious. We've brought a World Cup to our country and we're not serious about winning it."
He commended his team's effort against the U.S.:
"You see how close that team is tonight. Tactically we were there. Chances, shots we were there. The margins were so tight tonight, so tight. We've got to get real. We've got to get real and quick because these players, they deserve it. They deserve this shot. The country deserves it. All the people that worked to bring it deserve the shot. Let's get after it. We're close."
¶
Interesting award by the FIFA Forward Programme, the federation's development arm, for the Armenian Football Federation, which built "mini-pitches" of just 40 m by 20 m, or about 131 by 66 feet, in 89 locations across three years to help spur youth development.
(A regulation basketball court is 94 by 50 feet and most ice hockey arenas use sheets of 200 by 85 feet.)
These are small fields, but located in eight regions for accessibility near schools or in open spaces for community use. The project cost $3.715 million U.S., with FIFA providing $2.750 million (74%) and $965,000 coming from the Armenian federation.
● Ice Hockey ● Canadian forward Connor Bedard, 17, and the likely top pick in the upcoming NHL Draft, was named as the IIHF's men's player of the year.
His Canadian team won the World Juniors thanks in part to his heroics. He was the tournament's leading scorer with 23 points, and led in both goals (9) and assists (14). He had game-winning scores in two of Canada's six wins. Per the IIHF:
"Bedard captured 31.8 per cent of total votes, but the battle for second was notably close. Latvian goalie Arturs Silovs had 19.6 per cent of the vote, just ahead of Swiss forward Andres Ambuhl, 19.2 per cent."
● Judo ● Russian – "neutral" – judoka continued to win on the IJF World Tour, leading all entries with three wins at the Qazaqstan Barysy Grand Slam in Astana (KAZ) that ended on Sunday.
Makhmadbek Makhmadbekov won his second World Tour title this month in the men's 73 kg class, 2021 World Junior bronze medalist Matvey Kanikovskiy won at 100 kg and Tamerlan Bashaev, the 2021 Worlds silver medalist, won his second tournament in June at +100 kg. Fellow Russian Valeriy Endovitsky took one of the bronzes at +100.
Spain and Italy each had two winners; Italian star Giuffrida Odette, an Olympic silver and bronze medal winner, won the women's 52 kg class.
● Modern Pentathlon ● Brendan Anderson defended his 2022 USA Pentathlon national title with a tight, 1,435 to 1,431 win over 22-year-old Tristen Bell in the 2023 national championships held in Colorado Springs, Colorado.
Anderson, 27, trailed going into the Laser Run, but posted the fastest time in the field – 11:18 – to pass Bell for the victory. Bell moved up from third in 2022 to claim silver.
Another defending champ Jessica Davis, 31, was a runaway winner in the women's division, scoring 1,330 points to 1,272 for 42-year-old Heidi Hendrick. Davis scored highest in riding and then won the Laser Run to clinch the victory.
● Sport Climbing ● An error in Monday's account of the men's Lead competition at the IFSC World Cup in Innsbruck (AUT), where Swiss Sascha Lehmann, the 2020 European Lead Champion and 2022 World Games Lead winner, won the competition with 44+ holds to edge Alexander Megos (GER: 44+), but with an inferior semifinal score.
It's the first World Cup win for Lehmann since 2019. Austria's three-time World Champion Jakob Schubert won the bronze as the best of four at 42+, based on his semifinal score.
● Triathlon ● A bounce-back performance for Rio 2016 Olympic women's champ Gwen Jorgensen, who anchored the U.S. Mixed Relay team to a 1:23:00 win at the Americas Triathlon Championships in Huatulco (MEX).
The U.S. line-up of Darr Smith, former World Champion Katie Zaferes and Brent Demarest was even with Mexico when Jorgensen took off on anchor. Her 21:42 performance was the fastest final leg in the field by 13 seconds and brought the Americans home the winners in 1:23:00 to 1:23:13.
After having been lapped at the World Triathlon Series race in Cagliari (ITA) last month, Jorgensen's leg was the third-fastest among all women entrants, behind only Zaferes (21:11) and Mexico's Rosa Tapia (21:26). Said Jorgensen afterwards, "I just can't thank this team enough, I just had to not mess it up and we came away with the win. It was super hot out there and I am so happy that we came away with gold."
¶
You can receive our exclusive TSX Report by e-mail by clicking here. You can also refer a friend by clicking here, and can donate here to keep this site going.
For our updated, 651-event International Sports Calendar (no. 2) for 2023 and beyond, by date and by sport, click here!