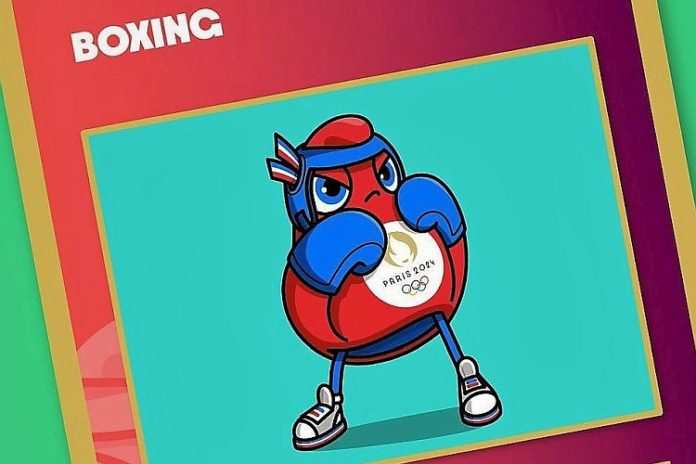 ★ The Sports Examiner: Chronicling the key competitive, economic and political forces shaping elite sport and the Olympic Movement.★
★ Enjoying our coverage? If so, please consider a donation to help cover technical costs for 2023. Thank you for your support. ★
★ To get The Sports Examiner by e-mail: sign up here! ★
≡ THE 5-RING CIRCUS ≡
1. IBA: "Olympic Games cannot be a tool of extortion" against it
2. Van de Vorst, USA Boxing priority is Olympic inclusion, not IBA
3. U.S. Congress passes USOPC "Equal Pay Act," but with holes
4. FIFA says no "match manipulation" during the World Cup
5. Ferriani confirms GAISF dissolution more like a re-branding
The International Boxing Association posted an unhappy message in reply to the International Olympic Committee's statement last Friday that boxing's place at the 2024 Paris Games is in doubt. The IBA continues to blame its troubles on prior chief C.K. Wu and is in denial about the IOC's current issues with the federation. Dutch boxing federation chief Boris van der Vorst tweeted that boxing needs to stay in the Olympic Games "with or without the IBA" and USA Boxing posted a statement that staying in the Olympic Games "is the top priority." The U.S. Congress completed an "equal pay act" that applies to the U.S. Olympic & Paralympic Committee and the U.S. National Governing Bodies and no one else, that President Biden is expected to sign. FIFA announced that its integrity group found no match manipulation during the Qatar World Cup. Although the Global Association of International Sports Federations (GAISF) voted to disband, the year-end message from its President confirmed that its functions are essentially being transferred to the SportAccord organization, which is the name that GAISF used to have. The more things change, the more they stay the same.
1.
IBA: "Olympic Games cannot be a tool of extortion" against it
After the International Olympic Committee's plain threat to remove boxing from the program of the Paris 2024 Olympic Games on Thursday, the International Boxing Association posted an unhappy message later that day that began:
"It is not with joy or pleasure that we write to you today as many of our member nations head into their holiday season."
The seven-paragraph posting included:
● "[I]t is imperative that we address the latest attack on IBA's athletes and IBA by the IOC for the new leadership's continued commitment to becoming a sound and independent organisation, purged of prior governance issues and ultimately a financially independent sustainable organisation."
● "The Olympic Games are a global sporting asset that belongs to the athletes of all sports and cannot be a tool of extortion of the International Sports Federations for purely political reasons, as is unacceptably happening now. With that, IBA will continue to fight for its athletes to make sure you have every opportunity and equal right to participate in the Olympic Games, free from discrimination and separate from the politics of sport which has now become the normalized approach."
● "We are being criticized for renewing a commercial partnership that was first made in 2021. … These steps are the start of the many initiatives and governance reform to repair the reputational damage done by AIBA's former President, IOC Member, and Executive Board Member, Ching-Kuo Wu. At this critical juncture for boxing, we cannot simply accept that the IOC refuses to acknowledge the misdeeds of a key figure in their Olympic Movement while continuing to criticize IBA and flatly ignoring the countless governance reforms undertaken."
● "It is clear, that the persecution of IBA athletes will continue until ultimate control of boxing and its leadership has been achieved. The discrimination against you and IBA's leadership and partners based on citizenship, directly contradicts the Olympic Charter, and only highlights the issue of athletes and sport being manipulated for geopolitical purposes."
● "With that said, with the threat of Boxing being removed from the Paris 2024 programme, IBA will continue to reach out to the senior leadership of the IOC to work towards a de-escalation of this current development and with a view to LA 2028."
Observed: The IBA message contains nothing new, reiterating the stance previously announced by IBA President Umar Kremlev of Russia, that the IOC is persecuting the IBA and boxers for the problems caused by Wu (TPE) and that the current administration's changes should allow it to return to the Olympic program.
In fact, the IOC's issues are with what Kremlev and the IBA membership have done recently with the federation's questionable election management that saw Kremlev's opponent for the IBA Presidency – Dutch federation chief Boris van der Vorst – sidelined one day before the vote last May, and then the sponsorship by the Russian state-owned energy giant Gazprom, giving the IBA very much the appearance of a controlled subsidiary.
The approval of the renewal of the Gazprom sponsorship was not even brought up in the main body of the recent Congress, but mentioned only in Kremlev's closing remarks, with no vote taken.
That a majority of the IBA's national federations approves is only a further confirmation that the federation is simply unresponsive to the IOC's governance requests.
Boxing had 289 entries in Tokyo but the quota was cut to 252 for Paris, places that other sports would be happy to fill if given the chance.
2.
Van de Vorst, USA Boxing priority is Olympic inclusion, not IBA
The possible exclusion of boxing from the Paris 2024 program is worrying boxing leaders worldwide, starting with van der Vorst, who tweeted following the IOC's statement:
● "We cannot afford for boxing to be eliminated from the Olympic Program in Paris 2024. We have to keep fighting for its re-inclusion in LA 2028. We have to do it with or without the IBA."
● "The recent statements from the IOC highlight that their patience is being tested, & is close to running out with regards to IBA leadership & its incapacity/unwillingness to address the long-standing concerns."
Also on Friday, USA Boxing Executive Director Mike McAtee sent a two-page letter to the federation's more than 38,000 boxers that noted:
● "USA Boxing is concerned that IBA is prioritizing its own role in the Olympics above the interests of the boxers. To be clear, Kremlev's statement ['I want to stress that not a single boxer, coach or National Federation will be participating in the Olympic Games without IBA.'] is the opinion of one person who does not speak for all 38,000+ USA Boxing's boxers or other National Federations and their boxers."
● "[M]aintaining Olympic recognition is not simply one of USA Boxing's priorities, it is the top priority. However, USA Boxing fully understands that Olympic recognition is not a right, but a privilege. USA Boxing's stated position has not changed:
"'The future of boxing as an Olympic sport is in doubt, and the IOC has made it clear that unless significant changes are made, it will not be included in the program for the Paris 2024 Olympics and beyond. This represents a critical threat to the future of the sport, both at the elite level and grassroots. We have a responsibility and a duty to everyone connected with the sport to explore all possibilities and do everything we can to ensure boxing's continued inclusion in the Olympic games, thereby providing opportunities and inspiration for boxers across the world and for all future generations.'"
The next step in the IOC's process will be to consider boxing future at an Executive Board meeting, next scheduled in February. To remove the boxing from Paris 2024 will require a vote by the IOC's membership – the Session – which will next be held in India in the fall of 2023, although a special, online meeting could be called well before that.
3.
U.S. Congress passes USOPC "Equal Pay Act," but with holes
The U.S. House of Representatives approved S. 2333, the Equal Pay for Team USA Act of 2022, by a vote of 350-59, and sent it to President Joe Biden, who is expected to sign it.
The bill amends the Ted Stevens Olympic and Amateur Sports Act (36 U.S.C. §2205 et seq.), requiring the U.S. Olympic & Paralympic Committee:
"with respect to a sport for which the corporation [USOPC] conducts separate programs for female and male athletes, to ensure that female and male athletes who represent the United States in international amateur athletic events receive, from funds directly provided by the corporation to the athlete (excluding any prize or award based on the athlete's performance in an international amateur athletic competition), equivalent and nondiscriminatory compensation, wages, benefits, medical care, travel arrangements, and payment or reimbursement for expenses."
The same language is included to apply to the National Governing Bodies. However, in both cases, pay discrepancies are specifically approved for:
"merit, performance, seniority, or quantity of play in determining contract or other terms of participation."
So, not every player is equal. There is also a provision to "overpay" athletes to "address disparities in outside income, including in compensation made available by international sports federations and other event organizers, or the need to foster underdeveloped programs or address documented and justifiable personal need on the part of specific athletes or teams."
A report will be due annually to the Congress to demonstrate that these new provisions are being followed.
4.
FIFA says no "match manipulation" during the World Cup
As part of its preparations for the 2022 World Cup in Qatar, FIFA set up an Integrity Task Force to look for signs of competition manipulations, but announced Friday:
"[T]he Task Force analysed monitoring reports of legal betting markets, conducted multi-jurisdictional inquiries, and reviewed surveillance of competition venues for any suspicious behaviour. No match manipulation threats to any game that was played during the tournament were detected."
That's good news, indeed.
5.
Ferriani confirms GAISF dissolution more like a re-branding
The Global Association of International Sports Federations (GAISF), founded in 1967, was dissolved this year by a vote of the membership, but in fact, its key current function – the vetting and inclusion of new sports federations – is simply bring moved to the SportAccord organization. GAISF President (and International Bobsleigh and Skeleton Federation) President Ivo Ferriani (ITA) confirmed this in his year-end message that included:
"[W]e are driving forward with key structural changes to SportAccord and the integration of [GAISF] activities, responsibilities and staff members into SportAccord are very much on track.
"The revised governance structure will see the Association of IOC Recognised International Sports Federations (ARISF) and Alliance of Independent Recognised Members of Sport (AIMS) join the Association of Summer Olympic International Federations (ASOIF) and the Association of International Olympic Winter Sports Federations (AIOWF) as Members of SportAccord.
"The global sports community will remain united within a strengthened SportAccord through the representation of the umbrella organisations. The International Federations will continue to be the gateway for new sports through a new Membership Commission overseeing the application process for entry into AIMS."
In fact, GAISF changed its name before to SportAccord from 2009-17, then changed it back. Maybe some stationary is still left over?
≡ PANORAMA ≡
● Alpine Skiing ● Swiss Daniel Yule took his third career win in the FIS World Cup in Madonna di Campiglio (ITA) on Thursday, winning the men's Slalom in 1:37.67, just 0.08 ahead of reigning World Cup Slalom champ Henrik Kristoffersen (NOR: 1:37.75), with Linus Strasser (GER: 1:37.85) third.
Yule added to his wins at Madonna in 2019 and 2020; if this five career World Cup golds, now three have come there.
● Freestyle Skiing ● The seventh Cross Alps Tour in Ski Cross finished in Innichen (ITA) with two events on Wednesday and Thursday, with Canada's Reece Howden and the irrepressible Sandra Naeslund taking the series titles.
Naeslund, the Beijing Olympic champion, has simply overwhelmed the field this season, winning all five races so far. In Innichen, she beat two-time Olympic bronze medalist Fanny Smith (SUI) and Sochi 2014 gold medalist Marielle Thompson (CAN) in the first race, and then Andrea Limbacher (AUT) in the second, as Smith and Sonja Gigler (AUT) did not finish and tied for third.
Over two seasons, Naeslund had won 16 of the last 17 World Cup races. Wow.
The men's racing saw Mathias Graf (AUT) win his second event of the season on Wednesday, ahead of Canada's Howden and PyeongChang 2018 winner Brady Leman. Howden won the second race, beating Ryo Sugai (JPN) and Niklas Bachsleitner (GER), giving him the overall title, with Graf second.
● Judo ● The final IJF World Tour event of 2022 was the Jerusalem Masters in Israel, with Japan and France dominating the medal table.
Japan got wins from Sanshiro Murao in the men's 90 kg class, Tatsuru Saito at +100 kg, and Miku Takaichi in the women's 63 kg division. France earned golds from Shirine Boukli in the women's 48 kg division and 2022 World Champion Romane Dicko in the women's +78 kg class, but also six silver medals!
The home crowd celebrated Baruch Shmailov's win at 66 kg. Tokyo Olympic medalists were busy as well, with Brazil's 66 kg bronze medalist Daniel Cargnin winning at 73 kg, women's 48 kg winner Distria Krasniqi (KOS) taking the women's 52 kg gold and +78 kg bronze medalist Dicko winning for France. The 2022 World men's 81 kg champ, Tato Grigalashvili (GEO) won his division as well.
● Table Tennis ● The U.S. Open in Ontario, California, ended on Thursday, with Lei Kou defending his men's Singles title from 2021, with a straight-set 11-9, 11-6, 11-8, 11-9 victory over Xin Zhou in the final.
The women's final was a tense, seven-set marathon between Amy Wang and American star Lily Zhang, with Wang coming back from 3-2 down to win: 11-7, 8-11, 12-10, 4-11, 3-11, 12-10, 11-8.
The Doubles titles went to Kou and Ye Tian, who beat Xiang Jing Zhang and Wenzhang Tao in the final, three sets to one. Zhang and Rachel Sung took the women's Doubles title from Youruo Wu and Luoxuan Shao, three sets to two, and Nikhil Kumar and Wang took the Mixed Doubles, 3-1, over Kai Zhang and Sung.
¶
You can receive our exclusive TSX Report by e-mail by clicking here. You can also refer a friend by clicking here, and can donate here to keep this site going.
For our updated, 951-event International Sports Calendar for 2022-23 and beyond, by date and by sport, click here!