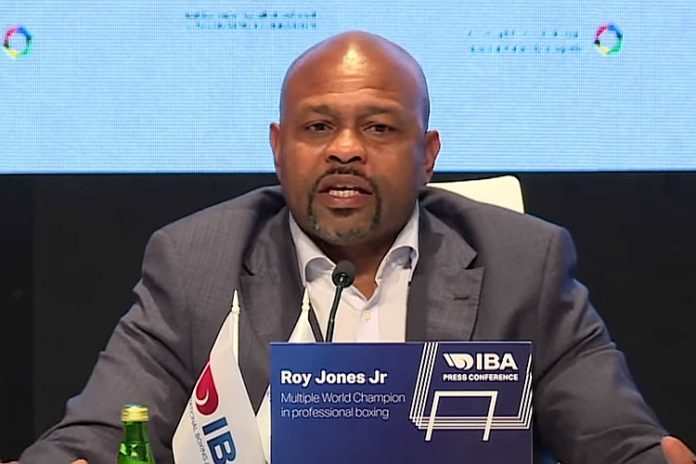 ★ The Sports Examiner: Surveying, monitoring and explaining the key competitive, economic and political forces shaping elite sport and the Olympic Movement. ★
★ Want TheSportsExaminer.com insights for your team? Yes! Click here for info on speaking, research and consulting from editor Rich Perelman. ★
★ To get The Sports Examiner by e-mail: sign up here! ★
≡ THE 5-RING CIRCUS ≡
1. Without the Olympics, "boxing is going to be dead"
2. Qatar rips German "double standards" in World Cup criticism
3. Rowing's LA28 goals aimed at adding coastal rowing
4. Italian rhythmic gymnasts allege abuse, demand change
5. Valieva wins Russian Grand Prix in Kazan
The International Boxing Association staged a news conference in Dubai (UAE) which featured famed boxer Roy Jones, Jr., a dual citizen of the U.S. and Russia, saying that "boxing at the Olympics can't be touched," but admitting that if the sport is not restored for LA28, "boxing is going to be dead." The Foreign Minister of Qatar criticized the comments of the German Interior Minister that the country should not have been picked to host the FIFA World Cup by calling out a "double standard" on the tournament as against German interest in Qatar's energy resources. The World Rowing President said that the federation has given up on keeping "Lightweight" rowing in the Olympic Games and is concentrating on adding three coastal rowing events, at minimal cost in the same area as the Long Beach Marine Stadium, to be used for main rowing channel. In Italy, three rhythmic gymnastics have alleged emotional abuse by coaches, especially over weight, prompting an investigation by the national federation and an apology from the Italian National Olympic Committee. Controversial Russian skating star Kamila Valieva won the third leg of the Russian Grand Prix in Kazan on Sunday, but missed on a quadruple toe loop. She tried it twice more after her routine was over, but missed them again!
1.
Without the Olympics, "boxing is going to be dead"
The International Boxing Association held a fascinating news conference in Dubai (UAE) on Monday, claiming it has fulfilled all of the requirements to be added to the Olympic program for Los Angeles in 2028 and blaming all of its problems on former President C.K. Wu (TPE).
IBA President Umar Kremlev (RUS) appeared with 1988 Olympic Light Middleweight silver medalist – and later four-division professional World Champion – Roy Jones, Jr., a dual Russian and American citizen, Rio 2016 women's Lightweight winner Estelle Mossely (FRA) and 2022 women's Flyweight World Champion Nikhat Zareen from India.
Jones made an impassioned plea concerning boxing's Olympic status:
"We now have what the IOC asked for: they asked for fair judgement, they asked for financial stability, they asked for government [reform], whatever … [Kremlev] does it all. He's done everything that they asked to fix this.
"So now, what I don't understand is, why nobody want to talk about the fact that he's done all he can to fix it, they want to talk about the past, but the past has nothing to do with him. … It's now what's happening today and for tomorrow.
"Boxing has a future … If we don't all come together right now to save this sport, we're going to be in trouble. Boxing at the Olympics can't be touched; it's the best thing in amateur sports to me. …
"When I was a kid, my dreams were to become an Olympic champion first. That's how my career started. That's how legends start, at the Olympics. For me, if we don't all get together, on the same team, unite and fight for the betterment of amateur boxing, especially at the Olympic level, boxing is going to be dead."
Kremlev barely addressed the Olympic issue, but doubled down on his stance that Russian and Belarusian fighters are welcome to participate in IBA tournament, with the use of their flag and anthem, in direct contradiction to the request of the International Olympic Committee following Russia's invasion of Ukraine:
"IBA exactly demonstrates, by its decisions, that we are supporting unity of people, not separation of people, especially when we talk about our sportsmen. I said before, for the sportsman, it is very important to hear the national anthem and to see their national flag. Therefore, our task as a functioning sports organization is to protect their interest and this is exactly what we are doing.
"We should not be a political tool for somebody. Where sports start, their politics finish. Where boxing starts, the conflict is no more."
On Saturday, the IBA Council declared Wu, the head of the federation, then known as AIBA, from 2006-17, persona non grata at all IBA events, with Kremlev adding:
"They say that corruption within AIBA took place, but this corruption has a name. His name is C.K. Wu. We should speak plainly without avoiding unpleasant or embarrassing issues. We [are] not afraid to reveal the truth. We need to decide once and for all: forget the past and put a full stop. We have to be strict, all those involved must be banned for a lifetime. We take a decision that these people will not ever take part in any IBA activities."
The IBA Council approved amendments to the IBA Constitution for voting by the IBA Congress in December, including that "athletes affiliated to a suspended National Federation would not be deprived of their rights to take a part in the competitions under their national flag and anthem but without any symbols of the suspended National Federation."
At the news conference, Kremlev also announced that the men's World Championships will be held next May in Tashkent (UZB) and provide more prize money for medal winners, with $200,000 for the gold medalists, $100,000 for silver and $50,000 each for the bronze medalists, for a total of $5.2 million.
Observed: Kremlev is quite right when he blames Wu for a lot of the problems that caused boxing to implode on the Olympic level. However, his new IBA has not solved the IOC's current issues with his federation, including its sources of income, election procedures, ranking systems, refereeing and judging processes and others. In addition, Kremlev's declaration that the IOC's ban on Russian and Belarusian athletes is to be ignored, followed up by a motion to add this into the IBA Constitution, is not likely to win any friends at Olympic House in Lausanne. The IOC Executive Board is slated to discuss the IBA status regarding the 2028 Olympic Games in early December, and a positive outcome is not currently expected.
2.
Qatar rips German "double standards" in World Cup criticism
One of the reasons a city, region or country bids for a high-profile, international sporting event is to invite more attention. Qatar, which will host the 2022 FIFA World Cup – set to open on 20 November – is getting plenty, but is not necessarily happy about it.
On Monday, Qatar Foreign Minister Mohammed bin Abdulrahman bin Jassim Al Thani told the German Frankfurter Allgemeine Zeitung:
"It is unfortunate when politicians try to make their mark and score points at our expense. We are annoyed by the double standards."
That's a reference to German Interior Minister Nancy Faeser's comments in late October concerning the selection of Qatar, including "There are criteria that have to be adhered to, and then it would be better if it weren't awarded to such states."
Al Thani continued:
● "On the one hand, the German population is misinformed by government politicians. On the other hand, the government has no problem with Qatar when it comes to energy partnerships and investments … or the rescue of German citizens from Afghanistan.
"But when we organize the World Cup, we want to enjoy this moment and celebrate together with the German team, then suddenly different standards apply. We cannot understand this."
● "It is ironic when this tone is struck in countries in Europe that call themselves liberal democracies. It sounds very arrogant, frankly, and very racist."
● "It seems difficult for some to accept that a small country, a small Arab country, should be allowed to host the World Cup.
"Racist stereotypes appear again and again. But that is not the case everywhere for a long time. There are fewer than ten countries from which such sharp criticism comes. The rest of the world is happy with us."
Fans at Bundesliga matches in Germany last weekend showed protest banners criticizing the selection of Qatar to host the World Cup.
A lengthy story by Swiss broadcaster SRF added details to a story first reported in 2018, that Qatar officials created a $387 million intelligence and influence operation to ensure the 2022 World Cup was not taken away after its award in 2010.
A Qatari government spokesperson told the InsideTheGames site, "These baseless allegations are part of a coordinated, underhanded campaign to damage Qatar's reputation. The report relies on documents that have been rejected outright by U.S. courts because of their inauthenticity. Multiple reputable international news outlets received the documents and opted not to publish the story once the inaccuracy of the evidence was revealed."
3.
Rowing's LA28 goals aimed at adding coastal rowing
World Rowing has been busy working on its presence at the 2028 Olympic Games in Los Angeles.
In a major departure from its usual operations, it approved the use of a shortened, 1,500 m course for the LA28 Games in order to place rowing at the Long Beach Marine Stadium – site of the 1932 Olympic rowing events – instead of a more remote site at Lake Perris in Riverside County, 90 minutes east of Los Angeles.
Now, federation chief Jean-Christophe Rolland (FRA) told FrancsJeux.com the next step is to accept the International Olympic Committee's desire to eliminate the remaining "Lightweight" class events and include the newer, expanding discipline of coastal rowing:
● "Today, rowing is no longer limited to its classic format, present at the Olympic Games since Athens in 1896. We also have two other disciplines: indoor rowing on an ergometer, and sea rowing. The latter discipline has two formats, both using the same boats: endurance, similar to sailing, with a mass start and a 6 km course at sea; and beach sprint, with a run on the beach, then a climb in the boat for a 250 m course to a buoy and back, all in direct opposition with elimination until the final. This format has been retained for the 2026 Youth Games in Dakar."
● "In my vision for the future, the idea is to expand the rowing community worldwide through our three disciplines. Classic rowing is not minimized, it remains the base and we continue to promote it. But we are developing the other two. Beach sprinting is a discipline of the future, which can bring added value to the Olympic Games. It is fast, young, fun and innovative. It can attract a different audience without requiring large investments."
Rolland said that World Rowing's proposal for 2028 includes a men's and women's event and a mixed-gender event for two athletes. And guided by the IOC's desire for cost containment:
"In our application, we insist that we do not need an additional facility. We can integrate into an existing site, which could be for sailing, triathlon or long distance swimming. There are several options, but the Long Beach perimeter seems the most logical, across the street from the classic rowing facility, planned on an inland inlet."
If nothing else, Rolland has a firm grip on the reality of his sport's future Olympic program:
"[T]he lightweights, we would have lost them at the Olympics, it was inevitable. … With sea rowing, we increase the population of rowers in the world. In a sport world that has become so competitive, it is vital to be able to grow."
The decision on the event line-up for LA28 will come in the fall of 2023.
4.
Italian rhythmic gymnasts allege abuse, demand change
Three Italian rhythmic gymnasts have alleged "violence and humiliating treatment to stop us from eating" over many years.
In an interview with La Repubblica, Nina Corradini, now 19, said "I had spent every minute of the previous few months wishing I could escape. Now I want to tell all and protect young people, everyone needs to know the truth."
Five-time World Championships group-event medalist from 2017-19, Anna Basta quit the sport in 2020 at age 19 and said the bullying made her contemplate suicide and said, "I dreamed about the scale, a nightmare" and "I know that in 2 days I can get back to my former weight but I must not touch food."
Giulia Galtarossa, a two-time World Champion in group events in 2009 and 2010, explained:
"They tried to make me feel guilty, telling me that the federation had invested in me… for a long time I thought I was really fat and ugly and that it was my fault. But the only thing I did that was wrong was to stay silent until today."
On Monday, Giovanni Malago, the head of the Italian National Olympic Committee (CONI) told La Repubblica:
"I feel the duty to apologise to any current or former athletes who may have suffered due to inappropriate behaviour. …
"We need to work out if these were talking about individual errors or if there was a system that pushed people to make those errors … A certain degree of rigour and harshness is inevitable, but it's something else when you cross the line into violence and humiliation."
The Italian national gymnastics federation committed to an investigation into the allegations.
The revelations came just days before the World Artistic Championships in Liverpool (GBR), where the Federation Internationale de Gymnastique co-hosted a "Safe Sport Journey Symposium" attended by officials from more than 50 countries.
USA Gymnastics President Li Li Leung was a featured speaker, talking about how to create change within organizations:
"Culture eats strategy for breakfast," she said, and emphasized prioritizing athletes and well-being more than medals.
"We did have an underlying subculture, especially at the highest levels, that wasn't healthy, and that enabled and ignored abuse. I wish I could say we undertook change all on our own, but the reality is that everything that happened forced a much-needed change, and it was the athletes who forced that change, and it is making the sport better than it was before."
5.
Valieva wins Russian Grand Prix in Kazan
While her doping case from the Beijing 2022 Olympic Winter Games continues without resolution, Russia's 2022 European Champion Kamila Valieva won another stage of the Russian Grand Prix, this time in Kazan.
Now 16, Valieva was a member of the Russian squad for the Beijing 2022 Team Event, which won the competition on the ice, but the report of her doping positive from December has prevented the event being finalized until an inquiry into her status is completed.
Banned from international competition, Valieva has been skating on the Russian Grand Prix, whose third leg was completed over the weekend. She won easily, scoring 241.72 points to 210.34 for runner-up Veronika Yametova, 15.
Valieva tried to complete a quadruple toe loop during her Free Skate program, but fell, then tried twice more – without music, and unsuccessfully – after the end of her program! She said afterwards:
"I decided to try, why not? I was really upset that I couldn't do it, everything was fine in training. Now I had more confidence, but I held back, it didn't work out once, so I'll try twice more."
The next stage comes this weekend in Moscow.
≡ PANORAMA ≡
● Fencing ● USA Fencing announced a new policy for site selection for its major tournaments, including its five North American Cups, Junior Olympics and summer national championships:
"Beginning with the 2023-24 national tournament season and beyond, USA Fencing will give preference when selecting host cities for national tournaments to states without laws that harm members of LGBTQ communities as well as states that do not have laws undermining the reproductive health of women."
The online announcement took pains to note that this was not a ban, but only a preference:
"[W]hy not filter by state laws first and only consider states without harmful legislation? Given the other factors outlined above, such a move would reduce the list of possible host cities to just over a dozen – with the possibility that additional states could pass similar laws in the future and further reduce the list.
"The resulting list also lacks geographic diversity and would require members in many pockets of the country to travel long distances to every tournament. While we could, to use one extreme example, host all of our tournaments in California, that would create an additional burden on families who live on the East Coast."
The cities list was not provided; but the federation promised to "publish a matrix detailing the states that will be now given priority in our site allocation."
USA Fencing's Board of Directors adopted a new transgender participation policy, allowing athletes to "register with USA Fencing as the gender in which they identify and wish to compete during registration/renewal. Please note, this selection will be logistically binding and athletes will not be permitted to modify their gender during the season."
For the junior, senior and veteran divisions, there are no specifications for transgender females as to allowed testosterone levels; as the new rule states only that:
"Athletes being treated with testosterone suppression medication, for the purposes of USA Fencing-sanctioned competitions may continue to compete in men's events, but may only compete in women's events after completing one calendar year (12 months) of testosterone suppression treatment. Proof of compliant hormone therapy must be provided prior to competition."
The international federation for fencing (FIE) has no transgender rules at present. So, as of now, any U.S. athlete wishing to transition from male to female apparently has no restrictions.
● Hockey ● Pakistan's Tayyab Ikram was elected as President of the International Hockey Federation (FIH), to serve the two years remaining in the term of India's Narinder Batra, who resigned earlier this year.
Ikram, who had been a member of the FIH Board, received 79 votes to 47 for Belgium's Marc Coudron.
● Modern Pentathlon ● The Pan American Championships concluded Sunday in Resende (BRA), with qualification for the 2023 Pan American Games available. Mexico's Emiliano Hernandez won the men's division over Vicente Lima (VEN), while Mayan Oliver (MEX) took the women's title over Brazil's Marcela Mello.
● Swimming ● Don't think American distance icon Katie Ledecky wasn't all-in for a world short-course record in the women's 800 m Freestyle at last week's FINA World Cup finale in Indianapolis:
"I pushed myself a lot after last week. It's great to have all these fans here to cheer us on. It's nice to have some [short course] benchmarks.
"I am really happy to be here and racing at the World Cup events. … It's a fun way to start the fall and kick off the season. We usually don't get the season started with an international level meet so it's a little different for me."
The big winners – at $100,000 each – were the overall winners of the three-leg program, American Beata Nelson and Trinidad & Tobago's Dylan Canter. Said Nelson, who won "Triple Crowns" in the women's 200 m Back and 200 m Medley:
"I am not usually a slap the water lady but it's been a long three weeks and I am really happy with the finish. I had no expectations coming into this. I saw this as a great short course opportunity for me that's in my wheelhouse. I am really happy with the results and wanted to take full advantage."
Carter won a triple-triple in the 50 m Free, 50 m Back and 50 m Fly:
"I am so very happy, I am over the moon. I have been saying that this was a goal of mine but the pressure started to mount this weekend. I really felt like I could do it tonight.
"I was cooler this week than I was in Toronto. I think the confidence outweighed the nerves. It's a massive step for me. I have always felt that I had massive potential but there were some things missing, and I was always trying to unlock them. I am pleased to see some consistent results."
● Table Tennis ● At the Pan American Championships in Santiago (CHI), Americans reached the final in four divisions and came away with a gold and three silvers.
Amy Wang and Rachel Sung, ranked 26th worldwide, took the women's Doubles title in a tense, five-set final over Brazil's Caroline Kumahara and Bruna Takahashi, 7-11, 11-9, 11-7, 11-13, 12-10.
Brazil's world no. 7 Hugo Calderano won the men's Singles in a 4-0 sweep over the U.S.'s Kanak Jha, 15-13, 11-8, 11-8, 11-8, while Puerto Rico's world no. 11 Adriana Diaz defeated Lily Zhang, by 4-1 (9-11, 11-4, 11-3, 11-5, 11-3).
The U.S. got a third silver in the Mixed Doubles, with Brazil's world no. 13 Victor Ishy and Takahashi defeating Wang and Nikhil Kumar, by 3-1 (11-8, 5-11, 11-6, 11-5).
In the men's Doubles, Argentina's Gaston Alto and Horacio Cifuentes swept Chile's Gustavo Gomez and Nicolas Burgos, 11-7, 12-10, 11-5.
¶
You can receive our exclusive TSX Report by e-mail by clicking here. You can also refer a friend by clicking here, and can donate here to keep this site going.
For our updated, 951-event International Sports Calendar for 2022-23 and beyond, by date and by sport, click here!