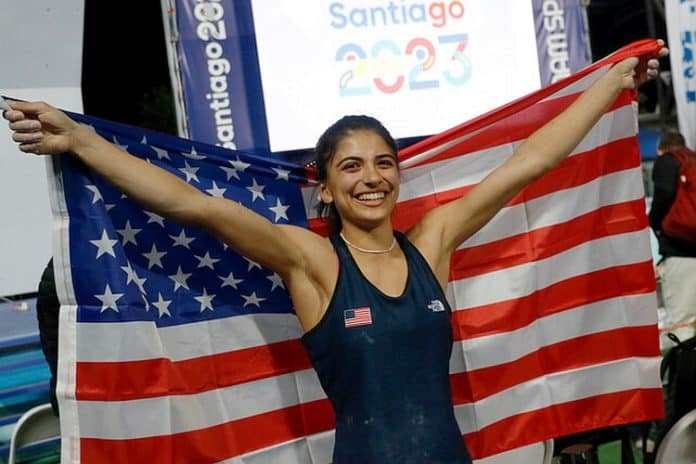 ★ The Sports Examiner: Chronicling the key competitive, economic and political forces shaping elite sport and the Olympic Movement.★
★ To get The Sports Examiner by e-mail: sign up here! ★
≡ THE 5-RING CIRCUS ≡
1. LANE ONE: Governments care less and less about the "autonomy of sport"
2. U.S. passes 100 medals, adds 10 golds at Pan Am Games
3. Renovation of the Turin 2006 track for 2026 being explored
4. Single-day tickets for 2024 U.S. Olympic Swim Trials available
5. Modest U.S. TV interest in Skate America, or U.S. men's soccer
● The International Olympic Committee insists on the autonomy of sport, away from government interference, but the reality is now quite different. From just this summer forward, China has twice refused standard entry visas to Indian athletes and Albania just refused to allow Iranian wrestlers to come to the U-23 World Championships. This is on top of all of the tumult over Russian and Belarusian participation in international competitions or in Paris next year. The implications are grave.
● At the Pan American Games in Santiago, Chile, the U.S. medal machine roared past the 100-medal mark after four days and has 109 in total. Three U.S. stars have won three golds each and the sport-climbing team went 1-2 in all four events and won nine medals out of 12 available! Some organizational issues have been reported, but no sports sessions have been canceled or postponed.
● The question of where the bobsled, luge and skeleton events for the 2026 Olympic Winter Games in Italy appears to still be up for grabs. The IOC Session was told that a track outside of Italy would be used, but now the question of whether the Turin 2006 track could be used – and it will require costly renovations – has been raised once again.
● Single-day tickets for the massive 2024 U.S. Olympic Swimming Trials are now on sale, with pricing from $55.99 to $393.40 for the double-session days and $28.00 to $196.70 for the final, single-session day. Up to 30,000 can be seated at Lucas Oil Stadium in Indianapolis.
● Competing against college and pro football, the U.S. television audience for Skate American was small, but the highlights show on NBC did 699,000 in the hour before NFL games started lat Sunday. The Mexico-Germany football friendly far outdrew the U.S. men's win over Ghana.
● Panorama: International Olympic Committee (Bach featured on Uruguayan stamp) = Rugby (World Rugby to expand World Cup to 24 teams in 2027) = Swimming (Boston College answers swim team lawsuit over hazing suspension) = Tennis (Romania's Halep files appeal against doping suspension) ●
1.
LANE ONE:
Governments care less and less about the "autonomy of sport"
If the International Olympic Committee thought things were difficult a month ago, they are much worse now.
The Russian invasion of Ukraine that began in February 2022 is continuing with no end in sight, and the IOC is embroiled in a bitter argument with Western governments that see no reason to allow any athletes from Russia or its ally Belarus to appear at the 2024 Olympic Games in Paris.
The IOC has gathered all kinds of support from various corners, from friendly United Nations human rights rapporteurs, declarations of various multi-government conferences, and, departing from its usual ultra-diplomatic language, expressed its view in its "Q&A regarding the participation of athletes with a Russian or Belarusian passport in international competitions":
"It is deplorable to see that some governments do not want to respect the majority within the Olympic Movement or the autonomy of sport which they are requesting from other countries, and are praising in countless speeches and UN and European Union resolutions. …
"We have not seen a single comment from them about their attitude towards the participation of athletes whose countries are involved in the other 70 wars, armed conflicts and crises in the world."
Things have changed.
With the Hamas attacks on Israel beginning on 7 October, a new and dangerous war has broken out. It's the second real shooting war in the world today; everything else is conflicts on paper and diplomatic talks.
And the Hamas attacks, widely understood to be masterminded by Iran, have had immediate consequences in sport. On Sunday, United World Wrestling posted this:
"United World Wrestling expresses its deep disappointment to announce that Team Iran after sudden diplomatic crisis has been denied visas by Albania for the U23 World Championships in Tirana, scheduled to take place from October 23 to 29.
"Both the Albanian Wrestling Federation and UWW worked tirelessly to facilitate the necessary visa issuance for all participating teams, including the Iranian wrestlers. Despite the efforts, the authorities denied Team Iran its right to participate in the tournament.
"UWW stands with all wrestlers and remains committed to making the sport inclusive to every country and will take a more in-depth look at the matter going forward."
Albania is a Muslim-majority country of 2.8 million people that has had diplomatic relations with Israel since 1949, but broke off relations with Iran in September 2022, alleging a major cyberattack by the Iranians.
So Albania, a country of 2.8 million, thumbed its nose at Iran, with a population of 88 million.
The autonomy of sport didn't mean much to the Albanians.
And there is the behavior of China at the recent Asian Games in Hangzhou, a showcase for the host country, with 383 medals and more gold medals (201) than any other country won in total medals.
But the Chinese refused to issue standard entry visas for three Indian Wushu participants from Arunachal Pradesh, a state in northeast India, which China claims is part of Tibet. Instead, temporary visas were issued which are not considered valid by the Indian government.
It was reported by the Indian site RevSportz that IOC Director of National Olympic Committee Relations and Olympic Solidarity James MacLeod (GBR) told reporters:
"Our principle, and this is a principle that doesn't only apply now at the Asian Games but it applies every day, everywhere, across the world, is that all athletes should have a free and unfettered access to sports competitions regardless of their nationality and regardless of the passport that they hold.
"That is a principle that we as the IOC continuously uphold and we will talk to all different parties within the Olympic Movement but also Governments to ensure that that principle is upheld. In this case we are aware of the situation.
"It is a matter for the Olympic Council of Asia, and we know that there are discussions between the OCA and the hosts of the Asian Games to hopefully try and resolve this situation."
The issue was hardly new, as Inside The Games reported that the same three Wushu athletes were denied standard visas in exactly the same manner for the World University Games held in Chengdu (CHN) in July.
MacLeod's reference to the OCA, as the owner of the Asian Games, points out the complete power imbalance between sports organizations and countries at events of all sizes.
At the Asian Games, the North Koreans re-appeared at a multi-sport Games for the first time since before the pandemic and won 39 medals, including 11 golds. Despite its status as non-compliant with the World Anti-Doping Agency for not making its athletes available for testing during the pandemic, the North Korean flag was flown at the Opening Ceremony, and at victory ceremonies.
India's Randhir Singh, the Olympic Council of Asia's interim head, told reporters:
"North Korea also has written to WADA as well, explaining their position. We are explaining it from our side as well. At present the North Korea flag is flying, and we will look into it and see what the future says."
Is there any doubt that China desired to let the North Korean flags be displayed? WADA issued a statement that included:
"WADA takes this matter extremely seriously and has written to the OCA on several occasions before and after the opening ceremony of the Games, explaining in clear terms the possible consequences that could arise for the OCA if this matter is ignored."
But in fact, when events are held in countries that don't care what the IOC or WADA or United World Wrestling thinks, their requirements don't apply any more. And that's dangerous, from multiple angles.
And lest we forget, the Australian state of Victoria walked away from a signed contract to host the 2026 Commonwealth Games in July, saying the costs had risen too high. True, they paid a negotiated exit fee of A$380 million (about $242.13 million U.S.), but with less than three years to go, the Commonwealth Games – nearing its centennial in 2030 – has no host and leaner and leaner prospects.
IOC President Thomas Bach of Germany has called this period of history "aggressively divisive," and he's quite right. He and the IOC, WADA and every other sports governing body now face the question of in which countries – if any – will their rules and regulations be followed when they are determined not to be in the interest of the host government, sometimes years down the road.
2.
U.S. passes 100 medals, adds 10 golds at Pan Am Games
The American medal machine continued rolling at the XIX Pan American Games in Santiago, Chile, with 26 medals on Tuesday and now more than 100 total medals after four days of competition.
The U.S. won 10 more golds to bring its total to 51:
● Gymnastics: Donnell Whittenburg, men's Rings
● Gymnastics: Zoe Miller, women's Uneven Bars
● Racquetball: Adam Manilla and Erika Manilla, Mixed Doubles
● Sport Climbing: Natalia Grossman, women's Boulder & Lead
● Swimming: David Curtiss, men's 50 m Free
● Swimming: Jay Litherland, men's 400 m Medley
● Swimming: Gabi Albiero, women's 50 m Free (tie)
● Swimming: Women's 4×200 m Freestyle
● Water Skiing: Regina Jaquess, women's overall
● Weightlifting: Mary Theisen-Larsen, women's +87 kg
The U.S. swimmers have now won an astonishing 40 medals in swimming (17-14-9 in 30 events!) with a day to go, 10 medals in shooting (4-1-5) with three days left, and nine in water skiing. Jaquess won her third gold medal in water skiing on Tuesday, joining Paige Madden (400-800 m Free, 4×200 m Free) and Jacob Foster (100-200 m Breast, Mixed Medley relay) in swimming.
Canada's Maggie MacNeil won her fourth swimming gold on Tuesday with a first-place tie in the women's 50 m Free with Albiero in 24.84. MacNeil has won six medals overall, with four golds and a relay silver and bronze.
Mexico has dominated the diving events, with eight medals and a triple-gold performance for Osmar Olvera in the men's 1 m, 3 m and 3 m Synchro.
The U.S. dominated in Sport Climbing, going 1-2 in all four events, winning nine medals in all and maxing out on qualifying for Paris with four quota places. Sam Watson and Piper Kelly won the men's and women's Speed events and Jesse Grupper and 2021 World Bouldering Champion Natalia Grossman took the men's and women's Boulder + Lead combo. Wow!
The overall totals through Tuesday showed the American team with 109 medals (51-28-30), trailed by Canada (58: 20-20-18), Mexico (50: 22-13-15) and Brazil (45: 10-16-19).
¶
The Associated Press reported on various organizational issues at the Games so far, including continuing construction debris, poor signage, and inconsistent security procedures. The Athlete Village has had some plumbing problems, reportedly requiring some members of the Argentine, Brazilian and American teams to move to a hotel temporarily.
However, all of the sports sessions have been held as planned, with competitions continuing through 5 November.
3.
Renovation of the Turin 2006 track for 2026 being explored
Although Milan-Cortina 2026 organizing committee chair Giovanni Malago confirmed at the IOC Session in India that the bobsled, luge and skeleton events for the 2026 Olympic Winter Games needed to be held outside of Italy, the issue will not die.
The Italian news agency ANSA reported last week that Deputy Premier and Foreign Minister Antonio Tajani insisted that the renovation of the track from the 2006 Turin Winter Games be considered so that the events are still held in Italy.
On Tuesday, it was further reported that specifications of the situation with the Cesana Pariol venue are now being presented. Alberto Cirio, President of the Piedmont Region explained:
"Today, the government gave us the opportunity to reopen the Cesana plant to use and we were asked for the timing and necessary resources. We sent the dossier at 7.58 which contains the study carried out and which demonstrates that the reuse of the facility is possible with an expense that is less than half of those hypothesized for Cortina."
The Mayor of Turin, Stefano Lo Rosso, endorsed the idea, adding, "The presentation of the dossier is with a view to making a serious proposal to the government, it would be a shame if the money of Italian taxpayers were used to finance works abroad.
"We worked to ensure that Turin gets back into the game and puts a stop to a mess committed in the past. It can be done in Italy."
However, others in the Italian government are quite convinced that the renovations needed to bring the 2006 track back to Olympic quality are underestimated, just as the Cortina replacement track costs were.
The Milan Cortina organizers have multiple options not far away, including accredited World Cup tracks in Innsbruck (AUT), St. Moritz (SUI) and Konigssee (GER), with a selection to be made by the end of the year.
4.
Single-day tickets for 2024 U.S. Olympic Swim Trials available
USA Swimming announced the start of single-day ticket sales for the 2024 U.S. Olympic Trials in Indianapolis, Indiana, at the Lucas Oil Stadium.
The competitions will run for nine days, with two sessions per day from 15-22 June (11 a.m. and 7 p.m.) and a single session on 23 June. Pricing as shown on the Web site:
Saturday, 15 June to Saturday, 22 June:
● Floor: $393.40
● Level 100: $268.17
● Level 200: $206.58
● Level 300: $152.25
● Level 400: $72.55 and $107.74
● Level 500: $72.55 and $107.74
● Level 600: $55.99
Sunday, 23 June (single session):
● Floor: $196.70
● Level 100: $134.09
● Level 200: $103.29
● Level 300: $76.13
● Level 400: $36.28 and $53.87
● Level 500: $36.28
● Level 600: $28.00
The Trials is expected to be quite a spectacle, with seating for 30,000 available, which would make the event the largest swim meet in history! In addition, the stadium is connected to the Indianapolis Convention Center and will be the site for the Toyota Aqua Zone fan festival.
There are also hospitality and accommodations packages offered at a premium by the USA Swimming Foundation, with multi-person programs from $10,000 to $30,000.
5.
Modest U.S. TV interest in Skate America, or U.S. men's soccer
Football, whether college or the NFL, continues to dominate the American television audience, with modest numbers for Skate America and even less for the U.S. men's football (soccer) team.
The NBC highlights show on Sunday at noon Eastern, going against the NFL pre-game shows, drew a respectable 699,000 viewers, far better than the live coverage on E!:
● 21 Oct. (Sat., 8:00 p.m.): 191,000 on E! for the men's Free Skate, Pairs Free Skate, women's Short Program and Rhythm Dance.
● 22 Oct. (Sun.: 3:00 p.m.): 157,000 on E! for the women's Free Skate and Free Dance.
Friday's session on E! with the men's and Pairs Short Programs, did not reach the 150,000 reporting threshold.
Last week's soccer action featured the U.S. men shutting down Ghana, 4-0, on Tuesday (17th), with 378,000 watching on TNT at 8:30 p.m. Eastern; 155,000 watched the pre-game show.
This was overwhelmed by the 2-2 tie between Mexico and Germany in Philadelphia on the same night and which began an hour earlier. The match drew 1.187 million on UniMas and another 390,000 on TUDN (1.577 million total), with 283,000 watching the half-hour pre-game show on UniMas at 7:00 p.m. Eastern.
≡ PANORAMA ≡
● International Olympic Committee ● Now he's immortal. IOC President Bach, and modern Olympic founder Pierre de Coubertin (FRA) are pictured in a new Uruguayan postage stamp commemorating the centennial of the Uruguay National Olympic Committee.
De Coubertin was the IOC chief when the Uruguay NOC was founded in 1923 and Bach is in charge now, in 2023.
● Rugby ● The success of the 2023 Rugby World Cup in France, with 2.28 million attending through the first 46 matches and an average of 49,554, has helped World Rugby to decide to expand the tournament.
The federation announced Tuesday that the 2027 edition, to be held in Australia, will expand to 24 teams from 20, also impacting the 2031 Rugby World Cup to be held in the U.S.
● Swimming ● WCVB Television in Boston reported on the hazing allegations at Boston College that resulted in the suspension of its swimming and diving programs on 20 September of this year.
A group of 37 team members filed suit in Middlesex County Superior Court to reinstate the program, with Boston College responding that it was satisfied that hazing had occurred and that it had the authority to sanction the team:
"It is beyond dispute that the suspension decision was not arbitrary and capricious. To the contrary, it was made only after an extensive, initial investigation, which included interviews of 20 team members. The investigation confirmed hazing activity involving the initiation of freshmen to the team had occurred over the Labor Day. Moreover, findings of hazing involving several team members had been made just last year. In light of these facts, no member of the Swim and Dive Team reasonably could expect that Boston College Athletics lacked authority to suspend team activities."
The filing requests that the plaintiff's request for an injunction be denied.
● Tennis ● Romanian star and two-time Grand Slam champ Simona Halep filed her appeal of a doping positive and four-year ban with the Court of Arbitration for Sport. As for the process, no timeline was provided; now:
"[T]he parties are exchanging written submissions and the Panel of arbitrators that will decide the matter is being constituted.
"Once constituted, the Panel will issue procedural directions for the next phase of the procedure, including the holding of a hearing."
Halep, 32, tested positive for the anti-anemia drug roxadustat, a banned substance, at the 2022 U.S. Open and was suspended by the International Tennis Integrity Agency for four years, through 7 October 2026.
¶
You can receive our exclusive TSX Report by e-mail by clicking here. You can also refer a friend by clicking here, and can donate here to keep this site going.
For our updated, 850-event International Sports Calendar (no. 4) for 2023 and beyond, by date and by sport, click here!