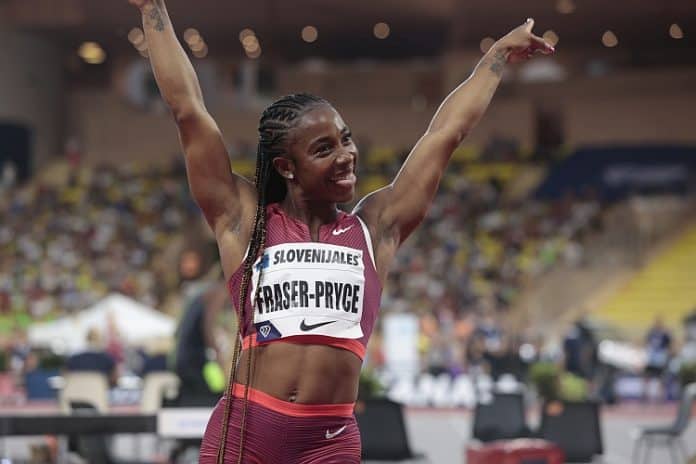 ★ The Sports Examiner: Surveying, monitoring and explaining the key competitive, economic and political forces shaping elite sport and the Olympic Movement. ★
Thank you to our 22 donors, who have covered 31% of our summer funding goal for operating costs. Can you help? Please donate here. Comments? Click here.
★ To get The Sports Examiner by e-mail: sign up here! ★
≡ THE 5-RING CIRCUS ≡
1. Sprint stars and four world leads at Monaco Diamond League
2. Ukraine sports minister reports 100+ athletes dead in war so far
3. Late schedule revision will see FIFA World Cup start a day early?
4. Birmingham Commonwealth Games reach 28.6 million in Britain
5. Indonesian Olympic bid to be for new capital city!
Jamaica's amazing, ageless Shelly-Ann Fraser-Pryce won the women's 100 m at the Diamond League meet in Monaco in a stunning 10.62, her sixth win in six finals this season and all between 10.62 and 10.67. There were plenty of other highlights, including three other world-leading performances and an American Record from Grant Fisher in the men's 3,000 m. That was exciting and in contrast to a letter from the Ukrainian sports minister that more than 100 athletes have died at the hands of the Russian aggressors in the six-month-old war in his country. FIFA will apparently move the opening of the 2022 Qatar World Cup up by one day to allow the home side to play in the opening match. The 2022 Commonwealth Games did very well on British television, with nearly 43% of the country tuning in at some point. And Indonesia is building a new capital city, so why not program in facilities for an Olympic bid for 2036?
1.
Sprint stars and four world leads at Monaco Diamond League
It's pretty late in the 2022 season, so to see four world-leading performances means the racing was superb at the Stade Louis II in Monaco at the Diamond League Herculis meet on Wednesday:
● Men/1,000 m: 2:13.88, Jake Wightman (GBR)
● Men/3,000 m: 7:25.93, Thierry Ndikumwenayo (BDI)
● Women/100 m: 10.62, Shelly-Ann Fraser-Pryce (JAM)
● Women/1,500 m: 3:50.37, Faith Kipyegon (KEN)
And that was hardly all, as there were many other excellent marks, especially among the sprinters.
At the top of the list has to be Jamaican icon Shelly-Ann Fraser-Pryce, who stormed out of the blocks and raced away to sixth win in six finals this season in a stunning 10.62, the equal-6th-best performance of all time and her second-fastest time ever, even at age 35 (wind: +0.4 m/s)..
She dominated a field which was ran brilliantly behind her: teammate Shericka Jackson was second in a lifetime best of 10.71 to move to no. 6 all-time; Marie-Josee Ta Lou (CIV) ran a lifetime best of 10.72 to become equal-7th all-time in third; Americans Aleia Hobbs and TeeTee Terry ran 10.81 and 10.90 and were fourth and fifth, and fellow American Tamara Clark was seventh in 10.96!
Fraser-Pryce's six finals this season have been 10.67, 10.67, 10.67, 10.66, 10.67 and now 10.62. Astonishing. And there are more meets to come.
World 200 m champ Noah Lyles headlined a fabulous field in the men's 200 m, including Worlds silver medalist Erriyon Knighton (still 18), World 400 m winner Michael Norman of the U.S., NCAA champ Joseph Fahnbulleh (LBA) and even brother Josephus Lyles. But the race was all about Noah, running out of lane seven. Norman got the best start and made up some ground on Knighton, but Lyles was flying around the turn and in the lead into the straight. He never let up on the accelerator and won by daylight in 19.46 (+0.8), the no. 9 performance of all-time and his second-fastest ever. Knighton got up for second on the straightaway over Norman, 19.84-19.95 and Josephus Lyles was sixth in 20.26 with Fahnbulleh seventh (20.46).
In the men's 110 m hurdles, World Champion Grant Holloway got his patented hot start and once again faded slightly before the end, but got across the line first with a heavy lean in 12.99, the no. 2 mark for 2022 (+0.6), ahead of Worlds silver winner Trey Cunningham (USA: 13.03), Olympic champ Hansle Parchment (JAM: 13.08) and American Daniel Roberts (13.20). It's Holloway's fourth time under 13 seconds.
There were world-record scares in the distances races as well. Kenya's Faith Kipyegon owns two Olympic golds from Rio and Tokyo and Worlds golds from 2017 and 2022. She has nothing to prove. But she went for the world record of 3:50.07, set in Monaco in 2015 by Genzebe Dibaba (ETH). And she nearly got it.
Running alone after 900 m, Kipyegon had run laps of 60.5 and 62.1, then took the bell after another 62.1 lap and powered home in a tantalizing 3:50.37, just 0.3 off the world mark, but the no. 2 performance in history. She ran he last 400 m in 60.3.
Behind Kipyegon were Americans Heather MacLean and Elise Cranny, who had worked their way up through the chase pack and finished 2-3 in lifetime bests of 3:58.89 and 3:59.06, moving to no. 8 and no. 9 all-time U.S. Americans Cory McGee and Sinclaire Johnson were fifth (4:00.70) and ninth (4:02.87).
Ethiopia's Berhanu Aregawi, the Tokyo 10,000 m fourth-placer, stormed after Kenyan Daniel Komen's outstanding 3,000 m world mark of 7:20.67 from 1996, but faded on the final two laps and was then passed by Ndikumwenayo in the final half-lap, 7:25.93-7:26.81, becoming the nos. 7 and 11 performers of all time. American Grant Fisher was third in 7:28.48, an American Record, bettering Bernard Lagat's 7:29.00 from 2010.
In the rarely-run 1,000 m, World 1,500 m champ Wightman struck again, passing Canada's Marco Arop on the final straight to win in a world-leading 2:13.88, moving to no. 9 on the all-time list. Arop was second in 2:14.35 (no. 18 all-time) and American Clayton Murphy charged from eighth to third on the straight, finishing in 2:15.73, the no. 2 performance in U.S. history. Countrymen Bryce Hoppel and Josh Thompson were fourth and fifth (2:15.99 and 2:16.38) to now stand fourth and eighth all-time U.S.
Those were the headlines! There was a lot more:
● In the field, World champ Mutaz Essa Barshim (QAT) won the men's high jump at 2.30 m (7-6 1/2) in a jump-off with Korea's Sang-hyeok Woo, and Cuban Maykel Masso won the long jump at 8.35 m (27-4 3/4) to move to no. 5 on the 2022 year list. Olympic champ Miltiadis Tentoglu (GRE) and American Marquis Dendy both jumped 8.31 m (27-3 1/4) – a season's best for Dendy – with Tentoglu taking second on a better back-up jump.
● The women's 400 m was a runaway for World Champion Shaunae Miller-Uibo (BAH), powering away down the straight to win in 49.28, while Jamaica's Natoya Goule scored a seasonal best of 1:56.98 to win the women's 800 m – no. 4 in the world for 2022 – over Americans Sage Hurta (1:57.85 lifetime best) and Olivia Baker (1:58.05 lifetime best).
● American Emma Coburn led the women's Steeple for most of the back half of the race before being passed by Ethiopia's Werhuka Getachew, who won in 9:06.19; Coburn faded to fourth, getting a seasonal best of 9:07.93. NCAA champ Courtney Wayment of the U.S. got a lifetime best of 9:09.91 in sixth, now no. 3 all-time U.S. In the 400 m hurdles, Jamaica's Rushell Clayton ran a lifetime best of 53.33 to win and move to no. 5 in the world.
● Venezuela's triple jump icon Yulimar Rojas fouled her first two jumps, but then got a fair third try and won the event on her fourth at 15.01 m (49-3). American Tori Franklin got a lifetime best on her final jump at 14.86 m (48-9) for third, a lifetime best and the no. 2 jump in U.S. history! American record holder Keturah Orji was fifth at 14.56 m (47-9 1/4).
● In the women's vault, Australia's Nina Kennedy, American Sandi Morris and Greece's Katerina Stefanidi all cleared 4.66 m (15-3 1/2), with Kennedy the winner on fewer misses. The women's javelin went to World Champion Kelsey-Lee Barber (AUS) at 64.50 m (211-7) in the third round; American Kara Winger was fourth at 60.95 m (199-11).
The circuit now takes two weeks off for the European Championships and resumes in Lausanne on 26 August, with meets in Brussels and Zurich to finish the season.
2.
Ukraine sports minister reports 100+ athletes dead in war so far
"More than 3,000 athletes have gone to war to defend their country. More than 100 of them are already dead. It is impossible to continue sports training under air attacks and artillery fire. In addition, 111 sports facilities have been destroyed so far by the Russians, including one of the largest fencing centers, Club 'Unifekht' in Kharkiv. Thousands of young athletes are forced to leave their homes to escape war."
This from a letter reported by FrancsJeux.com from Vadym Guttsait, Ukrainian Minister of Youth and Sports and President of the Ukranian fencing federation, sent at the beginning of August to the Federation Internationale de Escrime (FIE) and all of its member federations. Guttsait added:
"No Russian or Belarusian athlete has spoken out against the war. Therefore, the Ukrainian Fencing Federation urges the FIE and all national federations to follow the recommendations of the IOC and not to allow Russian and Belarusian athletes to participate in official competitions, even under the FIE flag.
"The Ukrainian Fencing Federation believes that Russian and Belarusian athletes should be allowed to participate in international tournaments only after the end of this bloody war."
3.
Late schedule revision will see FIFA World Cup start 20 November?
While not announced officially, Reuters reported that FIFA is expected to move the date of the Qatar-Ecuador match forward by one day, to 20 November, to allow the host country to play the first competition of the tournament.
The Qatar-Ecuador game – with an attached opening ceremony – had been scheduled as the third of the event, behind Netherlands-Senegal and England-Iran on Monday, 21 November. A approval vote by FIFA's six confederations and President Gianni Infantino (SUI) is expected to go through, perhaps as soon as Thursday.
It's highly unusual to move dates for a major event like the FIFA World Cup so close to the start and it will have implications for television broadcasters such as FOX in the U.S. If the gametime is maintained at 7 p.m. local time, that's noon Eastern time and in the midst of its NFL Sunday broadcast programming. But it would also allow the Netherlands-Senegal match to be moved later than its posted 1 p.m. start and beat some of the midday heat in Qatar.
The Reuters story noted that any added expenses for spectators such as changes in accommodations or travel due to the change will be covered.
4.
Birmingham Commonwealth Games reach 28.6 million in Britain
Viewing interest in the XXII Commonwealth Games in Birmingham in the host county was quite good, with the BBC reporting that its coverage reached 28.6 million in Great Britain. That's about 42.6% of the entire country (67.2 million total population).
The 28.6 million viewers is way up from the 2018 Commonwealth Games in a tougher time zone in Australia (22.8 million), but trailed the Glasgow 2014 Commonwealth Games, which drew 35.3 million viewers. Still, this is good news for the Commonwealth Games Foundation, which is now looking to attribute the 2030 Games, likely to go to Hamilton (CAN), site of the first British Empire Games in 1930.
The BBC noted that the biggest audience of the 2022 Games was for swimming:
"The highest peak being 6.6m ahead of the men and women's 100m backstroke and breaststroke finals on day 3, followed by the Opening Ceremony, which had a 5 minute peak of 5.2m viewers."
Streaming was, as expected, way up, with 57.1 million individual streams, more than six times the total for 2018.
¶
Swimming proved popular in the U.S. as well, even for a re-run!
Nielsen reporting for last week showed that the NBC re-run of highlights of the USA Swimming National Championships from Irvine, California aired last Saturday (6th) drew 548,000 viewers. That just behind the 572,000 who watched the highlight program the prior Sunday (31st)!
5.
Indonesian Olympic bid to be for new capital city!
The selection of the host of the Games of the XXXVI Olympiad in 2036 is a ways off, perhaps enough time to consider its placement in the new capital of Indonesia.
While Jakarta co-hosted the massive 2018 Asian Games, GamesBids.com reported that Indonesia's president, Joko Widodo, has recommended that a large sports training center be included in the city plan, a possible focus of an Olympic venue plan.
Called Nusantara, the new city – on the island of Borneo – began construction in mid-2022 and is pegged for completion in 2024. It will replace Jakarta – on the island of Java – as the national capital. The Indonesian National Olympic Committee is already in discussions with the International Olympic Committee's Future Hosts Commission about the possibility of a future Games.
Indonesia is hardly alone with interest in 2036; possible suitors include China, Egypt, Great Britain, India, Qatar, Turkey and even Russia.
≡ PANORAMA ≡
● Olympic Games 2020: Tokyo ● On the anniversary of the Tokyo Games, Dr. Brian McCloskey (GBR) looked back on the preparations made to allow the event to take place despite the worldwide Covid-19 pandemic.
"Just one year ago, I was heading the Independent Expert Panel of the International Olympic Committee to work alongside the Japanese authorities and design together the COVID-19 countermeasures for the postponed Tokyo 2020 Olympics. We were in the middle of the pandemic, vaccination was not yet available across the globe, and we expected 11,300 athletes and tens of thousands of participants to come to Japan. …
"Today we can say: what Tokyo 2020 did, in a historic way, was to show that the advice of the World Health Organization (WHO) was right. By following basic public health measures, and by layering a testing programme on top, we have shown that it is possible to keep a pandemic at bay.
"As the Olympic Games Tokyo 2020 reach their one-year anniversary and we are in our third summer grappling with COVID-19, we can clearly see the impact these Games had in paving the way. Major events, including the Commonwealth Games, are a regular feature in the calendar again, and no longer a matter of global concern."
McCloskey noted that with the preventative measures in place, there were only 33 positive cases among the athletes, and 464 among the entire accredited population attending the Games. In the end, "the Games' universal reach that gave them the potential to demonstrate that, if we pulled together as a global community, people could start to see that the pandemic did not have to control their lives forever."
● Athletics ● The Athletics Integrity Unit announced on Twitter a list of sanctioned athletes last Friday, including three Kenyan athletes, three Russian athletes from the mid-2010s and an Indian sprinter.
The Kenyans included a notice of allegation against road runner Philemon Kacheran (2:05:19 marathon in 2021); a seven-year ban on half-marathoner Tabitha Wambui (1:08:18 in 2019) for steroids and tampering, and charges against Eglay Nalyanya (women's 400-800 m) for steroid use and tampering.
Russian sanctions came from the Moscow Laboratory database and McLaren reports for offenses by 2004 women's Olympic high jump winner Yelena Slesarenko – now 40 – with her results annulled from July 2013 to October 2016; by Yelena Arzhakova (now 32), with a two-year ban from July 2022 and all results annulled from January 2015 to July 2022; and hammer thrower Kiril Ikonnikov (now 38), already serving an eight-year ban from 2016-24 and now with an added two years to April 2026. All three are no longer active.
● Football ● The African Football Confederation (CAF) announced the creation of an African Super League, with $100 million in prize money and 24 clubs from 16 countries to compete in the tournament.
The project is due to launch in August 2023
Coverage of Wednesday's announcement has noted the approval of FIFA, in contrast to the disastrous European Super League concept which crashed amid public anger days after it was revealed in news reports last year. The difference: the African Super League is designed to raise the level of football and financing on the continent, where the European Super League was criticized for removing its clubs from the rest of the continent.
A solidarity fund is also to be established that will channel $1 million per year to each of the 54 African federations to fund further development of the game.
¶
You can receive our exclusive TSX Report by e-mail by clicking here. You can also refer a friend by clicking here, and can donate here to keep this site going.
For our updated, 620-event International Sports Calendar for 2022 and beyond, by date and by sport, click here!