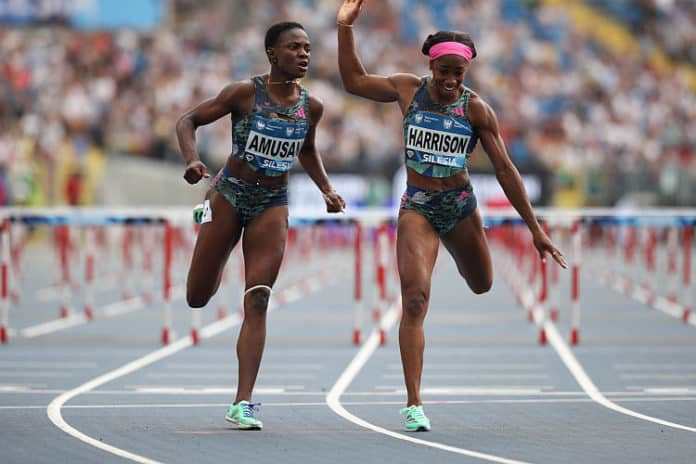 ★ The Sports Examiner: Chronicling the key competitive, economic and political forces shaping elite sport and the Olympic Movement.★
★ More! Now 25 donors have covered 62% of our summer fund-raising goal. Please help if you can. Your support really is needed. ★
★ To get The Sports Examiner by e-mail: sign up here! ★
≡ THE 5-RING CIRCUS ≡
1. Infantino: media – especially TV – is key to growth
2. FIG to allow Russian, Belarusian re-entry in 2024
3. FIG financials show IOC TV share dependence
4. World Aquatics financials show $98.4 million reserves!
5. World-record holder Amusan suspended for whereabouts
FIFA President Gianni Infantino and Secretary General Fatma Samoura talked their plan to grow women's football on the eve of the 2023 Women's World Cup in Australia and New Zealand, concentrating on the need for the game to be seen on television, and for more media reporting. That's a lesson which other federations should heed. The Federation Internationale de Gymnastique (FIG) decided to allow Russian and Belarusian entries into its events beginning in 2024, but only under "strict conditions," which are not yet defined. Russian officials said that can not include an anti-war declaration, which Russian athletes will not sign. The FIG also published its 2022 Yearbook, which contained a summary of its finances. Simply said, the federation is deeply reliant on the quadrennial Olympic television revenue bonus from the International Olympic Committee. World Aquatics also published its financials in advance of the Congress at the ongoing Fukuoka World Championships, showing impressive reserves of $98.4 million and $202 million in assets. The Athletics Integrity Unit announced a provisional suspension of Nigerian 100 m hurdles star – world-record holder and World Champion – Tobi Amusan for whereabouts failures, carrying a potential ban of two years. Her hearing will take place prior to next month's World Championships in Hungary.
● World Championships: Aquatics (3: China wins 10th straight diving gold; Inui completes double-double in women's Artistic; U.S. men now 2-0 in water polo) ●
● Panorama: Memorabilia (RR Auction ends today, with '68 Winter torch at $66,000+) = Commonwealth Games (India could be interested in 2026) = Russia (Isinbayeva criticized for minimizing her military role) = Athletics (top World Championships moments revealed) = Cycling (Vingegaard seals Tour win in Stage 17) = Tennis (ITF revenue jumps to $98.3 million in 2022) ●
1.
Infantino: media – especially TV – is key to growth
Every sport that whines about how it isn't as popular as it should be got a two-minute master class from FIFA about growth on Wednesday.
The FIFA Women's World Cup in Australia and New Zealand will open on Thursday with 32 teams playing over a month's time for the world title in women's football. On Tuesday, FIFA President Gianni Infantino (SUI) and Secretary General Fatma Samoura (SEN) answered questions from reporters about the tournament.
A notable answer came to a question about FIFA's efforts to get more money for television rights to the tournament from broadcasters in five leading European countries and Japan. Infantino gave an insightful reply about how the failure to get the money they wanted was turned into a brighter future:
"This is a path, also this is a journey. And as part of the agreement that we have been able to reach in Europe with the European countries, with the European Broadcasting Union, for example – I just want to take this as an example – it is something that will accompany us globally, as part of the agreement we have added a very significant element on the promotion of the women's game.
"We want to see, all over the world, at least, I don't know, one hour a week of women's football, streamed in the main broadcasters. Because that's the only way you can promote the game. So when we finally concluded the agreement … the financial agreement was not the most important. We didn't make 10 times more, or 100 times more than what was offered before, on the contrary. But we added this promotional element, and this is for me the way forward to promote [the] women's game. It's the most effective way to grow women's football all over the world, and that's what we will focus on in the next couple of years."
Samoura added:
"We want also more coverage, and definitely more media outlets to support the growth of the game. That's the only way that we can show the rest of the world that is not walking the talk that, definitely, the investment is there and it's something that everybody should recognize and should be very comfortable with."
Infantino also explained that the work already done has paid dividends:
"The path for a more sustainable movement is that: you need to invest in women's football. We invested over a billion in the last four years globally, and as a consequence of that, if we look at some of the figures, we had participating in the qualifiers of the last World Cup, something over 120 countries – for 2019 – for this one, it was over 170, 175 countries, and we have almost 190 countries in the FIFA rankings, more or less."
Samoura said that FIFA is aiming at a worldwide viewing audience of two billion, and that 1.375 million tickets have been sold so far, with sales surpassing the 1.131 million total from 2019 more than a month ago.
Sales have been weak in New Zealand and Infantino playfully asked which cameras were from New Zealand television and encouraged attendance: "New Zealand! We want you. We need you. It's never too late to do the right thing. Come to watch the matches! We need full stadiums to warm us all up."
Observed: Infantino and Samoura offered an unrehearsed, astonishingly important answer to the question that athletes, coaches, fans, national and international federation executives and the management of the United States Olympic & Paralympic Committee have been asking themselves: how do we promote ourselves?
Their short answer was (1) through the news media and (2) especially through television.
Infantino said, "We want to see, all over the world, at least, I don't know, one hour a week of women's football, streamed in the main broadcasters." Let's be clear: we're talking about over-the-air and cable-service television programming, not just online streaming.
Nielsen reported that in the U.S., broadcast and cable television had 53.9% of all viewing in May, compared to 36.4% for streaming and 9.7% for "other." So streaming reached just more than a third of the American audience, while TV is still more than half. Since broadcast programs usually end up available on online services, the only way to promote across all demographics is to start on television and continue online.
Media matters. And that includes written media, photographers, short-form video, player social-media promotions and all the others.
How many national or international federations actually reach out to media outlets to encourage coverage? Most simply post a notice that accreditation is available and if you're interested, y'all come.
With the implosion of newspapers, niche efforts – like TheSportsExaminer.com – are all part of the mosaic now. If you want to see a first-quality effort on making information available to media who cannot attend, the clear leader in the Wanda Diamond League and its "Virtual Mixed Zone" package offered for its meets.
Not only results – brilliantly delivered by Omega – but pre-meet athlete data and statistics, plus short post-race quotes and a selection of meet photographs available for editorial use are available shortly after each meet. This encourages and allows coverage that would otherwise not be available.
The challenges that athletics faces vs. football and other sports are significant, but at least at the Diamond League level, in-depth coverage is possible without being there. And that leads to more coverage.
FIFA is actively reaching out, talking with broadcasters and other media to try and create more buzz for women's football, both electronically and in person. How many other federations – especially at the national level – can say that?
2.
FIG to allow Russian, Belarusian re-entry in 2024
The Federation Internationale de Gymnastique Executive Committee announced Wednesday its decision:
● "To authorise, under strict conditions, the participation of athletes and support personnel of Russian and Belarusian sporting nationality in FIG sanctioned events listed on the FIG Calendar as 'individual neutral athletes' without any involvement or association with the Russian Federation or the Republic of Belarus, their respective National Federations or National Olympic Committees.
● "To impose a strict requirement of neutrality with regard to the Russian Federation and the Republic of Belarus for any participation in a FIG sanctioned event."
Athletes from the countries will be required to apply for admission, however, the exact process is still unknown. The FIG announcement also included:
"[T]he FIG EC will now finalise the Ad Hoc Rules and their supporting documents, which will be published in the coming weeks."
This means that Russian and Belarusian athletes will not compete in the FIG World Championships in artistic, rhythmic and trampoline in 2023, at which most of the Paris 2024 qualifying places will be determined. However, there will be qualifying opportunities in 2024, notably – in the case of Russia – at the European Championships, if Russia is allowed to compete there.
The Russian response was muted. Said Irina Viner, head of the Russian federation for rhythmic gymnastics: "I have absolutely nothing to comment on today, because absolutely nothing is clear."
Russian Sports Minister Oleg Matytsin told the State Duma (legislature) on Wednesday, not specifically related to the FIG announcement:
"There is a red line: No one will sign any declarations to condemn the special military operation and so on. Our athletes will not participate on such terms."
This statement has been repeated by multiple officials since the International Olympic Committee's 28 March recommendations on readmitting Russian and Belarusian athletes to international competitions, and especially in the past week. The message is clearly aimed at the IOC and the International Federations as well as a protective measure for Russian athletes, who would be subject to criminal charges at home if they signed such a document.
3.
FIG financials show IOC TV share dependence
The FIG Yearbook for 2022 is out, including a summary of its finances, showing its continued reliance on its Olympic dividend from the IOC.
The detailed financial statements were completed in March, and follow the pattern of increased revenues from its IOC payments from Olympic television rights sales, decreasing year after year until the next Games payment comes.
Gymnastics is one of the most popular sports at the Olympic Games and is one of three sports – along with athletics and aquatics – which receive "top tier" money; for Rio 2016 and Tokyo 2020, this was $31.36 million for the FIG.
For 2022 (in Swiss francs, CHF 1 = $1.17 U.S.):
● CHF 13,829,000 in operating income
● CHF 16,192,000 in operating expenses
● CHF -2,363,000 operating loss for the year
This compares to CHF 22.503 million in 2021 income, when FIG received its Olympic dividend, partially applied to each year in the quadrennial, and had an operating surplus of CHF 10.620 million.
FIG also suffered investment losses in 2022 of CHF 2.931 million, but this was offset by rent from rents from its Lausanne headquarters building and some one-time items, notably an apparent IOC grant of CHF 2.336 million labeled as "Contribution for Agenda 2020+5 activities."
All together, the federation lost CHF 2.461 million for 2022, about the same as forecast (CHF 2.398 million).
However, the FIG shows CHF 58.82 million in assets, including CHF 34.51 million in cash and investments and reserves of CHF 33.11 million. A chart shows the pattern of reserves, going up in an Olympic year and then down again in the subsequent years (in CHF):
● 2017: 21.9 million
● 2018: 22.9 million
● 2019: 26.0 million
● 2020: 25.4 million (Games delayed)
● 2021: 35.6 million
● 2022: 33.1 million
● 2023: 31.4 million forecast
● 2024: 25.7 million forecast
The net result over the budgeted 2021-24 period is for a surplus of just CHF 323,000.
For a top-tier federation, this isn't much. Its World Championship events produced only CHF 1.55 million in revenue in 2022 and its World Cup and World Challenge Series are only an expense.
Without the IOC's Olympic rights payment, the worldwide governing body for gymnastics would quickly be in a lot of financial trouble. But it's not like that for all Olympic-sport federations.
4.
World Aquatics financials show $98.4 million reserves!
One of the best-financed of the International Federations is World Aquatics, which has now posted its 2022 financial statements in advance of its Congress in Fukuoka (JPN) during the World Championships now ongoing.
The federation's balance sheet shows $202.02 million in assets, including $156.02 million in cash and investments, and $98.40 million in reserves. That's pretty healthy! It also received $31.36 million from the IOC television rights sales for Rio 2016 and Tokyo 2020, but the difference is its ability to obtain significant rights fees and television rights fees for its World Championships and related events:
● 2022: $20.375 million in event hosting fees
● 2022: $13.179 million in TV rights and sponsorships
● 2022: $3.705 million in in-kind goods and services
Total: $37.259 million
● 2021: $5.980 million in event hosting fees
● 2021: $13.844 million in TV rights and sponsorships
● 2021: $2.612 million in in-kind services
Total: $22.435 million
Significantly, the World Aquatics Championships was held in Budapest (HUN) in 2022, but only a short course (25 m) swimming Worlds was held in 2021. The future is bright, of course, with the 2023 Worlds now ongoing and another coming in early 2024 in Qatar.
Given its resources, World Aquatics underwrites the costs of travel and accommodations for athletes at its World Championships.
For the calendar year of 2022, income and expenses included:
● $42.946 million in operating revenue
● $47.005 million in operating expenses
● -$4.059 operating loss for the year
World Aquatics also suffered investment losses of $12.30 million for an overall loss for the year of $16.36 million. And it still has reserves of almost $100 million.
However, the impact of its Olympic dividend is still important. The forecast for 2023 and 2024 foresee only a modest surplus of $1.42 million for 2023, but $29.94 million in 2024, when IOC income from the Paris Games will roll in.
There was a disclosure of expenses related to the ongoing cases filed by the International Swimming League, which have totaled $10.3 million from 2019 through 2022. Another $3.5 million has been allocated to cover the remaining litigation costs, as a favorable judgment for World Aquatics which could end the cases, is now on appeal.
Aside from the financial colossus which is FIFA, World Aquatics is one of the best – if not the best – financed of the International Federations and with World Championships in 2023 and 2024, appears well positioned to continue.
5.
World-record holder Amusan suspended for whereabouts
Nigeria's Tobi Amusan was one of the sensations of the 2022 World Athletics Championships in Eugene, setting a world record of 12.12 in the semifinals of the women's 100 m hurdles and winning the Worlds gold in a wind-aided 12.06.
Now she's suspended, per the Athletics Integrity Unit:
"The AIU confirms that it has today charged and provisionally suspended Tobi Amusan (NGR) for 3 Whereabouts Failures.
"The Charge will be heard by the Disciplinary Tribunal and determined before the World Athletics Championships."
Amusan has been everywhere in 2023, running in 10 outdoor meets and exceptionally sharp in the last month:
● 27 Jun: 12.47 (3rd) in Ostrava (CZE)
● 30 Jun: 12.27 (2nd) in Lausanne (SUI)
● 02 Jul: 12.52 (1st) in Stockholm (SWE)
● 05 Jul: 12.70 (1st) at Nigeria Nationals
● 16 Jul: 12.34 (1st) at Chorzow (POL)
● 18 Jul: 12.35 (1st) at Szekesfehervar (HUN)
She and Olympic champ Jasmine Camacho-Quinn (PUR) are co-favorites for the upcoming Worlds in Budapest, but now Amusan will have to fight off a suspension for missing three doping test sessions over the past 12 months.
The potential penalties:
"Under the World Athletics Anti-Doping Rules, any combination of 3 whereabouts failures (Filing Failure and/or Missed Test) within a period of 12 months constitute an anti-doping rule violation, for which the applicable sanction is 2 years' ineligibility subject to a reduction to a minimum of 1 year depending on your degree of fault."
≡ WORLD CHAMPIONSHIPS ≡
● Aquatics ● China marched on with its 10th straight gold in diving at the World Aquatics Championships in Fukuoka (JPN), with Yuxi Chen leading a 1-2 finish in the women's 10 m Platform final.
Chen, the 2019 and 2022 World Champion in the event, scored 457.85 to edge teammate – and Tokyo Olympic champ – Hongchan Quan (445.60). Canada's Caeli McKay won her first Worlds medal with the bronze (340.25); Delaney Schnell was the top American finisher in sixth (310.40), and Nike Agunbiade was 22nd (264.15).
¶
In Artistic Swimming, Japan's Yukiko Inui won a double-double by defending her 2022 Worlds gold in the women's Solo Free competition on Wednesday, scoring 254.6062 to overwhelm the field.
As in the Solo Technical, Austria's Vasiliki Alexandri was second (229.3251), with Kate Shortman (GBR: 219.9542). Inui now has a career total of 12 Worlds medals: her four golds from the past two Worlds and eight bronzes, stretching back to 2015.
The men's Solo Free was won by Dennis Gonzalez (ESP: 193.0334) ahead of Gustavo Sanchez (COL: 189.9625) and Kenneth Gaudet of the U.S. ( 179.5562). Gaudet was the only one to medal in both the Solo Technical (silver) and Solo Free.
¶
The U.S. beat Australia, 16-8, to go to 2-0 in Group A in the men's water polo tournament and will play Greece (2-0) for the group title on the 21st.
≡ PANORAMA ≡
● Memorabilia ● The ongoing, 396-item RR Auction of Olympic-related items will close on Thursday, with a bid required to be entered by 7 p.m. Eastern time.
Some 13 items have already drawn bids of $10,000 or more, led by the ultra-rare Grenoble 1968 Winter Games torch – only 33 were made – which was at $66,550 as of Wednesday afternoon. The next highest bid was $20,000 for a Berlin 1936 gold medal in field hockey, followed by $18,568 for the also-rare Albertville 1992 Winter Games torch.
The astonishingly gaudy Berlin 1936 IOC "chain of office" is up to $3,328 after eight bids.
● Commonwealth Games ● Now Ahmedabad, India is talking about being a potential replacement host for the 2026 Commonwealth Games after Victoria abandoned its hosting responsibilities on Monday.
The city is developing a major sports center with designs on the 2036 Olympic Games, but believes the project will be ready for use by 2026. India last hosted the Commonwealth Games in New Delhi in 2010, an event marred by incompetence and corruption charges, something the Commonwealth Games Federation will not have forgotten.
● Russia ● Russian IOC member Yelena Isinbayeva was cleared to continue her position by the IOC Ethics Commission, having found no instance in which she has supported the war against Ukraine since it began.
But Isinbayeva's comment that her role in the military was "nominal" – she has appeared publicly in uniform with the rank of major – and was related only to her achievements as a member of the CSKA, the Central Army Sports Club, has drawn criticism.
On Wednesday, Russian Sports Minister Matytsin told TASS:
"There is an absolutely unambiguous assessment here: it is unacceptable to treat military rank, citizenship and events that take place in your native country in this way. Every person who loves his country has an unambiguously negative attitude towards such statements."
A stadium which was named in her honor six years ago, is now to be renamed, according to instructions from Sergei Melikov, a former military leader who has been the head of the Dagestan Republic since 2021:
"Yes, this is a talented athlete who has set more than one world record, but she has never connected her life, her past and future with Dagestan.
"And the athlete's recent statements made from behind the cordon are a serious signal for us and a reason to reconsider the name of the stadium. I instruct the Ministry of Sports of Dagestan and the Mayor of Makhachkala to organize this work."
● Athletics ● World Athletics has been slowly releasing its list of the top 50 moments in the history of the World Athletics Championships, which began in Helsinki in 1983 and will celebrate its 40th anniversary in Budapest in August. The top moments, per a fan vote, were named on Wednesday, with the top five:
● 1. Jamaican icon Usain Bolt's world-record double: 9.58 and 19.19 double in Berlin (2009).
● 2. The world record vault of 6.21 m (20-4 1/2) by Mondo Duplantis of Sweden at last year's World Championships in Eugene.
● 3. American Sydney McLaughlin's sensational 50.68 world record in the women's 400 m hurdles in 2022 (Eugene).
● 4. Another sprint double for Jamaica: Shelly-Ann Fraser-Pryce's wins in the 100 m (10.71) and 200 m (22.17) in Moscow (2013).
● 5. Allyson Felix's 21.81 women's 200 m victory in Osaka in 2007, accompanied by legs on the 4×100 m and 4×400 m for three golds altogether.
The impressive gold-medal triple by Carl Lewis of the U.S. in the first worlds in 1983 was also recognized in the top ten, with wins in the 100 m, long jump and on the world-record-setting men's 4×100 m, a year before his four golds at the 1984 Olympic Games in Los Angeles.
● Cycling ● If the 110th Tour de France wasn't settled during Tuesday's time trial, it was on Wednesday, as two-time winner Tadej Pogacar (SLO) could not keep pace on the challenging final climb to the top of the 2,300 m Col de la Loze and fell way behind leader – and almost sure winner – Jonas Vingegaard of Denmark.
A lead group of four ascended the Col de la Loze in front and Austria's Felix Gall rode away in the final 13 km of the 165.7 km route to Courchevel to win in 4:49:08, with only Simon Yates (GBR) close at 34 seconds back.
Race leader Vingegaard and Spain's Pello Bilbao battled for third, with Bello crossing first (+1:38) and Vingegaard at +1:52. But Pogacar fell way back and finished 22nd, some 7:37 behind the winner. This leaves him 7:35 behind the Dane after 17 stages, now ahead of Adam Yates (+10:35), Carlos Rodriguez (ESP: +12:01) and Simon Yates (+12:19) with four stages to go.
● Tennis ● The International Tennis Federation, which receives IOC television payments, but is primarily powered by the operation of the Davis Cup and Billie Jean King Cup tournaments, also released its 2022 financials, showing a huge jump in revenue.
In 2021, the ITF took in $66.57 million in 2021, but that grew to $98.30 million for 2022. Television and sponsorships grew from $34.80 million in 2021 to $60.73 million in 2022, and tournament data rights for the World Tennis Tour and the two national team events rose from $11.36 million to $20.57 million.
There was also a one-time recovery of $12.06 million from the canceled Billie Jean King Cup Finals in Budapest (HUN) from a victory at the Court of Arbitration for Sport.
Unfortunately, expenses also rose significantly, from $76.69 million in 2021 to $95.97 million in 2022 and combined with investment losses, caused a $2.44 million net loss for the year.
The ITF showed total assets of $117.76 million at the end of the year, with nearly $60 million in cash and investments and reserves of $40.21 million. Quite healthy, and the ITF's finances are completely independent of any reliance on IOC television money.
¶
You can receive our exclusive TSX Report by e-mail by clicking here. You can also refer a friend by clicking here, and can donate here to keep this site going.
For our updated, 787-event International Sports Calendar (no. 3) for 2023 and beyond, by date and by sport, click here!