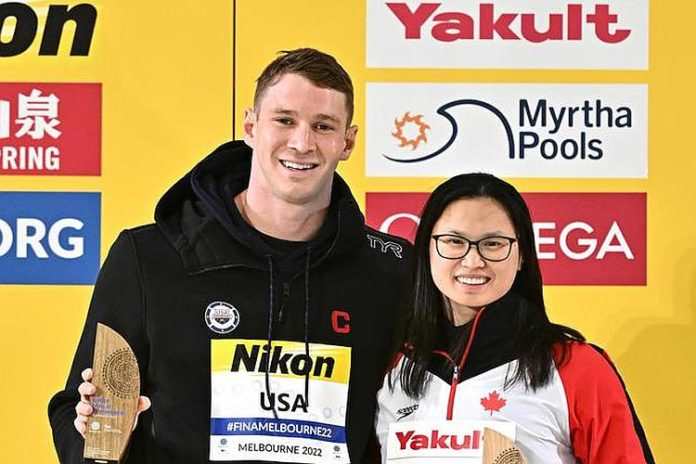 ★ The Sports Examiner: Chronicling the key competitive, economic and political forces shaping elite sport and the Olympic Movement.★
★ Enjoying our coverage? If so, please consider a donation to help cover technical costs for 2023. Thank you for your support. ★
★ To get The Sports Examiner by e-mail: sign up here! ★
≡ THE 5-RING CIRCUS ≡
1. FIFA World Cup Final draws 25.78 million U.S. viewers
2. Mac Neil and Murphy top World Short-Course Champs money list
3. Int'l Paralympic Committee reaches €53.4 million revenue record
4. Birmingham World Games economic impact pegged at $164.8 million
5. Sapporo scaling back 2030 Winter Games bid effort due to scandals
The U.S. ratings report for the FIFA World Cup Final showed that an outstanding 25.78 million watched the Argentina-France spectacular, the largest audience ever for a men's soccer match, and no. 2 all-time. For the entire, 64-match tournament, the U.S. combined viewing audience on FOX and Telemundo averaged 6.00 million viewers, and the quarterfinals, semifinals and final combined – seven matches – averaged more viewers than either the 2022 World Series or NBA Finals! Canada's Maggie Mac Neil and U.S. backstroke star Ryan Murphy were named the outstanding swimmers at the just-completed FINA World 25 m Championships in Australia and were also 1-2 on the money list, with $2.45 million distributed in prize money. The International Paralympic Committee's annual report for 2021 showed record revenue of €53.4 million as the Paralympic Movement continues to gain strength. A report from the International World Games Association showed that the total economic impact of the Birmingham World Games last summer was $164.8 million, short of the organizing committee's goal, but still impressive. Almost 100,000 room nights were generated, counting both participants and visitors. Amid the continuing scandals in sponsorship sales and contracts for test-event and venue management from te Tokyo 2020 Games, the mayor of Sapporo and governor of Hokkaido said that promotion of Sapporo's bid for the 2030 Olympic Winter Games must be secondary to regaining public trust by uncovering exactly what happened in Tokyo.
1.
FIFA World Cup Final draws 25.78 million U.S. viewers
The monumental final match of the FIFA World Cup drew an almost-NFL-sized audience in the U.S. on Sunday with the combined English and Spanish-language coverage totaling about 25.783 million, including both television and streaming.
FOX reported a total average audience of 16.783 million viewers, making it the most-watched men's soccer match in U.S. history on a single network, passing the U.S.-England match during the group stage, which drew 15.491 million. Sunday's match was also the most-watched men's World Cup Final ever in the U.S., eclipsing the 14.510 million who saw the 1994 World Cup final – held at the Rose Bowl in Pasadena – between Brazil and Italy.
Telemundo had a television audience of 5.534 million, but had streaming to more than three million to total almost 9.0 million.
Combined, the 25.783 million total makes the 2022 World Cup Final the second-most-watched soccer match in American history, behind only the 26.7 million who saw the 2015 FIFA Women's World Cup Final between the U.S. and Japan (25.4 million on FOX and 1.3 million on Telemundo).
The television audience peaked at the end of the match (of course), with 25.62 million watching on FOX and 7.72 on Telemundo, or 33.34 million combined.
For the entire, 64-match tournament:
On FOX:
● Group-stage average: 4.25 million viewers for 22 matches
● Knock-outs average: 6.51 million viewers for 14 matches
● Tournament average: 5.13 million viewers for 36 matches
On FS1:
● Group-stage average: 1.28 million viewers for 26 matches
● Knock-outs average: 2.73 million viewers for 2 matches
● Tournament average: 1.38 million viewers for 28 matches
On Telemundo:
● Group-stage average: 2.07 million viewers for 48 matches
● Knock-outs average: 3.85 million viewers for 16 matches
● Tournament average: 2.51 million viewers for 64 matches
Combined:
● Group-stage average: 4.71 million viewers for 48 matches
● Knock-outs average: 9.89 million viewers for 16 matches
● Tournament average: 6.00 million viewers for 64 matches
Sunday's 25.783 million audience was still short of the NFL in the U.S., as the 1 p.m. Eastern window drew a combined 33.490 million on CBS and FOX. But Argentina and France did out-draw the 4:25 p.m. late window on CBS (21.454 million) and Sunday Night Football on NBC (15.376 million).
Worth noting: the combined average audiences for the World Cup semis and final beat the average U.S. English-language audiences for the World Series and the NBA Finals in 2022:
● World Cup semis/final: 15.91 million avg. (3 games)
● MLB World Series: 11.8 million avg. (6 games)
● NBA Finals: 12.4 million avg. (6 games)
If the World Cup quarterfinals are included – for a total of seven matches – the average still tops baseball and basketball at 12.79 million average with English and Spanish combined.
As good as the U.S. numbers were, they hardly compare with what happened in France, where TF1 reported an average audience of 24.08 million during its broadcast of the final, with a ratings share of 81% (meaning that 81% of all TVs on in France during the match were watching it!). Its peak audience came at the end, with 29.4 million viewers … in a country of 67.5 million.
2.
Mac Neil and Murphy top World Short-Course Champs money list
Completely overshadowed by the FIFA World Cup was the 16th FINA (now World Aquatics) World 25 m Championships, held in Melbourne, Australia. In addition to the medal count – won by the U.S. with 36 (17-13-6) – the meet also carried with it $2.1 million in prize money and $25,000 for every world record set.
The big winner on the money list was Chinese-born Maggie Mac Neil, who was adopted at the age of one by a Canadian family and swims for Canada and swam two seasons for the University of Michigan. At 22, she had a brilliant Worlds, winning the 50 m Back, 50 and 100 m Flys and setting world records in the 50 m Back and 100 m Fly, plus shared from two relay bronzes.
With per-event awards of $10,000-8,000-7,000-6,000-5,000-4,000-3,000-2.000 for places 1-8 ($45,000 per event), the top earners per SwimSwam.com included:
1. $86,250: Maggie Mac Neil (CAN)
2. $49,500: Ryan Murphy (USA)
3. $47,500: Nic Fink (USA)
4. $47,000: Torri Huske (USA)
5. $44,000: Kate Douglass (USA)
6. $43,500: Emma McKeon (AUS)
7. $43,250: Mollie O'Callaghan (AUS)
7. $43,250: Claire Curzan (USA)
9. $43,000: Ruta Meilutyte (LTU)
10. $38,750: Lani Pallister (AUS)
Some 86 swimmers won at least $10,000, including shares of the 14 world-record swims, worth an extra $350,000 in bonuses, making the total payout for the six-day meet $2.45 million.
And American swimmers did very well, totaling $513,000 in prizes, or 20.9% of the total prize pool, just behind winning 25% of all medals available across the 48 events!
3.
Int'l Paralympic Committee reaches €53.4 million revenue record
The annual report of the International Paralympic Committee reported record revenue for 2021, with the Paralympic Games held in Tokyo and a one-time-only initiative that brought in 54% of its income:
"[T]he Tokyo Broadcast project where the IPC was responsible for broadcast sales and production for the Tokyo 2020 Paralympic Games. It was a one-off project that will not be repeated in the future."
But for 2021, it was worth it, bringing in €28.91 million (~$30.71 million U.S.), but also costing €28.62 million (~$30.41 million) for a modest surplus of about $300,000. Nevertheless, it catapulted the IPC's revenues to new heights:
● 2012: €10.29 million (~$10.93 million U.S.)
● 2016: €19.98 million (~$21.23 million U.S.)
● 2021: €53.42 million (~$56.75 million U.S.)
The IPC also saw €12.20 million (~$12.96 million U.S.) in fund-raising and marketing revenue. Close to its most ever and €3.40 million in grants (~$3.61 million U.S.).
All this led to a small surplus of €12.08 million (~$12.83 million U.S.). The organization, based on Bonn (GER), now has assets of €27.50 million (~$29.21 million U.S.) and reserves of €20.13 million (~$21.38 million U.S.).
The one-year-postponed Paralympic Games in Tokyo welcomed 4,393 athletes – the most ever – from 162 nations, competing in 22 sports, with 86 countries winning a medal, the most ever.
The IPC's "WeThe15″ campaign to raise awareness of people with disabilities around the world was successfully launched during the Tokyo Games with the promotional video viewed more than 750 million times.
4.
Birmingham World Games economic impact pegged at
$164.8 million
The 2022 World Games in Birmingham, Alabama last July welcomed 3,457 athletes from 99 countries in 34 sports and generated an estimated $164.8 million in total economic impact for the host city and region.
That's from a report by the Edinburgh, Scotland-based Quantum Consultancy, reviewing the event for the International World Games Association. The direct-spending aspect of the event totaled $11.7 million, but the induced impacts and added outputs add up to $164.8 million in total. This included:
● $10.2 million in visitor spending from 13,521 out-of-town visitors to Birmingham.
● 99,039 bed nights generated by the event by participants and spectators.
● 115,928 tickets sold and 140,217 in attendance; 37.1% of available capacity.
● 7,663 volunteer staff contributing more than 168,000 total hours of service.
● 1.12 million unique visitors to the World Games site, with 4.22 million page views.
● 268 million reach on broadcast television to 61 countries (including news coverage).
The report also noted that "With expenditures totaling $66.4 million as of November 2022, the [Birmingham Organizing Committee] is reporting a small remaining deficit with plans in place to satisfy all remaining debts and successfully close out the Games by the end of Q1 2023."
The organizers reported a debt of $14.1 million, of which $10 million was picked up by the City of Birmingham ($5 million), Jefferson County ($4 million) and the Greater Birmingham Convention & Visitors Bureau ($1 million).
The report noted that part of the reason for the debt was the continuing pandemic, which hurt out-of-town travel and reduced ticket sales, which were targeted at $6 million, but brought in just $3.8 million. Poor weather during the early days of the competitions didn't help either.
Overall economic impact of $250 million had been hoped for, but the World Games fell short. Greater Birmingham Convention & Visitors Bureau President John Oros said of his organization's $1 million contribution to the debt:
"This is not typically the role and responsibility of a destination marketing organization, but we had to do this. Bankruptcy for [the World Games Organizing Committee] was not an option. If that had happened, the statement that would go out to the amateur, college, and youth sports universe would have potentially hurt our chances to land some of the major events we're working on. So, for that reason – and we were sensitive that a number of local suppliers and vendors needed to be paid – we felt like we had to step up and the board supported it."
5.
Sapporo scaling back 2030 Winter Games bid effort
due to scandals
Japanese officials now plan to reduce their promotion of Sapporo as a primary candidate for the 2030 Winter Games, in view of the Tokyo 2020 sponsorship and business-rigging scandals are hurting the effort to land the Games.
Sapporo Mayor Katsuhiro Akimoto told a Tuesday news conference that promotion of the bid must be eased, saying "We must first dispel the public's unease rather than rushing forward blindly without regard to appearances."
Last week, Hokkaido Governor Naomichi Suzuki told reporters, "It is difficult to keep fostering momentum as things stand. … There's been a variety of problems taking place. We can't proceed unless we have thorough discussions and present countermeasures to gain [public] understanding. …
"People are voicing concerns about the effect the scandals might have on the bid. First, I want the truth to come out as soon as possible."
The skepticism runs deep, as Seiko Hashimoto, who led the Tokyo 2020 organizing committee after former Prime Minister Yoshiro Mori was forced out in February 2021, said – of the organizing committee she inherited – "We need to take a hard look at the way the Games previously existed and drastically rethink them."
Sapporo and Salt Lake City have serious bids assembled for the 2030 Winter Games, which the International Olympic Committee said would be awarded late in 2023. Polls have shown public support for Sapporo to be lukewarm at best and the Tokyo 2020 scandals have not helped. Salt Lake City has overwhelming public support and plans to use only existing venues to keep costs down.
≡ PANORAMA ≡
● Olympic Games 2024: Paris ● Inflation and the disruption of supply chains is impacting the Paris 2024 construction effort, being handled by a dedicated, government-created firm called SOLIDEO, which announced last Friday that the public-money aspect of its budget had been increased once again.
Construction efforts are already underway at multiple sites, including what will be the Olympic Village. The government's share of the works was originally budgeted at €1.38 billion (~$1.47 billion U.S.), then increased in 2021 to €1.55 billion (~$1.65 billion U.S.) and now €1.711 billion (~$1.82 billion U.S.), about 39% of the €4.4 billion total (~$4.68 billion U.S.) that includes private investment.
Per SOLIDEO General Manager Nicolas Ferrand:
"Despite the obstacles, we are continuing our journey. We will be able to deliver the works on time, within the fixed costs and within the strong ambitions that we have determined. The additional funding voted today by the Board of Directors only responds to the consequences of the war in Ukraine and the COVID crisis in China. Apart from that, we are still perfectly in line with the budget initially announced in constant 2016 euros."
● Olympic Winter Games 2026: Milan Cortina ● Giovanni Malago, the head of the Italian National Olympic Committee (CONI) hailed the appointment of Andrea Varnier as chief executive of the 2026 Winter Games organizing committee as a key step in getting the planning effort back on track. He told a news conference last week:
"In the past three years since we won the Games, I have met with four governments, four different institutions and structures, four people with whom to deal with … without forgetting COVID, inflation and the international crisis [war].
"It was like running a marathon with a backpack. Now I am happy because the appointment of Andrea Varnier finally shows that the government is on board … we all know very well what are the difficulties and the problems, but I think most of these will be resolved soon.
"Andrea Varnier is the light at the end of the tunnel. His collaboration as adviser to the IOC and more than 30 years of experience in the industry are the key to accelerating our roadmap. His appointment represented a fundamental step."
The organizing committee has been criticized for a lack of sponsorships and a slow pace of planning, now expected to change quickly. 
● World University Games ● The elected head of the International University Sports Federation (FISU) since 2015 is Russia's Oleg Matytsin, who was elevated to be the country's Sports Minister in 2020. That put him in a difficult position, and he elevated FISU First Vice President Leonz Eder (SUI) to Acting President in March 2021.
With the end of the formal sanctions against Russian officials by the World Anti-Doping Agency (which still retains Russia on suspension), Matytsin could have returned as FISU chief and said Sunday:
"I have not resigned as FISU President from anywhere. Yesterday I informed my colleagues on the Executive Committee by sending a letter to them that I temporarily entrust the leadership of FISU to the First Vice-President in accordance with the statutes of the organization. But I can return at any time, as soon as I consider necessary, to my duties as President. I have no restrictions regarding participation in FISU events, I actively participate in the work and I am informed about what is going on in the organization. I stay in contact with my colleagues and actively participate in the dialogue with them."
And at the FISU Executive Committee meeting on Saturday, Matytsin confirmed that Eder would continue.
● National Olympic Committees ● Four-time Olympic fencing gold medalist Stanislav Pozdnyakov ran unopposed and was re-elected as President of the Russian Olympic Committee on Tuesday.
The Russian news agency TASS reported his comments about the future of Russia at the Olympic Games made prior to the election:
"The best-case scenario is that our athletes will take part in the 2024 Olympics, having cleared the qualifying stage. Otherwise, we will resort to an alternative scenario. We will be implementing an Olympic sports program aimed at creating an athletic base and the training of the youth.
"The main goal will be to prepare a new generation of athletes, who can enter the top three at the [2028] Olympics after the [2024] Games in Paris."
● Anti-Doping ● The World Anti-Doping Agency noted with pleasure the "Operation Shield" initiative coordinated by Europol and led by police efforts in France, Greece, Italy and Spain, that "successfully seized more than EUR 40 million-worth of counterfeit medicines and doping substances, dismantled 59 criminal groups, and arrested or reported to the judicial authorities 349 suspects across Europe."
Gunter Younger (GER), the WADA director for Intelligence and Investigations, noted the direct impact of the project:
"Substances prohibited in sport were among the most seized items in this operation and, apart from the arrest of hundreds of people suspected of being involved, it also resulted in a number of targeted testing campaigns being launched by several Anti-Doping Organizations. As a result, 48 positive tests came about thanks to intelligence provided by this investigation."
● Alpine Skiing ● Reigning World Cup overall champ Marco Odermatt (SUI) scored his fourth win of the season on Monday in the Giant Slalom in Alta Badia (ITA), finishing in 2:38.27, ahead of Norwegian star Henrik Kristoffersen (2:38.47) and Slovenia's Zan Kranjec (2:39.19).
Odermatt was sensational on the first run, finishing in 1:20.04 and leading the field by 0.60, and despite having only the 21st-fastest time on the second run, managed to win his 15th career World Cup race, of which 10 have been Giant Slaloms. River Radamus was the top American finisher in 10th (2:40.88).
● Athletics ● More Kenyan doping, as the Athletics Integrity Unit confirmed lengthy bans on Diana Kipyokei – the 2021 Boston Marathon winner – and Purity Rionoripo.
Kipyokei, 28, was banned for doping with the anti-inflammatory Triamcinolone Acetonide, found in a sample taken after her October 2021 Boston Marathon victory. She exacerbated her penalty from four to six years by "provid[ing] false/misleading information in trying to explain her AAF, including fake documentation which she alleged came from a hospital."
Rionoripo, 29, won the Prague Marathon in a lifetime best of 2:20:14 in May 2021, but tested positive for the diuretic Furosemide in an out-of-competition test in Kenya in May 2022. Then, "In her explanation, she claimed to have been prescribed medication by a doctor at a hospital to treat an ankle injury and presented supporting documentation. However, investigations revealed that, though Rionoripo was treated at the hospital, she had altered her prescription form to include Lasix (the commercial name for Furosemide)."
She was also banned for six years, but admitted the violation, shortening the suspension to five years.
Betty Wilson Lempus, already on provisional suspension, was charged with another doping violation – also Triamcinolone Acetonide – from an October test, to go along with an existing tampering charge.
The current AIU list of ineligible persons shows 54 Kenyans.
● Football ● Argentina declared a national holiday on Tuesday for the FIFA World Cup champions, with some five million people estimated to have saluted the team on a reported 50-mile victory parade atop a bus and an enormous, packed crowd around Buenos Aires' famed Obelisco to celebrate after Sunday's victory.
¶
Budweiser, which was not allowed to sell its alcoholic beer at Qatar stadiums, has been promoting a #BringHomeTheBud campaign, with shots of shipping containers with the Budweiser logo landing in multiple cities. AB InBev announced that fan festivals will be held in Buenos Aires, Rosario and Cordoba to celebrate Argentina's World Cup victory (and the unsold beer from Qatar).
A November report noted that AB InBev sponsored the 2022 World Cup at $112 million and has agreed to pay $170 million for the rights for the 2026 World Cup, but will ask for a $48.2 million discount in view of being refused the right to sell at the last moment in Qatar.
● Freestyle Skiing & Snowboard ● Highlights of the Toyota U.S. Open Freeski and Snowboard Big Air finals were on NBC on Sunday at 4:30 p.m. Eastern time – against the late NFL window – and drew a respectable 678,000 viewers. Most of the event had been streamed live on Outside TV.com.
● Ice Hockey ● The U.S.-Canadian women's Rivalry Series continued on Monday at the Crypto.com Arena in Los Angeles, with the Canadians getting a second straight win, 3-2, in overtime. The 2022-23 series now stands at 3-2 for the U.S., with two more games coming in February.
The American women got the lead on a first-period score from Cayla Barnes, but that was wiped out as Canada scored twice in the second, on a power-play goal from Sarah Fillier at 2:54 and then from Laura Stacey at 16:31.
The U.S. tied it in the third via a Taylor Heise goal at 10:16 and at 2-2, Danielle Serdachnny for the game-winner at 2:44 of overtime. The U.S. had a 34-28 shots advantage, but it wasn't enough.
¶
You can receive our exclusive TSX Report by e-mail by clicking here. You can also refer a friend by clicking here, and can donate here to keep this site going.
For our updated, 951-event International Sports Calendar for 2022-23 and beyond, by date and by sport, click here!