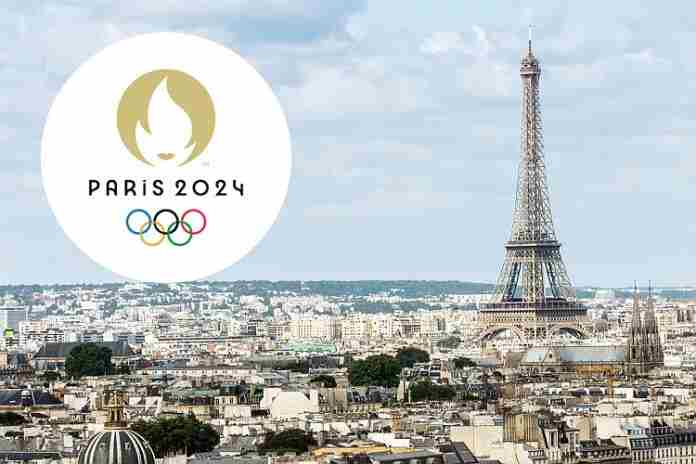 ★ The Sports Examiner: Chronicling the key competitive, economic and political forces shaping elite sport and the Olympic Movement.★
★ Thank you to now 17 donors, who have covered 38% of our technical expenses for the first half of 2023. Please consider a donation. Thank you in advance. ★
★ To get The Sports Examiner by e-mail: sign up here! ★
≡ THE 5-RING CIRCUS ≡
1. FIFA says five billion "engaged" with Qatar World Cup
2. City of Paris cost for 2024 Games: €354 million net
3. Belarusian coach Maisevich charged in Tsimanouskaya incident
4. LA28 completing Los Angeles Games Agreement consultations
5. Nasty Algerian-Moroccan political fracas at CHAN 2023
A month after the close of the highly successful FIFA World Cup in Qatar, some of the viewing statistics are available, with 550 million viewers for the opening match and about 1.5 billion for the Argentina-France final. The total viewing audience is not yet available, but total "engagement" with the tournament approached five billion. The support cost for the Paris 2024 Games from the City of Paris itself is expected to be €354 million, after netting out expected revenues, much less than the recently-predicted €500 million by the French Court of Auditors. The Athletics Integrity Unit has filed charges under three sections of the World Athletics Integrity Code against Belarusian coach Yury Maisevich related to his conduct over the withdrawal of sprinter Krystsina Tsimanouskaya – who sought asylum rather than return home – at the Tokyo Olympic Games in 2021. The LA28 organizing committee is progressing on its public commitment to community-based coordination on purchasing, hiring and sustainability, according to a new report from the City of Los Angeles. Racist chants, references to slavery and a refusal to allow the Moroccan team – the defending champs – to make a direct flight into Algeria have marred the African Nations Championship football tournament for players competing on domestic clubs, with Morocco withdrawing and the Confederation of African Football now investigating.
1.
FIFA says five billion "engaged" with Qatar World Cup
The audience figures aren't compiled yet, but FIFA released a 28-page package of facts and figures on its 2022 World Cup in Qatar, including some viewing totals:
● The dramatic final between Argentina and France was watched by almost 1.5 billion people worldwide, up from 1.15 billion for the 2018 final in Russia.
● The opening match on 20 November between Ecuador and Qatar had about 550 million watchers on over-the-air and streaming platforms.
● "Early figures suggest that around 5 billion people have engaged with the FIFA World Cup Qatar 2022, following tournament content across an array of platforms and devices across the media universe. On social media, according to Nielsen, there have been 93.6 million posts across all platforms, with a 262 billion cumulative reach and 5.95 billion engagements."
The total in-person attendance was 3,404,252 with an average of 53,191 (or 96.3% of capacity) across the 64 matches of the tournament. Some 98% of the tickets sold were used a mobile (on-phone) tickets and 411,724 tickets were re-sold, just 12.1%.
The hospitality package program was a big success with 257,000 packages sold, 61% of which went to non-Qatari buyers, with the highest interest from Saudi Arabia, Mexico, the U.S., UAE, Great Britain, India, Argentina, Brazil and Switzerland.
Media interest was strong:
● 2,955: Press-photo-non-rights broadcasters
● 7,888: Rights-holding broadcasters
That's 10,843 in total. The press-photo breakdown was 1,834 writers and 726 photographers.
FIFA was heavily engaged in a social-media "protection service" which worked to identify abusive messages across five major platforms and report them to the service providers. More than 14 million messages were scanned for "abusive, discriminatory and threatening" content, with 18,323 posts flagged and reported. Monitors on these sites "hid" 286,895 objectionable comments on 1,828 team or player accounts.
2.
City of Paris cost for 2024 Games: €354 million net
Paris Mayor Anne Hidalgo told the French newspaper Le Monde on Wednesday that the net cost of the 2024 Olympic Games in the city would reach about "380 million euros of investment, i.e., on average, 0.65% of our annual budget. (€1 = $1.08)
That's considerably less than the €500 million cost for Paris suggested by the French Court of Auditors, the government watchdog agency which has worried publicly about the potential cost of the Games for years. Its projections, released last week, forecast a €500 million cost for Paris.
The City government issued even more details later, telling Agence France Presse, "the net cost for the city is now established at 354 million euros with 503 million euros in expenditure and around 150 million euros in revenue, 90% of which is now secured.
"Expenditure is spread over eight financial years, between 2018 and 2025 … allowing the cost of the Games to be recouped and a very moderate impact on the city budget with an average share of 0.65% and a peak in 2024 representing 1.4% of the city budget."
This money, according to Hidalgo, will buy, "for example, Porte de la Chapelle, to build an arena and two gymnasiums but also all the infrastructure for cycle paths, Olympic lanes, renovation of training sites [and] the Georges-Vallerey swimming pool … which hosted the 1904 Games."
¶
The newest issue is concern over air conditioning in the Olympic Village, Nicolas Ferrand, the head of the government construction group Solideo, told reporters on Tuesday:
"We are building rooms where it will be six degrees cooler than the outside temperature."
He said that if the Paris 2024 organizers required air conditioning, it would be installed, but:
"It's a question for society. Do we collectively accept being at six degrees less and having an excellent carbon footprint, or do we say it's not okay, and we're ready to downgrade the carbon footprint."
3.
Belarusian coach Maisevich charged in Tsimanouskaya incident
Remember Belarusian sprinter Krystsina Tsimanouskaya? She's the one who criticized her coaches at the Tokyo Olympic Games in 2021 for entering her in the women's 4×400 m without telling her and ended up being withdrawn from the Games and sent home, only to ask airport police to grant her protection. She eventually was granted asylum in Poland, where she now lives with her family.
The International Olympic Committee and World Athletics asked the Athletics Integrity Unit to examine the conduct of the Belarusian team officials who were with her in Tokyo. On Thursday, one of them – coach Yury Maisevich – was charged with alleged breaches of the World Athletics' Integrity Code of Conduct:
"Maisevich, Belarus' athletics head coach at the Games, has been charged with committing breaches of the following Integrity Standards in the Integrity Code of Conduct: Honesty (Rule 3.3.1), Dignity (Rule 3.3.10) and Protect Reputation (Rule 3.3.17). …
"The AIU alleges that, in respect of these circumstances of Tsimanouskaya's removal from the Olympic Games, Maisevich did not act with integrity and acted in bad faith; failed to safeguard the athlete's dignity and his actions constituted verbal and mental harassment; and that he brought athletics generally into disrepute. …
"Maisevich was one of two Belarusian officials whose Olympic accreditation was revoked by IOC regarding this situation. The other official, Artur Shumak, has not been charged."
The AIU will now move forward with an action against Maisevich for a suspension of unknown length.
Tsimanouskaya, 26, now runs for Poland and competed in 2022, with bests of 11.31 and 23.31, well off her lifetime bests of 11.04 from 2018 and 22.78 from 2019. She did not run outside the country last year.
4.
LA28 completing Los Angeles Games Agreement consultations
City of Los Angeles staff filed an informational report with the City Council's Ad Hoc Committee on the 2028 Olympic and Paralympic Games on Tuesday (17th) concerning the progress of the LA28 Olympic organizing committee on its benchmarks for civic involvement, according to the Games Agreement signed with the City in 2022:
"LA28 notified the City on December 1, 2022 that it met the Phase 2 benchmark by identifying the organizations that will comprise the membership of each working group and invited 30 organizations to join one of the three working groups. LA28 is currently awaiting confirmations of participation from the invited organizations and will continue to evaluate additional member submissions."
The exact membership of each group – Community Business and Procurement, Local Hire, and Sustainability – was scheduled for completion by 30 November 2022, but is still wrapping up with confirmations from the invited organizations. The first meeting dates for each group are to be finalized by the end of January, and the first meetings are to be in March.
Planning groups are also being formed; the report noted:
"[T]he City and LA28 are currently collaborating to further advance and develop the following planning groups: the 2028 Games Mobility Executives, Public Safety Cooperative, and Games Energy Council. Updates regarding the planning group activities will be presented to the City Council by April 30, 2023."
5.
Nasty Algerian-Moroccan political fracas at CHAN 2023
The African Nations Championship football tournament for players competing on domestic clubs – known as CHAN – is ongoing in Algeria, but not without considerable controversy, including charges of racism.
Morocco is the defending champion and, of course, was a star at the recent FIFA World Cup in Qatar, becoming the first African team to reach the semifinals. But the Moroccan team was not allowed to fly on its national airline – Royal Air Maroc – from Rabat to Constantine in Algeria as Algeria cut off ties between the two countries in August 2021.
In response, Morocco withdrew from the tournament. At the opening ceremony in Algiers on 13 January, it was reported "the Algerian regime invited Nelson Mandela's grandson Zwelivelile Mandela, who delivered an anti-Morocco political speech attacking the country's territorial integrity." Mandela told the crowd, "Let us fight to free Western Sahara from oppression. … Don't forget the last colony of Africa, Western Sahara."
In addition, spectators at the ceremony chanted – in Arabic – "Give them bananas! Moroccans are animals!"
The incidents drew a response from the Confederation of African Football (CAF) that included:
"The Confédération Africaine de Football ("CAF") is under an obligation and a duty, in accordance with its Regulations and Statutes and those of FIFA not to participate or get involved in politics and to be neutral on matters of a political nature. …
"CAF will investigate and look into the political statements and events at the opening ceremony of the TotalEnergies CHAN Algeria 2022 and assess whether there was compliance with the CAF and FIFA Regulations and Statutes. CAF will give an update in this regard in due course."
≡ PANORAMA ≡
● International Olympic Committee ● The award of rights to the European Broadcasting Union and Warner Bros. Discovery for the Olympic and Winter Games from 2026-32 did not include Russia or Belarus.
Russia has often negotiated separately, but now Belarus is also impacted as part of the sanctions involving the invasion of Ukraine. The Russian news agency TASS noted:
"The rights to broadcast the Olympics on the territory of Russia previously belonged to Telesport, a major operator in sports marketing, and it had already inked a contract to air the 2024 Summer Olympics in Paris.
"In September 2022, Telesport President Pyotr Makarenko told TASS that his company had purchased a package of rights to air the 2026 Winter Games in Italy."
● World Anti-Doping Agency ● For those who remember recent history between the U.S. Office of National Drug Control Policy and WADA, it was fascinating to review the announcement of the membership of the WADA Executive Committee and the Foundation Board.
These are the two bodies which control the agency, and neither lists an American member for 2023. There are two possible openings that could be filled on the Executive Committee by an American: an independent member – to be announced in March or April – and an Americas representative still to be named.
During the Trump Administration, the USONDCP refused to pay its agreed-upon WADA dues, asking for more representation on the ExCo and the Board; among the replies from WADA President Witold Banka (POL) was that at the regional (Americas) meetings where nominations were sought, no one from the U.S. attended.
The dues issue was smoothed out in 2021, but it is remarkable that no one from the U.S. is on either body, especially as an American has usually been on at least the Foundation Board.
● Athletics ● The woman who blew up the IAAF's worldwide hyperandrogenism regulations in 2015 has now been provisionally suspended by India's National Anti-Doping Agency for the presence of steroid-style drugs in an out-of-competition sample taken in December.
Dutee Chand, 26, the 100-200 m silver medalist at the 2018 Asian Games with bests of 11.17 (2021) and 23.00 (2018), tested positive for Andarin, Ligandrol and Enobosarm (Ostarine) – which are Selective Androgen Receptor Modulators that provide steroid-type benefits, but do not create male physical characteristics in the user – in a 5 December test in Bhubaneswar.
She was informed of the results on 3 January, facing a penalty of four years. She can challenge the finding, admit guilt and get a year off of the suspension or fight it and lose and be suspended for four years.
Chand was dropped from India's 2014 Commonwealth Games team due to hyperandrogenism – testosterone levels outside the normal female range – and appealed to the Court of Arbitration for Sport. In a 2015 ruling, the Court ruled that the IAAF rules were overly broad and required new regulations more narrowly targeted to impact only those athletes who had a demonstrable advantage due to their heightened testosterone levels.
Chand was then free to compete, and the IAAF's new rules in 2018 did not impact her, as they related only to the 400-800-1,000-1,500 m and mile distances. She competed at the Rio 2016 and Tokyo 2020 Games, but did not make it out of the first round.
● Basketball ● The FIBA men's World Cup is coming this summer, to Indonesia, Japan and the Philippines, but a tremendous warm-up tournament will be held in Spain just two weeks prior.
The Spanish federation announced that no. 1-ranked Spain, the U.S. and Slovenia – with Luka Doncic – will play in a warm-up tournament on 11-12-13 August, in Malaga. The World Cup opens on 25 August, and the U.S. – which has yet to formally qualify – has been assigned to play in the Philippines and Slovenia in Japan.
● Figure Skating ● The International Skating Union Council met online on Monday and among other decisions, confirmed that "no ISU Grand Prix of Figure Skating event can take place in Russia during the 2023/24 Season."
With the French figure skating federation now unable to host the 2023 ISU Grand Prix Final, new locations will be needed for the 17-19 November Grand Prix event and the 7-10 December Grand Prix Final.
● Shooting ● The ISSF Shotgun World Cup in Rabat (MAR) is continuing with the U.S. having scored three wins in the Skeet competitions, with Trap to follow.
Kim Rhode, the six-time Olympic medal winner in 1996-2000-04-08-12-16 – and 2012 Olympic Skeet champ – is hardly slowing down at 43, winning the Skeet final in Morocco, 37-36 over Greece's Emmanouela Katzouranki. She added a silver in the women's Team final, with 16-year-old Katharina Jacob and 2017 World Champion Dania Jo Vizzi, losing to Kazakhstan, 11-9, in a shoot-off after a 5-5 tie in regulation.
Jacob did get a gold, however, in the All-American Mixed Team final. She and Conner Prince defeated Vizzi and Christian Elliott, 7-3.
The men's Skeet title went to Greece's 42-year-old European silver medalist Nikolaos Mavrommatis, 38-37, over Egypt's Azmy Mehelba, 31, the 2022 World Champion. The Team title went to the U.S. trio of Prince, Elliott and Dustan Taylor, which beat Kuwait, 6-4, in the final.
The Trap events continue through the 24th.
● Wrestling ● Money! United World Wrestling announced prize money for its Ranking Series tournaments of CHF 390,000 for 2023, about $425,725 U.S.:
"The gold medal winners at the four Ranking Series tournaments in 2023 will receive 1500 Swiss Francs with the silver medalists getting 750 Swiss Francs. The two bronze medalists will receive 500 Swiss Francs each."
The Ranking Series is as close to a Grand Prix circuit as wrestling has, with the tournaments growing in popularity.
¶
You can receive our exclusive TSX Report by e-mail by clicking here. You can also refer a friend by clicking here, and can donate here to keep this site going.
For our updated, 929-event International Sports Calendar for 2023 and beyond, by date and by sport, click here!