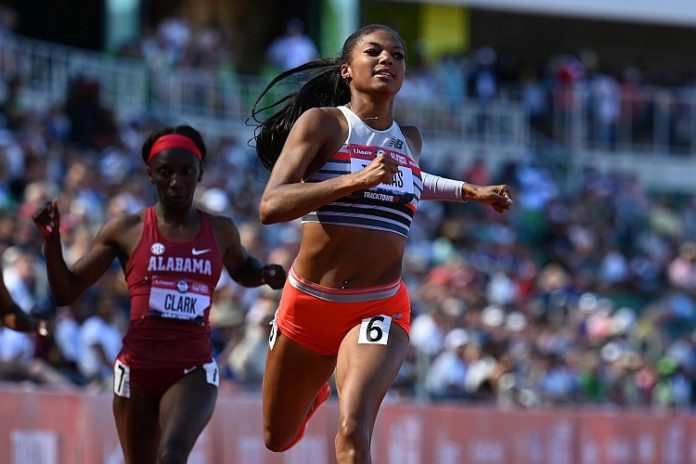 ★ The Sports Examiner: Chronicling the key competitive, economic and political forces shaping elite sport and the Olympic Movement.★
★ Encouraging! Thanks to 20 donors, we're at 52% of our summer fund-raising goal. Please help if you can.. Your support is vital. ★
★ To get The Sports Examiner by e-mail: sign up here! ★
≡ THE 5-RING CIRCUS ≡
1. Richardson, Thomas, McLaughlin-Levrone, Benjamin headline USATFs
2. Kenyan T&F anti-doping testing to increase 7x in 2023
3. Turner stars as U.S. men overcome Canada, 2-2 (3-2) on penalties
4. Asian Games to welcome 500 Russians, Belarusians … maybe
5. IFSC ex-Med Comm member says "climbing has a RED-S problem"
A fabulous USATF Nationals in Eugene closed on Sunday, with world-leading marks in four events and major statements made by Sha'Carri Richardson (100 m), Gabby Thomas (200 m), Sydney McLaughlin-Levrone (400 m) and by Rai Benjamin in the men's 400 m hurdles. There were also three world leads in the Jamaican nationals in Kingston from Shericka Jackson in the women's sprints and Rasheed Broadbell in the men's hurdles. The Athletics Integrity Unit and the Anti-Doping Agency of Kenya are working to process 5,000 tests for track and road running athletes this year, by far the most ever, to try and wipe out the doping scourge which has engulfed the country's stars. At the CONCACAF Gold Cup, the U.S. squeezed by Canada in Sunday's quarterfinal on penalty kicks, 3-2, thanks to heroics from keeper Matt Turner. The U.S. women won their final tune-up match before the FIFA Women's World Cup, 2-0, over Wales. The Olympic Council of Asia agreed to allow Russian and Belarusian athletes to compete in force in the upcoming Asian Games in China … maybe. There's a lot of fine print behind the headline and the Russian Olympic Committee isn't celebrating. A long-time member of the medical commission of the International Sport Climbing Federation says athletes in that sport are in crisis and resigned over his disagreement with the federation's approach to its "RED-S problem."
● Panorama: Badminton (Japan wins three at Canada Open) = Basketball (Brazil handles U.S. in women's AmeriCup final) = Beach Volleyball (U.S.'s Partian & Benesh shock Norway's Mol & Sorum) = Cycling (5: Vingegaard holds lead in Tour de France; van Vleuten wins Giro Donne again; China sharp in BMX Freestyle World Cup; Blevins and Blunk win U.S. Mountain Bike nationals; Valente dominates U.S. track nationals) = Gymnastics (Youngster Wang and veteran Page win Trampoline World Cup) = Rowing (Zeidler finishes World Cup sweep in Lucerne) = Sport Climbing (Indonesia sweeps World Cup Speed finals) = Table Tennis (Kumar and Wang take table tennis national titles) ●
● Errata: Friday's post mentioned Maggie Malone as the American Record holder in the women's javelin; she is the former record holder. Thanks to reader goatcabin for the correction, which has been made on the site. ●
1.
Richardson, Thomas, McLaughlin-Levrone, Benjamin headline USATFs
An outstanding edition of the USATF National Championships in Eugene, Oregon closed on Sunday with spectacular performances in more than a dozen events, and four world-leading performances during the meet:
● Women/100 m: 10.71, Sha'Carri Richardson (since surpassed)
● Women/200 m: 21.60, Gabby Thomas
● Women/400 m: 48.74, Sydney McLaughlin-Levrone
● Women/Vault: 4.90 m (16-0 3/4), Katie Moon
There's a lot to talk about, starting with the world leads and the men's sprints and hurdles.
When McLaughlin-Levrone decided to leave the 400 m hurdles after her world-record performance in the 2022 Worlds, and take up the 400 m flat, there was no doubt she would be great. The only question was how great and how long would it take. She's knocking on the door.
She dominated the 400 m final, storming to the lead from the gun, passing 200 m in 23.24 and maintaining her form through the turn and into the tape for a runaway 48.74 win, just 4/100ths off the American Record in only her eighth career outdoor race since high school! She started the year with a best of 50.07. Then:
● 49.71 PR: 2nd in Paris Diamond League (9 Jun)
● 49.51 PR: 1st at NYC Grand Prix (24 Jun)
● 49.79: 1st in USATF Nationals heats (6 Jul)
● 49.60: 1st in USATF Nationals semi (7 Jul)
● 48.74 PR: 1st in USATF Nationals (8 Jul)
She's now no. 10 all-time and no. 2 U.S., just behind American Record holder Sanya Richards-Ross. And consider that she's the fourth-fastest in this century.
Arkansas' Britton Wilson ran her own race from lane four, with McLaughlin-Levrone in front of her and was a decisive second at 49.79 and 2022 NCAA champ Talitha Diggs got a lifetime best in third at 49.79. They ran 1-3-7 on the 2023 year list.
Friday's highlight was the men's and women's 100 m finals, with Richardson stealing the spotlight. After running a world-leading 10.71 on Thursday (since surpassed), Richardson won her semi easily in 10.75 (+0.7), with Tamari Davis taking semi two in 10.96 (+0.4). But in the final, Richardson's start deserted her and she was dead last at 10 m. But she got going and finally was in the lead by 80 m and pulled away for a 10.82 win (+0.7) and made her first Worlds team.
Brittany Brown was strong throughout and got a lifetime best of 10.90 for second, with Davis – the mid-race leader – holding on to third in 10.99.
The men's 100 m appeared to be more to form, with semifinal winner Christian Coleman getting his patented rocket start and appeared to be in control in lane three. But three lanes to his right, Cravont Charleston, 25, who had never advanced further than the semis at the nationals, was right with him and surged in the final meters to earn his first national title, 9.95 to 9.96 (+0.1). Noah Lyles was, typically, last at 10 m, but moved up to fourth by 80 m and had the fastest close to get third in 10.00 and move on to the Budapest Worlds.
Richardson then stunned everyone on Saturday in the heats of the women's 200 m, taking heat two in a sensational 21.61, but wind-aided at 2.6 m/s. Still, only Florence Griffith-Joyner (USA) and Jamaicans Shericka Jackson and Elaine Thompson-Herah have ever run faster under any conditions. In Sunday's semis, it was Tokyo bronze medalist Gabby Thomas who sent a message, with her 21.86 win. In the final, Richardson was out fast, but Thomas grooved the turn and came into the straight in front. And she held it, right to the tape, posting a brilliant 21.60 (-0.4) to improve her best by 0.01 from 2021 and remain no. 4 on the all-time list. Richardson was good, too, scoring a lifetime best of 21.94, the 17th American woman under 22 seconds. Kayla White shocked everyone with a lifetime best of 22.01 for third and a trip to Hungary.
Lyles has a bye into the Worlds as the men's 200 m winner from 2022, so the men's 200 m field looked to be up to teen star Erriyon Knighton and he was up to the challenge. His start was excellent and he entered the straight in the lead and gave back nothing. He finished in a smooth and convincing 19.72 (-0.1), now no. 2 in the world for 2023 (behind Lyles), ahead of Tokyo runner-up Kenny Bednarek, who overcame injuries this season to run 19.82, with Texas Tech's NCAA 100 m winner Courtney Lindsey holding off the fast-closing 100 m star Fred Kerley, 19.85 to 19.86 for third.
Even more impressive was Rai Benjamin's domination of the 400 m hurdles. He set a hard pace from the start, but maintained a smooth cadence right through the far turn and came through the straight with purpose to win in a sensational 46.62, the no. 5 performance in history and a signal that the Benjamin-Warholm rematch will be epic. C.J. Allen and Trevor Bassitt were 2-3 as expected, in 48.18 and 48.26.
The men's 400 m looked good for Vernon Norwood and Bryce Deadmon, who were 1-2 in the semis, and in the final, Deadmon was leading around the turn and coming for home. Norwood got close, but never in front and Deadmon – who won 4×400 m golds at Tokyo and in the 2022 Worlds – got his first national title with a lifetime best of 44.22 to 44.39 for Norwood, who made his first U.S. team as an individual entry in the 400 m. Quincy Hall, the NCAA 400 m hurdles winner in 2019, got third just ahead of Arizona State's Justin Robinson, in 44.41 and 44.47, lifetime bests for both.
Yared Nuguse's 3:29.02 at the Bislett Games made him the favorite in the 1,500 m final, but NCAA champ Joe Waskom bolted to the front with 200 m to go. Nuguse was game and flew on the straight to win in 3:34.90, with Waskom second (3:35.32 PR) and 2021 Olympic Trials winner Cole Hocker coming hard for third in 3:35.46.
BYU's NCAA Steeple champ, Kenneth Rooks, was one of the favorites, but not after getting too close to Anthony Rotich on the second lap and essentially somersaulting over the barrier on the backstraight and falling to the ground. But the pace wasn't too bad and he moved from 14th to ninth by 2,000 m and sixth with a lap and a half to go. He was third heading into the final water jump and vaulted into second and then ran away from the field to win in a lifetime best of 8:16.78, over Benard Keter (8:17.19) and Isaac Updike (8:17.69). Crazy, completely crazy.
On Sunday, the men's 800 had plenty of pushing and shoving, but defending champ Bryce Hoppel managed to get free on the home straight and got to the line first in 1:46.20, ahead of Isaiah Harris (1:46.68) and Clayton Murphy (1:46.82), who all passed Isaiah Jewett, who led most of the race, but finished fourth in 1:47.02.
The 5,000 m final missed Grant Fisher, who withdrew, but former Northern Arizona star Abdi Nur pushed into the lead with two laps to go and ran 57.76 and 53.64 on his final two circuits to win in 13:24.37. Two-time Olympic medalist Paul Chelimo overpowered everyone else on the final straight – and almost caught Nur with a 53.54 last lap – in finishing second in 13:24.90.
World Champion Grant Holloway won his semifinal, but opted out of the final, as he has a bye into Budapest. That left defending national champ Daniel Roberts to deal with new sensation Cordell Tinch, and Roberts maintained a tiny lead in mid-race and nursed it to the line with an excellent lean to win in 13.05-13.08 (-0.2). Freddie Crittenden, who had been knocking on the door to make a U.S. team for years, got his ticket with a third-place finish in 13.23.
In the field, great things were hoped for from world-record setter Ryan Crouser, who was going to be the winner after his first-round throw of 22.82 m (74-10 1/2). But he did better, reaching 22.86 m (75-0) in the final round, ahead of a seasonal best of 22.10 m (72-6 1/4) for Josh Awotunde in second, a lifetime best of 22.09 m (72-5 3/4) by Payton Otterdahl and 21.90 m (71-10 1/4) for two-time Worlds winner Joe Kovacs. All are headed for Hungary.
No one was too surprised when Nia Akins won the USATF Indoor title in the 800 m, but she stunned an excellent field on Sunday with a fiery finish on the home straight to pass Raevyn Rogers and win in 1:59.50, with Rogers second in 1:59.83, missing the Worlds qualifying standard by 0.03! Ajee Wilson, a two-time Worlds bronze winner in 2017 and 2019, finished last in 2:05.88.
Just as McLaughlin-Levrone was exploring a new event this season, so was Olympic and World champ Athing Mu in the 1,500 m. She was in front and leading coming into the home straight, but not by much, fighting off Tokyo Olympian Cory McGee, but a finishing surge from indoor mile champ Nikki Hiltz was enough to get to the line first, 4:03.10 to 4:03.44, a lifetime best for Mu by almost seven seconds in her third 1,500 m race since high school! McGee got third in 4:03.48 ahead of defending champ Sinclaire Johnson (4:03.49). Mu's post-high school 1,500 m races:
● 2021: 4:16.06 PR ~ 1st at Texas A&M at Texas dual
● 2023: 4:10.33 PR ~ 3rd in heat one at USATF Nationals
● 2023: 4:03.44 PR ~ 2nd at USATF Nationals
The women's Steeple was even crazier, with Emma Coburn gunning for her 11th national title and ninth in a row. She took the lead with 700 m to go and looked in control, but was challenged into the home straight by emerging star Courtney Wayment and then – from nowhere – by Krissy Gear, best known as an NCAA 1,500 m scorer for Arkansas in 2021-22. Gear flew by and won in a nearly 11-second lifetime best of 9:12.81 to Coburn's 9:13.60 and Wayment in third (9:14.63). Gear is now the sixth-fastest Steepler in U.S. women's history!
Alicia Monson, the 10,000 m runner-up, was not going to let the pace dawdle too much in the 5,000 m, so she towed the field from the start and had broken away from everyone except 10,000 m winner Elise Cranny and Natosha Rogers with three laps to go. Rogers took the lead with 700 m left but it was Cranny who surged to the lead with 300 m left and ran away to win in 14:52.66, with Monson passing Rogers on the last turn to get second in 14:55.10 to 14:55.39, a lifetime best.
The ultra-competitive 100 m hurdles was too close to call, but 2019 World Champion Nia Ali – now a mother of three – was best over the final two hurdles and the run-in to win in 12.37 (+0.4) and move to no. 4 in the world for 2023. She was barely ahead of defending champ Keni Harrison (12.42), with Kentucky's Masai Russell closing fastest on the run-in to edge Alaysha Johnson by 2/1000ths for third, with both in 12.46 (12.458 to 12.460).
Two-time national champion Shamier Little and Rio 2016 Olympic winner Dalilah Muhammad dueled in the 400 m hurdles and were right next to each other on the run-in, but Little was a little stronger and won her third USATF crown in 53.34 to 53.53, seasonal bests for both. Anna Cockrell was third in 54.24, also a season's best and under the Worlds standard, to make the team.
Vashti Cunningham won her sixth straight outdoor national high jump title and 13th overall at 1.91 m (6-3 1/4). World and Olympic champ Katie Moon needed only three jumps to win the vault at 4.61 m (15-1 1/2), as third-place Hana Moll could not go higher and two-time World Indoor champ Sandi Morris had to retire with an injury after clearing 4.61 m for second. Moon went on to clear 4.90 m for the world lead, then missed three times at 5.01 m (16-5 1/4), which would have been an American Record.
Tara Davis-Woodhall was untouchable in the long jump after her second-round 6.87 m (22-6 1/2), but Quanesha Burks came close, at 6.82 m (22-4 1/2), with Jasmine Moore third (6.74 m/22-1 1/2) and all three made the team with qualifying marks. It's Davis-Woodhall's first national title.
World shot leader Maggie Ewen won easily at 19.92 m (65-4 1/4), nearly three feet ahead of the field; 2022 world champ Chase Ealey – who has a bye into Budapest – was fourth at 18.62 m (61-1 1/4). Olympic champ Valarie Allman handled the discus field with ease, winning at 67.66 m (220-0), but the surprise was Lagi Tausaga-Collins, who got a lifetime best of 65.46 m (214-9) to finish second, but also got the World Champs standard to make the team for Budapest.
The last two World Champions – world leader Brooke Andersen and 2019 Worlds winner DeAnna Price – were 1-2 in the hammer at 78.65 m (258-0) and 78.18 m (256-6), a seasonal best for Price. World heptathlon leader Anna Hall dominated and won easily with 6,677 points, winning the high jump, 200 m and 800 m. That was well ahead of Taliyah Brooks (6,319) and Chari Hawkins (6,053).
American record-setter KC Lightfoot suffered a right leg injury on his first try at 5.91 m (19-4 3/4) in the men's vault and had to retire, finishing in a tie for fourth with former American Record man Sam Kendricks, at 5.81 m (19-0 3/4). Tokyo Olympic and 2022 Worlds runner-up Chris Nilsen won at 5.91 m, with Zach McWhorter clearing a lifetime best of 5.86 m (19-2 3/4).
The 2016 World Indoor Champion n the long jump, Marquis Dendy, led from the start, reaching 8.14 m (26-8 1/2) in the first round and was never headed. Jarrion Lawson, the 2017 Worlds runner-up, got second with a seasonal best of 8.13 m (26-8 1/4), and high jump star JuVaughn Harrison was third with a wind-aided 8.08 m (26-6 1/4w). Also versatile: 110 m hurdles star Tinch was fifth at 8.00 m (26-3)!
Harrison came back on Sunday to win the high jump, clearing 2.26 m (7-5) on his first try, then retiring. Shelby McEwen cleared 2.26 on his second and had three tries at higher heights, but missed one jump at the Worlds standard of 2.32 m (7-7 1/4).
Donald Scott repeated as the men's national champ in the triple jump, reaching a World Championships-qualifying 17.22 m (56-6) on his fourth try. Two-time Olympic silver medalist Will Claye was second with a season-best 16.98 m (55-8 1/2), and Chris Benard, a two-time Olympian, was third 16.68 m (54-8 3/4); neither Claye or Benard have the Worlds qualifying mark as yet.
World no. 2 Rudy Winkler was the hammer favorite and won at 79.04 m (259-4); so was Curtis Thompson in the javelin, but he needed a final-round heave of 80.92 m (265-6) to get the win over Capers Williamson's 78.91 m (258-10).
Harrison Williams moved to no. 3 on the world list for 2023 with his 8,630 win in the decathlon, ahead of Tokyo Olympian Zach Ziemek (8,508, no. 7) and surprise third-placer Austin West of Iowa (8,331 lifetime best, no. 13 in 2023).
Olympic Trials winner Nick Christie took his second title in the men's 20 km Walk – his 14th national title overall – in 1:25:30.31, winning by more than six minutes. Maria Michta-Coffey won her fifth U.S. 20 km Walk title – and 21st overall – in a much tighter match, 1:38:37.44 to 1:40:48.72 for Stephanie Casey and 1:40:48.98 for Miranda Melville.
There's a lot more to unpack from this meet, but it left no doubt about the astonishing depth and quality of the American track & field scene.
¶
At the Jamaican National Championships in Kingston, World women's 200 m champ Shericka Jackson took over the world lead in the 100 m, winning in 10.65 and moving to equal-fifth all-time. Next came Shashalee Forbes (10.96), Natasha Morrison (10.98) and Briana Williams (11.01). Olympic champ Elaine Thompson-Herah was fifth in 11.06.
Rohan Watson lowered his best from 10.12 to 9.98 in the heats and then to 9.91 to win the men's 100 m, beating Ryiem Forde, who lowered his best from 10.07 to 9.96, and Oblique Seville (10.00).
On Sunday, two more world leads, from Jackson in the women's 200 m in 21.71 (-0.5), ahead of Shelly-Ann Fraser-Pryce (22.26). In the men's 110 m hurdles, Rasheed Broadbell ran away from the field in 12.94 (+0.7) to move to equal-14th ever.
At the Norwegian nationals in Jessheim, world-record holder Karsten Warholm went crazy again, winning in 46.76, then the no. 6 performance in history. He owned four of the six, before Benjamin's 46.62. 
2.
Kenyan T&F anti-doping testing to increase 7x in 2023
World Athletics has about had it with Kenyan doping. The Athletics Integrity Unit reported that Kenya has recorded the most doping violations of any country – 184 – since the AIU was founded in 2017, and 44 in 2022. So, the hammer has been dropped.
Said AIU Head of Testing Thomas Capdevielle:
"We are aiming at up to 5,000 tests in the coming year, combining [Anti-Doping Agency Kenya] and AIU testing programmes. This will be the new norm for Kenyan athletes – intensified, targeted and regular testing, both in and out of competition.
"We all know there is a major doping problem in Kenya and the government has committed to stamping it out. The AIU is working closely with ADAK, Athletics Kenya (AK) and other Kenyan authorities to implement a strong testing programme to catch cheaters and deter other athletes from doing likewise."
So, where there were 55 total tests at the 2022 Kenyan nationals and Worlds trials, there will be 390 this year. Where 140 Kenyans were part of the International Registered Testing Pool, there were only 38 more who were part of the National Registered Testing Pool. That will swell to more than 300 this year.
The goal is 5,000 total tests on Kenyan track & field athletes in total, in during-competition and out-of-competition tests. The Kenyan government has committed to $5 million in added anti-doping funding for five years to stem the flow of doping among its athletes and stave off a possible suspension by World Athletics.
3.
Turner stars as U.S. men overcome Canada, 2-2 (3-2) on penalties
The last quarterfinal of the CONCACAF Gold Cup was in Cincinnati with the defending champion U.S. facing Canada for the second time in 22 days, after a 2-0 win in the CONCACAF Nations League final on 18 June. This one was a lot different.
The game started oddly, with assistant referee Christian Espinosa (MEX) hit in the head with a kick by Canadian defender Kamal Miller in the opening minute. He had to be replaced, causing a delay of about eight minutes.
Once the game got going, the U.S. was the attacker, with 68% of the possession, but both sides were stout on defense and the shots were just 3-2 for the U.S. across 57 minutes of action in the first half.
More of the same in the second half, a difficult, physical, tightly-played game with the U.S. continuing to try to manufacture offense and the Canadians counter-punching. But U.S. defender DeJuan Jones was bringing the ball up the left side, with space, and sent a left-footed rainbow into the middle of the box and 6-2 striker Brandon Vazquez – in the middle of the box – headed the ball down and into the left side of the net for a 1-0 lead.
But that was not the winner. Canada kept coming and a confused exchange in the box saw U.S. defender Miles Robinson called for a hand ball, allowing Steven Vitoria to slam a penalty home at 90+3 for a 1-1 tie. And then it was on to extra time; the U.S. had 66% possession in the first 90 minutes and a 12-3 shots advantage.
There was no score in the first extra period, with Canadian keeper Dayne St. Clair making an excellent save on a header from substitute defender Matt Miazga off a corner in the 104th minute. The U.S. had four shots to one for Canada, but no goals.
Canada turned the game on its head in the 109th, as substitute striker Jacob Shaffelburg slammed a left-footed shot from the left of the box for a 2-1 lead and now the U.S. had to chase. But the U.S. pressure paid off, as U.S. keeper Matt Turner came up to midfield and sent a beautiful rainbow to the left side of the box, which Miazga brought down and sent into the box. Striker Jordan Morris headed it towards midfielder Gianluca Busio, whose left-footed shot was kick-saved by St. Clair, but with such force that it hit Canadian defender Scott Kennedy in the chest and ricocheted right into the goal for the 2-2 tie in the 114th. At the end of 120 minutes, the U.S. had 21 shots to five, and on to penalties.
Turner was the hero, saving the first two Canadian penalties, while Vazquez missed the first U.S. try. Both teams made their next two, then striker Jesus Ferreira scored, bringing up midfielder Charles-Andreas Brym, whose shot slammed into the crossbar and the U.S. survived, 3-2.
Hardly a masterpiece, but winning is what counts. In the other quarterfinals, Jamaica beat Guatemala, 1-0 and Mexico sailed past Costa Rica, 2-0 in the upper part of the bracket, and Panama eliminated Qatar, 4-0. In the semis, Jamaica will meet Mexico on Wednesday (12th) in Las Vegas, and Panama will face the U.S. in San Diego.
¶
The U.S. women had their final tune-up match prior to the FIFA Women's World Cup in Australia and New Zealand, in San Jose, California against 30th-ranked Wales, winning 2-0 on two second-half goals from Trinity Rodman.
The first half was all U.S., but without a score. The Americans had 75% of the possession and an 8-0 lead in shots, but could not get a score despite some open looks against Welsh keeper Olivia Clarke.
The American pressure continued in the second half, but Wales stayed tight, with Kayleigh Green heading away an Alana Cook header off of a corner in the 68th minute. But in the 76th, Sophia Smith had a breakaway down the left side and sent a perfect cross to substitute striker Rodman, who finished into an open goal for a 1-0 lead.
The pressure continued and Rodman took a loose ball at the top of the box from a defender and right-footed a seeing-eye line drive to the top of the right side of the net for the 2-0 final in the 87th.
The U.S. ended with 72% possession and a 22-2 advantage on shots against the defense-minded Welsh. This was the first meeting between the sides.
On Saturday, U.S. Soccer announced that star midfielder and striker Megan Rapinoe will retire from professional football at the end of the 2023 NWSL season. Now 38, she debuted for the U.S. in 2006 and will play in her fourth Women's World Cup later this month. She was a member of the 2012 Olympic gold medalists and the Women's World Cup winners in 2015 and 2019.
She has 63 goals in 199 appearances, but her most memorable play might have been a long cross to the far side of the goal in the closing seconds of the 122nd minute of the 2011 FIFA Women's World Cup quarterfinal against Brazil. The pass was perfectly placed for striker Abby Wambach's header to tie the score at 2-2 and the U.S. advanced on penalty kicks, eventually losing to Japan on penalty kicks in the final.
4.
Asian Games to welcome 500 Russians, Belarusians … maybe
"[T]he OCA General Assembly in principle agreed the guidelines for the participation of Russian and Belarusian athletes at the Hangzhou 2022 Asian Games as independent athletes, competing under a neutral flag, should the IOC approve their participation at the Olympic Games Paris 2024. These guidelines include a maximum quota of 500 athletes across no more than 12 individual sports, and that the athletes will not be eligible for medals."
That was the next-to-last paragraph in a Saturday news release from the Olympic Council of Asia, mostly focused on elections, but also confirming what had long been expected: that Russian and Belarusian athletes might be able compete in some events at the XIX Asian Games in Hangzhou (CHN) beginning on 23 September. But not yet for sure.
The idea was first circulated publicly last December at the International Olympic Committee's Olympic Summit in December, with interim OCA President Randhir Singh (IND) volunteering the idea:
"In the course of the debate, the Acting President of the Olympic Council of Asia (OCA) stated that, on the Asian continent, the reasons for the protective measures no longer exist. The OCA offered to facilitate the participation of athletes from Russia and Belarus in competitions in Asia under its authority, while respecting the sanctions in place.
"Representatives from the IFs welcomed this initiative, stating that, for some IFs and for hosts of their competitions, the same reasoning would apply, and that therefore there should not be a one-size-fits-all solution, but that each IF should carefully evaluate for its sport whether the reasons for the protective measures still exist."
This was the springboard for the IOC to adopt its March "recommendations" to allow individual Russian and Belarusian athletes to compete as neutrals. With the Asian Games in Russia-friendly China, the conditions for their participation is nearly optimal.
But note the language which appears to be a tripwire: "should the IOC approve their participation at the Olympic Games Paris 2024."
The IOC has not made any determination on the status of Russian and Belarusian athletes for Paris 2024, and would not appear to be ready to make any prior to the 23 September start of the Asian Games, as the IOC Session in India will not be held until mid-October.
So, is this all for show? Russian Olympic Committee chief Stanlslav Pozdnyakov, thinks it might be:
"The statement of the OCA representative, saying that Russian and Belarusian athletes can be admitted to the Asian Games, reminds us of the March recommendations of the International Olympic Committee, following which many practical decisions have not been made even a few months later.
"The Russian Olympic Committee has not yet received any invitations to participate in the Asian Games, and without this, it makes no sense to consider and discuss any hypothetical options. There is not much time left before these completions kick off, and therefore questions arise about the prospects of athletes' full-fledged training for the required result. To say nothing of all the organizational, financial, logistical and other conditions of such a journey.
"Over the past few months, we have heard quite a lot of speculation about allowing Russians and Belarusians to take part in various international tournaments. In most cases, the words remained words. Given the lack of required concrete details, we view today's statement accordingly."
Moreover, as the purpose of Russian and Belarusian participation is Olympic qualification, Singh has said this year that in sports where advancement in a bracket is needed for qualification – wrestling is an example – and a Russian or Belarusian athlete would displace an Asian athlete for a Paris 2024 slot, this would not be allowed. For sports which depend on time, such as athletics and swimming, this is less of an issue, but note the language "that the athletes will not be eligible for medals."
The OCA statement also mentions that Russian and Belarusian entries are limited to 12 sports, out of 40 in the 2023 Asian Games. But this could all be a smokescreen.
5.
IFSC ex-Med Comm member says "climbing has a RED-S problem"
The International Federation of Sport Climbing announced last week that the volunteer head of its Medical Commission, Eugen Burtscher (AUT) and long-time member Volker Schoeffel (GER) had both resigned over differences in the diagnosis and treatment of Relative Energy Deficiency in Sport (RED-S), essentially being too thin and weak to compete due to a desired for lower body weight.
The IFSC adopted new guidelines, using "a holistic approach not based solely on BMI [body-mass-index] parameters, which alone are not sufficient to determine critical health condition."
Schoeffel, in an Instagram post last Wednesday reviewed on GearJunkie.com, accused the IFSC of medical mismanagement:
"As a consequence of the non-action of the IFSC I resign with immediate effect from my voluntary position in the IFSC Medical Commission.
"Hereby I am drawing the same consequence as our MedCom president. We share the opinion that as medical doctors we can no longer accept the non-action of the IFSC concerning the RED-S problems of our athletes.
"I have been a #MedCom member since the inauguration of the IFSC in 2009. During that time frame we achieved many goals for the well-being of our athletes. However, the current politics with regards to RED-S cannot be accepted. We have worked for more than 10 years on the topic. We have collected numerous data, have measured BMI/MI at every World Cup last year and have developed very profound plans how to detect and help athletes with such problems. We have spent many hours in meetings and on the desk establishing a new and better system of monitoring and decision making. As a consequence, we now have the most profound data on this matter of all sport disciplines. We have pointed out the problem and possible solutions to the sports director and board continuously and repeatedly. However, the only acknowledgment we have received has consisted of defamation and discouragement. In short, the IFSC may not be willing at all to undertake further action regarding this important health issue of its athletes and is actively delaying and slowing down any decisions that could lead to much needed action.
"As medical doctors we cannot accept this any longer.
"Sport climbing has a RED-S problem.
"Possible solutions to detect, evaluate and help critical athletes were developed through the Medical Commission. These solutions have been and are being ignored. No further action is taken by the IFSC.
"For the well-being of our athletes and the development of this sport, I cannot take any responsibility on this matter and am forced to resign. … I hope this step may help the cause and our athletes but I know it won't."
Asked about Schoeffel's comments by GearJunkie.com, writer Andrew Marshall was directed to the IFSC's public statement.
≡ PANORAMA ≡
● Badminton ● Japan was the big winner at the Yonex Canada Open in Calgary, taking three of five titles.
In a match-up of the top two seeds, no. 1 Akane Yamaguchi (JPN) swept past Ratchanok Intanon (THA), 21-19, 21-16. Top-seeded Nami Matsuyama and Chiharu Shida defeated Mayu Matsumoto and Wakana Nagahara (JPN) in the Japan women's Doubles, 22-20 and 21-16. Hiroki Midorikawa and Natsu Saito (JPN) had a battle with Mathias Thyrri and Amalie Magelund (DEN) in the Mixed Doubles final, but won in three sets, 21-17, 16-21, 21-13.
In the men's Singles final, Lakshya Sen (IND) defeated Shi Feng Li (CHN), 21-18, 22-20.
In the all-Danish men's Doubles final, Kim Astrup and Anders Rasmussen edged Rasmus Kjaer and Frederik Sogaard, 23-25, 21-16, 21-12.
● Basketball ● The rematch that had to be came in the final of the FIBA women's AmeriCup in Leon (MEX).
The two-time defending champion U.S. had to field an all-collegiate team with the tournament taking place during the WNBA season. That opened the door for Brazil, which won in the group stage, 67-54, holding on to a 35-25 halftime lead.
The two squads then moved through the playoffs, with Brazil smashing Mexico, 83-61, and edging Puerto Rico, 85-74. The U.S. sailed past Colombia, 68-49, and then got by Canada, 67-63 in its semifinal, hanging on to a 39-29 halftime lead and holding the Canadians to just 24 second-half points.
In the final, the U.S. had a 37-35 halftime lead, but the game changed in the third quarter. Brazil blitzed the Americans with a 25-10 surge and had control on the way to a 69-58 victory and the tournament title. Kamilla Soares, the 6-8 South Carolina center, scored 20 and was named Most Valuable Player. Forward Emanuely de Oliveira added 13 for Brazil, which shot 46.8% from the field and held the Americans to 29.6%.
Tennessee guard Rickea Jackson was the U.S. star with 22 points on 10-18 shooting, but no one else scored more than six. Removing Jackson's efforts, the rest of the team was just 11-53 shooting for the game.
It's Brazil's sixth title in this tournament, the most of any country. Canada won the third-place game, 80-73, over Puerto Rico.
● Beach Volleyball ● A strong showing for U.S. entries at the Beach Pro Tour Elite 16 in Gstaad (SUI), one of the top stops on the circuit, and a shocker from the Southern California duo of Miles Partian and Andy Benesh.
Benesh, 28, played collegiately as a middle blocker at USC, while Partain, 22, was a setter at UCLA. Both had some success with other partners, but took off when they started up together at the end of 2022. They won a Beach Pro Tour Challenge tournament last October, then finished third in the Ostrava Elite 16 in June.
And in Gstaad, they stunned Norway's Olympic and World Champions, Anders Mol and Christian Sorum, 19-21, 24-22, 15-12, reportedly the first U.S. team to beat them in five years!
The rematch came in the gold-medal match and it was another three-set battle, with Partain and Benesh winning again, 15-21, 21-11, 18-16. It's the first victory by an American team in a top-tier FIVB/Beach Pro Tour tournament since November of 2019!
Michal Bryl and Bartosz Losiak (POL) won the bronze over George Waverley and Andre Stein (BRA), 21-18, 11-7 and the Brazilians had to retire due to an injury.
Brazil's Ana Patricia Ramos and Duda Lisboa, the 2022 World Champions, defeated Americans Sara Hughes and Kelly Cheng in the women's final, 21-18, 21-18, their second Elite 16 win this season. Ramos and Lisboa have now medaled in four straight Elite 16 tournaments (2-1-1). For Hughes and Cheng, it's their third top-four finish in Elite 16 events this season and their second medal (1-1-0)
The U.S. also picked up the bronze, as Kristen Nuss and Taryn Kloth defeated Svenja Mueller and Cinja Tillmann (GER), 21-19, 21-16.
● Cycling ● The 110th Tour de France is on its first rest day on Monday, after a trying, uphill finish to Stage 9 that saw the titanic battle between defending champ Jonas Vingegaard (DEN) and two-time winner Tadej Pogacar (SLO) get even closer.
The Friday and Saturday stages were for the sprinters and ended in the usual mass finish. Friday's flat, 169.9 km route from Mont-de-Marsan to Bordeaux saw Belgium's Jasper Philipsen claim his third stage win of this Tour, coming from behind in the final meters to edge Britain's Mark Cavendish at the line in 3:46:28, with the first 93 riders given the same time.
Philipsen's win became especially significant on Saturday as Cavendish, 38, riding in what he has said would be his final Tour, crashed with about 65 km remaining and suffered a broken right collarbone that will remove him from the event. He shares the all-time record for the most stage wins at Le Tour with Belgian legend Eddy Merckx at 34 and was a sentimental favorite to claim at least one more stage win to take the record for himself.
Saturday's hilly, 200.7 km route to Limoges produced a win for Denmark's Mads Pedersen, who attacked best and held off Pedersen for the win. Simon Yates (GBR), fourth at the start of the day, suffered a crash with 6 km left and fell from fourth overall to sixth (+4:01).
Defending champ Vingegaard maintained his 25-second lead over Pogacar into Sunday's 182.4 km stage, which finished with a brutal 8.6 km climb from 777 m to 1,412 m to the top of the Puy de Dome. American Matteo Jorgenson attacked with 50 km left and had a minute lead heading up the final climb, with Matej Mohoric (SLO) in hot pursuit. But coming hardest was Canadian Michael Woods, who passed Jorgenson 450 m out for the win in 4:19:41. France's Pierre Latour and Mohoric also got past Jorgenson at the finish, 25, 35 and 36 seconds behind.
The misery extended to the rest of the field, with Pogacar finishing 13th (+8:19), making up some time on Vingegaard (14: +8:27). So after nine of 21 stages, Vingegaard leads Pogacar by 17 seconds, with Jai Hundley (AUS) third (+2:40) and everyone else at least four minutes back.
Monday is a rest day and everyone needs it.
¶
The 34th Giro d'Italia Internazionale Femminile finished on Sunday as expected, with Dutch star Annemiek van Vleuten winning her fourth title and second in a row, almost four minutes ahead of her closest pursuer.
Saturday's hilly, 125.7 km stage ended in a mass sprint, with Hungary's Blanka Vas getting to the line first over American Chloe Dygert and Liane Lippert (GER). Sunday's mostly downhill finale of 126.85 km into Olbia was won by Chiara Consonni (ITA) in 3:19:33 at the end of another mass finish, ahead of Marianne Vos (NED), Ally Wollaston (AUS) and Americans Dygert and Megan Jastrab.
Van Vleuten won at 24:26:25, some 3:56 ahead of Juliette Labous (FRA), 4:23 up on Gaia Realini (ITA) and 5:34 in front of American Veronica Ewers.
It's hard to argue against van Vleuten as the top women's rider of all time: four Giro Donne titles, four World Championships titles (two road, two time trials), the 2022 Tour de France Femmes and multiple wins in major one-day races such as the Strade Bianche, Tour of Flanders, Liege-Bastogne-Liege and a lot more. Pretty good for 40; she plans to contest the Tour de France Femmes and the UCI Worlds before her planned retirement.
¶
An impressive 1-3 for Chinese teenagers at the BMX Freestyle Park World Cup in Brussels (BEL), as Huimin Zhou (18) took the women's final at 91.40 over four-time World Champion Hannah Roberts of the U.S. (89.10), with 17-year-old Hong Lin Xia (CHN: 87.90) third.
In the men's final, 2022 European Champion Anthony Jeanjean (FRA) took top honors, followed by World Champion Rim Nakamura (JPN), and Tokyo Olympic champ Logan Martin (AUS).
¶
All-around star and Tokyo Olympic Omnium gold medalist Jennifer Valente dominated the 2023 USA Cycling Track Nationals in Carson, California.
Already the winner of more than 20 national championships golds, Valente added the Omnium (of course), Elimination Race, Points Race and Scratch Race for four wins. Chloe Patrick won three silvers behind Valente, in the Omnium, Points and Elimination events.
Sprinter Mandy Marquardt, the three-time defending U.S. Sprint champion, was defeated in the final by Mckenna McKee, 2-0, but won the Keirin for the third time in her career, and the 500 m Time Trial for the fifth time in a row! McKee was the Keirin runner-up.
Elizabeth Stevenson won the 3 km Women's Pursuit, and also took the bronze in the Omnium.
The men's program had double winners in Jamie Alvord in the Sprint and 1,000 m Time Trial (1:03:154), Colby Lange in the Scratch Race and Points Race, and Anders Johnson in the 4 km Pursuit and the Omnium (144, with Lange second at 138).
Eddy Huntsman won the Elimination Race and was second to Lange in the Points Race. Dalton Walters won the Keirin, but only by 0.060 over Geneway Tang and 0.061 over Evan Boone!
¶
The USA Cycling Mountain Bike National Championships were in Mccungie, Pennsylvania at the Bear Creek Mountain Resort, with familiar faces on the top of the podium.
The 2022 national runner-up, Christopher Blevins won a tight men's six-lap final, 21:15:0 to 21:17.4 over Riley Amos, with Bjorn Riley third (21:58.7). Blevins took over on the final lap, finishing in 3:35.1 to 3:38.4 to get to the line first.
Defending national champion Savilia Blunk soloed to the women's title, taking the four-lap final in 16:24.1, 21 seconds up on Gwen Gibson (16:45.7) and former World Champion Kate Courtney a distant third in 17:32.8. Blunk had the lead on the second lap, but broke it open on the third and extended her lead to the finish.
● Gymnastics ● The Trampoline World Cup in Coimbra (POR) was a showcase for 32-year-old Bryony Page of Great Britain, the 2021 World Champion, with a 56.930 total, to best Xinyi Fan (CHN: 55.680). France's Lea Labrousse (54.140), the 2022 World Synchro runner-up, was third.
China's Zisai Wang, 17, took the men's title in a tight, 61.640 to 61.350 final vs. 2021 World Champion Langyu Yan, with France's 2022 Worlds silver medalist Allan Morante third (60.030).
In the non-Olympic events, Americans Ruben Padilla and Aliasksei Shostak won the men's Synchro (52.410), and teammates Nicole Ahsinger and Cheyenne Webster finished second to Japan's Ena Sakurai and Kiko Tanaka, 48.280 to 48.160. Padilla won the men's Double Mini event at 30.100 and Jacqueline Kent was third (24.700), behind Kirsty Way (GBR: 26.600).
● Rowing ● The third and final World Rowing World Cup was in Lucerne (SUI), with the Dutch scoring four wins in the 12 open-weight classes.
The Double Sculls was a battle between Olympic stars with the Croatian brothers Martin and Valent Sinkovic – gold medalists at Rio 2016 – and the Tokyo runner-ups, Melvin Twellaar and Stefan Broenik (NED). The Dutch took control by mid-way and finished in 6:04.59, with the Croatians second in 6:06.53. The Netherlands entry in the Quadruple Sculls won easily in 5:37.17 to 5:39.35 for Great Britain.
The Dutch women won in the Single Sculls with World Champion Karolien Florijn at 7:27.15, defeating 2022 Worlds bronze winner Tara Rigney (AUS: 7:29.77) and Olympic winner Emma Twigg (NZL: 7:32.95). And the Netherlands took the trophy in the Quadruple Sculls in 6:19.91, with Great Britain second in 6:20.77.
The British took three wins, in the men's Pairs with 2021 European Champions Oliver Wynne-Griffith and Thomas George (6:34.88) beating Marius Cozmiuc and Sergiu Bejan (ROU: 6:25.22), and then in the men's Fours (5:49.47 over New Zealand), and the women's Eights (6:02.82).
Australia won the men's Eights over Britain, 5:23.92 to 5:24.33, and the women's Pairs with Jessica Morrison and Annabelle McIntyre in 7:00.84, well ahead of Romania's Ioana Vrinceanu and Roxana Anghel (705.80). The Romanians got wins from Ancuta Bodnar and Simona Radis in the Double Sculls in 6:41.96, and in the Fours (6:18.51, beating Australia).
Germany's two-time Single Sculls World Champion Oliver Zeidler completed a sweep of three World Cup races, winning again over 2019 Worlds runner-up Sverri Nielsen (DEN), 6:42.60 to 6:50.09.
● Sport Climbing ● /Updated/The third Lead and fourth Speed IFSC World Cup was in Chamonix (FRA), with Indonesia sweeping the Speed races and veteran Ja-in Kim taking the women's Lead title.
Rahmad Adi Mulyono won the men's Speed final, 5.01-5.05 over Rishat Khaibullin (KAZ), with the bronze going to Raharjati Nursamsa (INA) by the slimmest of margins, 5.323-5.324 for Jun Yasukawa (JPN).
Countrywoman Rajiah Sallsabillah took her final, 6.97-9.59 against Victoire Andrier (FRA) and Indonesia won the bronze here as well, with Nurul Iqamah just edging Shaoqin Zhang (CHN), 7.16 to 7.17.
Korea's 2014 World Lead Champion, Kim, took the women's Lead title with 43+ holds to win over Japan's Nonoha Kume (38+) and Tokyo Olympic silver winner Miho Nonaka (37+). It's the first career World Cup medal for Kume, 19.
/Updated/Britain's Toby Roberts, who won a Boulder World Cup this season, took the Lead title as the only climber to reach the top of the wall. Sam Avezou (FRA) was a clear second at 50 holds, followed by Sorato Anraku (JPN: 48).
● Table Tennis ● Amy Wang and Nikhil Kumar both won their second championships at the 2023 USA Table Tennis Nationals in Ft. Worth, Texas.
Wang defeated Sally Moyland, 4-1 (11-8, 8-11, 13-11, 11-9, 11-6), in the final to win her second national title in three years. She won her quarterfinal, 4-2, and semi, 4-2, before the final.
Kumar swept Jishan Liang, 4-0 (11-6, 11-7, 11-3, 11-3), to win his second straight title, after being runner-up in 2020 and 2021. Kumar was dominant, winning 20 of his 21 games and taking his matches by 4-1, 4-0, 4-0, 4-0 and a sweep in the final.
Kumar and Wang teamed up to win the Mixed Doubles title over Dan Liu and Emily Tan, sweeping the final by 3-0 (11-3, 11-5, 11-6). Wang got a third gold, with Rachel Sung, in the women's Doubles – winning nine of 10 games – and by 3-1 (4-11, 11-4, 11-5, 11-5) in the final over Xizi Sun and Isabella Su.
Jinxin Wang and Krishnateja Avvari won the men's Doubles over Nandan Naresh and Liang, by 3-2 (6-11, 11-8, 11-9, 7-11,11-9).
¶
You can receive our exclusive TSX Report by e-mail by clicking here. You can also refer a friend by clicking here, and can donate here to keep this site going.
For our updated, 651-event International Sports Calendar (no. 2) for 2023 and beyond, by date and by sport, click here!