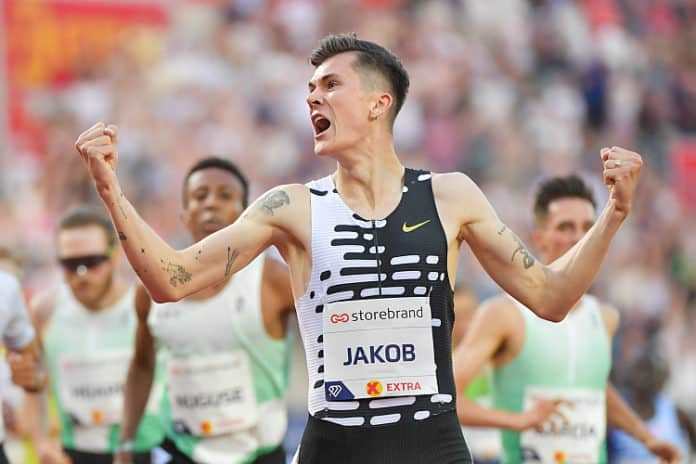 ★ The Sports Examiner: Chronicling the key competitive, economic and political forces shaping elite sport and the Olympic Movement.★
★ Friends: If you would like to support our coverage, please donate here. Your enthusiasm is the reason this site continues. Thank you. ★
★ To get The Sports Examiner by e-mail: sign up here! ★
≡ THE 5-RING CIRCUS ≡
1. Ingebrigtsen's 3:27.95, Warholm's 46.52 awesome in Oslo!
2. Foreign athletes took 63% of NCAA T&F titles in Austin
3. Feasibility study shows Sweden's Winter 2030 aspirations real
4. IBA asks for stay of IOC expulsion with CAS filing
5. FIFA asks Vinicius Junior to head anti-racism panel
Amid seven world-leading performances at the annual Bislett Games in Oslo, Norwegian superstars Jakob Ingebrigtsen and Karsten Warholm thrilled the full house with spectacular performances in the men's 1,500 and 400 m hurdles. Ingebrigtsen defeated an excellent field in 3:27.95, moving him to no. 6 all-time, while Warholm opened his season with an incredible 46.52 win, the fourth-fastest time in history. At the recent NCAA Track & Field Championships in Austin, 24 of the 38 individual event winners were foreigners, from 15 different countries, up from just 12 in 2021 and 17 in 2022. Sweden completed a feasibility study for the 2030 Olympic Winter Games, proposing an event with no new venues to be built, but with competitions spread around the country as well as in Norway and Latvia. Next up is a budget study, but the pathway for this bid is forming rapidly. The International Boxing Association filed its appeal of the International Olympic Committee's proposed removal of recognition next Thursday with the Court of Arbitration for Sport, asking for a stay of the IOC's vote on the matter. FIFA is teaming with Brazilian and Real Madrid striker Vinicius Junior on a task force to recommend new sanctions against racism from fans in both club and national-team football. The player has been the repeated target of racist abuse this season in LaLiga matches.
● Panorama: Tokyo 2020 (Kadokawa defendant gets suspended sentence in sponsorship scandal case) = U.S. Anti-Doping Agency (more than 400 athletes honored for 90 months of doping control cooperation) = Athletics (World Athletics announces Council candidates) = Cycling (Skjelmose leads Tour de Suisse) = Football (2: U.S. beats Mexico, 3-0, in a ragged CONCACAF Nations League semi; Fox has sold 90% of its Women's World Cup spots) = Hockey (FIH going to free-to-air TV model to expand fan base) = Swimming (2: O'Callaghan and Short post world leaders at Australia Worlds Trials; Marchand wins fifth at French Champs) = Water Polo (U.S. into semis of World U-20s in Romania) = Weightlifting (U.S. wins another at IWF Grand Prix) ●
1.
Ingebrightsen's 3:27.95, Warholm's 46.52 awesome in Oslo!
The annual Bislett Games in Oslo is always one of the highlights of the Diamond League season and Thursday's edition under brilliant sunshine, and with a full house, was one of the best. No, no world records, but world leads in seven events in some of the best marks ever made:
● Men/1,500 m: 3:27.95, Jakob Ingebrigtsen (NOR)
● Men/5,000 m: 12:41.73, Yomif Kejelcha (ETH) and Jacob Kiplimo (UGA)
● Men/400 m hurdles: 46.52, Karsten Warholm (NOR)
● Women/100 m: 10.75, Marie-Josee Ta Lou (CIV)
● Women/Mile: 4:17.13, Birke Haylom (ETH)
● Women/3,000 m: 8:25.01, Beatrice Chebet (KEN)
● Women/400 m hurdles: 52.30, Femke Bol (NED)
The final event was the most anticipated, with Olympic 1,500 m champ Jakob Ingebrigtsen leading the field and chatter about a shot at the world record of 3:26.00. Ingebrigtsen had control of the race from the start and was towing the field, daring them to match his early pace, with only Spain's Mohamed Katir really willing to try.
At the bell, Ingebrigtsen led with Katir only a stride back, then U.S. star Yared Nuguse and Britain's Josh Kerr, at 2:33.0. Ingebrigtsen kept the pressure on, but could only shake Katir in the final 100 m to win in 3:27.95, making the Norwegian no. 6 in history with Katir a clear second at 3:28.89, just 0.13 off his all-time best. Ingebrigtsen's last lap was in 55.0.
An astonishing seven men finished under 3:30, with Nuguse, 24, getting third on a lean at the tape over prior 2019 World Champion Timothy Cheruiyot (KEN) in 3:29.02, an American Record. Cheruiyot was fourth in 3:29.08 and Spain's Mario Garcia fifth in 3:29.18.
The penultimate race of the meet was the men's 400 m hurdles, with Olympic champ Warholm showing everyone he's all the way back. He flew out of the blocks as usual and forged a huge lead around the turn and into the straight. C.J. Allen of the U.S. made a late charge, but Warholm had plenty left and finished strong in the no. 4 performance of all time: 46.52. Allen was rewarded with a 47.58 lifetime best, now no. 25 all-time and no. 13 all-time U.S. Warholm now has three of the top five times ever.
France's Wilfred Happio was third in 48.13. Americans Trevor Bassitt and Khallifah Rosser finished 5-6 at 48.63 and 48.87.
The men's 5,000 m was sensational and bold. At 3,000 m, it was Uganda's Olympic 10,000 m bronze medalist Jacob Kiplimo at the head of a lead group of nine, but with three laps to go, it was Kiplimo, Telahun Bekele (ETH) and two-time World Indoor 3,000 m champ Kejelcha in contention. Kejelcha took the lead at 4,200 m, and drove hard, with only Kiplimo able to follow. It came down to the final 100 m, with Kiplimo pushing hard, Kejelcha gritting his teeth and the two coming to the line together!
It took the photo to separate them, with Kejelcha called the winner, with both at 12:41.73, moving to no. 5 on the all-time list, with the no. six performance ever. Wow! Five of the top eight got lifetime bests, with Bekele third in 12:46.21 (now no. 10 all-time); Americans Joe Klecker was fourth in 12:56.59 and Paul Chelimo was ninth in 13:06.78.
The last four laps were run in 60.09, 60.07, 58.42 and 55.75, or 3:54.33. That's amazing.
The women's 100 m was dominated by Ta Lou, who got out of the blocks well and kept expanding her lead to the tape, stopping the clock at 10.75 (wind: +0.9 m/s), ahead of a lifetime best of 10.92 by the resurgent Anthonique Strachan (BAH) and Jamaica's Worlds 200 m winner Shericka Jackson (10.98). At 34, Ta Lou is getting better, not older!
Ethiopia's 17-year-old Birke Haylom took off in the women's mile after the second lap and had 10 m on the field a lap to go, and would not relinquish it. Australia's Jessica Hull got within 3 m with 100 m to go, but Haylom finished strongly, with Cory McGee of the U.S. coming on for second as Haylom took the world lead – and a World Junior Record – at 4:17.13, McGee with a lifetime best of 4:18.11 and Hull at 4:18.24. Nikki Hiltz of the U.S. was fifth with a lifetime best of 4:18.38. McGee and Hiltz now rank 3-4 all-time U.S.
In the women's 3,000 m, it was Kenyans Lilian Rengeruk and Worlds 5,000 m runner-up Beatrice Chebet in front with three laps to go, along with American Alicia Monson, who took the lead with 800 m left. Rengeruk took the lead with a lap left, but Chebet blew by with 200 m left and ran away in the straight for a world-leading 8:25.01. Rengeruk held on for second in 8:25.90 (a lifetime best), then Margaret Kipkemboi (KEN: 8:26.14) and Monson (8:29.43, her third-fastest ever). Weini Kelati (USA) got a lifetime best in fifth at 8:32.50.
In the women's 400 m hurdles, Dutch star Femke Bol took charge on the far turn and stormed down the straight to win going away in a world-leading 52.30, her fourth-fastest ever. Jamaica's Rushelle Clayton was a solid second at 53.84, with American heptathlon star Anna Hall fifth in 55.28.
Those were the world leaders. The rest of the meet was just as fun.
American teen star Erriyon Knighton impressed everyone in the men's 200 m, taking charge on the turn and powering smoothly down the straight to win in a season best – and stadium record – of 19.77 (+0.6), ahead of Reynier Mena (CUB: 20.09) with Liberia's Joseph Fahnbulleh in 20.23. Knighton won all three of his European races and is now no. 3 on the world list for 2023.
South Africa's Rio 2016 400 m champ and world-record holder Wayde van Nierkerk returned to the Diamond League for the first time since 2017 and took charge on the back straight and into the final turn, being chased by American Vernon Norwood. Van Niekerk held on for a 44.38 win, with world leader Muzala Samukonga (ZAM) coming on to get second ahead of Norwood, 44.49 to 44.51.
The men's vault was narrowed to three at 5.81 m (19-0 3/4), with world-record holder Mondo Duplantis (SWE), American Chris Nilsen and new 6 m man Ernest John Obiena (PHI) all clearing on their first attempts. Nilsen snaked over 5.91 m (19-4 3/4) to take the lead, but Obiena missed and Duplantis made it on his second try. But Duplantis cleared 6.01 m (19-8 1/2) on his first attempt and Nilsen missed, settling for second. Sam Kendricks of the U.S. cleared 5.71 m (18-8 3/4) for fourth.
Swiss Simon Ehammer, the Worlds bronze winner in 2022, won the men's long jump with his second-round jump of 8.32 m (27-3 3/4) that stood for the following four rounds. American Marquis Dendy, the 2016 World Indoor Champion, had the early lead at 8.26 m (27-1 1/4), but could not improve and Olympic gold medalist Miltiadis Tentoglou (GRE) could not get his steps right and managed 8.21 m (26-11 1/4) for third. Steffin McCarter of the U.S. was fourth at 8.04 m (26-4 1/2).
World-record holder Yulimar Rojas (VEN) won the women's triple jump at a wind-aided 14.91 m (49-11w), ahead of a lifetime best by Leyanis Perez of Cuba, at 14.87 m (48-9 1/2), still no. 2 on the world list for 2023. Americans Tori Franklin and Keturah Orji finished 6-7 at 14.16 m (46-5 1/2) and 14.15 m (46-5 1/4).
Canada's Commonwealth Games champ Sarah Mitton took the women's shot at 19.54 m (64-1 1/4), just ahead of world leader Maggie Ewen of the U.S. (19.52 m/64-0 1/2); World Champion Chase Ealey (USA) was fourth at 19.44 m (63-9).
Tokyo Olympic discus champ Valarie Allman, in her third meet in a third country in 13 days, took the lead at 65.91 m (216-3) in round three, then extended her lead to 66.18 m (217-1) in round five. That didn't impress NCAA champion Jorinde van Klinken (NED), who reached 66.77 m (219-0) in round five! Allman threw far enough for the win in round six, but suffered a foot foul and van Klinken took the win; it was Allman's first loss of the season.
After four straight weeks of fabulous meets in the Diamond League, the schedule pauses until 30 June in Lausanne (SUI). Too bad; this is fun!
2.
Foreign athletes took 63% of NCAA T&F titles in Austin
Those who followed the excellent NCAA Division I track & field championships held last week in Austin, Texas saw a great meet, but also one with a distinct foreign flavor, as 24 of the 38 individual events – 11 of 19 for men and 13 of 19 for women – were won by foreign athletes and just 14 (or 37%) by Americans.
Those 24 titles were distributed among 15 countries:
● Australia: M 5,000, M 10,000, W Hammer
● Bahamas: W Javelin
● Canada: W 400H
● Estonia: W Heptathlon
● Germany: M Decathlon
● Great Britain: M Hammer
● Ireland: W 400
● Jamaica: M 110H, M High Jump, M Long Jump, M Triple Jump, W 100H, W Long Jump
● Kenya: W 10,000
● Netherlands: W Discus
● New Zealand: W 1,500
● Nigeria: M 200, M 400
● South Africa: M Vault
● St. Lucia: W 100, W 200
● Sweden: W Shot
Of the 24 titles won by foreign athletes, they were distributed among 12 schools:
● 5: Texas ~ Germany, Ireland, Jamaica, St. Lucia (2)
● 4: Arkansas ~ Jamaica (4)
● 3: Stanford ~ Australia, Nigeria
● 3: Harvard ~ Australia, Great Britain, New Zealand
● 2: Nebraska ~ Bahamas, Sweden
● 1: Florida ~ Nigeria
● 1: Michigan ~ Canada
● 1: Oregon ~ Netherlands
● 1: Oklahoma ~ Estonia
● 1: South Alabama ~ South Africa
● 1: South Florida ~ Jamaica
● 1: Utah Valley ~ Kenya
This is a rise from recent NCAA Championships, where the number of foreign nations who won titles ranged from 12-17:
● 2023: 24: 11 men, 13 women
● 2022: 17: 10 men, 7 women
● 2021: 12: 5 men, 7 women
● 2019: 13: 6 men, 7 women
● 2018: 15: 10 men, 5 women
(no 2020 meet due to Covid)
With tight scholarship limits of 12.6 for men's teams and 18 for women's teams, the ability to bring in top-flight talent from outside the U.S. is not going to abate. Is 2023 an aberration? If not, there will be a lot more discussion on this topic, one that has been going on for more than 50 years.
3.
Feasibility study shows Sweden's Winter 2030 aspirations real
"We have done a good job so far and found the basic conditions to be able to deliver sustainable, democratic and cost-effective Games.
"We see that together we have the opportunity, know-how and will. Now in the next phase we will go even deeper into the details."
Those positive comments were from Swedish Olympic Committee Chair Hans von Uthmann, on the feasibility study for a Swedish bid for the 2030 Olympic Winter Games presented on Thursday, and already given to national sports minister Jakob Forssmed.
The next step is the formation of a bid group to create a workable budget and obtain the myriad of guarantees and form agreements that are required by the International Olympic Committee. This phase is expected to take from August through November, targeting a formal selection as the 2030 Winter Games host sometime in 2024.
The study shows a widely-distributed event, possibly also in two other countries. In Sweden:
● Are: Alpine skiing, freestyle skiing, snowboarding
● Falun: Cross-country skiing, nordic combined, ski jumping
● Stockholm: Curling, figure skating, ice hockey, short track
● Oestersund: Biathlon
There are no obvious sites in Sweden for speed skating, but options are mentioned in Norway and the Netherlands. The sports of bobsleigh, luge and skeleton could be held at tracks at Lillehammer (NOR) or in Sigulda (LAT), but both require upgrades. No new venue construction is targeted, in line with the project's overall focus on a minuscule environmental footprint.
An April survey of 3,302 individuals, aged 16-79, showed a significant turnaround in public opinion in favor of a bid, under specific circumstances:
"Seven out of ten Swedes are in favour of Sweden applying for the 2030 Olympics and Paralympics if the study shows that Sweden has the opportunity implementing sustainable, democratic and cost-effective games."
In specific, 68% were in favor, with only 21% opposed and 11% not sure. That's a major improvement from polling for Stockholm's bid for 2026, which had lukewarm support, barely over 50%.
This announcement gives Sweden a lead position in the 2030 race, which has no other contenders at the moment. Discussions are continuing in Switzerland, but no report like Sweden's has been presented as yet.
4.
IBA asks for stay of IOC expulsion with CAS filing
The International Boxing Association filed its appeal against the decision of the International Olympic Committee's Executive Board to remove it as the recognized governing body for boxing.
The Court of Arbitration for Sport acknowledged Thursday that the IBA appeal had been filed:
"The IBA seeks the annulment of the decision to recommend the withdrawal of the IOC's recognition of IBA. Together with its appeal, the IBA filed an urgent request to stay the execution of the recommendation until the Arbitral Panel renders its final award.
"The arbitration procedure has commenced. Written submissions are being exchanged between the parties and the Arbitral Panel is being constituted. The President of the Appeals Arbitration Division, or her Deputy, will issue an Order on Provisional Measures with respect to the request to stay the execution of the Challenged Decision on or before 21 June 2023."
The IBA's prospects are not promising, but this is the first and easiest-to-access forum to challenge the IOC Executive Board's decision.
In the meantime, the IOC has expanded the quickly-scheduled Session to be held next Thursday (22nd) with two days of previously unscheduled Executive Board meetings on the 20th and 21st. No agendas for either day have yet been published. According to the IOC's announcement:
"The IOC EB is scheduled to receive updates on the activities of the Olympic Movement, the IOC commissions and the IOC administration, together with reports from the Organising Committees for the upcoming editions of the Olympic Games."
5.
FIFA asks Vinicius Junior to head anti-racism panel
The profile of racist abuse in football has risen considerably in recent seasons and has become a leading story in Spain's LaLiga, where speedy Brazilian striker Vinicius Junior – of Real Madrid – has been one of the most targeted players.
On Thursday, FIFA President Gianni Infantino (SUI) announced the formation of a task force dealing specifically with the racism-in-football issue after meeting with Vinicius Junior and with the Brazilian national team in Barcelona (ESP), in advance of a friendly with an anti-racism theme against Guinea on Saturday.
Said Infantino:
"There is no football if there is racism! So let's stop the games.
"The referees have this opportunity in FIFA competitions as we have this process for stopping the game, and actions have to be taken at every level, at national level as well. Everyone has to understand this and we will go, together, until the end.
"It's a football-related problem and we mustn't look for excuses like: 'It's society's problem, therefore, it's fine in football.' In the world of football, we must act in a very forceful way.
"We want to identify racists in stadiums and across social media. They are criminals. We have to fight against them away from stadiums. They have to be banned from stadiums across the globe. The authorities need to take these people to court and we will say this to all of them. Racism is a crime. We will also strengthen the engagement with players on this crucial topic so I am glad Vinícius Junior accepted to be part of a task force which will include other important players and will elaborate concrete and efficient measures to end racism in football once and for all."
Reuters reported that the "special FIFA anti-racism committee [will be] made up of players who will suggest stricter punishments for discriminatory behaviour in football." No timetable was offered for its activities.
≡ PANORAMA ≡
● Olympic Games 2020: Tokyo ● Another suspended sentence for a defendant in the Tokyo 2020 Olympic sponsorship scandal. Kyodo News reported that Maniwa Koji, 63, the liaison between the Kadokawa publishing company and the organizing committee, was found guilty of bribery and sentenced to two years in prison, but with the sentence suspended for three years.
Kadokawa was one of the companies which paid former Tokyo 2020 Executive Committee member Haruyuki Takahashi for favors related to sponsorships and licenses for the Tokyo Olympic Games; Kadokawa reportedly paid ¥69 million (~$492,220 U.S. today). All of the defendants convicted so far – from three companies – have received suspended sentences; Takahashi has not yet been brought to trial.
● U.S. Anti-Doping Agency ● According to a USADA announcement, more than 400 American Olympic-sport and Paralympic-sport athletes have been giving whereabouts and doping samples for more than 90 months (7.5 years). It's an impressive commitment by these athletes, but no data or listing of these individuals was provided. Each, however, will receive a $25 gift card (why not $90?) from the USADA as a token of appreciation.
● Athletics ● World Athletics published its list of candidates for the World Athletics Council, with 18 positions open and 31 candidates in all, to be elected on 17 August, just prior to the World Athletics Championships in Budapest.
Current President Sebastian Coe (GBR) is standing for a third and final term unopposed. There are four Vice President positions, for which eight candidates are running, including Canadian Abby Hoffman and Kenyan federation head Jackson Tuwei. Incumbents Nawaf Bin Mohammed Al Saud (KSA), Geoff Gardner (NFI) and Ximena Restrepo (CHI) are running again.
There are 28 candidates for 13 Council spots, including Willie Banks from the U.S., looking for a second term on the Council. He's the only American candidate (only one is allowed); Hoffman is also running as an incumbent member; there are nine other incumbents running, including Beatrice Ayikoru (UGA), Sylvia Barlag (NED), Raul Chapado (ESP), Nawal El Moutawakel (MAR), Alberto Juantorena (CUB), Antti Pihlakoski (FIN), Anna Riccardi (ITA), Adile Sumariwalla (IND) and Nan Wang (CHN).
● Cycling ● The 86th Tour de Suisse, a traditional run-up event to the Tour de France, will conclude this weekend, with the race
Five different stages have seen five different winners, with Swiss speedster Stefan Kung in the overall lead after winning the first stage, then giving way to Mattias Skjelmose (DEN) after his win in the uphill-finishing third stage. Felix Gall of Austria won the difficult fourth stage, with two major climbs in the last half of the race, and he took the overall lead by just 0:02 over Skjelmose.
No problem; although Spain's Juan Ayuso won the triple-climb Stage 5 by 54 seconds, Skjelmose was second and Gall eighth, allowing the Dane to re-take the overall lead by just eight seconds going into the final weekend. Ayuso is just 18 seconds back, with hilly courses on Friday and Saturday and a flat time-trial finale on Sunday. No Dane has ever won this race.
● Football ● A wild game at the CONCACAF Nations League semifinal in Las Vegas saw the U.S. rout Mexico, 3-0, with two fights, four ejections and three brilliant American goals, two by midfield star Christian Pulisic.
The U.S. had the best of play to start, but could not finish, with Pulisic dribbling brilliantly from the left side into the box, but – to his anguish – sending a point-blank, right-footed shot over an open net in the 26th.
The Americans kept up the pressure and in the 37th, Pulisic retrieved possession on a contested ball at the top of the box, then sprinted to the left for a shooting angle and created the space to cut his shot back to the right, behind a diving Memo Ochoa and into the net for a 1-0 lead. The U.S. had 53% of possession in the half – it seemed like more – and a 7-2 edge on shots.
The second half started the same way and just a minute in, midfielder Tim Weah ran down a lead pass down the right side, dribbled toward the goal and sent a perfect lead pass to a cutting Pulisic, who finished with the left foot for a stunning 2-0 lead.
Things got chippy after that and in the 69th, Mexican defender Cesar Montes was called for a leg whip against debut striker Folarin Balogun that led to a shoving incident with American midfielder Weston McKennie and a near-brawl on the field. Montes and McKennie were both given red cards.
At 10-on-10, play opened up and midfielder Sergino Dest dribbled free into the Mexican zone and sent a perfect lead to substitute striker Ricardo Pepi, who dribbled around Ochoa to the right and sent a right-footed liner into the net for a 3-0 lead in the 78th.
Another fight broke out in the 85th, as midfielder Edson Alvarez pushed Dest trying to get hold of the ball, resulting in a hard push back, both sides sprinting to the spot, and debris coming onto the field from the stands. Dest and Mexico midfielder Gerardo Artega were both ejected, three other yellow cards were awarded and the game finally continued at nine-on-nine.
Then there was "discriminatory chanting" from the stands that stopped the game in the 91st, with public address announcements made. A total of 12 minutes were added, but the game was mercifully called at 90+7. Mexico ended with 54% possession, but the U.S. had an 11-5 edge on shots in a game that had 34 fouls (17+17), four red cards (2+2) and nine yellow cards (5 for Mexico).
The crowd and the television announcers were electrified in the first half by reports that U.S. Soccer will re-hire Gregg Berhalter as head coach as soon as Friday; he was coach from 2018-22, but his contract ended at the end of last year. Meanwhile, this one belonged to interim coach B.J. Callaghan.
In the first semi, midfielder Jonathan David got a 25th-minute goal to put Canada on top of Panama, 1-0, with one of only four shots it got in the half (to Panama's one!). Star striker Alphonso Davies got a second goal in the 69th and the Canadians finished off a 2-0 win. Panamanian midfielder Eric Davis was sent off with a red card in the 89th in a game that had 25 fouls.
The final will be Sunday.
¶
The U.S. English-language broadcaster for the FIFA Women's World Cup, said this week that it has sold 90% of its ad spots for the tournament, with a 50% increase in revenue so far compared to the 2019 Women's World Cup.
● Hockey ● As the FIH Nations League heads into its final weeks of the 2022-23 season for men and women, the International Hockey Federation is gearing up for a major effort to expand the impact of the game.
FIH President Tayyam Ikram of Macau explained:
"We are a non-profit organisation and our mission number one is to develop hockey. We have just launched a first-of-its-kind development strategy, called 'FIH Empowerment and Engagement strategy.' Our ambitious programme encompasses numerous projects to fulfill our mission. Therefore, this is where we will concentrate a fundamental part of our financial investments, with the objective to pursue the growth of our game globally.
"We will also look at broadcasting our events on free-to-air, whenever possible, with a view to expand viewership. That will surely imply financial investments as well."
The free-to-air policy is one not often seen in sports today, as rights fees from broadcasters who place events on their own subscription channels, are more and more than norm. Ikram added that the federation's plan aims to add more playing fields, more competitions for more teams, more coaching instruction, more free equipment and enhanced attention to communications outreach.
The FIH financial situation has also improved, post-pandemic, with a surplus of CHF 706,310 for 2022 and reserves of more than CHF 12.8 million. It will be fascinating to see how this federation – in the fourth distribution tier – can lift itself up, and the tactics it uses to do so.
● Swimming ● World 100 m Freestyle champ Mollie O'Callaghan moved to no. 5 on the all-time list and pulled off a shocking up of Olympic champ Ariarne Titmus at the Australian World Championships Trials in Melbourne.
O'Callaghan was the 2022 Worlds 200 m Free runner-up, but was a decided underdog to Titmus, who owns three of the four fastest times in history. But she got to the wall first in 1:53.83, to 1:54.14 for Titmus, the eighth and 15th-fastest performances in history! O'Callaghan is now the world leader for 2023 and Titmus is no. 3.
Sam Short, 19, posted the best time in the world this season in the 800 m Free final, in 7:40.39, beating Elijah Winnington (7:45.75). Short is now no. 10 all-time in the event.
The meet continues through Sunday.
¶
At the French Elite Championships in Rennes, Leon Marchand won his fifth event, the 400 m Medley – in which he is the world leader – in 4:10.57, well off his season best of 4:07.80.
Melanie Henrique won the women's 50 m Fly in 25.24, to move to no. 2 on the 2023 world list, behind Sweden's Sarah Sjostrom (24.89).
Freestyle star Florent Manaudou – the 2012 London Olympic winner – took the men's 50 m Free in 21.62, the no. 2 time in the world in 2023, just behind the sensational 21.56 time in the prelims, which is the 2023 world leader.
● Water Polo ● The U.S. men's U-20 team defeated Montenegro, 10-9, in the quarterfinals of the World Aquatics U-20 World Championships in Romania to move on to the semifinals on Friday.
The Americans piled up a 9-7 lead after three quarters and held on to advance to face Hungary, a 9-5 winner over Italy. Greece, an 11-10 shoot-out winner over Spain, and Serbia, a 16-15 winner in a shoot-out vs. Croatia, will play in the other semi.
The U.S. was only 1-2 in group play, beating Greece, but losing to Hungary (12-6) and Serbia (8-7). An 11-8 win over Australia propelled the U.S. into the quarterfinals. The medal matches will be played on Saturday.
● Weightlifting ● The U.S. continued its medal-winning ways in Havana at the IWF Grand Prix, with Nathan Damron taking silver in the men's 89 kg class with a total of 365 kg. Damron made his second Clean & Jerk lift of 200 kg, but missed on his 210 kg try, which would have given him the win. Petr Asayonak of Belarus, competing as a "neutral," won at 368 kg combined.
In the men's 96 kg class, Belarus won again, with Pavel Khadasevich lifting a combined 373 kg, way ahead of Mexico's Jose Lopez (345 kg).
American Kate Vibert won the women's 76 kg class in a close contest with Bella Paredes of Ecuador, 247 kg to 245 kg for the second American women's gold. Teammate Olivia Reeves won the bronze at 71 kg at 241 kg.
Ecuador's 2022 Worlds bronze medalist Angie Palacios won at 261 kg and set a world mark in the Snatch at 121 kg, one kg better than China's Liao Guifang at the Asian Championships in May. Siuzanna Valodzka of Belarus won the silver at 242 kg combined.
¶
You can receive our exclusive TSX Report by e-mail by clicking here. You can also refer a friend by clicking here, and can donate here to keep this site going.
For our updated, 651-event International Sports Calendar (no. 2) for 2023 and beyond, by date and by sport, click here!