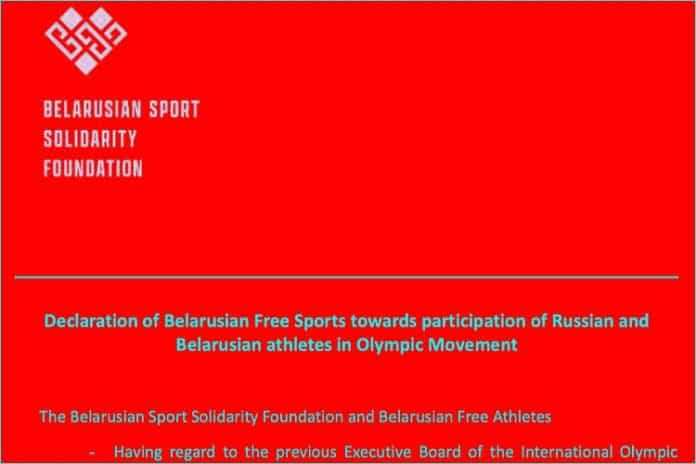 ★ The Sports Examiner: Chronicling the key competitive, economic and political forces shaping elite sport and the Olympic Movement.★
★ Thank you to our 24 donors, who have now covered 53% of our technical expenses for the first half of 2023. Please consider a donation. Thank you in advance. ★
★ To get The Sports Examiner by e-mail: sign up here! ★
≡ THE 5-RING CIRCUS ≡
1. European meeting against Russian re-entry coming Friday
2. Belarusian anti-war athlete group asking for re-entry
3. Norway and its IOC member Jacobsen conflict on Russia
4. Paris 2024 torch relay to begin from Marseille
5. USOPC, U.S. Ski & Snowboard sued over snowboarder abuses
Russia's war on Ukraine has completely overtaken the Olympic Movement in the aftermath of the International Olympic Committee's declaration that a potential avenue to allow Russian and Belarusian athletes to compete internationally again should be explored. A Friday meeting of European sports ministers is the next event at which a potential boycott threat against the Paris 2024 Games will be discussed. The athlete-led Belarusian Sports Solidarity Foundation announced a declaration against the Belarusian regime, the war in Ukraine and asked for its member athletes to be able to compete, also asking for any Russian or Belarusian athletes who wants to compete again to sign an anti-war declaration. In Norway, which has seen resolute aversion to Russian and Belarusian participation, IOC Athletes' Commission member Astrid Uhrenholdt Jacobsen has been criticized for saying that the Norwegian Athletes' Commission was in agreement with the IOC's position that no athletes should be disqualified from the Games for holding a specific passport and that "we can discuss what practical considerations must be taken and put in place to potentially allow all athletes back into the sports arena." She says she was only opening the door to further discussion, and while the Norwegian athlete group issued a statement saying Jacobsen did nothing wrong, it also admitted it was far too casual in its deliberations, undercutting Jacobsen's comments. Meanwhile, the Paris 2024 organizing committee said that the Olympic Torch Relay would begin from Marseille in southern France. A suit filed Thursday in Los Angeles alleges sexual abuse and conspiracy against three former U.S. Snowboard stars by former national team coach Peter Foley, the U.S. Ski Federation, U.S. Olympic & Paralympic Committee and others.
● World Championships: Bobsleigh = Skateboard ●
● Panorama: Alpine Skiing = Archery = Athletics (3) = Badminton = Cross Country Skiing = Freestyle Skiing (2) = Judo = Luge = Nordic Combined = Short Track = Ski Jumping = Snowboard (2) = Wrestling ●
1.
European meeting against Russian re-entry coming Friday
"I'm convinced that a meeting that is planned for Feb. 10 will reach a conclusion of over 30 or maybe 40 sports ministers including those from the U.S., U.K., Canada, Australia and Japan to decisively reject the idea to allow athletes from Russia and Belarus to take part in the Games.
"Considering this I don't think we will face tough decisions before the Olympics and, if we were to boycott the Games, the coalition we will be a part of will be broad enough to make holding the Games pointless."
The most painful prospect in the Olympic world – boycott – is now being widely discussed in European circles, with Polish Sports and Tourism minister Kamil Bortniczuk telling Reuters that nations are uniting against the idea of Russian or Belarusian athletes competing at the Paris 2024 Olympic Games.
The Russian news agency TASS reported Ukrainian Sports Minister and President of the National Olympic Committee Vadim Gutsait saying Friday:
"Britain is calling a summit of European sports ministers on February 10 to discuss the issue of barring Russians and Belarusians. [National Olympic Committee] presidents from Lithuania, Latvia and Poland support Ukraine. These countries have already made statements, you know that."
Sports ministers from Estonia, Latvia, Lithuania and Poland said in a joint statement on Thursday:
"Any effort by the International Olympic Committee to bring back Russian and Belarusian athletes to compete, even under a neutral flag, should be rejected.
"Efforts to return Russian and Belarusian athletes to international sports competitions under the veil of neutrality legitimize political decisions and widespread propaganda of these countries."
Former Ukrainian star football striker Andriy Shevchenko, 46, wrote on Facebook last Thursday:
"There is no politics in sport. But this war is more than just politics.
"Sports competitions of a high level, like the Olympics, are opportunities to share a message to all people on Earth at once. If athletes from russia or belarus enter the arena, with or without flags, it reflects this statement from the Olympics Committee to the whole world – the war is over, you can forgive everyone and forget everything.
"But the war is not over. Every day destroys our cities, ruins the childhood of our kids and threatens our existence. …
"I urge Olympics to not allow russian and belarusian athletes to compete until the war in Ukraine is over, and to strong condemn russian aggression."
2.
Belarusian anti-war athlete group asking for re-entry
The Belasrusian Sports Solidarity Foundation (BSSF), an athlete group opposed to the Lukashenko administration and the country's support of Russia's war with Ukraine, issued a lengthy "Declaration of Belarusian Free Sports towards participation of Russian and Belarusian athletes in the Olympic Movement," on Friday, asking that the current sanctions against athletes of both countries be continued. It asks, in part:
● "Condemn the insufficient criteria mechanism proposed for the participation of Belarusian and Russian athletes in international competition, consisting of neutral athlete status, non-action of an athlete against the peace mission of the IOC by actively supporting the war in Ukraine, and compliance with the World Anti-Doping Code.
● "Express disbelief at the possibility of fulfillment of the criteria by Russian and Belarusian pro-regime athletes, since such athletes alongside with the propaganda have already destroyed the Olympic spirit and made it impossible to compete with them in the spirit of friendship, solidarity and fair play. …
● "Invite the IOC to implement an effective system of verification of the Russian and Belarusian athletes for their possible participation in competitions. The verification mechanism should be based on the active anti-war position of an athlete, including but not limited to, the signing of the Anti-War declaration."
The document further asks that Belarusian "free" athletes – who are against the regime – "be granted the right to participate in sports competitions" and be saved from persecution.
The Twitter post states that "More than 50 titled athletes and sports representatives have signed the Declaration."
The IOC is well aware of the actions against athletes in Belarus, imposing sanctions in December 2020 and expanding them in March 2021, noting that the "NOC of Belarus had not appropriately protected the Belarusian athletes from political discrimination within the NOC, their member federations or the sports movement."
The sanctions included an end to support payments to the Belarus NOC, to refuse accreditation to any Belarusian NOC officials, a ban on hosting events there, and non-recognition of the 2021 NOC elections; all of this was prior to the February 2022 sanctions imposed after the Russian invasion of Ukraine.
3.
Norway and its IOC member Jacobsen conflict on Russia
The Norwegian Sports Confederation (NIF) issued a statement on Friday that included:
"The NIF communicated a clear position in the consultation meeting between the IOC and National Olympic Committees on 19 January, that our position on the banning of Russian and Belarusian athletes from international sports is unchanged and stands firm."
However, Astrid Uhrenholdt Jacobsen, an IOC Athletes' Commission member from Norway and a 2018 Olympic Team gold medalist in Cross Country Skiing, has drawn heat for saying at an IOC Athletes' Commission meeting discussing the Russian and Belarusian situation:
"I am speaking on behalf of the Norwegian Athletes' Committee, which encompasses the Olympic, Paralympic and non-Olympic sports. I would like to share a summary of our recent discussions on the very difficult topic that has been mentioned here before.
"And, coming from a neighboring country of Russia, we are well aware of the intensity and brutality of the ongoing conflict. Our national media, and also most of our people have taken a clear stand that they won't let the Russians back into sport without really being able to separate the sanctions being made from the protective measures that have been taken place since February last year.
"And, with this backdrop we decided in the Athletes' Commission to keep the discussion primarily based on the values and the ethics that the Olympic Movement is based on, because that's the only way going forward.
"In our opinion, non-discrimination is inevitable. Our mission will continue to be a unifying force, and that should remain our focus. This means that no athlete should be excluded on the basis of their passport. And we want our joint athlete committees to gather around our values. Then, secondly, we can discuss what practical considerations must be taken and put in place to potentially allow all athletes back into the sports arena. Thanks."
This has been a source of considerable angst in Norwegian media, with Jacobsen – who replaced American Kikkan Randall on the IOC Athletes' Commission in 2021 due to the latter's cancer and recovery program – saying that she is "part of a probing process where one discusses whether the [Olympic] Movement is able to fulfill its mission" and only opening the discussion, rather than guiding it.
For its part, the Norwegian Athletes' Commission has apologized for the casual nature of its "handling" of the discussions about Russian and Belarusian athlete re-entry, and said Jacobsen did nothing wrong.
But it is a signal of how strong opinions are on Russia and Belarus while the war in Ukraine continues, and appears to be far from ending.
4.
Paris 2024 torch relay to begin from Marseille
The Olympic Flame will move from Ancient Olympia to France by ship, landing in Marseille to begin its journey through France toward Paris.
The exact dates and route of the Torch Relay won't be disclosed until May, but the choice of Marseille is based on history. The original town was founded by Greek settlers in around 600 B.C.E. and was known as Massalia, eventually becoming an important trade port.
It's the second-largest city and third-largest metro area in France, at 1.9 million (metro area) and will be the site of sailing and some of the football matches.
After the lighting of the Olympic Flame in Greece, the trip to Marseille will be made on the 190-foot, three-masted barque Belem, which first sailed in 1896, the year of the first modern Olympic Games in Athens. She is now a sail-training ship of the Caisse d'Epargne Belem Foundation.
5.
USOPC, U.S. Ski & Snowboard sued over snowboarder abuses
A civil lawsuit filed Thursday (2nd) in the U.S. District Court for the Central District of California alleges "molestation, exploitation, sexual abuse and harassment of world-renowned athletes associated with the United States Snowboard Team, at the hands of their trusted coach, Peter Foley, with the assistance, permission, and endorsement of United States Ski and Snowboard personnel and the United States Olympic and Paralympic Committee."
The 61-page complaint was filed on behalf of Rosie Fletcher (now 47, last FIS competition shown was in 2006), Erin O'Malley (45, retired 2003) and Callan Chythlook-Sifsof (33, last FIS competition in 2014) against Foley, former U.S. Ski Federation chief executive Tiger Shaw, the federation and the USOPC, stating that Foley as a legendary snowboarding coach, abused these athletes while head of the federation's snowboarding program from 1994 until his dismissal in March 2022, when these allegations surfaced. The complaint states:
"Foley's predatory behavior was constant and well known to members and associates of the Team, the USSS, and the USOPC" and "Foley's widespread sexual misconduct did not occur without the help of others. Foley's abuse was reported to executives of the USSS and the USOPC on numerous occasions by multiple athletes who were coached by Foley, yet no action was taken. Instead, over time, organizations and individuals banned together with Foley to facilitate and conceal his pattern of unwanted sexual abuse."
Fletcher was a three-time Olympic snowboarder for the U.S. in 1998-02-06, winning the bronze in Parallel Giant Slalom in Turin in 2006; O'Malley was a two-time FIS World Championships rider, in 1997 and 2001, and Chythlook-Sifsof was a 2010 U.S. Olympian in Snowboard Cross.
The complaint alleges violations of the Racketeer-Influenced and Corrupt Organizations (RICO) Act, Sex Trafficking, Sexual Battery, Battery, Sexual Assault, Assault, Intentional Infliction of Emotional Distress, Defamation, Sexual Harassment, Negligent Supervision and Retention, Conspiracy to Sex Trafficking, Negligence, and asks for damages.
≡ WORLD CHAMPIONSHIPS ≡
● Bobsled & Skeleton ● The final weekend of the IBSF Bobsled Worlds in St. Moritz (SUI) started with the first World Championships gold for Germany's Kim Kalicki, racing with Leonie Fiebig and winning the Two-Women event in 4:32.86-4:32.91-4:33.37 over teammates Lisa Buckwitz and Americans Kaillie Humphries and Kaysha Love.
Kalicki and Fiebig finished 2-2-1-2 in their four runs to 1-4-3-1 for Buckwitz and Kira Lipperheide and 4-5-1-3 for the Americans. It ended a two-Worlds win streak for Humphries, 37, who now owns an amazing 15 World Championships medals in her career, for the U.S. and Canada.
The second U.S. sled of Nicole Vogt and Jasmine Jones was 12th in 4:37.00.
The Four-Man story was a re-run for Germany, which won its fifth Worlds gold in a row and 22nd overall, with double Olympic champ Francesco Friedrich winning his fifth straight title in 4:19.61 over a surprising Latvian squad driven by Emils Cipulis (4:20.30) and Britain's Brad Hall, who tied for the silver.
Friedrich's sled finished 1-1-3-1, losing to Cipulis and Hall only on that third run. In his run of five titles in a row, Friedrich has had Candy Bauer and Thorsten Margis aboard on all five and Alexander Schueller on the last three. It was the first medal for Latvia in this event since 2019 and the first for the British since 1939!
The only American sled was piloted by Geoffrey Gadbois and was 18th (4:26.42).
● Skateboard ● At the World Skate Street World Championships in Sharjah (UAE), France's Aurelien Giraud won his country's first-ever Worlds medal and it was a gold, scoring strongly on two of his five trick performances.
Giraud stood third after the two runs, scoring 84.49 on his first try, then popped big scores on his second and fourth tricks – 93.36 and 91.48 – to total 269.33, almost two full points ahead of Portugal's two-time Worlds bronze medalist, Gustavo Ribeiro (267.38) and Japan's Ginwoo Onodera (263.04).
Two Americans made the final: 2021 World Champion Jagger Eaton was sixth at 179.15 and Chris Joslin was seventh at 179.08.
Brazil's Rayssa Leal, 15, the 2022 World Champion and Tokyo Olympic runner-up, won a Worlds medal for the fifth time in a row, scoring 255.58 to beat Chloe Covell (AUS: 253.51) and Momiji Nishiya (JPNM: 253.30). Leal was only fourth after the first two runs, but had the first and third-best scores on her tricks at 85.04 and 87.22 to win the title.
Nishiya won a Worlds medal for the fourth straight time, with her third bronze in a row! Covell won Australia's first women's Street Worlds medal. American Paige Heyn was seventh at 211.71.
≡ PANORAMA ≡
● Alpine Skiing ● The final FIS World Cup event prior to the FIS World Alpine Championships in France next week was a Slalom on Saturday at Chamonix (FRA) with Swiss Ramon Zernhaeusern taking his fifth career World Cup win in 1:42.92.
A.J. Ginnis, the former American team member now skiing for Greece – he was born there – won his first career World Cup medal in second (1:43.95) with Daniel Yule (SUI) third in 1:44.00. American Jett Seymour was seventh in 1:44.59.
● Archery ● The amazing 57th Vegas Shoot at the South Point Hotel & Casino in Las Vegas, Nevada, drew a record registration of 3,911 archers in 2023 – the biggest indoor tournament in the world – and included the final legs of the World Archery Indoor World Series.
In the men's World Series Final, Dutch star Steve Wijler – a Tokyo 2020 Mixed Team silver medalist – took the seasonal title with a 6-5 win over Korea's Pil-joong Kim in a one-arrow shoot-out, with both scoring 10, but Wijler's arrow closer to the center!
Nicholas D'Amour of the U.S. Virgin Islands for the bronze with a 6-4 victory over Sachin Gupta of India.
Korea dominated the women's medals, with Duna Lim taking the championship via a 7-3 victory over Spain's Elia Canales. The all-Korean bronze-medal match had So-min Park beating Na-yeon Wi, 6-4.
● Athletics ● Strong performances at the New Balance Indoor Grand Prix in Boston, Massachusetts, including a world best from Dutch star Femke Bol among world-leading marks in four events:
● Men/Mile: 3:52.84, Neil Gourley (GBR)
● Men/60 m Hurdles: 7.38, Grant Holloway (USA)
● Women/500 m: 1:05.63, Femke Bol (NED) ~ World Best
● Women/1,500 m: 4:06.07, Heather MacLean (USA) ~ en route
● Women/Mile: 4:23.42, Heather MacLean (USA)
Bol, the 400 m hurdles silver winner in Eugene last year and the 400/400 m hurdles European Champion, broke away at the bell from Jamaica's Leah Anderson and stormed away to win by almost three seconds, 1:05.63 to 1:08.34. Bol easily improved the 2006 mark by Russian Olesya Forsheva of 1:06.31.
World women's 60 m leader Aleia Hobbs of the U.S. won her event over Makiah Brisco, 7.02 to 7.10, and Tokyo 200 m bronze winner Gabby Thomas dominated the 300 m, winning in 36.31. World Indoor women's 800 m champ Ajee Wilson pushed hard off the final turn to win, 2:00.45 to 2:01.09 over Kaela Edwards, moving to no. 3 on the 2023 world list.
The women's mile looked like a win for Canada's red-hot Lucia Stafford as she took the lead on the final turn, but 2022 U.S. indoor champ Heather MacLean had one more surge left and came back to take the tape in a world-leading 4:23.42 to 4:23.52. MacLean also led at 1,500 m with a world leader of 4:06.07, with Stafford at 4:06.09. British star Laura Muir dominated the women's 3,000 m, winning in 8:40.34 with American Melissa Courtney-Bryant closing hard for second in 8:41.09.
Devynne Charlton (BAH) won the women's 60 m hurdles in 7.87 and Bridget Williams won the vault at 4.77 m (15-7 3/4), moving to no. 2 on the year list.
The men's 60 produced the tightest of finishes, with Trayvon Bromell out strongly and trying to hold off 200 m superstar Noah Lyles. But Lyles got to the line first, with both timed in 6.51 (6.507 to 6.509), tied with two others for no. 2 in the world for 2023. Trinidad & Tobago's Jereem Richards was so busy trying to fend off fast-closing Vernon Norwood of the U.S. in the men's 400 m that Noah Williams snuck by on the inside in the last stride to win in 45.88, with Richards getting the same time and Norwood 0.4 back.
Spain's 2022 World Indoor Champion Mariano Garcia won the 800 m by holding off Isaiah Jewett on the final half-lap, 1:45.26 to 1:45.75; they're now 2-3 on the 2023 year list. The mile was also tight, with Neil Gourley (GBR) passing New Zealand's Sam Tanner at the finish, 3:52.84 to 3:52.85 for nos. 1-2 in the world this year.
The men's 3,000 m was another breakaway finish for Woody Kincaid, sprinting past the field on the final lap to win in 7:40.71 with a 29.16 last 200 m! World Indoor Champion Grant Holloway ran the two fastest times in 2023, winning his heat in 7.39 and the final in 7.38, ahead of Daniel Roberts (7.46, no. in 2023).
¶
At the aptly-named Mondo Classic in Uppsala (SWE), World Champion Mondo Duplantis (SWE) grabbed the world lead with a win in the men's Vault at 6.10 m (20-0). He made it on his third try and then missed at a world record of 6.22 m (20-4 3/4).
American K.C. Lightfoot was second at 5.91 m (19-4 3/4).
¶
Britain's Mo Farah, the four-time Olympic gold medalist and six-time World Champion in the 5,000 and 10,000 m, said last week he'll compete in April's London Marathon, then decide if he wants to continue, or retire.
He will turn 40 in March, but said "I'm not going to go to the Olympics. 2023 will probably be my last year. But if it came down to it, towards the end of the year, and you are capable and got picked for your country, then I would never turn that down."
● Badminton ● At the Thailand Masters (Super 300) in Bangkok (THA), China scored two comeback wins to lead the medal parade, as Yi Man Zhang won the all-Chinese women's final from Yue Han (CHN), 15-21, 21-13, 21-18, and Yan Zhe Feng and Dong Ping Huang took the Mixed Doubles over Seung Jae Seo and Yu Jung Chae (KOR), 18-21,21-15, 21-12.
Chun-yi Lin (TPE) won the men's Singles in an upset over Ka Long Angus Ng (HKG), 21-17, 21-14. Fourth-seeded Leo Rolly Carnando and Daniel Marthin (INA) won the men's Doubles with a 21-16, 21-17 victory against Ching Heng Su and Hong Wei Ye (TPE). The Thai women's Doubles pair of Benyapa Aimsaard and Nuntakarn Aimsaard won their final against Ha Na Baek and So Hee Lee (KOR), 21-6, 21-11.
● Cross Country Skiing ● The FIS World Cup broke for the Nordic World Championships following the racing in Tolbach (ITA), with the Norwegian men and Swedish women sweeping the four events.
Seasonal leader Johannes Hoesflot Klaebo won Friday's Freestyle Sprint in 2:30.58 over teammate Haavard Taugboel (2:31.14) – his fifth individual career World Cup medal – and Italy's two-time Olympic Sprint silver medalist Federico Pellegrino third (2:31.30).
Pal Golberg led a Norwegian sweep with his third World Cup win of the season in the Freestyle 10 km in 20:46.4, just 0.3 up on Simen Hegstad Krueger (20:46.7), with Klaebo (20:46.7) third.
Sweden's Jonna Sundling got her second women's Freestyle Sprint win of the season in 2:49.76, with teammate Maja Dahlqvist second in 2:50.41 and American star Jessie Diggins getting her fifth medal of the season in third (2:50.57).
Ebba Andersson completed the Swedish women's sweep in the Freestyle 10 km in 23:24.7, with Diggins second in 23:38.0. Norway's Ingvild Oestberg was third in 23:57.9. American Rosie Brennan was fifth in 24:03.7.
Diggins is now up to second in the seasonal standings, with Tiril Udnes Weng (NOR) leading with 1,505 points to 1,371. Kerttu Niskanen (FIN) is third at 1,353 and Brennan at 1,239.
● Freestyle Skiing ● Australia's 2019 World Champion, Matt Graham, won the Moguls competition on Thursday in Deer Valley, Utah (USA), beating out Canadian superstar (and six-time World Champion) Mikael Kingsbury, 85.35-83.65, with France's two-time Worlds silver medalist Benjamin Cavet third (81.82).
In Saturday's Dual Moguls, Kingsbury came back to win his 78th World Cup gold – extending his own record – defeating Graham in the final. Sweden's Walter Wallberg, the Olympic Moguls winner in Beijing, took third.
The women's Moguls was another win for Beijing 2022 gold medalist Jakara Anthony of Australia, scoring 80.15 to best Beijing runner-up Jaelin Kauf of the U.S. (77.35) and France's 2018 Olympic champ Perrine Laffont (77.17).
Laffont won the Dual Moguls on Saturday, beating Kauf to the line in the final, with fellow American Hannah Soar getting the bronze. It was Laffont's 27th career World Cup win.
Friday's men's Aerials title went to Ukraine's Dmytro Kotovskyi (138.32) for his third straight World Cup medal and first career win, ahead of China's Tianma Li (119.47) and Shuo Chen (110.16). The women's title went to two-time Worlds medalist Danielle Scott (AUS: 115.20), way ahead of Marion Thenault (CAN: 97.99) and China's Fanyu Kong (94.11). American Kaila John was fourth (87.06).
¶
Halfpipe and Slopestyle competitions were on at Mammoth Mountain in California, with American Birk Irving taking his second win and third medal of the season in the Halfpipe final, scoring 94.00. Canadian Brendan Mackay was second (93.00) and two-time Olympic champ David Wise (91.25).
China's Kexin Zhang took her first win of the season in 93.50 in the women's Halfpipe, followed by 2021 Worlds bronze medalist Zoe Atkin (GBR: 92.75) and Beijing bronze medalist Rachael Karker (CAN: 91.75).
In the Slopestyle men's final, Norway's Birk Ruud won for the second time this season at 94.80, followed by teammate Sebastian Schjerve (93.40) with his second career World Cup medal and 2021 World Champion Andri Ragettli (SUI: 92.80). Johanne Killi completed the Norwegian sweep in the women's final, scoring 84.80, with Kirsty Muir (GBR: 82.00) and Ruby Star Andrews (NZL: 70.80) taking the other medals. Killi has now won all three World Cup events held this season; there are two more after the World Championships.
● Judo ● A massive field of 520 judoka from 82 nations came to the annual Paris Grand Slam, but it was the home team – France – which dominated the action.
The French scored four wins – twice as many as anyone else – led by 10-time World Champion Teddy Riner in the men's +100 category, defeating Japan's Hyoga Ota in the final. Three women won gold: Blandine Pont at 48 kg, Priscilla Gneto at 57 kg and 2011 World Champion Audrey Tcheumeo at 78 kg.
Georgia won two classes by 2021 World Champion Lasha Shavdatuashvili in the men's 73 kg division and reigning World Champion Tato Grigalashvili at 81 kg. The Dutch won two men's classes as well, with 2019 World Champion Noel Van't End at 90 kg and two-time Worlds bronze medal winner Michael Korrel at 100 kg.
Kosovo's Tokyo Olympic women's 48 kg champ Distria Krasniqi won at 52 kg.
● Luge ● With the World Championships concluded, the FIL World Cup resumed in Altenberg (GER), with men's Doubles Worlds winners Toni Eggert and Sascha Benecken (GER) winning again, 1:23.517 to 1:23.688 over last week's runner-ups, fellow Germans Tobias Wendl and Tobias Arlt. Latvia's Martins Bots and Roberts Plume got the bronze (1:24.376).
Worlds silver medalist Max Langenhan won his second straight World Cup men's Singles title, 1:47.574 to 1:47.812 over Italy's Dominik Fischnaller, with three-time Olympic champ Felix Loch, now 33, in third (1:47.906).
Women's Singles Worlds runner-up Julia Taubitz also moved up to the top of the podium, winning in 1:45.727 over Worlds gold medalist Anna Berreiter (1:46.034) and bronze medalist Dajana Eitberger (1:46.057), for another German sweep. Italy's Andrea Votter and Marion Oberhofer won their fourth World Cup race of the season in the women's Doubles (1:25.650-1:25.701) over Worlds winners Jessica Degenhardt and Cheyenne Rosenthal (GER).
● Nordic Combined ● Austria's Johannes Lamparter, the 2021 Large Hill World Champion, won his third straight World Cup race, this time in Obertsdorf (GER: 137 m hill), in 23:25.0 for the 10 km cross-country race, with Jens Luraas Oftebro (NOR: 23:44) second and Austria's Franz-Josef Rehrl (23:47.3) third. It was Lamparter's sixth win of the season!
On Sunday, German Julian Schmid, 23, got his third win of the season – and third of his career – in 22:52.7 for the 10 km race, ahead of Oftebro (22:53.4) and Rehrl (22:53.7). Lamparter leads Schmid in the seasonal standings, 1,045 to 944, with Oftebro at 924.
● Short Track ● The fifth of six stops in the ISU Short Track World Cup was in Dresden (GER), with Dutch star Suzanne Schulting back in the winner's circle.
Schulting won medals (2-1-1) in all four events at the Beijing Winter Games and triumphed in the 500 m (43.203 over teammate Xandra Velzeboer: 43.254) and 1,000 m (1:30.391 over Hanne Desmet of Belgium: 1:30.443). American Corinne Stoddard was fourth in the 500 m (43.668). Schulting and Velzeboer also contributed to a Dutch win in the 3,000 m Relay.
Koreans won both women's 1,500 m races, with Olympic champ Min-jeong Choi taking the first in 2:26.536, ahead of American Kristen Santos-Griswold (2:26.570). Gilli Kim won the second race in 2:38.406, with Santos-Griswold sixth (2:59.783).
The men's 500 m was a noteworthy win for China's Xiaojun Lin (41.329), who as Hyo-jun Lim, won the 2018 Olympic gold in the 1,500 m and a bronze at 500 m for South Korea! It was his first win since 2018, after being cleared by the International Skating Union to compete for China in June 2022. He also led China to the 5,000 m Relay gold. Korea's Ji-won Park won the 1,000 m (1:23.231) and the second 1,500 m (2:18.263), with teammate June-seo Lee winning the first (2:28.291).
● Ski Jumping ● Both the men and women were in Willingen (GER), jumping off the 147 m hill, with Norway's Halvor Egner Granerud winning his eighth event of the season and extending his seasonal lead, scoring 296.6. Slovenia's Anze Lanisek was second (293.9) and Dawid Kubacki (POL: 281.3) third. It was the 10th medal of the season for Lanisek and 12th for Kubacki.
Granerud completed his sweep on Sunday, scoring 273.0 to 252.3 for Japan's Ryoyu Kobayashi (fourth medal of the season) and 249.2 for Daniel Andre Tande (NOR).
The first women's event was the fifth win this season for Katharina Althaus (GER: 264.4), ahead of Ema Klinec (SLO: 256.3) – her fifth World Cup silver in the last seven! – and Japan's seven-time Worlds medalist Sara Takanashi (245.7) getting her first medal of the season.
Japan swept the medals on Sunday, led by Yuki Ito, who got her sixth career World Cup win by scoring 233.3, followed by Nozomi Maruyama (229.0) and Takanashi (222.6).
● Snowboard ● Italy's Cortina d'Ampezzo was the site of SnowCross competition on Friday and Saturday, with France's Merlin Surget and Leo Le Ble Jacques taking gold and bronze, with American Jake Vedder in between. It was Surget's first World Cup victory.
Britain's 2021 World Champion, Charlotte Bankes, won the women's final, just ahead of Faye Gulini (USA) and two-time Olympic medalist Chloe Trespeuch (FRA).
¶
At the Toyota U.S. Grand Prix at Mammoth Mountain in California, Japan's Ruka Hirano took the Halfpipe title at 91.50, ahead of Valentino Guseli (AUS: 85.25) and American Chase Blackwell (84.00). It was Hirano's second straight win this season.
Japan completed its Halfpipe sweep via a win for two-time World Junior Champion Mitsuki Ono (90.75), scoring a victory over China's two-time World Champion Xuetong Cai (86.75) and American two-time Worlds medal winner Maddie Mastro (82.00).
The Slopestyle finals on Saturday were canceled due to high winds, so the qualification results were made final: New Zealand's Lyon Farrell (80.30) won over Justus Henkes of the U.S. (80.20) with Japan's Taiga Hasegawa (79.68) third. For the women, American Julia Marino was declared the winner (78.59) from the qualifying, followed by Reira Iwabuchi (JPN: 77.14) and Annika Morgan (GER: 75.14).
● Wrestling ● The U.S. had a strong showing in the United World Wrestling Ranking Series Zagreb Open in Croatia, with the men's Freestyle squad picking up the team title!
The American men won at 70 kg (Alec Pantaleo), 74 kg (Jason Nolf), 92 kg (Kollin Moore) and 97 kg (three-time World Champion Kyle Snyder) and had another finalist in Joey McKenna at 65 kg, as the U.S. scored 174 points to 140 for Iran.
Japan was an easy winner in the women's Freestyle race with 191 points, scoring golds by Yui Sasaki (50 kg), Akari Fujimani (53 kg), Sae Nanjo (57 kg), Moe Kiyooka (55 kg), Sakura Motoki (62 kg) and Mahiro Yoshitake (65 kg).
The U.S. was second at 129 points, with wins from Skylar Grote (72 kg) and Yelena Makoyed (76 kg), with two-time Worlds bronze medalist Mallory Velte a finalist at 65 kg.
Iran won the men's Greco-Roman competition with 195 points and four wins.
¶
You can receive our exclusive TSX Report by e-mail by clicking here. You can also refer a friend by clicking here, and can donate here to keep this site going.
For our updated, 929-event International Sports Calendar for 2023 and beyond, by date and by sport, click here!