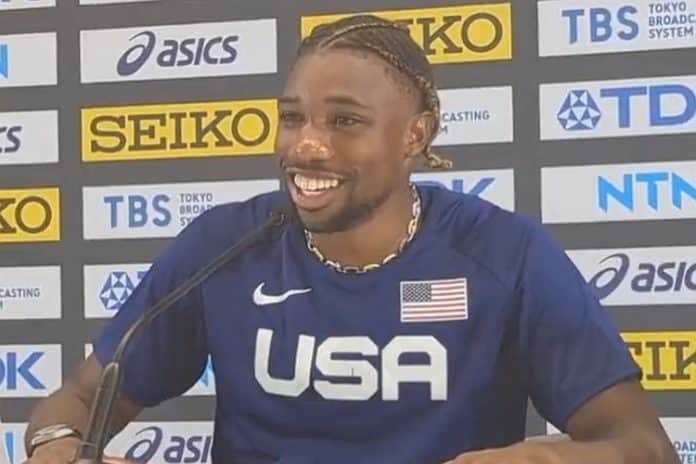 ★ The Sports Examiner: Chronicling the key competitive, economic and political forces shaping elite sport and the Olympic Movement.★
★ To get The Sports Examiner by e-mail: sign up here! ★
≡ THE 5-RING CIRCUS ≡
1. Biles-led USA Gymnastics Champs draw 2.66 million on NBC
2. Four group undefeateds in FIBA World Cup so far
3. Spanish federation U-turns, asks Rubiales to leave
4. Coe thrilled, Lyles picks NBA fight at Athletics Worlds
5. UIPM, fighting for Olympic survival, swallows Obstacle federation
● The USA Gymnastics women's national championships in San Jose, California drew a TV audience of 2.664 million on NBC to watch the return of Simone Biles, who won her eighth national title. Sunday's final session of the World Athletics Championships, also on NBC, drew 1.320 million, the top audience for a U.S. broadcast of the sport this year. Plus, a word about the NBC announce crew in Budapest.
● The 2023 FIBA World Cup in Indonesia, Japan and the Philippines continue with group-stage play and the Dominican Republic, Germany, Lithuania and Canada all came through their three-game slated undefeated. The U.S. men (2-0) have their third Group C game against Jordan early on Wednesday, U.S. time.
● The Royal Spanish Football Federation (RFEF) made a U-turn on Monday, with its regional presidents asking President Luis Rubiales to resign, in view of his behavior after Spain won the FIFA Women's World Cup in Australia on 20 August. Meanwhile, Rubiales' mother said she was going on a hunger strike and had locked herself into a church in southern Spain.
● World Athletics chief Sebastian Coe said he was thrilled with the just-completed Worlds in Budapest and held it out as a model for future organizers. American sprint star Noah Lyles picked a fight with the NBA about what the true meaning of "World Champion" is and got quite a bit of attention for it.
● The Union Internationale de Pentathlon Moderne (UIPM), struggling to stay on the Olympic program for 2028, announced it will absorb World Obstacle (FISO) to create an entity using obstacle and Olympic heritage to move forward. The history of such concepts has not shown the idea to be a winner, and the UIPM has floundered while the International Biathlon Union – a part of the UIPMB until 1998 – has soared.
● World Championships: Modern Pentathlon (Egypt sweeps relays in Bath) = Shooting (Ukraine wins two in 10 m Running Target) ●
● Panorama: Paris 2024 (Boxing Task Force announced final qualifying tournaments) = Beijing 2022 (China's delegation secretary general accused of corruption) = Pan American Games (2023 PAG medals unveiled) = Press-Radio-TV (2: tension in the World Athletics Champs mixed zone; Reid denied gymnastics press credentials, buys ticket) = Badminton (BWF approves Russian, Belarusians as neutrals) = Boxing (IBA announces 2024 Women's World Champs in Astana) = Cycling (Evenepoel in front in La Vuelta) ●
● Errata: Thanks to sharp-eyed readers Phil Minshull and Olivier Bourgoin, who noted that American Vashti Cunningham was 11th (not 10th) in the women's high jump at the Budapest Worlds, and that Italy's Alice Sotero, runner-up in the women's Modern Pentathlon, scored 1,420 points (missed the "4″). Both now corrected on the site. ●
1.
Biles-led USA Gymnastics Champs draw 2.66 million on NBC
She makes a difference.
The USA Gymnastics Artistic Nationals in San Jose, California drew the third-largest U.S. television audience on Sunday, with an average of 2.664 million watching at 7 p.m. Eastern, to watch Simone Biles win her eighth national All-Around title.
That's up by 73% from the 1.539 million that watched the same event in 2022, about a week later in the calendar than last year. The numbers (all times Eastern):
2023:
● 27 Aug. (Sun.: 7:00 p.m.): 2.664 million on NBC (women/live)
● 27 Aug. (Sun: 12:00 p.m.): 746,000 on NBC (men/tape)
● 26 Aug. (Sat.: 4:30 p.m.): 247,000 on CNBC (women/tape)
2022:
● 21 Aug.: (Sun.: 7:00 p.m.): 1.539 million on NBC (women/live)
● 21 Aug.: (Sun: 12:30 p.m.): 642,000 on NBC (men/tape)
The men's highlights show gained 16% as well, but the women's number is stunning and demonstrates the interest in the returning star.
¶
NBC, CNBC and USA Network had coverage of the World Athletics Championships, with reasonably good viewing audiences for the network shows, but modest ones for the cable ones:
Network:
● 19 Aug. (Sat.: 2:30 p.m.): 934,000 on NBC
● 20 Aug. (Sun.: 12:00 p.m.): 1.112 million on NBC
● 27 Aug. (Sun.: 1:00 p.m.): 1.320 million on NBC
Cable:
● 21 Aug. (Mon.: 1:00 p.m.): 302,000 on USA
● 22 Aug. (Tue.: 12:30 p.m.): 277,000 on USA
● 23 Aug. (Wed.: 1:00 p.m.): 305,000 on USA
● 24 Aug. (Thu.: 1:00 p.m.): 354,000 on USA
● 25 Aug. (Fri.: 1:30 p.m.): 436,000 on USA
● 26 Aug. (Sat.: 1:30 p.m.): 281,000 on CNBC
● 27 Aug. (Sun.: 2:30 p.m.): 250,000 on CNBC
That's an average of 1.122 million for the three NBC shows and 315,000 for the seven shows that had more than 200,000 viewers (the reporting threshold) on CNBC or USA.
For comparison, the six NBC prime-time shows from the 2022 World Championships in Eugene, Oregon averaged 1.993 million viewers. The 13 cable shows – same channels – averaged a little more than 379,000 viewers.
For track & field in the U.S., this is not too bad, and the cable audiences – core followers – were way up on the 176,000-207,000-288,000 that watched the U.S. nationals on 7-8-9 July.
Observed: A word on the NBC announce team, which will also be Paris in 2024 – Leigh Diffey (track) and Paul Swangard (field) and analysts Ato Boldon and Sanya Richards-Ross (sprints and hurdles), Kara Goucher (distances) and Trey Hardee (field), plus Lewis Johnson in the mixed zone.
Solid.
Diffey calls track for NBC because he's their car-racing play-by-play man and they do more auto races than they do track meets. He has his detractors, but he offers a warm personality and did a fine job of setting the table and letting Boldon and Richards-Ross talk.
And this might have been Boldon's best meet in his 17th year with NBC. Beyond being an Olympic and Worlds medalist, he is a respected coach and is not afraid to make a prediction, or explain why something might be right or wrong. His energy was high the entire time and he and Richards-Ross played off each other well.
Richards-Ross, also a superstar sprinter for the U.S. at the Olympic and World level, does not do well when she reads off introductions of athletes or other scripted narration. She is pretty good, however, when she and Boldon are chatting, as her personality comes through and she is learning to take some chances with predictions on the air. And Diffey got out of the way.
Goucher, a Worlds 10,000 m silver medalist in 2007, is fairly new and getting better, but was not as ready to take over as Boldon was, which makes her informative but less entertaining. Hardee, who was a two-time decathlon World Champion, was excellent in explaining the technical aspects of the events and what the athletes go through before, during and after the competitions. He was a little overwrought in insisting how magnificent the events and the athletes were.
Johnson has a thankless job trying to get U.S. athletes to talk to him and then getting any useful information out of them. But when reporting is needed, he is on it, as with the electric cart incident involved the 200 m semifinalists. Solid.
¶
A modest audience for the U.S.-New Zealand game of the FIBA men's World Cup in the Philippines, which tipped off at 8:30 a.m. Eastern time on Saturday, drawing an average of 277,000 viewers on ESPN2.
2.
Four group undefeateds in FIBA World Cup so far
The initial group stage of the XIX FIBA men's World Cup in Indonesia, Japan and the Philippines is closing quickly, with the Dominican Republic, Lithuania, Germany and Canada completing first-round sweeps (NBA affiliations are noted):
● Group A: The Dominican Republic, seeded 23rd coming in, has been a sensation so far, starting with an emotional, 87-81 win over the Philippines in the opener before a World Cup-record crowd of 38,115 at the Philippine Arena in Bocaue. Timberwolves forward-center Karl-Anthony Towns led with 26 points and 10 rebounds, and then scored 24 points and had 11 rebounds in the upset of no. 10 Italy, 87-82. Towns got help from guard Andres Feliz, who also scored 24. Feliz had 17 as the Dominican edged Angola by 75-67.
● Group D: Lithuania – seeded eighth – won its games by 93-67 over Egypt, 96-66 over Mexico and 91-71 against Montenegro. Guard Margiris Nomantas scored 18 in the opener, guard Rokas Jakubaitis and Pelicans center Jonas Valanciunas had 15 against Mexico and Jakubaitis led with 19 vs. Montenegro.
● Group E: No. 11 seed Germany rushed past Japan, 81-63, upset no. 3 Australia, 85-82, and rolled, 101-75 past Finland. Magic center Mo Wagner scored 25 in the opener, guard Dennis Schroeder (Raptors) scored 30 to lead a final-quarter comeback to surprise the Aussies, and Isaac Bonga and Schroeder each scored 15 in the rout of Finland.
● Group H: Canada, thanks to starring play from Thunder guard Shai Gilgeous-Alexander, stomped on two-time bronze winners France, 95-65, in their opener, then beat Lebanon, 128-73 and Latvia, 101-75. Gilgeous-Alexander had 27 points vs. the French, 12 against Lebanon (in 17 minutes), and 27 again against the Germans.
In Group C, the U.S. men's national team zipped past New Zealand, 99-72, in its opener, then pounded Greece, 109-81, building a 50-37 halftime lead that expanded to 79-56 after three quarters. Guard Austin Reaves (Lakers) had 15 to lead a balanced scoring attack, with guards Jalen Brunson (Knicks) and Anthony Edwards (Timberwolves) getting 13 each and center-forward Bobby Portis Jr. (Bucks) scoring 10. The Americans shot 57.4% from the field and had a 40-25 rebounding edge.
The U.S. will finish up with Jordan early Wednesday morning, U.S. time. Serbia (2-0 in Group B), Slovenia (2-0 in Group F) and Spain (2-0 in Group G) are the other leaders and will also finish on Wednesday.
The second round of group play has the top two teams from each of the original groups moving on to play the top two from a different group. The U.S. and the runner-up from Group C playing Group D's Montenegro and Lithuania, on 1 and 3 September.
The elimination rounds begin on 5 September and the tournament final is on 10 September.
3.
Spanish federation U-turns, asks Rubiales to leave
On Saturday, the Royal Spanish Football Federation (RFEF) issued a defiant statement backing embattled President Luis Rubiales, who said at an emergency Friday assembly that he would not resign after his unsolicited kiss of midfielder Jenni Hermoso during the medal presentations following the FIFA Women's World Cup Final on 20 August.
On Monday, the tune changed:
"Following the meeting of the Committee of Presidents of the Autonomous and Territorial Federations of the RFEF, we would like to inform both the world of football and wider society of the following unanimous agreements:
"– After the recent events and the unacceptable examples of behaviour that have seriously damaged the image of Spanish football, the Territorial Presidents' Committee request that Mr. Luis Rubiales present his resignation as president of the RFEF immediately. …
"– We will urge the corresponding bodies to carry out a wholesale, immediate and organic restructuring process of strategic positions in the Federation in order to bring in a new management role in Spanish football.
"– Following FIFA's suspension of Mr. Luis Rubiales, the Federation's internal management protocols have been implemented as a consequence of said suspension. …
"– The RFEF remains committed to continuing to implement its investment and equality policies for the development of women's football.
"– Finally, the Presidents' Committee has given its unanimous backing to Mr. Pedro Rocha to lead us through a new stage where dialogue and reconciliation with all football institutions will be the line followed. We place ourselves at the disposal of the [Consejo Superior de Deportes: National Sports Council] and all the institutions involved to continue developing the 2030 World Cup bid together."
Reports in British media indicate that FIFA's disciplinary committee are interviewing witnesses and will push for a ban of 15 years, the maximum penalty it can impose. FIFA imposed a provisional suspension of 90 days last week.
Rubiales' mother, Angeles Bejar, was reported to have begun a hunger strike and locked herself in a church in Motril, in southern Spain. The Spanish news agency EFE reported:
"Luis Rubiales' mother has asked Jenni Hermoso to 'tell the truth' and 'keep the version she had at the beginning of the facts.'
"She considers that 'there is no sexual abuse as there is consent on both sides, as demonstrated in the images.' and wonders 'why they are being cruel to him' and what 'is behind this whole story.' since her son 'is incapable of hurting anyone.'"
Bejar insisted that "the bloody and inhumane hounding" of her son be stopped.
The European governing body UEFA, of which Rubiales is a Vice President, has posted no comment.
4.
Coe thrilled, Lyles picks NBA fight at Athletics Worlds
"Together with the Budapest Organising Committee we have created a new standard for our outdoor World Championships going forward. It is the new blueprint. We have seen full stadia which creates an electric atmosphere, we have had the highest ever number of participating athletes, we have witnessed jaw-dropping and nail-biting performances, and we have had huge audiences as a result."
That's World Athletics chief Sebastian Coe (GBR), commending the 2023 World Athletics Championships as a pivot point for the sport, noting the 400,000 spectators from 120 countries who attended – about 95% of capacity, according to the organizers – and the excitement surrounding the event. He added:
"Innovation has been a driving force for these championships. They have had more innovation embedded in them than we have seen in the last decade. From a medal plaza where athletes are treated like rock stars, to the awarding of coaches' medals, striking branding that can be seen across the city, and a clear sustainability vision. This is a World Championships city and a country with a long-term, ambitious vision for sport and legacy that goes way beyond a nine-day competition."
Coe met with Hungarian Prime Minister Viktor Orban during the event, as did International Olympic Committee President Thomas Bach (GER) and other International Federation chiefs, and further cooperation will be forthcoming. Said Coe:
"Together with the Hungarian government, and science and technology institutions like the Hungarian University of Sport Sciences, we are drawing up plans to create a permanent World Athletics centre of coaching excellence, which will be housed at the National Athletics Centre."
Coe expounded on where World Athletics will go from here, as reported in The Guardian:
"We can't afford to have empty stadiums. I don't really care where it is, it just makes you look marginal. If you'd had just a handful of people in for the morning sessions, and the evening session has looked a bit rinky-dink, then you set the tone and the style, and you guys would have probably written it."
He also stressed the importance of doing much more with World Athletics championship events than putting on a good meet:
● "I'm not prepared any longer to listen to organising committees tell me that everything is fine and the tickets are going really well, and then suddenly at our April council meeting we hear that they've sold 15% of the tickets.
"We've been to places where, frankly, I'm not sure most people two weeks later would have remembered that they were in this city.
"So we started a long time ago with Budapest. They've been really proactive. They've connected with a lot of the countries around us so we've sold many thousands of tickets outside of Hungary."
● "Whenever I go into a country [about an event], I say to the [national] federation: 'I will come but you need to sit me down and the finance minister, you need to sit me down with your tourist agencies.' And I'm spending probably as much time on that side of the sport, as I am sitting with the federations."
The 2025 Worlds will be in Tokyo (JPN), in the new National Stadium, which was empty for the Olympic Games in 2021 due to the Covid-19 pandemic. For 2027, Nairobi (KEN) could ask to be considered again if its infrastructure questions are resolved, and Beijing (CHN) and Istanbul (TUR) have said they are interested.
¶
Noah Lyles had a brilliant Worlds, with three golds in the men's 100 m, 200 m and 4×100 m, but he took time during the 200 m medal-winners news conference to pick a fight:
"You know the thing that hurts me the most is that I have to watch the NBA Finals and they have 'World Champion' on their head [on the championship cap]. World champion of what? The United States?
"Don't get me wrong. I love the U.S. – at times – but that ain't the world. That is not the world. We are the world. We have almost every country out here fighting, thriving, putting on their flag to show that they are representing.
"There ain't no flags in the NBA.
"We've got to do more. We've got to be presented to the world."
Lyles and Coe are on the same page, but Lyles got the attention of multiple NBA players, including Kevin Durant, who tweeted: "Somebody help this brother."
But he also got support from his track & field community, starting with women's 100 m World Champion Sha'Carri Richardson:
"I'm standing with Noah on this one !! @LylesNoah the organization have players from different countries but do they compete against different countries. You have to go against the world in order to be a world champion!!"
The online debate was fierce and nonsensical, but that's not the point. Lyles' showmanship – backed up by three gold medals – has crossed U.S. track & field over into a discussion about it and the NBA. Brilliant.
¶
With the results site back up now, the placing table – scoring the meet 8-7-6-5-4-3-2-1 – showed the U.S. an easy winner, with 277 points to 139 for Jamaica, 112 for Kenya, 102 for Great Britain and 96 for Ethiopia.
The American total is down from the sensational 328 scored last year in Eugene, or 310 in Doha in 2019. It's up a tad on the U.S. total of 272 from London in 2017.
¶
With the World Athletics main results site crashing multiple times and even the finally-available detailed results not complete in the 4×400 m relays, French coach and commentator P.J. Vazel posted the men's and women's splits on Twitter.
Using video analysis, he reported the U.S. men at 44.78 for Quincy Hall, 43.77 for Vernon Norwood, 44.74 for Justin Robinson and 44.01 for Rai Benjamin (2:57.31).
For the Dutch women: Eveline Saalberg (51.85, Lieke Klaver (48.71), Catherlijn Peeters (51.37) and Femke Bol, 48.79 for a winning 3:20.72 time.
There were only three sub-49 legs in the women's 4×400, with Klaver the fastest, then Bol, then Poland's Natalia Kaczmarek, who ran 48.85 on anchor to go from seventh to six.
5.
UIPM, fighting for Olympic survival, swallows Obstacle federation
"The Union Internationale de Pentathlon Moderne (UIPM) has entered into a Memorandum of Understanding (MoU) with the Federation Internationale de Sports d'Obstacles (FISO) with the shared aim of creating a sporting movement with more audience and active participants.
"Following its recent incorporation of an Obstacle discipline into Modern Pentathlon, under the terms of the MoU, UIPM will integrate FISO and oversee the wider Obstacle Sport movement."
This astonishing announcement on Saturday at the UIPM World Championships in Bath (GBR), in which the FISO will be swallowed whole by the UIPM. This follows a May announcement of the "re-branding" of a Ninja World Cup held in Orlando, Florida in July and the Obstacle World Championships in September in Genk (BEL). Included in the statement:
"The partnership aims to create a more accessible Modern Pentathlon with Obstacle, merging a new, TV-friendly, and mass participation sport with the prestige and heritage of the Olympic Games."
Interestingly, the World Obstacle Web site carried no mention of the new agreement as of Tuesday.
As a part of Saturday's statement, FISO (World Obstacle) President and extreme-sports competitor Ian Adamson (AUS) said:
"We are bringing our sports together, uniting the Olympic movement with the mass participation, broadcast and viewers – all of that creates a very powerful collaboration."
This remains to be seen, of course. What is now the UIPM was founded in 1948, and added biathlon in 1953, becoming the only International Federation with Olympic and Winter Olympic sports together. The biathlon folks decided to leave in 1993 and formally left the UIMPB in 1998 to form the International Biathlon Union.
The IBU has gone on to substantial success as a separate entity, and as of April 2022, had assets of €70.07 million, reserves of €65.39 million and revenues of €47.52 million for the 2021-22 season. (€1 = $1.09 today)
The UIPM's most recent posted financial statement is for 2020, showing $3.16 million in assets, $1.78 million in reserves and income of $573,074, in significant part due to the Covid-19 pandemic. Looking at the pre-pandemic year of 2019, assets were $3.66 million, reserves were $3.36 million and income was $1.16 million.
The Saturday announcement gave no details on any plan for the future of the two federations. The UIPM was not included on the program of the 2028 Olympic Games in Los Angeles, and the International Olympic Committee is expected to announce – at the latest at its 141st Session in India in October – whether it will be included or not. The UIPM is under fire from a significant part of its elite athlete base, unhappy with the changes to the event since the Tokyo Olympic Games, primarily the dropping of riding and replacement with obstacle racing.
FISO (World Obstacle) was founded in 2014 as an outgrowth of the ESPN X Games, is not an IOC-recognized federation or sport, and financial statements were not found on its Web site.
Observed: This is quite amazing, to have the least successful of the Olympic sports federations suddenly absorbing another, albeit even smaller, federation of a discipline which is not recognized by the IOC.
The repeated assertion by the UIPM and now World Obstacle that the insertion of obstacle racing into the modern pentathlon – or perhaps, with the merger, the replacement of pentathlon with obstacle racing by itself – will energize athlete and viewer interest worldwide, runs counter to real-life experience.
The International Track Association was founded right after the 1972 Munich Olympics, with dozens of track & field's brightest stars, to take advantage of huge U.S. ratings for the 1968 and 1972 Olympic Games. It folded in 1975.
It was just four years ago – 2019 – that Ukrainian billionaire Konstantin Grigorishin founded the International Swimming League based on the enormous popularity of the sport worldwide on Olympic broadcasts. He financed the effort for three years, losing about $20 million a year, before the Russian invasion that collapsed the league, which continues in suspension now.
Grigorishin found no swell of fan enthusiasm for his league in any market, and acknowledged that he had been financing it himself and even before the Russian invasion, said he would not continue to support a money-loser of this size indefinitely.
How is the UIPM, with its much more limited resources – and with the same President as it had when biathlon went on its separate way – going to generate mass support when track & field swimming, genuinely worldwide, mass-participation sports, could not?
The Saturday announcement did not say, but the IOC will be asking.
≡ WORLD CHAMPIONSHIPS ≡
● Modern Pentathlon ● Egypt completed a sweep of the UIPM World Championships relays in Bath (GBR), with Mohanad Shaban and Salma Abdelmaksoud rolling to a 1,413-1,395 win over Korea's Woong-tae Jun and Sun-woo Kim.
The Egyptians won the fencing, riding and swimming sections to launch into the Laser Run with a 17-second lead on the Koreans, and held on with a 12:38.00 clocking, eighth-best in the field and just better than the 12:39.90 for the Koreans. Egypt had previously won the men's and women's team relays, and the men's team event for a total of four golds to lead all nations; they scored five medals in all; Shaban won two relays golds and an individual silver.
Great Britain won four medals (1-2-1) as did Italy (2-2-0).
Marek Grycz and Lucie Hlavackova (CZE) finished third at 1,386, maintaining their standing going into the Laser Run.
● Shooting ● The 2023 ISSF World Championships continue in Baku (AZE) with non-Olympic events.
Kazakhstan's Zukhra Irnazarova won the women's 10 m Running Target final, 6-3, over countrywoman Alexandra Saduakassova, then Saduakassova returned the favored in the Running Target Mixed final with a 19-13 win in a shoot-off. Ukraine's Ihor Kizyma won the men's 10 m Running Target, 6-3, against German Kris Grossheim, while Denys Babliuk of Ukraine beat Kizyma in the Running Target Mixed final, 384-381, with Kizyma getting silver over Grossheim in a 20-19 shoot-off.
In the men's 300 m Rifle/Prone final, Rajmond Debevec (SLO) shot a perfect 600 to win over Aleksi Leppa (FIN: 599) and Tim Sherry (USA: 599)! Poland's Maciej Kowalewicz took the 300 m Rifle/3 Positions win at 587, over fellow Pole Tomas Bartnik (586), with Sherry fifth (585).
Poland's Karolina Romanczyk won the women's 300 m Rifle/Prone title at 593, with Swiss Silvia Guignard Schnyder at 592. Katrine Lund of Norway won the 300 m Rifle/3 Positions gold, scoring 581 to 579 for Romanczyk. Competitions conclude Thursday.
≡ PANORAMA ≡
● Olympic Games 2024: Paris ● The International Olympic Committee's Boxing Task Force, running the boxing tournament for Paris, announced the specifics of the two final qualifying tournaments for Paris:
"The first world qualification tournament will take place in Busto Arsizio, Italy – from 29 February to 12 March, 2024. The event will allocate 49 quota places (21 Women and 28 Men).
"The second world qualification tournament will be held in Bangkok, Thailand – from 23 May to 3 June, 2024. By the end of the tournament, the remaining 51 quotas places will be awarded and the boxing qualification period for the Olympic Games Paris 2024 will be finalized."
The first opportunity is at continental events, including the completed European Games and the forthcoming Asian Games, Pan American Games and African Games.
● Olympic Winter Games 2022: Beijing ● Agence France Presse reported that Huizhong Nu, who served as the Secretary General of China's Winter Games delegation, is being investigation for corruption.
The General Administration of Sport said Nu "is suspected of serious violations of discipline and law"; AFP noted "He is one of a string of sport officials to come under scrutiny in recent months as the ruling Communist Party wages an industry-wide anti-corruption drive."
● Pan American Games 2023: Santiago ● The medals for the 2023 Pan American Games were unveiled in a ceremony in the desert town of Sierra Gorda, in northern Chile, to mark the use of native copper:
"Although this is the second time the medals of the Pan American Games will include Chilean copper — the first instance being Toronto 2015 where the bronze medals had a percentage of said copper — the medals for Santiago 2023 are unique due to the center being made entirely of the mineral extracted from northern Chile. The medals are then completed thanks to the skilled labor of artisans and workers at the Chilean company Milled."
The ceremony was held at the Centinela Mine and included "a planned and powerful multicolor explosion in the middle of the mining site before moving on to the presentation of the three medals."
Wow. Some 2,986 medals are being made, for the Pan American and Parapan American Games in Santiago. A special oxidative process was used to produce green tones for the Pan American Games medals and blue tones for the Parapan American Games awards.
Each of the medals has a diameter of 10 cm (3.94 inches), a thickness of 8 mm (0.315 inches) and weighs 280 grams (9.88 ounces).
● Press, Radio, Television ● There has been no shortage of action to report on with world championships everywhere this summer, but the action in and around the press tribunes has been boiling as well:
● From the Laurent Monbvailu of the Brussels (BEL) daily La Dernière Heure/DH les Sports, on the just-concluded World Athletics Championships in Budapest, a note titled "Tensions in the mixed zone" (computer translated from the original French):
"In sports competitions too, influencers are gaining ground. Accreditation around their necks, they took over the mixed zone, this obligatory meeting point between athletes and journalists.
"The former will prefer to talk about outfits, hairstyles and nails with athletes whose trust they have won (and whom they do not hesitate to encourage, even hug), the latter will limit themselves to questions more factual and, in some cases, disturbing.
"In Budapest, the mutual reproaches addressed by the two camps have reached new heights. Still, everyone should, one day, be able to live together if the public is there…"
● Orange County Register investigative and sports reporter, Scott Reid – a 16-time Associated Press Sports Editors honoree – wrote that he had been denied accreditation for last week's USA Gymnastics Artistic National Championships in San Jose, California.
He said the USAG communications chief told him, "We are over-run with media requests and having to make some tough decisions on credentialing. We can't accommodate you this year."
In his story, "Silencing the media won't change USA Gymnastics' culture of abuse," he quoted Supreme Court Justice Potter Stewart, who served from 1958-81: "Censorship reflects a society's lack of confidence in itself," and followed up with:
"The latter Stewart quote came to mind Sunday afternoon as I sat in the seat I purchased in Section 107, Row 23, Seat 16 at the SAP Center for the USA Gymnastics Championships.
"Normally I would be sitting on press row, just as I have through the last seven Olympic Games gymnastics competitions, World Championships, U.S. championships in parts of three decades and NCAA Championships dating back to the early 1990s. I covered 16-year-old Simone Biles' first U.S. title in Hartford in 2013.
"But earlier this month USA Gymnastics unexpectedly denied my credential request to cover Biles' record-setting eighth U.S. all-around title."
The story as accompanied, of course, by a shot of a portion of the press seating area, which was not full.
● Badminton ● The Badminton World Federation announced Tuesday:
"The Badminton World Federation (BWF) can confirm that athletes from Russia and Belarus will be allowed to participate as Individual Neutral Athletes in BWF sanctioned tournaments commencing 26 February 2024. …
"A player eligibility panel will be established to conduct due diligence and to scrutinise all conditions of entry. BWF will subsequently monitor the behaviour of any Individual Neutral Athletes to observe they comply with such conditions. …
"The practical implementation of the framework and the participation of Individual Neutral Athletes in events across the BWF calendar will be done in dialogue with the Member Hosts of the respective events, including mitigation against the risk of tournament cancellation or other disproportionate impacts on tournament organisers.
"First steps towards reinstatement will begin in September with eligibility applications followed by a due diligence process. Approved players will then be subject to a robust anti-doping and testing framework paving the way for the first entries being possible at the beginning of 2024 and towards participation in February 2024.
"If ever the behaviour of an individual athlete compromises the eligibility criteria used for reinstating them in the first place, BWF reserves the right to reconsider their playing status once more."
The BWF had previously barred Russian and Belarusian entries; President Paul-Erik Hoyer (DEN) said the move "a positive step forward as part of our endeavour to promote peace and solidarity."
● Boxing ● Rolling on with business as usual, the International Boxing Association announced an agreement to stage its 2024 Women's World Championships in Kazakhstan:
"The World Championships will take place in October 2024 in Astana. The medal-winners will receive prize money, with the overall fund of $4.8 million, where $200,000 will be secured for the gold medallist, $100,000 is set for the second place and each of the bronze medallists will receive $50,000. The head coaches of the medallists will get 10% of the prize money, and the National Federations are eligible for 20% of the sum."
Specified payments for coaches in new in boxing, but has been the protocol in judo for years now. The IBA, led by former Russian Boxing Federation Secretary General Umar Kremlev, was dismissed from the Olympic Movement in June by a vote of a specially-called IOC Session and has nothing to do with Olympic boxing. But it is free to put on its own tournaments.
● Cycling ● The first week of the 78th Vuelta a Espana rolls on, with one of the race favorites – Belgium's defending champion, Remco Evenepoel – back in front.
Evenepoel won the challenging third stage on Monday, a 158.5 km route from Suria (at 338 m elevation) that raced uphill to the 1,977 m Coll d'Ordino in the final third, then down and back up to Arsinal in Andorra, finishing at 1,911 m. A group of 11 riders finally separated from the peloton in the final climb to the finish, with Evenepoel winning by a second over Tour de France champ Jonas Vingegaard (DEN), Spain's Juan Ayuso and two-time La Vuelta winner Primoz Roglic (SLO).
Evenepoel took the race lead by 0:05, with 16 riders within a minute.
On Tuesday, a 184.6 km ride from Andorra to Tarragona, a mostly downhill route produced the expected mass sprint at the end, with Australian Kaden Groves winning his second career La Vuelta stage in 4:05:41, ahead of Juan Molano (COL), Edward Theuns (BEL), and many others.
Evenepoel remains in the red leader's jersey – "maillot rojo" – with Enric Mas second (ESP: +0:05), then Lenny Martinez (FRA: +0:11) and Vingegaard (DEN: +0:31).
Wednesday's stage is another mostly downhill affair, but with a major climb in the final third.
¶
You can receive our exclusive TSX Report by e-mail by clicking here. You can also refer a friend by clicking here, and can donate here to keep this site going.
For our updated, 787-event International Sports Calendar (no. 3) for 2023 and beyond, by date and by sport, click here!