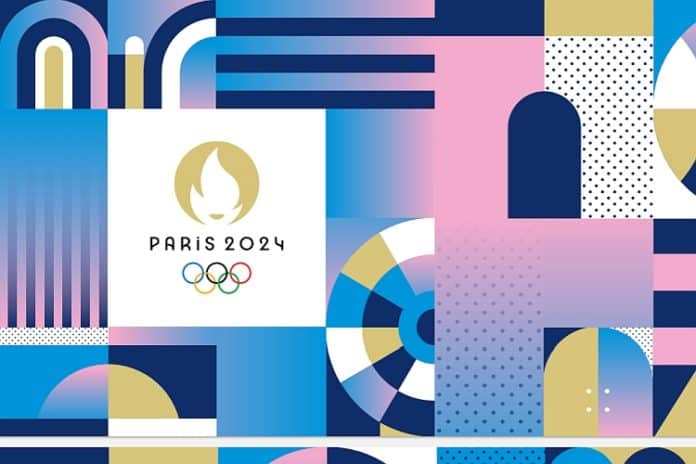 ★ The Sports Examiner: Chronicling the key competitive, economic and political forces shaping elite sport and the Olympic Movement.★
★ Thank you to our 24 donors, who have now covered 53% of our technical expenses for the first half of 2023. Please consider a donation. Thank you in advance. ★
★ To get The Sports Examiner by e-mail: sign up here! ★
≡ THE 5-RING CIRCUS ≡
1. Bassino wins women's Worlds Super-G as Shiffrin gets silver
2. Paris 2024 introduces Games "Look" and pictograms
3. Citing IBA mismanagement, USA Boxing to skip World Champs
4. Four more arrests in Tokyo 2020 bid-rigging scandal
5. Four world leads in Torun as Tsegay runs 4:16.16 mile!
Another surprise at the FIS Alpine Worlds, as Italian Giant Slalom star Marta Bassino won the women's Super-G gold over American Mikaela Shiffrin on Wednesday. Shiffrin's silver ties her for the second-most medals in Worlds history, men or women. The Paris 2024 organizers introduce their visual scheme and pictograms, offering an energetic color palette and radical new sport icon designs. The war of words on Russian and Belarusian participation continued, with a French government spokesman saying the International Olympic Committee will likely decide the issue by summer, and that the French government supports maximal sanctions. USA Boxing issued a stern message, saying that it will not send boxers to the men's and women's world championships staged by the International Boxing Association, in view of its non-compliance with the reform requests of the IOC and its direct ignorance of the IOC's sanctions requests regarding Russia and Belarus. Skipping these events has no bearing on the qualification of American boxers for Paris 2024. Tokyo prosecutors arrested four men, including a former Tokyo 2020 staff member, concerning the bid-rigging scandal for test-event and venue-management contracts for the Games. Four world-leading marks were posted at the World Athletics World Indoor Tour meet in Torun, Poland, including the no. 2 indoor women's mile ever, by Ethiopian star Gudaf Tsegay.
● World Championships: Biathlon ●
● Panorama: Olympic Winter Games 2030 (Sweden might bid) = Olympic Games 2023: Brisbane (TV rights) = Athletics (Kazakhstan cheating?) = Triathlon (Quigley to try) = Wrestling (prep grapplers in Super Bowl) ●
1.
Bassino wins women's Worlds Super-G as Shiffrin gets silver
Italy won its second gold in as many women's races at the FIS Alpine Skiing World Championships, as Marta Bassino – much more of a Giant Slalom star – won the Super-G at Meribel (FRA), just ahead of American Mikaela Shiffrin.
With the 2021 Worlds podium all returning – Lara Gut-Behrami (SUI, starter no. 11), Corinne Suter (SUI, no. 12) and Shiffrin (no. 9) – the early starters raced hard, with Kajsa Lie (NOR) and Cornelia Huetter (AUT) sharing the lead at 1:28.39. Bassino started eighth and roared down the slope in 1:28.06, with Shiffrin next. She described her run this way:
"That was the best run I could do on this track and I had one turn where coming on to the pitch, I lost it all. This is a difficult track."
Nevertheless, her 1:28.17 netted her a silver, her 12th career Worlds medal (6-3-3), tying Norway's Kjetil Andre Aamodt (5-4-3 from 1991-2005) for second most in Alpine Worlds history. Only German Christi Cranz, who raced during the Nazi era from 1934-39, has won more, with 15 (12-3-0).
Bassino, 26, has won four Super-G medals in World Cup competition, but ended up with her second career Worlds gold after winning the Parallel Slalom in 2021. Gut-Behrami started strong, but had trouble on the bottom half of the course and finished sixth; Gisin was 10th and Federica Brignone (ITA), who won the Combined, was eighth. Breezy Johnson of the U.S. finished 24th.
Shiffrin, still only 27, said afterwards:
"Of course I had some tough races, everyone talked about the Olympics, I think I answered 200 questions the last four weeks about 'are you afraid the World Championships are going to be more like the Olympics and you won't get a medal' and 'are you afraid of this?' This Combined the other day I was like 'oh no' and then again everybody is like 'So, is this the Olympics, is this the same thing, is it a curse?' And I was like no! It just happens.
"It feels really, really nice to have a very strong performance on this hill in the super-G and I am looking forward to the [Giant Slalom] and the Slalom."
The men's Super-G at Courchevel is on Thursday, with the Downhills on the weekend.
2.
Paris 2024 introduces Games "Look" and pictograms
Visual style has been an important part of the Olympic Games for decades, and the Paris 2024 organizers made a splash Wednesday with the introduction of the visual theme of the Olympic and Paralympic Games and the 62 pictograms that will be used for the sports competitions.
The color scheme as shown emphasizes an electric blue, green (really turquoise), red (really pink), gold and violet, used with gradations to create an energetic feel, enhanced by shapes that echo the Art Deco movement that developed in France in the 1920s (in vogue when Paris last hosted in 1924).
The concept could be quite interesting in practice, even sassy, or could end up just being busy.
The Paris 2024 pictograms are a radical departure from the stick-figure concept that has dominated Olympic identification programs since Otl Aicher's iconic Munich 1972 pictograms. The 2024 designs are mostly based on a slanted-line or "X" pattern – "an axis of symmetry" – and representations of the sport's field of play and elements of the sport, such as equipment.
For example, the archery picto includes a target and four bows-and-arrows that form the "X". Basketball has the key and the three-point line on each side of the "X" and a ball on the top and bottom. Sometimes, only a single, slanted line is used, such as for road cycling and diving.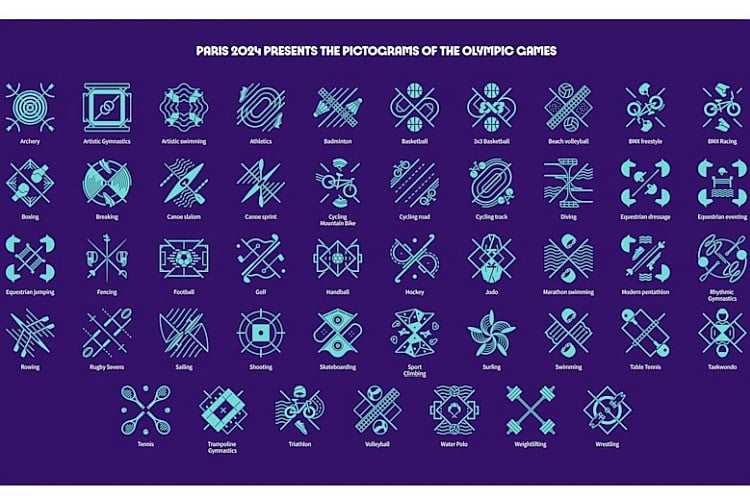 The best might be fencing, with the three types of weapons – epee, foil and sabre – forming the "X" plus a vertical line, and two helmeted heads facing each other.
There are 47 Olympic pictograms, representing sports and disciplines, plus 15 more for the Paralympics, with eight of the Olympic icons to be re-used.
If the designs are analogous to any prior Olympic set, it might be Mexico City in 1968, with marks that symbolized the sports and their equipment, rather than people.
The concept was also to create stand-alone "emblems" that can be used in all types of programming, no doubt to include merchandise, both physical and digital.
¶
On Russian and Belarusian participation in international sports, Dr. Olivier Veran, a neurologist and French government spokesman, told reporters following a meeting of the Council of Ministers on Wednesday:
"The IOC called for allowing Russian athletes to take part in certain international competitions under a neutral flag rather than the Russian flag. This decision does not concern the Olympic Games to be held in Paris in 2024. So far, there is no official position of the IOC. I will wait for international cooperation to take its course.
"Nevertheless, you know that France supports the full and unconditional application of sanctions."
Veran said he expected the IOC to make a decision on the issue this summer.
In response to comments against Russian or Belarusian participation by Paris Mayor Anne Hidalgo during a radio interview on Tuesday, the IOC told The Associated Press on Wednesday:
"There are no plans for a Russian or Belarusian delegation or the flags of these countries at the Olympic Games Paris 2024. The only option that could be considered are individual, neutral athletes like we have seen last year at the French Open in tennis and recently again at the Australian Open in tennis and in other professional sports."
3.
Citing IBA mismanagement, USA Boxing to skip World Champs
"USA Boxing's conclusion [is] that any participation in the IBA World Championships would violate not only IOC sanctions reaffirmed as recently as February 2, but also the principles of fair play, integrity, and transparency."
That's from a 25-paragraph post from USA Boxing Executive Director and chief executive Mike McAtee from Wednesday, explaining in detail why the federation will skip the IBA women's World Championships coming up in March and the men's Worlds in May:
"Since the International Olympic Committee's (IOC) suspension of IBA's recognition in 2019, many National Federations, including USA Boxing, have expressed growing concern with IBA's inability to implement the necessary changes required by the [IOC's] Lalovic Report for readmission into the Olympic Movement. IBA leaders have failed to follow the recommendations of their own experts which provided a clear pathway for athlete inclusion, fair play, proper governance, financial transparency, and responsibility.
"These ongoing failures forced the IOC to step in and oversee both the prior Olympic boxing program in Tokyo 2020 and the scheduled Olympic boxing program in Paris 2024. As USA Boxing has previously mentioned, IBA has failed to follow its stated Mission (to promote , support and govern the sport of boxing worldwide in accordance with the requirements and spirit of the Olympic Charter), has disregarded its own Constitution and published processes, has openly defied the ruling of the Court of Arbitration of Sport (CAS), and has continuously failed to prioritize the needs of boxers."
The post lists IBA failures in field-of-play management, including the lack of sanctions against individuals identified for scrutiny in the McLaren Global Sport Solutions reports, and the selection of officials for the 2022 IBA World Youth Championships; governance, including the controversial non-election for IBA President after the Court of Arbitration for Sport ruling that Dutch Boxing Federation head Boris van der Vorst was inappropriately disqualified; finances, including the continued reliance on Russian energy giant Gazprom, and the IBA's refusal to uphold the IOC's sanctions against Russian and Belarusian fighters, who are now welcomed at IBA events.
At the IBA Golden Belt Series tournament ongoing in Morocco, Russian fighters have advanced to the finals in 11 men's classes and six women's classes. The U.S. is not participating.
The result:
"Based on IBA's failure to meet the requirements of the Lalovic Report, failure to provide neutral third-party oversight, false and exaggerated statements from IBA leadership, opaque financial management and dependence on sanctioned companies, and allowing participation of athletes under sanctioned flags, anthems and colors, USA Boxing will not participate in the IBA's 2023 Women's and Men's World Championships."
None of this, however, impacts any American opportunities to qualify for the Paris 2024 Games, as the process is being run by the IOC. McAtee further notes:
"USA Boxing High Performance staff will continue to schedule international competition and prepare our boxers for the IOC Olympic Qualification Tournament at the 2023 Pan American Games, and will continue to collaborate with other like-minded National Federations for competition and training camp opportunities."
4.
Four more arrests in Tokyo 2020 bid-rigging scandal
Tokyo prosecutors made four new arrests in the bid-rigging scandal over companies hired by the Tokyo 2020 Olympic organizing committee to stage the test events prior to the Games and then to manage many of the venues during the Games.
The Deputy Executive Director of the organizing committee's Games Operations Bureau, Yasuo Mori, is suspected of coordinating the contracts scheme as the "inside man" and was detained along with Koji Hemmi, formerly with Japan ad giant Dentsu Inc.; Yoshiji Kamata of event management firm Cerespo Co., and Masahiko Fujino from Fuji Creative Corporation. All three of these companies won test-event contracts. Kyodo News reported:
"It is suspected the rigging took place in connection with 26 open bids held in 2018 for the rights to plan test events. These were awarded to nine companies, including Dentsu and fellow ad giant Hakuhodo Inc., as well as a consortium, for a total of 538 million yen." (¥538 million is about $409 million U.S. today.)
This is a separate investigation from the sponsorship-selection bribery scandal in which former Tokyo 2020 Executive Committee member Haruyuki Takahashi is accused of receiving as much as ¥198 million (~$1.51 million U.S.) to assure companies would be selected as official sponsors or supporters of the Games, sometimes at lowered fees.
5.
Four world leads in Torun as Tsegay runs 4:16.16 mile!
Although Ethiopian star Gudaf Tsegay missed the indoor world record for the mile, she still claimed two world-leading marks for 2023 and the no. 2 performance in history at Wednesday's Orlen Copernius Cup in Torun, Poland, the third World Athletics Indoor Tour Gold meet of 2023.
The 1,500 m World Indoor Champion and 5,000 m World Champion last year, Tsegay, 25, had her sights on the 4:13.31 world mark by Ginzebe Dibaba (ETH) from 2016 and passed 400 m in 61.1, but then slowed to 66.1 on the second 400 m (2:07.2) and 64.1 (3:11.3) before finishing in 4:16.16 for a 64.9 over the final 409 m. She won by almost 13 seconds and moved to second on the all-time list behind only Dibaba's mark. Tsegay also took the world lead in the women's 1,500 m, passing in 3:59.48, the no. 13 indoor performance in history; she owns five of those.
The other world leads:
● Men/Long Jump: 8.40 m (27-6 3/4), Miltiadis Tentoglou (GRE)
● Women/800 m: 1:57.87, Keely Hodgkinson (GBR)
Olympic long jump champ Tentoglou got his big jump on his second try, initially pressed by Swede Thobias Montler (8.17 m/26-9 3/4), but the Greek star also produced excellent marks of 8.24 m (27-0 1/2) in the third round and 8.27 m (27-1 3/4) in the fifth for the top three jumps of the year!
Hodgkinson's mark was her second-fastest ever indoors and she now has the top indoor times in the 600 m and 800 m.
Elsewhere, France's Azeddine Habz vaulted to no. 2 on the men's world 1,500 m list, winning in 3:35.59 over George Mills (GBR: 3:35.92) and Jesus Gomez (ESP: 3:36.33, now no. 4). American Daniel Roberts won the 60 m hurdles in 7.46 and Ernest John Obiena (PHI) took the men's vault at 5.87 m (19-3).
Ethiopia's Freweyni Hailu – the Tokyo 1,500 m fourth-placer – won the women's 3,000 m in 8:46.92, in front of a top-four Ethiopian sweep, but only no. 13 on the world list.
≡ WORLD CHAMPIONSHIPS ≡
● Biathlon ● The IBU World Championships got underway in Oberhof (GER) on Wednesday with the 4 x 6 km Mixed Relay, with Norwegian superstar Johannes Thingnes Boe making the difference on the final leg to give his team its fourth straight win in the event.
After opening legs by Ingrid Tandrevold, Marte Olsbu Roeiseland and Sturla Holm Laegreid for Norway and Lisa Vittozzi, Dorothea Wierer and Didier Bionaz for Italy, anchors Boe and Tommaso Giacomel were even, but Boe powered away for the fourth straight gold in the event for he and Roeiseland.
The Italians had a big lead on Norway through the women's legs (+0:46), but Lagreid attacked and shot clean, while Bionaz had trouble on the range, giving Norway the lead. Boe fell back of Giocomel early, but made up the difference for a 1:04:41.0 (10 total penalties) to 1:04:53.5 (5) victory. France, in contention most of the way, won the bronze in 1:05:37.8 (9).
The U.S. team of Deedra Irwin, Joanne Reid, Paul Schommer and Sean Doherty finished 13th in 1:07:51.9 (7).
≡ PANORAMA ≡
● Olympic Winter Games 2030 ● The IOC's delay in moving forward with the selection process for the 2030 Winter Games has caused Sweden – which lost in its 2026 bid against Italy's Milan-Cortina d'Ampezzo – to assess its chances again.
A feasibility study will be undertaken by the Swedish Olympic and Paralympic Committees and the Swedish Sports Confederation, due on 20 April.
Sweden's bid for 2026 was considered technically quite good, but the bid suffered from modest public enthusiasm and concerns over budgets and sales of domestic sponsorships. Sweden is an obvious choice for a Winter Games, but has bid eight times previously, without success.
● Olympic Games 2032: Brisbane ● The IOC announced a broadcast rights deal with Australia's Nine Entertainment Co. for Olympic rights for the 2024-28-32 Games and the 2026 and 2030 Winter Games.
The rights deal will have interesting repercussions not only on television and online video channels, but also with Nine's programming on talk radio stations 2GB, 3AW, 4BC and 6PR and its news publications that include The Sydney Morning Herald, The Age, Brisbane Times, WA Today and The Australian Financial Review. The IOC's statement noted that Nine "has been awarded the exclusive free and subscription audio-visual rights and non-exclusive audio rights."
Nine replaces Seven West Australia as the Olympic broadcaster there; it held the rights for 2016-18-20-22 in an agreement estimated at A$200 million (about $138.4 million U.S. today). The new agreement was reported in Australia to be worth A$305 million (~$211.13 million U.S.).
● Athletics ● Stern news from World Athletics:
"The Kazakhstan Member Federation has been placed on the Competition Manipulation Watch List following an investigation of suspicious competition results conducted by the Athletics Integrity Unit (AIU).
"This decision reflects the high degree of risk of results manipulation within the Member Federation's territory and not the conduct of individual officials or specific cases."
In other words, marks coming out of Kazakhstan are not to be trusted. It's the eighth country to be on the AIU's watch list, also including Albania, Armenia, Georgia, Kyrgyzstan, Moldova, Turkey and Uzbekistan.
● Triathlon ● Rio 2016 Olympic steeplechaser Colleen Quigley is continuing to train for a second U.S. Olympic berth in Paris in 2024, but then may head to triathlon.
She posted an Instagram note last Friday (3rd) noticed by triathlete.com that she's going to try her first competitive triathlon on 11 February in San Diego, California in the Tritonman race, with a goal of being among the top three amateurs and within 5% of the winning (amateur) time, which would earn her a USA Triathlon pro license.
Quigley, 30, is the fourth-fastest women's steepler in U.S. history, running 9:10.27 in 2018. She's had recurring bad luck with injuries, which led to swimming and bike training, and interest in a new sport … after another Olympic shot for 2024.
● Wrestling ● It's Super Bowl time, which also means USA Wrestling will be out with its list of players who were also wrestlers!
This year, Kansas City has four former wrestlers in linebacker Jack Cochrane, guard Nick Allegretti, defensive tackle Khalen Saunders and center Chris Humphrey, all of whom wrestled in high school.
Philadelphia has former two active prep stars in defensive end Robert Quinn and long snapper Rick Lovato, with defensive tackle Marlon Tuipulotu – also a prep grappler – on injured reserve.
¶
You can receive our exclusive TSX Report by e-mail by clicking here. You can also refer a friend by clicking here, and can donate here to keep this site going.
For our updated, 929-event International Sports Calendar for 2023 and beyond, by date and by sport, click here!