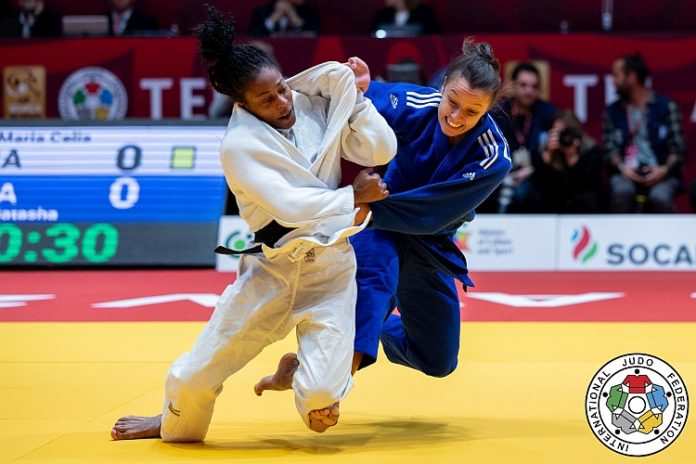 ★ The Sports Examiner: Chronicling the key competitive, economic and political forces shaping elite sport and the Olympic Movement.★
★ More! Now 29 donors have covered 66% of our summer fund-raising goal. Will you join in? ★
★ To get The Sports Examiner by e-mail: sign up here! ★
≡ THE 5-RING CIRCUS ≡
1. Australia impressive, England squeaks through to World Cup quarters
2. Australia now looking at FIFA World Cup, Club World Cup
3. Stunning story of IJF Masters silver for U.S.'s Maria Laborde
4. Peszek on why U.S. Classic gymnastics was on CNBC
5. "Kiss & Cry" comes to World Athletics Champs this year
At the FIFA Women's World Cup, Australia thrilled a huge crowd at Stadium Australia in Sydney with a 2-0 win over Denmark to advance to the quarterfinals, and England somehow managed to hold Nigeria to a 0-0 tie despite playing the last 33 minutes with 10, and then winning the penalty shoot-out, 4-2. The tournament has been boffo at the box office, with 1.715 million tickets sold, the most ever for this event. Despite the whispers about the imminent demise of the U.S. women's team, two of Sweden's stars said the Americans will be back, in force. The success of the Women's World Cup has the head of Football Australia already talking about bids for the FIFA World Cup and FIFA Club World Cup in the future. Marie Laborde, who was a Worlds bronze medalist for Cuba in judo in 2014, came to the U.S. and had retired when she decided to try the sport again; in an amazing turn, she won a stunning silver medal in the second-most-important tournament of the year and is a sudden Olympic medal contender for Paris at age 33. She shared her story. Former U.S. gymnastics star – and now NBC commentator – Samantha Peszek shared her insights into why the CoreHydration Classic, featuring Simone Biles, was relegated to CNBC last weekend for live coverage. And World Athletics will introduce its own version of the "Kiss & Cry" stage for time qualifiers in races of 800 m and less at the Budapest World Championships later this month.
● World Championships: Cycling (2: Lavreysen wins fifth Sprint title; U.S.'s Roberts wins fifth Freestyle Park title) ●
● Panorama: Paris 2024 (anti-drone system acquired for Rugby World Cup and Olympics) = Milan-Cortina 2026 (costs move women's hockey to Fiera Milano center) = Athletics (2: Tsimanouskaya approved to run for Poland; know this name: Jonathan Simms) = Basketball (2: FOX to show U.S. men's World Cup warm-up games; U.S. runs over Puerto Rico in exhibition opener) = Swimming (Russian WR-setter Chikunova happy to be a neutral if asked) = Weightlifting (no Russians at September's IWF Worlds) ●
1.
Australia impressive, England squeaks through
to World Cup quarters
The 2023 FIFA Women's World Cup is slowing down and heading toward the close with the final Round-of-16 matches being played today and then off until Friday for the first of the quarterfinals.
That does not mean that the drama has abated. On Monday, European Champion England managed a penalty-kicks win over Nigeria and Australia looks to be getting hot at the right time with a convincing win over Denmark:
● England 0, Nigeria 0 ● Sure, the Lionesses crushed China by 6-1 in their final group-stage match, but their cautious, 1-0 wins over Haiti and Denmark were more in line with their performance against aggressive Nigeria.
But there were zeros on the scoresheet, thanks to English keeper Mary Earps … and the crossbar. In the 17th, a drive by defender Ashleigh Plumptre hit the bar from outside the box, and after a few more seconds saw the ball come back, Plumptre dibbled into the box and sent another rocket toward goal which was punched away by a diving Earps.
Nigeria had 20 shots in the game to 12 for England, but the Lionesses had chances.
In the 23rd, English striker Alessia Russo got hold of a muffed clearance and sent a screamer toward goal that was saved by Nigerian keeper Chiamaka Nnadozie. A penalty call against Nigeria was waved off after a video review in the 28th. Defender Rachel Daly's header in the 76th off a corner was headed for goal, but stopped by Nnadozie.
The game changed in the 84th, after English striker Lauren James fell over Nigerian defender Michelle Alozie, then got up the walked over Alozie's back to get into the play. A yellow card given and upgraded to red after a video review, so England was down to 10.
But the defense held up, aided by England enjoying 56% of possession in the game, through extra time and onto penalties. Both sides missed their first shots, then Bethany England, Daly, Alex Greenwood and Chloe Kelly scored four in a row while Nigeria missed again and the game ended at 4-2 for the Lionesses. Artistic? No, but effective.
● Australia 2, Denmark 0 ● A home crowd of 75,784 at Stadium Australia in Sydney was ready to roar for the Matildas and after a mixed start, striker Mary Fowler sent a long pass from her side of the field down the left side for midfielder Caitlin Foord to run onto. Now one-on-one with Danish keeper Lene Christensen, Foord's left-footed shot swept under her legs and into the right side of the net for a 1-0 lead in the 29th.
Fowler was at it again in the 70th, dancing with the ball in the box, then sending a pass into a crowded penalty area to striker Emily van Egmond, who passed to open midfielder Hayley Raso at the right of goal and her shot flew past Christensen into the left side of the net for the 2-0 final.
Denmark had 56% of possession and a 13-10 shots edge, but the Matildas had speed when it counted and better playmaking in the attacking zone. The return of Australian striker Sam Kerr for Raso in the 80th gives the home squad more attacking ability as they move on.
In the lower half of the bracket, England will play Saturday against the winner of the Colombia-Jamaica game and Australia will face the winner of France vs. Morocco.
¶
FIFA announced that 1.715 million tickets for the Women's World Cup had been sold through last Friday, an all-time record for the tournament.
For the 48-match group stage, average attendance across the tournament was 25,476 fans, which would be no. 5 all-time:
● 37,944 in 1999 (hosted in the U.S.)
● 37,218 in 2007 (China)
● 26,428 in 2011 (Germany)
● 26,029 in 2015 (Canada)
● 25,476 in 2023 so far (Australia and New Zealand)
The new Fan Festival program for the Women's World Cup has also been popular, with more than 400,000 visiting the sites set up in each of the nine host cities. The one-day attendance record was in Sydney at 17,756.
¶
Lots of chatter in the U.S. and elsewhere about the elimination of the top-ranked U.S. women's squad, with stars Julie Ertz and Megan Rapinoe both saying they have concluded their careers with the national team.
However, Jonathan Tannenwald of the Philadelphia Inquirer asked Swedish stars Kosovare Asllani and Magdalena Eriksson about the U.S.'s future after Sunday's elimination win in Melbourne. Said midfielder Asllani:
"It's the U.S. They will raise their standards, and they're going to come back. I've heard there's been a lot of talk about it, but they will come back for sure.
"They have so much quality in their team, and this defeat will not take them down. I expect them to be ready for the next World Cup. We see more and more national teams are investing and raising their level as well, but I mean, they have a really good team.
"So I wouldn't say that they're out of the game at all. So don't talk [expletive deleted] about the U.S. women."
Defender Eriksson added:
"I think they proved today they're still an amazing team. They're definitely the toughest team we've faced so far in this tournament.
"They have amazing players. And like you said, the youngsters really impressed me today. I think both [Naomi] Girma and [Sophia] Smith had an amazing game. You also have [Catarina] Macario and [Mallory] Swanson that are injured.
"So, no, the future is bright for the U.S. They're still a massive powerhouse in women's football, and they will be for a long time."
The U.S. women will be back in action in two friendlies against World Cup round-of-16 team South Africa, in Cincinnati on 21 September and 24 September in Chicago.
2.
Australia now looking at FIFA World Cup, Club World Cup
Success breeds ambition and Football Australia chief executive James Johnson said Friday that the federation will be looking at bids for the FIFA World Cup and the expanded FIFA Club World Cup in the future:
"Our vision is to be local and global, and the way that we can be at our best in Australia is when we're bringing big, global football content, the biggest events in the world, back to our local communities.
"We're seeing that right now with the Women's World Cup, so we see the success of the Women's World Cup as being a stepping stone towards bidding for other competitions.
"There's the Club World Cup in 2029, that we're going to take a look at. And then there's the men's World Cup in 2034, that we're also going to have a look at as well."
Johnson sees parallels between what Australia – with New Zealand – is doing now and what Canada has done:
"Australia will no doubt host a men's World Cup one day… and what better way to do that than on the back of the best-ever Women's World Cup.
"Canada hosted a very good Women's World Cup in 2015, and 11 years later, funnily enough, they're hosting [the men's] together with the United States and Mexico.
"I think that's a very good blueprint, if you like, is that if you host big, major tournaments, organisations like FIFA get comfortable to give you more. That's where we want to be."
3.
Stunning story of IJF Masters silver for U.S.'s Maria Laborde
The U.S. did not win a medal in judo at the Tokyo Olympic Games and had not made much of an impact internationally since Kayla Harrison won the Olympic title in the women's 78 kg class and Travis Stevens won silver at 81 kg in Rio in 2016.
So the runner-up finish by Cuban-born Maria Laborde at the Hungary Masters meet – second only in importance to the World Championships on the International Judo Federation World Tour – was a stunner. And Laborde's story is even wilder.
Now 33, she was a Worlds bronze medal winner for Cuba in 2014 at 48 kg way back in 2014. Then her life changed, as she shared with the IJF:
"I was retired. I was only 24 then and I wasn't really thinking of ever coming back. In the USA, where I now live, there was a competition that is not so hard but there was some prize money. I had been out for many years but I thought it would be fun and I liked the idea of having some prize money. That was in 2021 and I had just gained my full American citizenship. I won the event and I thought 'wow!' I was out for almost eight years and assumed my momentum and my judo fitness would not survive but it did.
"Jhonny Prado, the U.S. National Coach, saw me there and said I would have a good chance to still make the U.S. team. If I wanted to keep going he would help me. USA Judo supported me to attend my first continental open in Tunisia and I won again but I thought I could do better. It was a bit complicated but I needed to find a way to compete at the PanAms. I did and I won bronze. It wasn't the goal but it was actually a good result. With this medal USA Judo took me officially into the team.
"I think all the training I had in my early judo life in Cuba, my body remembered all of that. It is maybe not normal but in that time away I was really focused on how to earn a living and just training in the gym sometimes for exercise, but not for elite sport."
And then her breakthrough in Budapest happened, bringing her back to world class, with a whole new set of questions:
"I don't really study judo so much and maybe I should but I watch people at the events and I feel like my body will do the right things with the information it has. Each fight was a different style but I think for some of them my style is tricky. At -48kg everyone is a little bit crazy but I like that, it suits me. For the semi-final against the Serbian, [former Worlds bronze medalist Milica] Nikolic, I was ready. I have beaten her before and that gave me confidence. I put my whole heart into it. With me, I never stop. It's not possible to stop.
"Here I feel like I am back to do judo almost for fun. This is such a great environment for me. I enjoy it so much. Now if I lose, it's not good and I don't like it, but it's ok, I can recover. Now the pressure is really for funding. Better results mean better funding.
"I have to keep fighting now. I will have Zagreb Grand Prix next. I don't have any pressure, I just go to do my thing. Sometimes when I fight I feel the old pressure, like a habit of stress but once I get on to the mat the pressure goes completely and I love to fight; I'm learning new habits and it's good."
With her Masters silver, Laborde jumped eight places in the IJF World Rankings, to no. 11, and no. 4 on the IJF's Olympic rankings at 48 kg. The next chapter in this story, the Zagreb Grand Prix, is from 18-20 August. Wow.
4.
Peszek on why U.S. Classic gymnastics was on CNBC
With the return of Simone Biles to competition at Saturday's CoreHydration Classic – the U.S. Classic – one would think that NBC would be keen to put the iconic star on network television.
But the meet was shown live on CNBC, with a highlights program shown on Sunday on NBC. Why?
Three-time NCAA champion at UCLA and Beijing 2008 Olympic Team silver winner Samantha Peszek was one of the commentators for CNBC at the meet, along with Terry Gannon on play-by-play and three-time Olympian John Roethlisberger. She explained on a Twitter post:
"Getting this question a lot, so wanted to share some insider broadcast info. I know I used to be bummed about this what I was younger watching on TV, but once I learned more, it made sense. here's the deal …
"Each network/platform has a different strategy depending on the audience …
"For example, live feeds in general are geared more towards the knowledgeable gym fan where the Prime Time shows focuses more on the non-gym fans who we hope BECOME gymnastics fans.
"So, that's why the purpose of NBC shows isn't to show everyone (which is frustrating for gym fans), but it's to build stars and follow them so non-gym fans can follow along & build an emotional connection with the gymnasts that are recognizable names and have already had some longevity in the sport.
"That's another reason why we say less skill names and specifics [because] we don't want to overcomplicate an already difficult sport to understand.
"It's not right or wrong, but it's just the strategy with this specific network and audience!
"My job as a broadcaster is to make it educational for the non-gym fan, but also entertaining for the gym fan! It's a tough balance!!"
Observed: There is no doubt that Peszek's explanation of NBC's approach is true. The network's Olympic audience shrank to the lowest level in U.S. history for Tokyo, but hopes are high for a rebound for Paris in 2024. The network abandoned its all-sports cable channel (NBCSN) and its cable Olympic Channel and has shuffled those events it still broadcasts to CNBC and USA Network, and a lot more to its Peacock subscription service.
All of this continues to underline that for gymnastics, swimming, track & field and others, NBC's view is that Americans watch the Olympics because it's the Olympics and not because of the sports that are in it. If there is a star-a-day to keep American viewers interested – Biles, Katie Ledecky, Noah Lyles, Sydney McLaughlin Levrone and so on – that's enough. An hour or so on Sundays on NBC now and again should be sufficient to maintain some level of interest until the Olympic Trials come around in 2024.
5.
"Kiss & Cry" comes to World Athletics Champs this year
A number of changes are set for the 2023 World Athletics Championships that begin in Budapest (HUN) on 19 August.
Familiar to those who have watched figure skating over the years is the post-performance area where the skaters and their coaches see their scores posted while being shown on television; this is known in the trade as "Kiss and Cry."
A version of this is coming to Budapest, called "The Q Room":
"For all sprints, hurdles and 800m events, a room will be set up where non-automatic qualifiers can wait to see if they have advanced. The room will have comfortable chairs on which to relax, TV screens to watch subsequent races, foam rollers and stretch bands, refreshments, as well as access to their coaches and kit.
"Athletes can stay in the room for up to 20 minutes and will then be taken through the mixed zone. The room will have TV cameras, so fans can watch the outcome unfold."
This should be interesting, and has been used for the leader in alpine skiing.
More technical changes include the filling of all lanes, so if an athlete chooses to skip an event after a qualifying round, the lane – or starting position in a field event – will be filled by the next eligible athlete:
"A virtual 'hot seat' system will be implemented, where the next-best ranked athlete(s) or teams will be on notice to wait for possible withdrawals. A maximum of two athletes will be considered for each replacement."
The system of time qualifying for advancement from heats in the 1,500 m-Steeple-5,000 m in which the runners in the last race knew the time to beat has been criticized as unfair, so it has been eliminated. Now, only the placings count, with no time qualifiers at all in these races.
But the "small q" system does remain in place for races of 800 m and less.
And as in college football, the NFL and now the FIFA Women's World Cup, we will now have the starter making public address announcements if he or she allows an athlete deemed to have false-started by the starting-block sensor, but not visible to the eye, to run under protest. The jury of appeal will deal with the final decision.
Can't wait to hear the starter ad libs on that new rule!
¶
World Athletics President Sebastian Coe (GBR) spoke with reporters late in July about the Budapest Worlds and seemed quite happy to have the meet back in Europe, after disappointing broadcast audiences there from the 2022 Worlds in Eugene, Oregon. InsideTheGames reported Coe's comments about the sport in the U.S.:
"Moving into the United States, that's a challenge. We know it's a challenge. We took that on a few years ago coming from some distance back.
"The Continental Tour events, we didn't have any and now we have got some good ones and they're developing. But it's a congested market; everybody wants to be there. That's why we agreed to hold the World Championships in Eugene last year.
"Eugene wasn't ideal. It certainly posed us some challenges around broadcast numbers in Europe. …
"This is always a balance, but we have always said we would do what we could to help USA Track and Field. It is still the powerhouse of World Athletics.
"And this is something that I will be addressing with the USATF chief executive Max Siegel at next month's World Championships in Budapest when we talk about what it is that we can continue to work together on.
"Because it's really important that the athletes in the U.S. are given every opportunity to compete."
USA Track & Field introduced a new meet, the L.A. Grand Prix at UCLA in May (Continental Tour Gold), with about 4,500 in the stands. U.S. television audiences for the sport have been down significantly in 2023.
≡ WORLD CHAMPIONSHIPS ≡
● Cycling ● The UCI's mega-World Cycling Championships roll on in Glasgow (GBR), with more action on the track
Monday was a great day on the track for Dutch sprint star Harrie Lavreysen, who defeated Trinidad & Tobago's Nicholas Paul in the final – but not by much – with tiny margins of 0.061 and 0.100. Lavreysen was the fastest qualifier, won his round-of-16 match-up and then swept through the quarters, semis and finals without losing a race: seven straight in all.
Now 26, the Dutchman won his fifth straight World Sprint title – 2019-20-21-22-23 – and has a staggering 13 Worlds golds (and three silvers) in his career. He's also the reigning Olympic champion. Paul won his second career Worlds medal, and his first in Sprint. Britain's Jack Carlin was third.
In the men's Elimination Race, last year's bronze medalist struck gold as Britain's Ethan Vernon won over Canada's Dylan Bibic and Italy's two-time defending champion Elia Viviani. Gavin Hoover of the U.S. was eighth.
Britain scored again in the women's Madison, with Neah Evans and Elinor Barker winning their first Worlds gold in the event. Evans had partnered with Katie Archibald to win bronze in this event in 2021, and Barker had won a silver at the 2017 Worlds with Emily Nelson. In Glasgow, they managed 28 sprint points to edge Georgia Baker and Alexandra Manly (AUS: 25) and Victoire Berteau and Clara Coppini (FRA: 22).
U.S. star Jennifer Valente and Lily Williams finished sixth (10).
¶
American Hannah Roberts, 21, the dominant force in women's BMX Freestyle Park competitions, won her fifth career Worlds gold and fourth in a row with her first-round score of 91.04.
No one really got close, as China's Sibei Sun, 18, led the second round at 89.10 and took silver, with teammate Huimin Zhou third (87.90). In fact, Chinese riders placed 2-3-4-5-6.
In addition to becoming a five-time World Champion, Roberts has the distinction of being the only athlete to win a medal in all six editions of the World Championships (5-0-1)!
In the men's Freestyle Park final, Britain's Kieran Reilly was a first-time medalist and first-time champion, scoring 95.80 points on his second run to overtake first-round leader and two-time World Champion Logan Martin (AUS: 95.30).
Martin led after the first round at 93.56, but the top six finishers all achieved their best scores in the final round. Reilly moved from sixth to first, but Martin also improved to 95.30, a half-point short. American Nick Bruce, the 2019 Worlds bronze medalist, was third again at 93.90.
Americans Justin Dowell – the 2019 World Champion – and Daniel Sandoval finished 6-7 with scores of 89.74 and 89.36, both from the first round.
≡ PANORAMA ≡
● Olympic Games 2024: Paris ● The French daily Le Parisien reported that the French government will test an anti-drone system capable of detecting unregistered vehicles as small as 0.39 ounces (11 g) for security purposes during September's Rugby World Cup and the 2024 Olympic and Paralympic Games.
The Parade system is designed to create interference with a drone's navigation system, causing it to fall to the ground if desired. Security perimeters for drones will be set up at all sites from 300 m to 1,000 m, with options such as anti-drone nets and small laser systems for destroying unauthorized flying devices up to 1,000 m distant.
● Olympic Winter Games 2026: Milan-Cortina ● The women's ice hockey competition, expected to be held at a renovated PalaSharp arena, has been reported to move to the giant Fiera Milano Rho convention center.
The Fiera Milano is already the site of the speed skating competition and the International Broadcasting Center, and when the PalaSharp renovation got too expensive, there was plenty of space available at the 3.71 million sq.ft. exhibition center.
● Athletics ● Remember Belarius sprinter Krystsina Tsimanouskaya, who criticized her coaches at the Tokyo 2020 Olympic Games, was sent home and then asked Tokyo airport police to help her stay in Japan and not fly back?
She was eventually welcomed by Poland and on Sunday was cleared by World Athletics to compete for her new country internationally, perhaps at the 2023 World Athletics Championships in Budapest that begin on 19 August. There is usually a three-year wait for a change of allegiance, but the federation has made an exception in this case; she has yet to be invited for the Championships.
Now 26, she has a seasonal best of 11.16 in the women's 100 m (75th on the 2023 world list) and a lifetime best 22.75 in the 200 m (64th). Her 100 m best is 11.04 from 2018.
¶
A name to know now and remember for the future: Jonathan Simms.
A sophomore at Allen (Texas) High School, he just won the AAU Junior Olympics' boys 400 m title in 45.12, making him the sixth-fastest prep in history. He also won the 800 m in 1:51.69 and ran a 44.36 anchor on the 4×400 m relay.
Remember the name, you will be hearing it again.
● Basketball ● Fascinating development as USA Basketball announced Friday that it has partnered with FOX Sports for the American men's and women's national teams in 2023 and 2024.
NBC has been the U.S. Olympic broadcaster for decades and the NBA is shown on ESPN/ABC and TNT, so FOX is a new presence.
The programming includes the five U.S. men's warm-up games for the FIBA World Cup beginning 25 August: against Puerto Rico on Monday, then two games on 12-13 August in Spain against Slovenia and Spain, and then vs. Greece (18th) and Germany (20th) in Abu Dhabi (UAE).
The agreement with FOX extends to the 2024 pre-Olympic showcase games of both the men's and women's national teams, as well as the Nike Youth Summit in 2024.
¶
The U.S. men's World Cup team made its debut in Las Vegas Monday night with a 117-74 rout of Puerto Rico, winning the second half by 67-31!
The Americans led, 50-43, at half, behind nine points from substitute guard Austin Reaves and eight points from point guard Jalen Brunson, then blew the game open in the third quarter. Anthony Edwards had 11 points and the U.S. ran off a 34-18 quarter to lead by 84-61, and ran off 20 straight points to build a 94-61 lead with seven minutes to play.
The lead only expanded from there, as the U.S. finished with a 33-13 fourth quarter. Edwards finished with 15, as did sub Cameron Johnson and Mikal Bridges had 14. Tremont Waters led Puerto Rico with 17.
● Swimming ● As far as Russia's Evgeniia Chikunova, 18, the world-record holder in the women's 200 m Breaststroke, is concerned, she's fine with competing as a neutral. She told the Russian news agency TASS:
"I am an athlete who goes for global goals, I prepare every day, I kill more than six hours a day for sport. If they tell me that there is an opportunity to compete under a neutral flag, I will not refuse. So if the conditions are met and [Russian federation chief] Vladimir [Salnikov] says that it is possible to go, I and most of the team will go. When you prepare and live the sport, you don't want to miss a single opportunity."
Chikunova set her world mark of 2:17.55 at the Russian nationals in Kazan on 16 April; she also ranks third in the world this season in the 100 m Breast at 1:04.92 from the same meet.
● Weightlifting ● The Russian news agency TASS reported that no Russian lifters will compete at the International Weightlifting Federation World Championships in Riyadh (KSA) beginning 4 September. A posting from the IWF noted:
"[T]he IWF EB also approved the AIN [neutral] delegation that will be present at the IWF World Championships. It includes 12 athletes, seven support personnel, and one technical official – all of them have a passport from Belarus."
The IWF requires so-called "neutrals" to sign a declaration of non-support for the Russian invasion of Ukraine; the Russian federation has stated that none of its athletes will sign it.
¶
You can receive our exclusive TSX Report by e-mail by clicking here. You can also refer a friend by clicking here, and can donate here to keep this site going.
For our updated, 787-event International Sports Calendar (no. 3) for 2023 and beyond, by date and by sport, click here!