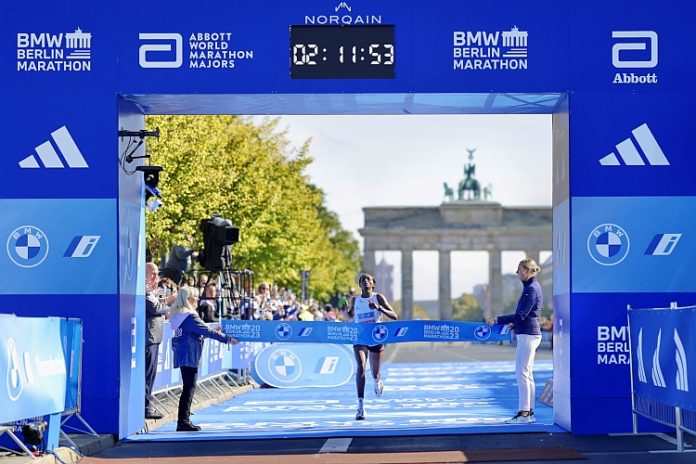 ★ The Sports Examiner: Chronicling the key competitive, economic and political forces shaping elite sport and the Olympic Movement.★
★ To get The Sports Examiner by e-mail: sign up here! ★
≡ THE 5-RING CIRCUS ≡
1. Assefa smashes women's marathon record in Berlin: 2:11:53!
2. WADA ExCo extends Russian sanctions … again
3. U.S.'s Vibert rips IWF for weigh-in humiliation at Worlds
4. Asian Games opens with dazzling ceremony and lots of politics
5. U.S. women beat South Africa, 2-0, in Rapinoe's farewell
● Ethiopia's defending Berlin Marathon champ Tigst Assefa didn't just win again, she obliterated the world record with a stunning 2:11:53 win, taking 2:11 off the mark. Kenyan star Eliud Kipchoge win his fifth Berlin Marathon title in 2:02:42, the no. 8 performance in history.
● The World Anti-Doping Agency Executive Committee imposed sanctions on two national anti-doping agencies, on PanAm Sports and imposed new sanctions on Russia for continuing to have the World Anti-Doping Code integrated into the country's legal system.
● American weightlifter (and Olympic medal winner) Kate Vibert shared a humiliating experience during her weigh-in at the World Weightlifting Championships from two International Weightlifting Federation technical officials in Saudi Arabia, and USA Weightlifting demanded accountability from the federation.
● The 19th Asian Games are underway in Hangzhou, China after an opening ceremony heavy on technology and politics. Chinese Premier Xi Jinping opened the event, with Syrian head of state al-Asaad and International Olympic Committee chief Thomas Bach of Germany in attendance. The show was a high-tech showcase, with a digital floor and a digital figure lighting the Games cauldron with Olympic swimming champ Shun Wang.
● The U.S. Women's National Team closed out a two-game series against South Africa with a 2-0 win in Chicago in the final national-team game for star forward Megan Rapinoe. Trinity Rodman and Emily Sonnett got the goals; Rapinoe left to a huge ovation after 53 minutes of play.
● World Championships: Breaking (U.S.'s Victor and Lithuania's Nicka win golds) Canoe-Kayak (Britain and Fox star at Slalom Worlds) = Rugby (France, Ireland, Wales, England lead groups at 3-0) = Triathlon (Connix and Potter take world titles) = Wrestling (Azerbaijan takes Greco title; U.S. wins most total medals) ●
● Panorama: Athletics (2: Gletty and Oosterwegal win Decastar; Young and Kelati win 10 km national titles) = Cycling (Daudet and Sakakibara take BMX World Cup titles) = Judo (Azeribaijan and Russia win three each in Baku Grand Slam) = Sport Climbing (China sweeps Speed, Japan sweeps Lead titles in World Cup closer) = Tennis (Haggerty re-elected as ITF chief) = Volleyball (U.S. women in for Paris from FIVB qualifier) ●
● Schedule: Sorry, no TSX post on Tuesday, but back in action on Wednesday! ●
1.
Assefa smashes women's marathon record in Berlin: 2:11:53!
In a year which has seen the women's world-record lists re-written in the 1,500 m, mile and 5,000 m, another stupendous performance saw Ethiopia's Tigst Assefa now only defend her Berlin Marathon title on Sunday, but destroy the women's world mark, winning in an astonishing 2:11:53.
The best-on-record had been Kenyan Brigid Kosgei's 2:14:04 at the 2019 Chicago Marathon, but Assefa – who came in with a best of 2:15:37 from last year's Berlin win – was part of a 13-member pack at 5 km and 10 km, then broke away and was all alone by the 20 km mark, with a 27-second lead. The crusher was in the 16th kilometer, when she ran 2:59 to sail away from countrywoman Workenesh Edesa.
Now the question was how fast could she run? All by herself, she passed the halfway mark in 1:06:20, with a 31-second lead, 30 km in 1:34:12 – no. 2 all-time! – and 40 km in 2:05:13 on her way to the finish in 2:11:53.
Assefa, 29, was an 800 m runner early in her career and was a 2016 Olympian for Ethiopia in the event, eliminated in the heats in Rio. She turned to the roads in 2018, but didn't break through until 2022, winning Berlin in 2:15:37, along with three 10 km and three Half Marathon wins, plus an early-season seventh in the marathon in Riyadh (KSA). Her win Sunday was in her first race in 2023.
She improved the Kosgei's mark by 2:11, the biggest jump since Norwegian icon Grete Waitz moved the world best from 2:32:30 to 2:27:33 in the 1978 and 1979 New York Marathons. Assefa ran the second half in 1:05:33, 47 seconds faster than the first half!
Assefa's time raises the question of when will a woman run under 2:10? As it is, her 2:11:53 would have been the men's world best as late as 1967, when Australian Derek Clayton ran 2:09:37 in December. It took about 2 1/2 years to go from Morlo Shigematsu (JPN)'s 2:12:00 in 1965 to Clayton, so could we see a women's sub-2:10 this decade?
The race was so fast that the top 19 all broke 2:20. Sheila Chepkirui (KEN) was second with her best World Marathon Majors placement ever, in 2:17:49, followed by Magdalena Shauri (TAN: 2:18:41) and Zeineba Yimer (ETH: 2:19:07). Annie Frisbie was the top American in 17th at 2:27:02.
Overshadowed by Assefa's monumental achievement was Kenyan superstar Eliud Kipchoge, who showed he is still a force with a convincing win in 2:02:42 for his fifth win in Berlin and second consecutive. He passed the halfway point in 1:00:22 and was alone after 30 km, winning by 31 seconds over Vincent Kipkemoi (KEN: 2:03:13). Ethiopia's Tadese Takele was third in 2:03:24, with Ronald Korir (KEN: 2:04:22) and Haftu Teklu (ETH: 2:04:42) fifth.
The top American finisher was Teshome Mekonen in 24th in 2:10:16, with Rio Olympian Jared Ward in 27th in 2:11:44.
Kipchoge's time was the no. 8 performance in history and he owns five of the eight. Kipkemoi's 2:03:13 pulls him into a four-way tie for no. 11 on the all-time list.
There was the widely-expected protest by the German climate-activist group Last Generation, which tried to interfere with the start of the race, pouring orange paint on part of the roadway. The protesters were quickly removed by police and the race was held without further incident.
2.
WADA ExCo extends Russian sanctions … again
The World Anti-Doping Agency's Executive Board had a busy meeting on Friday in Shanghai (CHN), imposing new conditions for reinstatement on Russia, holding two National Ando-Doping Organizations as non-compliant and also holding PanAm Sports as noncompliant a month before the 2023 Pan American Games.
Although the sanctions imposed by the Court of Arbitration for Sport against the Russian Anti-Doping Agency expired in December 2022, WADA has not confirmed the organization as compliant with the World Anti-Doping Code due to the lack of integration of the Code by legislation there. WADA noted the issue in September of 2022 and although the legislative fix is pending in the Russian State Duma, it has not been implemented.
The Russian news agency TASS noted, "The Russian cabinet of ministers decided to deprive the Sports Ministry of the authority to adopt regulations that lay down nationwide anti-doping rules."
The new sanctions package bars RUSADA representatives from participating in WADA governance, hosting any WADA events or receiving WADA funding.
Further, the new sanctions continue the ban on Russia hosting any regional, continental or world championships – which the current International Olympic Committee sanctions also require – and require that the Russian flag not be flown at any regional, continental or world championships, or at the Olympic Games. The current IOC sanctions also cover these elements, but are now also backed by WADA.
Russian Olympic Committee chief Stanislav Pozdnyakov told TASS: "For the time being, I don't even know how to react to this. But we will soon hold consultations with lawyers and the law department over this decision."
Last week, Evgeny Revenko, a member of the State Duma Committee on Physical Culture and Sports, told a clean-sport conference, "An international public organization cannot and should not dictate what national laws and rules apply in our country."
The two national anti-doping organizations to be held non-compliant are in Bermuda and South Africa, "due to a failure to appropriately implement the Code into their legal systems." Because of this, both countries will be sanctioned with no flag to attend their participation at the 2024 Olympic Games, or at regional, continental or world championships, a ban on hosting such events and no participation in WADA funding of offices.
And four more must become compliant:
"The ExCo also followed the recommendation of the [Compliance Review Committee] to place the NADOs from the following countries on the 'watchlist', giving them an additional four months to correct outstanding non-conformity(ies): Algeria, Angola NOC (acting as a NADO), Ecuador, Mongolia, Morrocco, and the Philippines."
The sanctions against PanAm Sports involve ineligibility for its officers and staff not to hold any WADA offices or host events and will not create any difficulties for the operation of the Pan Am Games in Santiago (CHI), however, "[t]here will be Supervision of the entire testing program implemented by Panam Sports at its Events at Panam Sports's expense until Reinstatement."
3.
U.S.'s Vibert rips IWF for weigh-in humiliation at Worlds
"Due to a new [International Weightlifting Federation] rule requiring us to wear singlets at weigh-in, many athletes sought out alternative options for a lighter costume. This lighter singlet was legless, but adhered to the rules in place. My teammates who competed before me wore it and officially weighed in with it, yet after some pushback we got formal approval from the IWF technical committee prior to my competition day.
"I stripped down to said singlet at my weigh in. The officials immediately expressed their disapproval, pointing repeatedly at my chest. They both spoke to each other in a language I couldn't understand, and told me 'no, unacceptable' while staring and pointing directly at my breasts. Without the support and coverage of a sports bra, they seemingly took offense to my natural body under the singlet. The chest area of the singlet violated absolutely no rules for IWF costume guidelines. Any 'offensive' part of my body was covered and I was denied to wear this singlet at all simply due to the fact that I am not built similarly to most weightlifters. I was embarrassed, humiliated, and angry.
'Wanting the whole thing to be over, I had my coach grab my competition singlet. Thanks to @apexpnc [Apex Performance], I was well underweight and knew I would be under 71.0kg with the heavier costume."
That's American lifting star Kate Vibert, the Tokyo Olympic silver medalist in the women's 76 kg class, explaining her painful weigh-in incident on Instagram late last week, after the close of the 2023 World Weightlifting Championships in Riyadh (KSA).
Vibert ended up fifth in the 71 kg competition on 13 September and said the weigh-in drama earlier in the day did not impact her, but drew a sharp public rebuke on Thursday from USA Weightlifting, with chief executive Matt Sicchio posting a message that included:
"The body shaming and humiliation she experienced from the international technical officials responsible for her weigh-in is not acceptable in any context, and certainly not as an elite athlete preparing to represent her country at the highest level of our sport. USAW is submitting a formal complaint to the IWF to demand accountability from the technical officials responsible for Kate's weigh-in and action from the IWF to ensure no such experience happens to any other athletes at future IWF competitions. We are asking the IWF for swift and decisive action on this matter.
"Three other athletes, including another member of Team USA, weighed-in with the same singlet design as Kate under the watch of different technical officials and without incident. Kate deserved to be treated equitably and professionally. We share her anger and dismay that she was not."
Sicchio also noted that the incident will result in new procedures from the U.S. for the future:
"Importantly, it should not have taken Kate's Instagram post to elevate this incident to our leadership team's attention. While we were on site in Riyadh to provide support to Kate during this incident, we could have been quicker to bring this matter to IWF decision-makers and demand action. We are using it as an opportunity to retrain our team so that we continue to be the strongest advocates for Team USA athletes."
Observed: This is a bad, self-inflicted wound by the IWF, which is trying to get back onto the Olympic program for 2028. In a time of significantly-increased emphasis by the IOC on gender equity, to have this kind of situation emerge is a step backwards and requires fast work by the IWF, which assured Sicchio that swift action will be taken.
4.
Asian Games opens with dazzling ceremony and lots of politics
The 19th Asian Games opened on Saturday (23rd) in Hangzhou (CHN), with a heavy display of technology and politics in an enormous event that had to be delayed by a year due to Covid-19.
A crowd of 80,000-plus at the Hangzhou Olympic Sports Center Stadium saw Chinese President Xi Jinping formally opened the Games, sitting next to International Olympic Committee President Thomas Bach (GER), United Nations Secretary-General Antonio Guterres (POR) and Syrian President Bashar al-Assad, among others.
It was widely noticed that Afghanistan's delegation walked in with men and women marching together, and led by the resistance flag instead of the one approved by the ruling Taliban. North Korea entered 132 athletes, its first major appearance at an international games since the Covid pandemic; although it remains non-compliant with the World Anti-Doping Agency and it flag is not supposed to be flown, it was used at the opening. Reuters reported that "WADA wrote to the OCA to remind them of their obligations and to inform them that a compliance procedure would be opened against them as appropriate."
The show elements were spectacular, with a cast of thousands of dancers and performers further enlivened the backdrop of glass-free 3-D animations and digitally-enhanced projections on the oval-shaped floor and background screens.
Of course, the lighting of the torch had a major digital element, with a Transformer-like digital figure – made up of over 100 million virtual sparks – running through the streets of Hangzhou, crossing the Qiantangjing River and entering the stadium to light the cauldron alongside Tokyo women's Olympic 200 m Medley Shun Wang. The ceremony concluded with a light show of "digital fireworks."
China won the first medal of the Games on Sunday morning, with Jiaqi Zou and Xiuping Qiu taking the women's Lightweight Double Sculls. And the Chinese won all seven events in swimming on the first night, with world-leading performances from Zhanle Pan in the men's 100 m Free (46.97, no. 5 all-time) and Wang, who won the 200 m Medley in 1:54.62 to move to no. 3 all-time. Yufei Zhang, the World 100 m Butterfly gold medalist, won the 200 m Fly in 2:05.51, moving to no. 4 in the world for 2023.
The Asian Games is enormously important in Asia and far more important in its region than the Pan American Games is in the U.S. A reported 12,417 athletes from 45 countries were entered, in 481 events across 40 sports. It's worth noting a comparison with the Olympic Games in 2024, which will have 10,500 athletes in 329 events in 32 sports.
The Games will continue through 8 October, with China certain to lead the medal table again.
5.
U.S. women beat South Africa, 2-0, in Rapinoe's farewell
The second of two friendlies between the U.S. Women's National Team and South Africa, this time in Chicago, saw a convincing, 2-0 win for the Americans in the final national-team game for star forward Megan Rapinoe.
The game opened with the U.S. constantly in possession, but unable to score until the 18th minute, when Trinity Rodman's right-footed volley smash from the middle of the penalty area found the net off of Alex Morgan's perfect cross from near the endline at the far side of the South African net, for a 1-0 lead.
It was Rodman's fourth goal of the year and sixth in international competition. She barely missed a second goal in the 33rd on a drive from the top of the box that went just wide. Rapinoe got a couple of open looks from long range, but was unable to get the ball on frame. The U.S. had 60% of possession and a 10-0 advantage on shots.
In the 49th, an in-swinging Rapinoe corner was punched away by South African keeper Andile Diamini, but not cleared and Emily Sonnett headed it in over Diamini's head for a 2-0 lead. Rapinoe then took a free kick from 20 yards out three minutes later than just skimmed over the net, and she exited the game in the 53rd – for Midge Purce – to loud cheers from the crowd.
The U.S. continued with control, but did not score again, although Rodman's rocket from 25 yards out hammered the crossbar. The game finished with the U.S. holding 63% of possession and a 19-0 shots advantage. Casey Murphy got the shutout in goal for the Americans, who out-scored South Africa by 5-0 over the two-game set.
Rapinoe finished with 203 appearances for the national team from 2006-23, scoring 63 goals and contributing 73 assists. Although her national team career is concluded, she will finish her NWSL season with the OL Reign in Seattle into October.
She will be remembered as a brilliant playmaker and scorer, with perhaps the best pass in American soccer history – men or women – with her cross-field rainbow to the head of striker Abby Wambach for the tying goal in the 122nd minute of the 2011 FIFA Women's World Cup quarterfinal against Brazil to send the match into overtime for an eventual U.S. win.
Rapinoe played on four Women's World Cup teams, reaching the final in 2011 and winning in 2015 and 2019. She won the Golden Ball Award for best player and Golden Boot award as the top scorer in 2019, and was recognized as the women's Player of the Year. In two Olympic appearances, she was on the gold-medal team in 2012 and the bronze winners in Tokyo.
The U.S. women will be in action again in October against Colombia for two friendlies, on the 26th in Sandy, Utah, and the 29th in San Diego, California.
≡ WORLD CHAMPIONSHIPS ≡
● Break Dancing ● At the 2023 World DanceSport Federation World Breaking Championships in Leuven (BEL), American star Victor (Victor Montalvo) – the 2022 World Games champ – defeated defending champion Phil Wizard (Philip Kim: CAN), 2-1 on the judges' scorecards, in the final for the men's world title, winning his second Worlds gold, previously in 2021.
Sixteen-year-old Nicka (Dominika Banevic: LTU) won the women's gold over 2021 World Champion Ayumi (Ayumi Fukushima: JPN), also by 2-1. It's the first time that a dancer from other than Japan has won the women's event in four editions.
● Canoe-Kayak ● The British team thrilled the home fans at Lee Valley (GBR) with five wins in the 10 events of the 2023 ICF World Canoe Slalom Championships.
The men's star was Joseph Clarke, the Rio 2016 K-1 Olympic champ, who won his fourth and fifth career Worlds golds by taking the K-1 in 91.32 (0 penalties) from Tokyo Olympic champ Jiri Prskavec (CZE: 91.26/0), and then winning the Kayak Cross event – which will be contested at Paris 2024 for the first time – ahead of Boris Neveu (FRA), a two-time K-1 World Champion himself.
Neveu won a second silver in the men's K-1 team event (92.99), won by the Czech Republic (91.76), including Prskavec, his third career gold in that event.
Britain's Mallory Franklin, the women's Tokyo C-1 runner-up and Kimberley Woods, a four-time Worlds Team gold medalist, starred in the women's racing. Franklin and Woods went 1-2 in the C-1 final in 108.05 (0) and 1.08.47 (0), ahead of superstar Jessica Fox (AUS), who suffered two penalties and finished at 108.94.
American Evy Leibfarth, 19, was seventh (117.95/2).
Franklin and Woods teamed with Ellis Miller to win the C-1 Team final in 112.45, ahead of the Czech Republic (114.55). Then Woods won the Kayak Cross final, ahead of Camile Prigent (FRA), the 2020 European runner-up.
Fox came back to win the women's K-1 final in 103.60, despite a two-second penalty, ahead of Eliska Mintalova (SVK: 104.73/2) and Klaudia Zwolinska (POL: 105.00/0). Leibfarth was 12th and did not advance to the finals.
Fox teamed with younger sister Noemie Fox and Kate Eckhardt to take the K-1 Team event in 1:08.62 with Spain second in 1:08.91 and Britain (with Franklin and Woods) third in 1:09.02.
For the amazing Jessica Fox, now 29, she owns 14 Worlds golds, five silvers and three bronzes, all but six in individual events. She will once again be a favorite in Paris next year at her fourth Olympic Games.
In the men's C-1, Slovenia's Tokyo Olympic champ Benjamin Savsek won his second Worlds individual gold in 97.40 (0), ahead of Nicolas Gestin (FRA: 98.58/0). But Gestin got a gold, too, with Jules Bernardet and Lucas Roisin in the C-1 Team final, winning in 99.17 to 99.20 over Great Britain.
The British had eight medals (5-2-1) to Britain's five (1-4-0) to lead the medal table.
● Rugby ● The 10th Rugby World Cup continues in France, with the third of five rounds of matches in the group stage continuing through 8 October. The top two teams out each of the four groups will qualify for the quarterfinals; so far:
● Group A: France (3-0: 13 points); Italy (2-0: 10)
● Group B: Ireland (3-0: 14); South Africa (2-1: 10)
● Group C: Wales (3-0: 14); Fiji (1-1: 6)
● Group D: England (3-0: 14); Samoa (1-1: 5)
Attendance has surpassed the million mark at 1,009,651 for 22 matches, a healthy 45,893 average across the nine venues.
Although most of the matches have been competitive, there have been some notable routs, with France stomping Namibia, 96-0, on 21 September in Marseille, and South Africa beating Romania, 76-0, on 17 September. England sailed by Chile, 71-0, on 23 September in Lille.
The quarterfinals begin on 14 October; the championship match will be on 28 October.
● Triathlon ● France and Britain dominated the World Triathlon Championship Series final in Pontevedra (ESP), winning five of the six medals, including a men's win for Dorian Connix and a women's title for Beth Potter.
Connix was sixth out of the water, and 16th-fastest on the bike, but was in contention going into the run. On the final lap, Connix, countryman Pierre Le Corre and German Tim Hellweg broke away and raced for the tape, with Connix the strongest at the finish for his first World title.
The top three were all timed in 1:42:22, with 2022 World U-23 champs runner-up Hellweg winning the silver and 2018 European champ Le Corre claiming the bronze. France also claimed fourth, with Leo Bergere crossing in 1:42:28. Matthew McElroy was the top U.S. finisher in 16th at 1:43:48.
Potter, already the winner of the Paris 2023 Test Event this season, was 16 seconds behind the leader after the 1,500 m swim, but moved up during the bike phase to be within striking distance on the 10 km run. Then she moved swiftly, with the fastest time in the field by 18 seconds (33:26) to win, 1:53:19 to 1:53:37 over fellow Brit Kate Waugh. France's Cassandre Beaugrand, a two-time winner on the circuit this season, finished third in 1:53:50.
Americans Kirsten Kasper and Taylor Spivey finished 15-16 in 1:55:17 and 1:55:19, with Katie Zaferes 19th (1:55:46). Comebacking Rio 2016 Olympic champ Gwen Jorgensen was 43rd in 1:59:03.
● Wrestling ● The 2023 World Wrestling Championships concluded in Belgrade (SRB), with the Azerbaijan winning the Greco-Roman team title with 120 points to 104 for Iran and the U.S. winning the most medals overall.
The Azerbaijanis got wins from Eldaniz Azizli (55 kg) and Rafig Huseynov (82kg) and three silvers, while Cuba – with Tokyo 60 kg Olympic champ Luis Orta at 67 kg and Gabriel Rosillo at 97 kg – and Kyrgyzstan – by Zholaman Sharshenbekov (60 kg) and Akzhol Makhmudov (77 kg) – also got two wins.
Azizli, Sharshenkekov and Makhmudov all defended their 2022 titles, while the 139 kg class had the same finalists, but this time it was Iran's Amin Mirzazadeh defeating Turkey's Riza Kayaalp, where Kayaalp won in 2022.
The U.S. finished 22nd in the Greco team standings and won 10 matches vs. seven last year. However, the American teams won 14 total medals (4-3-7) for the most overall, trailed by Japan (6-3-3: 12).
≡ PANORAMA ≡
● Athletics ● France's Makenson Gletty scored a lifetime best for home fans at the annual Decastar multi-events showcase in Talence (FRA) over the weekend, moving to no. 14 on the 2023 world list at 8,443.
He won the shot and was second in the 100 m and 400 m on the first day, then took the 100 m hurdles and the 800 m on day two for his record total. Germany's Manuel Eitel was second (8,193) and Grenada's Worlds bronze winner Lindon Victor was third (7.980). American Devon Williams was 12th (6,486).
Dutch star Emma Oosterwegal, the Tokyo Olympic bronze medalist, won the women's division at 6,495, finishing second in the shot and winning the javelin. Swiss Annik Kalan, the 2022 European bronze medalist, was second (6,390) and American Taliyah Brooks (6,181) got third, just ahead of fellow American Annie Kunz (6,126).
¶
The USA Track & Field road 10 km championship was held Saturday morning in conjunction with the Great Cow Harbor 10k in Northpoint, New York, with Clayton Young running away from Willy Fink, 28:49 to 28:52 in the men's race and Weini Kelati dominating the women's race, 31:57 to 32:40 over Ednah Kurgat.
Young won in the final meters, moving away from Fink, Leonard Korir (28:54) and Daniel Mesfun (28:56) and took his third national title of the year, after winning the 8 km in July and the 20 km early in September.
Kelati simply ran away from the field, with a 150 m lead by halfway over Kurgat, who was also running alone. Kelati won her second career national title, after the 2021 5 km. Emma Hurley was third in 32:56 and Amanda Vestri finished fourth in 33:02.
● Cycling ● The third of five stops on the 2023 BMX World Cup was scheduled for Sarrians (FRA), with Saturday's fifth round of the season canceled due to strong winds that made the course unsafe.
On Sunday, the home team – France – swept the men's final with two-time World Champion Joris Daudet taking the victory at 31.200, ahead of 2018 world titlist Sylvain Andre (31.458) and Jeremy Rencurrel (31.509). It's Daudet's third win of the season in five races.
Australia's two-time seasonal champion Saya Sakakibara won the women's race in 33.890, beating Swiss 2022 World Champion Zoe Claessens (34.254), Tokyo bronze medalist Merel Smulders (NED: 34.945) and American two-time World Champion Alise Willoughby (35.297). It's the second win of the season for Sakakibara and the fourth medal in five races for Willoughby.
● Judo ● A big turnout of 446 judoka from 61 countries came for the Baku Grand Slam in Azerbaijan, with the home team scoring three wins.
Yashar Najafov took the men's 66 kg gold for his first career Grand Slam gold, as did Zelim Tckaev at 81 kg. At 73 kg, 2022 European Champion Hidayat Heydarov won his fifth career Grand Slam title.
Russian fighters, competing as "neutrals," won three men's classes: Abdulaev Ramazan won at 60 kg in an all-Russian final with Gamzat Zairbekov; two-time European champ Mikhail Igolnikov won at 90 kg, and 2023 World Co-Champion Inal Tasoev won the +100 kg class over 2018 World Champion Guram Tushashvili (GEO).
Japan's Kisumi Omori posted a win at 52 kg, beating Kosovo's Tokyo Olympic champ Distria Krasniqi. Kosovo did get a win from its Tokyo Olympic gold medalist Nora Gjakova at 57 kg, over Georgia's 2019 World Junior Champion, Eteri Liparteliani.
German Anna-Maria Wagner, the 2021 World Champion in the women's 78 kg class, won her division over Alice Bellandi (ITA) and Brazil's Beatriz Souza, the 2022 Worlds runner-up, won the +78 kg division by defeating Portugal's Rochele Nunes in the final.
● Sport Climbing ● China swept the Speed titles at the IFSC World Cup in Wujiang, and Japan took the honors in Lead in the final competition of the season.
China went 1-2 in the men's Speed, with Peng Wu, 20, defeating Jingjie Huang in the final, 5.05 to 5.10, with Japan's Ryo Omasa taking the bronze and American Samuel Watson seventh. It's Wu's first World Cup gold after silvers in 2022 and 2023.
Lijuan Deng won her first World Cup in the women's division, winning in 6.58 over 2022 World Games runner-up Natalia Kalucka (POL: 6.69). It's Deng's third medal of the season, after three wins last year. China's Di Niu was third, 6.89-7.85 over Poland's Aleksandra Kalucka.
In the seasonal rankings, Indonesia Leonardo Veddriq won the men's title at 3,470, with Wu second (3,405) and the U.S.'s Watson third (2,550). Poland's Kalucka won the women's seasonal crown at 3,700 points, trailed by countrywoman Aleksandra Miroslaw at 3,545.
In Sunday's Lead finals, Japan swept both divisions, with Sorato Anraku, 16, winning his fourth men's World Cup event of the year, reaching 39+ holds in the final, ahead of three countrymen: Shion Omada (30+), Taisei Homma (26+) and Yoshiyuki Ogata (26+).
Ai Mori, 20, the 2023 women's World Lead Champion, won her fourth World Cup medal of 2023 with a finals total of 36+ holds, well ahead of 2022 World Games champ Jessica Pilz (AUT: 31+) and Natsuki Tanii (JPN: 26+).
In the seasonal Lead series, Anraku won the men's division at 4,300 points, with Alexander Megos (GER: 2,650), while Pilz was the women's title winner at 3,235, ahead of Olympic champ Janja Garnbret (SLO: 3,300).
● Tennis ● American David Haggerty was easily re-elected for a third term as President of the International Tennis Federation on Sunday at the ITF Annual General Meeting in Cancun (MEX), receiving 318 votes (72.94%) against 118 (27.06%) for German challenger Dietloff von Arnim.
Haggerty, 66, was first elected in 2015, and became a member of the International Olympic Committee, linked to his federation presidency, in 2020. He continues as one of two U.S. members of the IOC, with Anita DeFrantz, now 70, elected as an individual member in 1985.
● Volleyball ● The FIVB's three Women's Olympic Qualifying Tournaments were on in China, Japan and Poland, with six teams advancing to Paris out of the 24 competing, including the U.S.
In Group A, held in Ningbo (CHN), rising power Dominican Republic won the group at 6-1 (17 points), ahead of 2022 World Champion Serbia (5-2: 15), just ahead of Canada, also 5-2, but which earned 14 points. Serbia defeated Canada in their head-to-head match-up, 3-0.
Group B in Tokyo (JPN) had Turkey was the undefeated winner at 7-0 (21 points), followed by 2022 Worlds runner-up Brazil (6-1: 16). Japan at 5-2 did not advance.
In Lodz (POL), the Group C standings had the defending Olympic champion U.S. women on top at 6-1 (18 points), finishing ahead on criteria over Poland (6-1: 18), the only team the Americans lost to. Poland had to defeat 2022 Worlds bronzers Italy on the final day, 3-1, to advance to Paris. Paris will be the 12th Olympic appearance for the American women, and their 11th consecutive Olympic appearance.
Seven of the 12 teams for Paris are now decided; the six qualifiers and host France; the last five will come from the FIVB world rankings as of mid-June in 2024.
¶
You can receive our exclusive TSX Report by e-mail by clicking here. You can also refer a friend by clicking here, and can donate here to keep this site going.
For our updated, 787-event International Sports Calendar (no. 3) for 2023 and beyond, by date and by sport, click here!