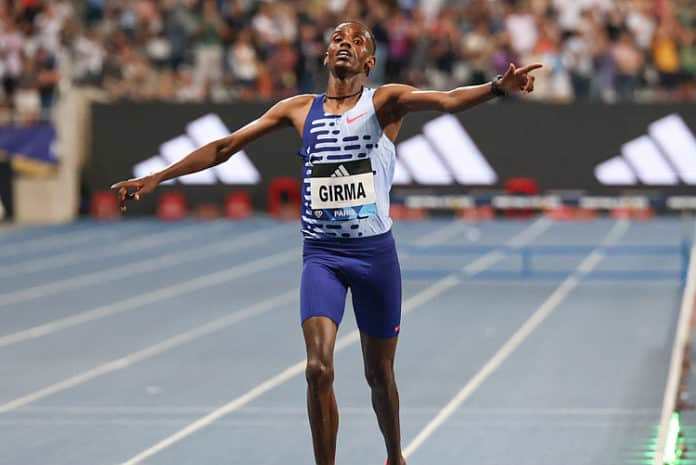 ★ The Sports Examiner: Chronicling the key competitive, economic and political forces shaping elite sport and the Olympic Movement.★
★ Friends: If you would like to support our coverage, please donate here. Your enthusiasm is the reason this site continues. Thank you. ★
★ To get The Sports Examiner by e-mail: sign up here! ★
≡ THE 5-RING CIRCUS ≡
1. Three world records at sensational Paris Diamond League!
2. NCAA men: Florida's 2:57.74 4×4 record earns team title
3. NCAA women: Alfred's birthday triple win leads Texas to the title
4. North Korea no-shows at IWF Grand Prix
5. ISU maintains ban on Russia and Belarus for now
On one of the best weekends of track & field ever, three world records – okay, two world records and a world best – were set at the Meeting de Paris in France, with Norway's Jakob Ingebrigtsen running 7:54.10 to take down a 26-year old mark in the men's two-mile, Kenyan sensation Faith Kipyegon moving up to 5,000 m to set her second world record in a week, this time in the 5,000 m and Ethiopia's Lamecha Girma blasting the 19-year-old men's Steeplechase record in 7:52.11. There were also more world leaders from Kenyan Emmanuel Wanyonyi in the men's 800 m, Grant Holloway of the U.S. in the 110 m hurdles and British star Keely Hodgkinson in the women's 800. At the NCAA Track & Field Championships in Austin, Texas, Florida had to win the 4×400 m relay to take the men's team title and did it in style with a collegiate record of 2:57.74! Courtney Lindsey of Texas Tech won the 100 m in 9.89 and Nigerian Udodi Onwuzurike took the 200 m for Stanford in 19.84. The women's final day featured St. Lucia sprinter Julien Alfred of Texas on her 22nd birthday, leading off the winning 4×100 m team in 41.60 and then winning the 100 and 200 in 10.72w and 21.73w as the Longhorns won the team title easily. Florida's Jasmine Moore set a collegiate record of 14.78 m (48-6) to repeat as triple jump champion. There was great concern at the IWF Grand Prix in Havana that a North Korean team of lifters – who had not been subject to outside doping tests since 2019 – might upset the competition, but the entire team turned out to be a no-show, raising questions about whether the country will compete at all in Paris in 2024. The International Skating Union made no decision on the re-entry of Russian and Belarusian athletes to competition, but decided to study the possibilities further. The reaction from Russia was harsh – as expected – but the ISU Council was more concerned about its financial future if its audience, especially on television, does not improve in the near future.
● World Championship: FIFA men's U-20 (Uruguay manages 1-0 win over Italy in final) ●
● Panorama: Badminton (Five countries win at Singapore Open) = Canoe-Kayak (Fox sweeps Slalom World Cup in Prague) = Cycling (2: Vingegaard storms to Criterium du Dauphine win; Schurter wins again at Mountain Bike World Cup) = Gymnastics (2: Godwin dominates Osijek World Challenge Cup) = Sport Climbing (U.S.'s Grossman takes Brixen World Cup) = Taekwondo (Olympic champs win three at Rome World Cup) = Volleyball (Cuba beats U.S. in NORCECA men's U-21 final) = Weightlifting (U.S. wins three medals in first five weights at IWF Grand Prix) = Wrestling (Olympic champs Steveson, Snyder, Taylor and World Champs Gray, Elor, Winchester and Parrish star at Final X) ●
● Errata: Some readers saw a version of Friday's headline that left out the "r" in Sydney McLaughlin-Levrone. This has been corrected. ●
1.
Three world records at sensational Paris Diamond League!
It was just a one-night track meet, the annual Diamond League Meeting de Paris at the Stade Charlety, but it turned out to be one of the most memorable nights in track & field history:
● Norway's Olympic 1,500 m and World 5,000 m champ Jakob Ingebrigtsen smashed Kenyan Daniel Komen's impressive 1997 two-mile record with a brilliant 7:54.10, essentially running back-to-back 3:57 miles.
● Kenya's two-time Olympic 1,500 m gold medalist Faith Kipyegon followed up her 2 June world mark in the 1,500 m with an unbelievable 14:05.20, defeating existing record holder Letsenbet Gidey (ETH) in the process.
● Ethiopia's Lamecha Girma executed his race plan perfectly to break the 2004 mark by Saif Shaheen (QAT) with a spectacular 7:52.11, winning by more than 17 seconds.
That wasn't all, as there were more world-leading performances:
● Men/800 m: 1:43.27, Emmanuel Wanyonyi (KEN)
● Men/110 m hurdles: 12.98, Grant Holloway (USA)
● Women/800 m: 1:55.77, Keely Hodgkinson (GBR)
Ingebrigtsen's world-record attempt at two miles (3,218.7 m) was early in the program and he ran alone after the pacesetters stepped off at 2,400 m. His pace did not drop and he pushed relentless to break Komen's 7:58.61 time from 1997. He ran 55.4 from 2,800 to 3,200 m and 1:53.6 from 2,400 to 3,200 m to set an impressive new mark of 7:54.10, that may not be challenged for a long time. Even Ingebrigtsen was impressed: "I was a bit surprised about the time in the end."
His mile splits were 4:00.3 and 3:53.8 (!); and was timed at 3,000 m in a world-leading 7:24.0, moving to no. 4 all-time. Kenya's Ishmael Kipkurui was second in 8:09.23 and American Paul Chelimo was fifth in 8:15.69. 
While Ingebrigtsen had been pointing for a world best (two miles was dropped as a world-record distance in the 1970s), Kipyegon had not run a 5,000 m since 2015 and no one was quite sure what would happen. The race was a one-on-one duel between world-record holder Gidey (14:06.62 in 2020) and Kipyegon after 3,000 m and the Ethiopian star had the lead with two laps to go. Kipyegon took a slight lead after that, but on the final lap, Gidey pushed to the front on the backstraight, but Kipyegon was game and flew by into the final straight and away to win in a staggering 14:05.20 for her second world record in a week!
Gidey finished in 14:07.94, the no. 3 performance of all time. Even Kipyegon was stunned:
"I do not know how I made it. I just focused on the green light and tried to stay relaxed and enjoy the race. I just did the race and wanted to see what happens, when I saw that it was a WR I was sooo surprised. It was all about giving my best. I just wanted to improve on my PB, the WR was not my plan."
American Alicia Monson was eighth in 14:34.88, the no. five outdoor performance in U.S. history.
Girma's attempt at the 2004 Steeple world mark of 7:53.63 by Saif Shaheen of Qatar (originally Stephen Cherono of Kenya) was completely planned, but like Ingebrigtsen, he was on his own. The Tokyo silver medalist even ran past the second pacemaker after 1,000 m and was against the clock the rest of the way. He was more than 12 seconds ahead of the field by 2,000 m and never faltered, taking the last lap (exterior water jump) in 63.8 and finishing in 7:52.11.
Japan's Ryuji Muira set a national record in second at 8:09.91, 17.8 seconds behind! Anthony Rotich was the only U.S. runner in the race and got a lifetime best of 8:16.27. Said Girma afterwards, "I felt so fast during the race, so confident. The world record is not a surprise, I planned to beat it tonight in Paris. It's a result of a full determination."
Those were just the records!
World Champion Holloway had control of the men's 110 m hurdles early and never let up, breaking the tape at 12.98 (wind: -0.5 m/s), his fifth career sub-13 time. France's Just Kwaou-Mathey was second in 13.09, followed by Jamal Britt (13.14) and Daniel Roberts (13.14) of the U.S.
In the men's 800 m, it looked like Canadian star Marco Arop would be the winner on the home straight, but a mass finish saw Wanyonyi, 18, burst free in the final 5 m to get to the line first, improving his own world-leading time from 1:43.32 to 1:43.27. Arop finished in 1:43.30 as the top seven broke 1:44! Wow.
There was no such drama in the women's 800 m, as Hodgkinson, 21, stormed away from the field after 500 m and won going away in a national record 1:55.77, no. 25 all-time, but also no. 7 this century! Ajee Wilson of the U.S. overtook long-time rival Natoya Goule (JAM) for second, 1:58.16 to 1:58.23.
U.S. fans had a lot to cheer about, with American wins in the men's 100 m (Noah Lyles), 400 m hurdles (C.J. Allen), women's 200 m (Gabby Thomas), discus (Valarie Allman) and hammer (Brooke Andersen).
Lyles used his patented late rush to edge Ferdinand Omanyala (KEN), 9.97 to 9.98 into a headwind (-0.9), Allen came on late to impress in the hurdles in 47.92 – his first Diamond League win – with France's Wilfried Happio second (48.26) and Trevor Bassitt of the U.S. third (48.28). Thomas, who has been fighting injuries, looked supreme in mastering the curve and then storming the straight for a 22.05-22.34 win over fellow American Abby Steiner, with Marie-Josee Ta Lou (CIV) third, also 22.34.
Allman won the disc on her fourth throw of 69.04 m (226-6), with Croatian star Sandra Perkovic second (65.18 m/213-10). Andersen threw 77.13 m (253-0) to beat fellow American Janee Kassanavoid (74.74 m/245-2). Canada's Ethan Katzberg scored an upset over world leader Rudy Winkler of the U.S. in the men's hammer, 77.93 m (255-8) to 77.63 m (254-8).
Almost totally overshadowed was the much-anticipated women's 400 m, with world leader Marileidy Paulino (DOM) and 400 m hurdles world-record holder Sydney McLaughlin-Levrone of the U.S.
The American was out well and leading on the far turn, but Paulino shot ahead and ran away with a dominant performance in 49.12, with McLaughlin-Levrone getting a lifetime best of 49.71 in her first flat 400 m since 2018 and moving to no. 20 all-time U.S.
Portugal's Auriol Dongmo got a season's best of 19.72 m (64-8 1/2) to overcome World Champion Chase Ealey (19.43 m/63-9) and world leader Maggie Ewen (19.26 m/63-2 1/4) of the U.S. in the women's Shot.
Australia's Tokyo runner-up, Nicole Olyslagers, won the women's high jump over Vashti Cunningham of the U.S., clearing 2.00 m (6-6 3/4) to 1.97 m (6-5 1/2). Fellow Australian Nina Kennedy, the Worlds bronze medalist last year, won the vault at 4.77 m (15-7 3/4) over Margot Chevrier (FRA: 4.71 m) and Olympic and World champ Katie Moon of the U.S. (4.71 m/15-5 1/2).
Tokyo Olympic champ Miltiadis Tentoglou won the men's long jump at 8.13 m (26-8 1/4) and Japan's Haruka Kitaguchi, the Worlds bronze winner in 2022, took the women's jav over World Champion Kelsey-Lee Barber (AUS), 65.09 m (213-6) to 62.54 m (205-2).
A fabulous meet, but the nightcap was still to come.
2.
NCAA men: Florida's 2:57.74 4×4 record earns team title
More hot sprinting highlighted Friday's NCAA Division I Championships for men under very warm conditions in Austin, Texas, with Florida's spectacular 4×400 m squad producing a collegiate record to win the race and the team title.
The men's 100 m final was amazing, with seven under 10.00 and Courtney Lindsey of Texas Tech making a late surge to get to the line first out of lane eight in 9.89 (wind: +1.8 m/s) and moving to equal-third on the 2023 world list.
LSU soph Godson Oghenebrume (NGR) was just behind a 9.90 and Houston's Shaun Maswanganyi (RSA) was third in 9.91.
The 200 m was another scorcher, with qualifying leader Udodi Onwuzurike (NGR) of Stanford surging past Lindsey to win in 19.84, with Lindsey leading until the last gasp (19.86); Texas Tech's Terrence Jones (BAH) was third in 19.87.
Florida underscored its relay power in the 400 m, taking 1-2 with Emmanuel Bamidele (NGR) winning in 44.24 and teammate Ryan Willie next in 44.25, now nos. 4-5 in the world for 2023. Tennessee's Emmanuel Bynum was third in 44.49, now no. eight this season.
The 400 m hurdles was also crazy, with Alabama going 1-2 with Chris Robinson winning in 48.12 – now no. 4 on the world list – and Corde Long in 48.53.
LSU mixed-nationality team won the 4×100 m in a speedy 38.05 after Texas Tech was disqualified for passing out of the zone, with Florida moving up to second in 38.26, which had significant team-title implications.
The meet came down to the 4×400 m, with Florida already owning the collegiate record and needing to win and for Arkansas to finish fourth or worse for the Gators to win. Bamidele led off and teamed with Jacory Patterson, Jevaughn Powell (JAM: 44.94) and Willie (44.28) to lower their collegiate standard to 2:57.74. That gave Florida a 57-53 win and its sixth NCAA men's outdoor title.
That 2:57.74 is faster than all but six countries! Arizona State was second at 2:57.78 (Justin Robinson 43.92 on anchor!), followed by UCLA at 2:59.82. Wow!
The 800 m was another shocker, with Georgia frosh Will Sumner suddenly moving from a 1:46.53 man last season to a 1:44.26 lifetime best in the NCAA final, no. 8 in the world and no. 1 in the U.S. for 2023. Is he ready for a World Championships berth? He went out in just 53.15, but came home in 51.15!
Washington went 1-2 in the 1,500 m with soph Nathan Green and last year's winner, Joe Waskom, in 3:42.78 and 3:42.93; favored Kenneth Rooks (BYU) took the Steeple at 8:26.17, and Ky Robinson (AUS) from Stanford added the 5,000 m title (14:04.77) to his 10,000 m win.
Arkansas got an impressive win from its Jamaicans: freshman Jaydon Hibbert, who won by more than two feet at 17.56 m (57-7 1/2), and Philip Lemonius took the 110 m hurdles in 13.24 (+1.8). The Razorbacks got an important second from Roja Stona in the discus at 65.55 m (215-0), ahead of 2022 World Champion Mykolas Alekna (LTU) of Cal, who threw 63.25 m (207-6). Arizona State's Turner Washington got a huge final throw of 66.22 m (217-3) to steal the victory.
3.
NCAA women: Alfred's birthday triple win leads Texas to the title
On Saturday, Texas was favored to win the women's NCAA team title on home turf and started with a 41.60 win in the 4×100 m with sprint favorite Julien Alfred (LCA), Ezinne Abba (USA), Rhasidat Adeleke (IRL) and Kevona Davis (JAM).
Defending champ Alfred, Abba and Davis were all in the 100 m final and Alfred took over at 30 m and was never headed, winning by 5 m on her 22nd birthday in 10.72w (+2.3 m/s), with Kennedy Blackmon (Oklahoma State) second in 10.87w. Davis was fifth and Abba seventh, giving Texas 16 points in the team race.
Alfred was the NCAA Indoor 200 m winner and blew the field away in the straightaway to win by daylight in a wind-aided 21.73 (+2.5 m/s). Ole Miss' McKenzie Davis came on in the final 50 m to get second (21.88w), with Texas' Davis third (22.02w) and Lanae Thomas fifth (22.36w).
Hot and humid conditions are good for sprinters and the Longhorns dominated the day on the way to the team title, with Alfred collecting three wins on Saturday, on the way to a final total of 83 points, way ahead of Florida (51) and Arkansas with 46.
All eyes were on Arkansas junior Britton Wilson in the 400 m, the collegiate record holder at 49.13, trying for a crazy 400 m/400 m hurdles double inside a half-hour. But Ireland's Adeleke was even coming into the straightaway and ran away in the final 75 m to win in 49.20, no. 3 in the world in 2023, no. 20 all-time and an Irish national record. Wilson was second in 49.64, after running 49.36 in the semifinals on Thursday.
Wilson was on the track again for the 400 m hurdles – in which she was defending champion – just 24 minutes later, but she was never in contention, coming off the final turn in sixth and finishing seventh in 55.92. Instead, it was Canada's Savannah Sutherland (Michigan) who came off the curve in front and won in 54.45, with Kentucky's Masai Russell second in 54.66.
Wilson skipped the 4×400 m, but the Razorbacks had no trouble winning in 3:24.05, the no. 2 time in the world this year. Joanne Reid (JAM) gave Arkansas the lead on the second leg, then Nickisha Pryce (JAM: 50.33) blew the race apart and gave Rosey Effiong (50.73) a lead that grew to more than 20 m into the straight. Texas A&M was second in 3:26.12 and Ohio State third in 3:26.72.
Russell, LSU's 2022 NCAA champ Alia Armstrong and Arkansas' Ackera Nugent (JAM) came in 3-4-6 on the 100 m hurdles world list, and Armstrong had the lead early, but Nugent took off after hurdle five. Armstrong hit hurdle five, and Nugent steamed to the finish in a sensational 12.25w (+3.8 m/s), the equal-seventh fastest time under all conditions!
Russell hit the second hurdle, but came on to finish second in 12.32w, with Armstrong at 12.49w.
LSU's Michaela Rose, the favorite coming in, led wire-to-wire in the 800 m, winning in 1:59.83, with Oklahoma State's Gabija Galvydyte (LTU) second in 2:00.47.
In the 1,500 m, North Carolina State's defending 5,000 m champ Katelyn Tuohy pushed the pace and led on the final turn, but had nothing left into the straight and it was Harvard soph Maia Ramsden (NZL) pushing hardest to win in a lifetime best of 4:08.60, with Oregon's Isabella Thornton-Bott (AUS) coming up for second in 4:09.21.
Tuohy scratched in the 5,000 m, so Florida's SEC champ Parker Valby took off and forged a huge lead over the first 4,000 m and entered the final lap 50 m in front after a 72-second lap and she stormed home in 15:30.57. The 10,000 m winner from Thursday, Utah Valley junior Everlyn Kemboi (KEN) was second at 15:39.57. She took the 10,000 m in 32:39.08, throwing down a 68.8 final lap to pass defending champ Mercy Chelangat (KEN) of Alabama, who eventually finished third (32:49.62), with Oregon's Emily Venters second (32:47.70). Venters took the bronze in the 5,000 m at 15:42.40.
Greta Karinauskaite (LTU) of Cal Baptist set a hard pace in the Steeple with only Olivia Markevich of Notre Dame close, but with 300 m left, Markevich blew by and won in 9:25.03, 10-second lifetime best and now no. 19 on the 2023 world list. Karinauskaite was second in 9:30.85.
Florida's Jasmine Moore, the 2022-23 NCAA Indoor champ and 2022 outdoor winner, took the lead in the triple jump with her opener of 14.37 mw (47-1 3/4w), then exploded to 14.78 m (48-6) in the second to erase Keturah Orji's 2018 mark of 14.62 m (47-11 3/4). That moves Moore to no. 2 in the world for 2023!
Oregon's Jorinde van Klinken (NED), the two-time defending champ, set a meet record of 65.20 m (213-11) in the second round of the discus; she's already second in the world this season behind Allman. She improved to 65.55 m (215-0) in round three and that was the winner.
Ball State's Charity Griffith won the high jump at 1.93 m (6-4). Estonia's Pippi Lotta Enok, a freshman for Oklahoma, won the heptathlon with a lifetime best of 6,165, ahead of Beatrice Juskeviciute (LTU) of Vanderbilt (6,117).
4.
North Korea no-shows at IWF Grand Prix
There was considerable anxiety at the International Weightlifting Federation's Grand Prix in Havana (CUB) with the registration of 14 North Korean lifters.
Absent since 2019 and with that country closed tight over Covid-19 fears, its athletes could have been doping since there was no access for testers. In fact, the IWF had to issue a statement on 24 May that included:
"As an International Federation determined to eradicate doping and deliver a fair and clean sport, we fully understand the strength of feeling on this matter and recognise the legitimate concerns of those speaking out."
The IWF promised to meet with North Korean officials to establish a proper testing situation and if not agreed, to re-evaluate their entry into the meet.
No need.
The North Koreans will not show.
NKNews.org reported that "a North Korean athlete did not appear for his official weigh-in on Thursday, after the IWF made repeated attempts to contact sports and Olympic authorities in Pyongyang since Monday without success."
That would be Pang Un Chol in the men's 55 km class. Competition continues through the 18th.
Their absence indicates that no North Korean athletes will be able to compete in weightlifting at the 2024 Paris Olympic Games, but there is still a ways to go to be absolutely sure. It does raise the question of whether North Korea will compete at all in Paris next year, after completely skipping the Olympic Games in Tokyo in 2021.
5.
ISU maintains ban on Russia and Belarus for now
"The ISU Council decided to explore the feasibility issues with regard to potential pathways to implement the IOC recommendations within ISU Sports.
"The Council will continue to monitor the situation in Ukraine and its impact on the ISU activity as well as the decisions and their implementation within the Olympic Movement. In the meantime, ISU Communication 2469 remains in force."
That from the International Skating Union Council meeting of 9-11 June, maintaining the ban on Russian and Belarusian skaters for now, while further discussions take place on possible re-entry conditions and protocols.
Russian hopes were high for this meeting; so was the disappointment:
● Calgary 1988 Ice Dance gold medalist Natalya Bestemyanova told the Russian news agency TASS:
"If I were a major sports executive, I would think about alternative competitions exactly on the dates of the European Championships, Four Continents Championships, World Championships and see where the advertisers go. I think there will be countries that will hold international competitions with us. Remember the World Championships, it was ridiculous, it's not a start."
● Legendary coach Tatyana Tarasova told TASS:
"I did not expect such a decision, I could not even imagine that they would be punished so harshly for anything. This is just a mockery of us. No one has ever been suspended for two years."
The next ISU Council meeting is scheduled for October, as the 2023-24 season will be getting underway.
¶
The ISU's 2022 financial report also noted some impact from the ban on Russian skaters especially:
"The sanctions against Russia and the absence of Russian Skaters in ISU Events resulted in basically no advertising and media rights fee incomes from Russia. The first substantial negative impact of about CHF 1 million on the profit and loss statement will be noticed during 2023. The existing reserve of CHF 2.5 million for crisis situations will be partially dissolved to counter-balance this negative impact." (CHF 1 = $1.11 U.S.)
This paragraph caused immediate hysteria in Russia, with Dmitry Svishchev, Chairman of the State Duma Committee on Physical Culture and Sports, hyperventilating:
"If it goes on like this, ISU will be left without money and may become bankrupt."
In fact, the ISU financials showed reserves of CHF 241.58 million at the end of 2022. So much for bankruptcy.
Of larger concern was a note that the ISU – and other federations such as FIS and the IIHF – received $5.3 million less from the International Olympic Committee for television rights from the 2022 Beijing Olympic Winter Games than from PyeongChang 2018: approximately $43.7 million vs. $49.0 million. This was primarily attributed to impacts from the Covid-19 pandemic.
And the ISU Council telegraphed its considerable worry about its economics for the future in the face of worldwide economic headwinds:
"Unless we reverse the trend in TV ratings, renewing TV contracts at the current level will be challenging. At the same time, finding new sources of income, including the acquisition of new sponsors, will require time and effort. In addition, expenditures will continue to rise as we strengthen our efforts in good governance, sustainability, and safeguarding athletes."
≡ WORLD CHAMPIONSHIP ≡
● Football ● The final of the FIFA men's U-20 World Cup between Uruguay and Italy in La Plata, Argentina was tense but scoreless until Uruguayan forward Luciano Rodriguez finally headed in a corner that found the back of the net in the 86th minute for a 1-0 win.
Although Italy had more possession, Uruguay was on attack (and attack and attack), with a 15-3 final edge on shots, but unable to score until late, but it was enough. Italy committed 22 fouls to Uruguay's 12 to keep it close, and Italian keeper Sebastiano Desplanches made a spectacular save on a 4×1 break at 90+10 to save a clinching goal before a huge crowd of 38,257 at the Estadio Unico Diego Armando.
Uruguay is a first-time winner in this tournament, after being runner-ups in 1995 and 2013, but never champions in 15 prior appearances. Italy's previous best finish in the U-20s was a bronze in 2017 and fourth in 2019.
Israel won the bronze medal with a 3-1 decision over South Korea. Ran Binyamin scored in the 19th minute, but the Koreans tied it on a penalty from Seung-won Lee in the 24th. Two late goals came from Omer Senior in the 76th and Anan Khalaili in the 85th to seal the win for Israel, a team which Indonesia tried to keep out of the tournament on anti-Semitic grounds, with FIFA promptly removing the event to Argentina.
≡ PANORAMA ≡
● Badminton ● Five matches and five different countries with victories at the Singapore Open with only one top seed making it to the top of the podium.
That was China's women's Doubles team of Qing Chen Chen and Yi Fan Jia, who defeated Ha Na Baek and So Hee Lee (KOR), 21-16, 21-12.
Two second-seeds won, with Se Young An (KOR) overcoming top-seeded Akane Yamaguchi (JPN) in the women's Singles, 2116, 21-14, and Anthony Sinisuka Ginting (INA) sweeping Anders Antonsen (DEN) in the men's Singles final, 21-16, 21-13.
The men's Doubles saw fourth-seeded Takuro Hoki and Yugo Kobayashi (JPN) defeat no. 7 Wei Keng Liang and Chang Wang (CHN), 21-13, 21-18. Unseeded Mathias Christiansen and Alexander Boje (DEN) won the Mixed Doubles in an upset over second-seeds Yuta Watanabe and Arisa Higashino (JPN), 21-14, 20-22, 21-16.
● Canoe-Kayak ● Australian star Jessica Fox added to her impressive medal collection with more wins at the ICF Slalom World Cup II in Prague (CZE).
The three-time Kayak World Champion, she won the women's final in 98.95 seconds (0 penalties) over German Ricarda Funk, the Tokyo Olympic gold medalist (103.58/2) and Tokyo C-1 silver winner Mallory Franklin (GBR: 104.90/2).
Fox then scored her 43rd career World Cup victory in the Canoe final in 109.13 (2), ahead of Monica Doria Vilarrubla (AND: 110.57/0) and Gabriela Satkova (CZE: 111.02/0).
Britain's Kimberley Woods, the 2022 European runner-up, won her fifth career World Cup title in the Kayak Cross final, beating European champ Tereza Fiserova (CZE) and Italy's Stefanie Horn to the line.
Home favorite Jiri Prskevic (CZE), the Tokyo Olympic winner, took the men's Kayak final in 89.67 seconds (0 penalties), trailed by teammate, 2022 World Champion Vit Prindis (90.55/0) and Italian Giovanni de Gennaro, the 2022 Worlds runner-up (90.82/0).
Tokyo Olympic winner Benjamin Savsek (SLO) won the Canoe final in 97.65 (0), well ahead of Rio 2016 silver medalist Matej Benus (SVK) 101.26 (0) and Jules Bernardet (FRA) 102.90 (2).
Switzerland enjoyed a 1-2 finish in the men's Kayak Cross final, with Dimitri Marx and Jan Rohrer taking the top places.
● Cycling ● If the 75th edition of the Criterium du Dauphine fulfills its role as a preview of the Tour de France, then Danish star Jonas Vingegaard is ready for his title defense.
Vingegaard took over the lead following his 31-second win on the hilly stage 5, moving from second to first and taking a 1:10 lead on the field. On the triple-climb seventh stage on Saturday, he crushed the field, soloing over the final 5 km to win by 41 seconds over British star Adam Yates and take a 2:11 edge over Yates into the final day's mountainous, 152.8 km route into the Grenoble Alps region.
Italy's Guilio Ciccone, a three-time stage winner on the Giro d'Italia, attacked with 20 km remaining and soloed home with the Stage 8 win in 4:06:04, with Vingegaard second (+0:23) and Yates third (+0.33).
Vingegaard finished at 29:28:39, with a 2:33 lead on Yates and 2:56 on Australia's Ben O'Connor in third.
France's Christophe Laporte won stages 1 and 3 and had the early lead over the hilly stages, but once the real climbing started, Vingegaard was supreme.
¶
At the second stop for the UCI Mountain Bike World Cup, in Lenzerheide (SUI), the legendary Nino Schurter of Switzerland showed that he is still at the top of his game at age 37, winning the men's Cross Country (XCO) race by 15 seconds!
Schurter, a 10-time individual World Champion, was in front virtually from the start and piled up a huge lead and cruised home in 1:24:04, way ahead of South African 2018 U-23 World Champion Alan Hatherly (1:24:19) and 2020 World Champion Jordan Sarrou (FRA: 1:24:20). It was Schurter's 34th career World Cup victory.
Luca Schwarzbauer (GER) won the men's Cross-Country Short race in 19:47, just ahead of Sarrou and +0:04 on Sebastian Fini Carstensen (DEN).
The women's Cross Country victory went to 2022 World Champion Loana Lecompte of France, who led early, trailed briefly in mid-race, then rode away with an 18-second triumph in 1:24:41. That was 18 seconds up on three-time Worlds medal winner Anne Terpstra (NED: 1:24:59) and 32 seconds ahead of Swiss Alessandra Keller (1:25:13).
Rio 2016 Olympic Cross Country champ Jenny Rissveds (SWE) took the nine-lap women's Short race in 20:34, just two seconds up on Keller and Pauline Ferrand Prevot (FRA).
Britain swept the Downhill races (non-Olympic events), with 18-year-old Jordan Williams registering a surprise victory in the men's race in 2:39.222 over Worlds bronze medalist Loris Vergier (FRA: 2:39.717) and five-time World Champion Loic Bruni (FRA: 2:39.707). Five-time World Champion Rachel Atherton, 35, won the women's race in 3:07.514, beating Swiss 2020 World Champion Camille Balanche (3:08.048) and Nina Hoffmann (GER: 3:08.301).
● Gymnastics ● Australia's Georgia Godwin continued her medal-winning ways at the third FIG Artistic World Challenge Cup, this time in Osijek (CRO).
Godwin, who won two events and a silver in a third last week in Tel Aviv, won the Vault again, scoring 13.333 to edge Csenge Maria Bacskay (HUN: 13.099), then placed second to Naomi Visser (NED) in the Uneven Bars, 14.333 to 13.700.
On Sunday, Godwin swept the Beam and Floor events, scoring 13.900 to win on Beam, ahead of Barbora Mokosova (SVK: 12.700) and Visser (12.666). On Floor, Godwin scored 13.400 to edge Denelle Pedrick (CAN: 13.300) for her third gold in four events on the weekend.
Ukraine's Ilia Kovtun, the 2021 Worlds All-Around bronze medalist, and a five-time winner in the World Cup Series earlier in the year, won the men's Parallel Bars at 15.133, ahead of Turkey's two-time European Champion Ferhat Arican (14.966) and Brazil's two-time Pan American champ Caio Souza (14.533).
On Floor, Bulgarian Eddie Penev (ex-U.S.), won his second World Challenge Cup gold, this time scoring 14.100 to win over Ahmet Onder (TUR: 13.800). Armenia went 1-2 on the Pommel Horse, with Gagik Khachikyan scoring 14.766 to 14.600 for 2021 European champ Artur Davtyan; Kovtun took the bronze (14.500).
On Sunday, Davtyan won the Vault with 15.033, ahead of Souza (14.683), but Souza took the win on Horizontal Bar with 14.300, out-scoring teammate (and 2019 World Champion) Arthur Marinaro (14.166) and home favorite 2017 World Champion Tin Srbic (CRO: 14.166).
On Rings, Armenia's 2022 Worlds fourth-placer Artur Avetisyan won at 14.666 in a tight battle with London 2012 winner Arthur Zanetti (BRA: 14.533) and Souza (13.933).
¶
Brazil dominated the Pan American Rhythmic Championships in Guadalajara (MEX), taking gold and silver in the All-Around with Barbara Godoy (127.950) and Geovanna Santos (123.950). Americans Evita Griskenas (123.100) and Alexandria Kautzman (116.000) were 3-4.
In the apparatus finals, Mexico's Marina Malpica on on Ball (31.900) over Santos (31.600) and Kautzman (31.100), with Santos taking the Hoop title at 32.900), ahead of Godoy (32.800) and Griskenas (32.650).
Godoy won on Clubs (31.100) ahead of Kautzman (30.700) and Santos (30.450), and on Ribbon (32.550) with a clear win over Santos (31.300) and Canada's Tatiana Cocsanova (30.200). Kautzman was the top U.S. finisher in Ribbon at 28.600 for fifth.
● Sport Climbing ● American Natalia Grossman won her ninth career IFSC Boulder World Cup and second this season at Brixen (ITA), defending her title from 2022.
Grossman, 21, was consistent, scoring four tops in all three rounds and was the only one with four tops in the final, plus four zones in 12 tries for each (4T4Z 12/12). Korea's Chae-hyun Seo finished second (3T3Z 3/9) and Stasa Gejo (SRB) finished third with 3T4Z 5/6. Said the winner:
"I'm pretty excited right now. This one was a little challenging. The third boulder gave me a run for my money. I kind of started rapid firing which is something I've been trying not to do but I think just knowing I only had a few attempts left, sometimes it just takes me a while to learn a move. It's just repetition."
It was encouraging to see the return of Iranian climber Elnaz Rekabi, 33, who got into trouble at home for wearing her head scarf "improperly" at the Asian Championships in Korea last October. She had not appeared in any IFSC event so far this season; she finished 41st in the qualifying round and did not advance to the semis.
In the men's final, Britain's Toby Roberts, 18, scored his first World Cup gold with a 3T4Z 10/7 performance, ahead of last week's World Cup winner, Korean Do-hyun Lee (2T3Z 3/4), with Yoshiyuki Ogata (JPN: 2T4Z 5/6) in third. Colin Duffy was the top American, in seventh and did not make the final.
● Taekwondo ● Coming just a week after the 2023 World Championships was the World Taekwondo Grand Prix in Rome (ITA), with none of the Worlds winners repeating their wins.
In the women's finals, two of the four classes featured the new World Champions … but both lost. At 57 kg, Britain's Jade Jones– the two-time Olympic gold medalist from 2012 and 2016 – defeated Iran's Nahid Kiani, the 2023 Worlds winner, 8-6, 5-3, for a ninth Grand Prix title. Faith Dillon of the U.S. won a bronze.
At +67 kg, France's Worlds champ Althea Laurin lost to China's Lei Xu, 1-0, 7-4, to take silver; it's Xu's first career Grand Prix gold.
Tokyo Olympic 49 kg winner Panipak Wongpattanakit (THA), second at the 2023 Worlds, defeated Spain's Adriana Cerezo (ESP) in a re-run of the Olympic final, winning this time by 4-1 and 3-2. At 67 kg, China scored a second win with Jie Song overcoming Belgian Sarah Chaari by 5-2, 0-4, 3-1, for her first Grand Prix medal.
In the men's division, Tokyo Olympic 68 kg winner Ulugbek Rashitov of Uzbekistan won his weight class with a 7-3, 7-0 victory in the final over Levente Jozsa of Hungary, while Worlds 58 kg bronze winner Adrian Vicente took his first Grand Prix gold by defeating Iran's Mahdi Hajimousaei, 9-15, 10-3 and 6-4.
Jordan took the 80 kg gold as Saleh Al-Sharabaty – the Tokyo Olympic silver medalist at 80 kg – came from behind to defeat 2022 Worlds bronzer Mehran Barkhordari (IRI), 5-7, 4-4 (criteria), 6-5. Britain's Caden Cunningham won his first career Grand Prix gold by defeating three-time Worlds medal winner Nikita Rafalovich in the +80 kg final in an 8-4, 14-8 sweep.
● Volleyball ● Cuba and the U.S. fought to a fifth game in their pool match at the NORCECA men's U-21 Pan American Cup in Havana (CUB), with the home team winning, 22-25, 25-22, 25-22, 21-25, 15-11. Neither was challenged in their other matches and after semifinal wins over Puerto Rico (by Cuba) and Canada (by the U.S.), they matched up again in the final.
This time, the U.S. won the first two sets, 25-21, 25-21 and the third set went to 28-28 before the Cubans escaped with a 30-28 win. Then they handled the U.S. in set four by 25-15 and completed the comeback with a 15-11 win in the final set to take the match and the title!
Canada won the bronze by three sets to one over Puerto Rico.
● Weightlifting ● The long-promised first IWF Grand Prix finally got underway in Havana (CUB) with 272 lifters from 58 countries registered in an early event for Paris 2024 qualification (without North Korea, the totals drop to 258 from 57). .
The U.S. scored three medals in the first five weights, with Hayley Reichardt taking silver in the women's 49 kg class behind 2019 Pan American Games winner Beatriz Piron (DOM), with totals of 191 kg to 190 kg.
Jourdan Delacruz did even better, winning the 55 kg class at 195 kg, ahead of Shoely Mego of Peru (191 kg total).
Hampton Morris took silver in the men's 61 kg division, lifting a total of 290 kg, behind Indonesia's Ricko Saputra (295 kg).
In the men's 55 kg class, Osmel Argote of Cuba won at 222 kg (only two competitors) and Rosielis Quintana (VEN) won the women's 45 kg event at 159 kg (only two competitors).
The tournament continues through the 18th.
● Wrestling ● The big names were out at the Final X tournament in Newark, New Jersey on Saturday to determine who will represent the U.S. at the 2023 World Championships in Belgrade (SRB), and three men's Olympic Champions and four women's World Champions earned their tickets in best-2-of-3 matches:
In the men's Freestyle finals:
● Tokyo 125 kg gold medalist Gable Steveson – returned to the mat from WWE training – shut down Mason Parris, 6-2 and 5-0.
● Rio 2016 97 kg champ Kyle Snyder will try to win a fourth world title after taking a walkover over the injured J'den Cox, himself a two-time World Champion at 92 kg.
● Tokyo 86 kg champ David Taylor got past Aaron Brooks, 6-0 and 5-4.
The big shock of the men's Freestyle was Chance Marsteller's upset win over six-time World Champion Jordan Burroughs at 79 kg, 3-3 (for Burroughs), 5-4 and 8-3. Burroughs had been on every U.S. national team since 2011, but it will be Marsteller's first World Championships.
Four-time World Champion Kyle Dake will return, winning 6-0 and 3-0 over Jason Nolf at 74 kg, and 2022 Worlds silver winner Zain Retherford will return at 70 kg after an 11-2, 4-3 win over Tyler Berger.
Zane Richards (57 kg), Vitali Arujau (61 kg), Nick Lee (65 kg) and Zahid Valencia (92 kg) all qualified for their first Worlds, with Richards taking out 2021 World Champion Thomas Gilman (4-3, 8-6) and Lee defeating 2022 Worlds silver winner Yianni Diakomihalis (7-6, 8-8 criteria).
In the women's Freestyle bouts:
● Six-time World Champion Adeline Gray – and new mother of twins – is on her way again at 76 kg, reversing her upset loss to Kennedy Blades at the U.S. Open by 7-5 and then a pin at 4:38.
● Amit Elor, last year's sensation who won the U-20, U-23 and World Championships golds, will return after winning consecutive 10-0 technical falls over Joye Levendusky.
● Jacarra Winchester, the 2019 World Champion at 55 kg, won by 10-0 and 11-0 over Alisha Howk to make her fourth Worlds squad.
● Dominique Parrish, the 2022 World 53 kg Champion, defeated Katie Gomez by pinfall at 1:54 in the first match and by 5-0 in the second.
Two-time Worlds medal winner Kayla Miracle won at 62 kg over Adaugo Nwachukwu, 6-1, 10-3; Sarah Hildebrandt, a three-time Worlds medal winner at 50 and 53 kg, will go at 50 kg after a 8-0, 11-0 shutout of Audrey Jimenez.
First-time Worlds team members will include Jennifer Page (59 kg), Macey Kilty (65 kg) and Emma Bruntil at 68 kg. Kilty defeated two-time Worlds medal winner Mallory Velte, by pin and 6-5. Bruntil got by 2021 Worlds bronze winner Forrest Molinari, 6-3, 2-3 and finally by 3-2.
The 57 kg bout between Rio Olympic champ Helen Maroulis (53 kg) and Xochitl Mota-Pettis was postponed due to an injury.
In the men's Greco-Roman division, seven prior World Championships team members qualified for Belgrade: Ildar Hafizov (60 kg), Alejandro Sancho (67 kg), Patrick Smith (72 kg), Kamal Bey (77 kg), Spencer Woods (82 kg), Josef Rau (97 kg) and Cohlton Schultz at 130 kg.
Making their first Senior World Teams were Brady Koontz at 55 kg, Xavier Johnson at 63 kg and Zachary Braunagel at 87 kg.
¶
You can receive our exclusive TSX Report by e-mail by clicking here. You can also refer a friend by clicking here, and can donate here to keep this site going.
For our updated, 651-event International Sports Calendar (no. 2) for 2023 and beyond, by date and by sport, click here!