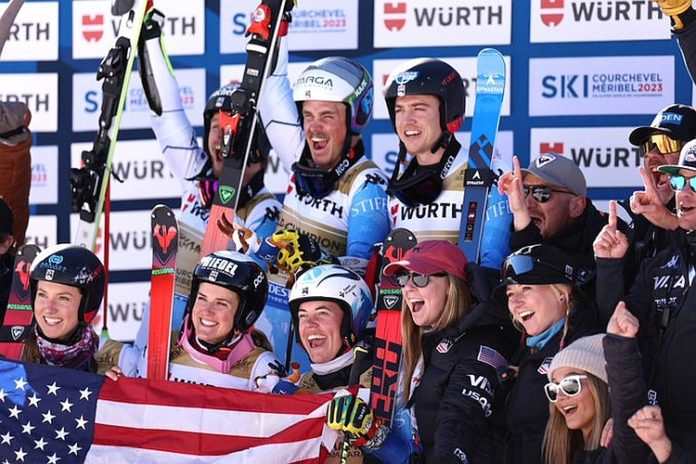 ★ The Sports Examiner: Chronicling the key competitive, economic and political forces shaping elite sport and the Olympic Movement.★
★ Bravo! Our 26 donors have now covered 59% of our technical expenses for the first half of 2023. Please consider a donation. Thank you in advance. ★
★ To get The Sports Examiner by e-mail: sign up here! ★
≡ THE 5-RING CIRCUS ≡
1. U.S. stuns with Alpine Team Parallel gold!
2. Belarusian dissident athletes waiting for IOC support
3. FIFA reports record $7.6 billion in 2019-22 revenue
4. Britain, Canada, Czechs, Sweden join boycott of IBA Worlds
5. Ile-de-France wants €200 million more for Paris '24 transport
The U.S. Team Parallel squad of Nina O'Brien, River Radamus, Paula Moltzan and Tommy Ford pulled off yet another surprise at the FIS Alpine Worlds with a gold-medal victory over defending champ Norway in the final! Belarusian athletes who have defied the Lukashenko government are feeling no love from the International Olympic Committee, which has mostly ignored them since taking an anti-government stance concerning the controversial 2020 elections and the Russian invasion of Ukraine. FIFA reported a sensational 2019-22 quadrennial with a record $7.6 billion in revenue – same as the IOC for 2017-21 – and now with reserves above $3.9 billion. Britain, the Czech Republic, Sweden and Canada have joined the U.S. and Ireland in skipping the International Boxing Association's 2023 Women's World Championships in March in protest against what they see as IBA's mismanagement of the sport that has boxing on the edge of being thrown out of the Paris 2024 Games. Valerie Pecresse, the head of the transport authority for the Ile-de-France region that includes Paris, said that an additional €200 million is needed from the national government to deal with the requirements of the 2024 Olympic Games, and wants attendance at the Olympic opening cut from 600,000 to 500,000 in view of the transport facilities available.
● World Championships: Biathlon ●
● Panorama: Russia (2: Asia comes calling; replace WADA?) = Athletics (2: Millrose TV audience; Bol again eligible) = Football (2: UEFA Champions League riot report; Jean-Bart life ban reversed at CAS) = Shooting (U.S. Spring Shotgun Selection) = Triathlon (Quigley wins Tritonman) ●
1.
U.S. stuns with Alpine Team Parallel gold!
The FIS Alpine World Championships in France continued with its hard-to-believe finishes and upsets in the Team Parallel competition, in which two men and two women skiers race on Slalom courses with the winner determined by the most victories, or the least time in case of a tie.
As defending champion, Norway was a clear favorite, winning 4-0 over Belgium in the first round, 3-1 against France in the quarterfinals and 3-1 against Austria in the semis. Against them was the U.S., which tied Poland, 2-2, in the first round, but advanced by being 0.02 better on the clock! The U.S. won its quarterfinal over Italy by 3-1 and then sailed past Canada, 3-1, in the semifinals.
In the gold-medal match, substitute Kristin Lysdahl lost to American Nina O'Brien in the opening race by 0.13, but Alexander Steen Olsen beat River Radamus of the U.S. by 0.04 to tie the match at 1-1. Then there was a tie (!) between Paula Moltzan and Thea Louise Stjernesund (NOR) at 22.74, leaving each team with two points and the U.S. with an 0.09 margin.
The final race was between Tommy Ford of the U.S. and Timon Haugen of Norway, but Haugen went early, tripped at the start and was unable to impact Ford at all, who skied to a 1.50-second win and the gold medal for the U.S., 3-2.
It was the first-ever medal for the U.S. in the event, which debuted in the FIS Worlds in 2005, and the first American medal at the FIS Worlds not won by Mikaela Shiffrin since 2019. It was the first U.S. FIS Worlds medal for the men since Ted Ligety and Travis Ganong won medals in 2015!
Canada won the bronze, defeating Austria on the tie-break, 45.30 to 45.97.
The Worlds continue with men's and women's Parallel events on Wednesday. Moltzan broke her hand during her run and will not compete in the Parallel event, and her availability for the remainder of the Worlds is questionable.
2.
Belarusian dissident athletes waiting for IOC support
"The head of the Belarusian federation put a lot of pressure on me. He said that I should stop my political activity and stay quiet. I had those sorts of conversations a lot.
"Everything got worse after the war started. We started getting checked by the sports ministry for everything. And I realized that either it would be my last year as an athlete or I would have to leave the country."
That's ex-Belarusian Olympic archer Karyna Kazlouskaya, in an interview with the multi-lingual German broadcast service Deutsche Welle – "DW" – explaining how her life has changed since she joined the anti-government protests after the controversial August 2020 "elections" that saw Alexander Lukashenko win a sixth term.
Still just 22, she fled to Poland in April to continue her archery career; DW reporter Jonathan Crane noted:
"For the purposes of international competition, they are effectively stateless, ostracized for their political views. Even if other athletes from Belarus are eventually allowed to compete in Paris, Kazlouskaya won't be among them as things currently stand."
She says that two letters sent to the International Olympic Committee that described her situation have gone unanswered.
Her story is similar to that of sprinter Krystsina Tsimanouskaya, now a Polish citizen, who criticized her coaches during the Tokyo Games, then was ordered to go home by Belarusian officials, but refused to get on the plane and sought out Japanese police protection that eventually ended in asylum in Poland. She told DW:
"The athletes and coaches that currently represent the Belarusian team were chosen according to political principles and not athletic ones.
"Only people loyal to the regime are in the team at the moment, people who were approved by the KGB [secret police]. That violates the principles of Olympism and the rights of athletes like me. It looks like we don't have any rights."
She applied for an Olympic Solidarity grant from the IOC, but heard nothing. She added:
"It's clear that I won't be representing Belarus again. But at the very least I want my country to be free and for the war to stop.
"I would just like the International Olympic Committee to hear our voices, the voices of the athletes who have faced repression. For them to hear our voices and to exercise our rights in some way."
3.
FIFA reports record $7.6 billion in 2019-22 revenue
Turns out that the 2022 FIFA World Cup in Qatar helped the federation reach a financial milestone as well, with a new revenue record of $7.568 billion for the 2019-22 period, 18% higher than the 2015-18 earnings period and 18% higher than the revenue forecast.
Where did the money come from?
● $3.43 billion from World Cup television rights sales
● $1.80 billion from World Cup sponsorship sales
● $949 million from World Cup tickets and hospitality sales
● $769 million from world Cup licensing rights sales
● $246 million from other revenue (other events, film & video rights, Museum)
● $383 million from other income (host country contributions, rentals)
The FIFA World Cup in Qatar accounted for 83% of the total revenue pool, or $6.31 billion.
The budgeted revenue for the period was $6.44 billion, and the expected expenses of $6.34 billion ended up at $6.30 billion; the surplus was an unexpectedly high $945 million. The biggest expense items:
● $2.54 billion for competitions and events
● $2.58 billion for development and education
● $147 million for football governance
● $767 million for FIFA administration
● $269 million for marketing and broadcasting
Costs related to the 2022 FIFA World Cup amounted to $1.83 billion, led by the prize purse of $440 million, operating expenses of $425 million and broadcasting costs of $248 million. The cost to FIFA of the 2019 Women's World Cup, in contrast, was $155 million, or 8.5% as much.
FIFA now has $6.795 billion in assets, 55% more than at the end of 2018 ($4.389 billion) and reserves of $3.971 billion, up 45% from 2018 ($2.745 billion).
The budget for the next cycle of 2023-26 is an unprecedented $11 billion, with $10 billion to be programmed for football programming. The football development programs alone are budgeted to increase from $1.746 billion to $2.250 billion for 2023-26.
How does all of this compare with the International Olympic Committee? The IOC's financial report for the 2017-21 period which included the postponed Tokyo Games also showed $7.6 billion in revenue, with $5.609 billion in assets and $3.362 billion in reserves.
4.
Britain, Canada, Czechs, Sweden join boycott of IBA Worlds
Four more countries joined the U.S. and Ireland in announcing they would not participate in the upcoming Women's World Championships staged by the International Boxing Association from 15-26 March in New Delhi (IND).
USA Boxing stated that it would not be competing in the event due to the mismanagement of the federation – current off the program for the 2028 Olympic Games in Los Angeles – and was joined by the Ireland federation last week; the event has no impact on Olympic qualification, which is being arranged by the IOC directly.
"We've joined that movement," Boxing Canada president Ryan O'Shea told The Canadian Press on Tuesday. "That message is going to be very, very strong.
"Our plan now, as it has been from the beginning, is about qualifying our athletes for the Olympics. Our focus for both our males and females is the upcoming Pan American Games qualification because the Pan American Games in Chile are the first Olympic qualification."
GB Boxing said Tuesday:
"The decision reflects ongoing concerns about the future of boxing's place on the Olympic programme and the recent move by IBA to allow boxers from Russia and Belarus to compete under their national flags, which contravenes resolutions passed by the IOC in February and December 2022.
"This has put further distance between the IBA and the Olympic Movement in addition to the significant, long-standing issues over sporting integrity, governance, transparency and financial management which the IOC has asked IBA to address to protect boxing's place on the Olympic programme."
The Czech Boxing Association said on Monday that it would skip both the women's Worlds in India and the men's Worlds in Uzbekistan in May.
Swedish Boxing Federation Chair Per-Axel Sjoholm said their focus was on the European Games, which is a qualifying event for Paris 2024:
"We do not accept IBA's handling of the sport. There is no democracy or transparency. We have worked for several years to bring about a change, but without success. Then they made the decision themselves to allow Russia and Belarus to compete, moreover under national flags.
"Another reason is that the Olympics are much more important to us than the World Championships organized by IBA. So it was an easy decision for us in Sweden."
The IBA has offered direct assistance to athletes from countries who are now not participating and has said it will pursue sanctions against "participating officials."
5.
Ile-de-France wants €200 million more for Paris '24 transport
Although not demanded of the Paris 2024 Olympic organizing committee, the financial pressure on the 2024 Games continued on Monday as Valerie Pecresse (Republicans party), the President of the Regional Council of the Ile-de-France region that includes Paris, asked for an additional €200 million (about $215 million U.S.) for support of the public transit systems during the time of the Olympic and Paralympic Games.
Pecresse is also the head of Ile-de-France Mobilities (IDFM), the transit agency for the region, and insists that support for new metro and regional lines is needed. She is asking for €600 million in government support for the next year (~$644 million U.S.), with a third related to support for the Olympic and Paralympic period.
This is all part of a larger transit plan for the Ile-de-France region which extends past 2030, but the direct cost of the 2024 Paris Games is being carefully watched for fiscal and political reasons.
She also asked that access to the Olympic opening on 26 July 2024 to be reduced from the expected 600,000 to not more than 500,000, given that access to the bridges across the Seine River will be blocked as the ceremony passes through. That means that cross-Seine traffic will rely on public transit, which may be insufficient to handle the load.
Paris Mayor Anne Hidalgo (Socialist) said on Tuesday that the request is premature and that the logistics are still being arranged.
≡ WORLD CHAMPIONSHIPS ≡
● Biathlon ● He cannot be stopped. He cannot be contained. Norway's Johannes Thingnes Boe won his fourth gold medal in four events at the IBU World Championships in Oberhof (GER) with a Tuesday victory in the men's 20 km Individual race.
Boe led a repeat of the podium in the 12.5 km Pursuit, as he won in 49:57.5 (2 penalties), ahead of teammate Sturla Holm Laegreid (51:08.2/1) and Swede Sebastian Samuelsson (51:08.6/1). Boe has now undefeated this year at 9-0 in individual races, winning the last six World Cup races and now three at the IBU Worlds. He has one more race, the 15 km mass Start on the 19th, to complete a sweep of the individual Worlds men's races. Wow.
Sean Doherty was the top American finisher in 39th (56:02.9/3). Paul Schommer was 77th (59:48.3/6) and Vincent Bonacci was 80th (59:57.4/3).
The women's 15 km Individual race comes on Wednesday.
≡ PANORAMA ≡
● Russia ● An opening for the Russian U-17 women's football team, which has been invited to compete in the South Asian Football Federation championship in Dhaka (BAN), from 20-28 March. The Russians will compete against teams from Bangladesh, Bhutan, Nepal and India.
Further, the head of the Russian Diving Federation, Stanislav Druzhinin said his athletes had been formally invited to compete in the Asian Games:
"The Asian Swimming Federation sent us an official letter with a proposal to apply for participation in the Asian Games, which will be held in the Chinese city of Hangzhou from September 23 to October 8.
"Even though these competitions are not qualifying for the Olympic Games, we are interested in participating in them, our athletes need practice. In the near future we will send our application to the Asian federation."
The heads of the Russian fencing and gymnastics federations said they had received no similar invitation.
The head of the Russian Wrestling Federation, Mikhail Mamiashvili, said that an invitation had been received to compete in China, without any further details. Mamiashvili also let loose with his opinion of the sports ministers meeting of last Friday (10th):
"The 36 countries are outcasts who have devoted their lives to destruction and edification. They are an overwhelming minority, it must be understood. They have departed from all human principles and morals, from the Olympic Charter."
¶
In the meantime, Russian two-time Olympic Biathlon relay gold medalist Dmitry Vasiliev (1984-88) told TASS that the World Anti-Doping Agency needs to be replaced, and accused Norwegian skiers of using Therapeutic Use Exemptions to cover up doping:
"They make up stories about the need for these drugs in terms of a preventative measure. But most people on the planet are susceptible to the disease; many have cancer cells in a dormant state. Does this mean that everyone should be allowed to use these drugs? That's just the kind of slyness they're covering up by telling beautiful stories. Or remember the Norwegian ban on doping tests for juniors and young men. What is this? The whole world lives by one law, and the Norwegians live by another, and yet they teach everyone.
"There was a story with the British track and field athlete Mo Farah, who may have used doping while working with the American coach Alberto Salazar. WADA then asked for a B sample, to which the British anti-doping agency responded that it wouldn't give it back because the sample might be tainted. How did it end? Nothing. That is the answer to all questions, I don't trust anyone there. It is necessary to annul WADA completely, to form its new staff without admitting any Western representatives."
● Athletics ● Pretty good television audience for the 115th Millrose Games in New York on NBC on Saturday, with 972,000 tuning in to see eight world-leading performances and American Records from sprinter Abby Steiner, miler Yared Nuguse and Alicia Monson in the 3,000 m.
That ranked fourth in the 2 p.m. (Eastern) time slot, behind 2.536 million for the PGA Tour Waste Management Phoenix Open, 1.745 million on ESPN for Duke-Virginia basketball, and 1.112 million on ABC for NHL hockey (Washington vs. Boston).
Thus year's audience was up 4.6% from the 929,000 that watched Millrose on NBC in 2022.
The NFL's Super Bowl, of course, dominated on Sunday with an average of 113.0 million viewers on all FOX platforms and a total audience of 182.6 million, the third-most-watched television program in U.S. history.
¶
Australian 800 m star Peter Bol, 28, the Tokyo Olympic fourth-placer with a best of 1:44.00 from last year, was cleared – for now – in his doping case when his B-sample did not return a confirming positive for Recombinant EPO as found in his initial sample.
While the first sample found a violation (Adverse Analytical Finding), the second test came back as an "Atypical Finding." which requires further inquiry. So:
"The investigation into the matter remains ongoing. Sport Integrity Australia will, as part of its investigation, proceed to consider whether any anti-doping rule violation/s have been committed. It is not possible to provide a timeframe at this point."
Bol's provisional ban from 10 January has been lifted; he posted on his Instagram page, in part:
"Last month I told everyone that I was innocent and asked everyone in Australia believe me and let the process play out. I was hopeful that the process would exonerate me. Today, I am relieved to report that it did. … The relief I am feeling is hard to describe."
● Football ● "On behalf of UEFA, I would like to apologise most sincerely once again to all those who were affected by the events that unfolded on what should have been a celebration at the pinnacle of the club season. In particular, I would like to apologise to the supporters of Liverpool FC for the experiences many of them had when attending the game and for the messages released prior to and during the game which had the effect of unjustly blaming them for the situation leading to the delayed kick-off."
That's from UEFA Secretary General Theodore Theodoridis (GRE), following the release of a 220-page independent report on the security disaster surrounding the UEFA Champions League Final on 28 May 2022 at the Stade de France in Saint-Denis, France, between Real Madrid and Liverpool.
The report explained that the crowd crush at a south-end security perimeter was recognized beforehand, was poorly handled once problems arose and then:
"Thousands of supporters remained corralled in this unsafe environment, unable to progress or escape, as others unwittingly joined them at their rear. Those corralled were exposed to criminality, with some accounts of stolen match tickets and pickpocketing shared with the Panel. …
"Subsequently, a decision to delay kick-off was taken. The Panel has concluded this was the correct decision, although the lack of messaging to those outside the turnstile perimeter meant that it probably made little difference to the congestion. The dangerous conditions on the concourse outside the turnstiles were compounded by the police deploying tear gas at disorderly groups of locals, as well as using pepper spray on supporters trying to gain entrance with valid tickets. It is remarkable that no one lost their life."
In answering the simple question of "what went wrong," the report explained:
"The Panel has concluded that there were two overarching organisational failures that lie at the root of what went so disastrously wrong in Paris. Firstly, the UEFA 'model' for organising the UCLF22 was defective in that there was an absence of overall control or oversight of safety and security. Secondly, the safety, security and service model laid out in the [2016] Saint-Denis Convention, was ignored in favour of a securitized approach which was inappropriately based on incorrect assumptions that Liverpool FC supporters posed significant threats to public order. That inexplicable misconception resulted in a policing approach that lacked capacity for engagement, and which actively failed to integrate into a coherent multi-agency framework."
A decided lack of police, transport and venue access planning, poor communications and multiple false excuses afterwards all contributed to the disaster. Some 21 recommendations were made at the close of the report, urging better planning and especially better communications and interoperability between the various stakeholders involved in the event, including local law enforcement.
¶
A lifetime ban and a CHF 1 million fine against former Haiti Football Federation President Yves Jean-Bart for "acts of sexual harassment and abuse against female soccer players, including minors, as well as abuse of position in connection with his function as FHF President during the period 2014-2020" was overturned by the Court of Arbitration for Sport.
The decision against Jean-Bart was rendered by the Adjudicatory Chamber of the FIFA Ethics Committee in November 2020, and appealed in January 2021. The CAS panel held a three-day hearing in March 2022, and found:
"In its award, the Panel of Arbitrators unanimously noted inconsistencies and inaccuracies in the statements of the victims and witnesses presented by FIFA. In addition, the Panel did not consider the information contained in documents prepared by third parties, such as [Human Rights Watch] and FIFPro, to be sufficiently evidentiary, as it was not corroborated or confirmed by other regularly administered evidence which could or would have served as a basis for investigative measures to verify its validity.
"In conclusion, the Panel of Arbitrators considers that the evidence against Yves Jean-Bart regarding the allegations of sexual abuse is inconsistent, unclear and contradictory and that, as a result, it is not sufficient to establish a violation of Articles 23 and 25 of the FIFA Code of Ethics."
● Shooting ● USA Shooting's Spring Shotgun Selection matches in Tucson, Arizona concluded last week, with two Olympic legends leading the national team selections.
In men's Skeet, two-time Olympic champ Vincent Hancock was second to Dustan Taylor, 248-247 (out of 250!) in the 10-stage qualifications rounds, then Hancock won the final over Taylor and Hayden Stewart to finish tied with Taylor at 250 points. By winning the final, Hancock, 33, was the overall winner, with Taylor second and Christian Elliott (247) finishing third.
The women's Skeet featured six-time (3-1-2) Olympic medal winner Kim Rhode, 43, who shot 246/250 to lead the qualifying, ahead of 2017 World Champion Dania Jo Vizzi (240) and Sam Simonton (239). Rhode went on to win the final and ended with 249 points to 241 for Vizzi and 239 for Simonton.
In Trap, the 2022 World Champion, Derrick Mein, was second in the qualifying at 229/250, just behind Will Hinton (232) and ahead of Grayson Davey (225). But Mein won the final to take top honors, with Hinton second and Glenn Eller finishing third.
Rachel Tozier, 30, a rising star in Trap and the 2019 Pan Am Games runner-up, similarly finished second in the qualifying (223), but won in the final against qualifying leader Alicia Gough (225) and Ryann Phillips (216).
● Triathlon ● A big debut for U.S. Steeplechase Olympian Colleen Quigley, who not only earned her USA Triathlon elite license card at the Tritonman Triathlon in San Diego last weekend … she won the women's division by 48 seconds!
Competing in a draft-legal "sprint" event with a 750 m swim, 20 km bike section and 5 km run, she came out of the water in 18th place, had the eighth-fastest bike time and then won the run in 19:02 to finish in 1:05:59. She is now eligible to race in the "elite wave" of USA Triathlon events with prize purses of $5,000 or more.
Quigley, 31, has been beset by injuries during her track career, but still expects to concentrate on the Steeple in a try for a second Olympic selection for Paris in 2024. She ranks no. 4 all-time U.S. in the Steeple with her 2018 lifetime best of 9:10.27, but now she might have other options.
¶
You can receive our exclusive TSX Report by e-mail by clicking here. You can also refer a friend by clicking here, and can donate here to keep this site going.
For our updated, 929-event International Sports Calendar for 2023 and beyond, by date and by sport, click here!