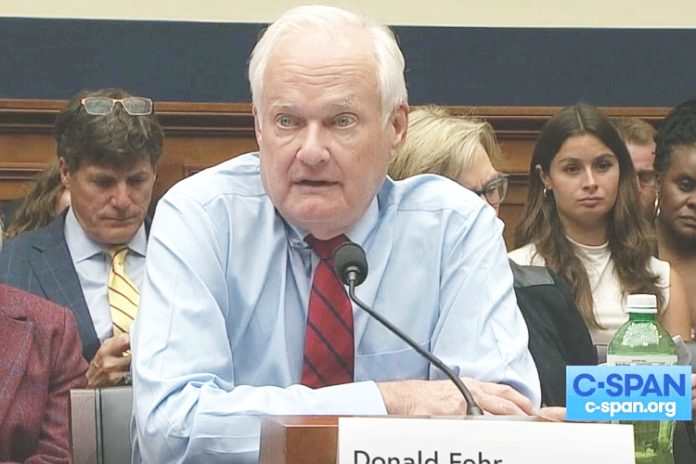 ★ The Sports Examiner: Chronicling the key competitive, economic and political forces shaping elite sport and the Olympic Movement.★
★ To get The Sports Examiner by e-mail: sign up here! ★
≡ THE 5-RING CIRCUS ≡
1. Accountability, money and SafeSport concerns at CSUSOP hearing
2. Stunner: announcement of LA28 added sports postponed
3. Spain's Hermoso files complaint with prosecutors vs. Rubiales
4. Canada eliminates Serbia, Germany vs. U.S. in FIBA World Cup
5. Herrada wins La Vuelta stage 11; Kuss still in the lead
● The public hearing of the Commission on the State of the U.S. Olympics and Paralympics took place on Wednesday, with improvements in governance noted, but significant questions about the U.S. Center for SafeSport. In a key moment, former baseball and hockey player union chief Don Fehr said that an "athlete union" is not a simple solution to athlete issues, and requires significantly more thought to achieve a mechanism that works for both parties.
● The International Olympic Committee announced that Friday's Executive Board meeting would not be taking up the added sports for the Los Angeles 2028 Games and that the news conference meant to reveal them was postponed. There are significant questions which have not been resolved, with the total number of athletes in Los Angeles possibly a key item.
● In Spain, midfielder Jenni Hermoso, who was infamously kissed during the medal ceremonies of the FIFA Women's World Cup last month, filed a complaint against suspended Spanish federation President Luis Rubiales, as required under Spanish law.
● At the FIBA World Cup in the Philippines, Germany edged Latvia, 81-79, and will face the U.S. in the semifinals. Canada clubbed Slovenia, 100-89, as both Canada's Dillon Brooks and Slovenian star Luca Doncic were ejected in the fourth quarter.
● American Sepp Kuss retained his lead in the Vuelta a Espana, finishing in a group of overall contenders as Stage 11 was won with a late solo by Jesus Herrada of Spain.
● World Championships: Weightlifting (China and Chinese Taipei take golds in Riyadh) ●
● Panorama: Beijing 2022 (U.S. representation request turned down) = Paralympics (2022 report shows finances steady) = Russia (Sports Ministry says Russia allowed to compete in 26 of 39 disciplines, but more than 100 athletes have left) = On screen (modest ratings for FIBA World Cup games) = Athletics (Lyles to run 100 m at Diamond League final) = Swimming (a new name: Maximus Williamson) ●
1.
Accountability, money and SafeSport concerns at CSUSOP hearing
Wednesday's much-awaited public hearing of the Commission on the State of the U.S. Olympics and Paralympics in Washington, D.C. was sober and thoughtful, with more critical comments about the U.S. Center for SafeSport than about the U.S. Olympic & Paralympic Committee.
Only nine of the 14 members of the Commission were present to ask questions of the 18 witnesses who testified across five panels, many of whom echoed repeated themes of accountability, athlete safety and support, and, of course, money.
USOPC chief executive Sarah Hirshland said as part of her prepared remarks that "In recent years, we have made significant strides in athlete safety, representation, mental health, and inclusivity. We have spearheaded transformative changes within our governance including increasing athlete representation on our board of directors and across our governance committees and investing in the strength and efficacy of the Team USA Athletes' Commission."
Significantly, witnesses from other panels agreed that the performance of the USOPC has improved under Hirshland's guidance, although each had ideas on multiple improvements still needed.
¶
While the hearing was devoid of anything resembling contentiousness, the intensity in the room was raised during the third panel, with a 45-minute opening segment with former Major League Baseball and National Hockey League Players Associations' head Donald Fehr, and attorney Ed Williams, both of whom have been involved with the USOPC for decades.
Fehr reflected on his 1996-2003 stint as a (then) USOC Public Sector Director, and his role in reviewing the Salt Lake City bid scandal in advance of the 2002 Olympic Winter Games in looking to the future:
"What you need to do is create a different governmental framework that works , and then entrust the people operating that framework to solve the problems, and hold them accountable if they don't. …
"I offer several ideas. These are not specific recommendations for legislation, or for amendments to the USOC constitution or bylaws. They are concepts, and if this commission decides that fundamental reform is needed, here are some idea you could consider.
"First, recognize that the USOPC Board is not, in any normal sense, responsible to anyone. There are no shareholders, there are no bondholders, there are no owners. … The Board members are accountable only to themselves, and I don't even have any idea how their performance is measured or by whom.
"The first question then is, who is the constituency to which the Board owes allegiance? I suggest it's the athletes because I can't think of another one.
"Second, the athlete's voice on the Board needs to be enhanced or empowered. The way it's been structured throughout my tenure, the athletes can always be outvoted on every issue. Among the things that could be considered would be to increase the vote of the athletes to 50%. Second, I would eliminate, in whole or in part for the athlete representatives, the requirement that the athlete representative have been an athlete within some defined period of time. … You have to trust the athletes to make the choice, and I would also give them the right to remove a Board member they name, if they believe that Board member is not acting in their interests.
"An alternative to this would simply be to give the athletes a veto power over certain key decisions – CEO, other officers, budgets – things like that. I think the athletes ought to have the right to audit any Olympic organization any time they want, to make sure it's working right. …
"I therefore would suggest that thought be given to establishing some sort of mechanism to consider what kind of arrangements or agreements are appropriate to make sure the athletes are protected, they they are treated fairly and the conditions under which they train and compete are appropriate and that their contribution to the USOPC and their own NGB is recognized.
"For various legal reasons, I'm not here suggesting a traditional union; happy to talk about if anyone's interested. But I believe people can work this out. … You have to empower the athletes and then you have to trust them."
Commission co-Chair Han Xiao, a former elected head of the then-Athletes' Advisory Council, asked the question directly: why not a union? Said Fehr:
"I don't want to suggest it isn't viable. I do want to suggest that we're not in a position to make that judgement. First of all, unions normally require employees; that whole relationship would have to be redefined or statutory authorization for some different kind of arrangement would have to be made that requires the Congress.
"Second, the way the current law normally works, you don't say, OK, we're going to have a union, you have to bargain. … I don't know whether the agreement should be all athletes with the USOPC, the national teams with their local governing body, individuals with respect to the various federations, or what the circumstance would be. That takes a lot of time and effort to work out.
"Third, the way the labor law works in the U.S. – with two exceptions: public employee unions and the Railway Labor Act which governs railways and airlines – is it operates on the adversary system. The theory is you're supposed to bargain in good faith. No one actually knows what that means until after the fact.
"But then either side – management or labor – can resort to concerted action. Either side, management or labor can resort to concerted action, that is to threaten a lockout, or to threaten a strike, or to engage in one or the other. Normally, you have ongoing businesses in which the employees might be able to work elsewhere and the customers might be able to buy other products. There's competitors.
"You don't have that very much in the professional sports leagues, but in the Olympic Movement, if you look at the Olympic Games, for example, you've got two Games every four years, one opportunity every four years for each athlete, unless somebody, I suppose, is both winter and summer.
"Unless that needs to become the focal point of the dispute – what are we going to do for this [Games] – you ought to find some other mechanism. I don't know if there is one, but my suggestion was that that to be examined. There are all kinds of models for arbitration of various things and mediation that might make sense."
Williams endorsed the idea of an "Inspector General" to provide oversight of the USOPC, and asked that the Ted Stevens Olympic and Amateur Sports Act be amended "to provide the same due process to athletes that the Sports Act requires NGBs to provide athletes" and to educate National Governing Bodies on providing due process in disciplinary and eligibility issues. And he was adamant that NGB compliance, especially for athlete well-being, must be better monitored, and that an "attorney athlete advocate" be available at no cost to athletes.
¶
The U.S. Center for SafeSport was heavily discussed during the hearing, with chief executive Ju'Riese Colon explaining that when it was opened in 2017, it received about 300 complaints in the first year, but 5,500 last year, 4,300 so far this year, on the way to perhaps 7,000 in total by the end of 2023.
She stated that more funding is needed, beyond the $20 million that the USOPC is statutorily mandated to provide each January, which made sense when adopted in 2020, but not now.
Colon pointed to the 1,900 persons on the current sanctioned list and said that the backlogs of cases have been clearing and the time it takes for cases to be handled is coming down.
However, Pat Kelleher, the Executive Director of USA Hockey and head of the National Governing Bodies (NGB) Council, expressed concerns:
"The Center's completions of cases by 'administrative closure,' which has reached in excess of 70%, must be addressed and we strongly believe government funding and oversight of the Center, along with a fresh look at the statute, would improve its operational effectiveness, and confidence in the Center by others."
Grace French, founder of The Army of Survivors, was clear:
"SafeSport has not been a support or a place of trust for athletes to this point. The survivors we talk to are all frustrated with the process, and felt there was no transparency, nor was there good communication about their cases and investigations. This extends to SafeSport's reputation in the sports world."
Scott Gray, the safe-sport coordinator for Minnesota Hockey added:
"Substantive changes in its practices and procedures must occur, to improve our ability to respond and resolve misconduct in a fair and timely fashion with all aspects of due process taken into consideration."
He then highlighted several areas of change, including "the response and resolution process is far too slow," sometimes taking more than a year. In his view, the Center should narrow its jurisdiction to abuse cases which also require mandatory reporting to law enforcement, "and most NGBs are capable of handling the less serious cases in a prompt fashion, and in many cases, can and should be handled by the coach or the local program leadership."
Gray noted that "the vast majority of cases the Center takes jurisdiction over result in a determination of 'administrative closure,' meaning the Center has determined that no action should be taken. NGBs are made aware of this result, but are not allowed to learn the underlying facts of the initial complaint, or if we were already aware, the Center's exclusive jurisdiction prohibits the NGBs from taking any action on their own."
He asked that if the Center 'administratively closes' a case, it should cede jurisdiction to the relevant NGB for its own review and response: "The high rate of administrative closure erodes confidence among our constituents to the extent that concerned participants and parents don't want to make a report to the Center because they feel nothing ever happens."
There's more to unpack from this hearing, more in coming posts.
2.
Stunner: announcement of LA28 added sports postponed
The International Olympic Committee posted a surprise notice on its Web site on Wednesday afternoon, Lausanne time about its upcoming Executive Board meeting that included:
"One of the agenda items originally planned for the IOC EB was a report by the IOC Olympic Programme Commission on the sports programme for the Olympic Games LA28. Due to ongoing discussions between the IOC and the Organising Committee, the Olympic Programme Commission has not yet had the opportunity to hold its meeting to prepare its final recommendation for the IOC EB.
"As a consequence, the sports programme for the Olympic Games LA28 will be discussed during a later IOC EB meeting, to take place at a date to be decided."
No news conference will be held on Friday, although the Executive Board meeting will be held to begin shaping the agenda for the IOC Session in India in October.
There's no indication of what the issues are regarding added sports to the 2028 Olympic program in Los Angeles. One question certainly being discussed is the impact of adding – potentially – four team sports to the LA28 program if the chatter about cricket and flag football, in addition to baseball and softball is true.
If so, then using the team sizes for the T20 Cricket World Cup in 2022, the flag football tournament at the 2022 World Games in Birmingham, Alabama and the Tokyo Olympic baseball and softball tournaments, the impact is significant:
● 180 in Cricket: 15 players x 12 teams (6 men/6 women)
● 192 in Flag Football: 12 players x 16 teams (8/8)
● 144 in Baseball: 24 players x 6 teams at Tokyo 2020
● 90 in Softball: 15 players x 6 teams at Tokyo 2020
That's 606 athletes against the hard cap of 10,500, or 5.8% of the quota. Add to this the already-agreed 28 sports, plus – potentially – boxing (252 in Paris), modern pentathlon (72 in Paris) and weightlifting (120 in Paris) – that's another 444, for 1,050 more than for the sports already announced – and space is an issue.
Moreover, the existing agreement to host surfing, skateboarding and sport climbing, require additional venues not in the bid plan from 2017, and more venues will be needed for any added team sports. These things add up.
3.
Spain's Hermoso files complaint with prosecutors vs. Rubiales
Spanish midfielder Jenni Hermoso, 33, the object of the now-infamous kiss from then-Royal Spanish Football Federation chief Luis Rubiales during the medal ceremonies of the FIFA Women's World Cup final on 20 August, has now filed a formal complaint.
According to the Spanish prosecutor's office:
"Jennifer Hermoso filed an express complaint for the facts that you all know.
"The national court's prosecutor's office will file a complaint as soon as possible. The statement took place at the state attorney general's office to protect the privacy of the victim."
The complaint was reportedly filed on Tuesday. Rubiales has insisted the incident was consensual with Hermoso, 33, but in a social media post, Hermoso has stated (translated from the original Spanish):
"I felt vulnerable and a victim of an impulse-driven, sexist, out of place act without any consent on my part. Simply put, I was not respected."
She added that Rubiales' claims of her consent are "categorically false and part of a manipulative culture that he himself has generated."
The prosecutors will now determine what facts are applicable and what case, if any, will be filed. Rubiales is presently serving a 90-day suspension by FIFA's disciplinary committee, and is being investigated by the Spanish national tribunal for arbitration in sport (TAD).
4.
Canada eliminates Serbia, Germany vs. U.S. in FIBA World Cup
Two more wild quarterfinals at the 19th FIBA World Cup, now finishing in the Philippines, with Canada and Germany moving on.
The Canada-Slovenia game matched NBA stars including scoring ace Shai Gilgeous-Alexander (Thunder) and Mavericks superstar Luka Doncic, but became so physical that 50 fouls were called, and Doncic was ejected.
First it was Canadian guard Dillon Brooks (Rockets) who was ejected with 7:06 to play in the final quarter for a second technical foul for on-floor comments to Slovenian guard Klemen Prepelic, followed by Doncic arguing a non-call on a fallaway jumper with 6:37 remaining and receiving a second technical, with Canada leading 92-77.
The game was tied at half at 50-50, but the Canadians sprinted to a 30-21 third quarter advantage and an 80-71 lead going into the fourth. Canada's edge extended to 16 several times before a late Slovenian rally closed to 11 and led to the 100-89 final.
Gilgeous-Alexander led once again with 31 points on 8-12 from the field and 14-16 from the line and a team-high 10 rebounds. He's now averaging 25.0 points in 30.4 minutes per game, plus 7.2 rebounds and 5.0 assists. Fabulous.
Forward R.J. Barrett (Knicks) had 24 points and nine rebounds, and guard Nickeil Alexander-Walker (Timberwolves) added 14 points.
Doncic had 26 points on 8-20 shooting, with Prepelic scoring 22 and guard Zoran Dragic scoring 10. Slovenia was held to 43.9% from the floor while the Canadians shot 50.8%.
This is the best-ever showing for Canada in a FIBA World Cup and they're on to the semis to face Serbia on Friday (8).
The Germans, now the only undefeated team in the tournament, came down to the wire with Latvia, up 36-34 at half, 62-59 at the end of three and finally winning, 81-79, on two free throws by Daniel Theis with 49 seconds to play to take an 81-77 lead.
Germany led by as much as 14 with 6:42 to go, but Latvia closed on a 17-7 run to make it close. A layin by guard Arturs Zagars closed the gap to two with 0:33 to play, but Thunder forward Davis Bertans missed a three-point try with two seconds left to allow the German escape.
Magic guard Franz Wagner scored 16 for the winner, and brother and Magic teammate, forward Mo Wagner, had 12. Guard Andreas Obst had 13 and forward Johannes Thiemann scored 10, with Germany shooting only 40.0% from the field. Zagars led Latvia with 24 points on 9-17 shooting, with Bertans adding 20 and forward Rolands Smits scoring 14; Latvia shot 44.6% from the floor.
Germany (6-0) now gets the U.S. on Friday, with the winner advancing to the championship match on Sunday.
5.
Herrada wins La Vuelta stage 11; Kuss still in the lead
The uphill finish at the end of stage 11 of the 78th La Vuelta a Espana saw Spain's Jesus Herrada execute a final sprint in the last 150 m to win in 3:29:17 on Wednesday, but with American Sepp Kuss remaining in the overall lead.
Herrada broke away from an eight-rider pack in the final 2 km of the 163.2 km route to win from Roman Gregoire (FRA: +0:03) and Andreas Kron (DEN: +0:08). The overall contenders were in a pack five minutes behind, and finished 5:50 behind the winner.
That left Kuss in the lead for the fourth straight stage, with 26 seconds on Marc Soler (ESP), 1:09 on defending champ Remco Evenepoel (BEL) and 1:36 on two-time champ Primoz Roglic (SLO).
Stage 12 on Thursday is mostly downhill, with one rise in the middle and looks to be for the sprinters. True misery comes on the climbing stages on Friday and Saturday.
≡ WORLD CHAMPIONSHIPS ≡
● Weightlifting ● China picked up its second win of the 2023 World Weightlifting Championships in Riyadh (KSA), as Tokyo Olympic champ Fabin Li won the men's 61 kg class.
Li had prior Worlds golds in this class from 2019 and 2022, and won the Snatch section at 141 kg with his second lift, was second in the Clean & Jerk (167 kg) and won the overall title with 308 kg.
Italy's European Championships runner-up, Sergio Massidda, 21, took silver at 302 kg (also second in Snatch at 137 kg) and China's Hongjie Ding won the bronze at 301 kg. American Hampton Morris missed all three tries in the Snatch, but continued and won the Clean & Jerk segment at 168 kg, one more than for Li! He did not receive an overall place.
In the women's 55 kg battle, Chinese Taipei's Guan-ling Chen was the clear winner, taking all three sections with 91-112-203 kg. Runner-up Rohelys Galvis (COL) was second in all three, lifting 90-111-201 kg total. Mexico's Irene Borrego won the bronze at 199 kg. No Americans were entered in this class.
The Worlds continue through the 17th.
≡ PANORAMA ≡
● Olympic Winter Games 2022: Beijing ● The Court of Arbitration for Sport denied the request by the U.S. Figure Skating Team to have an observer present during the appeal of the Kamila Valieva case on 26-29 September.
USA Today's Christine Brennan posted a copy of the letter, which included:
"On behalf of the Panel, who has considered your request as well as the Parties' comments on such request, please be advised that such request is denied on the grounds that, pursuant to R57 of the Code of Sports-related Arbitration, the proceedings take place in camera and that none of the Parties requested a public hearing."
● International Paralympic Committee ● The IPC's annual report for 2022 was published, showing increased expansion for the movement, especially from the Beijing 2022 Winter Paralympic Games.
The financial report showed the IPC with €28.84 million in assets and €17.25 million in reserves, (€1 = $1.07), at roughly the same level as before the pandemic.
Income for 2022 was €24.16 million, in line with prior years and expenses were €24.15 million for a surplus of €14,987.
● Russia ● Sports officials claimed that Russian athletes are presently being allowed to compete – in some form – in 26 of 39 Olympic disciplines.
At a meeting of the sports ministry board, Minister Oleg Matytsin emphasized continuing contact:
"We need to understand what role Russia will be playing in the world of sports in 5-10 years to come, to start today establishing cooperation with the IOC and international federations.
"We need to define the perspective regarding the future elections as well as the status of our participation in tournaments. The next year will be a landmark year."
Deputy Sports Minister Alexey Morozov reported that "as many as 55 Olympians have changed their sports citizenship and this figure exceeds 100 if we include non-Olympic sports."
● On Screen ● Two games of the FIBA World Cup were shown on U.S. cable television last week, both at 8:30 a.m. Eastern with reasonable results for the time of day:
● 28 Aug. (Mon.): 191,000 for USA-Greece on ESPN2
● 03 Sep. (Sun.): 334,000 for USA-Lithuania on ESPN2
An interesting rating came from the 30 August women's volleyball match in Lincoln, Nebraska, where a record crowd of 92,003 filled Memorial Stadium to see Nebraska 3-0 win over Nebraska-Omaha. The match was televised on the Big 10 Network and drew an impressive audience of 518,000!
The biggest audience of the week was for Sunday night's Florida State-LSU college football match on ABC, which drew 9.165 million viewers.
● Athletics ● Good news from World 100-200 m champ Noah Lyles, who tweeted Tuesday:
"I'm Coming to @nikepreclassic
"Let's go out with a [explosion emoji]"
● Swimming ● A name to watch, and an easy one to remember:
He's a 17-year-old swimmer from Texas, who is tearing up the World Aquatics World Junior Championships ongoing in Netanya (ISR). Williamson has already won the men's 200 m Medley in 1:57.29, to move to no. 11 on the 2023 world list and no. 3 in the U.S.
Among American male teens, only Michael Phelps was faster at that age.
But his 100 m Free relay legs have set swimming fans afire: 47.78 – with a flying start – on the second leg of the U.S.'s winning men's 4×100 m Free Relay, 47.74 on the anchor of the winning Mixed 4×100 m Medley Relay, and 48.38 on the opening leg of the Mixed 4×100 m Free Relay that eventually won silver!
Maximus Williamson. He still has the men's 100 m Freestyle to come on Saturday.
¶
You can receive our exclusive TSX Report by e-mail by clicking here. You can also refer a friend by clicking here, and can donate here to keep this site going.
For our updated, 787-event International Sports Calendar (no. 3) for 2023 and beyond, by date and by sport, click here!